Romantic Getaways in the South that Couples Love
Hubby and I love weekend getaways. These are my picks for the very best romantic getaways in the South.
They're perfect for a special occasion like a wedding anniversary or just because you need to get away for a few days with the one you love.
I think there's no better weekend idea for couples than finding a quaint town or an amazing hotel to curl up with your boo.
And when you find a favorite place to go to as a couple, you can go back again and again.
You could even visit several of these destinations in one amazing Southeast USA road trip.
Plan your ideal romantic getaway with this FREE printable travel planner.
These destinations are arranged with our favorite picks first.
Although all of the towns here are great places to visit, some places just kind of get under your skin you know?
I mean that in a good way.
Each location listed below includes luxury/high end, moderate and more affordably priced options for accommodations for your romantic getaway.
Since hotels and inns at some destinations naturally command higher prices than others, the rates for these options may vary widely.
Read More → The Ultimate Weekend Packing List (For Any Kind of Getaway)
Pin this post!
This post includes affiliate links. If you make a purchase through one of these links, I may earn a small commission at no additional cost to you. As an Amazon Associate I earn from qualifying purchases. See disclaimer.
Asheville, North Carolina is our favorite romantic getaway in the South
My top pick for a romantic getaway in the South has to be Asheville, North Carolina.
Nestled in the Blue Ridge Mountains of Western North Carolina, Asheville is home to great dining and the world-famous Biltmore Estate.
Asheville makes a wonderful romantic getaway destination in any season, but it's especially beautiful in the fall.
Word on the street is that the variety of deciduous trees in the Blue Ridge around Asheville are what makes an especially vibrant and long fall color season.
Hubby and I have spent three wedding anniversaries at The Inn on Biltmore Estate.
Since we got engaged there, it holds a special place in our hearts. It's our absolute favorite romantic weekend getaway.
To find out more, read my full Inn on Biltmore Estate review.
My sister and her husband love the Omni Grove Park Inn. This one is still on our bucket list.
Where to stay in Asheville, North Carolina
Luxury: The Inn on Biltmore Estate is our top choice or try the popular Omni Grove Park Inn – Asheville
Moderate: DoubleTree by Hilton Biltmore/Asheville is just minutes from Biltmore Estate and the shops at Biltmore Village. They also offer a free shuttle to downtown Asheville.
Affordable: Holiday Inn Hotel & Suites – Asheville-Biltmore Village Area is just a few blocks from the entrance to Biltmore Estate.
Try a romantic weekend in Williamsburg, Virginia
Speaking of quaint and cozy towns for a romantic getaway in the South, Hubby and I also love a Williamsburg weekend.
Home to Colonial Williamsburg, the largest living history museum in the world, this part of Virginia is rich with history and beautiful architecture…plus some really great places to eat.
Even if you don't buy a Colonial Williamsburg ticket, you can still enjoy the shopping and restaurants at Merchants Square, walk around the Historic Center and dine in an historic tavern (definitely a "must do").
For the most immersive experience, stay at the Williamsburg Inn or Williamsburg Lodge just steps away from Duke of Gloucester Street (Colonial Williamsburg's "main street" through the Historic Center).
The more moderately priced Williamsburg Woodlands Hotel is located very near the Visitor's Center.
Read More → Making the Most of Your Colonial Williamsburg Itinerary
Where to stay in Williamsburg, Virginia
Luxury: Book a stay at the Williamsburg Inn or the beautiful Williamsburg Lodge for the ultimate Colonial Williamsburg experience
Moderate: Williamsburg Woodlands Hotel features comfortable rooms very close to the Colonial Williamsburg Visitor's Center.
Affordable: Residence Inn Williamsburg is located just a short drive from the Colonial Williamsburg Visitor's Center. We loved having breakfast included in our room rate and a kitchenette to reheat restaurant leftovers the next day.
Hilton Head Island, South Carolina, makes a great romantic weekend trip
When you want a beachy good time with your spouse and some good food, try a Hilton Head Island getaway.
We think Hilton Head Island is one of the best places in the South for a relaxing weekend.
Spend the day at the beach, visit Coligny Beach Park with its nearby shopping center, or check out Harbour Town (there's a gate fee) and the lighthouse.
Grab dinner at A Lowcountry Backyard. (Make sure you arrive early since they don't take reservations.)
In the morning, you can enjoy breakfast at Palmetto Bay Sunrise Café like a local.
We loved our stay at the Marriott Hilton Head Resort & Spa, which is right on the beach.
So you'll definitely want to book a room with a balcony. We think it's worth the extra money to wake up to this…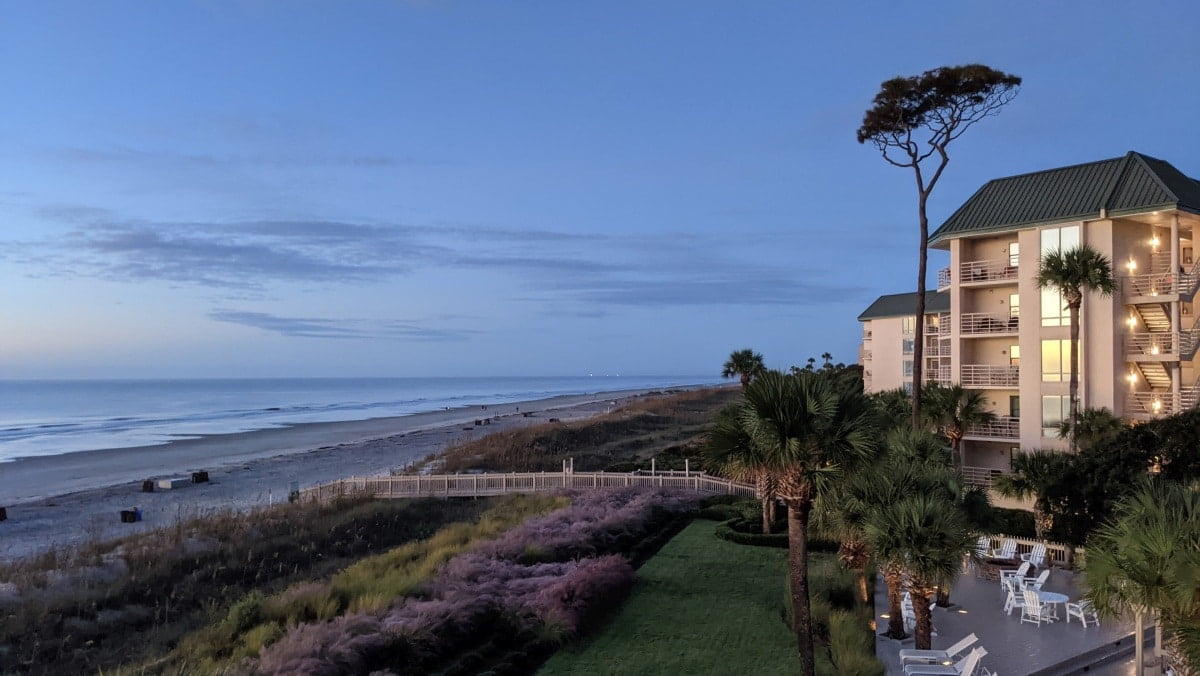 Where to stay on Hilton Head Island
Luxury: Inn and Club at Harbour Town was named one of the Top 10 Hotels in the U.S.A. for 2021 by U.S. News and World report
Moderate: Marriott Hilton Head Resort & Spa has a great pool area plus it's right on the beach!
Affordable: Home 2 Suites by Hilton offers free breakfast
Savannah, Georgia, is a top romantic getaway in the South
For a quintessentially Southern escape, you simply must book a weekend in Savannah, Georgia.
And it helps if you say it all drawn out like Suuuuvannuuuh.
Savannah simply drips with romance and history like the trees drip with Spanish moss. If you want to creep yourself out, try a nighttime ghost tour.
The locals will tell you that Savannah is the most haunted city in America. I've decided not to test that theory.
And the food. Oh, the food.
You could go to Savannah only for the food and come away happy. Grab breakfast at The Collins Quarter before going on a history walking tour.
Eat dinner at Vic's on the River (ask for a window seat if they're available) and then go for a stroll down the famous River Street or grab some amazing Leopold's ice cream for dessert.
Oh! And don't miss the biscuits at Back in the Day Bakery.
Where to stay in Savannah, Georgia
Luxury: Eliza Thompson House is an historical inn located very close to Savannah's Forsyth Park and its famous fountain
Moderate: Marriott Savannah Riverfront is located right at the end of historic River Street and offers views of the steam boats on the Savannah River.
Affordable: Holiday Inn Express Savannah – Historic District offers comfortable and affordable rooms just steps from historic River Street.
Try a beach weekend getaway at 30A
For a relaxing and romantic beach getaway, try 30A in Florida's Walton County.
The white sand beaches on this stretch of scenic highway are beautiful.
And there are plenty of things to in 30A even if you don't really consider yourself a "beach person."
From great shopping and food to biking and kayaking, you definitely won't lack for fun activities in 30A.
Hotel stays in 30A can be quite pricey, so consider renting a condo on the beach to save some money. And with a full kitchen you can save money on food as well.
Where to stay at 30A
Luxury: The Pearl, Rosemary Beach is located in the center of town and just steps from a private beach.
Moderate: Beachside Villas – quiet condo community in Seagrove Beach with public beach access very nearby.
Affordable: Hidden Beach Villas – across scenic Highway 30A from the beach, in the center of Seagrove Beach.
Explore history in St. Augustine, Florida
Why not try a romantic getaway in the oldest city in America?
St. Augustine, Florida's historic district and downtown area are where most of the action is located.
It hosts a number of museums, shops, art galleries, and restaurants that attract thousands of visitors every year.
From the Spanish fortress Castillo de San Marcos to the multitude of historic houses, museums, available guided tours and other attractions there is plenty for you to see and do during your getaway whether it's a day trip or a weekend visit.
You'll also find a lot of great places to eat like the popular Floridian Restaurant that features local food in a relaxed setting.
And don't miss out on The Hyppo for a sophisticated, gourmet popsicle.
Where to stay in St. Augustine, Florida
Luxury: Casa Monica Resort & Spa is a popular choice in the heart of historic St. Augustine.
Moderate: The Penny Farthing Inn bed & breakfast is just steps from the popular Lightner Museum.
Affordable: The Holiday Inn St. Augustine – Historic is just a short drive from popular sites like Castillo de San Marcos National Monument.
PRO TIP: If you have flexible travel dates you need to check out Going (formerly Scott's Cheap Flights). You get amazing flight deals sent straight to your inbox with instructions on how to book directly with the airlines. Check out Going here. Going is my favorite way to find great travel deals. 
Yes, Orlando, Florida, can be a romantic getaway
There's more to Orlando, Florida, than just Disney World…There's also Universal Studios.
Heh.
All kidding aside. Orlando, Florida, is a great city for a weekend getaway.
There are a TON of things to do outside of the theme parks such as hot air balloon rides, premier shopping, horseback riding, kayaking and more.
And there are many opportunities to take some amazing day trips from Orlando.
If activity is not what you're after there are also a lot of amazing hotels and restaurants.
For the ultimate in luxury and romance, book a weekend at Disney's Grand Floridian Resort & Spa and enjoy AAA Five Diamond dining at Victoria and Albert's.
And for the record…yes, I think that Disney World Resort is a romantic getaway.
Where to stay in Orlando, Florida
Luxury: Disney's Grand Floridian Resort & Spa is the epitome of a deluxe resort experience at Walt Disney World
Moderate: Hyatt Regency Grand Cypress Disney Area Orlando includes a Jack Nicklaus golf course and a private lake
Affordable: Hyatt House is conveniently located across from Universal Orlando Resort
Greenville, South Carolina, is a top weekend trip in the South
An up-and-coming foodie destination in the South, Greenville, South Carolina, is home to a vibrant arts scene and great outdoor activities in town and nearby.
Take a stroll through Falls Park on the Reedy River downtown, bike or jog the Swamp Rabbit Trail, enjoy Paris Mountain State Park or take in a concert or show at the Peace Center.
For a top boutique hotel experience, consider a stay at Hotel Domestique.
Owned by Lance Armstrong lieutenant George Hincapie, it offers mountain views and special experiences like bike tours (of course!), cooking classes and themed dinners.
(Please note that Hotel Domestique is in Travelers Rest, South Carolina, 20 miles from the center of Greenville.)
Read More → The Top Things to do in Greenville, South Carolina
Where to stay in (or near) Greenville, South Carolina
Luxury: Try Hotel Domestique outside of town or the lovely Westin Poinsett Greenville in the heart of downtown Greenville
Moderate: Aloft Greenville Downtown offers great location along with gym facilities and an outdoor pool
Affordable: Hampton Inn Greenville includes free hot breakfast and is just 15 minutes from Greenville Spartanburg International Airport
Get away for a romantic weekend in Charleston, South Carolina
Charleston, South Carolina, is steeped in history and Southern charm. As an added bonus, it's also on the ocean. Yay!
Check out Folly Beach or Isle of Palms if you're interested in a more beach-y weekend in the Charleston area.
If you're looking for a more "historical old town" city break weekend, stay in the heart of the city.
Top sites to visit on your trip to Charleston include Fort Sumter, Aiken-Rhett House, Historic Charleston City Market and The Battery.
Charleston Tea Garden, the only tea plantation in North America, is just a short 20-mile drive outside the center of Charleston.
Great shopping and good food are also easy to find in Charleston. King Street has been dubbed one of the top 10 shopping streets in the U.S.
If you enjoy seafood, you'll love eating in Charleston.
And hushpuppies. Bathe in the hushpuppies. Jump headfirst into a basket of hushpuppies and eat your way out.
Hotel rates are high in the Charleston historic district.
To save money on accommodations, your best option is to stay outside the city in Mount Pleasant or North Charleston.
Can't decide between Charleston and Savannah? Check out my post on Charleston vs Savannah to help you figure out which to visit.
Where to stay in Charleston, South Carolina
Luxury: The Dewberry is in the heart of historic Charleston.
Moderate: Indigo Inn offers pet-friendly rooms (a rarity in the Charleston historic district) and complimentary continental breakfast
Affordable: Doubletree by Hilton Charleston Mount Pleasant is great hotel at a great price with awesome places to eat breakfast nearby. And it's an easy drive into Charleston.
Washington, DC, during cherry blossom season is perfect for a romantic getaway
Other than maybe snow-covered mountains and waterfalls, I don't think there is a natural site more romantic than cherry blossoms in full bloom.
If you've spent any time in Washinton, DC, during cherry blossom season, you know what I'm talking about.
A little breeze blows through and it's like it's raining cherry blossom petals. Perfection.
Take a romantic stroll along the tidal basin to the Jefferson Memorial to see the blossoms at their peak in early spring. It's like being in the middle of a fairy tale.
If you want to explore some of Northern Virginia, George Washington's magnificent home on the Potomac, Mount Vernon, is a short drive outside the city.
It's a wonderful way to spend a day.
For your romantic getaway, stay at the iconic Hay – Adams across from the Lafayette Square or nab a great deal at the Hyatt Regency on Capitol Hill…the heart of Washington, DC.
Where to stay in Washington, DC
Luxury: Enjoy views of Washington, DC's historic sites and luxurious 5-star accommodations at The Hay – Adams
Moderate: Capital Hilton is convenient to the metro and major Washington, DC sites
Affordable: Hyatt Regency Washington on Capitol Hill is just down the street from the Capitol Building and convenient to important Washington, DC sites
Check out Annapolis, Maryland, for an underrated romantic weekend getaway
I'd say that Annapolis, Maryland, is an underrated weekend destination.
Perhaps it's overlooked because it's overshadowed by nearby Washington, DC, and Baltimore, but I'd book a romantic getaway there in a heartbeat.
And if you can travel there in the fall for the peak colors in the Chesapeake Bay area then do it. It's stunning.
You can stroll through old, colonial streets in the historic district. You'll see lovely old colonial era row houses.
Tour the Maryland State House, once the home of the Continental Congress. Visit the campus of the U.S. Naval Academy or go sailing on the Chesapeake Bay.
Where to stay in Annapolis, Maryland
Luxury: Enjoy accommodations on the Chesapeake Bay when you stay at the Annapolis Waterfront Hotel
Moderate: Gibson's Lodgings of Annapolis is a bed & breakfast located very near City Dock and the Naval Academy
Affordable: Crowne Plaza Annapolis
Gatlinburg, Tennessee, is a top honeymoon destination in the Eastern United States
Tucked away in the Smoky Mountains, Gatlinburg, Tennessee, is a top honeymoon destination in the Eastern United States.
And I can see why. The Smoky Mountains are beautiful.
I recommend you bypass the touristy attractions in Gatlinburg and nearby Pigeon Forge.
Instead, explore one of the many scenic drives and hikes in Great Smoky Mountains National Park.
More adventurous people (i.e., not me) might enjoy white water rafting, camping or fishing.
And if it's cold or rainy outside, you can just cuddle up in your hotel room or cabin with your boo.
Where to stay in Gatlinburg, Tennessee
Luxury: The Park Vista offers beautiful views of the Smoky Mountains
Moderate: Margaritaville Resort is cram packed with amenities and just a short drive to Great Smoky Mountains National Park
Affordable: The Appy Lodge
What are your favorite romantic getaways in the South?
More articles related to couples getaways
Pin this post!