I'm so glad you're here!
Plan, Ready, Go is a travel blog for people who want to travel more and plan their own travel, but are really nervous about planning their own travel.
I get it, planning independent travel can be scary. I'm still an anxious traveler. Seriously. I get nervous just booking flights online. And I always have serious butterflies when taking off for someplace new.
It's okay to be anxious about travel and planning travel…as long as it doesn't keep you from getting out there.
If there's one thing I've learned since I started traveling more seriously it's that when I really want to do something, I don't let the fear stop me. My hope is that you'll discover the same.
---
A little about me…
My name is Darcy, and I'm an anxious, hyper-organized control freak who loves to travel. I also love to plan my trips almost as much as the trip itself.
That's right. I love the challenge of learning about places I've never been and deciding what sites we need to visit on our travels. I love researching, making lists, budgeting, building itineraries. It's what I do, and I'm a little obsessive about it. Well, I'm a control freak about all of it.
I'm a relatively late bloomer when it comes to travel. I went on the usual camping trips when I was a kid and took an occasional vacation here and there. I had only seen a tiny fraction of the world, but not for lack of desire.
For much of the early part of our marriage all of our extra pennies went to paying for expensive fertility tests and treatments. And let me tell you, nothing makes you feel less in control that going through something like infertility. Literally nothing we tried worked.
Once we made the decision to stop treatment and live childfree we were suddenly free to invest our money (and mental and emotional energy) in other things…like Travel. Since we had already developed a strong habit of saving every spare dollar toward fertility treatments, it made sense to switch that to saving for travel.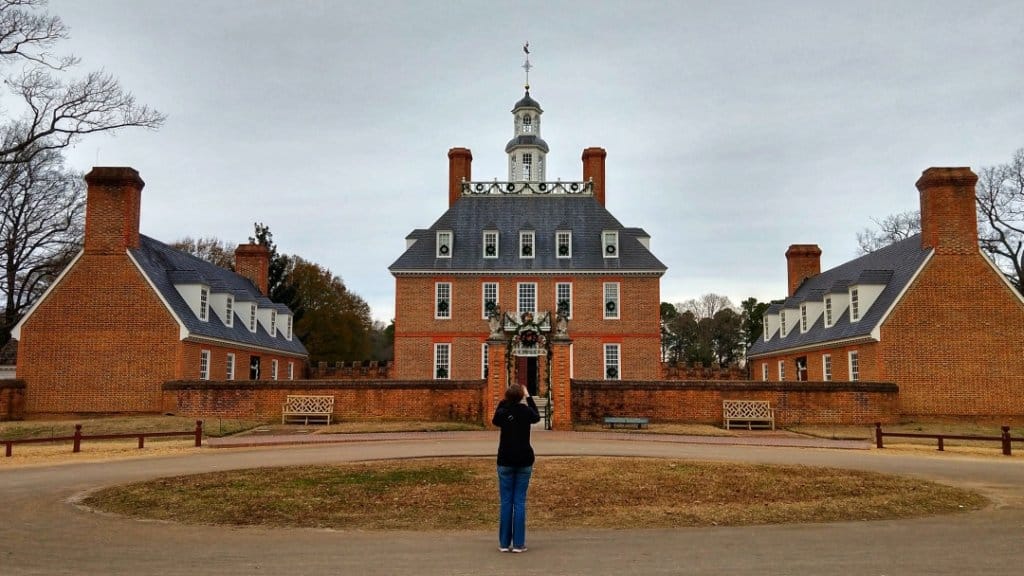 Hubby travels with me and often "contributes" photos to the blog (i.e., I just go into Google Photos and take what I want). He nabbed this Plan, Ready, Go "behind-the-scenes" shot on our Christmas trip to Colonial Williamsburg.
I'm not a free spirit who just travels wherever the winds take me and keeps my heart open to whatever inspires me to pack up and hit the road. No, I meticulously plan every possible detail of our trip, because I know that is the best way for me to combat travel anxiety.
I embrace my inner control freak. I find comfort in a well-planned itinerary.
With every trip I plan for and take, I learn a little more: a little more about travel, a little bit more about myself and a little more about the world around me. And funnily enough, I learn a little more about how to let the little things go and how there can also be joy in spontaneity…in moderation of course. Let's not get too crazy.
My hope is that with this blog I can share with you a little of the joy that I experience as I plan, get ready and go on our trips. I'll share with you all the fine details of itinerary planning and even let you in on how much we REALLY pay when we travel.When I'm not traveling with my family, planning, researching, packing or dreaming about traveling, I can usually be found in my office at my day job or relaxing at home with my husband and our cat.
I'd love to hear from you. If you have comments or questions you can send me an email at darcy(at)planreadygo(dot)com.