Perfect Weekend in Seattle Itinerary: Ultimate Guide
Ah, Seattle. If you haven't been yet, you really need to try it. In fact, a weekend in Seattle is a great way to get a taste of this amazing city in the Pacific Northwest.
I'm a native of Seattle and lived in the area for the first 29 years of my life, so I realize I'm a little biased, but let's be honest…there aren't a lot of spots in the U.S. that offer so much: modern city, amazing arts community, and great food, plus both water and snow-capped mountain views.
C'mon. It's one of the best places to visit in Washington State and everyone knows it.
To plan your two days in Seattle just follow my itinerary below. I know you'll love it!
When you're ready to get away from the city, check out my article about the best weekend getaways from Seattle.
This post includes affiliate links. If you make a purchase through one of these links, I may earn a small commission at no additional cost to you. As an Amazon Associate, I earn from qualifying purchases. See disclaimer.
Weekend in Seattle Day 1
On the first day of your Seattle weekend getaway, I recommend that you head toward the water.
We're going to start at Pike Place Market (of course!) and then head to the waterfront.
When planning the activities for your weekend trip in Seattle, you might want to consider buying the Seattle CityPASS.
Based on how much you cram into your weekend, it could save you some money. And you'll get admission to many of Seattle's premier sites and top attractions including the Space Needle.
Explore the wonderful Pike Place Market
Aside from the Space Needle, Pike Place Market is one of those sites that is just quintessentially Seattle.
From stunning fresh flowers to picture-perfect produce and from artisanal foods to fine handcrafts, you'll love exploring every inch of this amazing place.
Make sure to stop by Pike Place Fish in the Main Arcade. They're the guys who throw the fish. You really can't miss them, because they'll be surrounded by tourists…who are watching them throw fish.
I swear I am not making this up.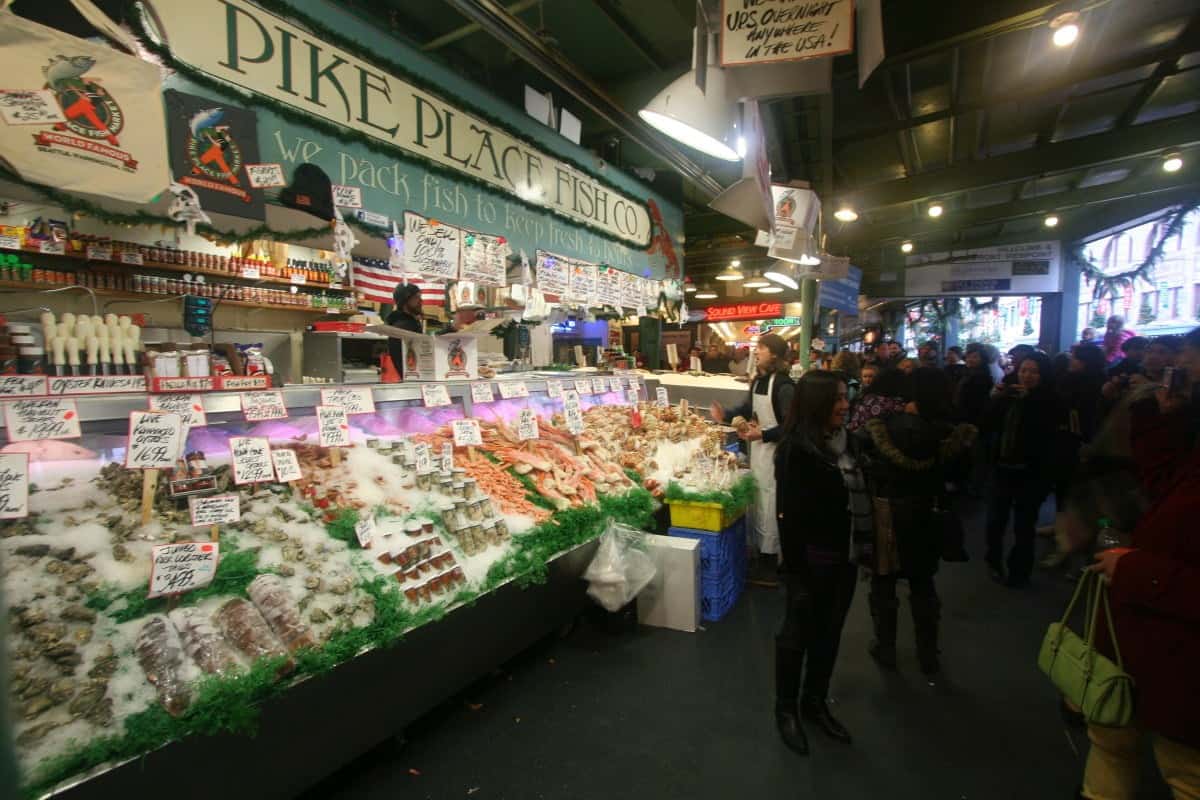 If you're driving to the Market, there is paid parking available in their garage. If you stay at one of the hotels we recommend (see below) you might want to walk to Pike Place Market.
Try to hit the Market before noon if you can, while there are smaller crowds.
During peak summer travel times, weekdays are your best bet to avoid the biggest of the tourist crowds.
You might want to consider taking a behind-the-scenes guided tour of Pike Place Market with early access before all the crowds arrive. Take a look here.
Check out the oldest Starbucks store
Yes, I am aware that the Starbucks located at 1912 Pike Place is not the first Starbucks store, but it is the location to where the first store moved in the mid-1970s. And it's been operating right there ever since.
If you're a Starbucks fan (like me) you won't mind waiting in the long line of tourists to see the inside of the store and pick up one of the souvenirs that you can only find in that location.
My mug from this store is one of my very favorite Seattle souvenirs.
If what you actually are looking for is coffee, then I recommend that you head to the Starbucks on 1st and Pike Street. It's a much larger location.
For the full Starbucks Coffee experience take an excursion to the Starbucks Reserve Roastery at 1124 Pike Street. They offer unique drinks plus coffee experiences like brew comparison flights. Also…more souvenirs. It's amazing.
Grab a photo at the Gum Wall
Address: 1428 Post Alley
Just a few steps away from Pike Place Market and the people throwing fish, you'll find the Gum Wall.
Yes, it's weird. But it's also kind of marvelous.
If you can stomach it, the Gum Wall is a fun and unique Seattle photo spot. You may also contribute to the wall if you wish.
In November 2015, more than one ton of gum was removed from the wall and everything was cleaned. Apparently, the sugars in the gum were causing damage to the bricks. Who knew?
More gum was added starting immediately after the cleaning was completed.
I took this photo at the gum wall before it was cleaned.
Enjoy lunch on the water at Ivar's Fish Bar
Address: 1001 Alaskan Way
For lunch (especially if the weather is agreeable), I recommend you head to the water to Pier 54 and Ivar's Fish Bar. It's just about the most Seattle thing you can do for lunch.
Beware. The seagulls will want your fries.
I'm serious.
For a higher-end Ivar's dining experience you might like Ivar's Acres of Clams right next door. They offer both indoor and outdoor (deck) seating, which is right on the water.
Other waterfront dining options include Elliott's Oyster House and The Crab Pot (near Waterfront Park and the Seattle Great Wheel).
Incidentally, my sister and brother-in-law had their wedding rehearsal dinner at The Crab Pot.
Seattle food tour
Although you'll find touristy things here, Seattle's is actually a working waterfront.
You'll find places to enjoy the sea air and views like at the new Pier 62 or Waterfront Park (located between the Seattle Aquarium and the Seattle Great Wheel).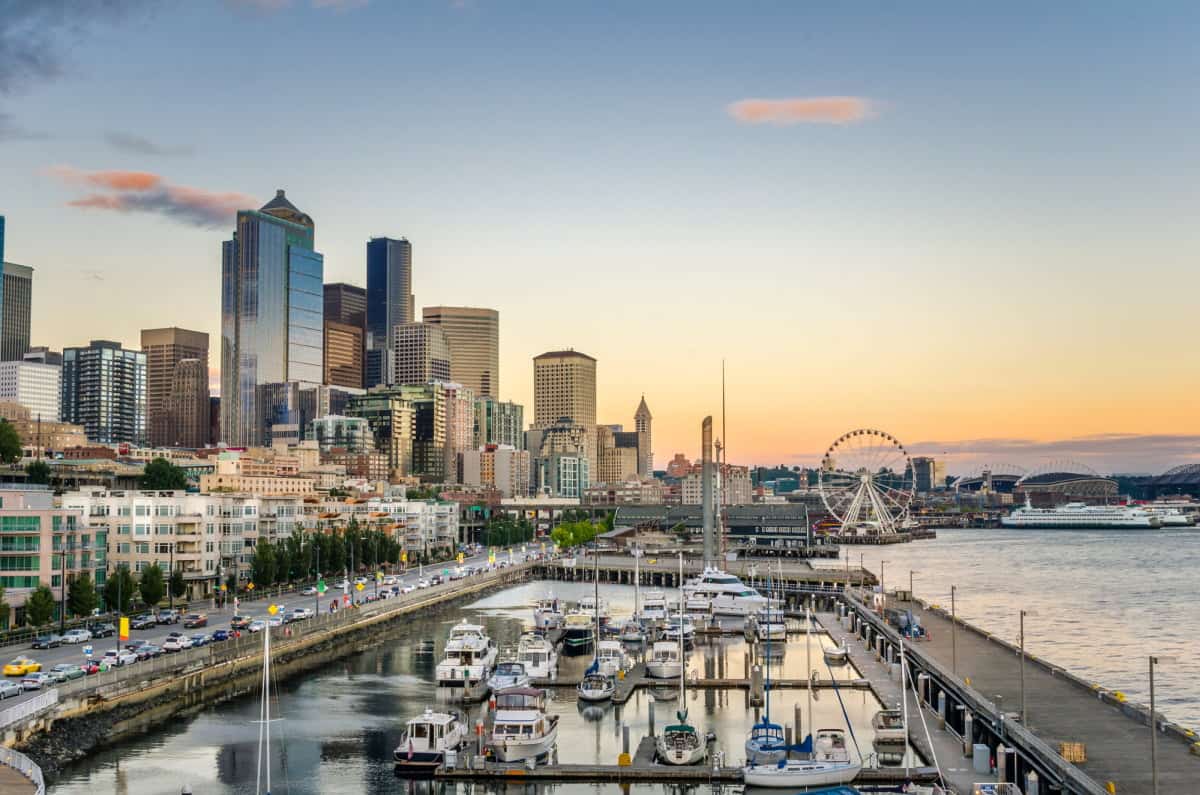 Miner's Landing
Located at Pier 57, Miner's Landing features several tourist attractions like the Seattle Great Wheel, Wings Over Washington, a Carousel and more. Pier 57 is also where you'll find The Crab Pot restaurant.
Ye Olde Curiosity Shop
Founded in 1899, Ye Olde Curiosity Shop has been a Seattle institution on Pier 54 for generations. Wander through for free (of course) to peek at the curiosities or pick up a small, creepy, weird and kitschy souvenir.
Olympic Sculpture Park
Olympic Sculpture Park covers nine acres and is the largest greenspace in downtown Seattle. It's located on the water and offers views of the Olympic mountains beyond Elliott Bay.
Created by the Seattle Art Museum (SAM), the site was originally used for fuel storage and transfer. Ew. The park now features native plants alongside the artworks. There is also an event pavilion and amphitheater.
The park is free and open to the public every day all year round.
Looking to save money on your Seattle weekend trip? Check out my post about the best free and cheap things to do in Seattle.
Other ideas for things to do at or near the Seattle waterfront
Ride the Bainbridge Island Ferry
For amazing views of the Seattle skyline, you'll have a hard time trying to beat the ferry ride from Bainbridge Island to Seattle.
A round trip ride will only cost you the price of one-way fare as fares are collected only as you leave Seattle if you're walking on as just a passenger. Car plus passenger fares are collected on both sides, so keep that in mind if you're taking a vehicle.
As of August 2023, the fare was $9.45. Not bad for a round trip ferry ride that gives you some stunning views.
The ride lasts about 35 minutes each way. You'll want to arrive at the ferry terminal at least 15 minutes before sailing time if you're a walk-on passenger.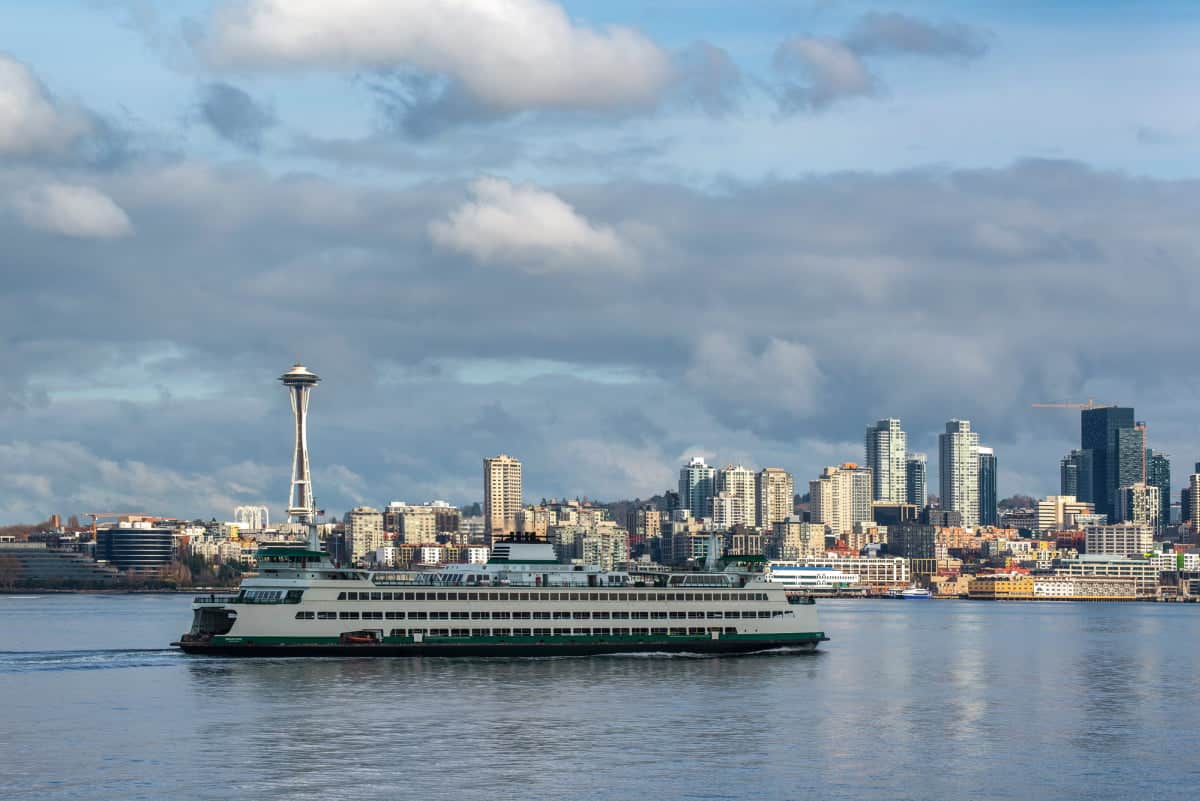 Seattle Art Museum
I've visited premier art museums all over the world, and I think that the Seattle Art Museum (SAM) easily stands up next to many of them. They have an impressive permanent collection of contemporary art and frequently offer special exhibits of major artists and artworks.
SAM is located at 1300 First Avenue about one block from Pike Place Market.
Seattle weekend itinerary Day 2
Today you're going to start off in the Seattle Center area, because of course.
Catch the view from the Space Needle
Address: 400 Broad Street
Built for the 1962 World's Fair, the iconic Space Needle has become an internationally recognized symbol for Seattle. It's also one of the most photographed structures in the world.
The Space Needle underwent a multi-year renovation and preservation process and now includes the world's first and only rotating glass floor.
Be advised, the Space Needle is not an inexpensive attraction to visit; however, it is a pretty unforgettable one.
Marvel at Chihuly Garden and Glass
Chihuly Garden and Glass is an indoor and outdoor long-term art exhibition dedicated to the work of world-renowned glass artist Dale Chihuly.
Chihuly's artwork really needs to be seen in person to be believed. They recommend that visitors plan to spend one to two hours touring the exhibitions.
As long as you're already in the area, to round out your Seattle weekend, pay a visit to the Museum of Pop Culture (MoPOP). It's just steps from Chihuly Garden and Glass and the Space Needle.
Designed by Frank Gehry—and once called the Experience Music Project—the Museum of Pop Culture offers exhibitions and educational programs dedicated to creativity and contemporary pop culture.
MoPOP recommends that guests purchase their tickets in advance.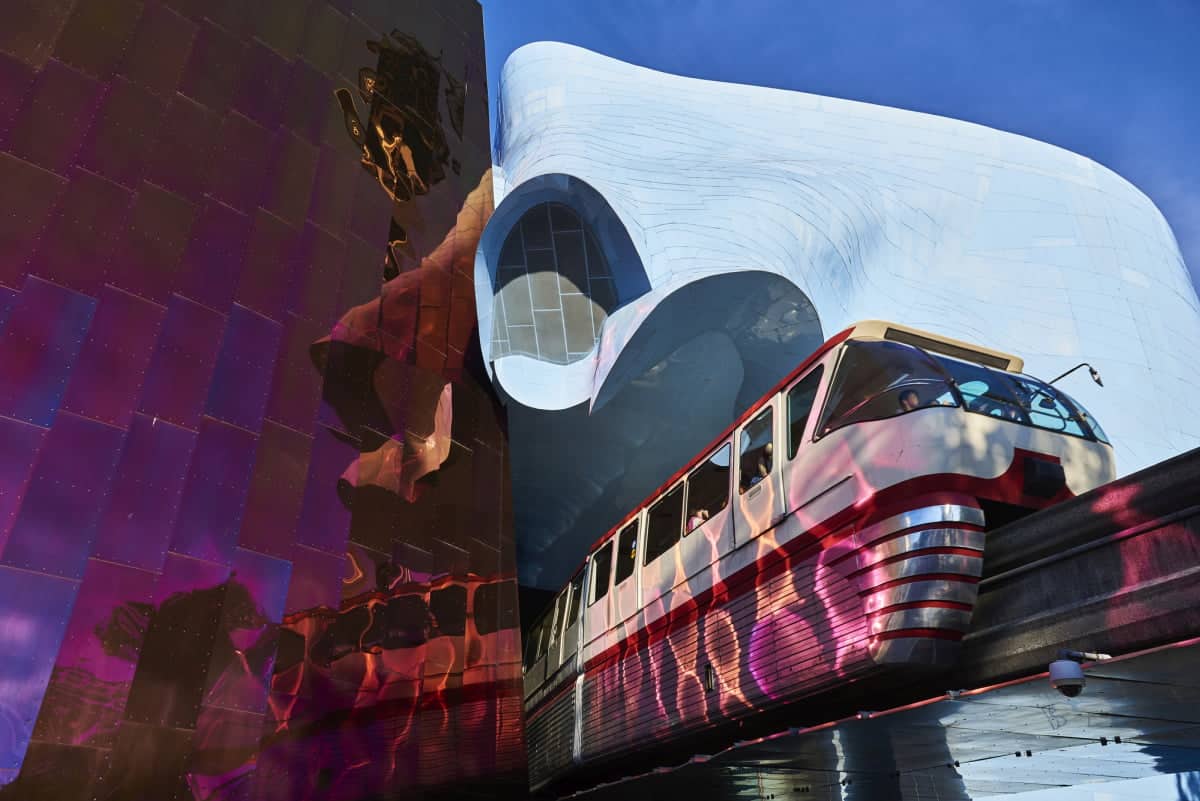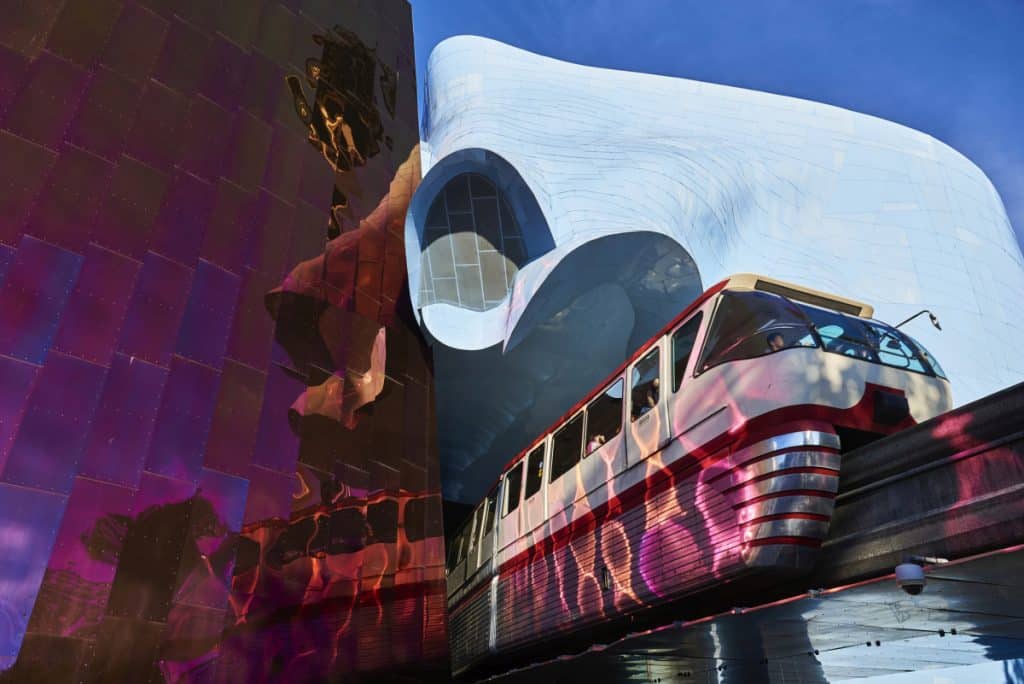 Other things you could add to your weekend in Seattle itinerary
Ride the monorail
Again, as long as you're in the area, hop on the Seattle Center Monorail for a quick ride back downtown…or ride it round trip just for fun.
It departs about every 10 minutes from one of two stations, Westlake Center (at 5th Avenue and Pine) or Seattle Center, and it only takes about 2 minutes to get from one end of the line to the other.
Depending on where you're staying, it's a convenient way to get from your hotel (if you're staying near Westlake Center like at the Mayflower Park) to the Space Needle. Regular adult fare tickets are $3.50 each way (as of August 2023).
The Westlake Center monorail station is just about a 10-minute walk from Pike Place Market.
Snap a photo of the Fremont Troll
No doubt you've seen photos all over social media of tourists posing with the funny and large troll sculpture lurking underneath the Aurora Bridge in Seattle's Fremont neighborhood. If you covet such a photo of your own, then you'll want to make your plans to pay a visit.
You'll find him clutching a Volkswagen Beetle on N. 36th Street at Troll Avenue N. He even has a Wikipedia entry and his own Facebook page.
Woodland Park Zoo
One of the premier zoos in the U.S., Woodland Park is not as conveniently located near downtown attractions as Seattle Aquarium but is worth a trip if you have the time and ability to get there. This is another great option that those traveling with children might especially want to check out.
WPZ strongly recommends that guests purchase their tickets ahead of time online.
If you don't have a car with you, you could use an app-based ride share like Uber or Lyft, or take a Seattle Metro bus (#5 to Phinney Ave. N. and N. 55th St.) to use the West Entrance.
Arboretum
A part of the University of Washington Botanic Gardens, the Washington Park Arboretum is free and open to the public every day from dawn to dusk. It comprises 230 acres on the shores of Lake Washington and is jointly managed by the UW and the City of Seattle.
The Graham Visitors Center includes an information desk, restrooms (accessible from outside) and a gift shop.
Ballard Locks
The Hiram M. Chittenden Locks and Lake Washington Ship Canal (referred to by locals mainly as the Ballard Locks) are managed by the Army Corps of Engineers and listed on the National Register of Historic Places. It's been noted for its significance to architecture, landscape architecture, commerce and engineering.
Hiram M. Chittenden was the Seattle district engineer for the Army Corps of Engineers from 1906 to 1908.
These locks are supposedly the busiest in the U.S. and they do three important things: maintain the water level of the freshwater lakes: Lake Washington and Lake Union; prevent the mixing of sea water from Puget Sound with the fresh lake water; move boats from the water level of the lakes to the water level of Puget Sound, and vice versa.
Anyone can come any day of the year to watch how the locks work. And every year from about early summer to September you may see salmon on the fish ladder. There's also a visitor center and botanical gardens.
Gas Works Park
Gas Works Park has to rate as one of the most unique parks I've ever visited in the world…probably because of the large old gas works structures that are still there…in the park. Just right there.
Yup. And it was once the site of the Seattle Gas Light Company coal gasification plant.
I think that the best feature of this park is the view of downtown Seattle. It's a great place from which to view the New Year's fireworks at the Space Needle.
There are picnic areas that you can reserve ahead of time, and it's also a popular park for flying kites.
How to get to Seattle
The best way to get to Seattle is to fly into Seattle-Tacoma International Airport (SEA). There are many ways to get from SeaTac to your accommodations, including:
Link Light Rail runs from the airport to several stops including downtown Seattle
King County Metro and Sound Transit buses
Shared van ride services like Capital Aeroporter
Rideshare like Uber and Lyft
Check to see if your hotel offers an airport shuttle
This video from Sound Transit will show you how to use Link Light Rail to get from SeaTac to downtown Seattle.
Where to stay for your Seattle weekend trip
Mayflower Park Hotel—Stay in the heart of downtown Seattle within walking distance of Pike Place Market and just steps from the Westlake Center monorail stop, making it super easy to get to the Space Needle, Seattle Center, MoPOP and Chihuly Garden and Glass. Check rates and availability here.
Hotel Ändra—Also within convenient walking distance of the Seattle waterfront and the Westlake Monorail station, Hotel Ändra offers unique boutique accommodations. It's also about a 15-minute walk to the Space Needle. Check availability here.
Ace Hotel—located in the popular Belltown neighborhood, Ace Hotel offers affordable accommodations just more than a 10-minute walk from Pike Place Market and the Space Needle. It's also about a 7-minute walk to Olympic Sculpture Park. Check out available rooms here.
Tips for visiting Seattle
What to do if you're going to be in Seattle longer than a weekend
The entire Puget Sound area is full of beautiful scenery and wonderful things to do.
If you have time in your weekend or if you have more than just a couple of days in Seattle, then I would recommend you think about getting out of the city and trying one of these amazing day trips from Seattle.
Whether you're interested in shopping in cute little towns, outdoor adventures (like kayaking) or exploring one of Washington State's three amazing National Parks, then a day trip is definitely a great way to go.
Best time of year to travel to Seattle
You're going to find the best weather in Seattle between July and September (when it's drier and temps average in the 70s and upper 60s), although it can actually get quite hot.
You'll also find a lot of tourists at the top sites like Pike Place Market (okay that one is always busy—even in the dead of winter in my experience) and the Space Needle during those months.
Yes, Seattle is rainy. It has more rainy days than most cities in the U.S. but it's not nearly the rainiest city by annual rainfall.
The months with the most rainy days are typically November through February (ugh, February) and into March.
What to pack for a weekend in Seattle
Now, while the summer weather in Seattle can be wonderful, it can also be quite hot. Follow weather reports closely and plan accordingly.
Seattle is a city where I definitely recommend packing to wear layers.
The rest of the year, be prepared for at least overcast skies and some rain. You might not necessarily need an umbrella. Often a rain shell with a good hood is sufficient.
Seattle is also a very casual city. Comfort is generally the rule of the day.
For more packing help, see my weekend packing list post.
Final thoughts on how to spend two days in Seattle
Seattle, Washington, is a stunningly beautiful city that's a unique combination of sleek and modern alongside rugged natural scenery.
It's a great destination for a weekend getaway. And if you want to explore outside Seattle, you have a staggering number of choices.
If it's your first visit to the Emerald City, I recommend you hit the top sites and then do more if you're taking a longer weekend or perhaps when you have the chance to go back.
As a Seattle native, I'm a little biased about the Emerald City. I hope you love it as much as I do.
More articles to help you plan your weekend in Seattle
Need more help planning your Seattle weekend getaway? Check out our list of the essential travel planning resources. 
Pin this post!