Glorious Day Trips from Seattle (Tips From a Native)
The best day trips from Seattle will help you explore more of the Puget Sound area and beyond
While the Emerald City has a ton of great things to do, there's also some pretty amazing places to see outside Seattle as well. These are the absolute best day trips from Seattle.
You can trust me. I'm a Seattle native.
We have so many great options for you here to add to your Seattle itinerary. You can even head to the Seattle waterfront and just hop on a boat for Victoria, BC, or the San Juan Islands (not operating in 2023).
Suggested day trips in this post are arranged in order of distance starting with the nearest to Seattle through the farthest away.
So, pack your day trip bag and let's go!
Plan the perfect itinerary with your FREE travel planner.
This post includes affiliate links. If you make a purchase through one of these links, I may earn a small commission at no additional cost to you. As an Amazon Associate, I earn from qualifying purchases. See disclaimer.
Bainbridge Island
Distance from Seattle: 10 miles
It's just a quick ferry ride from Seattle's waterfront over to Bainbridge Island. You don't even need to drive anywhere!
The ferry ride itself is a popular cheap thing to do in Seattle because the roundtrip fare for walk-on passengers is extremely affordable. Also, the return trip from Bainbridge gives you a great view of the Seattle cityscape.
But as long as you're taking the time to do the ferry anyway, why not do a little exploring?
Explore the Bainbridge Island Museum of Art (free admission) or the Bainbridge Island Historical Museum (also free), housed in the old Island Schoolhouse originally built in 1908.
Both these museums are close to the ferry. Or you can just enjoy the view in the Seattle way…with a cup of coffee.
Snoqualmie Falls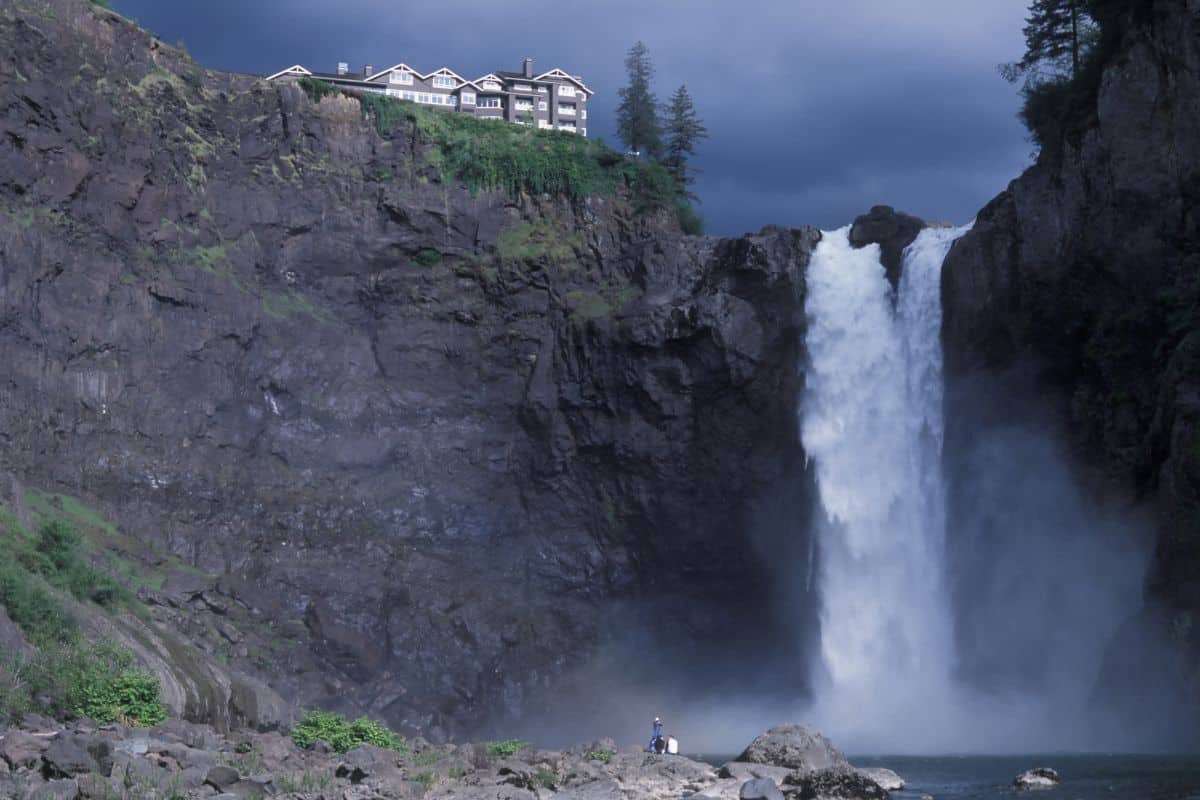 Distance from Seattle: 30 miles
Just a short distance from Seattle you'll find the beautiful 268-foot Snoqualmie Falls on the Snoqualmie River. It's quite a popular natural attraction in the area and one of the best places to visit in Washington State. In fact, about 1.5 million people visit the Falls every year and enjoy the view.
Snoqualmie Falls is listed in the National Register of Historic Places because of its importance to the Snoqualmie people.
You might want to consider making this an overnight excursion from Seattle and stay at the beautiful Salish Lodge & Spa overlooking the falls. A visit to Salish is also one of the most popular weekend trips from Seattle.
How awesome would that be!
Gig Harbor
Distance from Seattle: 45 miles
Known as "The Maritime City," Gig Harbor is situated just about an hour's drive south of Seattle at the south end of the Puget Sound. The town's past is rooted deeply in its connection to the water (so beautiful!), and you can't miss the views of Mount Rainier.
Get out on the water with a boat or kayak rental or book a harbor cruise tour. You can even take a Venice-style Gondola ride!
Or enjoy one of the town's 21 parks within the city limits. You can also explore the 6.2-mile Cushman Trail that connects downtown Gig Harbor to the Tacoma Narrows Bridge.
Of course, there's also a wide variety of dining and shopping options that you can choose from in the heart of Gig Harbor, Washington.
PRO TIP: If you have flexible travel dates you need to check out Going (formerly Scott's Cheap Flights). You get amazing flight deals sent straight to your inbox with instructions on how to book directly with the airlines. Check out Going here. Going is my favorite way to find great travel deals. 
La Conner
Distance from Seattle: 70 miles
I love La Conner! It's a wonderful little weekend getaway spot that also makes for a lovely day trip. You'll find La Conner in Washington's Skagit Valley (home of the famous Skagit Valley Tulip Festival).
Don't miss the Pacific Northwest Quilt & Fiber Arts Museum. It's a very special place that showcases beautiful work from some amazing artists.
You'll find plenty to fill your day in La Conner. Fun ideas include stopping by Conner Waterfront Park, kayaking to Goat Island, browsing quaint shops in the center of town, and enjoying a meal at one of La Conner's amazing eateries.
You should also check the town's calendar of events, because they really have a LOT of festivals and special events.
Seasonal day trip from Seattle: Skagit Tulip Festival
Distance from Seattle: approx. 70 miles
Remember La Conner from earlier in this article? La Conner is in the Skagit Valley. And Skagit Valley is home to the Skagit Valley Tulip Festival. Each April, Skagit Valley comes alive with rows and rows of color. Hundreds of acres of tulips. Thousands??
There's Tulip Town where you can learn all about tulips and pick your own bouquet. Attention, Instagrammers! They even offer special photo passes that give you access during specified times.
Mount Rainier National Park
Distance from Seattle: 80 miles
Undoubtedly one of the top day trips from Seattle is Mount Rainier National Park. This National Park protects and preserves the 14,000+ foot tall Mount Rainier, which also happens to be an active volcano.
According to the National Park Service, Mount Rainier "is the most glaciated peak in the contiguous U.S.A., spawning five major rivers."
When planning your day trip to Mount Rainier, keep in mind that the "winter season" there extends well into the spring. Make sure to check road status before you leave as well as alerts and conditions.
The majority of Mount Rainier National Park has been designated by Congress as wilderness, but there are five developed areas that include three visitor centers, a museum and more.
Take the stress out of planning your day trip from Seattle to Mount Rainier and book a guided day tour of the Park. This guided tour offers hotel pick up and drop off as well as free cancellation.
Deception Pass State Park
Distance from Seattle: 81 miles
Deception Pass State Park is the most visited Washington State Park. Fishing, boating, hiking, camping, picnicking, beach strolling and more can all be had at this beautiful park.
The park's 3800+ acres span an area that takes in part of both Whidbey and Fidalgo islands and includes 77,000 feet of shoreline. You're sure to find the perfect spot and perfect view to enjoy your day trip.
Of course, the iconic Deception Pass Bridge makes a wonderful photo spot. For wonderful views take a stroll across the bridge. (There are places to park or pull out.) Be aware of the potential for heavy traffic; this is the only bridge to Whidbey Island.
For a fun experience, try a small group kayaking tour of Deception Pass State Park.
Anacortes
Distance from Seattle: 82 miles
Anacortes is a lovely coastal community conveniently located on an island you can easily drive to from downtown Seattle in about an hour and a half. And while the town itself is a fun place to visit, it also makes a great jumping off point for outdoor adventures especially those near or on the water.
You can try sea kayaking or better yet book a whale watching cruise and go on the lookout for killer, humpback, and gray whales as they travel through the islands.
Plus you might see some of the other amazing wildlife of the Northwest like sea lions, seals, otters, or porpoises. Fun!
Hikers, joggers and bikers might enjoy the Tommy Thompson trail. A portion of this rail trail goes out over Fidalgo Bay and features views of Mount Baker.
Olympic National Park
Distance from Seattle: 85 miles to Port Angeles (outside the Park)
Olympic National Park on Washington's Olympic peninsula features an amazing variety of very striking scenery from lush rainforest to mountains to beaches. It's amazing.
You won't want to miss the Hoh Rain Forest.
And I really enjoyed the Marymere Falls Trail at Lake Crescent. It's a little less than a mile each way.
It's important to note that there are no roads that cross Olympic National Park, so you'll need to keep in mind how long it will take you to drive between the places you want to visit.
Don't want to deal with figuring out how to get to and around Olympic National Park yourself? Book a guided day trip.
Keep in mind that it is not at all a short drive from Seattle to Olympic National Park. Ideally, you would want to stay closer to the park for a visit, but if you really just want to do it as a day trip you certainly can. It will just be a long day.
Victoria, British Columbia
Victoria, British Columbia, is absolutely one of the most popular day trips from Seattle.
This is also another great day trip option if you don't have access to a car. Use the Victoria Clipper Ferry (passengers only) and sail directly from Pier 69 in Seattle. It takes about 2 hours and 45 minutes each way.
The area immediately around the ferry ramp in Victoria is full of things to do like Miniature World, an IMAX theater, and the world-class Royal British Columbia Museum. My first experience as a kid with a wax museum was in Victoria, BC. LOL.
Don't forget to snap a photo of the iconic Legislative Assembly of British Columbia building and get Tea at the Empress.
Or try a scenic seaplane tour.
When traveling to Victoria from Seattle, keep in mind that you will be crossing an international border. Check to make sure you know what the requirements are for crossing in each direction.
Friday Harbor (San Juan Island)
Distance from Seattle: 105 miles
If you're interested in sea kayaking, whale watching, and the like then head to San Juan Island. The San Juan Islands in Washington State are a wonderful place to try a whale watching excursion.
In fact, San Juan is considered one of the best places to see killer whales.
Try this whale watching tour to have a great chance of seeing whales and of course other sea mammals.
If you're in Seattle between spring and early fall, you can easily get to San Juan by using San Juan Clipper directly from Seattle to Friday Harbor (on San Juan).
You could also rent a car, drive to Anacortes (see above) and take the ferry.
Friday Harbor is also a very walkable town, and just about anything you'd want to see or do is within walking distance of the ferry terminal.
Orcas Island
Distance from Seattle: 105 miles
Some consider the 57-square-mile Orcas Island the "gem of the San Juans" even going so far as to call it the "Emerald Isle."
Orcas really is a beautiful place to visit. You can visit Moran State Park and its 38 miles of trails, standing atop Mt. Constitution (the highest point in the San Juans, try (you guessed it) sea kayaking or whale watching, charter a sailboat, and more.
If you have a car, you can spend your day trying an island driving tour along the Orcas Island scenic byway and visit the oldest pottery shop in the Pacific Northwest, Orcas Island Pottery.
Turn your visit to Orcas into a romantic getaway with a stay at Rosario Resort & Spa.
North Cascades National Park
Distance from Seattle: 110 miles
Hikers will surely wish to pay a visit to North Cascades National Park. Hiking there is most popular during the driest weather in the Park, from mid-June through September.
Though the North Cascades are quite popular with serious backpackers and mountaineers, you'll also find some great day hikes there. There are at least five or six hikes that can easily be done in less than two hours, some in less than one hour.
Keep in mind that this is a bit of a trek from Seattle, though less than a three-hour drive.
There is no fee to enter North Cascades National Park though there are fees if you wish to camp there.
Leavenworth
Distance from Seattle: 120 miles
A Bavarian village in the middle of Washington State? Yup.
It has been said that Leavenworth is the second most popular tourist destination in Washington State, after only Seattle. I'm not sure if that's true, but I really wouldn't be surprised.
You'll find this gem tucked away in the foothills of the Cascade Mountains. It's full of shops, great dining options, and quirky sites like a nutcracker museum, and more.
Or tap into your adventurous side and try whitewater rafting on the Wenatchee.
The drive to Leavenworth from downtown Seattle will take you a good two and a half hours.
If you'd rather not undertake that journey yourself (who could blame you?), you might want to consider booking a highly-rated guided day trip. You can always cancel your reservation later without penalty, up to 24 hours ahead.
Vancouver, British Columbia
Distance from Seattle: 145 miles
Exploring beautiful Vancouver, British Columbia, as a day trip from Seattle is a wonderful idea.
I think it's required for everyone to at least spend a little time in Stanley Park while they're in Vancouver. Other popular sites and attractions in Vancouver include Capilano Suspension Bridge Park, Chinatown, the Vancouver Art Gallery and so much more.
Vancouver is also a popular cruise port for Alaska cruises…just something to think about for the future.
When traveling to Vancouver from Seattle, keep in mind that you will be crossing an international border. Check to make sure you know what the requirements are for crossing in each direction.
Mount St. Helens
Distance from Seattle: 155 miles
Yeah, I know this is a long way to go for a day trip, but Mount St. Helens really has to be seen to be believed.
When this volcano erupted in 1980, it blew out the north face of the mountain and completely changed everything about all of the land around it…and it has never been the same since.
Words can't even really describe it.
Just go. See it with your own eyeballs. You'll be so glad that you did.
If you don't want to drive all that way and back in a single day, then maybe turn it into an overnight excursion from Seattle.
Or book a guided day trip and leave the driving to someone else!
Where to stay in Seattle
Here are a few suggestions for popular and conveniently located places to stay in Seattle:
Mayflower Park Hotel—Stay in the heart of downtown Seattle within walking distance of Pike Place Market and mere steps from the Westlake Center monorail stop, making it super quick and easy to get to Seattle Center. Check rates and availability here.
Hotel Ändra—Also within convenient walking distance of the Seattle waterfront and the Westlake Monorail station, Hotel Ändra offers cool and unique boutique accommodations. It's also about a 15-minute walk to Seattle Center. Check availability here.
Ace Hotel—located in the popular Belltown neighborhood, Ace Hotel offers affordable accommodations just over a 10-minute walk from Pike Place Market. It's also about a 7-minute walk to Olympic Sculpture Park. Check out available rooms here
Tours mentioned in this article
Final thoughts on the best day trips from Seattle
Seriously though. There are a TON of awesome places to see around Seattle.
From beautiful National Parks to quaint towns and stunning Puget Sound islands, the difficult part will be choosing which day trip to add to your itinerary.
And especially if you book a guided day tour that includes transportation, it really couldn't be easier to explore the Puget Sound area and beyond.
It wouldn't hurt to do two different day trips.
I'm just sayin'.
More articles to help you plan your trip to Seattle
 Need more help planning your Seattle trip? Check out our list of the essential travel planning resources.
Pin this post!
Glorious Day Trips from Seattle