Seattle Bucket List: 75 Things to Do in the Emerald City
Seattle, the Emerald City, is a vibrant metropolis known for its iconic landmarks, cultural diversity, and stunning natural beauty. In this article I share my ultimate Seattle bucket list.
Whether you're a local or visiting for the first time, there's always something new to discover in this dynamic city.
Discover must-visit attractions, hidden gems, and unforgettable experiences that showcase the best of what this city has to offer.
Why should you listen to me? Because I was born in Seattle and grew up in the area. I've spent more time in Seattle than you can shake a stick at. (If that's your idea of a good time.)
Plan the perfect trip to Seattle with this free printable travel planner.
This post includes affiliate links. If you make a purchase through one of these links, I may earn a small commission at no additional cost to you. As an Amazon Associate, I earn from qualifying purchases. See disclaimer.
Top tourist sites in Seattle
These are the stops that are basically legally required to be on any Seattle itinerary. Not necessarily the most original ideas, but you need to see them nonetheless.
If you're planning to see a lot of the top sites and attractions in Seattle, you might want to check out the Seattle CityPass. I just very well could save you a significant amount of money over paying for admission to each site separately.
Check out the Seattle CityPass here.
1. Pike Place Market
Pike Place Market is a must-see spot in Seattle that won't cost you a penny. Well, there's no entry fee anyway. You may have a hard time just looking and not buying. It's full of beautiful flowers, great produce, tasty artisanal foods, and lovely handmade crafts.
Don't forget to check out Pike Place Fish in the Main Arcade; they're the ones who throw the fish. You'll easily spot them surrounded by the crowd of tourists.
Explore the best (and tastiest) the market has to offer with this Pike Place Market walking food tour.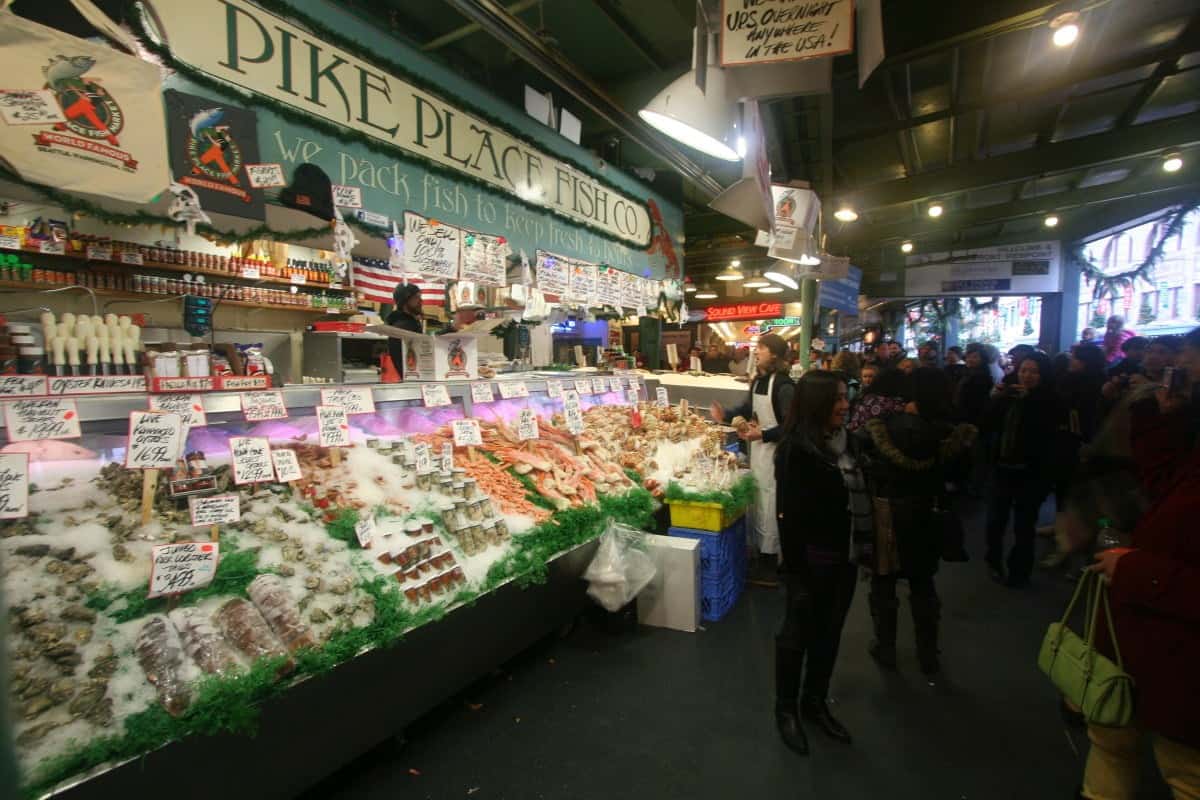 2. Space Needle
The Space Needle was constructed for the 1962 World's Fair and has since become a widely recognized icon of Seattle. It's also incredibly popular for taking pictures.
Recently, the Space Needle underwent an extensive renovation and preservation effort, resulting in the world's sole rotating glass floor.
Keep in mind that visiting the Space Needle can be pricey, but it's a truly memorable experience.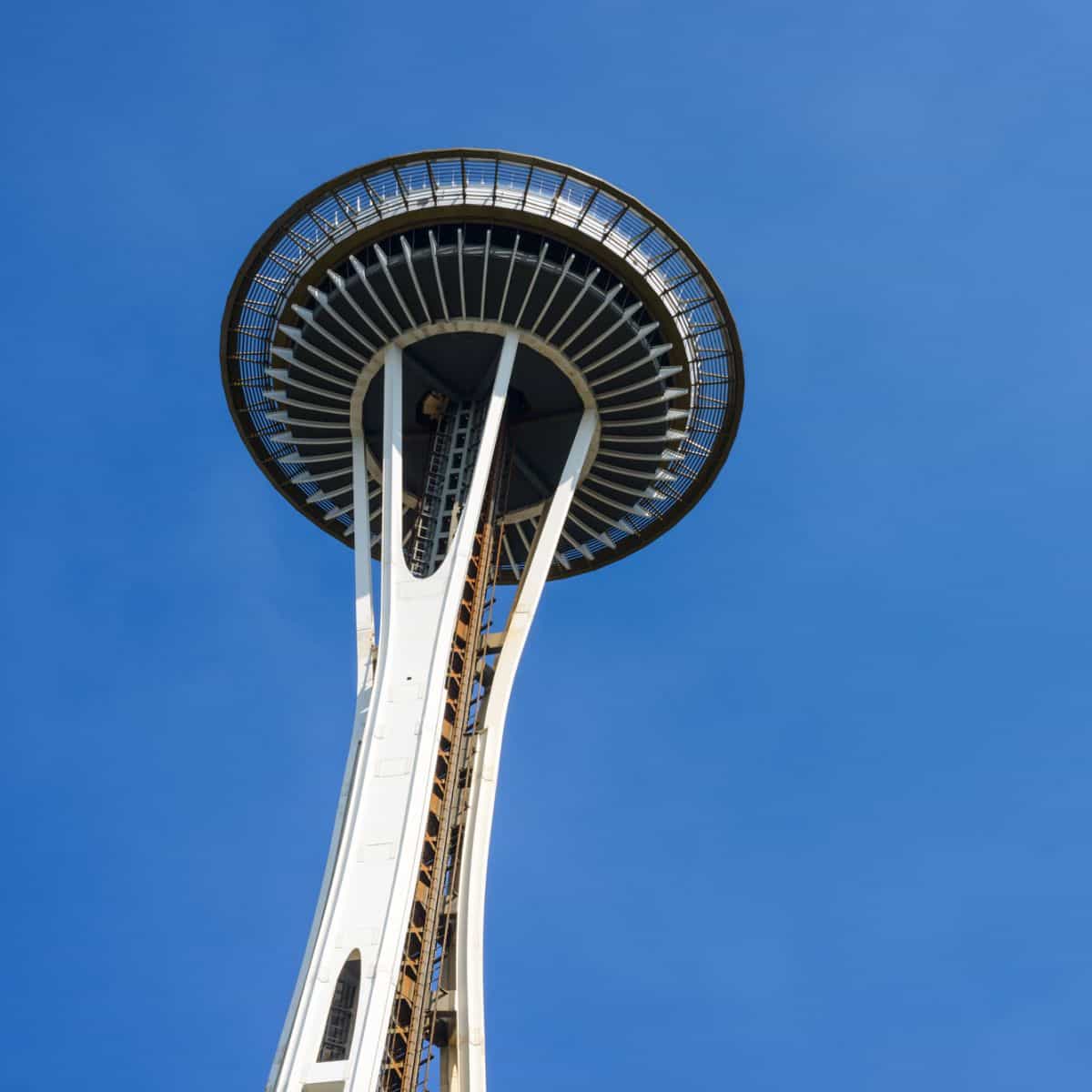 3. First Starbucks
I understand that the original Starbucks store was not situated at 1912 Pike Place. However, it was the site where the first store relocated in the mid-1970s and has been operating from that location ever since.
If you're a Starbucks enthusiast (like myself), you don't mind waiting in the long line of tourists to explore the interior of the store and purchase exclusive souvenirs only available at that particular location.
4. Gum Wall
Yes, it's weird. But it's also kind of terrific. And it's one of my favorite free things to do in Seattle.
If you don't think it will gross you out, the Gum Wall makes for a quirky and special photo opportunity in Seattle. You can also add your own contribution to the wall if you want.
In November 2015, over a ton of gum was cleared away, and the area was thoroughly cleaned. As it turns out, the sugars in the gum were causing harm to the bricks. Who would have thought?
Following the cleaning, people began adding gum to the wall once more.
5. Waterfront
Although you'll find touristy things here, Seattle's is actually a working waterfront. And it's a must for any visitor to the Emerald City.
You'll find places along the water to enjoy the sea air and views like at the new Pier 62 or Waterfront Park (located between the Seattle Aquarium and the Seattle Great Wheel).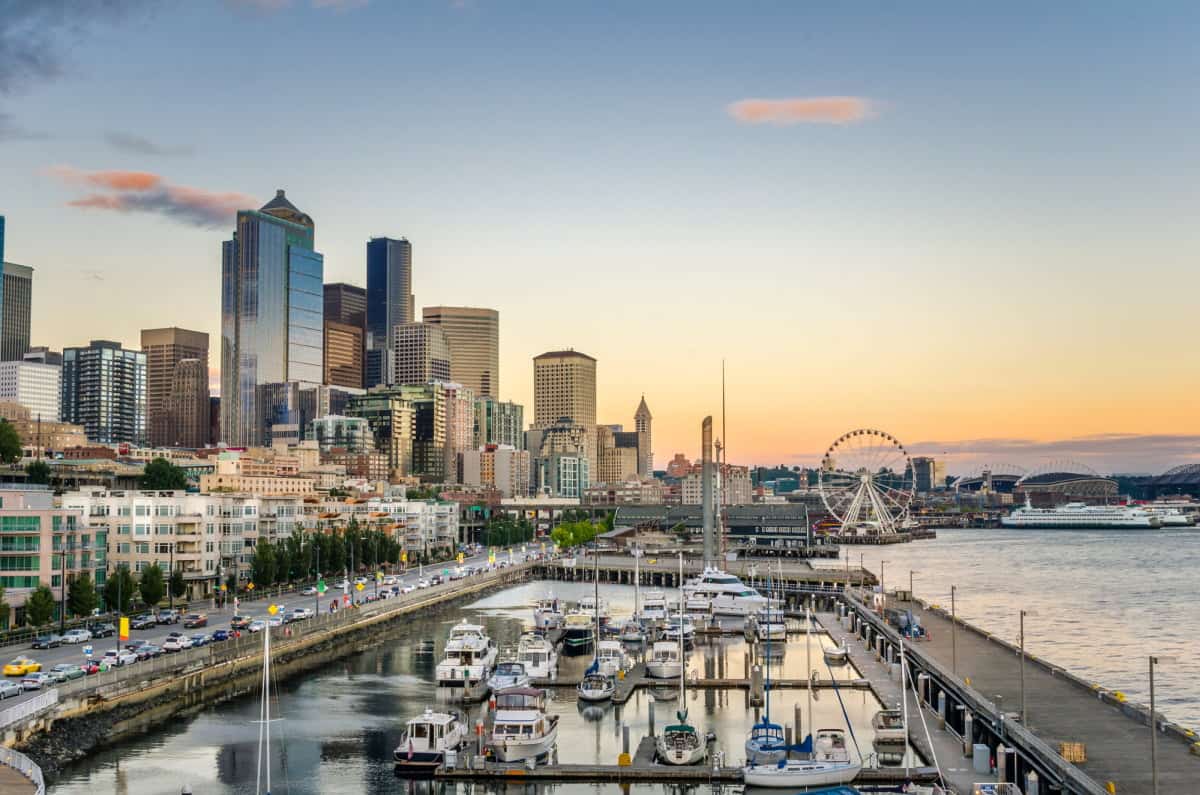 6. Seattle Great Wheel
The Seattle Great Wheel is a popular tourist attraction in the city. It stands 175 feet tall on Pier 57.
Its 42 fully-enclosed gondolas can accommodate up to eight passengers each, providing stunning panoramic views of downtown Seattle, Elliott Bay, and the Olympic Mountains.
With its impressive height and breathtaking views, the Seattle Great Wheel is definitely worth a visit for anyone exploring the city.
Tours and excursions
7. Guided tour of Seattle
If it's your first time in Seattle, you should definitely consider taking a guided tour. It's a great way to get the lay of the land, learn about the city's history and culture, and discover cool spots you might have missed otherwise.
Plus, having a knowledgeable guide can make the experience way more interesting and help you appreciate what makes Seattle so special.
8. Underground Tour
The Seattle Underground Tour is a must-visit attraction for history buffs and anyone who wants to explore the city's hidden side. It's absolutely one of the most popular things to do in Seattle.
With knowledgeable guides leading the way, you'll step back in time and discover the fascinating stories and secrets of Seattle.
9. Harbor Cruise
If you're in Seattle, you've got to take a harbor cruise, it's the perfect way to see the city from a totally different perspective than just walking about on land.
Plus, with stunning views of the skyline, mountains, and water, it's basically a sightseeing extravaganza.
Am I overstating things?
Nah. I don't think so.
If you want to be super fancy, you might enjoy a sunset cruise on a tall sailboat.
10. Ferry to Bainbridge
For yet another option to take in beautiful views of the Seattle skyline, you'll have a hard time beating the ferry ride from Bainbridge Island to Seattle.
A roundtrip ride costs the same as a one-way fare from Seattle since fares are only collected there if you're walking on.
As of April 2023, the fare was $9.45. Not bad for a round trip ferry ride that gives you some stunning views.
The ride lasts about 35 minutes each way. You'll want to arrive at the ferry terminal at least 15 minutes before sailing time if you're a walk-on passenger.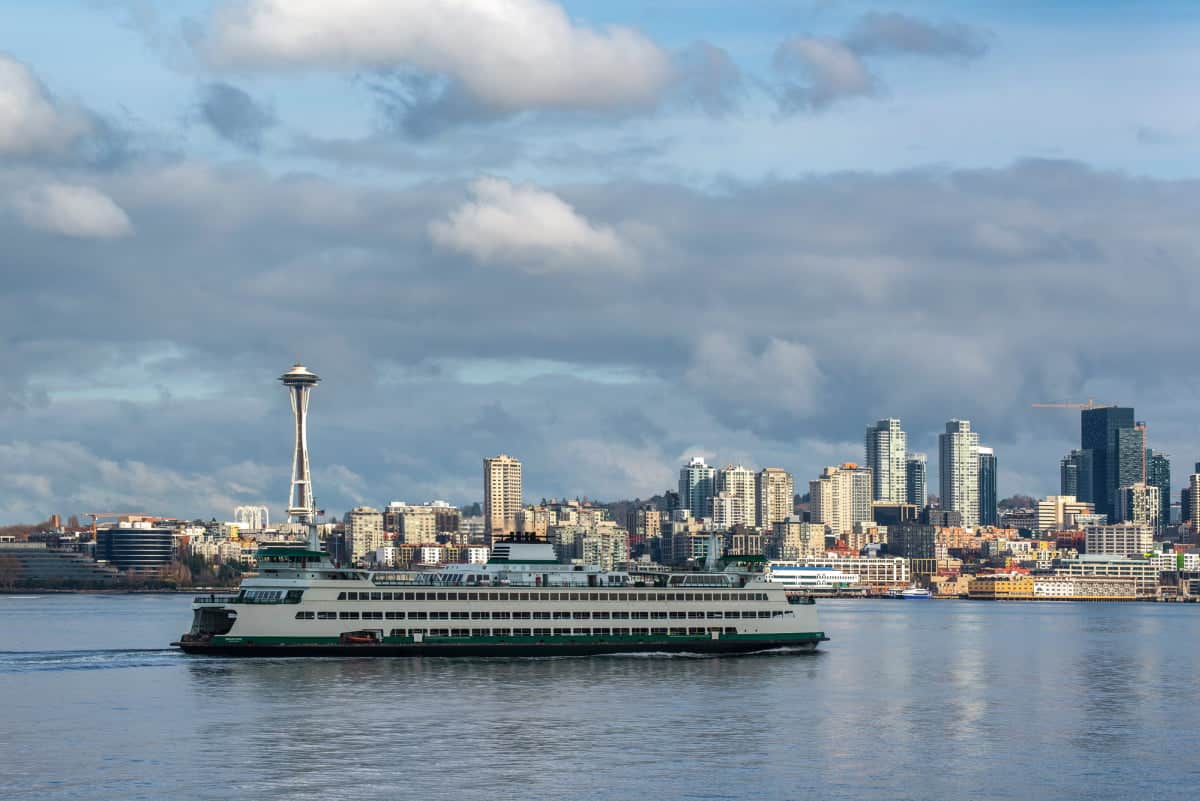 11. Monorail
For $3.50 each way, you can ride the Seattle Center Monorail from Seattle Center station to the end of the line at Westlake Center in the heart of downtown Seattle.
It's a fun and cheap activity in Seattle and a convenient mode of transportation, especially if you're sightseeing nearby or your hotel is very near one of the two stations.
12. University of Washington campus
The beautiful campus of the University of Washington in Seattle brings in a lot of guests.
Fortunately you don't have to be a prospective student to enjoy a tour. This guide to the campus highlights will help you explore on your own.
The campus visitor center is located at the Odegaard Library: 022 Odegaard.
Seattle landmarks and neighborhoods
13. Fremont Troll
Undoubtedly, you must have come across the many photos on social media of tourists posing with the comical and enormous troll sculpture lurking beneath a bridge in Seattle's Fremont neighborhood.
If you want your own photo, you'll find him clutching a Volkswagen Beetle on N. 36th Street at Troll Avenue N. He even has a Wikipedia entry and his own Facebook page.
14. Pioneer Square Neighborhood
Pioneer Square is known for its stunning architecture, which includes brick buildings and ornate facades. You'll find the famous Smith Tower in Pioneer Square.
The neighborhood is also home to numerous art galleries, boutiques, and restaurants, making it a great place to spend an afternoon exploring.
Visitors can take a guided walking tour to learn about the area's rich history, or simply wander around the streets and soak up the atmosphere.
Additionally, Pioneer Square is conveniently located near other popular Seattle attractions, such as the Pike Place Market and the Seattle waterfront.
PRO TIP: If you have flexible travel dates you need to check out Going (formerly Scott's Cheap Flights). You get amazing flight deals sent straight to your inbox with instructions on how to book directly with the airlines. Check out Going here. Going is my favorite way to find great travel deals. 
15. Seattle Public Library
Everyone should take the time to appreciate the stunning Central Library of the Seattle Public Library (1000 4th Avenue).
The building's award-winning design was created by the Dutch architect Rem Koolhaas.
16. The Spheres
Did you know that you can see The Spheres at Amazon's global headquarters for free? Yup.
You can visit The Spheres for free a couple of Saturdays a month, but you will need to make an advanced reservation online.
Dates open up for online booking about 15 days in advance.
You can also stop by the Understory (also free!) at Amazon HQ to learn more about The Spheres.
Museums, historic sites
Seattle offers an abundance of opportunities to explore its rich history and culture. With a range of world-class museums and historic sites, visitors can immerse themselves in the city's past and present.
Listed here, in no particular order, are the museums and historic sites that belong on your Seattle bucket list.
17. Seattle Art Museum
I've visited several of the top art museums in the world, and I think that the Seattle Art Museum (SAM) easily stands up next to many of them.
This important art museum boasts a permanent collection of contemporary art, in addition to special exhibitions of well-known artists and their works.
18. MoPOP
MoPOP (Museum of Popular Culture) is located just steps from both the famous Chihuly Garden and Glass (see below) and the Space Needle. Seriously, it will only take you about three minutes to walk there from there.
Designed by uber famous architect Frank Gehry, the museum formerly known as the Experience Music Project (see what I did there?) offers exhibitions and educational programs dedicated to exploring your inner creativity and contemporary pop culture.
I recommend that you purchase your tickets in advance if you can.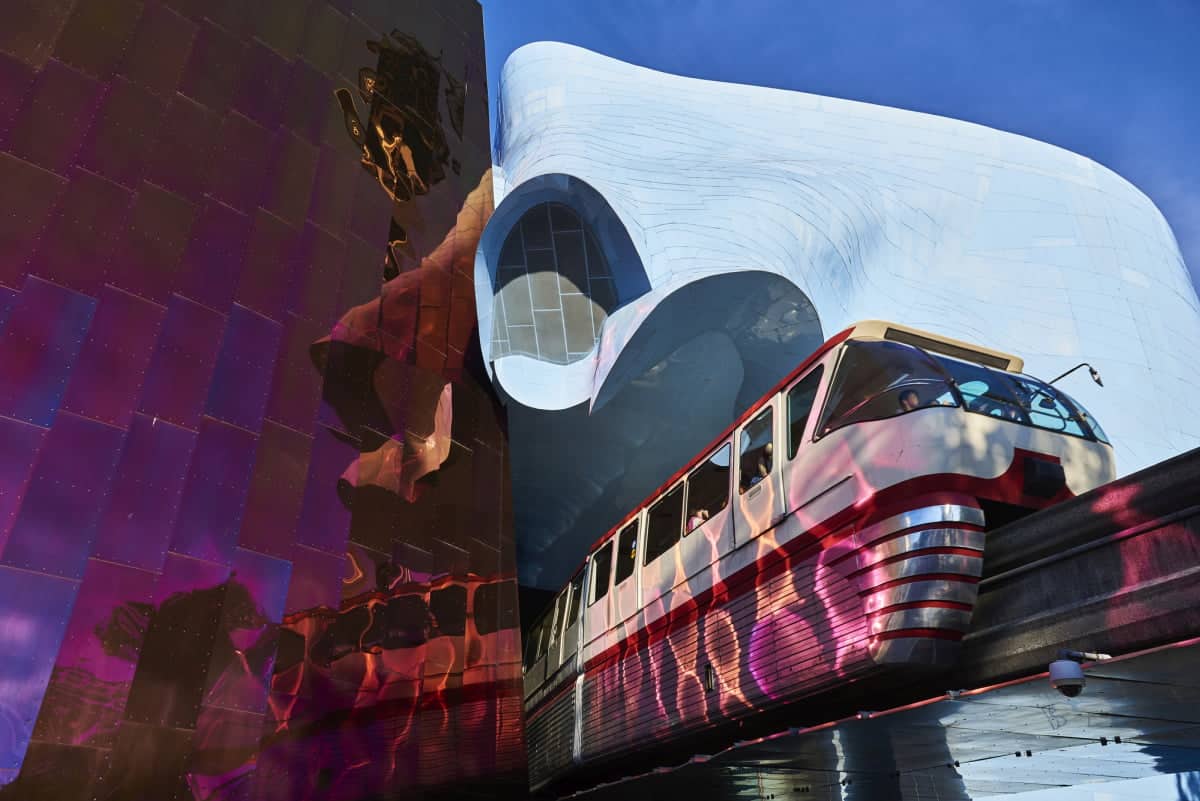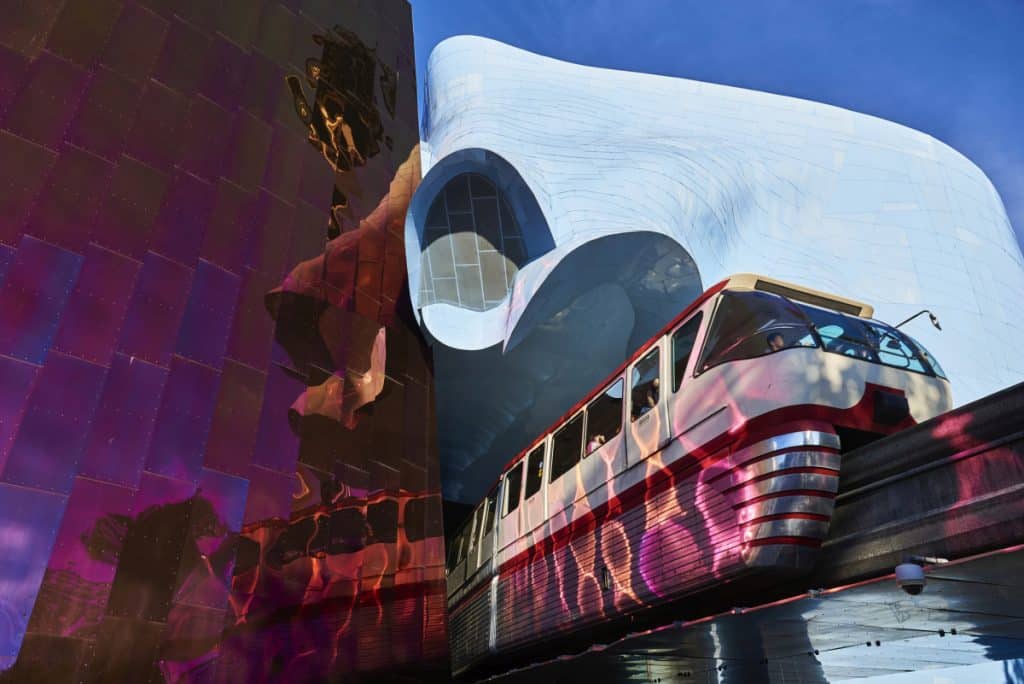 19. Chihuly Garden & Glass
Chihuly Garden and Glass is an incredible collection of Dale Chihuly's world-renowned glass artwork, displayed both indoors and outdoors.
To truly appreciate its beauty, visitors should plan to spend one to two hours touring the exhibitions, which is conveniently located adjacent to the Space Needle. This makes it so easy to visit both popular spots in one day.
If you wish, you can get a Space Needle and Chihuly Garden and Glass combination ticket, which is a pretty popular option.
20. Burke Museum of Natural History and Culture
The Burke Museum is one of Seattle's most unique and fascinating museums. Located on the University of Washington campus, it's home to an extensive collection of artifacts, specimens, and cultural objects from around the world.
Visitors can explore exhibits on topics such as the geology of the Pacific Northwest, biology, archaeology, and the history of local Native American tribes.
They often host special exhibits that draw many visitors to the museum.
21. Seattle Asian Art Museum
The Seattle Asian Art Museum is one of the most highly regarded museums in the region, holding the Asian Art collection of the Seattle Art Museum.
The museum lives in the 1933 Art Deco building in Volunteer Park that once was the home to the Seattle Art Museum (SAM).
22. Museum of History & Industry (MOHAI)
Located in the historic Naval Reserve Armory building on Lake Union, MOHAI's exhibits cover a wide range of topics, from the region's early Native American inhabitants to its role in the tech industry today.
The permanent exhibit, True Northwest: The Seattle Journey takes guests through Seattle's real story, starting from the time when Native American cultures first met Europeans, all the way to when the region became a global hub.
MOHAI was included in the 2021 and 2020 "10 Best History Museums (Readers' Choice)" in USA Today.
23. Frye Art Museum
The Frye Art Museum, located in Seattle's First Hill neighborhood, is open to the public for free all year round.
The museum is named after Charles and Emma Frye, prominent community leaders and art collectors.
The museum's permanent collection primarily centers around late 19th and early 20th-century German art.
24. Seattle Pinball Museum
The Seattle Pinball Museum was established in 2010 with the aim of showcasing vintage pinball machines as an interactive display of kinetic art.
Visitors can play over 50 vintage pinball machines dating from the 1960s to the present day, as well as other classic arcade games.
25. Klondike Gold Rush National Historical Park
Visiting the Klondike Gold Rush National Historical Park Seattle unit is a fascinating way to step back in time and learn about the gold rush era of the late 19th century.
The park is located in the historic Pioneer Square neighborhood and features exhibits that showcase the history and culture of the gold rush era.
26. Wing Luke Museum
The Wing Luke Museum of the Asian Pacific American Experience is a vibrant and engaging museum located in the heart of Seattle's Chinatown-International District.
The museum features exhibits that explore the history, culture, and art of Asian Americans, Native Hawaiians, and Pacific Islanders
27. The Center for Wooden Boats
The Center for Wooden Boats in Seattle is a unique museum that celebrates the art and craftsmanship of traditional wooden boats.
Located on the shores of Lake Union, the museum features a collection of over 100 historic boats, ranging from sailing vessels to kayaks and canoes. Admission is always free.
28. Henry Art Gallery
The Henry is an art museum located on the campus of the University of Washington. Their collection includes more than 28,000 works of art, and it's the only museum in the region solely dedicated to contemporary art.
Parks, wildlife, etc.
Even within Seattle's city limits, there is an abundance of nature to explore and appreciate. The city is home to many parks and green spaces, including Discovery Park, which offers stunning views of Puget Sound and the Olympic Mountains.
Visitors can also explore the Washington Park Arboretum, the Woodland Park Zoo, and the Seattle Aquarium, among other attractions, to experience the natural beauty of the region without ever leaving the city.
Seattle's many waterways and beaches provide opportunities for outdoor activities such as boating, fishing, and beachcombing.
29. Woodland Park Zoo
One of the premier zoos in the U.S., Woodland Park is not as conveniently located near downtown attractions as the Seattle Aquarium (below) but is worth a trip if you have the time and ability to get there.
Those traveling with children may especially want to check it out.
30. Seattle Aquarium
For those with a fascination for marine biology and the environment of the Pacific Northwest, the Seattle Aquarium is a great place to visit. It's right on the waterfront, making it convenient for other sightseeing during your day.
The aquarium offers a variety of exhibits showcasing (and educating about) many amazing creatures, including otters and seals, jellyfish, and more.
31. Gas Works Park
Gas Works Park has to rate as one of the most unique parks I've ever visited in the world…probably because of the large old gas works structures that are still there…in the park. Just right there.
Oh yes. It was once the home of the Seattle Gas Light Company coal gasification plant.
Setting that aside, in my opinion the best feature of this park is the view of downtown Seattle. (It's a great place from which to view the New Year's fireworks at the Space Needle.)
It's a popular spot for kite flying.
32. Washington Park Arboretum
A part of the University of Washington Botanic Gardens, the Washington Park Arboretum is free and open to the public every day from dawn to 8 p.m.
With a total area of 230 acres situated along the shoreline of Lake Washington, this location is managed through a collaborative effort between the University of Washington and the City of Seattle.
At the Graham Visitors Center, guests will find amenities such as an information desk, restrooms, and a gift shop.
33. Olympic Sculpture Park
Nestled on nine acres near the waterfront, the Olympic Sculpture Park stands as the largest green space in downtown Seattle, offering breathtaking vistas of the Olympic mountains and Elliott Bay.
Originally utilized as a fuel store and transfer site (ew), the park was transformed into a magnificent outdoor exhibition space by the Seattle Art Museum (SAM).
Along with the park's artworks, visitors can enjoy the park's native plant life, event pavilion, and amphitheater.
34. Kerry Park
Seattle's Kerry Park is a favorite photo spot among city visitors, boasting iconic views that capture the downtown skyline, Elliott Bay, and even the distant Mount Rainier.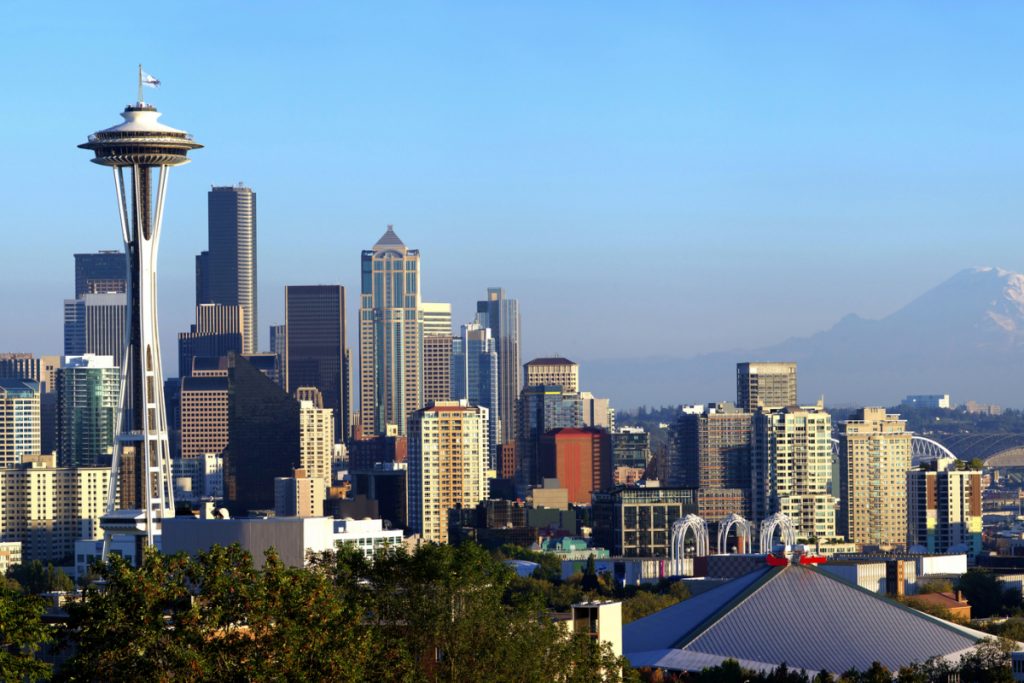 35. Discovery Park
Covering an impressive 534 acres, Discovery Park stands as the largest park in Seattle. It's situated on Magnolia Bluff and offers sweeping views of the Puget Sound and both the Cascade and Olympic mountain ranges.
This vast park encompasses two miles of pristine shoreline, scenic trails, and picnic areas, as well as play equipment and boat access (by water only).
36. West Point Lighthouse
Visitors are welcome to explore the West Point Lighthouse grounds, located within Discovery Park, free of charge.
For those who require assistance with access, such as families with young children or individuals with physical disabilities, parking permits may be obtained at the Discovery Park Visitor Center.
Handicapped and permit parking are the only options available for self-driving to the lighthouse. Shuttles are available for those who can't do the walk from the Visitor Center.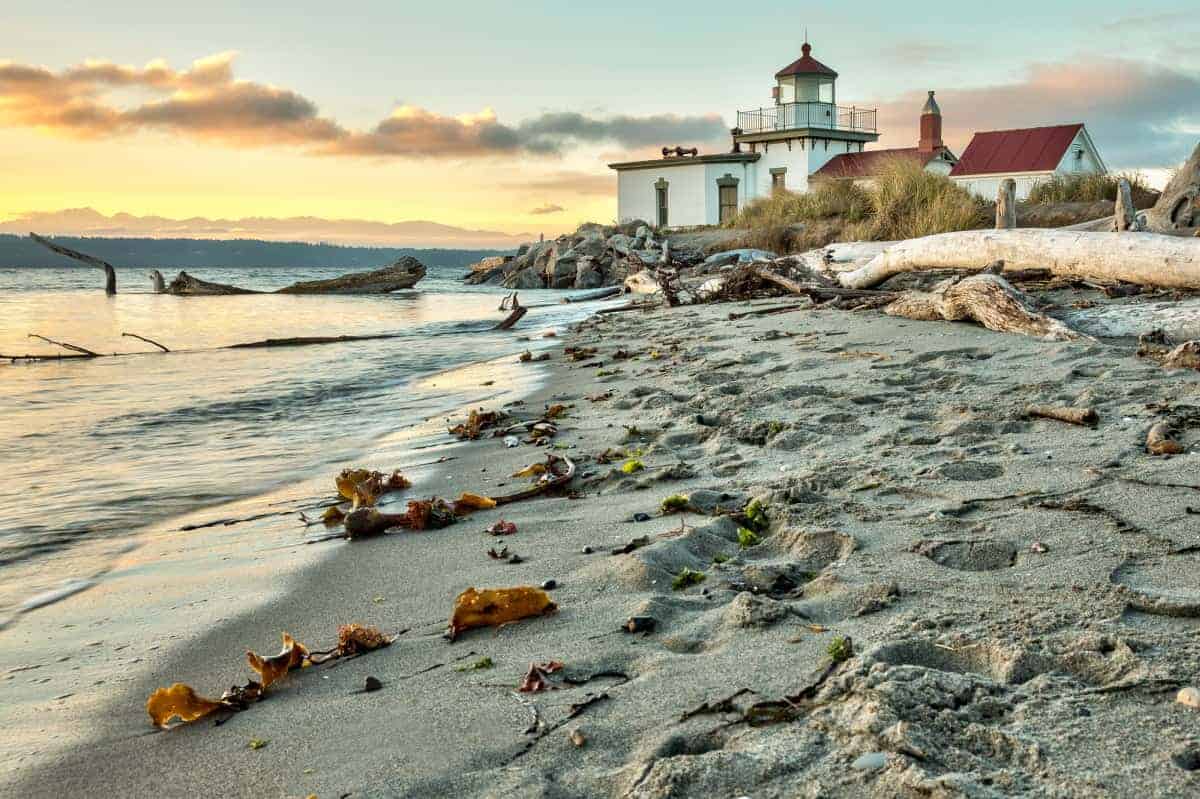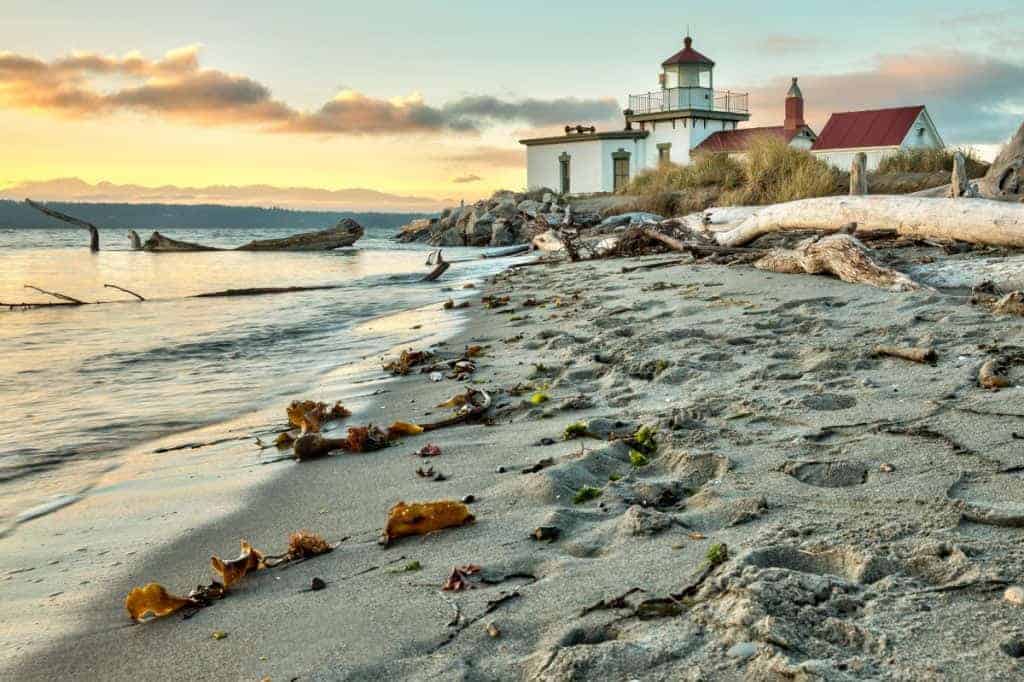 37. Ballard Locks
The Hiram M. Chittenden Locks and Lake Washington Ship Canal (referred to by locals as the just the Ballard Locks) are open to the public for free to observe every day.
They're managed by the Army Corps of Engineers and listed on the National Register of Historic Places. These locks are supposedly the busiest in the U.S. and they do three important things:
maintain the water level of the freshwater lakes: Lake Washington and Lake Union
prevent the mixing the sea water from Puget Sound with the fresh lake water
move boats from the water level of the lakes to the water level of Puget Sound, and vice versa.
38. Carl S. English Botanical Gardens
The Ballard Locks offer more than just a unique waterway attraction. Visitors can also enjoy the charming botanical gardens, which are open to the public for picnics and recreational activities.
Spread across seven acres, the gardens include a stunning collection of trees and plants and are completely free for all to enjoy.
39. Green Lake Park
I have jogged around Green Lake so many times that I've lost count. The loop, which is slightly less than three miles long, was especially useful for my 5k training.
This park is a charming oasis of a greenspace in the heart of the city.
Green Lake is not just ideal for running, as it's also a well-liked destination for boaters, and the beaches are typically accessible during the summer.
40. Alki Point Lighthouse
Near Alki Beach, the Alki Point Lighthouse (at 3201 Alki Avenue SW) is a fully-automated functioning lighthouse. The lighthouse was built in the early 20th century and went automated in the 1980s.
From the Alki Point Lighthouse you can see (to the west) the Cascade Mountains, and on clear days, Mount Rainier to the south, plus the boat traffic on the Puget Sound.
It has been open for free tours on select days between about late May through some of October. You can follow their Facebook page for updates.
41. Alki Beach Park
Alki (pronounced alk-eye) Beach Park, situated in West Seattle, encompasses roughly 140 acres and features a half-mile-long beach.
Though visitors can enjoy the water, it's important to note that Seattle's water is quite chilly, with temperatures ranging from the mid-40s to mid-50s, depending on the season.
42. Burke-Gilman Trail
The Burke-Gilman Trail is a popular recreational trail in Seattle that spans 20 miles from Bothell to Shilshole Bay (in Seattle).
Any non-motorized use is okay for the Burke-Gilman Trail. Okay, except for horses.
I love this trail and I think you will too. It's paved and all offroad, except for an on-road portion in Ballard.
43. Kubota Garden
The Kubota Garden is a beautiful Japanese garden located in south Seattle. It was created by Fujitaro Kubota, a Japanese immigrant and gardener, in the 1920s and has since become a popular destination for visitors.
The garden features a beautiful collection of plants, waterfalls, and stone arrangements, all designed to create a peaceful and meditative atmosphere.
It's free to visit and park at Kubota Garden.
44. Volunteer Park Conservatory
The Volunteer Park Conservatory is a historic greenhouse located in Seattle's Volunteer Park. It features five different display houses showcasing a wide variety of plants from around the world.
The greenhouse was modeled after the Victorian style of the Crystal Palace in London.
While there is a small fee to enter the Conservator, parking at Volunteer Park is free. And while you're there anyway, you can explore the Seattle Art Museum's Asian Art Museum, also located in Volunteer Park.
45. Waterfall Garden Park
Waterfall Garden Park is a "pocket park" located in Pioneer Square. The park features a 22-foot waterfall and a patio with tables and chairs. It makes a nice spot to take a break during a day of exploring.
The park sits on a site formerly occupied by the United Parcel Service, which was started in Seattle as the American Messenger Company.
46. Seattle Chinese Garden
The Seattle Chinese Garden is a beautiful garden that blends traditional Chinese design elements with Pacific Northwest landscaping.
The garden features a pond, pavilions, a rock garden, and a zigzag bridge. It's one of the largest traditional Chinese gardens outside of China.
Guests are invited to enjoy the park and relax or learn more about Chinese culture.
47. Golden Gardens Park
Golden Gardens Park is a popular beachfront park. The park features sandy beach, wetlands, walking trails, a picnic area, and stunning views of Puget Sound and the Olympic Mountains.
It also includes an off-leash area for dogs, a boat launch and you can fish from the pier.
Sports, performing arts, etc.
When it comes to performing arts, I'll put Seattle up against any other major city in the U.S.
Okay, except maybe New York City.
And say what you will, I happen to think Seattle is a great sports town.
Give it a chance and then come back and tell me I'm wrong.
48. Seattle Symphony
The Seattle Symphony is the world-renowned orchestra that performs at Benaroya Hall. If you haven't ever been to Benaroya, I highly recommend you try to pay a visit.
Benaroya is a wonderful venue to attend a Symphony concert or recital. I've seen Yo-Yo Ma, Samuel Ramey, Dawn Upshaw, Renee Fleming, Itzhak Perlman, Maxim Vengerov, and many other outstanding artists perform there.
49. Seattle Opera
Seattle Opera is one of the top opera companies in the United States. It's most famous for its remarkable Wagner productions as well as showcasing emerging talents, commissioning new works, and collaborating with leading artists and institutions.
Opera enthusiasts from all over the world travel to Seattle to enjoy the opera's wonderful productions.
50. Pacific Northwest Ballet
The Pacific Northwest Ballet is the ballet company based in Seattle. It's known for its innovative choreography, talented dancers, and diverse repertoire that ranges from classical ballet to contemporary dance.
They are also quite well-known for their annual Nutcracker production with sets designed by the illustrator Maurice Sendak. Sendak is probably best known for his books Where the Wild Things Are and Chicken Soup With Rice.
The Pacific Northwest Ballet shares the performance venue McCaw Hall with Seattle Opera.
51. Seattle Mariners
The Mariners are the Major League Baseball team in Seattle and T-Mobile Park is their home stadium. The park is known for its stunning views of the Seattle skyline, its state-of-the-art amenities, and its passionate fans (like me!).
Even if you have no interest in attending a Mariners game, consider taking a tour of the park and prepare to be impressed.
52. Seattle Seahawks
Football fans may be interested in attending a home game for Seattle's NFL team, the Seahawks.
The team plays at Lumen Field, across the street from T-Mobile Park, the home of the Seattle Mariners. The stadium's loud and passionate fans, known as "The 12s," create an electric atmosphere that adds to the excitement of watching a Seahawks game live.
You can take a tour of Lumen Field if you can't make it to a game.
53. University of Washington football
Going to a University of Washington football game is a quintessential Pacific Northwest experience for sports fans visiting Seattle. The team plays at Husky Stadium on the shores of Lake Washington.
College football and beautiful views? Yes please!
54. Seattle Storm
Seattle Storm is the WNBA team in Seattle. They've won four WNBA championships, and play at Climate Pledge Arena.
55. Seattle Kraken
Hockey fans, Seattle has something for you too. The local NHL team, Seattle Kraken, plays at Climate Pledge Arena.
56. OL Rein
The Seattle women's professional soccer team plays at Lumen Field.
57. Seattle Sounders
The men's professional soccer team in Seattle plays their home games at Lumen Field.
Shopping
58. Uwajimaya
The Uwajimaya Asian market kind of has to be seen in person to be believed. It's located in Seattle's Chinatown-International District and it's 35,00 square feet of specialty foods and products.
When I was a school kid, I had a field trip that included a stop at Uwajimaya. Even locals think it's a cool place to see.
59. UW bookstore
The University of Washington Bookstore is the place to find UW merch, plus a terrific selection of books, and other Seattle-ish souvenirs.
60. glassybaby
Candle lovers will want to check out and possibly pick up a beautiful souvenir from glassybaby. Their candle holders and drinkware are hand-blown so each one is unique.
These pieces make for an ideal souvenir from Seattle, which is renowned for its glass art.
While glassybaby items may be slightly pricier than your typical souvenir, they are perfect for those who want to splurge on a more luxurious memento that they can also use.
61. Ye Olde Curiosity Shop
Ye Olde Curiosity Shop has been a Seattle institution on Pier 54 since 1899. Feel free to stroll through and just take a peek at the curiosities, or you can purchase a quirky, eerie, or peculiar souvenir.
62. REI Flagship Store
In 1996, the REI Seattle Flagship Store was established on 222 Yale Avenue, and it is more than just a retail store; it is an attraction worth visiting. You must go see it for yourself.
63. Elliott Bay Book Company
Calling all book lovers. You have to pay a visit to Elliott Bay Books. It is huge. It is beautiful. They have knowledgeable staff who will gladly make recommendations.
And there's a lovely little cafe inside that's a great spot for lunch or a cup of coffee while you enjoy reading your newly purchased book.
Things to do in Seattle for families
64. Seattle Center
Constructed for the 1962 World's Fair, the Seattle Center is a compound of buildings that currently serves as a bustling 74-acre hub for civic, cultural, and event activities. Over 30 organizations, ranging from cultural and educational to sports and entertainment, call this place home.
65. Pacific Science Center
Kids visiting the Pacific Science Center in Seattle will have a blast exploring the interactive exhibits and hands-on activities that educate about science. I know I always did!
From the planetarium to the amazing butterfly house, there's something for everyone to enjoy at PSC.
66. Seattle Children's Museum
Seattle Children's Museum is a non-profit organization that provides interactive exhibits and educational programs for children from birth to 10 years old. The museum fosters an environment of informal and fun learning.
67. Seattle Children's Theatre
The Children's Theatre was founded in the 1970s and is dedicated to providing children with access to professional theatre that they will find engaging and fun.
I can't tell you how many elementary school field trips I had to this theater, and every show we saw was wonderful.
68. International Fountain
During the hot summer months, it's common to see many people congregating around the International Fountain, enjoying the fountain or watching their children playing and splashing in the water.
In 2021, the fountain was revamped, and it now has five water programs that are harmonized with music.
69. Museum of Flight
I highly recommend paying a visit to the Museum of Flight in Seattle, even if you have just a passing interest in aviation.
Of course, Seattle has a long and distinguished history in aviation, which shines through all of the wonderful exhibits here.
70. Bill & Melinda Gates Foundation Discovery Center
The Discovery Center of the Bill & Melinda Gates Foundation offers an interactive experience highlighting the Foundation's efforts towards enhancing worldwide health and diminishing poverty.
Guests can educate themselves about the Foundation's objectives, explore interactive displays, and engage in events and initiatives aimed at fostering social progress and ingenuity.
Food
71. Food Tour
For foodie travelers, don't pass up the opportunity to try a guided food tour. You'll get the chance to explore some of the best food in the city with a local guide.
72. Top Pot
Doughnut lovers (you know who you are) need to try the doughnuts from Top Pot while they're in Seattle.
You'll find their flagship café in downtown Seattle on 5th (at 2124 5th Avenue). You won't regret it.
I promise to you that I am not making this up. Once my sister got a Top Pot apple fritter that was nearly as big as her entire face. I have declared them the best apple fritters on the planet.
73. Theo chocolate
A visit to the Theo chocolate factory makes a great Seattle trip itinerary addition.
And most importantly the chocolate is quite delicious. So, make sure you grab some chocolate at the flagship store after your tour or just stop by and pick up a tasty souvenir from Seattle.
Theo also offers varieties that are vegan friendly.
74. Starbucks Reserve Roastery
If you're a coffee enthusiast, especially a fan of Starbucks coffee, I recommend you make a trip to the Starbucks Reserve Roastery located at 1124 Pike Street.
I think that the roastery is like a Starbucks theme park. For just a few bucks, you can indulge in some truly remarkable coffee.
You can also often find drinkware and other Starbucks merch not available in the "regular" Starbucks stores.
75. Ivar's fish bar
And last, but most definitely not least…If you want a real Seattle experience for lunch, I recommend heading to Pier 54 and Ivar's Fish Bar. The views are amazing, and the food is yummy.
Beware. The seagulls will want your fries.
I'm serious.
Where to stay in Seattle
Mayflower Park Hotel—Stay in the heart of downtown Seattle within walking distance of Pike Place Market and a very short distance from the Westlake Center monorail stop, making it super quick and easy to get to Seattle Center. Check rates and availability here.
Hotel Ändra—Also within convenient walking distance of the Seattle waterfront and the Westlake Monorail station, Hotel Ändra offers boutique accommodations. It's also about a 15-minute walk to Seattle Center. Check availability here.
Ace Hotel—located in the popular Belltown neighborhood, Ace Hotel offers affordable accommodations just over a 10-minute walk from Pike Place Market. It's also about a 7-minute walk to Olympic Sculpture Park. Check out available rooms here.
Need more help planning your trip to Seattle? Check out my  list of the essential travel planning resources. 
Tips for visiting Seattle
How long should I spend in Seattle?
To truly get the Seattle experience, I would recommend planning to spend at least two- or three-day weekend in Seattle.
If you only have time to spend one day in Seattle, you'll at least get to see the highlights.
If you can spend at least four days in Seattle, you can take part of your trip to venture outside the Emerald City to see some of the amazing things nearby like North Cascades National Park or go whale watching in the San Juan Islands.
To see my top recommendations, see my articles on the best day trips from Seattle and the top weekend getaways from Seattle.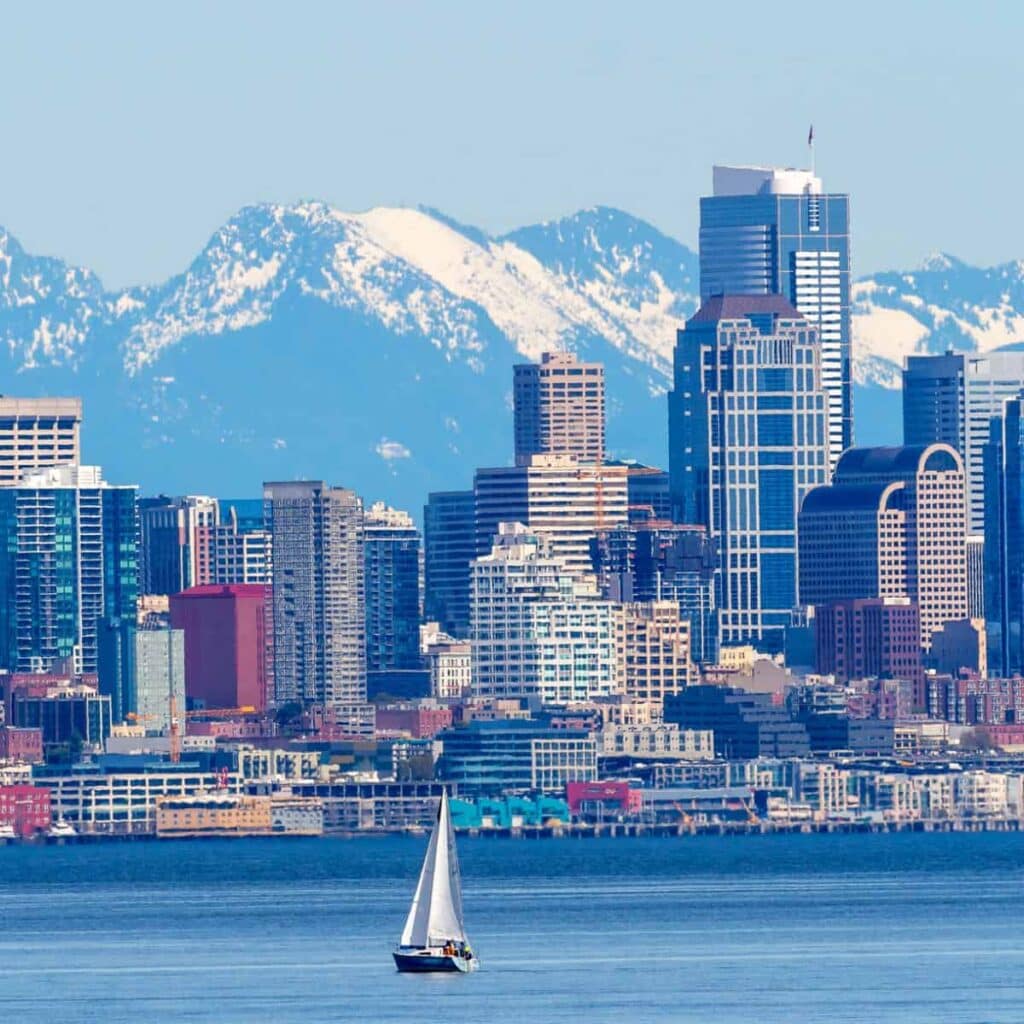 Best time of year to travel to Seattle
You're going to find the best weather in Seattle between July and September (when it's drier and temps average in the 70s and upper 60s), although it can actually get quite hot.
You'll also find a lot of tourists at the top sites like Pike Place Market (okay Pike Place is always busy—even in winter in my experience) and the Space Needle during those months.
Seattle is commonly associated with rain, and it does experience more rainy days compared to other cities in the United States. However, in terms of annual rainfall, it is not the wettest city.
Typically, the months with the highest number of rainy days are from November through February (with February being extra ugh) and even extending into March.
What to pack for a weekend in Seattle
Although the summer weather in Seattle can be delightful, it can also get pretty warm. It's important to monitor the weather forecast and plan accordingly.
For Seattle, I highly recommend packing layers, as the weather can be unpredictable. For the remainder of the year, expect mostly overcast skies and occasional rain. An umbrella might not always be necessary; a rain jacket with a dependable hood makes a good Seattle travel companion.
Seattle is known for its laid-back vibe, and casual clothing is the norm. Comfort is key!
For more packing help, see my weekend packing list post.
Final thoughts on Seattle bucket list things to do
There you have it, my ultimate Seattle bucket list.
From the iconic Space Needle to the tranquil Arboretum, Seattle is a city full of surprises and adventures waiting to be explored.
Whether you're a foodie, a nature lover, or a culture enthusiast, this vibrant city has something for everyone.
I hope this guide has inspired you to discover new places, try new foods, and make unforgettable memories in the Emerald City.
What's your favorite thing to do in Seattle? Let me know in the comments!
More articles to help you plan your trip to Seattle
Pin this post!