35+ Fun, Cheap and Free Things to Do in Seattle
Okay, so Seattle is not exactly a budget destination, BUT you can still see quite a lot of the city without spending a penny (or few pennies) on attractions if that's what you want. These fun, cheap and free things to do in Seattle will keep you busy for days.
I was born in Seattle and lived nearby for the first 29 years of my life. I love exploring my hometown, and I hope you will too.
To help you plan your Seattle itinerary, I've grouped sites and activities on this list geographically as much as possible.
Grab your FREE printable travel planner here.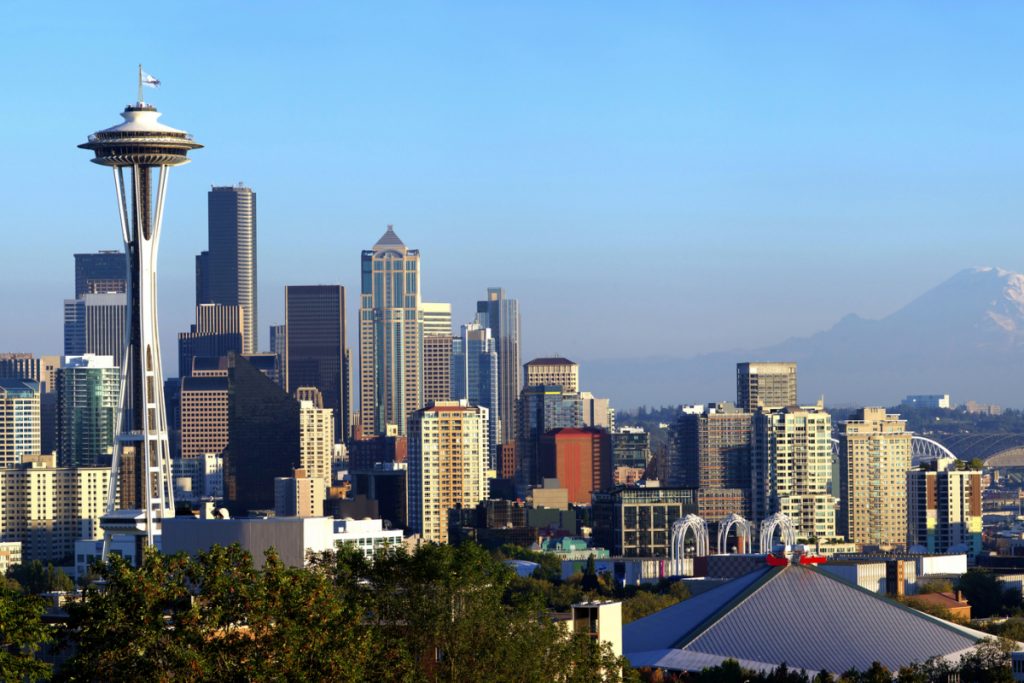 This post includes affiliate links. If you make a purchase through one of these links, I may earn a small commission at no additional cost to you. As an Amazon Associate, I earn from qualifying purchases. See disclaimer.
Explore Pike Place Market
Pike Place Market is one of those sites that is just quintessentially Seattle. And you don't have to spend a dime to see it. It should definitely be near the top of your Seattle bucket list.
Or spend a few dimes and pick up something yummy to eat or a fun Seattle souvenir.
From gorgeous flowers to amazing produce and from artisanal foods to fine hand crafts, you'll love exploring every inch of this amazing place.
Make sure to stop by Pike Place Fish in the Main Arcade. They're the guys who throw the fish.
You really can't miss them, because they'll be surrounded by tourists.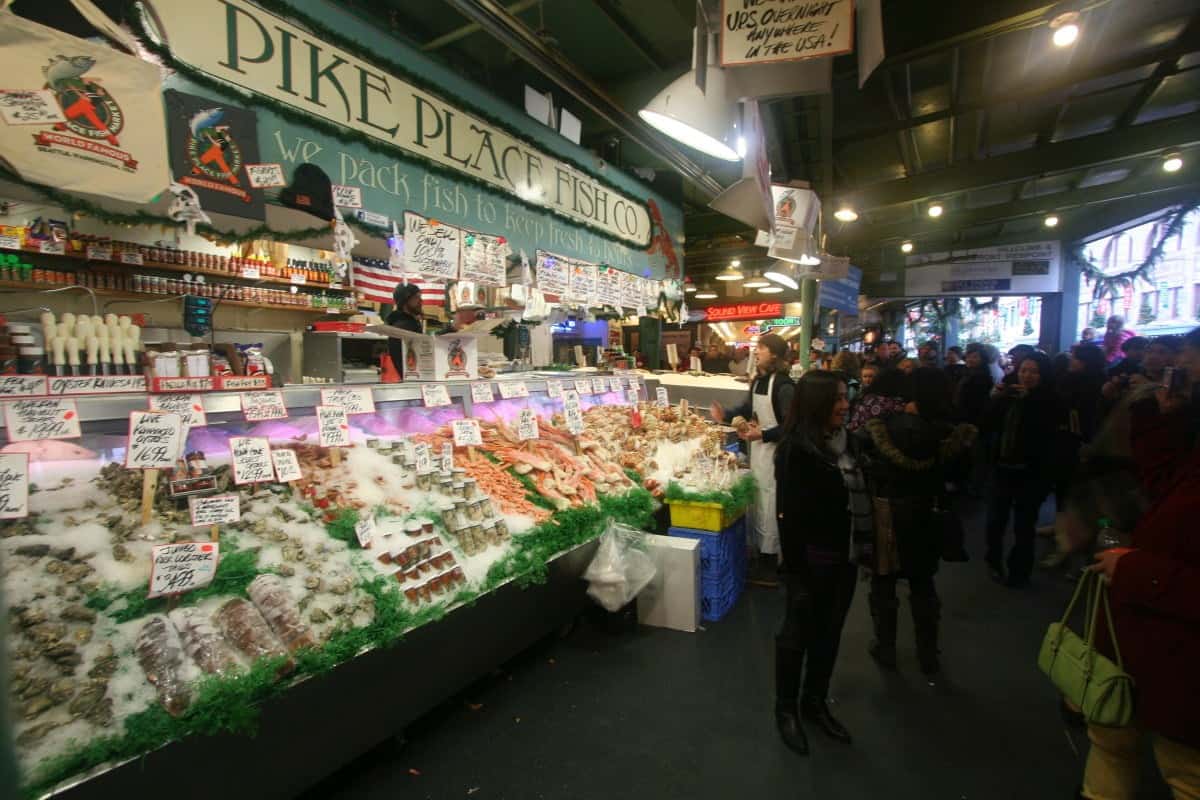 It's fun to just pause for a few minutes and watch how they interact with and entertain the crowd.
If you stay at one of the hotels we recommend (see below) you can walk to Pike Place Market. Pike Place Market recommends making your visit in the morning if you can, while there are smaller crowds.
During peak summer travel times, weekdays are your best bet to avoid the biggest crowds.
Pay a visit to the gum wall
Just a few steps away from Pike Place Market, at 1428 Post Alley, you'll find the Gum Wall.
Yes, it's weird. But it's also kind of amazing.
If you can stomach it, the Gum Wall is a fun and unique Seattle photo spot. You may also contribute to the wall if you wish.
In November 2015, more than 2000 pounds of gum was removed from the wall and everything was cleaned.
Apparently, the sugars in the gum were causing damage to the bricks. More gum was added starting immediately after the cleaning was completed. Of course.
Take your photo at the oldest Starbucks
At 1912 Pike Place you'll find the oldest Starbucks store. Yes, I know it's not the original. That's fine.
It's a great photo spot and you can certainly enter the store for free. Plan to wait in line though; it's quite popular with tourists.
And if you want to say that you've had coffee at the oldest Starbucks store in the world, just stay in line and order a small drink.
I happen to think it's worth it, but then I'm a Seattle native and a Starbucks coffee fan.
Pin this post!
Featured affordable things to do in Seattle
Smith Tower, completed in 1914, was the first skyscraper in Seattle. Today you can purchase affordable tickets to enjoy the amazing views from their famous observatory. You'll enjoy special exhibits and 360-degree views of Seattle and its stunning scenery. Book here.
Enjoy unparalleled views of the Seattle skyline from the water with this Seattle harbor cruise. It's one of the most popular things to do in Seattle. Includes live commentary while you're on board. Book your spot here.
Explore the waterfront
Although you'll find touristy things here, Seattle's is actually a working waterfront.
You'll find places to enjoy the sea air and views like at the new Pier 62 or Waterfront Park (located between the Seattle Aquarium and the Seattle Great Wheel).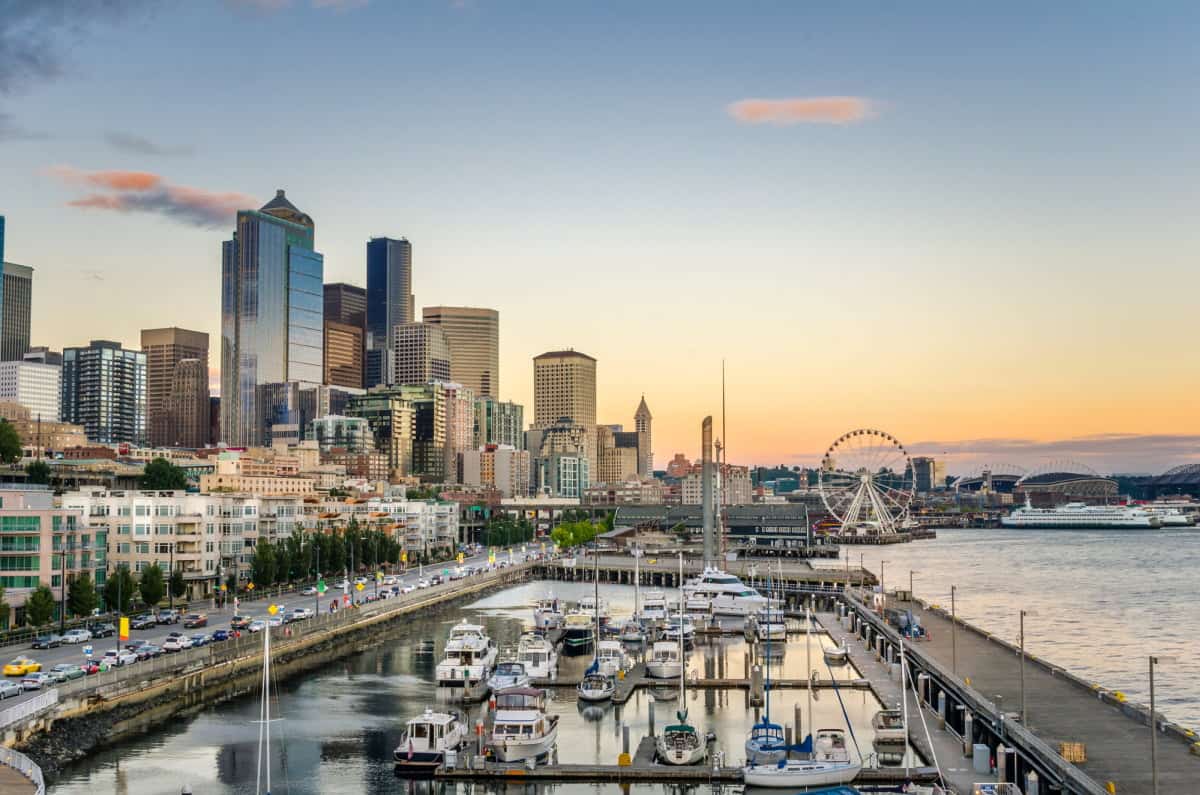 Miner's Landing
Located at Pier 57, Miner's Landing features several tourist attractions like the Seattle Great Wheel, Wings Over Washington, a Carousel and more.
While the Great Wheel and Wings are both a little more expensive than "cheap" (less than $20 though), a ride on the carousel is only a few dollars and may be of interest to young children.
Ye Olde Curiosity Shop
Founded in 1899, Ye Olde Curiosity Shop has been a Seattle institution on Pier 54 for generations.
Wander through for free (of course) to peek at the curiosities or pick up a small, creepy, weird and kitschy souvenir.
Olympic Sculpture Park
Olympic Sculpture Park covers nine acres and is the largest greenspace in downtown Seattle. It's located on the water and offers views of the Olympic mountains beyond Elliott Bay.
Created by the Seattle Art Museum (SAM), the site was originally used for fuel storage and transfer. Eewww.
The park now features native plants alongside the artworks. There is also an event pavilion and amphitheater.
The park is free and open to the public every day all year round.
Free first Thursdays
Speaking of the Seattle Art Museum, you can see this terrific museum for free on the first Thursday of every month.
If your travels to Seattle will have you in town on the first Thursday of the month, I highly recommend you make time to see SAM or one of the other wonderful museums that participate.
Other area museums that participate in Free First Thursdays include the Seattle Asian Art Museum, the Burke Museum and the Museum of History and Industry (MOHAI).
Ride the Bainbridge Island Ferry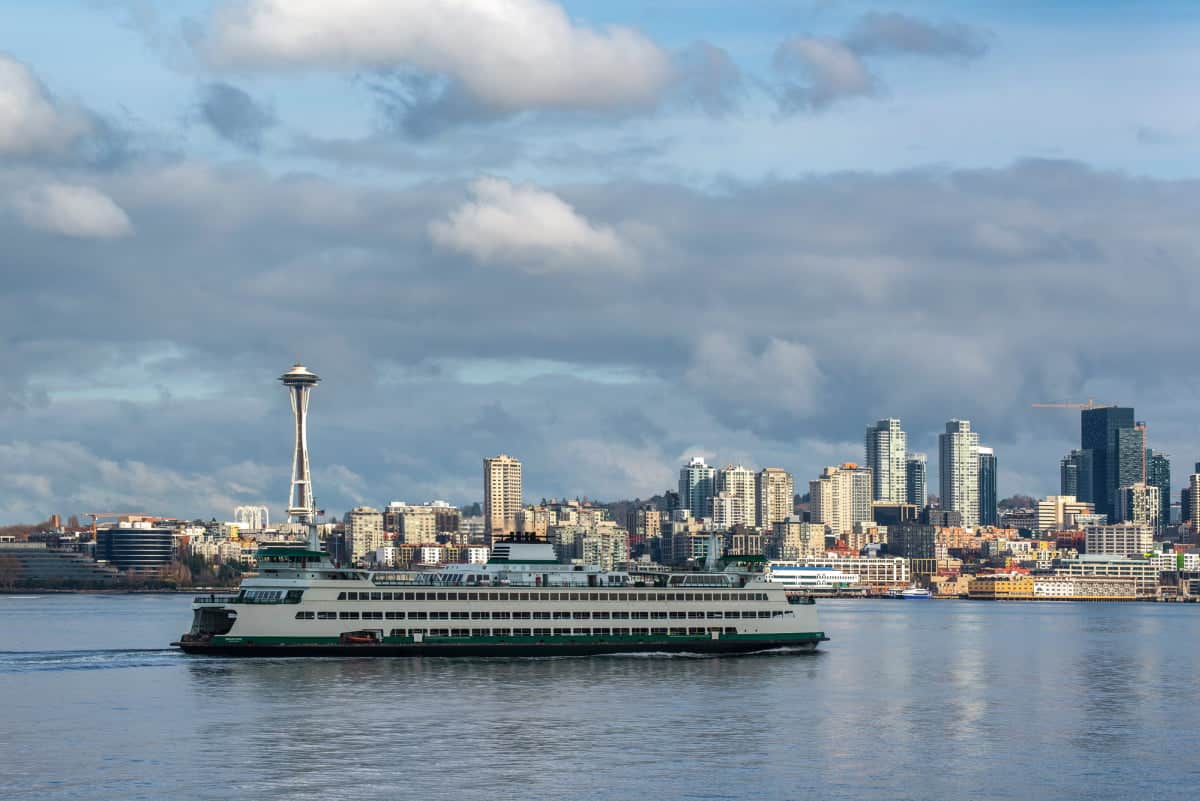 For amazing views of the Seattle skyline, you'll have a hard time trying to beat the ferry ride from Bainbridge Island to Seattle.
A roundtrip ride will only cost you the price of one-way fare as fares are collected only as you leave Seattle if you're walking on. Car plus passenger fares are collected on both sides, so keep that in mind if you're taking a vehicle.
As of August 2023, the fare was $9.45. Not bad for a round trip ferry ride that gives you some stunning views.
The ride lasts about 35 minutes each way. You'll want to arrive at the ferry terminal at least 15 minutes before sailing time if you're a walk-on passenger.
Seattle Center
Seattle Center is a building complex that was created for the 1962 World's Fair. Today it remains an active 74-acre civic, cultural and events center.
More than 30 cultural, educational, sports and entertainment organizations reside on the grounds.
Seattle Center is the top tourist destination in the region and is home to such sites and attractions as the Space Needle, the Museum of Pop Culture, Pacific Science Center and Chihuly Garden and Glass.
PRO TIP: If you have flexible travel dates you need to check out Going (formerly Scott's Cheap Flights). You get amazing flight deals sent straight to your inbox with instructions on how to book directly with the airlines. Check out Going here. Going is my favorite way to find great travel deals. 
Armory
Take a spin around the Food & Event Hall in the "Center of the Center." It can be a great place to pick up lunch and then head out to the Mural Amphitheater Lawn or the International Fountain.
This structure was originally the Seattle Army Field Artillery and built in 1939. It was reconfigured into the "Food Circus" for the 1962 World's Fair.
International Fountain
Often in the heart (and heat) of summer, you'll likely find many people gathered around International Fountain and see children splashing about in the water.
It was renovated in 2021, and features five water programs synchronized to music.
Ride the Seattle Center Monorail
Although it's not free, for $3.50 each way, you can ride the Seattle Center Monorail from Seattle Center station to the end of the line at Westlake Center in the heart of downtown Seattle.
It's a fun and cheap activity in Seattle and a convenient mode of transportation, especially if your hotel is very near one of the two stations.
Check out some stunning architecture at the Seattle Public Library Central Library
Located at 1000 4th Avenue, the Central Library of the Seattle Public Library is a stunning building.
The award-winning design was created by Dutch architect Rem Koolhaas.
Try a unique coffee experience at the Starbucks Reserve Roastery
If you enjoy coffee, particularly Starbucks coffee, then I highly recommend you take time to pay a visit to the Starbucks Reserve Roastery at 1124 Pike Street.
I've heard it described as Starbucks Disneyland…and I think that's a pretty fair assessment.
For a few dollars you can try out some really amazing coffee. Or go in together with your travel companion(s) and try a flight including coffee flights by origin or brew method.
Get an amazing doughnut at Top Pot
Guys. If you're in Seattle and you like doughnuts (who doesn't?) you have to try the doughnuts from Top Pot.
They have several locations in Seattle but their flagship café is downtown on 5th (at 2124 5th Avenue).
I swear I am not making this up. One time my sister got an apple fritter from Top Pot that was nearly as large as her entire face. They're the best apple fritters in existence.
Visit The Spheres Amazon headquarters
Did you know that you can see The Spheres at Amazon's global headquarters for free? Yup.
You can visit The Spheres for free a couple of Saturdays a month, but you will need to make an advanced reservation online.
Dates open up for online booking about 15 days in advance.
You can also stop by the Understory (also free!) at Amazon HQ to learn more about The Spheres.
Frye Art Museum
Located in Seattle's First Hill neighborhood, the Frye Art Museum is always open for free.
The museum is named for Charles and Emma Frye who were prominent community leaders and art collectors.
The permanent collection primarily features late 19th and early 20th century German art.
Past special exhibitions have featured works by Andy Warhol as well as local and global artists who explore current issues.
Visit the REI Seattle flagship store
The REI Seattle Flagship Store on 222 Yale Avenue opened in 1996, and it's not just a store. It's a site. You should check it out.
It's not cheap, but the 65-foot-high Climbing Pinnacle is rather a spectacle.
Visit Kerry Park for stunning views of downtown Seattle
Popular with visitors to the city, Seattle's Kerry Park offers iconic views of Seattle complete with downtown, Elliott Bay and Mount Rainier in the distance.
It's only a little over an acre and a quarter in size, but it's quite popular for its viewpoint of the city and of course as a photo spot.
Fans of the TV show Frasier might recognize the view as being the one from Frasier's Seattle apartment.
There is also a small playground at the nearby Bayview-Kinnear Park (often referred to as Lower Kerry).
Discovery Park
At 534 acres, Discovery Park is the largest park in Seattle.
It's located on Magnolia Bluff overlooking the Puget Sound and offers views of both the Cascade and Olympic mountain ranges.
It includes two miles of protected shoreline, trails, boat access (by water only), picnic areas, play equipment and more.
West Point Lighthouse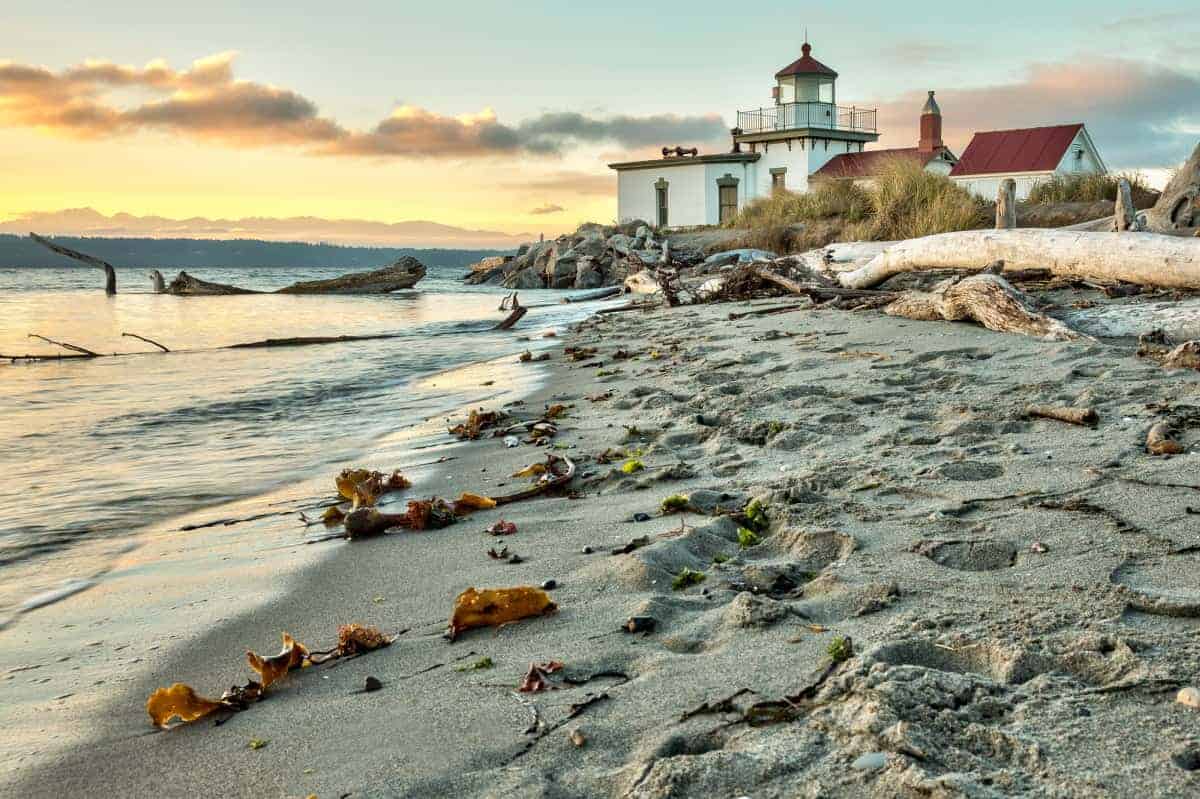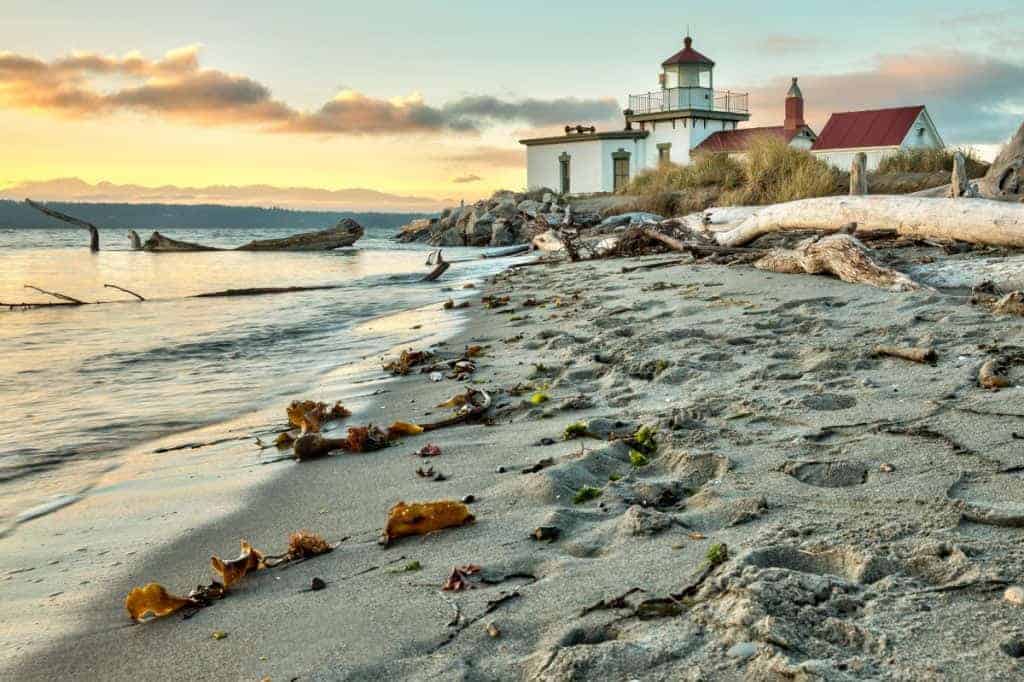 Located in Discovery Park, the West Point Lighthouse grounds are open to visitors for free.
Those who need help with access (such as those with a physical disability or families with very young children) may inquire at the Discovery Park Visitor Center about parking permits.
Only handicapped and permit parking is available at the lighthouse. Otherwise, it's about a 2-mile walk from the Visitor Center to the grounds.
Ballard Locks
The Hiram M. Chittenden Locks and Lake Washington Ship Canal (referred to by locals mainly as the Ballard Locks) are managed by the Army Corps of Engineers and listed on the National Register of Historic Places.
It's been noted for its significance to architecture, landscape architecture, commerce and engineering.
Hiram M. Chittenden was the Seattle district engineer for the Army Corps of Engineers from 1906 to 1908.
These locks are supposedly the busiest in the U.S. and they do three important things:
maintain the water level of the fresh water lakes: Lake Washington and Lake Union
prevent the mixing of sea water from Puget Sound with the fresh lake water
move boats from the water level of the lakes to the water level of Puget Sound, and vice versa.
Anyone can come any day of the year to watch how the locks work. And every year from about early summer to September you may see salmon on the fish ladder.
There's also a visitor center and botanical gardens.
Carl S. English Botanical Gardens
At the Ballard Locks there are also gardens that are open to the public for picnicking and recreation. Comprising 7 acres of exotic trees and plants, the gardens are open for free. You can even get married there!
Carl S. English, for whom the gardens are named, was a landscape architect with the U.S. Army Corps of Engineers.
Gas Works Park
Gas Works Park has to rate as one of the most unique parks I've ever visited in the world…probably because of the large old gas works structures that are still there…in the park. Just right there.
Yup. And it was once the site of the Seattle Gas Light Company coal gasification plant.
I think that the best feature of this park is the view of downtown Seattle. It's a great place from which to view the New Year's fireworks at the Space Needle. There are picnic areas that you can reserve ahead of time, and it's also a popular park for flying kites.
Snap a photo of the Fremont Troll
No doubt you've seen photos all over social media of tourists posing with the funny and large troll sculpture lurking underneath the Aurora Bridge in Seattle's Fremont neighborhood.
If you covet such a photo of your own, then you'll want to make your plans to pay a visit.
You'll find him clutching a Volkswagen Beetle on N. 36th Street at Troll Avenue N. He even has a Wikipedia entry and his own Facebook page.
Walk or jog the Green Lake Park loop
I lost count of how many times I have jogged around Green Lake. The loop is just under three miles long, so I used it when training for a 5k. It's a lovely spot in the middle of the city.
The lake itself is popular with boaters, and the beaches are generally open during the summer.
Take a self-guided tour of the University of Washington campus
The stunning University of Washington campus in Seattle draws a lot of interest. And you don't have to be a prospective student to take a tour.
You can download the free guide app and explore for yourself.
There's also a campus visitor center located in the Odegaard Library: 022 Odegaard.
Explore the Washington Park Arboretum
A part of the University of Washington Botanic Gardens, the Washington Park Arboretum is free and open to the public every day from dawn to 8 p.m.
It comprises 230 acres on the shores of Lake Washington and is jointly managed by the UW and the City of Seattle.
The Graham Visitors Center includes an information desk, restrooms (accessible from outside) and a gift shop.
Seattle Japanese Garden
At the south end of the Washington Park Arboretum is the Japanese Garden. The 3.5-acre garden features winding paths, benches, traditional Japanese plants and those native to the Pacific Northwest.
Unlike the rest of the Arboretum, this garden has a modest admission fee. The entry for adults (as of November 2022) is $8.00. Purchasing tickets ahead of time is recommended.
Get amazed at Uwajimaya
Much like the REI Flagship Store (mentioned above), the Uwajimaya Asian market kind of has to be seen in person to be believed.
When I was a young child, I once had a field trip to the International District that included a stop at Uwajimaya. Even locals think it's a cool place to see.
It's located in Seattle's International District and it's 35,00 square feet of specialty foods and products. You'll also find a food court there where you can sample many different kinds of foods.
Alki Beach Park
Located in West Seattle, Alki Beach Park (pronounced Alk-eye) is about 140 acres and includes half a mile of beach.
While you are welcome to enjoy the water here, keep in mind that Seattle water is cold. It ranges in temperature from the mid-40's to mid-50's depending on the time of year.
Fun fact: Alki Beach Park includes a replica Statue of Liberty.
Alki Point Lighthouse
Near Alki Beach, the Alki Point Lighthouse (at 3201 Alki Avenue SW) is a functioning lighthouse that is fully automated. It was built around 1913 and became automated in the 1980s.
From the Alki Point Lighthouse you can see the Cascade Mountains in the west and on clear days, Mount Rainier to the south.
It has been open for free tours on select days. You can follow their Facebook page for updates.
Stroll through a Seattle Neighborhood Farmers Market
While you're in Seattle, you might enjoy visiting one of the Seattle Neighborhood Farmers Markets. They help support local, sustainable and family-owned farms. Try some awesome and affordable Washington State produce and help local growers.
There are seven such markets in the U. District, West Seattle, Capitol Hill, Columbia City, Lake City, Phinney and Magnolia neighborhoods.
Participate in an Art Walk
Each month, Seattle communities and neighborhoods support local artists through Art Walks. These Art Walks bring together local art and arts-supporting businesses in celebrating the neighborhood.
Take a "Pay What You Feel" tour of Seattle
Guided tours are a great way to get to know a new destination, but they can be a little pricey. Seattle Free Walking Tours offers in-depth tours of Pike Place Market plus a "Seattle 101" tour for voluntary contributions only. No set charge.
I know this is a post about cheap or free things to do in Seattle…but, guys, don't stiff your tour guide. That's not cool.
Ways to get the most out of your visit to Seattle
There are clearly a LOT of cool free and cheap things to do in Seattle. There are also a lot of cool things to do that aren't free or cheap. And no doubt you'll want to explore some of those sites and attractions as well.
You might want to see if a Seattle CityPASS is a good option for your trip. For one flat fee, you get admission to several top Seattle attractions including the Space Needle and the Seattle Aquarium. It could save you a lot of money.
Another great option is to take a guided tour like this one to see a number of the top sites in one morning or afternoon and get a good overview of the city. Book your tour here.
Where to stay in Seattle
Here are a few suggestions for popular and conveniently located places to stay in Seattle:
Mayflower Park Hotel—Stay in the heart of downtown Seattle within walking distance of Pike Place Market and mere steps from the Westlake Center monorail stop, making is super quick and easy to get to Seattle Center. Check rates and availability here.
Hotel Ändra—Also within convenient walking distance of the Seattle waterfront and the Westlake Monorail station, Hotel Ändra offers cool and unique boutique accommodations. It's also about a 15-minute walk to Seattle Center. Check availability here.
Ace Hotel—located in the popular Belltown neighborhood, Ace Hotel offers affordable accommodations just over a 10-minute walk from Pike Place Market. It's also about a 7-minute walk to Olympic Sculpture Park. Check out available rooms here.
Need more help planning your trip to Seattle? Check out our list of the essential travel planning resources.  
Final thoughts on things to do for free (or cheap) in Seattle
From strolling the Arboretum to getting zen in the Japanese garden, you'll follow more free and cheap things to do in Seattle than you can possibly cover during your visit.
I hope this list will help you make a budget trip to Seattle possible.
What's your favorite free or cheap thing to do in Seattle? Leave a note in the comments below and share it with us!
More articles to help you plan your trip to Seattle
Pin this post!