4 Days in Seattle: Itinerary for a Perfect Trip
See the best of Seattle in four days
If you're looking for a perfect Northwest getaway, Seattle is the city for you. In this article, I outline an itinerary that will help make the most of your four days in Seattle.
With its vibrant neighborhoods and ample outdoor activities, Seattle offers something for everyone. But planning a trip to the Emerald City can be daunting—there's so much to see and do!
Whether you're an experienced traveler or this is your first time visiting Seattle, I know you will find this guide helpful.
In addition to the itinerary, I provide you with plenty of other information you'll need to plan a successful four-day Seattle trip like how to get there, the best time of year to visit, what to pack, and more.
But why should you listen to me?
Well, I was born in Seattle and lived in the area for the first 29 years of my life. I still have family there and have spent literally sooooo many years exploring this city over and over again.
Get ready for your perfect Seattle trip with this FREE printable travel planner.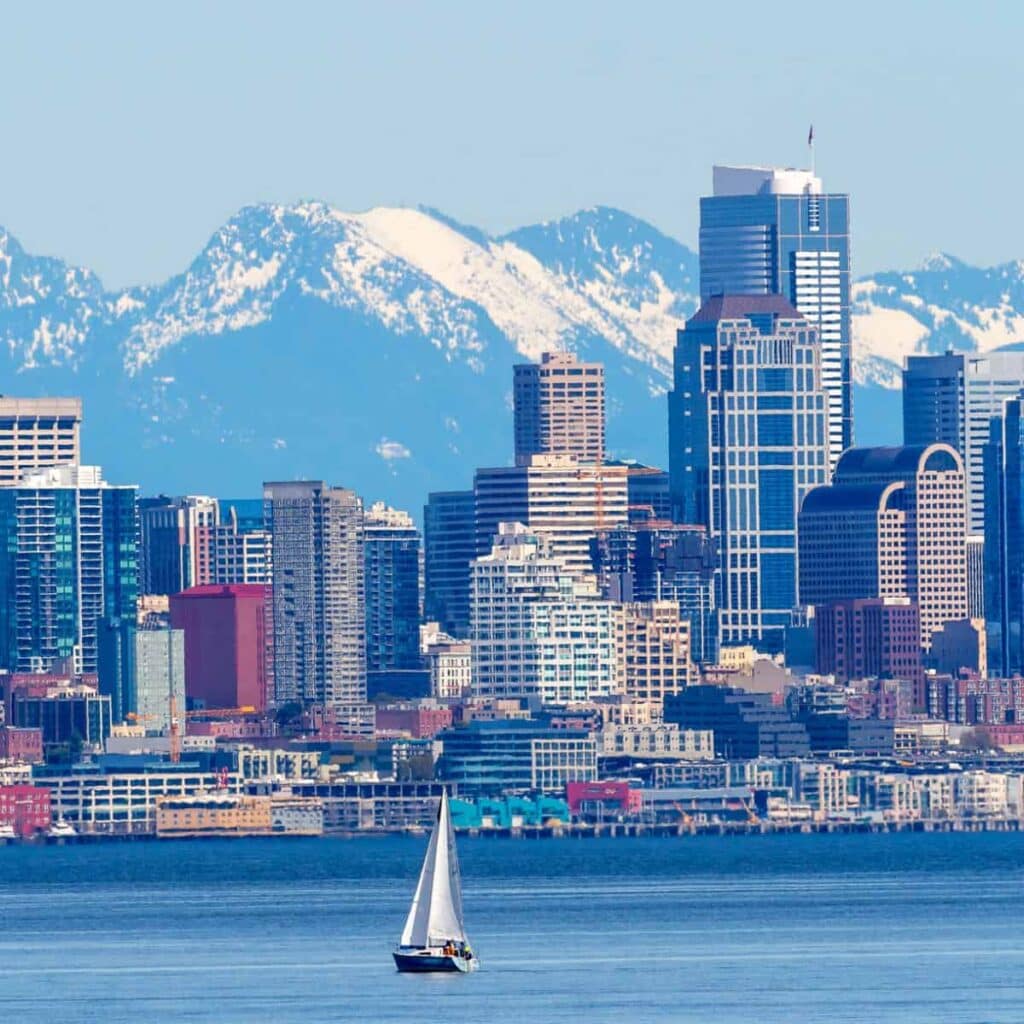 This post includes affiliate links. If you make a purchase through one of these links, I may earn a small commission at no additional cost to you. As an Amazon Associate, I earn from qualifying purchases. See disclaimer.
How many days should you spend in Seattle?
Seattle is a vibrant and exciting city with a lot to offer travelers. But while there is much to see and do in Seattle, there are also so many other things to see in the Puget Sound area.
This four-day Seattle itinerary will allow you to see all of the top highlights of this amazing city while still leaving time for exploration and relaxation outside the city itself.
If you're looking to get the most out of your trip to Seattle, I recommend focusing your time on the main attractions in the city and then spending at least one of your four days taking a day trip from Seattle.
Best time to visit Seattle
The best time to visit Seattle weather-wise is July through September—temperatures are usually in the 70s and upper 60s, and it's drier then. However, be aware that late summer can get quite warm here.
Okay, it can get downright hot.
You'll also find a lot of tourists at the top sites like Pike Place Market (okay that one is always busy—even in the dead of winter in my experience) and the Space Needle during those months.
Although Seattle is infamous for its rain, it doesn't actually receive that much total precipitation compared to other cities. Where it does beat the competition is in the number of days per year with rain.
The months with the greatest number of rainy days are typically November through February (ugh, February is the pits there) and into March.
What to pack for Seattle
Although the Pacific Northwest is known for its rain, Seattle gets a lot of sun in the summertime. And temperatures can often rise to uncomfortably high levels.
Pay close attention to the local forecast so you can plan your days accordingly.
Seattle is a city where I definitely recommend packing to wear layers.
For the remainder of the year, expect dreary skies and rain showers. An umbrella may not be necessary—a good quality waterproof shell with a hood will usually do the trick.
Seattle is also a very casual city. Comfort is generally the rule of the day.
For more packing help, see my weekend packing list post. It includes suggestions for how to handle long weekends, like this Seattle four-day itinerary.
If you're flying to Seattle and are interested in learning how to pack lighter, check out my article on how to pack light for a one-week trip.
You might not need the full one-week packing list but the general principles for packing light will still apply.
Where to stay in Seattle
There's no shortage of wonderful hotels in Seattle.
These suggested hotels are popular with visitors to Seattle and provide convenience for getting to the top tourist attractions in Seattle without a car.
Mayflower Park Hotel—Stay in the heart of downtown Seattle within walking distance of Pike Place Market and just steps from the Westlake Center monorail stop, making it super easy to get to the Space Needle, Seattle Center, MoPOP and Chihuly Garden and Glass. Check rates and availability here.
Hotel Ändra—Also within convenient walking distance of the Seattle waterfront and the Westlake Monorail station, Hotel Ändra offers unique boutique accommodations. It's also about a 15-minute walk to the Space Needle. Check availability here.
Ace Hotel—located in the popular Belltown neighborhood, Ace Hotel offers affordable accommodations just more than a 10-minute walk from Pike Place Market and the Space Needle. It's also about a 7-minute walk to Olympic Sculpture Park. Check out available rooms here.
How to get to Seattle
The best way to get to Seattle is to fly into Seattle-Tacoma International Airport (SEA).
There are many ways to get from SeaTac to your accommodations, including:
Link Light Rail runs from the airport to several stops including downtown Seattle
King County Metro and Sound Transit buses
Shared van ride services like Capital Aeroporter
Rideshares like Uber and Lyft
Check to see if your hotel offers an airport shuttle
PRO TIP: If you have flexible travel dates you need to check out Going (formerly Scott's Cheap Flights). You get amazing flight deals sent straight to your inbox with instructions on how to book directly with the airlines. Check out Going here. Going is my favorite way to find great travel deals. 
Seattle itinerary day 1
Start your adventure in Seattle by heading toward the water on day one.
Our journey begins at the world-famous Pike Place Market, and then we'll make our way to the picturesque waterfront.
When planning the activities for your four-day trip to Seattle, you might want to consider buying the Seattle CityPASS.
Based on how much you want to see on your visit to Seattle, the CityPASS could save you some money. And you'll get admission to many of Seattle's premier sites and attractions including the Space Needle.
Pike Place Market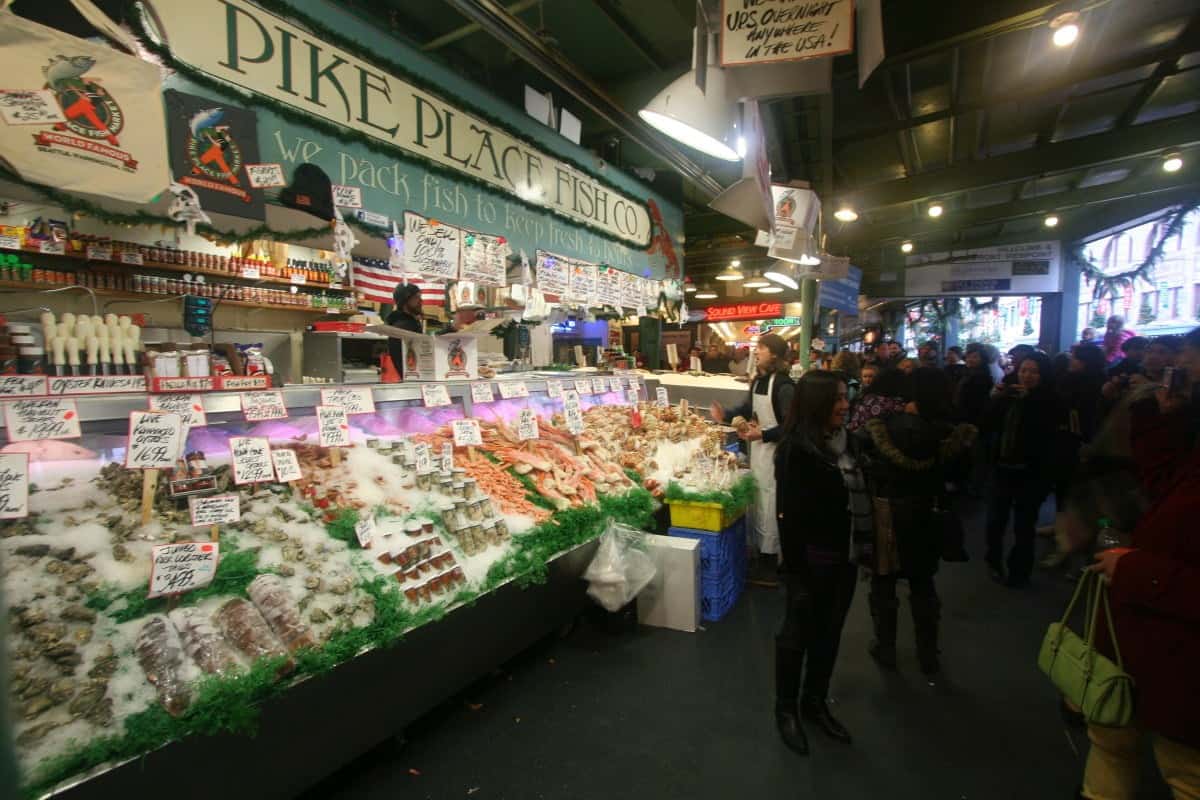 Pike Place Market is an essential stop for anyone visiting Seattle.
This amazing place has everything from stunning fresh flowers to picture-perfect produce, and from artisanal foods to fine handcrafted items. You'll love exploring every inch of it!
Pike Place Fish is a must-see in the Main Arcade. Those are the guys who are famous for throwing their fish.
Seriously.
They not only throw fish, but they're also constantly surrounded by tourists who are eager to watch them do it.
Sounds weird, but it's pretty fun.
If you're driving to the Market, there is paid parking available in their garage. If you stay at one of the hotels we recommend (see above) I'll recommend that you think about walking to Pike Place Market.
Aim to arrive at the Market before noon for smaller crowds.
The worst tourist crowds happen during summer weekends. To miss the largest amount of people, plan your outings for weekdays instead.
You might want to consider taking a behind-the-scenes guided tour of Pike Place Market with early access before all the crowds arrive. Take a look here.
Check out the oldest Starbucks store
The Starbucks at 1912 Pike Place is not the first store that opened, but it is where the first store moved in the mid-1970s and has been operating ever since.
Yes, you will find a lot of tourists there, and that's okay.
If you're a Starbucks fan (like me) you won't mind waiting in the long line of tourists to get your chance to see the inside of the store.
You could then pick up one of the souvenirs that you can only find in that location.
My mug from this store is one of my very favorite Seattle souvenirs.
For coffee (rather than a souvenir and an Instagram moment), I recommend going to the Starbucks on 1st and Pike Street.
Enjoy lunch on the water at Ivar's Fish Bar
If you want a real Seattle experience for lunch, I recommend heading to Pier 54 and Ivar's Fish Bar. The views are amazing, and the food is delicious.
Beware. The seagulls will want your fries.
I'm serious.
If you're looking to splash out a bit more than "walk up fish and chips window", Ivar's Acres of Clams might interest you. Offering both indoor and outdoor (deck) seating on the water, it's perfect for a nicer meal.
Other waterfront dining options include Elliott's Oyster House and The Crab Pot (near Waterfront Park and the Seattle Great Wheel).
Incidentally, my sister and brother-in-law had their wedding rehearsal dinner at The Crab Pot…so there's that.
It's not relevant. I understand that. I just wanted to share.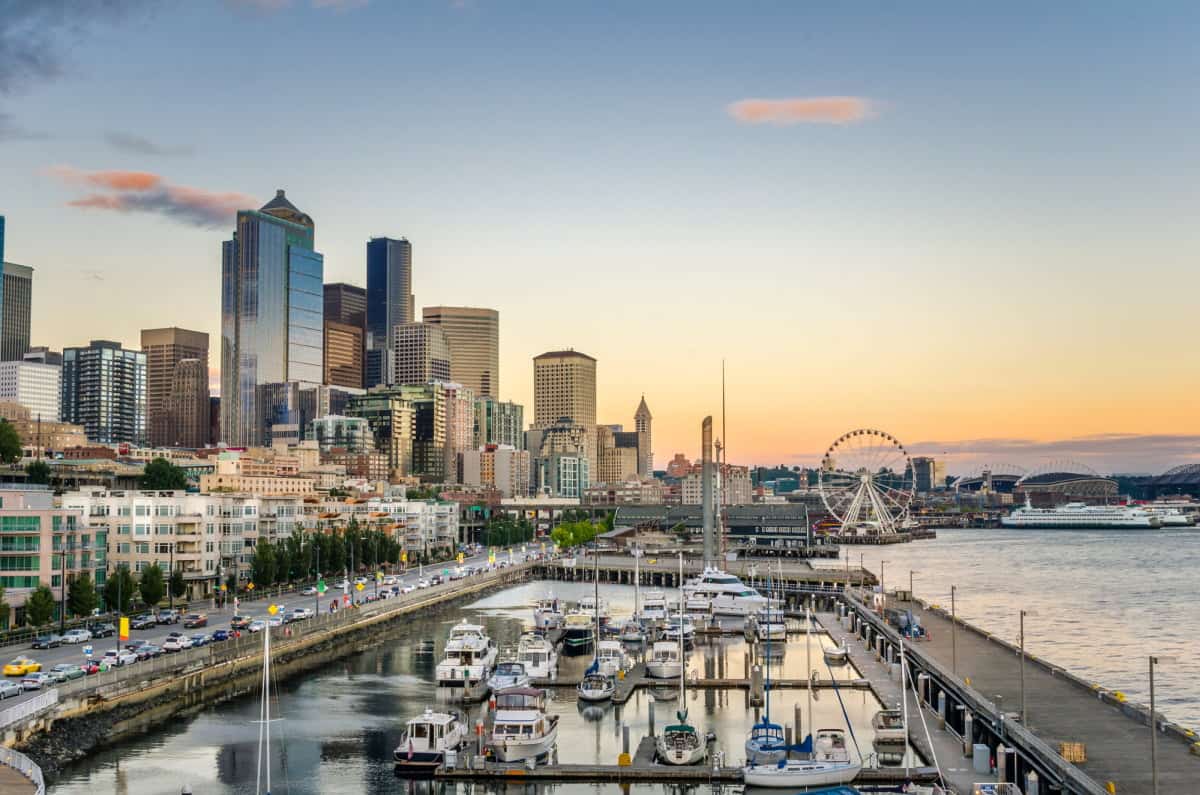 Waterfront
Although you'll certainly find touristy things here, Seattle's is a working waterfront.
Looking for a place to enjoy the fresh sea air and stunning views? Check out Pier 62 or Waterfront Park (located between the Seattle Aquarium and the Seattle Great Wheel).
There are plans to greatly expand Seattle's Waterfront Park to extend far beyond the "old" park and Pier 62.
Miner's Landing
Miner's Landing is located at Pier 57 and features several tourist attractions like the Seattle Great Wheel, Wings Over Washington, a Carousel, and more.
Pier 57 is also where you'll find The Crab Pot restaurant.
Ye Olde Curiosity Shop
Seattle's Ye Olde Curiosity Shop on Pier 54 has been a favorite among locals and visitors for over one hundred years.
Feel free to wander around and take a look at the oddities, or you might decide to purchase a small, creepy souvenir to take home with you.
Olympic Sculpture Park
Olympic Sculpture Park is the largest downtown green space in Seattle, located on nine acres near the water. You can see stunning views of the Olympic mountains and Elliott Bay from here.
The park was created by the Seattle Art Museum (SAM) and was originally used as a fuel store and transfer site. Ew.
In addition to the existing artworks, the park features native plants, an event pavilion, and an amphitheater.
The park is free and open to the public every day all year round.
Other things you can do on your first day in Seattle
Ride the Bainbridge Island Ferry
If you're looking for a breathtaking view of the Seattle skyline, there's no better place to see it than from the ferry ride between Bainbridge Island and Seattle.
A round-trip ride will only cost you the price of a one-way ticket as fares are collected only as you leave Seattle if you're walking on as just a passenger. Car plus passenger fares are collected on both sides, so keep that in mind if you're taking a vehicle.
And the fair is reasonably priced. It's not bad for a round-trip ferry ride that gives you some stunning views.
Make sure to arrive at the terminal at least 15 minutes early if you're planning on taking the ferry as a walk-on passenger. The crossing time is approximately 35 minutes long each way.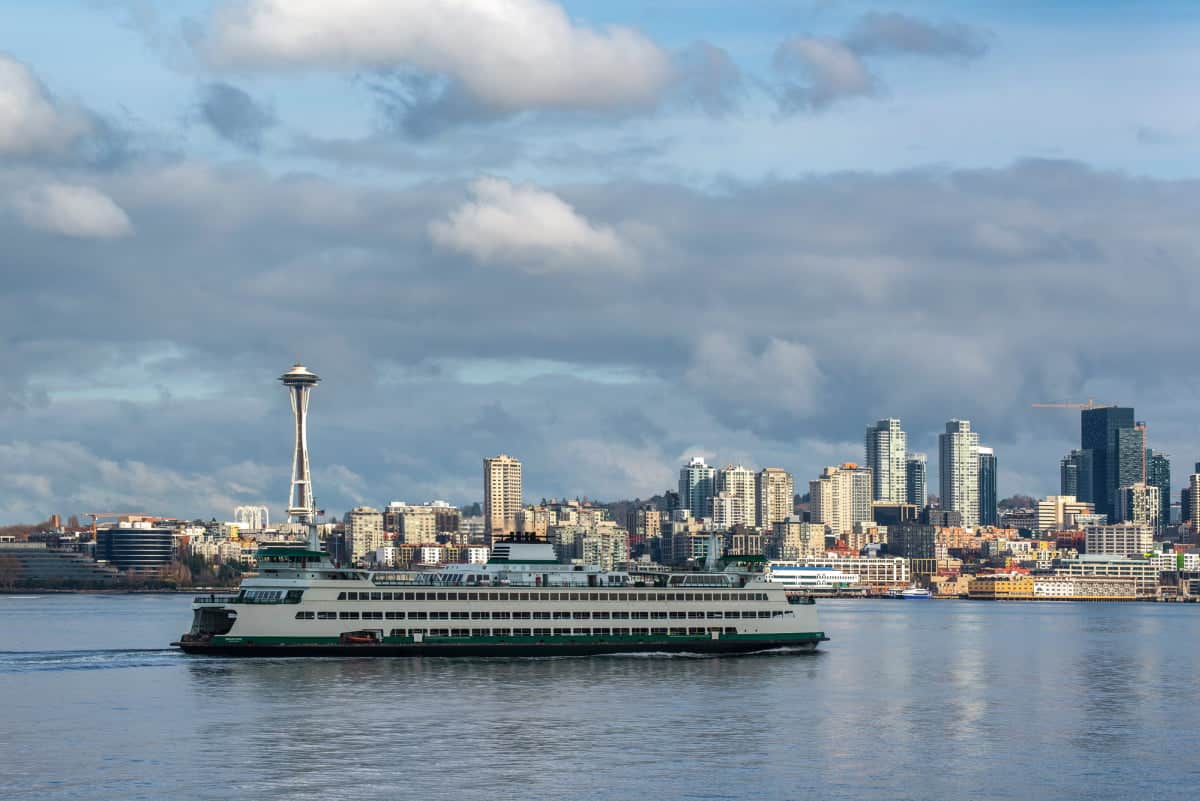 Seattle food tour
If you're a food travel enthusiast, Seattle is a great place to explore with a food tour.
You could try a food tour of Pike Place Market.
And there are even tours that specialize in certain kinds of foods such as this plant-based food tour or this underground donut tour.
Seattle Underground Tour
Ask your friends who have visited Seattle what their favorite thing was that they did. They just might tell you that it was the Underground Tour.
You can check it out for yourself here.
Seattle itinerary day 2: Space Needle and Seattle Center
For your second full day in Seattle, plan to focus your time around Seattle Center and its most famous landmark, the Space Needle.
Of course, there's more to do down there than just the Space Needle. Let's take a look!
Catch the view from the Space Needle
Built for the 1962 World's Fair, the Space Needle has become an internationally recognized symbol for Seattle. It's also one of the most photographed structures in the world.
The Space Needle underwent a multi-year renovation and preservation process and now includes the world's first and only rotating glass floor.
Be advised, the Space Needle is not an inexpensive attraction to visit; however, it is a pretty unforgettable one.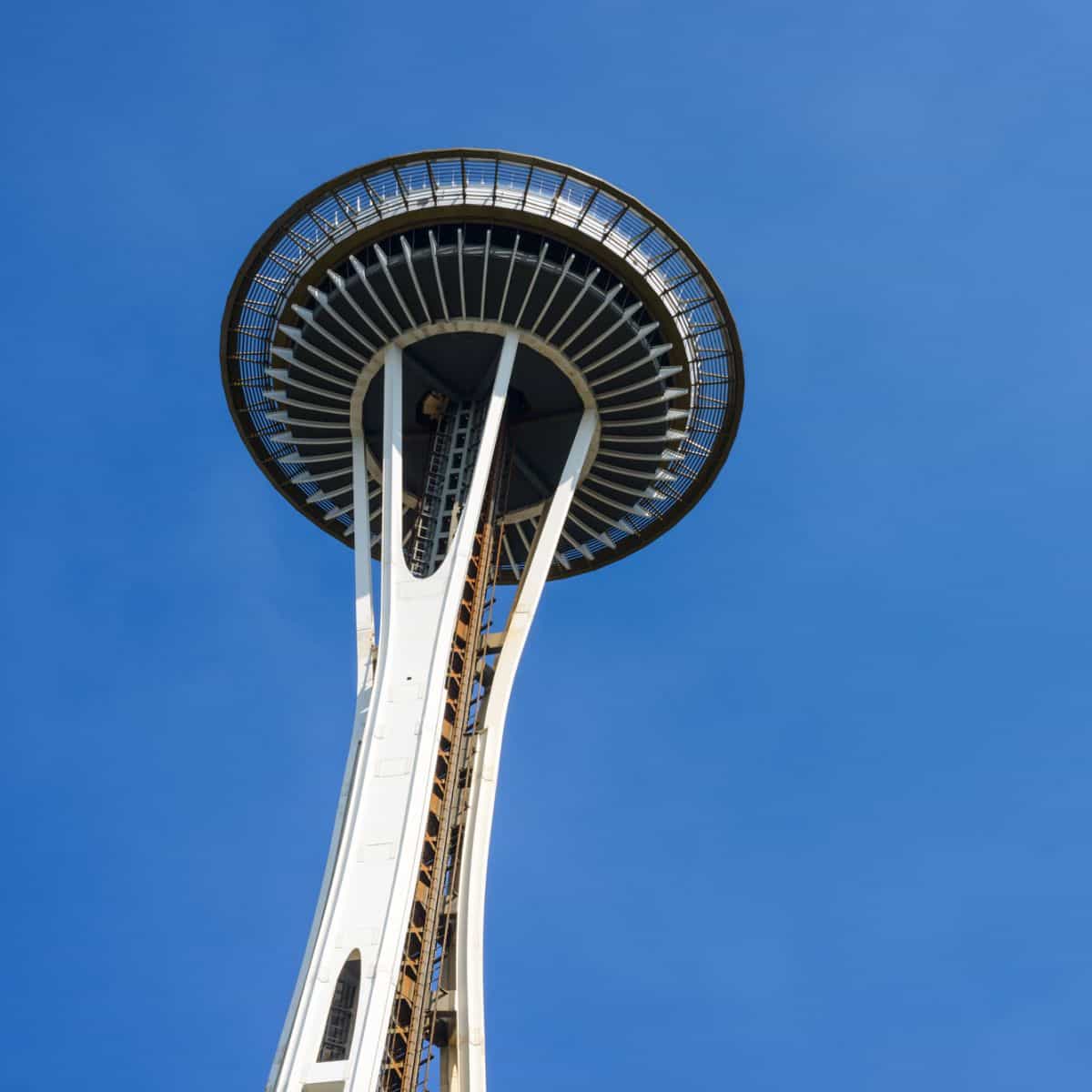 Marvel at Chihuly Garden and Glass
The Chihuly Garden and Glass is a long-term collection of work from world-renowned glass artist Dale Chihuly, exhibited both indoors and outdoors.
Chihuly's artwork needs to be seen in person to be believed. It's absolutely breathtaking.
Chihuly Garden and Glass recommends that visitors plan to spend one to two hours touring the exhibitions.
You'll find it adjacent to the Space Needle, making it super easy to visit both in the same day.
If you wish, you can get a Space Needle and Chihuly Garden and Glass combination ticket, which is a pretty popular option.
You can also check out MoP
As long as you're already in the immediate area, you could also pay a visit to the Museum of Pop Culture (MoPOP).
It could be the perfect way to round out the second day of your Seattle four-day itinerary.
MoPOP is just steps from both Chihuly Garden and Glass and the Space Needle. Just the quickest of little walks.
Designed by famed architect Frank Gehry—and once called the Experience Music Project—the Museum of Pop Culture offers exhibitions and educational programs dedicated to creativity and contemporary pop culture.
MoPOP recommends that guests purchase their tickets in advance.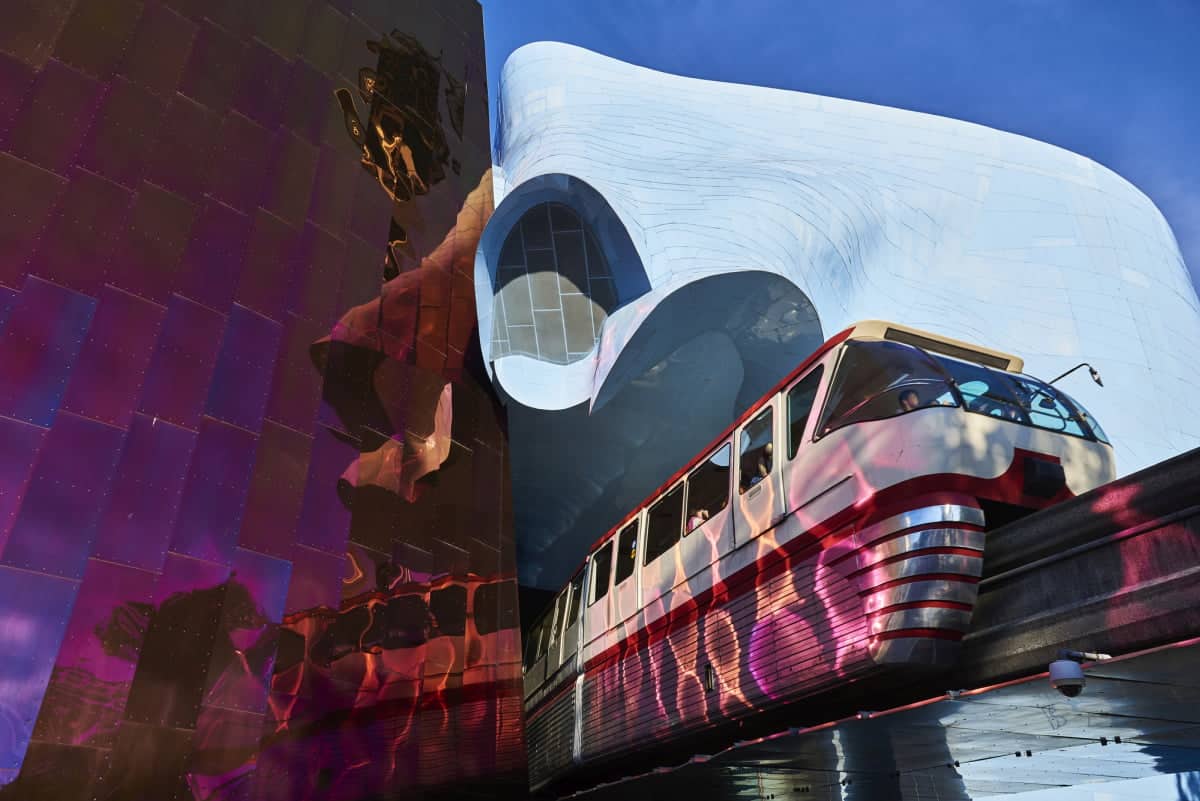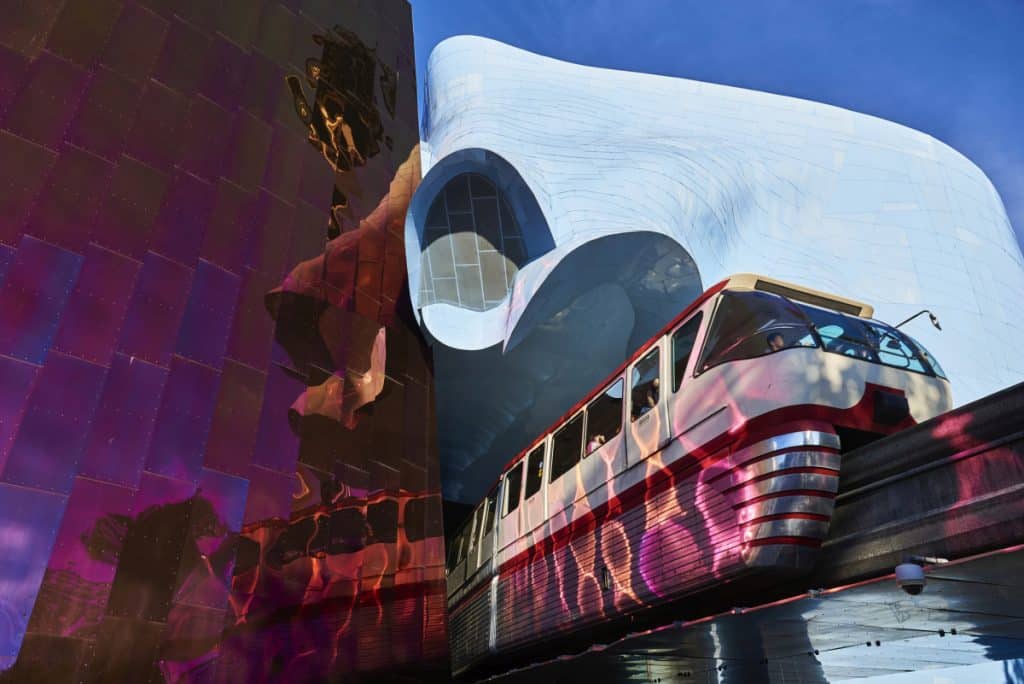 Explore more of the Seattle Center
Seattle Center is a building complex that was created for the 1962 World's Fair. Hey, just like the Space Needle!
The 74-acre center still serves as a hub for many cultural, educational, sports and entertainment organizations. More than 30 such groups are based there.
Seattle Center is the top tourist destination in the region.
Pacific Science Center
If you are traveling with children, they might be interested in the Pacific Science Center.
It's been a perennial field trip favorite for Seattle area schools because of its fun and engaging exhibits like the Butterfly House.
Armory
Take a spin around the Food & Event Hall in the "Center of the Center." It can be a great place to pick up lunch and then head out to the Mural Amphitheater Lawn or the International Fountain.
The Seattle Army Field Artillery originally built this structure in 1939 before it was reconfigured into the "Food Circus" for the 1962 World's Fair.
International Fountain
Often in the heart (and heat) of summer, you'll likely find many people gathered around International Fountain and see children splashing about in the water.
It was renovated in 2021 and features five water programs synchronized to music. All of the International Fountain's water is recycled.
Seattle itinerary day 3: Day trip
By now you've seen the top sites that Seattle has to offer. The best of the best if you will.
Now, I'm going to recommend that you spend your third day exploring another part of the Puget Sound area with a day trip away from the Emerald City.
Below are five of the top suggested day trips from Seattle. You can get the full list in my article that's all about the best day trips from Seattle.
Snoqualmie Falls
Distance from Seattle: 30 miles
A short drive from Seattle will take you to the gorgeous 268-foot Snoqualmie Falls on the Snoqualmie River.
It's quite a popular natural attraction in the area and one of the best places to visit in Washington State. Approximately 1.5 million people visit the Falls annually to take in the stunning scenery.
Gig Harbor
Distance from Seattle: 45 miles
The "Maritime City" of Gig Harbor, Washington, is located just over an hour's drive south of Seattle, at the southern end of Puget Sound.
The town's past is rooted deeply in its connection to the water (so beautiful!). Oh, and you can't miss the views of Mount Rainier.
Why not explore the water by renting a boat or kayak, or go on a harbor cruise tour? Or better yet, you could take a Venice-style Gondola ride.
There are 21 parks within Gig Harbor's city limits just waiting to be explored. And if you're feeling active, go for a 6.2-mile stroll on the Cushman Trail that links downtown Gig Harbor to the Tacoma Narrows Bridge.
Of course, there's also a wide variety of dining and shopping options that you can choose from in the heart of Gig Harbor, Washington.
La Conner
Distance from Seattle: 70 miles
I just love La Conner. This spot is perfect for a day trip or even a weekend getaway. La Conner is located in Washington's Skagit Valley, which is known for its stunning annual Skagit Valley Tulip Festival.
The Pacific Northwest Quilt & Fiber Arts Museum is not to be missed! The museum highlights beautiful and innovative work from some of the most talented artists working in fiber.
You'll find plenty to fill your day in La Conner. Ideas for a fun day trip to La Conner include visiting Conner Waterfront Park, kayaking to Goat Island, browsing the shops downtown, and enjoying a meal at one of the town's great restaurants.
The town hosts many festivals and events throughout the year, so be sure to check the calendar before planning your visit.
Mount Rainier National Park
Distance from Seattle: 80 miles
Mount Rainier National Park is one of the best day trips from Seattle. This park protects and preserves Mount Rainier, which is more than 14,000 feet tall and an active volcano.
According to the National Park Service, Mount Rainier "is the most glaciated peak in the contiguous U.S.A., spawning five major rivers."
Whoa.
If you're planning a day trip to Mount Rainier, keep in mind that the "winter season" there lasts well into spring. Make sure to check Park road status before you leave as well as posted alerts and conditions.
To protect its natural beauty, most of Mount Rainier National Park has been named wilderness by Congress. That said, there are still five developed areas that include amenities such as visitor centers and a museum.
Take the stress out of planning your day trip from Seattle to Mount Rainier and book a guided day tour of the Park. This guided tour offers hotel pick up and drop off as well as free cancellation.
Deception Pass State Park (Whidbey Island)
Distance from Seattle: 81 miles
Deception Pass State Park is the most visited Washington State Park for a reason. With tons of activities like fishing, boating, hiking, camping, picnicking, and beach strolling, there's something for everyone at this beautiful park.
With 3800+ acres and 77,000 feet of shoreline taking up part of both Whidbey and Fidalgo islands, the park has plenty to offer. You're guaranteed to find a great spot with just the right view to enjoy on your day trip.
Of course, the iconic Deception Pass Bridge makes an ideal photo spot. For jaw-dropping views take a stroll across the bridge. (There are places to park or pull out.) PLEASE be aware of the potential for heavy traffic as this is the only bridge to Whidbey Island.
Seattle itinerary day 4
For your fourth day in Seattle is when I'm going to recommend that you try out some of the lesser talked about things in Seattle.
They're not necessarily what I'd call "hidden gems," but you might not find them at the top of the lists of things you need to do in Seattle.
A lot of these things to do in Seattle are easy on the wallet as well.
Find more great ideas in my article on the best free and cheap things to do in Seattle.
Visit Kerry Park for stunning views of downtown Seattle
Kerry Park is a popular spot for visitors to Seattle, offering iconic views of the cityscape complete with downtown, Elliott Bay, and Mount Rainier in the distance.
Though it's only a little more than an acre in size, many people visit for the view of the city and because it makes for a great photo spot.
Fans of the TV show Frasier might recognize the view as being the one from Frasier's Seattle apartment.
There is also a small playground at the nearby Bayview-Kinnear Park (often referred to as Lower Kerry).
Ballard Locks
The Army Corps of Engineers manages the Hiram M. Chittenden Locks and Lake Washington Ship Canal, which is also locally referred to as the Ballard Locks. In addition, this area is registered on the National Register of Historic Places.
These locks are said to be the busiest in America and they serve three main purposes:
maintain the water level of the freshwater lakes: Lake Washington and Lake Union
prevent the mixing of sea water from Puget Sound with the fresh lake water
move boats from the water level of the lakes to the water level of Puget Sound, and vice versa.
Anyone can come any day of the year to watch how the locks work.
The best time to see salmon on the fish ladder is from early summer to September. You can also visit the botanical gardens and the visitor center.
Seattle Art Museum
I've visited several of the top art museums in the world, and I think that the Seattle Art Museum (SAM) easily stands up next to many of them.
The museum boasts a permanent collection of contemporary art, in addition to special exhibitions of well-known artists and their works.
Visit Smith Tower
Smith Tower, completed in 1914, was the first skyscraper in Seattle. Today you can purchase affordable tickets to enjoy the amazing views from their famous observatory.
You'll enjoy special exhibits and 360-degree views of Seattle and its stunning scenery.
Frye Art Museum
Located in Seattle's First Hill neighborhood, the Frye Art Museum is always open for free. The museum is named for Charles and Emma Frye who were well-known community leaders and art collectors.
The primary focus of the permanent collection is late 19th and early 20th-century German art.
The museum has previously hosted exhibitions of Andy Warhol's work and other pieces by
Final thoughts on your Seattle four-day itinerary
Seattle is a city that begs to be explored in more than just a day or two.
If you can, try to spend at least three or four days here so you can really see all the sights and sounds (and flavors) this unique Northwest city has to offer.
I hope my Seattle itinerary gave you some ideas of things to do and see—but don't forget to explore on your own too!
There are plenty of hidden gems in Seattle just waiting to be discovered.
Did we miss anything?
Leave a comment telling us all about how much you love Seattle and what you would add to this itinerary.
Need more help planning your trip? Check out our list of essential travel planning resources.
More articles to help you plan your trip to Seattle
Pin this post!
4 Days in Seattle: Itinerary for a Perfect Trip