Charleston & Savannah Itinerary: A Lowcountry Road Trip
Charleston, South Carolina, and Savannah, Georgia, are two amazing cities to visit in the Southeastern United States. If you're looking for the perfect Charleston and Savannah itinerary, I've put together a plan that will make the most of your time in both cities.
And it includes an optional stop in Hilton Head, South Carolina.
First, you'll spend two days in Charleston. This city is known for its beautiful architecture, historic downtown area, charming cobblestone streets, and stunning waterfront views.
Then it will be time to move on to Savannah for a couple of days. Founded in 1733 by British colonists, this city oozes history and Southern charm from its historic homes to its famous Riverfront.
On the surface, this might not seem like enough time to see everything these two cities have to offer, but with this itinerary, you'll experience all their highlights.
So pack your bags and get ready for some southern charm.
Plan the perfect Charleston and Savannah Itinerary with this FREE printable travel planner.
This post includes affiliate links. If you make a purchase through one of these links, I may earn a small commission at no additional cost to you. As an Amazon Associate, I earn from qualifying purchases. See disclaimer.
How to spend two days in Charleston
Charleston, South Carolina, is a beautiful place and has so many great activities that it's one of our favorite places to visit.
Charleston is a top travel destination in the American South and should not be missed by anyone who wants to explore more of this part of the United States.
Charleston, formerly Charles Town, is not only the biggest city in South Carolina but also a leading travel destination.
It oozes Old South history and charm as well as being a great food travel destination.
And while a lot of the city's history is unpleasant, Charleston has come a long way toward making sure that the stories of enslaved people are being told.
Day 1: Charleston
On your first day in Charleston, after you've eaten a hearty breakfast, I recommend exploring two of the Holy City's significant historical sites: Aiken-Rhett House and Fort Sumter National Monument.
Aiken-Rhett house
Aiken-Rhett House was once the home of Governor and Mrs. William Aiken Jr. From 1864 – 1866, William Aiken Jr. was the 61st governor of South Carolina.
While Nathaniel Russell House (nearer The Battery in lower Charleston) is a popular site that has been beautifully restored, if you're looking for a historic Charleston home that's been carefully preserved, I recommend you tour Aiken-Rhett House.
Aiken-Rhett House has been called "the most intact townhouse complex showcasing urban life in antebellum Charleston" by the National Trust for Historic Preservation.
In the back of the house, there are quarters where many enslaved people used to live and die. Although it may be difficult to see, it is important to remember their lives.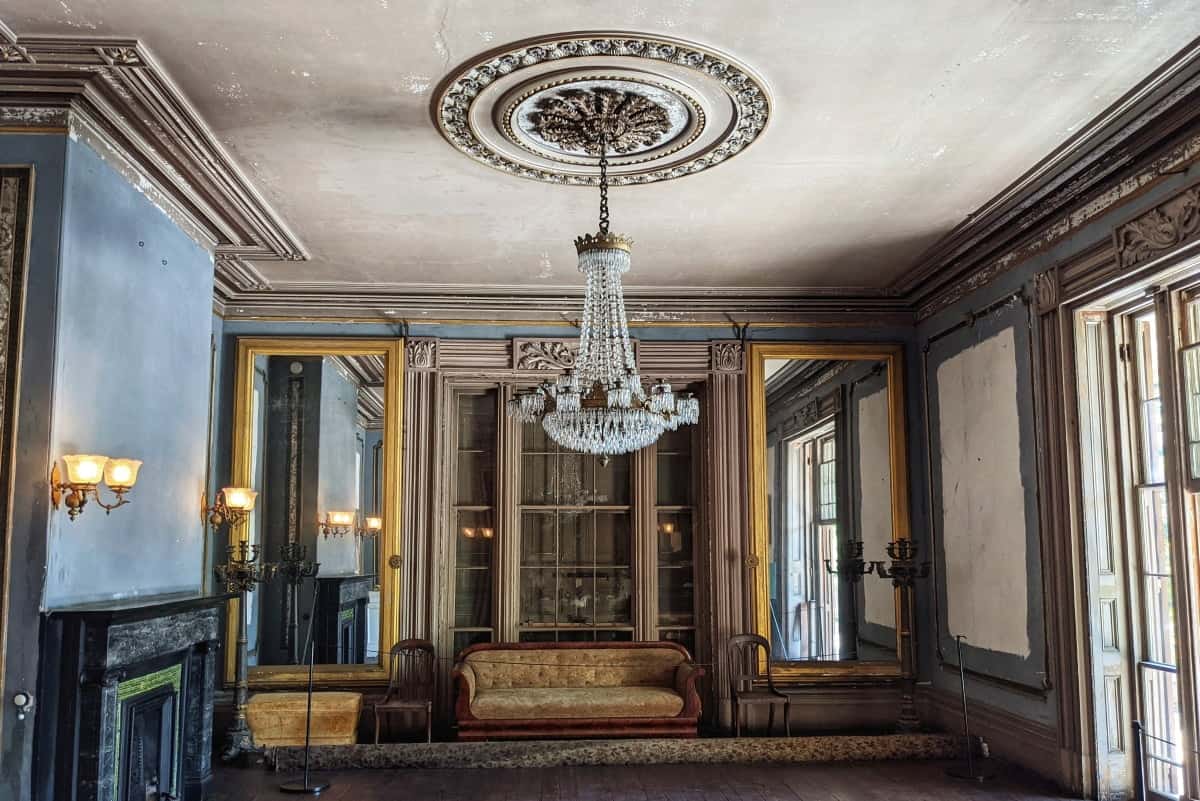 Fort Sumter National Monument
Fort Sumter is primarily known as the site of the outbreak of the American Civil War. Confederate forces shelled the fort on April 12, 1861, beginning four years of bloody conflict.
The only way to get to Fort Sumter is by boat as it sits on a man-made island in Charleston Harbor.
You'll want to book your tickets ahead of time online through Fort Sumter Tours the National Park Service's official vendor for these tickets.
Be sure to attend the National Park Service ranger's history talk while inside the fort. You won't be disappointed. It's excellently done and provides concise historical context for what you'll be seeing as you walk about the grounds.
More things to do in Charleston
Here are some other popular activities you might like to do on your first day in Charleston. They all include free 24-hour cancellation.
Carriage rides like this one are a very popular thing to do in Charleston.
You might also enjoy this very highly-rated historical walking tour.
Or explore Charleston's culinary scene with this small group food tour.
PRO TIP: If you have flexible travel dates you need to check out Going (formerly Scott's Cheap Flights). You get amazing flight deals sent straight to your inbox with instructions on how to book directly with the airlines. Check out Going here. Going is my favorite way to find great travel deals. 
Day 2: Charleston
Stroll along The Battery
Be sure to visit The Battery on your second day in Charleston. It's called The Battery because of the coastal defense artillery battery that used to be located there.
The Battery is located on the lower Charleston peninsula, where you'll find a seawall promenade perfect for a morning walk. If you're looking to enjoy some shade and escape the heat, take a stroll through White Point Garden.
If you're looking to explore some true Charleston architecture, take a stroll around The Battery and check out all of the beautiful homes. From the outside of course. Don't go knocking on doors that would be weird.
You're sure to have a blast enjoying your gorgeous surroundings.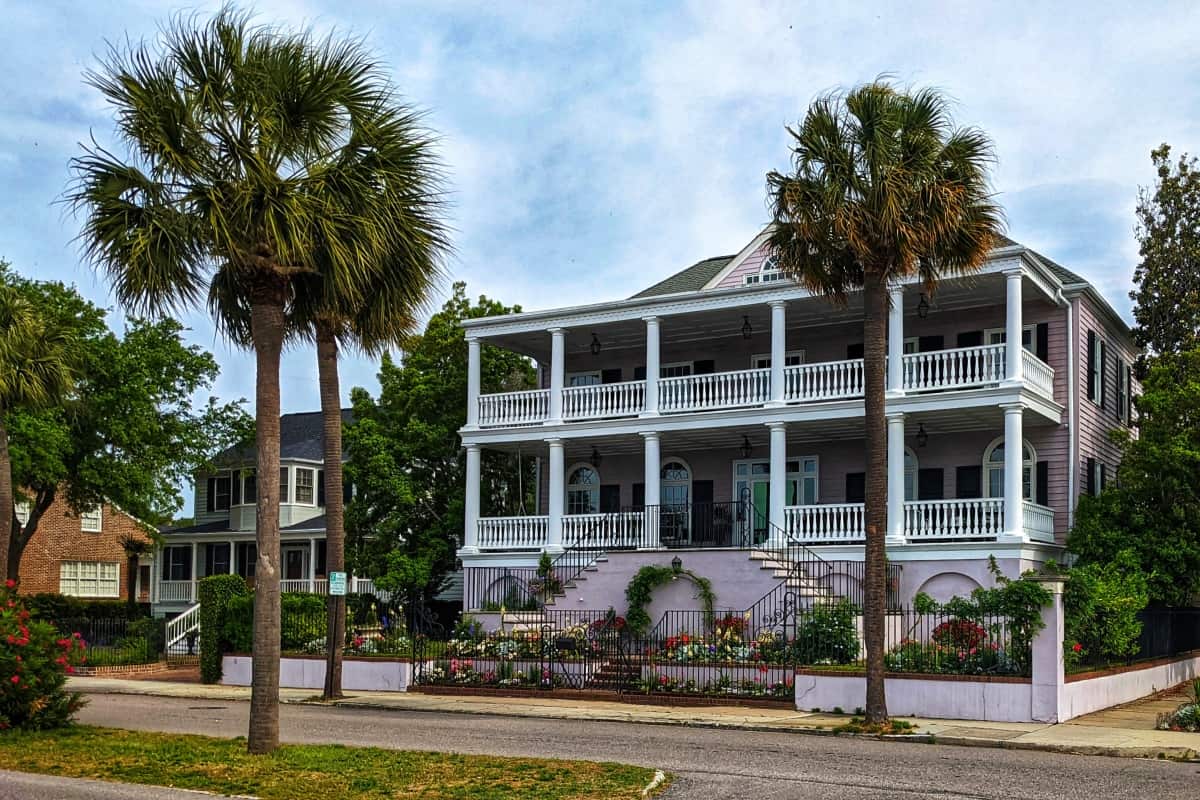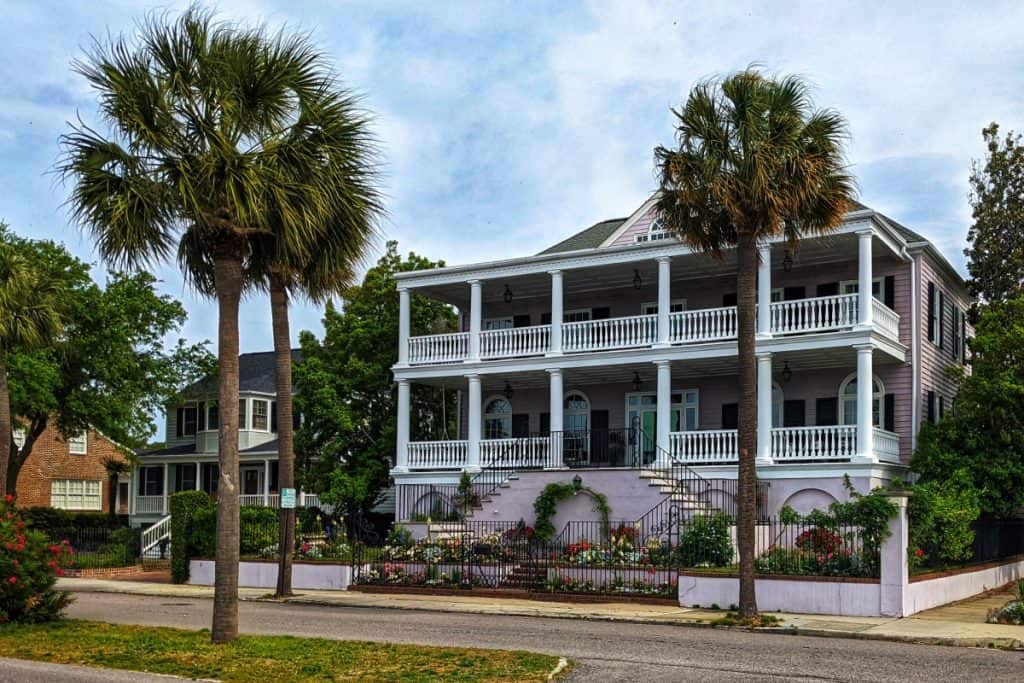 Visit the historic Charleston City Market
The four-city-block-long Charleston City Market is considered by many to be a "must-do" in Charleston.
At the market in downtown Charleston, you'll have fun browsing through all of the different stalls. You can find anything from intricately designed art pieces by local artists to time-honored classics like sweetgrass baskets, which have been made in Charleston for hundreds of years.
It's a wonderful place to explore and find some great souvenirs to take away with you to remember your visit to Charleston.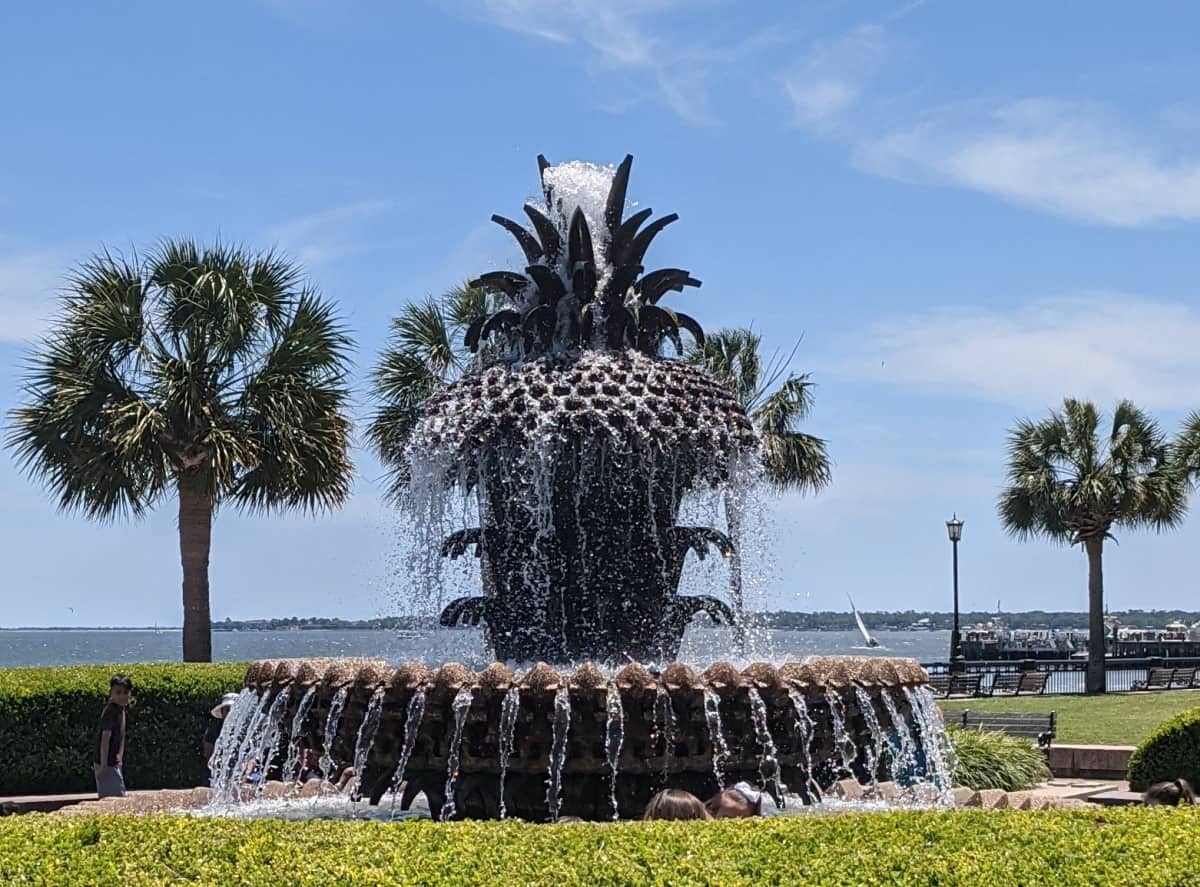 Waterfront Park
In this beautiful stretch of waterfront is where you'll find Charleston's iconic Pineapple Fountain, a top photo spot in the city.
This is the perfect place to take a brief break and simply enjoy your time in Charleston.
For excellent views of the harbor and Arthur Ravenel Jr. Bridge, take a short walk out on the pier. If you want to relax in a serene setting, there are also some lovely bench swings where you can sit down and enjoy the breeze on a warm day.
For more detail about these sites and other ideas for your visit to Charleston, read my full article on the perfect Charleston weekend itinerary.
Day trips from Charleston
If you're interested in exploring some of the beautiful sights that the South Carolina lowcountry has to offer, consider taking a day trip away from Charleston or even for just an afternoon.
There are plenty of amazing places to visit just a short drive away from the city.
Magnolia Plantation
The Magnolia Plantation is one of the most popular day trips from Charleston. Founded by the Drayton family in 1676, it is one of the oldest public tourist destinations and gardens in the Lowcountry region.
Visitors can view the romantic-style gardens with thousands of flowers and plants or take one of the many tours on offer.
Boone Hall Plantation
Boone Hall Plantation in Mount Pleasant, South Carolina, is one of America's oldest working farms and has been recognized as the number one plantation in the Charleston area by USA TODAY 10Best.
Not only is the plantation stunning, but it also has a rich history. It was founded by English General John Boone in 1861.
Folly Beach
There's nothing quite like a beach day to relax and reset. At just 20 minutes away from Charleston, Folly Beach on Folly Island is the perfect place to do so.
This barrier island off the coast of Charleston is popular with locals and visitors alike who enjoy swimming, fishing, kayaking, and spending time in nature surrounded by wildlife.
Get 12 more excursion ideas in my article all about day trips from Charleston.
Where to eat in Charleston
Charleston, South Carolina, is a popular foodie destination.
Consider taking a food tour like this to get expert guidance on the best places to eat and the best local dishes to try.
(Hushpuppies. The best local dish to try is hushpuppies.)
Here are a few of our favorite places to eat in Charleston and Mount Pleasant.
Vicious Biscuit (great gluten-free options; get there before they open on weekends)
Page's Okra Grill
Fleet Landing (separate gluten-free and vegetarian menus)
Carmella's Dessert Bar (a perfect place for coffee or a sweet treat)
Where to stay in Charleston
Charleston has no shortage of wonderful hotels to stay in.
The Dewberry—luxurious accommodations bordering Marion Square, near fine dining and shopping on King Street. Use one of the Dewberry Volvo guests cars or try one of the complimentary bicycles to get around town. Check out their rates today.
Budget-friendly Option: Doubletree Mount Pleasant—we had a lovely and budget-friendly stay at this hotel which was just a few minutes outside Charleston. Look at room options here.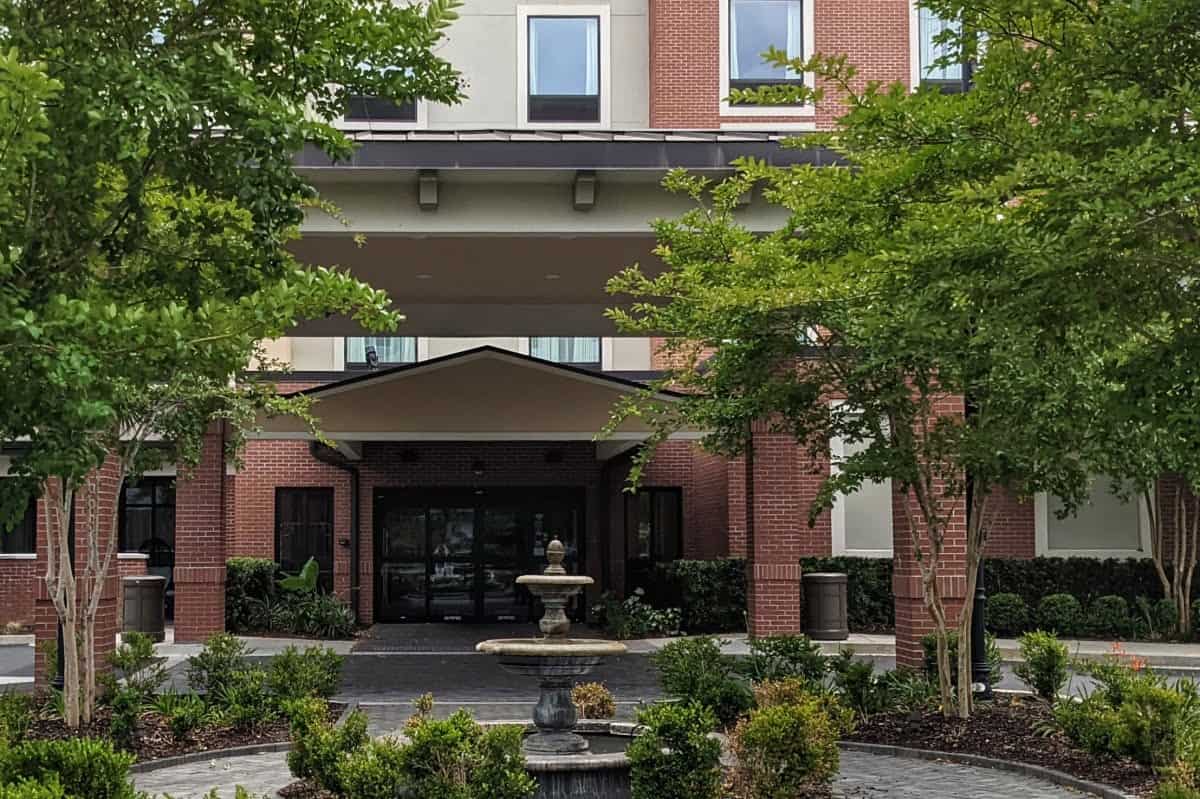 Optional trip extension to Hilton Head Island, South Carolina
A little over 100 miles from Charleston and just about 40 miles from downtown Savannah, you'll find lovely Hilton Head Island, South Carolina.
Hilton Head makes a great stop if you want to extend your Charleston and Savannah itinerary and explore more of the low country.
It's also my favorite weekend getaway from Charleston.
You can spend the day at the beach, visit Coligny Beach Park with its nearby shopping center, or check out Harbour Town (there's a day pass fee), and the lighthouse.
We loved our stay at the Marriott Hilton Head Resort & Spa, which is right on the beach.
So you'll definitely want to book a room with a balcony. We think it's worth the extra money to wake up to this…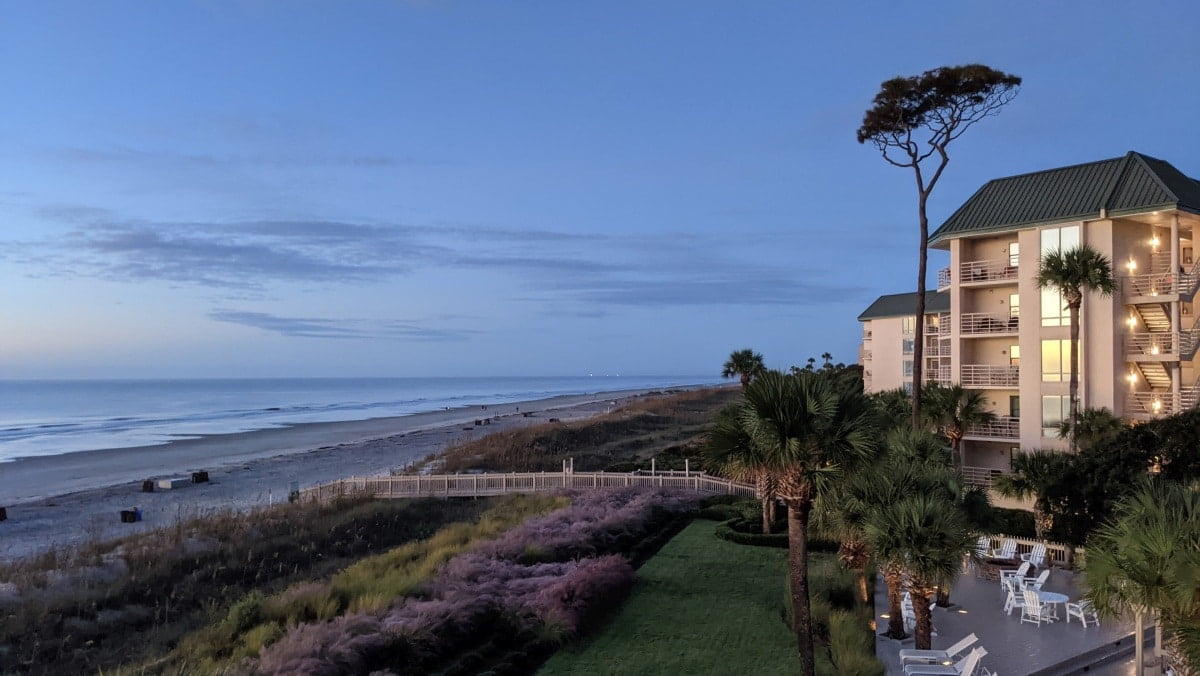 Where to stay in Hilton Head
Luxury: Inn and Club at Harbour Town was named one of the Top 10 Hotels in the U.S.A. for 2021 by U.S. News and World report.
Moderate: Marriott Hilton Head Resort & Spa has a great pool area plus it's right on the beach!
Affordable: Home2 Suites by Hilton offers free breakfast
Find more of the best things to do between Savannah and Charleston.
Things to do in Savannah
Genteel & Bard history tour
I highly recommend taking a historic walking tour in Savannah if you want to get to know the city better.
And I can recommend the Genteel & Bard tour without reservation. T.C. Michaels is an outstanding and friendly guide. And a great storyteller.
He truly brought the city to life, from its planning and founding then up to the present. (And where does all that energy come from?)
This tour will most definitely make you appreciate Savannah more as well as the people who worked so hard to preserve it for future generations to enjoy.
They also offer a dark history and ghost tour which is quite popular.
River Street
Iconic River Street is a popular tourist destination in Savannah known for its charming architecture and lively nightlife. You really shouldn't miss it.
The street runs along the Savannah River and is home to a variety of restaurants and shops.
It's a great place to spend an evening out with friends or family.
I do have to admit it is a rather touristy area, but that doesn't mean you shouldn't take a stroll down it once or twice especially if it's your first time in Savannah.
Be advised that Savannah does have an open container policy, so there will be people walking around (especially at night) with alcoholic beverages.
Waving Girl Statue
As long as you're on River Street make sure to step over to the famous Waving Girl statue in Morrell Park.
The statue honors Florence Martus who greeted each ship entering or leaving Savannah for 44 years by waving a handkerchief or a lantern at night.
According to legend, she did this because as a young girl she had fallen in love with a sailor and she was trying to make sure he could find her, but there doesn't appear to be any historical evidence to support this notion.
Forsyth Park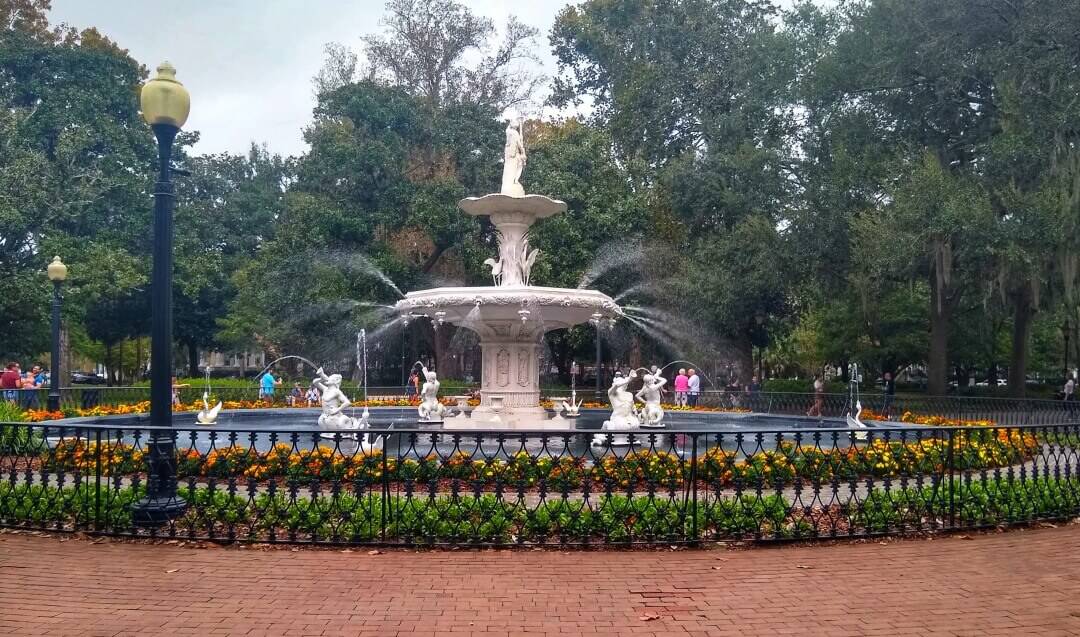 There's a quite well-known fountain in Savannah, and you'll find it in Forsyth Park (2 W Gaston St).
Forsyth is 30 acres of walking paths, gardens, sports courts and fields, a half-shell theatre, and more.
It's truly a beautiful park and well worth a visit.
Cathedral Basilica of St. John the Baptist
In addition to looking for all the best art when we travel, we enjoy visiting historical and prominent places of worship.
The Cathedral Basilica of St. John the Baptist is a stunning example of French Gothic architecture and one of the most popular tourist destinations in Savannah, Georgia.
The church was dedicated in 1876. It's also home to some amazing stained glass windows.
St. John the Baptist is open for visitors (self-guided tour). They suggest a $3 per adult cash donation.
Leopold's Ice Cream
A scoop at Leopold's is a "must-do" in Savannah for me.
Expect lines out the door if you visit Savannah during high season.
Leopold's has been a Savannah institution for more than 100 years. They're probably most famous for their Tutti Frutti ice cream.
I tried the Savannah Socialite which is chocolate ice cream with Georgia pecans and bourbon caramel. It. Was. Delicious.
More recommendations for where to eat in Savannah
B. Matthew's Eatery
Fox & Fig (plant-based cuisine)
Vic's on the River
The Collins Quarter
Back in the Day Bakery
Get more details about where to eat and what to do in Savannah.
More things to do in Savannah
Try a Savannah food tour
Unsure about where to eat in Savannah or want to try a little from a lot of places? Savannah is a great place to take a food tour.
You might like this highly rated tour of six of Savannah's specialty stores and restaurants.
Or try this tour of secret spots and secret bites.
Try a cruise on the Savannah River
Would you rather be on the river rather than just have a view from shore? Try this narrated river cruise.
See Savannah by trolley
Trolley tours are a popular way to get around and see Savannah. You'll learn about the city and get a good overview.
Here are a few popular options;
This Savannah Old Town Trolley Tour will show you dozens and dozens of Savannah's top sites and points of interest while you learn about its history.
This History and Sightseeing Trolley Tour will guide you through Savannah's 270 year history in 90 minutes.
Or try a full-day hop-on and hop-off trolley ticket so you can learn more about Savannah while you explore at your leisure.
Where to Stay in Savannah
Luxury: The Eliza Thompson House is an inn rich in history that's situated near Forsyth Park and its well-known fountain.
Moderate: If you're looking for a great view of both the historic Savannah Riverfront and the steamboats that travel along it, look no further than Marriott Savannah Riverfront!
Affordable: Holiday Inn Express Savannah – Historic District offers comfortable and affordable rooms just steps from historic River Street.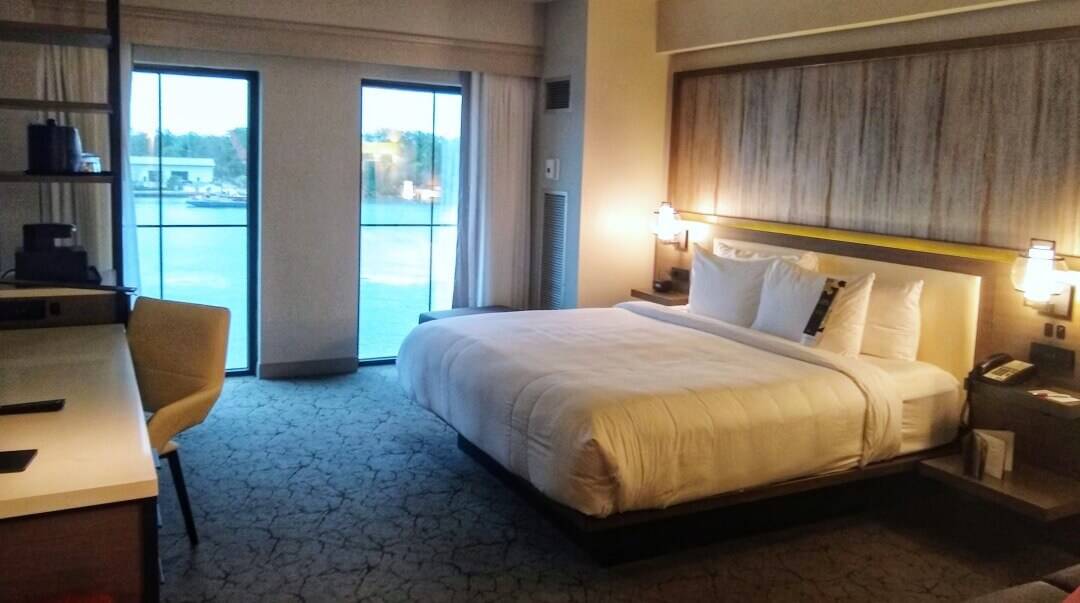 Day trips from Savannah
Extend your itinerary and explore more of Georgia outside of Savannah.
Tybee Island
The most popular day trip from Savannah is Tybee Island, which boasts the oldest and tallest light station in Georgia. The 2.5-mile-long barrier island's strategic location at the mouth of the Savannah River also made it an important military outpost.
Although Tybee Island is quite close to Savannah, you could easily spend an entire day exploring there.
To explore the island, you can of course drive yourself there, or you could book a sightseeing tour like this one that includes a dolphin-watching cruise. Or perhaps just enjoy a day relaxing on a Tybee Island beach complete with beach chairs, umbrellas, and coolers stocked with ice.
Fort Pulaski National Monument
Also quite close to the historic center of Savannah, Fort Pulaski National Monument is located on Cockspur Island. The National Park Service operates Fort Pulaski, which is open every day except for Thanksgiving, Christmas, and New Year's Day.
The fort was built to protect the Port of Savannah not long before the American Civil War broke out in 1861. The fort was made mostly of brick (millions and millions of bricks) and was soon rendered obsolete when the Union Army used Fort Pulaski as the site for their testing of their new rifled cannons.
Fort Pulaski fell to the Union Army in less than two days. The fort was then used by the Union Army as a prisoner-of-war camp.
Fort McAllister State Park
Continuing on the Civil War historical site theme, south of Savannah you'll find Fort McAllister State Park on the banks of the Ogeechee River.
Now don't dismiss this park out of hand even if you've been to both Fort Sumter in Charleston, South Carolina, and Fort Pulaski (see above), because these Confederate fortifications are earthworks and some of the best-preserved.
Fort McAllister held its ground during multiple naval bombardments but was eventually conquered by General Sherman during his army's 'March to the Sea.' The site was added to the National Register of Historic Places in 1970.
If you're looking to spend more than a day at the park, you can choose between staying in a cottage or renting a campsite. The 1700-acre park includes everything from picnic shelters and a museum to boat ramps and fishing piers.
With 4 miles of hiking trails, canoe, kayak, and paddleboard rentals (seasonal), bike rentals, and educational programs available, there's plenty to do here.
Get 7 more awesome ideas in my article about the best day trips from Savannah.

Explore more of the area with these ideas for short trips from Savannah.
Final thoughts on your Charleston to Savannah itinerary
If you're looking for fun Southern cities to visit, look no further than Charleston and Savannah. These two cities offer amazing food, history, and architecture that will keep you entertained for days.
We suggest spending at least two days in Charleston and at least a full day or a day and a half in Savannah to experience the best of what these cities have to offer.
Have you been to either Charleston or Savannah? What were your favorite things to do there? Let us know in the comments!
More articles to help you plan your Charleston and Savannah trip
Pin this post!