One Day in Savannah: Itinerary & Travel Guide
You can do a lot with a day trip to Savannah
If you want to dip your toes into traveling in the Deep South of the United States, you simply must pay a visit to Savannah, Georgia. Even with only one day in Savannah, Georgia, you can get a great taste of the best things the city has to offer.
And I use the word "taste" here literally. Good food should definitely be a key component of your day trip to Savannah. Not to mention the beautiful historic buildings, southern charm, cobblestone streets and historic homes. Here's how to spend one day in Savannah, Georgia.
This itinerary works equally well paired with an overnight stay in the city (maybe as part of a weekend getaway to Savannah) or as a Savannah day trip itinerary.
This post includes affiliate links. If you make a purchase through one of these links, I may earn a small commission at no additional cost to you. As an Amazon Associate, I earn from qualifying purchases. See disclaimer. 
One day Savannah itinerary
Breakfast at the Collins Quarter Cafe
If you're going to do Savannah in one day you need to fuel up first. Start your day with a relaxed breakfast at The Collins Quarter on Bull Street.
The Collins Quarter is a popular spot, but they did not take brunch reservations when we were there, so get there early if you can.
In our experience being there on a Saturday in the fall, it starts getting noticeably busy close to 9 a.m. There is also outdoor seating, but I loved the décor and atmosphere inside the café.  
The Collins Quarter has a lot of great gluten-free options and a few solid vegetarian options as well. Hubby recommends "Leo's Big Brekkie," and I really enjoyed the bananas foster French toast.
Portions here are generous. Oof. I could barely finish my order, but it was soooo worth it.
If you enjoy coffee drinks at all you have to try the spiced lavender mocha.
It is without a doubt the best mocha I have ever tasted. Yes, it does have tiny little lavender blossoms sprinkled on the top, and they are just perfection.
Read More → Savannah or Charleston: Which Should You Visit?
Try a Savannah food tour
Unsure about where to eat in Savannah or want to try a little from a lot of places?
Savannah is a great place to take a food tour.
You could try this popular tour of Savannah's famous Southern cuisine.
Or try this special tour of secret spots and secret bites at famous places.
Or perhaps this 2-hour Southern food tour will satisfy your taste buds.
Savannah History Walking Tour 
History walking tours are a great way to get an overall picture of your destination.
What better way to learn more about your destination than have a local show you around and tell you all the best stories? I know that I can appreciate a city more if a learn a little about its culture and history.
And Savannah drips with history.
We highly recommend Genteel & Bard's Savannah History Walking Tour.
They also offer a ghost tour. (Savannah locals like to talk about how haunted their city is. In fact, our parking valet at dinner one night told us that Savannah is the most haunted city in the U.S.)
T.C. Michaels is an outstanding and friendly guide. He truly brought the city of Savannah to life, from its planning and founding up to the present.
If you are at all interested in Savannah's history or even if you just want to hear some good stories from a great storyteller, give this guided tour a try.
It will most definitely make you appreciate Savannah more as well as the people who worked so hard to preserve it for future generations to enjoy. 
Additional tours in Savannah
Pin this post!
Lunch at Fox & Fig
After a long walking tour you will no doubt be ready for a really good lunch.
We recommend giving the local plant-based cuisine a try at Fox & Fig Café (321 Habersham Street). The food and service are great.
Be advised that the dining room is quite small, but they do offer takeout.
I recommend the Fox Burger. Some menu items are gluten-free or can be made gluten-free upon request.
Cathedral Basilica of St. John the Baptist 
After your lunch, you can take a quick walk over to the Cathedral of St. John the Baptist (222 East Harris Street). Though the church is a functioning parish, they are open for visitors.
They suggest a $3 per adult cash donation. We gladly made a donation in thanks for their opening their doors to those who just want to look around the admire the beautiful building.
When we were there, there was signage indicating that photography of the interior was only allowed for personal use.
That is why you won't see any photos of the interior of St. John the Baptist on this website. You'll just have to go to Savannah, Georgia, and see it for yourself!
As you would when visiting any place of worship, while you're at St. John the Baptist please be respectful of the space and those who work and worship there.
Here are a few more of the best places to see in Savannah:
Flannery O'Connor Childhood Home
Green-Meldrim House, General William Tecumseh Sherman's headquarters during the occupation of Savannah in the Civil War
Forsyth Park (think Spanish Moss and home to a famous Savannah fountain)
Visit some of Savannah's 22 historic squares such as

Chippewa Square
Lafayette Square
Ellis Square
Franklin Square
Monterey Square

Explore Tybee Island
After your afternoon of sightseeing, it's time to head to the Savannah River.
Enjoy a Walk Down River Street 
I do have to admit River Street has become a rather touristy area, but that doesn't mean you shouldn't take a stroll down it once (or even twice). You might even find a souvenir to take home with you from one of the local shops.
If you're feeling snackish, try River Street Sweets for their famous pralines.
Be aware that Savannah does have an open container law, so you will likely see people walking around (especially at night) with alcoholic beverages.
Cars are permitted to drive on River Street, but there is very limited parking. 
Dinner at Vic's on the River
After a day of walking through Savannah you'll enjoy a nice, quiet dinner with a view of the river.
We recommend making dinner reservations for Vic's on the River (26 E Bay Street), and make sure to allow plenty of time to find parking.
You can also get to the restaurant through Vic's Coffee Bar on River Street. Just take the elevator up to the fourth floor. 
The food and service at Vic's on the River are outstanding. Our entire evening there was wonderful, and we'd go back there in a heartbeat.
They have a large number of gluten-free options, but they're a little light on the vegetarian options.
I was able to make a delicious dinner though out of the baby Tuscan kale salad with preserved lemon (resisting the temptation to lick my plate clean) and the fried green tomatoes appetizer.
Hubby quite enjoyed their filet with sour cream and chive mashed potatoes. 
End your day in Savannah with dessert at Leopold's
After dinner, of course you need to try the famous Leopold's ice cream (212 E. Broughton St.) for dessert.
Expect lines out the door if you visit Savannah during high tourist season. In off-season or shoulder season you might only have to wait a few minutes to order.
We were there toward the end of October and only had a couple people ahead of us in line and there was plenty of room to sit and enjoy the atmosphere while we ate our dessert.
Leopold's has been serving ice cream to hungry Savannah residents and tourists for 100 years. They're probably most famous for their Tutti Frutti ice cream.
I personally love the Savannah Socialite which is chocolate ice cream with Georgia pecans and bourbon caramel.
It. Is. Delicious. Some of the best ice cream I've ever tasted.
Seriously. I still think about it sometimes and really wish I could have some right now.
The ice cream shop is full of all sorts of Hollywood memorabilia. The son of the founder had a dream to work in Hollywood, so off he went.
He has credits as a producer or executive producer on more than 20 films including The Sum of All Fears and Mission Impossible: III.
Tours mentioned in this article
Savannah, Georgia, Travel Tips
Wear comfortable shoes. With limited street parking, the best way to see Savannah is to walk around its Historic District.
Expect it to be quite warm even well into the fall or early spring, and dress appropriately for the weather.
Continuing on the theme of the Savannah heat, I recommend that you carry water with you.
Pack a good appetite. Savannah is chock full of great food. You could honestly go to Savannah just for the food and leave happy…except for regretting the delicious food you missed.
I recommend staying in Savannah's Historic District. You'll enjoy being in the heart of the city and it will reduce the need to drive around from site to site. Street parking in Savannah can be hard to come by as well as expensive.
Where to stay in Savannah, Georgia 
If your one day in Savannah is more than just a day trip and you're planning to stay for a night or two, we highly recommend the Marriott Savannah Riverfront  (100 General McIntosh Blvd) river view rooms.
The hotel is conveniently located at the end of historic River Street, just steps from the famous Waving Girl Statue and within walking distance of several other sites. It's quite comfortable, and the staff are friendly.
Here are a few more popular options:
The Marshall House is one of the most popular places to stay in Savannah. It's in the heart of the historic area and includes an onsite restaurant.
The Eliza Thompson House is an inn rich in history that's situated near Forsyth Park and its well-known fountain.
Holiday Inn Express Savannah – Historic District offers comfortable and affordable rooms just steps from historic River Street.
Want to explore more of the area? Check out these weekend getaways from Savannah.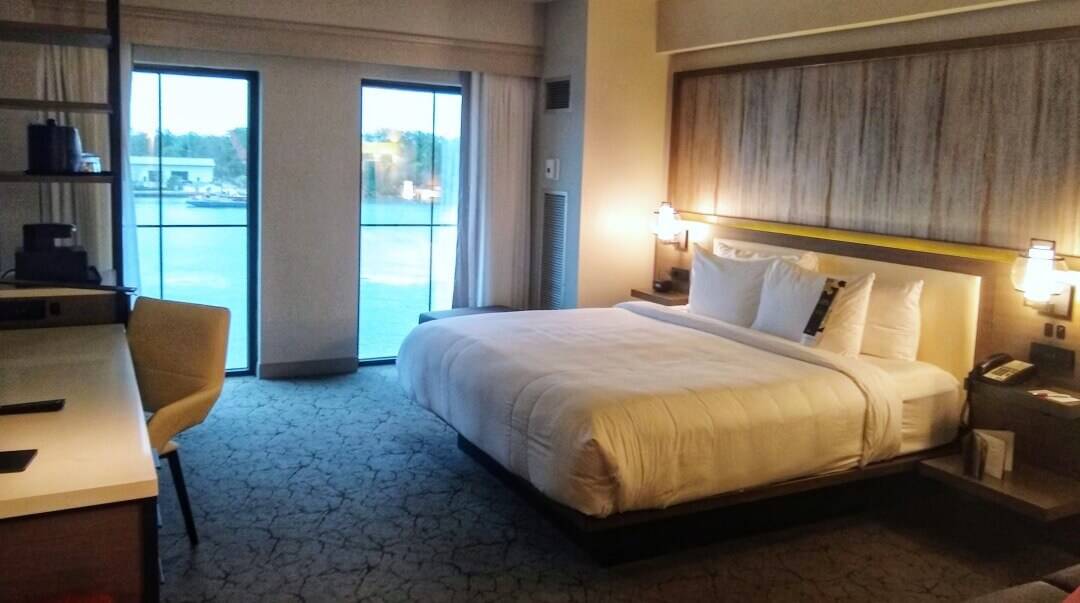 If you have more time to see Savannah
If you have more than one day to spend in Savannah, check out my weekend in Savannah itinerary.
There are also a lot of amazing day trips that you can take from Savannah. Here are a few examples.
Skidaway Island State Park
Skidaway Island State Park is a great option for a day trip from Savannah. Just a short drive from downtown Savannah, the park offers a chance to get away from the hustle and bustle of the city.
The park is home to a variety of ecosystems, including salt marshes and maritime forests. You may spot a variety of wildlife in their natural habitat including deer, fiddler crabs, and egrets.
Tybee Island
Easily the most popular day trip from Savannah, Tybee Island's most famous site is probably its light station, the oldest and tallest in Georgia. The 2.5-mile-long barrier island's location at the mouth of the Savannah River also made it especially important as a military position.
Although it's essentially "next door" to Savannah, you could easily spend an entire day exploring Tybee Island.
Fort Pulaski National Monument
Also quite close to the historic center of Savannah, Fort Pulaski National Monument is located on Cockspur Island. Fort Pulaski is operated by the National Park Service and is open seven days a week year-round, except for Thanksgiving, Christmas, and New Year's days.
The fort was built to protect the Port of Savannah not long before the American Civil War broke out in 1861.
For more information, including drive times, see the complete list of the best day trips from Savannah, Georgia.
Final thoughts on your day in Savannah, Georgia
Full of historic houses, historic sites, and oozing old Southern charm, Savannah is full of so much history and makes a great option for a one-day trip in the American South.
Don't miss your chance to explore this amazing city. It's full of some amazing and quirky history.
And did I mention the food?
More articles related to Savannah travel
One Day in Savannah: Itinerary & Travel Guide