Savannah vs Charleston: Which City Should You Visit?
Savannah and Charleston are two of the top travel destinations in the Southeastern United States…but which should you visit? In this post, we compare them side by side so you can make the best decision for you. Savannah vs Charleston: who will win?
Keep reading to find out!
Grab your FREE printable travel planner today.
This post includes affiliate links. If you make a purchase through one of these links, I may earn a small commission at no additional cost to you. As an Amazon Associate, I earn from qualifying purchases. See disclaimer.
Savannah and Charleston are both wonderful places to visit. They both ooze Southern charm. You really can't go wrong with either.
Both southern cities are great weekend getaway destinations for couples.
And both are awesome destinations for foodies.
So, if you're struggling to decide between these two great cities I certainly sympathize.
Let's go over the similarities and differences between Charleston and Savannah.
Need help planning your trip to Charleston or Savannah? Check out our travel planning essentials page so you have everything you need.
History
Both Savannah and Charleston are quite old. They're early American cities full of interesting and rich Southern history.
Much of that history though is…not good.
Savannah history
Savannah was founded in 1733 by James Oglethorpe, a member of the British Parliament. It was the capital of the British colony of Georgia and then the first state capital.
Slavery was not permitted in Savannah at first, but sadly that didn't last long.
It would take the American Civil War to return Savannah to its days of freedom. Savannah surrendered to General William Tecumseh Sherman (at the end of his March to the Sea) in 1864.
Savannah is known for its city layout designed by Oglethorpe (the Oglethorpe Plan), which is basically a grid of blocks with small greenspaces (squares) that create a network of walkable neighborhoods.
Charleston history
Charleston, known as the Holy City, was established in 1670 as Charles Town and named for King Charles II. It is one of the oldest cities in the U.S. It became Charleston in 1783.
Unfortunately, Charleston's early history is dominated by its significant role as a major slave trade port. Supposedly, nearly one half of all enslaved people brought into the U.S. came through Charleston.
Today Charleston, the largest city in South Carolina, is known for its thriving tourism industry.
PRO TIP: If you have flexible travel dates you need to check out Going (formerly Scott's Cheap Flights). You get amazing flight deals sent straight to your inbox with instructions on how to book directly with the airlines. Check out Going here. Going is my favorite way to find great travel deals. 
Things to do in Savannah and Charleston
Both Savannah and Charleston are FULL of great things to do. You will not be bored.
Here are a few of the most popular things to do in each city.
Popular things to do in Savannah
River Street—This popular street in downtown Savannah is home to shops, dining, and some nice hotels. It runs along (you guessed it) the Savannah River. Find the famous Waving Girl statue at the end of River Street.
Forsyth Park—Forsyth is a beautiful park full of walking paths and recreation spaces. Its famous white fountain is a popular photo spot in Savannah.
Historical homes—One of the best ways to explore Savannah is to tour famous old homes such as writer Flannery O'Connor's childhood home, the Mercer Williams House (designed by the great-grandfather of songwriter Johnny Mercer and made famous by Midnight in the Garden of Good and Evil), and Green-Meldrim House (General William Tecumseh Sherman's Civil War headquarters in Savannah).
The Squares—Savannah is well-known for its 22 public greenspaces that form small town squares throughout the Savannah Historic District. Most are named for historic people or events and many include historic monuments or statues.
Top things to do in Charleston
Charleston City Market—considered by many a "must do" on a visit to Charleston, the historic City Market stretches along 4 city blocks.
It showcases artwork and decorative items from local artisans, including sweetgrass baskets that have been made in Charleston for centuries. You can also find typical Charleston souvenirs in the market.
Waterfront Park—beautiful Waterfront Park is a popular spot in Charleston and noted for its famous Pineapple Fountain. You may even find children splashing about there on a warm day.
Historic homes—Like Savannah, Charleston is full of beautiful and historic architecture, homes of historical significance. Two of the most popular house museums are Aiken-Rhett house (noted for how it's been preserved and don't skip the slave quarters) and Nathaniel Russell House.
National parks—If you're a fan of visiting National Park Service and historic sites, Charleston is a great place to visit. You'll find Fort Sumter and Fort Moultrie National Military Park in Charleston.
Charles Pinckney National Historical Site is located in Mount Pleasant just a few miles away. Reconstruction Era National Historical Park is about an hour and a half drive from Charleston.
Food: Savannah vs Charleston
Now we're talking!
Both Savannah and Charleston are chock full of wonderful places to eat, from fine dining to quick bites and desserts.
In both places you can eat a great meal with a view of the water.
In Savannah, we had a wonderful dinner at Vic's on the River.
In Charleston, we enjoy Fleet Landing. Get their hushpuppies!
My personal experience in researching gluten-free dining options in both Savannah and Charleston for Hubby was that I had a much easier time finding restaurants in Savannah that I thought he would enjoy.
Your mileage may vary.
If I had to choose one Southern town to go back to just for the food, I would choose Savannah.
Dining I recommend in Savannah:
B. Matthew's Eatery
Leopold's Ice Cream (a popular place!)
Fox & Fig (plant-based cuisine)
Vic's on the River
The Collins Quarter
Back in the Day Bakery (not gluten-free)
Dining I recommend in Charleston/Mount Pleasant:
Vicious Biscuit (great gluten-free options)
Page's Okra Grill
Fleet Landing (separate gluten-free and vegetarian menus)
Carmella's Dessert Bar (a perfect place for a sweet treat)
Size and atmosphere
Okay, I realize that all of the criteria so far have been pretty subjective. And trying to compare the feel of two different cities is quite subjective.
It's an intangible that will boil down to what kinds of cities you enjoy visiting.
In my opinion, Charleston feels like a larger city while Savannah, though not a small town, definitely has more of a small-town feel to me.
It might have something to do with all of those town squares creating little neighborhood areas. If so, then the good Mr. Oglethorpe (the founder of Savannah) did his job well.
If you're a city lover (like me) a visit to Charleston may be your best bet.
Charleston's King Street is a premier shopping and dining destination in downtown Charleston and the Southeast.
For the record, Savannah's population is slightly larger than Charleston's. However, the population of the Charleston metro area is more than twice that of Savannah's.
And Charleston is nearly 50% larger in land area than Savannah (156 square miles compared to 108).
Why you might prefer Savannah
Travelers might prefer to visit Savannah if…
They want to visit a "haunted" city. Locals will swear that Savannah is the most haunted city in the United States. The ghost tours are pretty famous.
They're a fan of Midnight in the Garden of Good and Evil (locals refer to it as just "The Book.")
They want a travel destination that's heavy with atmosphere and full of odd and quirky history.
They prefer visiting smaller cities and small towns
Why you might prefer Charleston
A visit to Charleston might be a good fit for you if…
You want to do a trip of longer than a weekend
You're interested in doing more than one day trip outside the city
You're interested in high-end shopping
You enjoy large cities
Both cities…
Should appeal to foodies
Have plenty to do for those who enjoy historical and cultural travel
Are hot in the summer
Can be expensive…especially hotel rooms in their respective historic districts
Recommended itineraries for Charleston and Savannah
Still unsure about whether you want to visit Savannah or Charleston?
Why choose?! Follow this Charleston and Savannah itinerary and see the best of both worlds.
There are also a lot of great things to do between Savannah and Charleston.
These itinerary posts include a lot more details for each city including recommended activities, where to stay, more specifics on dining options, and general travel tips:
Where to stay in Charleston and Savannah
Hotel rates in Charleston, South Carolina, are marginally higher than in Savannah.
My own experience with looking for hotels in both places was such that we chose to stay outside Charleston, in nearby Mount Pleasant, rather than in the historic area. In Savannah, we stayed right on the riverfront for a reasonable rate (in my opinion).
Both Charleston and Savannah provide a large number of lodging options to choose from, including major brand hotels, boutique inns, and B&Bs. Here are a few of the most popular places to stay in both cities.
Where to stay in Charleston
Andrew Pinckney Inn—boutique hotel with 41 rooms located just a couple of blocks from the Charleston City Market.
The Dewberry—luxurious accommodations bordering Marion Square, near fine dining and shopping on King Street. Use one of the Dewberry Volvo guest cars or try one of the complimentary bicycles.
Budget-friendly Option: Doubletree Mount Pleasant—we enjoyed our stay at this lovely and budget-friendly hotel just a few minutes outside Charleston.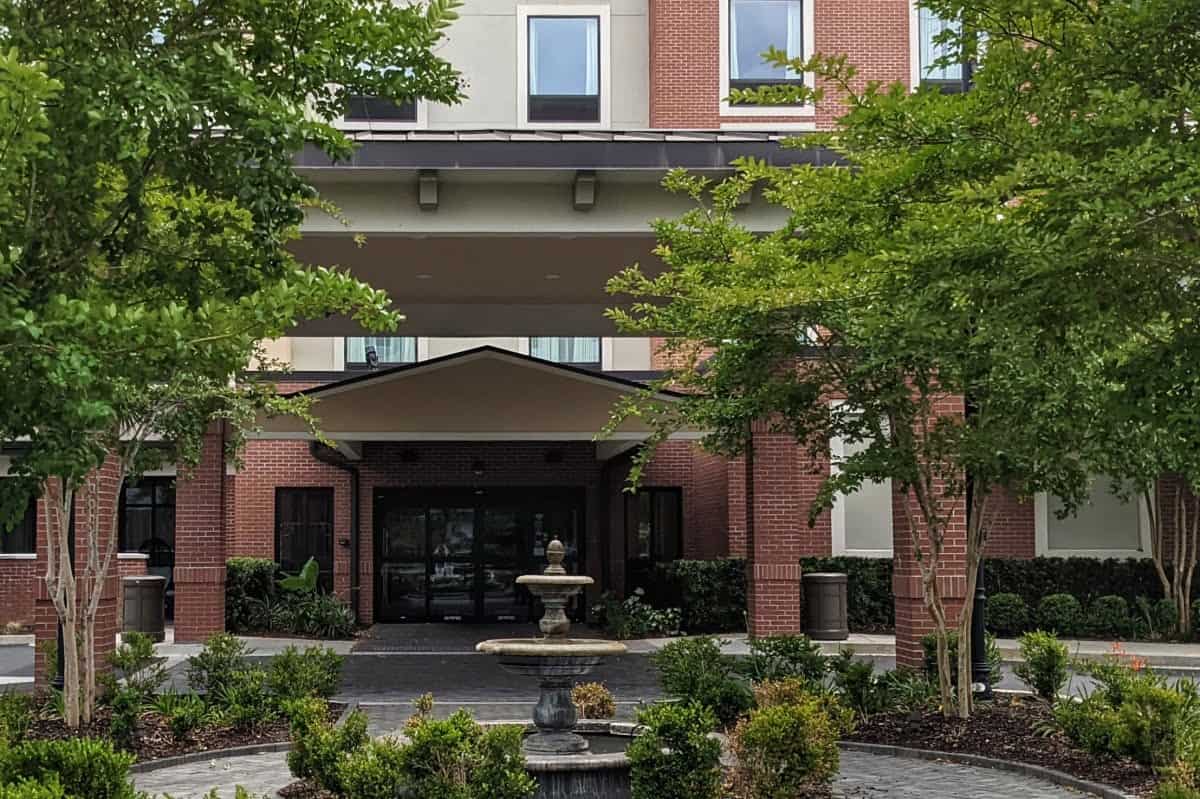 Where to stay in Savannah
Final thoughts on Charleston vs Savannah
While I prefer Charleston over Savannah (if forced to choose just one of these amazing cities), you can't go wrong with a visit to either.
Between the two, you'll never lack for great things to see and do or wonderful food to eat. 
Why do I prefer Charleston?
I enjoy large cities
Although I've been to Charleston three times, there is still more I want to go back and explore.
I feel like I've seen enough of Savannah to satisfy me. (I may need more of that ice cream from Leopold's though!)
More articles related to Savannah and Charleston getaways
Pin this post!