Top Tips for Visiting Biltmore Estate from an Annual Passholder
These Biltmore tips will help you have a perfect visit
Hubby and I love to make regular trips to Biltmore Estate in Asheville, North Carolina. It's less than an hour and a half from our home, it's where we got engaged and we've spent wedding anniversaries at The Inn. Biltmore Estate is our home away from home. We've been annual passholders at Biltmore for the last nine years, so we've learned a thing or two about the Estate and all it has to offer guests. Here are my best tips for visiting Biltmore Estate.
What is Biltmore Estate?
Biltmore, billed as the largest privately owned home in the U.S., was built by George Washington Vanderbilt II (grandson of railroad and shipping tycoon Cornelius Vanderbilt) and completed in 1895. The immense house is 175,000 square feet and has 35 bedrooms (most of which are not on view to the public).
George Vanderbilt died in 1914 when he was still quite young and left his home to his only child, Cornelia. The family opened the house to the public in 1930 and they still run the estate to this day. The original estate comprised approximately 150,000 acres, but the property now covers about 8,000 acres…still very large. The family sold much of the property to the U.S government to create Pisgah National Forest.
You can read more about the history of Biltmore House on the estate's official website and in their blog.
Now, on to the tips for visiting Biltmore Estate!
Before you make your trip to Biltmore Estate, make sure you familiarize yourself with their health and safety updates.
This post includes affiliate links. If you make a purchase through one of these links, I may earn a small commission at no additional cost to you. As an Amazon Associate I earn from qualifying purchases. See disclaimer.
Key Biltmore tip: reserve your house entry time as soon as possible
Entrance to the house requires a timed reservation regardless of the day you are visiting and whether you have an annual pass. My first Biltmore Estate tip is to recommend that guests make their house entry reservation as soon as they know which day they will be visiting.
Entry times can book up quickly on popular Saturdays (such as the last two Saturdays of annual passholder appreciation). You don't want to be stuck with a 9 a.m. or 4 p.m. entry if you'd rather enter the house later in the morning or early afternoon.
Our preferred house entry time is 2 p.m. This gives us enough time to enjoy a leisurely lunch at Deerpark Restaurant before we walk through the house without having to leave home too early in the morning. Allow 90 minutes to 2 hours to tour the house.
Wear comfortable shoes
If you plan to tour both the house and gardens on your visit to Biltmore Estate, you will be doing a lot of walking. Actually, you'll be doing a lot of walking even if you tour only the house or just the gardens. Please do your toes a favor and where comfortable shoes.
There is no dress code at Biltmore Estate with the exception of The Dining Room at the Inn on Biltmore Estate, which suggests business casual attire. Attire at the Dining Room does tend to more casual at breakfast where it's mainly Inn guests partaking of the amazing breakfast buffet (one of my favorite meals on the Estate), but I would follow the guidelines for lunch and especially for dinner.
Dress for the weather
Speaking as someone who travels from Upstate South Carolina to Asheville on a regular basis, you will definitely want to pay attention to local weather conditions and dress accordingly. The weather in the Asheville area is regularly quite a bit cooler than my hometown and gets more snow.
Also, keep in mind that the house itself is not air conditioned.
Use the audio guide if it's your first visit
You can pick up a small guidebook to the house that includes a lot of helpful information, but if it's your very first time viewing the interior of the house, I highly recommend using the audio guide. The audio guide is about 90 minutes and gives you a lot of really great information about the rooms that you will be walking through.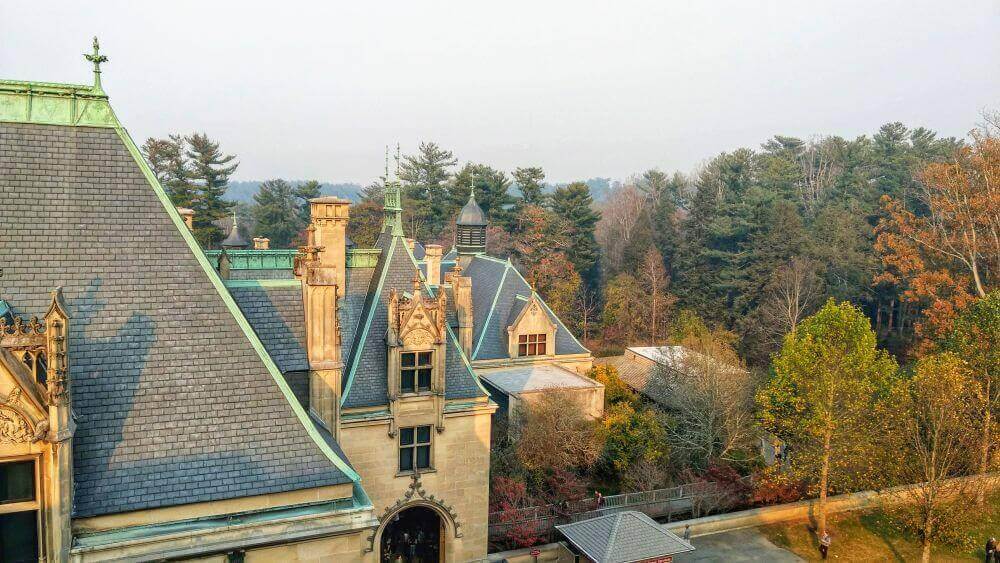 Pin this post!
Do one of the behind-the-scenes tours
If you've done the regular self-guided and/or audio tour through the house and are looking for something different to do on your visit to Biltmore Estate, I highly recommend trying one of the guided tours. These tours are an additional charge per person, but you get access to parts of the house not available on a self-guided visit.
We quite enjoyed the Rooftop Tour and can recommend it without reservation. The tour focuses on the construction of the house, and it's the only way to get to rooftop area near the grand staircase or step out on any of the Biltmore balconies.
The other guided tour we've tried is no longer offered as such, but was also quite enjoyable.
Flexible travel dates? Then I'd like you to meet Scott. Scott's Cheap Flights to be exact. With a premium subscription to Scott's Cheap Flights, you'll get amazing flight deals (including error fares) sent straight to your inbox with instructions on how to book directly with the airlines. Sign up for Scott's Cheap Flights here and get the first 14 days free. Scott's is the ONLY premium subscription service I use to find great travel deals.
Make an advanced dining reservation
Of all the things to do at Biltmore, eating is one of our favorites. If you want a guaranteed table at your dining venue of choice, I strongly recommend that you make a reservation.
It's not always necessary, but over the last several years, our favorite restaurants at Biltmore have clearly increased in popularity, so now we always make reservations when we know we will be at the Estate for a mealtime.
Our favorite place to each an early-ish lunch before we go to the house or walk the gardens is Deerpark. It's a buffet, but oh, what a buffet. Expect a food coma, but oh, what a food coma.
Deerpark is open for lunch on Fridays and Saturday and for brunch on Sundays. They also offer special buffets for holidays.
Buy an annual pass (my top tip for visiting Biltmore Estate)
If you live anywhere near the Asheville, North Carolina, area I strongly encourage you to consider buying a Biltmore Estate annual pass. You can upgrade your ticket to an annual pass while you're there and immediately start enjoying passholder benefits like discounts on shopping and dining. There are also other perks like early access to summer concert tickets and discounts on stays at The Inn and Village Hotel.
The annual pass isn't cheap, but we have found it's worth the cost for us. We like having a home away from home, someplace we can get away to spend a day together enjoying each other's company…and with the annual pass our admission to Biltmore has already been paid for.
Lunch and a walk through the gardens makes a great day at Biltmore Estate.
An annual pass also gives you the opportunity to see Biltmore at each season. The Blue Ridge Mountains are stunningly beautiful in the fall, the gardens are full of amazing color during spring and summer, and the Christmas decorations are quite something.
Avoid visiting during the last weekend of passholder appreciation
Each year from approximately early January and into March Biltmore holds their annual passholder appreciation. During this time passholders get two free tickets to Biltmore grounds and gardens they can give to friends or family. Other benefits include special discounts on shopping, dining and stays at The Inn and Village Hotel.
The last weekend or two of annual passholder appreciation can be quite busy at the estate with passholders and their guests trying to squeeze every last drop of value out of their extra discounts. We've definitely been guilty of doing this, but now we try to avoid visiting during this time if we can. Traffic backs up through the Estate and lines to get into the house and for parking shuttles can be quite long.
If you can't avoid visiting during the last weekend or two, just pack your patience and allow plenty of extra time to do everything on your agenda for the day.
Plan your stay at The Inn for the off season
Hubby and I highly recommend making your trip to Biltmore Estate an overnight stay if you can. We love staying at The Inn for our wedding anniversary. We got married in February, so it's easy for us to take advantage of off-season rates for our anniversary celebrations.
Read my full review of The Inn on Biltmore Estate.
If you can plan your stay for during the week, you'll be able to save even more. Plus if you've bought that annual pass, you'll also get discounts on any shopping and dining you do while on the estate.
Make time to visit during a special exhibit or event
If someone asks me what to do at Biltmore, I usually suggest they check out whatever special exhibit is on at the time. Biltmore has significantly boosted their offerings over the last several years as they've brought some popular special exhibits to the house and grounds including costumes from the hit TV show Downton Abbey and popular Jane Austen adaptation films like Pride and Prejudice, Sense and Sensibility, and Emma, not to mention the spectacular Dale Chihuly glass installation in 2018.
As annual passholders we really enjoy these special exhibits because they give us more reasons to visit Biltmore Estate…and they're also something new to see while we're there.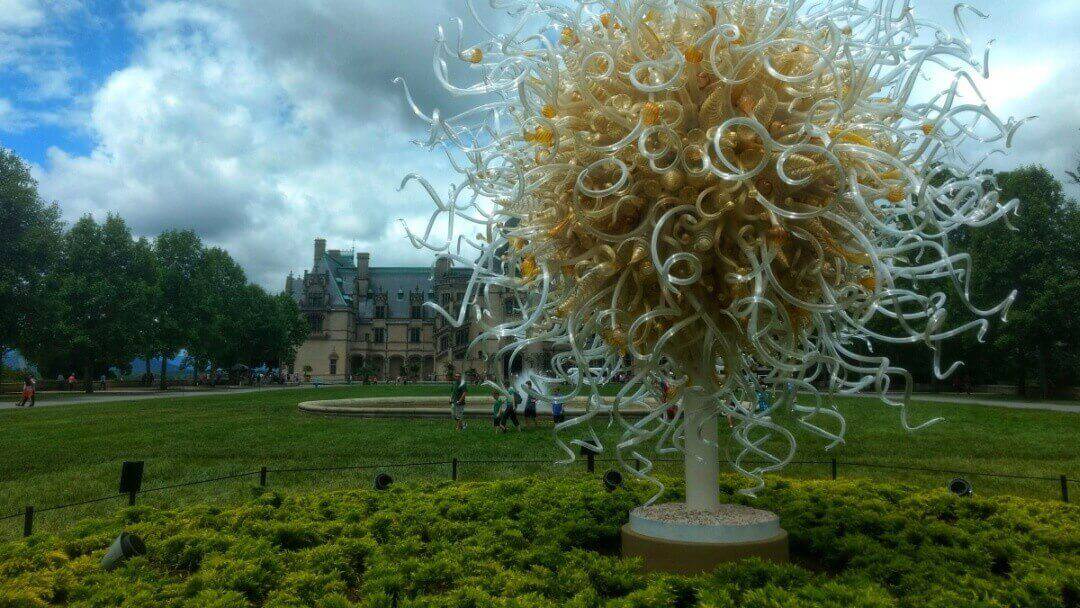 Bonus Biltmore tip: buy the Christmas ornament as soon as you see it in the gift shops
Each year Biltmore Estate issues a new Christmas tree ornament with the year on it. Hubby and I are sappy and sentimental, so we have been collecting these since we got married. We learned the hard way that they sell out early. 2014 will always be the year that eluded me because we waited until (gasp) early November to purchase it. It had been sold out for weeks.
We bought our 2019 Christmas tree ornament in March. Hah.
Curse you, 2014.
Where to stay on your visit Biltmore Estate
There are many great options for places to stay on a visit to Biltmore. Our top pick is the Inn on Biltmore Estate. The inn is beautiful, the service is wonderful and there are excellent dining options right there. Check availability today.
Also on the Estate is the lovely Village Hotel. It's located right next to the shops and great dining available at Antler Hill Village. Check rates and availability here.
If you're looking for a more budget-friendly option, the Holiday Inn Hotel & Suites – Asheville-Biltmore Village Area is popular. It's located just about half a mile from the Estate and offer free parking and a free shuttle. You can check availability here.
Final thoughts on tips for visiting Biltmore Estate
Biltmore Estate is a wonderful place to visit…and visit often. From special exhibits and guided tours to amazing dining, you'll have no trouble filling your day at Biltmore…or perhaps you'll stretch your visit and stay overnight. Either way, if you follow these tips, you're sure to have a wonderful visit to Biltmore.
More articles full of Biltmore Estate tips
Pin this post!
Top Tips for Visiting Biltmore Estate from an Annual Passholder