Biltmore Passholder Benefits You'll Love
Should you get a Biltmore annual pass?
Biltmore Estate in Asheville, North Carolina, is a top tourist draw in the American South. There's no way to experience all that Biltmore has to offer in just a single visit, which is why we always recommend that those who can purchase an annual pass. Here are what I think are the top Biltmore passholder benefits.
Aside from touring the incredible Biltmore House, the estate offers a great variety of things to do for the whole family including dining, shopping, behind-the-scenes guided tours, outdoor activities, museum-quality exhibits, luxurious accommodations for overnight stays and so much more.
It's no wonder that you'll want to visit the estate over and over again all year long.
Hubby and I have renewed our Biltmore annual passes for 12 years.
Biltmore is special to us, so it's one of those luxuries we always make room for in our budget.
Biltmore is our home away from home. It's where we met, got engaged and love spending time together exploring and dining in their great restaurants.
Read More → Top Tips for Visiting Biltmore Estate from an Annual Passholder
What is Biltmore?
Biltmore House, billed as the largest privately owned home in the U.S., was built by George Washington Vanderbilt II (grandson of railroad and shipping tycoon Cornelius Vanderbilt) and completed in 1895.
The immense house, nestled in the western North Carolina mountains, is 175,000 square feet and has 35 bedrooms (most of which are not on view to the public).
George Vanderbilt died in 1914 when he was still quite young and left his home to his only child, Cornelia. The family opened the house to the public in 1930 and they still run the estate to this day.
The original estate comprised approximately 150,000 acres, but the property now covers about 8,000 acres…still very large.
Much of the property was sold to the U.S government to create Pisgah National Forest.
You can read more about the history of Biltmore House on the estate's official website.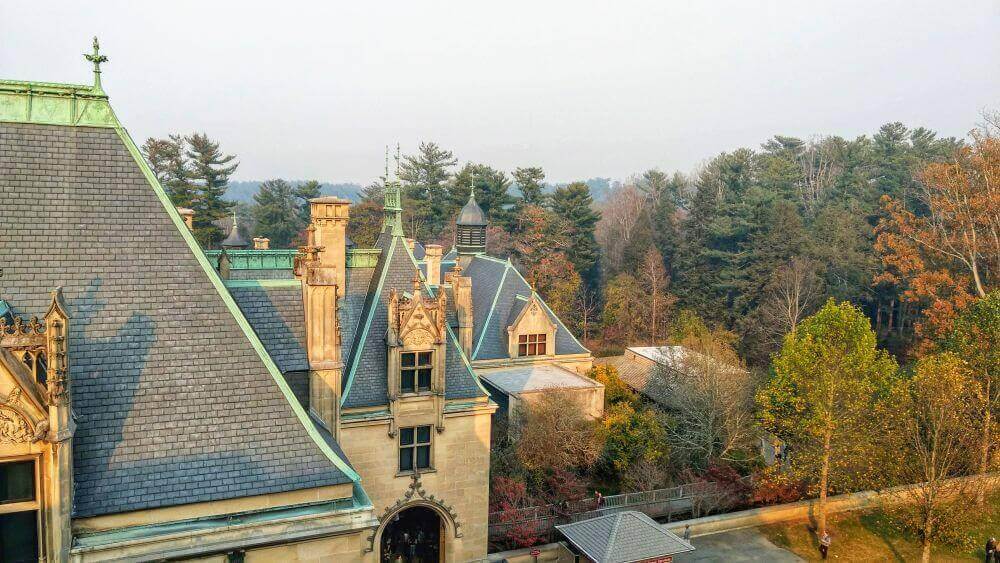 Should you purchase a Biltmore estate annual pass?
I'm going to cut to the chase.
If you live within a reasonable driving distance of Asheville, North Carolina, and plan (or desire) to visit Biltmore at least two or three times per year (whether for just a Biltmore day trip or for a weekend getaway) then yes, I think you should buy an annual pass.
This is just my opinion. Each person's situation is different.
Only you can know for sure if the benefits of a Biltmore Estate annual pass are worth it for you.
You can purchase an annual pass online or you can upgrade your estate ticket to an annual pass during your visit at any guest relations kiosk.
Renewing your Biltmore Estate annual pass
Renewing your annual pass is very easy.
Each year as you approach your annual pass renewal date, you will receive a reminder mailing from Biltmore Estate.
You can renew your pass:
Online at biltmore.com
Over the phone using the Passholder Priority Line
In person at any guest relations kiosk on the grounds
All three of these options are quick and easy.
I used to prefer renewing my pass in person, but now I always do it online.
Your pass renews one year from your pass expiration date, not one year from when you renew, so there's no penalty to renew your pass a little early.
The cost to renew an annual pass is significantly cheaper than to purchase a new pass.
Pin this post!
Biltmore passholder benefits
There's no question that a Biltmore Estate annual pass purchase is a little bit of an investment.
Before you purchase one for the first time, I suggest you consider the benefits versus the cost, so you can make an informed decision about whether the pass is right for you.
Please note that these benefits are subject to change. You can keep up with the latest on Biltmore annual pass benefits on the official Biltmore Estate website.
With an annual pass you can…
See Biltmore at all seasons
The best, and most obvious, of Biltmore annual pass benefits is that you get unlimited visits to the estate, which means you can see Biltmore during each season of the year for much less than you would spend on the regular ticket price for each visit.
Biltmore Estate offers a great variety of things to see and do for all seasons. You can check out the flowers blooming in the beautiful gardens spring and into summer.
The Biltmore Estate grounds and surrounding area are home to many species of deciduous trees which makes for a spectacular and long fall colors season.
And there's no better time to see Biltmore Estate than at Christmas. The decorations are simply beautiful.
Passholders get discounts on tickets to Candlelight Christmas Evenings, when Biltmore House is open at night for guests to view all the decorations with the Christmas lights on.
This post includes affiliate links. If you make a purchase through one of these links, I may earn a small commission at no additional cost to you. As an Amazon Associate I earn from qualifying purchases. See disclaimer.
Get special passholder-only discounts
Annual passholders receive 10% off on Biltmore Estate restaurants as well as a 10% discount at estate shops and online purchases.
Passholders also receive special discounts on behind the scenes tours and outdoor activities (like horseback riding or kayaking the French Broad River), and special pricing for stays at The Inn on Biltmore Estate and Village Hotel.
Enjoy special benefits for your guests
Even your guests can join in the benefits of a Biltmore annual pass.
Passholders can receive discounts on estate guest tickets, and children ages 16 and under get in free when accompanied by an annual passholder.
Get even more discounts during annual passholder appreciation
In addition to the year-round discounts and benefits of being a Biltmore annual passholder, each year from approximately early January and into March Biltmore holds their annual passholder appreciation.
During this time passholders get special savings on tours, shopping, dining and stays at The Inn and Village Hotel.
Read my Inn on Biltmore Estate review to find out why I think it's a must stay.
Purchase special event tickets before the general public
This benefit may no longer be offered.
Annual passholders also get special privileges such as the opportunity to purchase tickets in advance for their Summer Concert Series (when offered) or other special events.
Past artists that have performed at Biltmore include Tony Bennett, Chicago, the Beach Boys, Lauren Daigle and The Temptations.
Buy an annual pass to experience the pleasure of Biltmore
In my opinion, the benefits of buying an annual go beyond just the stated benefits of things like discounts and free tickets for family and friends.
One of my favorite "hidden" benefits of the annual pass is that we have a freedom to make unlimited daytime visits there even if it's just for a meal. Seriously.
We've driven to Biltmore Estate just for lunch, for a quick birthday or wedding anniversary celebration, or just to see the azalea garden in full bloom.
Because we have an annual pass, we never miss a special exhibit.
We've seen amazing costumes from costumes from the hit TV show Downton Abbey and popular period films like Pride and Prejudice, Sense and Sensibility, and Emma, not to mention the spectacular Dale Chihuly glass installation.
Guests will want to check out the special exhibit Leonardo da Vinci – 500 Years of Genius.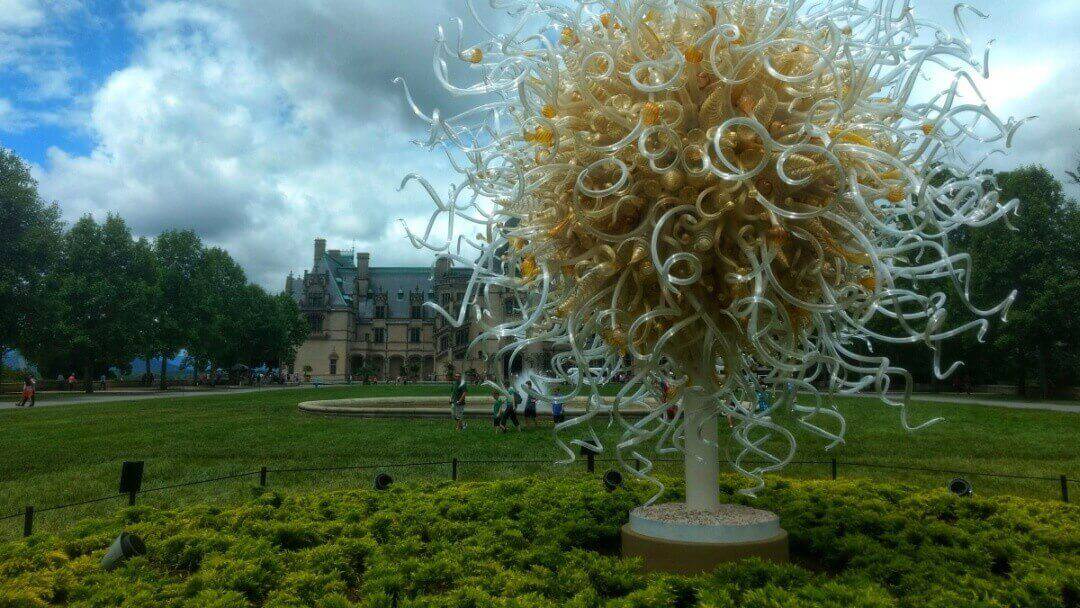 As annual passholders we really enjoy these special exhibits because they give us more reasons to visit Biltmore Estate…and they're also something new to see while we're there.
Hubby and I have forged a strong personal connection with Biltmore Estate over the years. Just being there sparks joy for us. Perhaps it might for you.
Where to stay during your Biltmore Estate trip
There are many great options for places to stay on a visit to Biltmore. Our top pick is the Inn on Biltmore Estate. The inn is beautiful, the service is wonderful and there are excellent dining options right there. Check availability today.
Also on the Estate is the lovely Village Hotel. It's located right next to the shops and great dining available at Antler Hill Village. Check rates and availability here.
If you're looking for a more budget-friendly option, the Holiday Inn Hotel & Suites – Asheville-Biltmore Village Area is popular. It's located just about half a mile from the Estate and offer free parking and a free shuttle. You can check availability here.
Final thoughts on buying a Biltmore Estate annual pass
You really can't go wrong with the purchase of a Biltmore Estate annual pass. Biltmore Estate is a pleasure to explore.
From the stunning house to the beautifully kept gardens and the romantic Inn, you will want to go back again and again. And with an annual pass you can go as often as you like.
More articles about Biltmore Estate
Pin this post!
You'll Love These Biltmore Passholder Benefits