Biltmore Itinerary: One Perfect Day at the Estate
See the best of the estate with a Biltmore day trip
My husband and I love spending time at Biltmore Estate. I don't think there's any better place in the Carolinas to spend a romantic weekend getaway.
But what if you only have one day or even just half a day to see the estate? No worries!
A Biltmore day trip is a great way to get to know the estate. Just follow this Biltmore itinerary, and you'll have a perfect day (or half day) at the estate.
A visit to Biltmore is not a budget day trip. If you live in the general Asheville, North Carolina, area we strongly recommend that you consider purchasing a Biltmore Estate annual pass.
A Biltmore annual pass will give you admission to the entire estate for a full year, plus you'll get great passholder benefits like discounts on estate dining, shopping, and lodging.
Read More → Top Tips for Visiting Biltmore Estate From an Annual Passholder
Biltmore itinerary first stop: Lunch at Deerpark Restaurant
Note: Deerpark has been closed for some time, and there don't seem to be any plans to re-open this wonderful restaurant at this time. I also recommend Stable Café or Cedric's Tavern for your Biltmore lunch.
Our perfect day at Biltmore starts with an early lunch at Deerpark Restaurant.
Their Taste of the South buffet features seasonal dishes frequently including local and estate-grown food, and it is hands down one of the best Biltmore restaurants.
Deerpark's popularity has grown quite a bit over the last several years.
We recommend making a reservation even for an earlier lunch. Our preferred time is 11:30 a.m.
This allows us plenty of time to relax with coffee and dessert after our meal and still make it to our appointment to tour the house.
Estate dining venues offer vegetarian and gluten-free options.
Though not always marked on the menu, your server will be happy to help with whatever dietary accommodations you may need.
Gluten-free and vegetarian/vegan options are clearly marked on Deerpark menus.
This post includes affiliate links. If you make a purchase through one of these links, I may earn a small commission at no additional cost to you. As an Amazon Associate, I earn from qualifying purchases. See disclaimer. 
Pin this post!
Next Stop: The House
Please note that you will be prompted to select the time you would like to enter the house when you purchase your tickets online.
We typically choose 2:00 or 2:30 p.m. as our house entry time. This gives us plenty of time to enjoy a relaxing lunch before making our way to the house.
Depending on how busy it is at the estate, it can take a little time to get from Deerpark to the house (including time to park and then walk or take the shuttle to the house).
We like to allow an hour between lunch and our house entry time just to be on the safe side.
Since we're annual passholders, we don't go through the house itself on every visit to Biltmore, but we definitely do when they have a new exhibition.
If this is your first time at the house, I highly recommend picking up an audio guide.
Allow up to two hours in your Biltmore itinerary to tour the house.
Featured tours near Biltmore Estate
If you're planning to be in Asheville, North Carolina, for more than a day, you'll find a ton of great things to do.
You could take a guided walking tour of Asheville.
Or explore Asheville on a Segway.
Or even on an electric bike tour with scenic views.
PRO TIP: If you have flexible travel dates you need to check out Going (formerly Scott's Cheap Flights). You get amazing flight deals sent straight to your inbox with instructions on how to book directly with the airlines. Check out Going here. Going is my favorite way to find great travel deals. 
Next Stop: Stable Area
After you exit the house, turn left to check out the stable area right next to the House.
In the stable area are The Bake Shop, The Courtyard Market, and an ice cream shop. Inside the stable area, there are several shops, the Stable Café, restrooms, and a guest services desk.
The courtyard is a great place to rest your feet for a bit if you'd like a break before exploring the Biltmore gardens and grounds.
Next Stop: The Gardens
Spring and early summer are great times to visit Biltmore if you want to see the gardens at their best.
Keep an eye on the Bloom Report page on the Biltmore website to stay up to date on what's blooming.
If you're up for a long walk after going through the house and visiting the stable area, then I'd recommend a stroll through the estate's azalea garden.
Expect peak blooms for the native azaleas to be the first week of May.
For a shorter walk, my favorite stop on the Biltmore grounds for flowers is the Walled Garden. It's near the house and includes the estate's beautiful rose garden.
Next Stop: Antler Hill Village & Winery
After you've enjoyed the gardens, make your way back to your car and drive to Antler Hill Village & Winery.
The Village is home to The Village Hotel, shops, restaurants, and even a farm with special demonstrations and activities.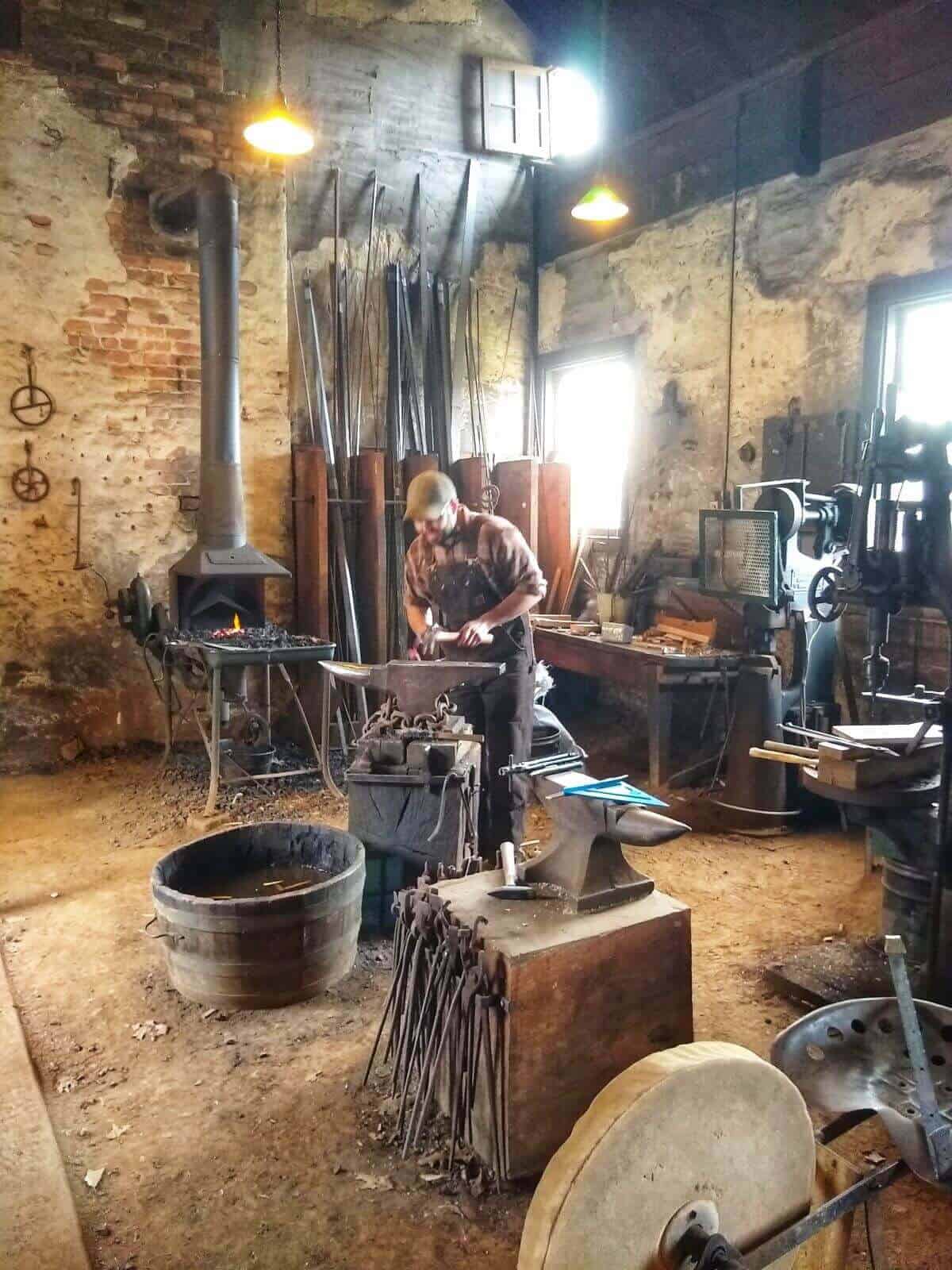 The Village also includes The Biltmore Legacy exhibition space that offers more information about the Vanderbilt family.
The current exhibition is "The Vanderbilts at Home and Abroad." Entry to The Biltmore Legacy is included with your ticket.
We recommend a stop at The Creamery in Antler Hill Village if you're looking for an afternoon snack or cup of coffee.
More things to do around Asheville
Biltmore is surrounded by amazing nature and scenery. You can get out and explore the Blue Ridge Parkway waterfalls.
You can also get out on the French Broad River on a kayak tour.
Or perhaps try a guided horseback ride.
Dinner: The Bistro
End your perfect day at Biltmore Estate with dinner at The Bistro just a few steps from Antler Hill Village near the Winery.
The Bistro offers a casual but elegant atmosphere with excellent service. The Bistro is a Certified Green Restaurant.
Alternative: Cedric's Tavern is also an excellent choice for dinner.
And that's our perfect day at Biltmore.
To make your time at Biltmore even more perfect, why not extend your visit with a stay at either The Inn on Biltmore Estate or the Village Hotel?
Get more details about The Inn on Biltmore Estate in my full review.
If you only have half a day to spend at Biltmore (less than 6 hours) I recommend doing lunch at Deerpark (or one of the other great Biltmore restaurants followed by a visit to the house and a walk through the walled garden.
To save even more time you could lunch at the Stable Café just off the main house instead of Deerpark.
Where to stay in Asheville, North Carolina
There are many great options for places to stay in Asheville during a visit to Biltmore.
Our top pick is the Inn on Biltmore Estate. The inn is beautiful, the service is outstanding and there are excellent dining options right there. You don't even need to leave the Inn! Check availability today.
Also on the Estate is the lovely Village Hotel. It's located right next to the shops and amazing dining available at Antler Hill Village. Check rates and availability here.
If you're looking for a more budget-friendly option, the Holiday Inn Hotel & Suites – Asheville-Biltmore Village Area is popular. It's located just about half a mile from the Estate, and they offer free parking and a free shuttle. You can check availability here.
Final thoughts on how to spend one day at Biltmore Estate
Even though I always wish I could spend more time there, you can really see quite a lot of Biltmore Estate in one day.
No matter what you do on your day trip at Biltmore, you can expect to have a wonderful day exploring a beautiful piece of North Carolina's history.
Tours mentioned in this article
More articles about Biltmore Estate
Pin this post to read later!
Biltmore Itinerary: One Perfect Day at the Estate