Biltmore Estate Weekend Getaway (Perfect for Romance)
Plan a romantic weekend at Biltmore Estate
My husband and I celebrated our sixth wedding anniversary (and our first and second anniversaries too!) with a romantic weekend at The Inn on Biltmore Estate in Asheville, North Carolina. You also can enjoy a wonderfully romantic Biltmore Estate weekend getaway.
Biltmore holds a special place in our hearts. We had our first conversation there and we got engaged there.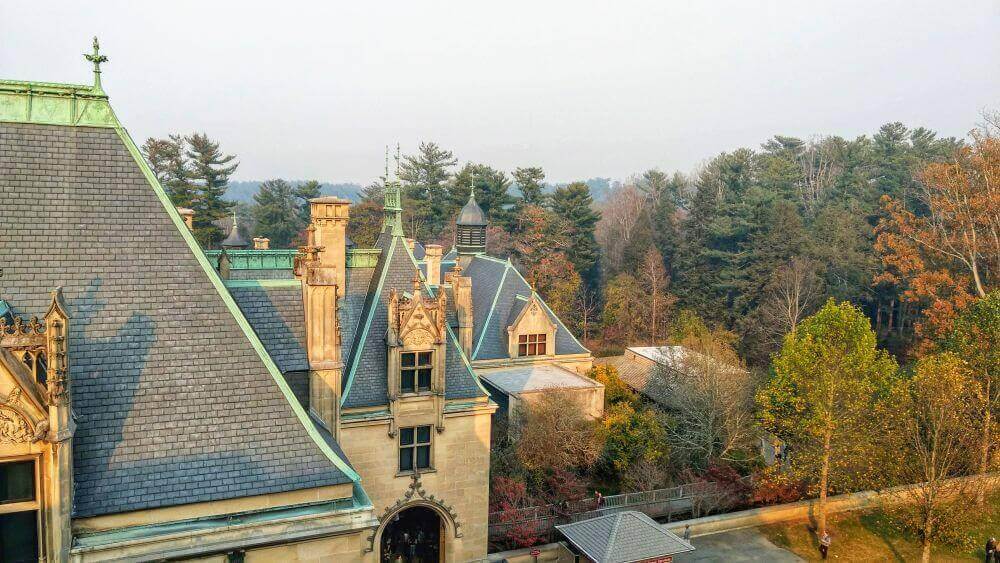 This post includes affiliate links. If you make a purchase through one of these links, I may earn a small commission at no additional cost to you. As an Amazon Associate I earn from qualifying purchases. See disclaimer.
What is Biltmore Estate?
Tucked away in Western North Carolina, Biltmore is billed as the largest privately owned home in the United States.
It was built by George Vanderbilt (grandson of Cornelius Vanderbilt) and completed in 1895. The family opened the house to the public in 1930 and they still run the estate to this day.
The estate property now includes some 8,000 acres (reduced from 150,000 at the time of Vanderbilt's death in 1914). It includes the house, expansive gardens, a winery, trails for hiking, jogging and even horseback riding, two hotels, as well as many shops and restaurants.
You can read more about the history of Biltmore House on the estate's official website. 
There really is a great variety of things to do during your Biltmore getaway at the estate. Guided tours of the house are a good choice, or you can walk through yourself with an audio guide.
There are gardens and hiking trails and several dining options from counter service soups and sandwiches. For a multi-course fine dining experience consider trying The Dining Room at The Inn.
Read More → Top Tips for Visiting Biltmore Estate From an Annual Passholder
What is the best time of year for a Biltmore Estate weekend getaway?
Winter is a great time to spend a weekend at The Inn on Biltmore Estate. The crowds are lower, and you can take advantage of off-season rates.
Biltmore Estate passholders also enjoy special discounts on shopping, dining and more during Passholder Appreciation each year.
Our anniversary just happens to be in February, right smack dab in the middle of Passholder Appreciation time. (I can neither confirm nor deny that we got married in February to get discounts for anniversary celebrations at Biltmore.)
Read More → The Ultimate Weekend Packing List
If you ever have the opportunity to stay at The Inn, I highly (HIGHLY) recommend it. The Inn itself is beautiful, the staff are excellent, the food is great. We have only had amazing experiences with our romantic weekend stays at The Inn.
Read my full review of The Inn on Biltmore Estate.
For this trip, we opted for a premium king room, which is plenty spacious for just the two of us.
And even the standard rooms have decent views.
Typically, I'm the one who does the travel planning in the family, but for romantic Biltmore weekend, my husband makes the arrangements.
Awwwww.
Read More → How to Plan a Weekend Getaway (5 Easy Steps)
Itinerary for a weekend at Biltmore Estate
After dealing with a little more traffic than we were expecting, we got to The Inn at about 4:30 p.m. on arrival day.
The check-in experience here is lovely. From the valets, to the front desk staff and the bellman who helped us with our luggage, the service was dazzling.
Once we were comfortably settled in our room (by which I mean that I unpacked completely while my husband left all of his clothes in the suitcase), we had to make the decision about where to eat for dinner.
Dinner in the Inn's Library Lounge
Once we were comfortably settled in our room (by which I mean that I unpacked completely while my husband left all of his clothes in the suitcase), we had to make the decision about where to eat for dinner.
We already had reservations for the Bistro for the next evening (our actual anniversary dinner) and our discussion for this night was really trying to decide between The Village Social (the restaurant in the Village Hotel) and the Library Lounge in The Inn.
In the end, we settled on the Library Lounge since it meant we wouldn't have to go out into the cold. Perhaps not the best reason for choosing a dining venue, but there you have it.
The Library Lounge had changed the menu since we were last there, so there weren't as many options as we had been expecting.
But what we ordered was good and we do really enjoy the warm and quiet atmosphere there.
The highlight of the meal was the hand-cut truffle fries. Yum!
My husband has to eat gluten-free and was happy when our server told him that they could make adjustments to most items on the Library Lounge menu to accommodate his dietary needs.
The Dining Room breakfast buffet is a must
The next morning, I was champing at the bit to get down to the dining room for the breakfast buffet. As much as we love the service at The Inn, we love the food at Biltmore even more.
The dining room is beautiful. If you can, try for a window seat or a spot in front of the fire.
We were seated at the fire our second morning there; it made our great breakfast even better and more romantic.
In addition to the great options in the buffet, they're happy to offer toast or bagels from the kitchen. My husband especially appreciated this.
He couldn't enjoy the melt-in-your-mouth made-to-order waffles, but he was delighted to try the gluten-free toast with their house-made mixed berry jam.
Tour Biltmore House
If your weekend getaway at Biltmore Estate is your first time there, your top priority (aside from perhaps eating amazing food) should be a visit to the House.
Follow our one-day Biltmore Estate itinerary for the best advice on how to get the most out of your visit.
Make sure to reserve your entry time in advance and plan to allow two hours for a self-guided visit.
I also highly recommend using the audio guide for your first visit unless you want to try one of the guided tours.
We recommend the Rooftop Tour and the Biltmore House Backstairs Tour.
A behind-the-scenes tour is your chance to see parts of the house not open to those on the regular self-guided tour of the house. Guided tours generally last about an hour.
Explore the walking and hiking trails on Biltmore Estate
After breakfast we decided to waddle out into the cold (and I mean cold!) with to-go coffees from the dining room in hand to explore some of the miles and miles of walking and hiking trails near The Inn.
We bundled up as well as we could for people who hadn't planned ahead for walking a long distance out in the cold, picked up a trail map from the concierge, and headed out.
Now, Nature Girl I am not, but I quite enjoyed the walk. As many times as we've been to Biltmore this was something we had not yet tried.
About halfway through the walk we vowed that the next time we stayed in The Inn we would bring more appropriate hiking attire.
The trails are well marked and (at least what portions we tried) varied from narrow and hilly to wide and flat.
And you never know when you're going to encounter adorable Australian shepherd puppies who want to make new friends.
Other outdoor activities at Biltmore
The hiking and biking trails are just the tip of the iceberg of Biltmore outdoor activities.
You can go on a horse-drawn carriage ride or if you like riding on actual horses they offer guided trail rides.
Biltmore also offers beginner and advanced sporting clay shooting lessons as well as their famous Land Rover Experience. Take a Land Rover vehicle out onto the estate for an hour or two or for the whole day.
Featured tours in Asheville, North Carolina
And you don't have to stay on the Estate during your weekend. If you want to see more of Asheville, you could try a kayak tour of the French Broad River.
Or explore waterfalls on the Blue Ridge Parkway with this guided excursion from Asheville.
Stop at Antler Hill Village
Getting back to our weekend at Biltmore, we broke our walk at Antler Hill Village and warmed up a bit inside the blacksmith's shed while watching the demonstration for a few minutes.
Definitely stop in for a few minutes if you have the chance. Watching a master blacksmith at work (who makes his own tools, no less) is really quite something.
Five stars. Highly recommend.
Children, in particular, would enjoy visiting the Antler Hill Farmyard and talking to the farm staff about the animals.
You'll also find great food at Antler Hill Village like Cedric's Tavern and The Creamery (ice cream!)
Once we decided we'd had enough walking in the cold we headed back to The Inn. I made a stop at The Creamery to grab a blueberry muffin and then picked up an apple from The Inn lobby.
A substantial afternoon snack was all I needed between our amazing breakfast and dinner that evening.
PRO TIP: If you have flexible travel dates you need to check out Going (formerly Scott's Cheap Flights). You get amazing flight deals sent straight to your inbox with instructions on how to book directly with the airlines. Check out Going here. Going is my favorite way to find great travel deals. 
Dine at The Bistro
The Bistro is just down the hill from The Inn, and we decided to walk rather than use the complimentary shuttle service.
Take note: the hill path is a little steep in places and the walk back up is not easy.
I'm sorry that it took us so long to try this restaurant. It turns out we have missed out on so many amazing meals.
We started with three kinds of artisan cheese served with crostini (toasted gluten-free bread for my husband) and spiced honey.
The board also included some apricots and golden raisins with mustard seed and pomegranate syrup. We had the blue cheese, the St. Andre (my personal favorite of the three) and the Boucheron.
My husband enjoyed the spiced honey so much that he enquired at the hostess stand on our way out if he could buy some to go. They gladly offered us a printed copy of the recipe.
For the entrée I chose the ricotta gnocchi with roasted acorn squash, asiago, carrot puree and pistachios.
It was absolutely one of the best dishes I've ever had in years of dining at Biltmore Estate restaurants.
(I may or may not have made "mmmmm" sounds while I was eating this.)
My husband chose the filet au poivre with roasted broccolini, smoked potato puree and green peppercorn sauce. Now, my husband enjoys a good meal, but he's generally not effusive in his praise of mere food, but this dish—THIS DISH—was different.
He may or may not also have said "mmmmmm" while was eating it.
After all of this amazingness there was simply no room for dessert sadly, but that's okay. While I have a terrible sweet tooth, restaurant desserts rarely blow me away.
My apologies to all the pastry chefs out there.
When we returned to our room, we discovered that housekeeping had been there for turndown service. Chocolates on the pillows and a red rose in a bud vase in the bathroom were such a nice touch at the end of a great day.
Read More → Romantic Getaways in the South that Couples Love
After making another trip to the breakfast buffet on Sunday morning it was time to leave The Inn behind. I always hate leaving a place that's so special to us, but I can always look forward to the next romantic weekend we can spend there.
Final thoughts on weekend getaways at Biltmore Estate
A weekend at Biltmore Estate is a great way to see more of this amazing place than you can with a one-day visit. And between the House, Antler Hill Village, all the great restaurants and outdoor activities, you'll never lack for things to do…so pack your bags!
Have you ever spent a romantic weekend at Biltmore Estate? What was your favorite part of your stay?
More articles about Biltmore Estate
Pin this post!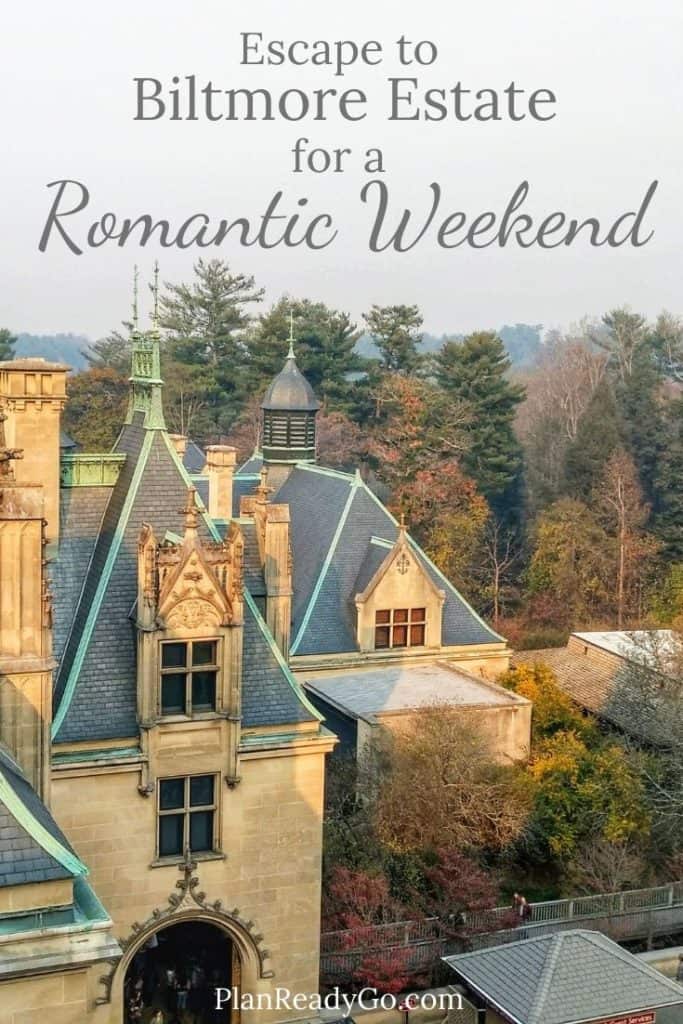 The Most Romantic Biltmore Estate Weekend Getaway