Inn on Biltmore Estate Review: A Must Stay
Planning a trip to Biltmore Estate in Asheville, North Carolina, but aren't sure where to stay? Consider booking your overnight stay or weekend getaway on Estate property. Read on for my Inn on Biltmore Estate review.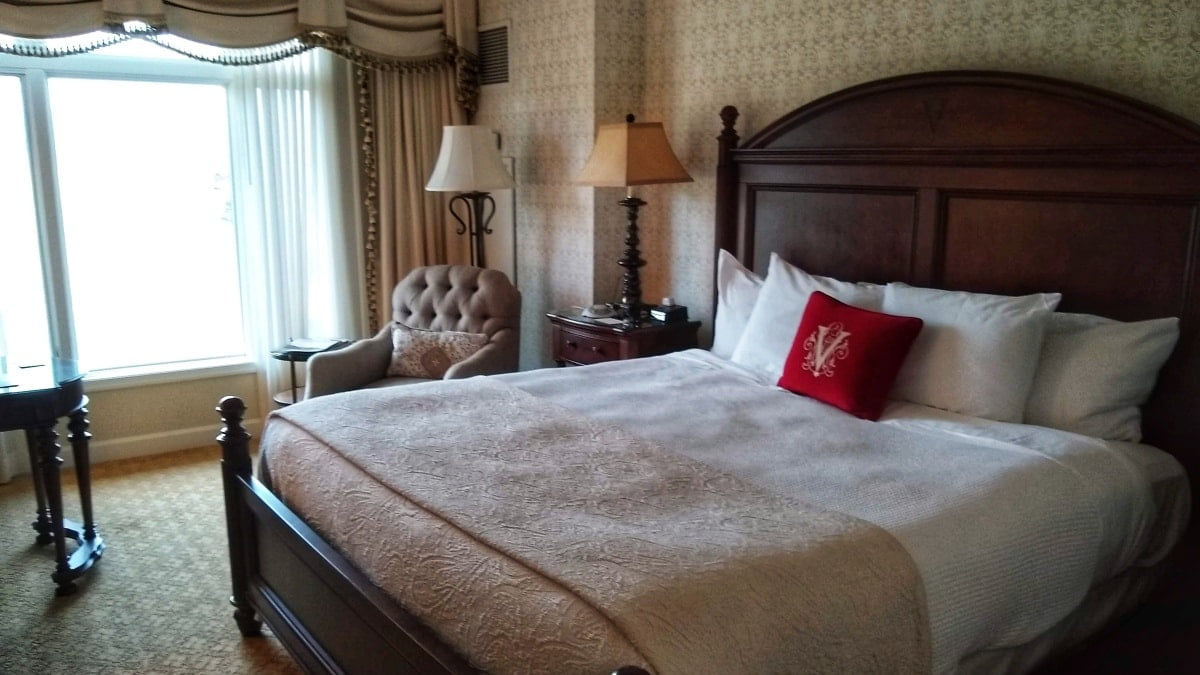 This post includes affiliate links. If you make a purchase through one of these links, I may earn a small commission at no additional cost to you. As an Amazon Associate I earn from qualifying purchases. See disclaimer.
There are a lot of great options for hotel stays in Asheville, North Carolina, but if you're planning to spend time at Biltmore anyway, I highly recommend a stay of at least overnight at The Inn on Biltmore Estate.
What is Biltmore Estate?
Tucked away in the Blue Ridge Mountains of Western North Carolina, Biltmore Estate is billed as the largest privately owned home in the United States.
Read More → Romantic Getaways in the South that Couples Love
The house itself was built by George Washington Vanderbilt II (grandson of railroad and shipping tycoon Cornelius Vanderbilt) and completed in 1895.
The immense house is 175,000 square feet and has 35 bedrooms (most of which are not on view to the public). 
George Vanderbilt died in 1914 when he was still quite young and left his home to his only child, Cornelia.
The family opened the house to the public in 1930 and they still run the estate to this day. 
The original estate comprised approximately 150,000 acres, but the property now covers about 8,000 acres…still very large.
The family sold much of the property to the U.S government to create Pisgah National Forest. 
The luxury 4-star Inn on Biltmore Estate is exactly what you would expect to find on the property of a house as grand as Biltmore.
Before you head off on your adventure, make sure you don't miss my other posts about all things Biltmore Estate to help you with planning your trip:
Why stay at The Inn on Biltmore Estate?
My husband and I have spent three wedding anniversaries at the Inn on Biltmore Estate (in different categories of room each time), and I can honestly say there is no place we'd rather stay to celebrate a special occasion.
The check-in experience here is lovely. From the valets, to the front desk staff and the bellman who helped us with our luggage, the service is always dazzling.
In fact, when we returned to The Inn for our second wedding anniversary for a stay in a junior suite, we were greeted warmly with a lovely gift basket with a personalized note like we were returning friends.
Aside from the amazing Inn itself, a stay on the property of the Biltmore Estate is highly recommended if you're perhaps looking for an experience that is a significant cut above a day trip to Biltmore.
Inn on Biltmore Estate quick facts and amenities
Location: On the grounds of Biltmore Estate, 1 Lodge St, Asheville, NC 28803
Room types: suites, deluxe rooms, premier king, Chateau Tier grand king, terrace rooms, balcony rooms. It's worth noting that because of its location within the grounds of the Estate, even standard (deluxe) rooms offer decent views.
Pricing: $$$$ (find room availability and rates for your travel dates here)
Dining available on site: Library Lounge, The Dining Room, in-room dining
Amenities:
NO resort fees
24-hour concierge
In-room dining
Spa
Fitness center
Gift shops
Heated outdoor pool and hot tub
Bell service
Complimentary WiFi
Complimentary bottled water
Custom bathrobe, slippers and toiletries
Valet parking available
Plus, the usual things like coffee-maker, iron, ironing board, etc.
Dining at the Inn on Biltmore Estate
Dining options on site at The Inn include the 4-star Dining Room and the more relaxed Library Lounge. The Inn also offers in-room dining.
We've eaten at the Library Lounge several times and have always enjoyed good food with wonderful service. Request a table by the window to enjoy the sunset if you can.
Our favorite breakfast at Biltmore is served in The Dining Room. Biltmore's formal dining option at The Inn, The Dining Room, is still comfortable and offers great food with warm service.
When we stay at The Inn, hubby likes to book the bed and breakfast package which includes the breakfast buffet in The Dining Room (when available).
We recommend requesting a window table or a table in front of the fire for an extra cozy and romantic breakfast if it's a cold day. 
You can read more about all the great dining options in my post about the best restaurants at Biltmore.
Staying at the Inn on Biltmore Estate pros
Beautifully appointed rooms
Outstanding service at every point in your stay. 
Easy access to the wonderful variety of things to do on the Biltmore Estate during your stay including touring Biltmore House, shopping, walking/hiking trails, outdoor adventures like fishing and horseback riding, and exploring Antler Hill Village. 
Amazing dining options available both at The Inn and elsewhere on the Estate.
Views of the beautiful surrounding Blue Ridge Mountains 
Inn on Biltmore Estate cons
The Inn on Biltmore Estate is not a budget accommodation. A stay there is definitely on the splurge-y end of things. 
It's a popular hotel that can book up during popular times at Biltmore (like toward the end of the annual passholder appreciation and weekends during the summer). This can make last-minute trips difficult especially if looking for a room type below suite. 
While its location is perfect for exploring the rest of the Estate, since it's within the Biltmore property it's not super convenient for exploring the rest of Asheville. 
Biltmore Inn FAQs
Is the Inn on Biltmore Estate the only place to stay at Biltmore?
Overnight guests at Biltmore Estate can choose from three great places to stay. In addition to The Inn, there is also the more moderately priced Village Hotel located at Antler Hill Village.
If you're feeling very splurge-y, you might enjoy the premier experience at The Cottages on Biltmore Estate. 
So The Inn on Biltmore Estate is a little more expensive that I was expecting. Are there any more budget-friendly options maybe off property but nearby?
Definitely! Here are a few options that are highly rated by guests.
The Holiday Inn & Suites – Asheville – Biltmore Village Area is quite affordable, highly rated by guests and is only about half a mile from the Estate. 
Another affordable option is the Hampton Inn & Suites – Asheville Biltmore Village. It's also quite close to the Estate. 
In fact, both of those options above are virtually right outside the main Biltmore Estate entrance.
For a more aparthotel-style accommodation, you might try The Residences at Biltmore – Asheville. Though not quite as highly rated by guests, they offer self-catering rooms with up to three bedrooms…a great option if you're traveling with family or friends.
How long should I plan to stay at The Inn?
While one night will give you a good taste of Biltmore Estate, we think a stay of two nights is perfect.
It gives you enough time to explore Biltmore House & Gardens (with a self-guided visit or a behind-the-scenes tour), enjoy a few different dining options, and pay a visit to Antler Hill Village. 
Is there a charge for parking?
The Inn offers free self-parking or you can pay for valet parking during your stay.
Does The Inn charge a resort fee?
No, The Inn on Biltmore Estate does not charge resort fees.
Does my Inn reservation come with admission to Biltmore House?
At this time, tickets for Biltmore House are not included in the Inn room rates.
Should I stay at The Inn on Biltmore Estate?
Yes. Absolutely. 100%.
If you want an incomparable Biltmore Estate experience, run (don't walk) to book your stay today.   
It's the perfect place to celebrate a special occasion like a wedding anniversary or to get away for a weekend.
The service is outstanding.
The food is excellent.
The rooms are beautiful and comfortable.
And It's always difficult to leave on check-out day.
Pin this post!
Inn on Biltmore Estate Review: A Must Stay