A Week in Florence Itinerary: Tips and More
There's nothing like a trip to Italy in the spring! My husband and I spent one week in Florence celebrating our 5th wedding anniversary. This was actually my first international trip (my husband has been all over Europe several times). Though I was very nervous, it was a wonderful experience and I learned a lot. Keep reading if you're interested in planning a week in Florence itinerary for yourself.
You certainly don't need to spend 1 week in Florence. I think you can get to know Florence quite well in about four days, but you can still see the best of the best even if you only have one day in Florence.
Related Post: Planning a Travel Itinerary: The Complete Guide
This post may include affiliate links. If you make a purchase through one of these links, I may earn a small commission at no additional cost to you. As an Amazon Associate I earn from qualifying purchases. See disclaimer.
Florence itinerary summary
Day 1: Friday—Arrival Day
Day 2: Saturday—Duomo and Renaissance Walk
Day 3: Sunday—Pitti Palace/Oltrarno
Day 4: Monday—Pisa
Day 5: Tuesday—Academia
Day 6: Wednesday—Rome
Day 7: Thursday—Bargello, Santa Croce
Day 8: Friday—Uffizi Gallery
Full one week in Florence itinerary
Day 1: Friday—Arrival Day
11 a.m.–Arrive at Florence airport. Get cash from ATM.
Our bank's international ATM withdrawal limit is $500 per day. We withdrew 230 euros here which lasted us through Wednesday.
Take taxi  into the city center or take the shuttle bus to the train station and then walk 15 minutes to  apartment.
We opted to take a taxi. We paid 24 euros (government regulated base fare plus bag handling charge) for a ride to the area just outside the pedestrians-only zone at the Duomo. It was very easy to grab a taxi from the stand at the airport (just around the corner to the right as you exit the terminal). We made sure to budget cash for a taxi ride back to the airport from a city center taxi stand.
Eat lunch and kill time until can check in at the apartment.
The first thing we did after leaving the taxi was start up the WiFi hotspot we rented from Vision Global WiFi (no longer operating) and log on. It worked quickly and easily. I would definitely use Vision Global WiFi again. The unit arrived a few days before we left and I shipped it back in the prepaid box the Monday after we got home. It even came with an international plug adapter.
We chose to have lunch at Mr. Pizza right by the Duomo since they have a lot of gluten-free options for my husband. It was a little drizzly out so we ate inside and stowed our carry-ons under the table. The outside tables are a nice option on days with better weather.
Related post: Where to Eat in Florence, Italy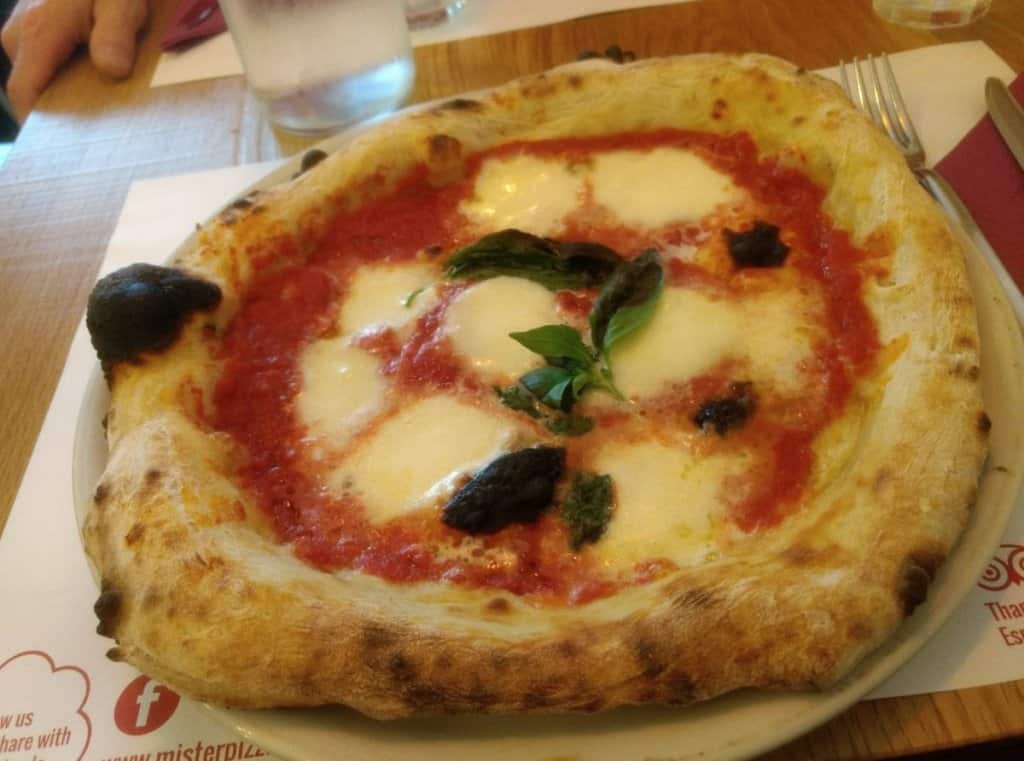 By 1:45 we had eaten and killed some time looking around the Duomo area, so we thought we'd stop by the apartment to see if it was ready. It was not, but the apartment owner very kindly took us upstairs and let us drop off our bags, gave us the keys and told us to come back at 2:30. He also collected a city tax (42 euros payable in cash) which I don't remember being told about ahead of time. Fortunately, we had plenty of cash on hand and the apartment owner had change for a 50 euro note.
We wandered the area little more then returned to the apartment shortly after 2:30 p.m.
Already booked your trip? It's a good idea to have travel insurance in case something goes wrong.
Afternoon—Do the Rick Steves Renaissance Walk (includes the Duomo Baptistery, Orsanmichele Church [free], Piazza della Repubblica, Piazza della Signoria, Palazzo Vecchio courtyard [free]). Allow 2 hours.
Rick Steves' guidebook to Florence and Tuscany was our constant companion during this trip, and I really enjoy the city walks he recommends. They're a great way to orient yourself to a new place. Download his free app to get audio tours (which saves you from wandering around with an open guidebook in your hands).
My husband was too tired to do this walk our first day there so we put it off to the next morning. Instead, we got gelato at Edoardo (cash only) and enjoyed sitting and people watching near the Duomo. My first taste of real Italian gelato was heavenly, and we returned to Edoardo many times during this trip.
Evening—Find a grocery store and buy a few supplies for an easy dinner in the apartment then head to bed at 8 p.m. if we can make it that long.
We went to the Carrefour Express just about a block from the apartment, but we were so tired we didn't really even have an appetite for dinner. We snacked a bit and then I had some decaf coffee out on the balcony, enjoying our view of the Duomo. Sleep overtook us by about 7:45 p.m.
Day 2: Saturday—Duomo and Renaissance Walk
Up by 7 a.m.
8:20 a.m. — Leave to climb the Duomo dome at 8:30 a.m. Hubby may also want to climb the bell tower. Or we might want to do the bell tower instead. We can also visit the inside of the cathedral if we have time.
The great dome of the cathedral of Santa Maria del Fiore is easily one of the most recognizable landmarks in Europe, and hundreds of people make the climb to the top of the dome every day. Reservations are required here.
My husband did decide to keep his appointment to climb the dome (again make sure to get those tickets ahead of time!) but I stayed on the ground and got a cappuccino and croissant at Don Nino. I was shocked that it was only 2.70 euro. Being in a heavy tourist area, I expected their prices to be higher. Both the cappuccino and croissant were very good. The standard cappuccino is pretty small in Italy but the croissant was large. We decided not to go into the cathedral because by that time the line had gotten pretty long.
10:30 a.m.–Rick Steves Renaissance walk. Includes San Giovanni baptistery.
We started the Renaissance walk audio tour (download Rick Steves' app) immediately after my husband descended from the dome, but paused it so we could go into the baptistery (entrance to all the Duomo monuments is included in your ticket). Before we got in line at the baptistery, I used the Duomo public restrooms which cost 1 euro (exact change only). This was actually my first experience with pay bathrooms. It was certainly different from what this American was accustomed to, but I quickly got used to it. With one notable exception on this trip, all the pay restrooms I used were very clean.
Early afternoon–lunch
By the time we finished the Renaissance walk, we were pretty hungry. We headed to Ciro & Sons for lunch so David could try the gluten-free options there. This was our most expensive meal of the trip ($92) but also one of the best. We enjoyed a lovely meal sitting outside and watching the people go by.
After lunch–Duomo Museum. Allow 1.5 hours. All backpacks (any size) have to be checked. Purses and messenger bags are okay.
The Duomo museum across the piazza from the cathedral (also included in your ticket) is definitely worth a visit, and I wish I had taken more photos. They did let us in without having to check my purse or my husband's small messenger bag. Our visit also included a stop at the top floor terrace to get a closer look at the dome.
This Michaelangelo pieta has a room to itself for good reason. It comes near the end of your walk through the museum, making it a great place to stop and rest your feet and enjoy the amazing art before you.
Make time in your itinerary for this museum if you can; it's a true Florence hidden gem.
After we left the museum, kind of on the spur of the moment, we decided to climb Giotto's bell tower. We had to wait in line for a little bit, but it wasn't too bad.
I'm just putting it on the record that I do not like heights, climbing to heights, looking down from heights or climbing down from heights. I did not enjoy this at all. At Giotto's bell tower those going up use the same set of stairs as those coming down, which got a little dodgy at times. I stopped climbing at the first landing since I was risking dehydration from all the sweat my palms were generating. It was a fine place to sit and wait for my husband to return from the top.
Evening—Dinner then no plans.
Pin this post!
We opted to eat dinner in the apartment that night since we hadn't eaten the food we bought at the grocery store the day before. Many of the nights on this trip we ended up eating dinner in. We found it really relaxing to do that and it saved us a lot of money.
Besides where else were we going to get a such a view with dinner?
Day 3: Sunday—Pitti Palace/Oltrarno
7:50 a.m.–Leave for Pitti Palace (opens at 8:15 a.m.). Allow one hour.
Many museums in Italy have free entrance on certain days (some are government decreed, others are established by the individual museum or site); however, because entry is free on those days you cannot make a reservation in the same way you can with a paid ticket. It was recommended to us, and we think it's good advice, to avoid the most popular museums on any free day during high tourist times and arrive by opening time to avoid large crowds.
We arrived at Pitti Palace by 8 a.m. and waited in line until the ticket line opened, but then were among the first into the palace. Unfortunately, the royal apartments were closed so we only got to see the Palatine Gallery, but since we hadn't paid for full price tickets it didn't bother me too much.
Optional: Visit Boboli Gardens after done in the palace if the weather is pleasant.
Since we had free entry to the Gardens along with the Palace we did walk around there after exploring the Palatine Gallery. Up near the porcelain museum (you can skip this) there is an amazing view of the hills around Florence.
After all of that walking, we were getting hungry so we got coffee and a light brunch at Ditta Artigianale. This was one of my least favorite dining experiences of the trip. The food was okay and we didn't know to pay the bill at the register so we just sat at the table much longer than we wanted to. Chalk this one up to travel anxiety.
Late morning or early afternoon–Oltrarno Walk. Allow 1 hour for the walk. Free sights on the walk: Santo Spirito Church, Santa Maria del Carmine.
We did the Rick Steves guidebook Oltrarno walk after our brunch, but Sunday afternoon is not really the best time to do it; so many of the shops were closed. We stopped for gelato at La Carraia, which was very good.
After the gelato, we walked to Officina Profumo, a centuries-old perfume shop situated near the Santa Maria Novella train station. Originally used by the friars of the Santa Maria Novella to create medicines for the infirmary, the shop still sells the perfume they created for Catherine de Medici on the occasion of her wedding in 1533.
This shop is worth a visit even if you don't want to spend 90 euros on a bottle of perfume.
6 or 7 p.m.—Dinner
Enjoyed dinner at Coquinarius near the apartment. The food was excellent, but we ordered way too much. We had salads as our second course as is common in Italy, but they were very large entree-sized salads (my first major restaurant ordering blunder of our trip). I could barely get down half of mine after the large plate of gnocchi I had just eaten. After that, we go smarter with how we ordered.
Day 4: Monday—Pisa
Plan to get to the station early to buy tickets at machines in the station. Remember: these tickets need to be validated.
6 a.m.–Get up. Pack a granola bar or two in case I get hungry before lunch.
Leave at 7:30-ish to catch the 8:28 a.m. train.
We did leave at about 7:30 but we got to the station so quickly and buying the tickets was so easy that we caught the 8:05 train. We probably could have made the 7:53, but we had a hard time finding the correct track and then the ticket verifying machines. The train ride went smoothly.
Related Post: Is Pisa Worth It?
9:28 a.m.–Train arrives in Pisa. Check the timetable for return train times before leaving the station.
The bathrooms in the Pisa train station cost 0,80 to use and they are not particularly clean. You can use them for free if you have a receipt for the McDonald's there. It was cheaper to just pay for the toilet.
Do the 1-hour Rick Steves walking tour of Pisa.
This was fairly interesting and it made the long walk from the train station to the Field of Miracles not seem quite so long. Pisa is a small, quiet city.
11 a.m.–Arrive at the Field of Miracles. Allow 2 hours to see all the monuments. Do cathedral first since it gets busy because it's free.
We did enter the cathedral first and had to wait just a few minutes to get in. We discovered that, though the area around the Field of Miracles is swamped with tourists, very few are actually going into any of the sites, except the cathedral since it is free. You can't just walk in, however. You have to get a free ticket with an entrance time from the ticket office across the street from the Field of Miracles. If you have purchased a ticket, you can enter the cathedral anytime on the day of your ticket.
This day was definitely worth the few dollars we spent to get there and back ($20 for the monuments, $40 for the train). The entire altar area in the cathedral is covered with scaffolding, but we still enjoyed being in there.
When inside the baptistery, stick around for a demonstration of the reverb (approximately every 30 minutes). Other than that, the staff will ask guests to remain silent while inside the baptistery.
During WWII the camposanto was severely damaged by fire caused by an allied incendiary bomb. The fire melted the lead in the roof which dripped onto the marble floor of the interior passageways, leaving them pitted and uneven.
The centuries-old frescoes were also badly damaged. We enjoyed taking a few minutes to watch the fresco restorers at work. The restoration has been going on for decades.
And then, of course, there's the tower.
12:30 or 1 p.m.–Lunch in Pisa after seeing all the monuments or break it up and do some after lunch.
We did decide to eat lunch only after visiting all of the Fields of Miracles sites. This is when we made our second major Italy food error: we chose a restaurant very near the tower for lunch. The food was mediocre and overpriced, but it was food and we were quite hungry.
After lunch we were ready to head back to Florence. We did make time to stop for gelato at De' Coltelli near the river on the way back to the train station. This was my second favorite gelato shop of the whole trip. I actually got lemon basil sorbet and it was delicious. I'd eat some again right now.
3 or 4 p.m.–Train back to Florence (don't catch the 4:19–makes many stops; we want the 4:01 or 4:32). The 4:32 is the faster train.
We were ready to head back to Florence pretty soon after getting gelato, so we caught the 2:30 p.m. train.
Day 5: Tuesday—Academia
8:15 a.m.—Accademia Gallery. Allow an hour. No backpacks allowed.
There was already quite a line to purchase tickets by the time we got there just before 8:15. We got a little confused here about where to pick up the tickets we had already paid for online. It turns out you have to pick up your tickets at the office across the street and down the street a bit from the main entrance. Fortunately, I was able to walk right up, and they also printed out our Uffizi tickets for later that week at the same time. My husband was able to keep our place in line while I got the tickets and then we walked right in.
This was definitely worth the $30 we paid though it is a small museum and there isn't much to see other than Michelangelo's David and the Prisoners. It's also definitely worth scheduling your reservation for the earliest spot in the day so you can spend a few minutes with David before it gets really crowded.
10:30 a.m.–San Marco. Allow 1 hour. Closes at 1:50 p.m. Large bags not allowed.
Dozens of Fra Angelico frescoes for 4 euros admission? Yes, please! Though a minor site in Florence, this is definitely worth stopping in especially if you enjoy art and history. It's not far from the Accademia.
Lunch—nearby at Mercato Centrale.
We did stop here but only to buy a few pieces of fruit for a snack since it was still before noon. We found a bench outside and ate our fruit before walking back toward the Duomo area to grab another gluten-free lunch at Mr. Pizza.
Optional: Medici Chapels in the afternoon
We managed to do the Medici Chapels and San Lorenzo in the afternoon. Then we stopped at the Sapori & Dintorni on Borgo San Lorenzo. It was the largest grocery store near the apartment with prices similar to what we paid back home.
Bed early. Rome tomorrow!
Day 6: Wednesday—Rome
By 6 a.m.–Leave for train station; train departs at 6:50 a.m. for Florence to Rome day trip.
I got up at 4:45 a.m. so I would be ready to leave at 6:00. We got to the station a little earlier than we needed to but it took me much longer than I should have to find the pay restrooms in the station (I was still half asleep?) and by the time I was done our train was arriving and we made it to the platform just in time to get to our car and get on.
I ate my breakfast on the train. There were several retirement age women in our car with us who were quite loud, otherwise I would have tried to sleep. The train did have outlets but they required an outlet adapter rather than being just USB, and I of course didn't consider that.
8:35 a.m.–arrive at Termini station. Take metro (line B) two stops to Colosseo
By 9:15 a.m.–In line at the Colosseum. Allow 30 minutes to get through security. Allow one hour in Colosseo.
Even though the train was a little late arriving at Termini in Rome and we had a bit of a hike from our platform, through the station to the metro, we still made it to the Colosseum line close to 9:15. The lines were already getting long.
10:45 a.m.–Walk through Roman Forum (included in Colosseum ticket). Allow one hour max.
The main entrance to the Forum (opposite the Colosseum) had a really long line so we took the advice in our Rick Steves guidebook and went down the street to the other entrance. No line; we walked right in. There are also restrooms located conveniently right inside that entrance.
I recommend packing sturdy walking shoes if you're going to walk through the Forum. Navigating the old cobbled streets with TOMS was challenging, and I stumbled a few times in the large cracks between the ancient stones.
Noon–Walk back to Colosseo metro stop. Take metro back to Termini and switch to line A. Get off at Ottaviano stop. Walk 10 minutes to Vatican Museums. Need to stop and eat our lunch somewhere.
My husband wanted to eat someplace convenient in location rather than go with a travel expert recommendation. This time he was right on the money. Though it was just a little pricey, the place we stopped was just down the street from the Vatican Museums entrance and the food was fine.
1:45 p.m.–Head toward line for Vatican Museums (2 p.m. entrance time). Allow two hours.
We finished lunch shortly after 1:00 and decided to head toward the museum so we'd be sure of where the entrance is and what line to use to get in. After a brief conversation with a museum employee, we were offered entrance to the museum about 30 minutes before our scheduled time.
Follow the instructions in your reservation voucher to gain entrance to the museum and exchange it for your tickets. Definitely allow about 2 1/2 hours to do the museum and the Sistine Chapel. If you are short on time you can bypass many of the museum exhibits to get to the Sistine Chapel more quickly.
4:30 p.m.–St. Peter's Basilica. Consider paying to take the elevator up to the roof for the view. Allow 1 hour.
We left the Sistine Chapel by the group tours exit and ended up on the front porch of St. Peter's (so to speak) which meant we didn't have to go through security again. We paid 10 euros (cash only that day) to take the elevator up to the roof and from there climbed up to the cupola. Having skipped the Duomo dome climb earlier on our trip, I wasn't sure I wanted to do this, but it wasn't bad and we were rewarded with a view that was definitely worth the sweaty palms.
After leaving St. Peter's we were ready to rest our weary feet for a bit and enjoy a snack.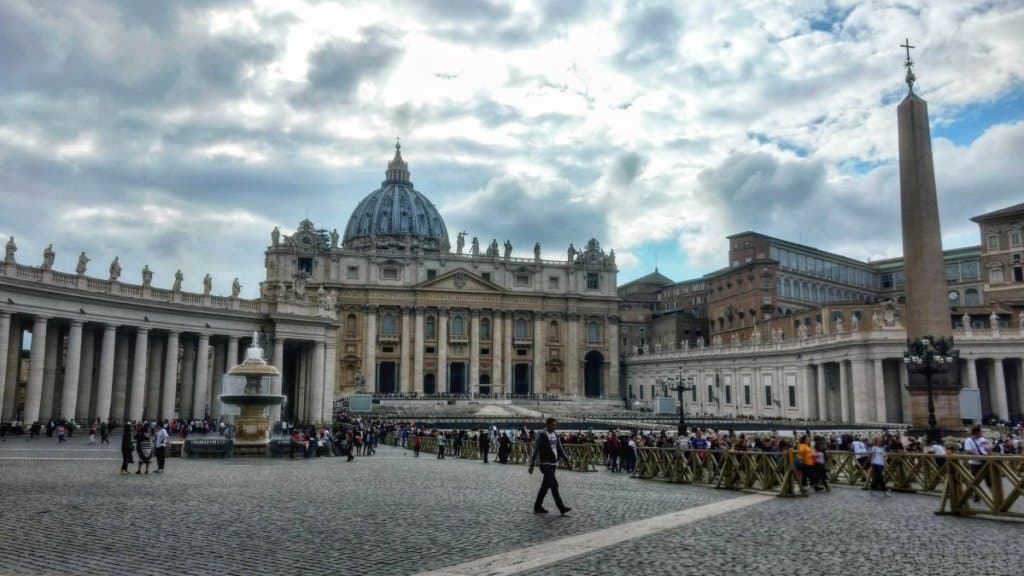 5:30 p.m.–Take metro back toward Termini. Optional: get off at Spagna stop for the Spanish Steps then walk 8 minutes to Trevi Fountain.
After our snack picnic at Piazza San Pietro and the walk back to the Ottavanio metro stop (there are plenty of signs along the way to help you find your way) we decided to head back to Termini Station rather than make another stop. We may have had time to stop at Trevi Fountain but decided not to risk it.
Dinner that night was at the train station. It was nice to sit safely inside while it poured outside. Because of the bad weather, several trains were quite late that day but fortunately ours was right on time.
9:50 p.m.–Arrive back in Florence
Our train was just a little late getting back to Florence, but there were still a lot of people out and about and many restaurants still open with diners eating. Edoardo is open late so we got some gelato since we didn't eat any in Rome. It was a fun, late night treat.
Day 7: Thursday—Bargello, Santa Croce
Try to sleep in a little, then head to the Bargello museum. Stop at a bank to get cash from the ATM on the way.
11 a.m.–Bargello (walk in, 8 euros, cash only). Allow 1 hour.
We were up and at 'em earlier than we expected today and actually managed to get out of the apartment by 10:30 a.m. We had a short walk to the Bargello and entered quickly. Even late in the morning there were no crowds. If you're at all interested in Renaissance sculpture, this museum should be on your Florence itinerary.
After lunch–Santa Croce (walk in, 8 euros). Allow 1 hour. Since a limited number of people are allowed in, there can be a line. Rick Steves suggests going early or late in the day. Closes at 4:30 p.m. Or go in through the leather school and shop in the back.
Since we at a later breakfast than usual we decided to head straight to Santa Croce after the Bargello rather than eating lunch first. But first, we visited the Scuola del Cuoio (leather school) around the back of the church. While there buying a few gifts for family back home we were able to purchase tickets for Santa Croce (cash only).
After Santa Croce we wandered down Via dei Neri to visit Starbene Senza Glutine, a gluten-free shop. There we enjoyed some gluten-free flat breads for a late lunch and even got a few pastries to go for our dessert that night. If you eat gluten-free you absolutely have to visit this shop.
Thoroughly exhausted after our monster day in Rome the day before, we headed back to the apartment after our gluten-free lunch for a nap and a quiet night in.
Day 8: Friday—Uffizi Gallery
8:15 a.m.–Uffizi Gallery. Allow 2 hours. Include a cappuccino and/or snack on the terrace.
I highly recommend NOT scheduling a visit to a major museum on the last day of your trip. By the time we got to day 8 on this trip, I was exhausted and did not enjoy this museum as much as I would have liked to. I definitely recommend scheduling your reservation for the earliest slot in the day (unless you just can't do early mornings). Getting into the museum with the first group of the day is a great way to see the artwork with lower crowds.
We did make a stop on the terrace for a cappuccino. Of course, we paid much more than we would have coffee bar elsewhere, but I enjoyed having a few moments to rest my trip-weary feet and get a little more caffeine into my system before heading back out to enjoy the last day of our trip.
After museum—shopping then lunch.
After we left the Uffizi Gallery, our last museum of the trip, we revisited the Scuola del Cuoio to pick up a couple of more souvenirs and gifts.
Then it was off to revisit Ciro & Sons for lunch since my husband had enjoyed the wide variety of gluten-free options so much. We had beautiful weather for another enjoyable lunch outside.
After lunch—Duomo interior
The interior of the Duomo was the only site on our list that we still had not seen. Since we had the entire afternoon free, we decided to wait in line to go ahead and wait in the line to get in. Entrance to the Duomo is free so there are no reservations even if you have purchased tickets to the Duomo monuments.
Santa Maria del Fiore is the third largest church in the world (behind only St. Peter's in Rome and St. Paul's in London).
After seeing the cathedral it was time for another stop at Edoardo for gelato before heading back to the apartment to pack and enjoy one more dinner on the balcony.
I still had a few euros in my wallet which of course meant we could make another stop at Edoardo after dinner. We took a little time to wander around the area near the apartment one more time, then it was off to bed before getting up early to head home the next morning.
I can't recommend Florence, Italy, enough especially if you are interested at all in art or history. It's a beautiful city that is easily walkable, and I hope to go back someday. Have you ever planned your own Florence itinerary?