Things to Do Between Savannah and Charleston: 12 Great Stops
These are the best things to do between Charleston and Savannah
Are you looking for something fun to do on your trip to Savannah, Georgia, and Charleston, South Carolina? I've compiled a list of great stops along the way to add even more fun to your trip and exploring the rich history of the area. These are the top things to do between Savannah and Charleston.
From historic sites and nature trails to unique attractions, there is something for everyone in between these two cities.
Suggested stops in this article are arranged in order from the closest to downtown Charleston to the closest to downtown Savannah.
Any (or several) of these sites would make a great addition to your Charleston and Savannah itinerary.
Plan the perfect trip to Charleston and Savannah with this free printable travel planner.
This post includes affiliate links. If you make a purchase through one of these links, I may earn a small commission at no additional cost to you. As an Amazon Associate, I earn from qualifying purchases. See disclaimer.
Map of the places to stop between Savannah and Charleston
This map shows all of the sites listed in this article below. To get to the interactive Google map, click here or on the image below.
Charles Towne Landing State Historic Site
Visiting Charles Towne Landing State Historic Site is a great way to explore the history of South Carolina. Located in Charleston, just a short drive outside the historic center, this state-run historic site was the birthplace of South Carolina.
Step back in time and discover the earliest colonial history of South Carolina. Immerse yourself in hands-on exhibits inside the Visitor Center, chat with knowledgeable staff members, or take a self-guided audio tour to learn even more.
You can step aboard the Adventure, which is the only 17th-century replica sailing ship in Charleston.
Explore the Animal Forest natural habitat zoo to catch a glimpse of otters, bears, bison, and more. Stroll through 80 acres of beautiful gardens that include a live oak alleyway and Legare Waring House.
McLeod Plantation Historic Site
A few miles south of Charles Towne State Historic Site is the McLeod Plantation Historic Site, a Charleston County Park.
McLeod Plantation Historic Site is a 37-acre heritage site, kept intact in honor of its cultural and historical value. They have a riverside outdoor pavilion, an impressive "oak allée," and the McLeod Oak thought to be more than 600 years old.
Your paid admission includes an interpretive guided tour (offered several times throughout the day) or use the app for an audio self-guided tour.
PRO TIP: If you have flexible travel dates you need to check out Going (formerly Scott's Cheap Flights). You get amazing flight deals sent straight to your inbox with instructions on how to book directly with the airlines. Check out Going here. Going is my favorite way to find great travel deals. 
Folly Beach
If you're looking for a beach break on your way to Savannah from Charleston (or vice versa), take the 20-minute drive from Charleston to Folly Beach. This beach is located on Folly Island, a 12-square-mile Charleston barrier island featuring six miles of perfect beach.
Folly is a go-to destination for many people who appreciate outdoor activities such as swimming, fishing, kayaking, and wildlife viewing. It's the perfect spot to soak up some sun while enjoying nature or go paddling on the Folly River.
Visitors may be lucky enough to spot loggerhead turtles, bald eagles, pelicans, and even dolphins.
Enjoy Folly Beach County Park on the west end of the island or peruse Center Street, filled with eateries, surf shops, and souvenir stores.
Angel Oak
Supposedly the oldest living thing east of the Mississippi River, Angel Oak can be found about 20 minutes outside of Charleston on Johns Island.
Estimates of its age vary wildly. Regardless, it may sound very simple, but this tree is worth a stop.
The Angel Oak is really a beautiful place. It kind of has to be seen to be believed. Each year, it attracts approximately 400,000 visitors who marvel at its grandeur.
Standing 65 feet high with a circumference of 25.5 feet, it covers an area of 17,000 square feet in its shade.
The park is open seven days a week (closed on holidays) and is free to enter and take as many photos as you like. Tripods are not allowed on or around the tree.
Charleston Tea Garden
Charleston Tea Garden is one of the most popular Charleston day trips and will delight anyone, especially tea lovers.
Located on Wadmalaw Island, the garden produces the only brand of tea made with 100% American-grown tea. The United States' one-and-only tea garden still in operation provides mesmerizing views of thousands upon thousands of tea plants.
The free factory tour lets you see the equipment and the entire production line, with videos illustrating the various tea-making processes at America's only tea factory.
After the factory tour, take a paid trolley ride (30-40 minutes) among the many acres of tea bushes, including a stop at the marvelous greenhouse. The greenhouse is where tiny new tea bushes are born and prepared for planting in the garden.
Edisto Island
Yes, there are a lot of islands around Charleston, and another charming island worth visiting if you're spending time in the area is Edisto Island.
Edisto Island is the perfect place to enjoy a relaxed vibe and is a treasure trove of beach, water, and island activities. Visitors enjoy kayaking, biking, beach combing, bird watching, playing golf, and more.
And don't miss Botany Bay Plantation or Edisto Beach State Park with its Environmental Learning Center. It's one of four oceanfront state parks in South Carolina.
Reconstruction Era National Historical Park
Reconstruction Era National Historical Park offers visitors insight into this important period in American history, particularly through the lens of the people of South Carolina's Beaufort County.
In November 1861, the U.S. Army won the Battle at Port Royal Sound, bringing Beaufort County under Union control. When plantation owners abandoned their lucrative cotton and rice plantations, more than 10,000 enslaved people were left behind.
In an attempt to help emancipated slaves become economically independent, President Lincoln's administration initiated the Port Royal Experiment in Beaufort County. And so, Reconstruction was born.
The park consists of four locations:
Beaufort National Historic Landmark District (and park Visitor Center)
Camp Saxton
Brick Baptist Church (active congregation to typically not open for visitors)
Penn Center
Hunting Island State Park
Located on the coast of South Carolina, Hunting Island State Park is a must-see destination for nature lovers. It's the state's most popular state park, with more than one million visitors each year.
With its five miles of pristine beach, lush maritime forest, and salt marshes teeming with wildlife, it's no wonder that this park is one of the most popular in the state.
Visitors can enjoy activities such as kayaking, biking, fishing, and birdwatching while exploring the natural beauty of Hunting Island State Park. The park also offers hiking/walking trails, camping opportunities, and more.
Hilton Head Island
My top pick for a stop between Charleston and Savannah is the beautiful Hilton Head Island, where you can enjoy the perfect beaches and world-class golf courses.
Hilton Head Island is one of the best places in the U.S. to enjoy a family beach vacation. You can participate in activities like swimming, beach volleyball, boat cruises, and deep-sea fishing. Families can enjoy biking, miniature golf, great dining options, and more.
Try a guided kayak nature tour of Hilton Head.
Or enjoy a dolphin boat cruise as you try to spot dolphins and other ocean life.
Stroll through Harbour Town and go to the top of the Harbour Town Lighthouse for stunning views of Hilton Head Island.
If you were going to make one overnight stop between Charleston and Savannah, this is where I would recommend you stop.
It's a great place to stay, and it makes a wonderful weekend trip from Savannah.
We loved our stay at the Marriott Hilton Head Resort & Spa, which is right on the beach. So you'll want to book a room with a balcony. We think it's definitely worth the extra money. And they have a great pool deck area too.
For a luxurious treat, check out the Inn and Club at Harbour Town. It was named one of the Top 10 Hotels in the U.S.A. for 2021 by U.S. News and World Report.
For a more budget-friendly option, try Home2 Suites by Hilton, which offers free breakfast.
Savannah National Wildlife Refuge
The Savannah National Wildlife Refuge is a paradise for nature lovers. Spanning over 29,000 acres of protected wetlands and forests along the Savannah River Basin, this refuge provides critical habitat for hundreds of species of birds and other wildlife.
Established in 1927, the refuge was designed to be a safe haven for migratory birds who were seeking shelter during their winter journey, most notably waterfowl.
There are tidal freshwater marshlands and bottomland hardwood forests that create an ideal ecosystem for species to thrive.
Visitors can explore the refuge's many trails on foot or by bicycle to observe its diverse ecosystems up close. There are also opportunities to go birdwatching or fishing in one of the many freshwater ponds within the refuge.
With an abundance of activities available year-round—from kayaking to taking beautiful photographs of the native wildlife—there's something for everyone here.
Fort Pulaski National Monument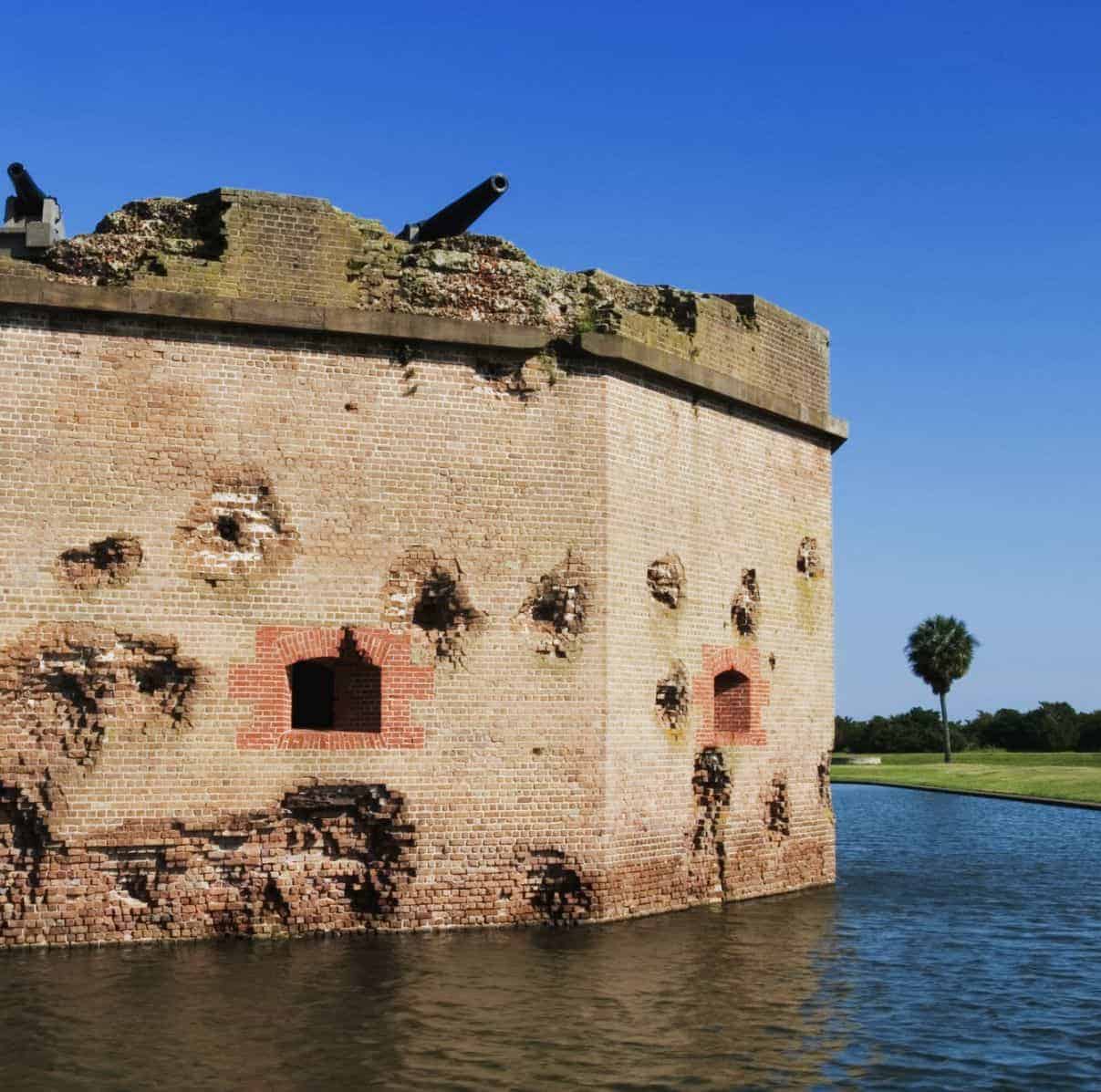 Fort Pulaski National Monument stands on Cockspur Island and is managed by the National Park Service. Constructed to secure Savannah's harbor shortly before the outbreak of the American Civil War in 1861, this fort was once an important line of defense.
Millions of bricks were used to construct the fortified walls of Fort Pulaski, yet its defenses quickly became obsolete when the Union Army utilized it for testing their new rifled cannons.
The Union Army's siege of Fort Pulaski concluded within 48 hours, and soon after the fort became a prison-of-war camp.
Fort Pulaski National Monument encompasses the fort itself, as well as most of Cockspur Island and McQueens Island. Take a stroll around the grounds, enjoy bird watching, or cast your fishing line into the Savannah River.
Be sure to stop at the Visitor Center. There you can see displays that detail both the construction of Fort Pulaski and also its role in April 1862's Battle for Fort Pulaski.
Tybee Island
Tybee Island is absolutely one of the most popular places to visit around the Savannah area. Hands down. And has been since the late 19th century.
It's definitely one of the top day trips from Savannah.
Enjoy three miles of beautiful beaches, none of them exactly alike. Choose from North Beach, South Beach. Back River, Little Tybee, or Mid Beach. Or visit all of them!
Some other top attractions and activities for visitors include
climbing to the top of Georgia's oldest and tallest lighthouses
eating ice cream or the other great food on the island
taking a boat tour
sea kayaking
bird watching
biking
and more!
Don't have time to visit both Charleston and Savannah, but not sure which to choose? Read Charleston vs. Savannah: Which to visit?
Other things to do in the Charleston area
Of course, there are a lot of amazing things to do in and around Charleston, South Carolina, that aren't necessarily on the way to Savannah, Georgia.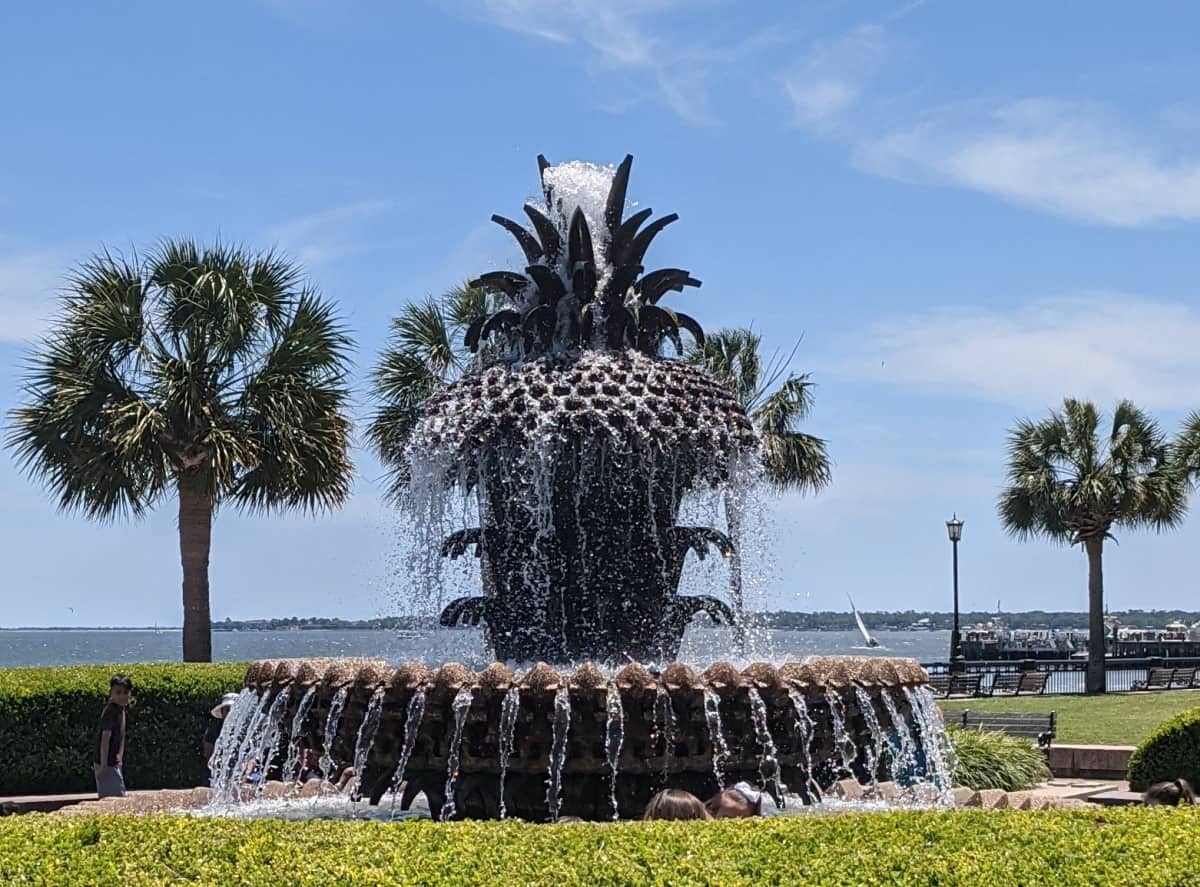 Where to Stay in Charleston, South Carolina
Charleston has a lot of wonderful places to stay. Here are a few top-rated options:
Andrew Pinckney Inn—This lovely 41-room boutique hotel is only a few blocks from the popular Charleston City Market.
The Dewberry—Enjoy luxurious accommodations bordering Marion Square and near the top fine dining and shopping in the city (on King Street).
Budget-friendly Option: Doubletree Mount Pleasant—we had a lovely and budget-friendly stay at this hotel which was just a few minutes outside Charleston. It's also close to two awesome breakfast places: Vicious Biscuit and Page's Okra Grill.
Other things to do in the Savannah area
Where to stay in Savannah, Georgia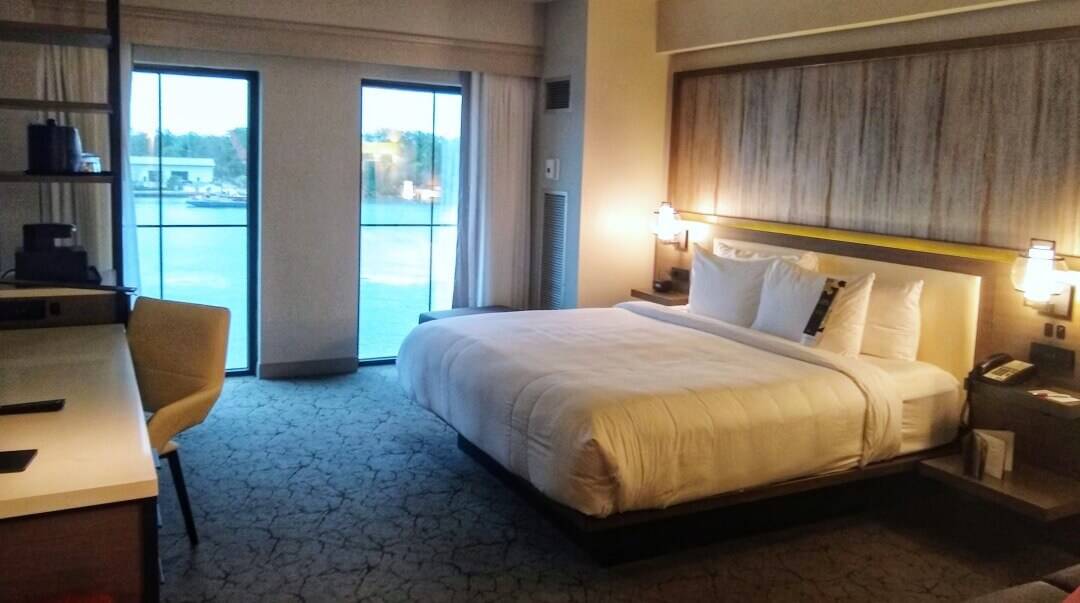 Savannah is full of wonderful hotels and inns. Here are a few highly rated options:
The Marshall House is one of the most popular places to stay in Savannah. It's in the heart of the historic area and includes an onsite restaurant.
The Eliza Thompson House is an inn rich in history that's situated near Forsyth Park and its well-known fountain.
If you're looking for a great view of both the historic Savannah Riverfront and the boats that travel along it, look no further than Marriott Savannah Riverfront. It's just steps from the famous Waving Girl Statue.
Holiday Inn Express Savannah – Historic District offers comfortable and affordable rooms just steps from historic River Street.
Final thoughts on things to do between Charleston and Savannah
Savannah, Georgia, and Charleston, South Carolina, are two of the most popular travel destinations in the entire southeastern United States.
But you don't need to keep your explorations just within the limits of those two cities. There are plenty of activities between the two.
From beach days on Tybee Island or Hilton Head Island to exploring Fort Pulaski National Monument or Savannah National Wildlife Refuge, there is something for everyone in this area.
Whether you're just looking for one interesting spot to stop along the way or you're planning to make an epic road trip out of it, there are so many amazing things to do.
What's your favorite thing to do between Savannah and Charleston? Let me know in the comments!
More articles about Savannah and Charleston
Pin this post!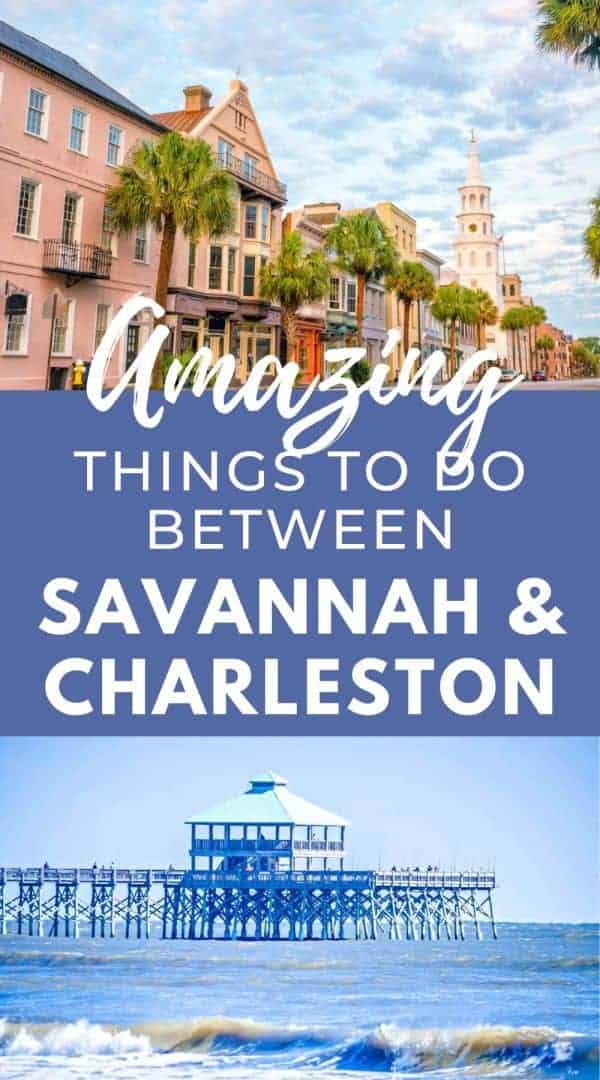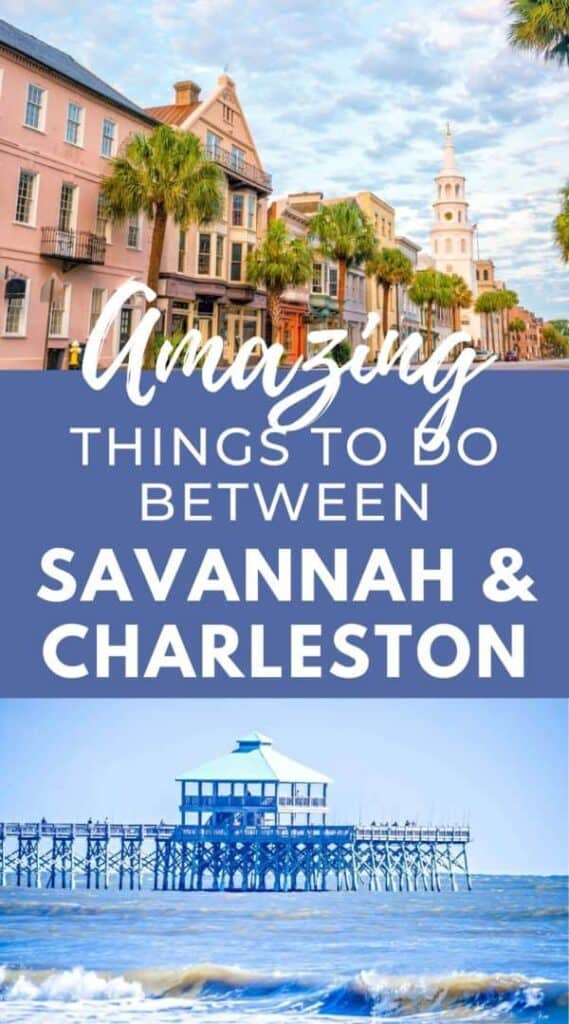 Things to Do Between Savannah and Charleston