10 Amazing Weekend Trips From Savannah
Don't miss these perfect weekend getaways from Savannah, Georgia
Are you in need of ideas for quick weekend trips from Savannah? I've got you covered!
Whether you're looking for a beach excursion, an outdoor adventure, or something more leisurely, there's an amazing weekend getaway from Savannah that's perfect for you.
Below you'll find my suggested list of incredible weekend trips from Savannah, all within an easy driving distance. The list is organized based on distance from Savannah, starting with the closest to the farthest.
Your perfect escape is closer than you realize. So don't wait— pack your bags and hit the road to explore some of the most beautiful and exciting destinations near Savannah.
Plan the perfect weekend getaway with this free printable travel planner.
This post includes affiliate links. If you make a purchase through one of these links, I may earn a small commission at no additional cost to you. As an Amazon Associate, I earn from qualifying purchases. See disclaimer.
Tybee Island, Georgia
Distance from Savannah: 18 miles
Drive time: Approximately 20-30 minutes
Easily the most popular day trip from Savannah, Tybee Island also makes a wonderful and easy destination for a weekend trip from Savannah.
You can visit the island's most famous site, its light station, the oldest and tallest in Georgia. The 2.5-mile-long barrier island's location at the mouth of the Savannah River also made it especially important as a military position.
Tybee Island, just a stone's throw away from Savannah, is well worth your time if you have the opportunity to visit. It's perfect for a relaxing beach-y weekend.
Check out my beach day essentials so that you don't forget to pack anything.
Spend a tranquil weekend on Tybee Island, immersing yourself in the stunning natural scenery. It's a popular spot for bird watching, sea kayaking, dolphin spotting, biking, fishing, and more.
Where to stay on Tybee Island
There are hundreds of hotel and motel rooms just steps away from the beach on Tybee Island. You're sure to find something perfect for you.
Here are a few highly rated options.
Beachview Inn and Spa is just a 3-minute walk from Tybee Island Beach. All units have private bathrooms, and some units include kitchenettes.
Tybee Island Inn is just a few minutes walk from the beach. They offer vegetarian and gluten-free breakfast options.
DeSoto Beach Bed & Breakfast is an excellent option if you're looking for a beach view.
Hilton Head Island, South Carolina
Distance from Savannah: 34 miles
Drive time: 45 minutes
Hilton Head Island is one of my favorite places and makes for a perfect weekend getaway from Savannah.
To demonstrate just how remarkable Hilton Head is, you don't need to take my word for it. For three consecutive years, Travel + Leisure has bestowed the honor of the BEST island in all of America upon Hilton Head Island.
I totally agree.
Try Coligny Beach Park if you're looking for public beach access. Coligny beach is also a designated swim area. Enjoy complimentary parking close by and indulge in some delightful shopping too. The famous Harbour Town Lighthouse is also a popular attraction.
If biking is your thing, you'll love the miles of beaches and recreational paths to explore. And don't forget about all the delicious Southern cuisine that's waiting for you.
We recommend that you enjoy lunch or dinner at A Lowcountry Backyard to try their wonderful food. They're famous for their shrimp and grits and of course the Lowcountry boil. When we were there, they gladly helped Hubby find something delicious and gluten-free to eat, and they have good vegetarian options too.
Where to stay on Hilton Head Island
Inn & Club at Harbour Town was named one of the Top 10 Hotels in the U.S.A. for 2021 by U.S. News and World Report. It's the only Forbes four-star hotel on Hilton Head Island.
Marriott Hilton Head Resort & Spa has a great pool area plus it's right on the beach!
Home 2 Suites by Hilton offers free breakfast
Charleston, South Carolina
Distance from Savannah: 105 miles
Drive time: 2 hours+
Charleston, South Carolina, is steeped in history and Southern charm, so it makes a great weekend trip from Savannah, especially for history lovers…like me.
If you're searching for a beach-infused weekend getaway near Charleston, then look no further than Folly Beach and Isle of Palms.
Top sites to visit on your Charleston itinerary include Fort Sumter, Aiken-Rhett House, Historic Charleston City Market, and The Battery.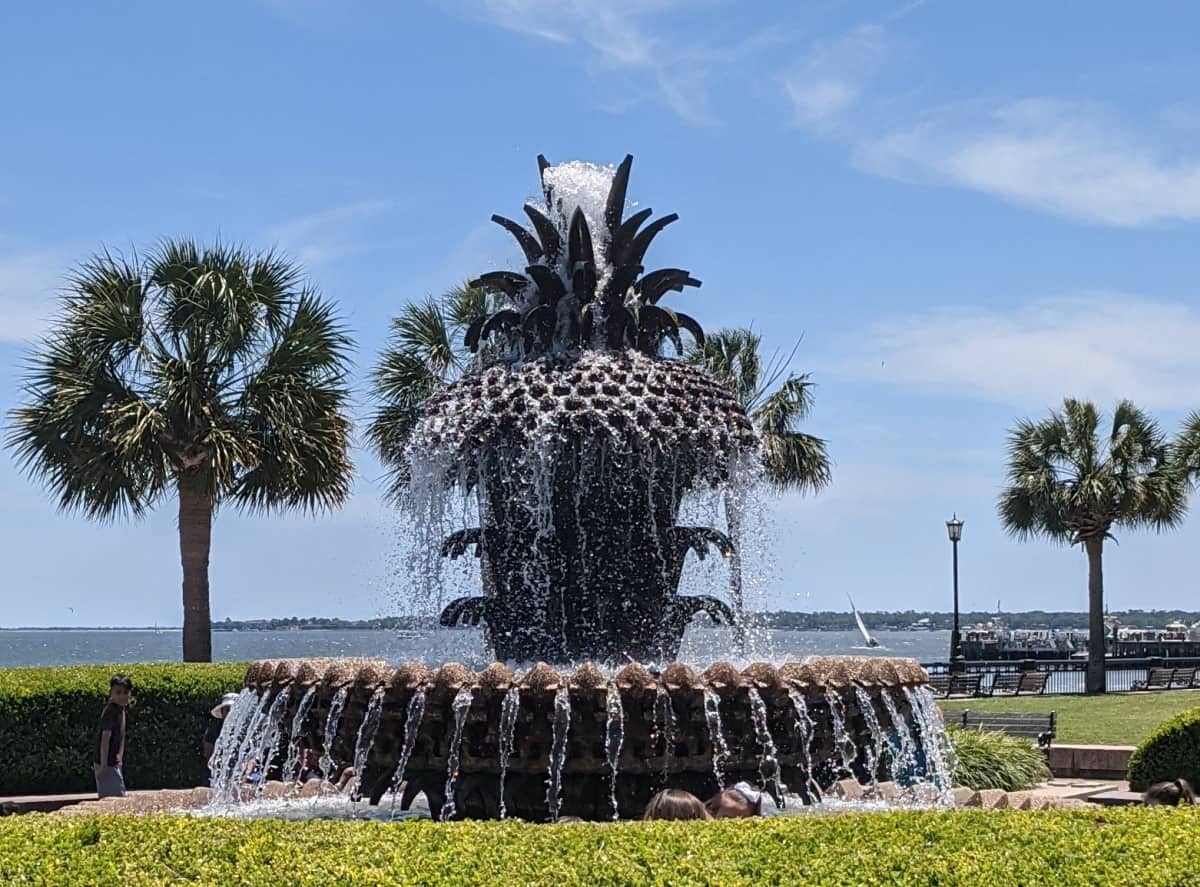 Great shopping and good food are also easy to find in Charleston. King Street has been dubbed one of the top 10 shopping streets in the U.S.
If you enjoy seafood and classic, elevated Southern cuisine, you'll love eating in Charleston.
And hushpuppies. You must try hushpuppies. Hushpuppies are just about the best thing ever.
If you are looking for a great way to save on accommodations, then consider staying outside of city in Mount Pleasant or North Charleston. Rates for hotels here will be much more affordable than those located within the city center. The trade-off is that you'll have a bit of drive into the city each day.
Where to stay in Charleston, South Carolina
Charleston has no shortage of wonderful hotels to stay in. Here are a few top-rated options:
Andrew Pinckney Inn—a boutique hotel with 41 rooms located just a couple of blocks from the Charleston City Market.
The Dewberry—luxurious accommodations bordering Marion Square, near fine dining and shopping on King Street. Use one of the Dewberry Volvo guest cars or try one of the complimentary bicycles.
Doubletree Mount Pleasant—we enjoyed our stay at this lovely and budget-friendly hotel just a few minutes outside Charleston.
Jekyll Island
Distance from Savannah: 95 miles
Drive time: 1 hour, 40 minutes
Jekyll Island is one of the "Golden Isles" barrier islands off the coast of Georgia that include St. Simons Island, Sea Island, Little St. Simons Island, Sapelo Island, Blackbeard Island, plus Historic Darien and Historic Brunswick.
Jekyll Island is the perfect destination for beach and nature aficionados, offering a variety of activities such as cycling, golfing, strolling along the sandy beaches, exploring historic houses, and more.
For an unforgettable experience, don't forget to visit Driftwood Beach on the northern end of the island.
Jekyll Island is also home to the Georgia Sea Turtle Center, which offers educational programs about these creatures and works to rescue and rehabilitate sick and injured turtles.
The public is invited to visit the center and experience a unique tour that takes you behind the scenes. From watching how these animals are cared for, to gaining insight into efforts geared toward their protection – this is an opportunity like no other.
Where to stay on Jekyll Island
Jekyll Island Club Resort: enjoy a relaxing weekend at a historical 19th-century resort with beaches and biking trails nearby.
The Beachview Club Hotel faces the oceanfront and is just steps from Jekyll Island Oceanview Beach Park and half a mile from Great Dunes.
Hampton Inn & Suites Jekyll Island offers 3-star accommodations with free breakfast, and it's just steps from the South Dunes Beach Boardwalk and Picnic Area.
Amelia Island, Florida
Distance from Savannah: 128 miles
Drive time: 2 hours
A popular beach vacation destination in Florida, Amelia Island boasts 13 miles of beaches. It's located in Northeast Florida and is surrounded by the Atlantic Ocean, Intracoastal Waterway, Nassau Sound, and Cumberland Sound.
In 2020, Travel + Leisure put Amelia Island at number 6 on its list of the top 15 islands in the United States. Conde Nast also named Amelia Island one of the best islands in the U.S. in its Reader's Choice awards.
Southern Living also named it one of the 10 most romantic destinations in Florida.
Where to stay on Amelia Island
Enjoy 5-star luxury at The Ritz-Carlton, Amelia Island. Guests love the top-notch service and the beautiful beachfront location.
Omni Amelia Island Resort: Features beachfront luxury, an onsite spa, eight dining options, and more.
Amelia Hotel at the Beach: Stay in Fernandina Beach with a view of the ocean.
Congaree National Park (South Carolina)
Distance from Savannah: 150 miles
Drive time: 2.5 hours
If you're looking for a beautiful and outdoorsy weekend getaway from Savannah, Congaree National Park is a great option.
You'll find Congaree National Park in Hopkins, South Carolina (near the state capital of Columbia). It's the only National Park in South Carolina, and sadly also one of the least visited. Congaree is also a UNESCO biosphere reserve and offers hiking, canoeing, kayaking, and bird watching.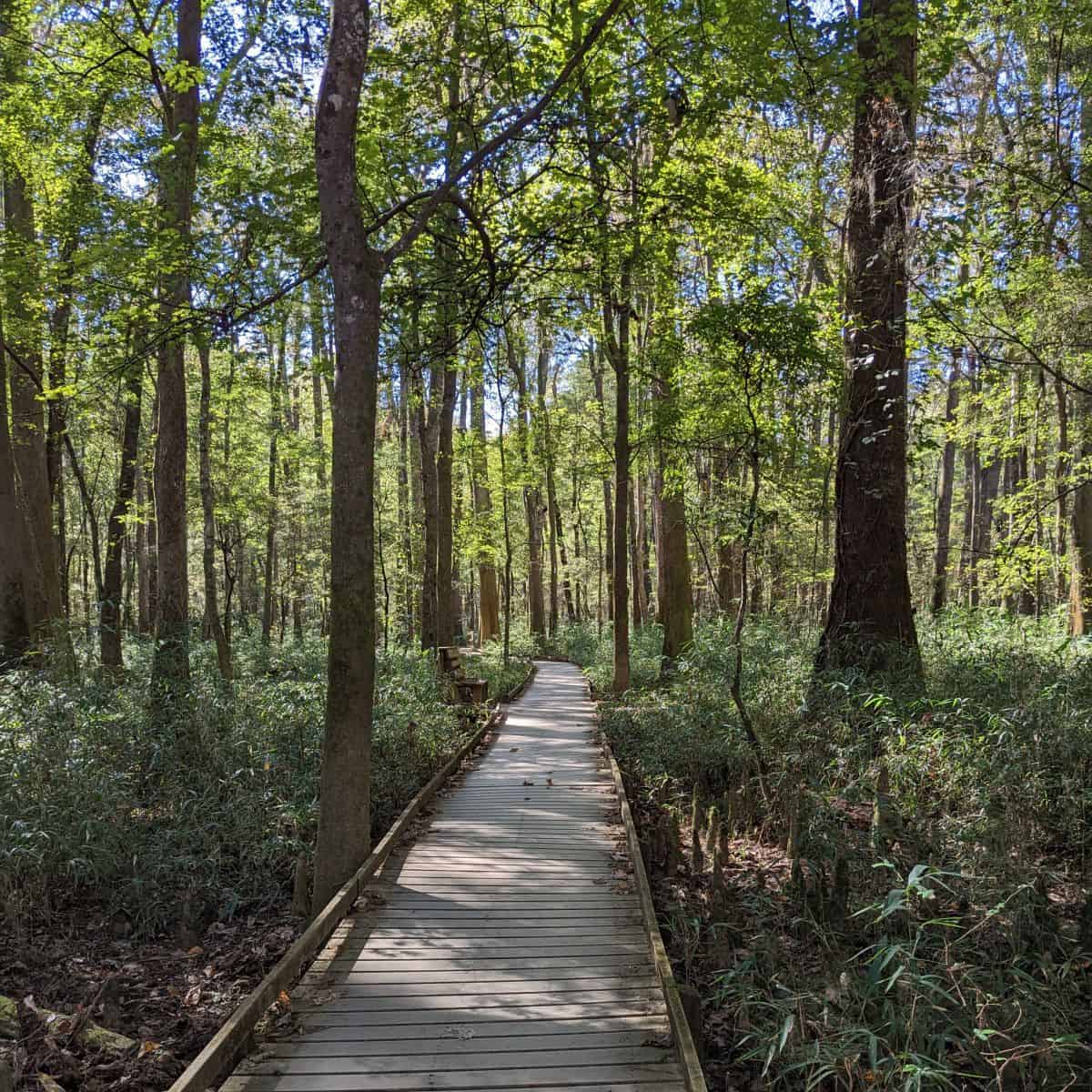 The Park preserves the largest intact expanse of old-growth bottomland hardwood forest remaining in the southeastern United States, according to the National Park Service.
Be warned. Congaree is swampy, prone to flooding, and infamous for its mosquitoes. Protect yourself from buggy interference as needed. Before your journey from Savannah, check in with the Park to assess mosquito activity levels and plan accordingly.
Hiking Congaree National Park is easy and enjoyable. The most popular walk or hike in Congaree is probably the Boardwalk Trail. The boardwalk path makes the 2.6-mile loop trail accessible for wheelchairs and strollers.
Other easy hikes include Bluff Trail, Sims Trail, Bates Ferry Trail, Longleaf Trail, and Spur Trail.
Where to stay in Congaree National Park
Camping is the only way to sleep in Congaree National Park. There are two campgrounds: the Longleaf campground near the park entrance and the Bluff campground. Backcountry camping is permitted.
All camping in Congaree National Park requires a permit or reservation.
There are no hotels or lodges available at Congaree National Park. I recommend that you plan to stay in the Columbia area for your weekend getaway.
Courtyard by Marriott Columbia Cayce—We love Marriott hotels, and I've never had a bad stay at a Courtyard. This Courtyard is only a few miles from the airport and about a 20-minute drive from Congaree.
TownePlace Suites Columbia Southeast/Fort Jackson—This hotel is a little farther from the local airport, but it's also only about a 20-minute drive from the Park and includes a free breakfast.
St. Augustine, Florida
Distance from Savannah: 180 miles
Drive time: 3 hours
Why not try a romantic getaway in the oldest city in America? It's a really fun town with plenty to do and eat.
Those looking for fun and excitement in St. Augustine should look no further than its vibrant historic district and downtown area. Thousands of people flock to this destination each year, marveling at the selection of historical attractions, museums, shops, and restaurants.
From the Spanish fortress Castillo de San Marcos to the many historic houses, museums, and other attractions there is plenty for you to see and do during your St. Augustine weekend trip.
You'll also find a lot of great places to eat like the popular Floridian Restaurant that features local food in a relaxed setting. And don't miss out on The Hyppo for a sophisticated, gourmet popsicle.
Where to stay in St. Augustine, Florida
Casa Monica Resort & Spa is a popular choice in the heart of historic St. Augustine.
The Penny Farthing Inn bed & breakfast is just steps from the popular Lightner Museum.
The Holiday Inn St. Augustine – Historic is just a short drive from popular sites like Castillo de San Marcos National Monument.
Atlanta, Georgia
Distance from Savannah: 250 miles
Driving time: 3 hours, 45 minutes
Atlanta, Georgia, is a great weekend getaway from Savannah. It offers visitors an exciting mix of history, culture, and entertainment. With its world-class museums, vibrant nightlife scene, and endless shopping opportunities, there's something for everyone in Atlanta.
From the Martin Luther King Jr National Historic Site to the World of Coca-Cola museum to the world-famous Georgia Aquarium, whatever your interests may be, you'll find plenty to explore.
Check out my article all about the top things to do in Atlanta if you have a short visit.
Whatever your plans may be while visiting Atlanta – don't forget to bring your camera because this city will provide plenty of photo ops.
Where to stay in Atlanta, Georgia
There are many hotels in Atlanta you could choose from. Here are some of the top-rated for their cleanliness, friendly staff, and location.
The Candler Hotel Atlanta offers 4-star accommodations just about a 9-minute walk from Centennial Olympic Park. You could also walk to the College Football Hall of Fame.
Hampton Inn & Suites Atlanta-Midtown is just about a 6-minute walk from the High Museum of Art.
Omni Hotel at the Battery Atlanta is a perfect place to stay especially if you'll be taking in an Atlanta Braves game during your weekend in Atlanta.
Orlando, Florida
Distance from Savannah: 280 miles
Drive time: 4 hours, 20 minutes
Orlando, Florida, is a great city for a weekend getaway.
From hot air balloon rides and horseback riding to premier shopping and kayaking, there is an abundance of activities awaiting you outside of visiting theme parks
If activity is not what you're after there are also a lot of amazing hotels and restaurants to explore plus premier shopping.
Plus there are plenty of opportunities to take some wonderful day trips from Orlando.
For the ultimate in luxury and romance, book a weekend at Disney's Grand Floridian Resort & Spa and enjoy AAA Five Diamond dining at Victoria and Albert's.
Where to stay in Orlando, Florida
Disney's Grand Floridian Resort & Spa is the epitome of a deluxe resort experience at Walt Disney World
Hyatt Regency Grand Cypress Disney Area Orlando includes a Jack Nicklaus golf course and a private lake
Hyatt House is conveniently located across from Universal Orlando Resort
Asheville, North Carolina
Distance from Savannah: 315 miles
Drive time: 5 hours
Asheville, North Carolina, is a prime choice among possible romantic getaways from Savannah. It is a bit of a drive, but I think it's totally worth it.
And Asheville is so different from Savannah that it really feels like you've gotten away from it all.
Nestled in the Blue Ridge Mountains of Western North Carolina, Asheville is home to great dining and the world-famous Biltmore Estate.
Asheville is the perfect destination for a romantic escape any time of year, but it's particularly stunning in autumn.
The Blue Ridge area around Asheville is renowned for its wide variety of deciduous trees, creating a picturesque and lengthy fall colors season.
Hubby and I have spent three wedding anniversaries at The Inn on Biltmore Estate. Because we got engaged there, it holds a special place in our hearts. It's our absolute favorite Asheville romantic weekend getaway.
To find out more, read my full Inn on Biltmore Estate review.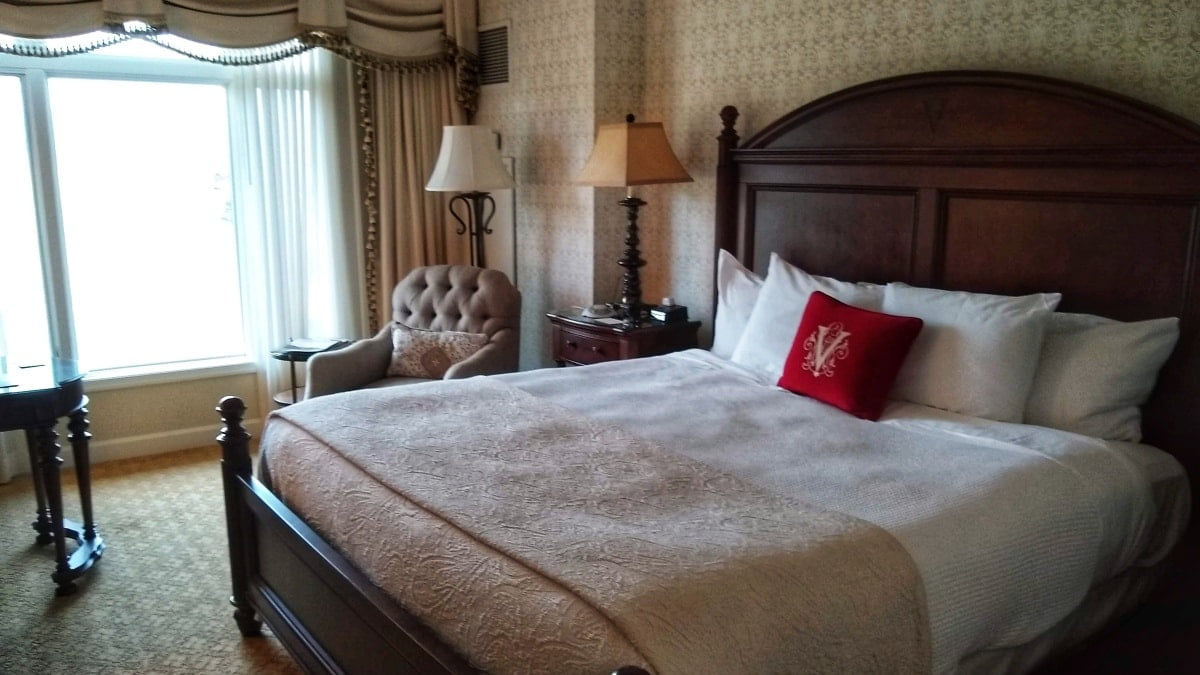 My sister and her husband love the Omni Grove Park Inn. This one is still on our bucket list.
Where to stay in Asheville, North Carolina
The Inn on Biltmore Estate is our top choice or try the popular Omni Grove Park Inn – Asheville.
DoubleTree by Hilton Biltmore/Asheville is just minutes from Biltmore Estate and the shops at Biltmore Village.
Holiday Inn Hotel & Suites – Asheville-Biltmore Village Area is just a few blocks from the entrance to Biltmore Estate.
Final thoughts on weekend trips from Savannah
Weekend getaways are the perfect way to relax and rejuvenate, and there are plenty of great options within driving distance of Savannah.
Whether you're looking for a beach vacation, a cultural experience, or just some time in nature, you can find what you're looking for within a few hours' drive from Georgia's first city.
Have you been to any of these places? What's your favorite weekend getaway from Savannah? Let me know in the comments!
More articles related to weekend getaways from Savannah
Pin this post!
10 Amazing Weekend Trips From Savannah