The Best National Parks on the East Coast (You Can't Miss)
These best east coast national parks belong on your U.S. travel bucket list
The east coast of the United States is famous for its beaches and boardwalks, but what many people overlook is that you can find some of the best national parks on the east coast as well.
Some of the oldest and most gorgeous forests in America reside on the east coast, and these forests provide a habitat for many endangered species.
The east coast contains numerous historical sites and also features some of the best hiking trails in America.
There's so much to see at our east coast national parks, so let's explore them together now!
Start planning your national parks trip today with this free printable travel planner.
There are 14 states that make up the east coast. These include Rhode Island, Connecticut, New York, New Jersey, Delaware, Maryland, Virginia, North Carolina, South Carolina, Georgia, Florida, Maine, New Hampshire, and Massachusetts.
These states make up about 2400 miles of the entire US. Within these 2400 miles, you will find a large expansion of beautiful and absolutely breathtaking national parks that are just begging to be explored.
Read More → The Best Books About National Parks
This post includes affiliate links. If you make a purchase through one of these links, I may earn a small commission at no additional cost to you. As an Amazon Associate I earn from qualifying purchases. See disclaimer.
Acadia National Park
Acadia National Park is located in Maine, and it's the only National Park in New England (not including other national park units).
The boundaries of the park include Mount Desert Island, as well as several smaller islands.
The best way to experience this national park is by traversing along the hiking trails that have been established so you can see for yourself what it's like to be in the actual wilderness.
The whole area was discovered by many European explorers back in 1604.
The first settler who made a permanent home here was a man named Samuel De Champlain. He visited and mapped out Mount Desert Island and named it Isle de Monts Desert.
PRO TIP: If you have flexible travel dates you need to check out Going (formerly Scott's Cheap Flights). You get amazing flight deals sent straight to your inbox with instructions on how to book directly with the airlines. Check out Going here. Going is my favorite way to find great travel deals. 
Things to See in Acadia National Park
Cadillac Mountain
Cadillac Mountain is accessible by car and is the highest point on the east coast.
You will love the beautiful views of the island landscape below when viewing atop this majestic mountain.
Schoodic Peninsula
The scenery on the Schoodic Peninsula is unmatched.
With its dense spruce forests, jack pine woodlands, and shrubby heaths, it's a wonderful treasure trove for nature lovers who want to explore every inch of this beautiful area!
Isle au Haut
The large Isle au Haut has beautiful cliffs that rise an astounding 550 feet above sea level. It features glistening and serene bodies of water such as Long Pond, Turner Lake, and Champlain Lake.
It's also a wonderful lobstering community and serves as a nice little retreat for seasonal cottage owners in the area.
Great Smoky Mountains National Park
The main attraction for most people when visiting The Great Smoky Mountains is the beautiful scenery.
With its lush, green forests, misty blue mountains, cascading waterfalls, and idyllic meadows.
Great Smoky Mountains National Park is perfect for a weekend getaway.
This park is located in both North Carolina and Tennessee.
Some of the most popular areas of this national park are Cades Cove, the Roaring Fork Motor Nature Trail scenic drive, and Smokemont Campground, which has over 100 campsites.
Every year, millions of people visit The Great Smoky Mountains National Park, making it the most visited national park in recent years.
The park covers a wide expanse of land, with the highest peak being Clingmans Dome at an elevation of 6,643 feet.
If you considering a trip to the Great Smoky Mountains, find more information here about where to stay in the Smokies.
Things to See in Great Smoky Mountains National Park
The Appalachian Trail
This beautiful hiking area was the nation's first National Scenic Trail under the National Trails System Act.
The Appalachian Trail is over 2,000 miles long, which makes it the longest hiking trail in the entire world. 71 miles of the trail runs through Great Smoky Mountains National Park.
Cataloochee
The Cataloochee Valley is part of a very rugged mountain range and is surrounded by peaks up to 6000 feet tall.
This peaceful mountain valley features historic buildings, wildlife viewing (including elk), and more.
The Alum Cave Bluffs
These bluffs boast wonderful views and an almost 5-mile round trip hike. When hiking through the forest you will reach the Alum Cave Bluff Trail that is nearby the Alum Cave Creek.
Read More → The Best National Parks in Utah: The Mighty 5
Shenandoah National Park
This scenic national park is located within the Blue Ridge Mountains of Virginia.
Shenandoah National Park features beautiful tree-lined hills, enchanting wooded hollows, breathtaking waterfalls, and a variety of wildlife.
Shenandoah National Park was founded in 1935.
The park was completed around the time of WWII, and by 1976, half of the park was proclaimed as protected wilderness.
Notable Features of Shenandoah National Park
Skyline Drive
The 105-mile Skyline Drive winds itself around the center of Shenandoah National Park. The road is often closed during the winter months due to heavy snowfall at higher elevations.
The road is also one of the most frequently traveled in The National Park System, so be sure to plan accordingly.
Blue Ridge Parkway
Okay so, the Blue Ridge Parkway isn't actually part of Shenandoah National Park, but it does connect directly to Skyline Drive at it's northern end.
This Parkway covers a broad range of wild animal habitats along the Appalachian Mountains, and some of these habitats are extremely rare.
When visiting the Blue Ridge Parkway, you may encounter a quite diverse climate, vegetation, wildlife, and geological features.
You will also find some of the oldest mountains in the world along the parkway.
Read more about the best national parks in the South.
Congaree National Park
You'll find Congaree National Park in Hopkins, South Carolina (near Columbia). It's the only National Park in South Carolina, and sadly also one of the least visited.
Congaree is also a UNESCO biosphere reserve and and popular activities here include hiking, canoeing, kayaking, and bird watching.
You can visit Congaree as a day trip from Savannah, Georgia.
The Park preserves the largest intact expanse of old growth bottomland hardwood forest remaining in the southeastern United States, according to the National Park Service.
Be warned. Congaree is swampy and famous (infamous?) for its mosquitoes. Protect yourself accordingly.
You can check with the Park before your trip to find out what the mosquito levels are before you make the trip.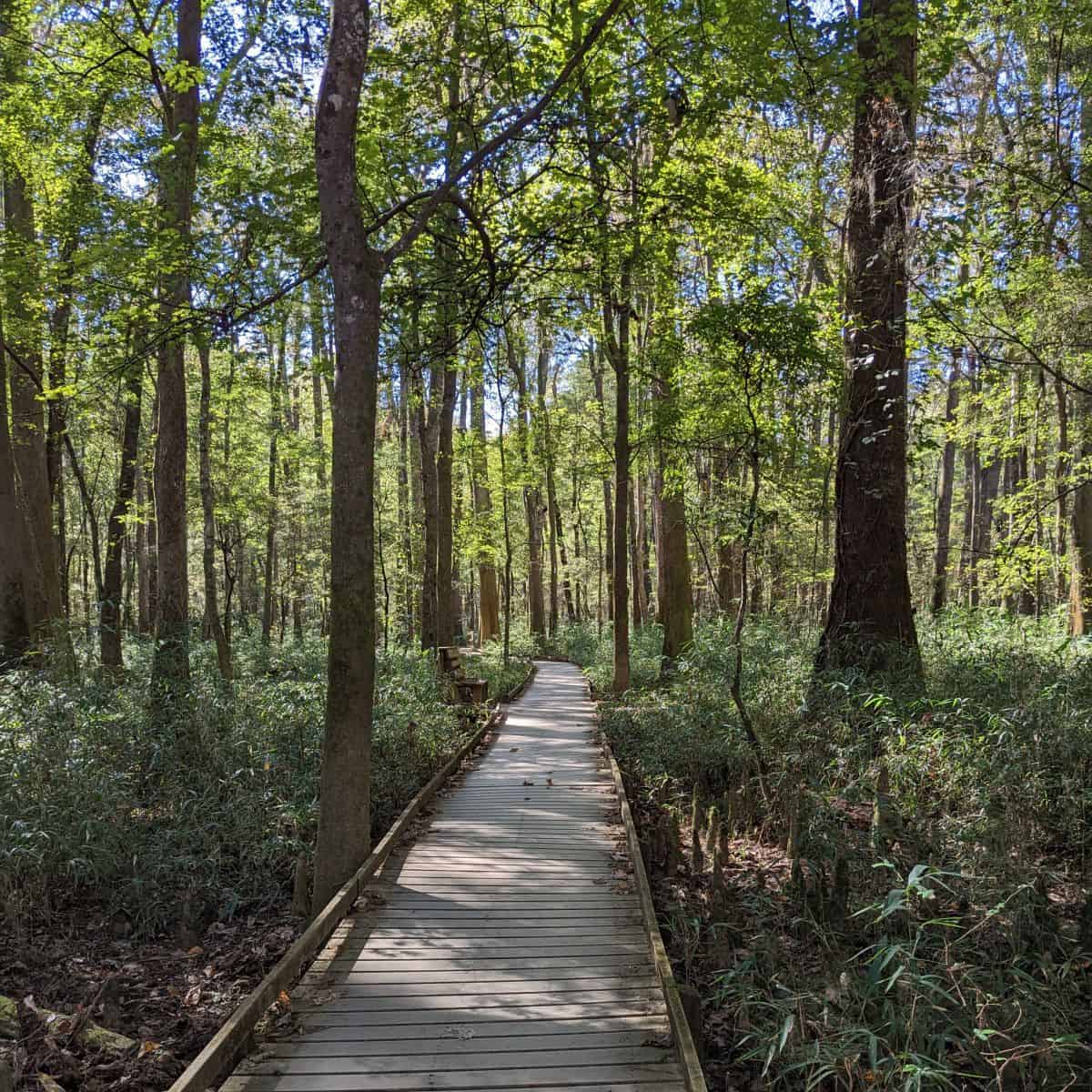 You may have seen photos of the Congaree "Mosquito Meter." This is not actually a thing.
Well, I mean it exists, but the Park doesn't actually use it as a daily indicator of mosquito levels. It's completely unscientific, and they've even described it as a prop for photos.
The important takeaway here is that you should be aware of the mosquitoes before you visit.
The most popular walk or hike in Congaree is probably the Boardwalk Loop Trail.
The boardwalk path makes the 2.6-mile loop trail through the park's old-growth forests accessible for wheelchairs and strollers. Other easy hikes include Bluff Trail, Sims Trail, Bates Ferry Trail, and Longleaf Trail.
Dry Tortugas National Park
Located 70 miles off the coast of Key West, Florida, the remote Dry Tortugas National Park is mostly water.
An astonishing <1% of this national park is dry land. It's accessible only by boat or seaplane.
Things to Do at Dry Tortugas National Park
Explore Fort Jefferson
The 19th Century For Jefferson is one of the largest in the U.S. and you'll find it on Garden Key.
It's also where the park's headquarters and visitor's center are located. According to the National Park Service, Fort Jefferson once defended "one of the most strategic deepwater anchorages in North America."
You can book your ferry to Dry Tortugas here.
Be advised that ferries to Dry Tortugas can book up well in advance, so make sure to plan for your visit ahead of your trip to the Florida Keys.
Snorkeling
You can explore the third largest coral reef system in the world during your visit to Dry Tortugas National Park.
As you explore the reefs, be mindful of the NPS guidelines and remember not to touch the coral and other protected wildlife.
Camping
Camping at Dry Tortugas is available, although campers will need to bring all their own supplies including fresh water. No public showers are available for campers at Dry Tortugas.
Biscayne National Park
Encompassing 172,971 acres in South Florida, Biscayne National Park is predominantly a water-based park, covering 95% of its area. This makes it an ideal destination for exploring by boat. This wonderful park safeguards one of the largest reef systems worldwide.
There is no shortage of exciting activities to enjoy at Biscayne National Park, such as taking a stroll along the Convoy Point Jetty Walk trail, admiring the stunning lighthouse at Boca Chita Key, or exploring Adams Key and beyond.
For water lovers, kayaking or paddle boarding in Jones Lagoon is a must-do experience. Additionally, the park offers ample opportunities to go fishing, snorkeling, and diving, and observe the captivating marine life.
Everglades National Park
Spanning over 2,357 miles, Everglades National Park in Florida is a paradise for adventure enthusiasts who enjoy kayaking, biking, fresh and saltwater fishing, hiking, canoeing, and camping amidst wilderness.
For those who seek to camp in this national park, there are various options, including front country camping and wilderness camping.
Long Pine Key and Flamingo campgrounds are equipped with all necessary amenities like bath houses, tent and trailer sites, drinking water, and more.
If camping is not your cup of tea, you can engage in other activities such as alligator and crocodile spotting, boat rides, and saltwater fishing.
The Everglades National Park also boasts a rich variety of wildlife that includes birds, manatees, snakes, turtles, and other exotic species.
New River Gorge National Park
Although it's the newest to be officially designated a National Park, New River Gorge has been a part of the National Park Service for many years.
Located in West Virginia, New River Gorge is a breathtaking destination renowned for its stunning natural beauty, rich cultural heritage, and a myriad of outdoor activities.
The park is home to the New River (of course!), which has carved a beautiful canyon that provides a picturesque backdrop for hiking, biking, rock climbing, and whitewater rafting adventures.
Visitors can also explore the park's numerous trails, including the Endless Wall Trail, with panoramic views of the gorge, or immerse themselves in the local history and culture at the Sandstone Visitor Center and Thurmond Historic District.
Final thoughts on the best east coast national parks
Although the U.S. National Parks on the east coast are not as plentiful as out west, the eastern national parks should most definitely not be overlooked.
The east coast National Parks include many different kinds of natural and cultural resources.
The east coast also contains numerous historical sites and also features some of the best hiking trails in America.
Some of the oldest and most gorgeous forests in America can be found along the east coast, providing a habitat for many species.
There's so much to see with these beautiful places along our ocean coasts.
We hope this article helped inspire your next vacation destination or family outing. Be sure to visit one of these top national parks if you're ever near any part of the east coast.
Need help planning your national parks trip? Check out our list of the essential travel planning resources. 
More articles about great destinations on the East Coast of the United States
Pin this post!
The Best National Parks on the East Coast (You Can't Miss)