Hiking Congaree National Park Made Easy
Try these easy hikes in Congaree National Park
If you're looking for an easy and fun day of exploring, hiking Congaree National Park in Columbia, South Carolina, is the perfect place.
The park has several short hiking trails that are perfect for visitors who want to enjoy the unique beauty of the forest without needing too much hiking experience. Added to that, the area is rather flat, so there's not a lot of change in elevation on those hikes.
In this post, I will discuss some of the best easy hikes in Congaree National Park. I'll also provide tips on how best to enjoy the park, what to bring with you on your hike, where to stay in the area, and more.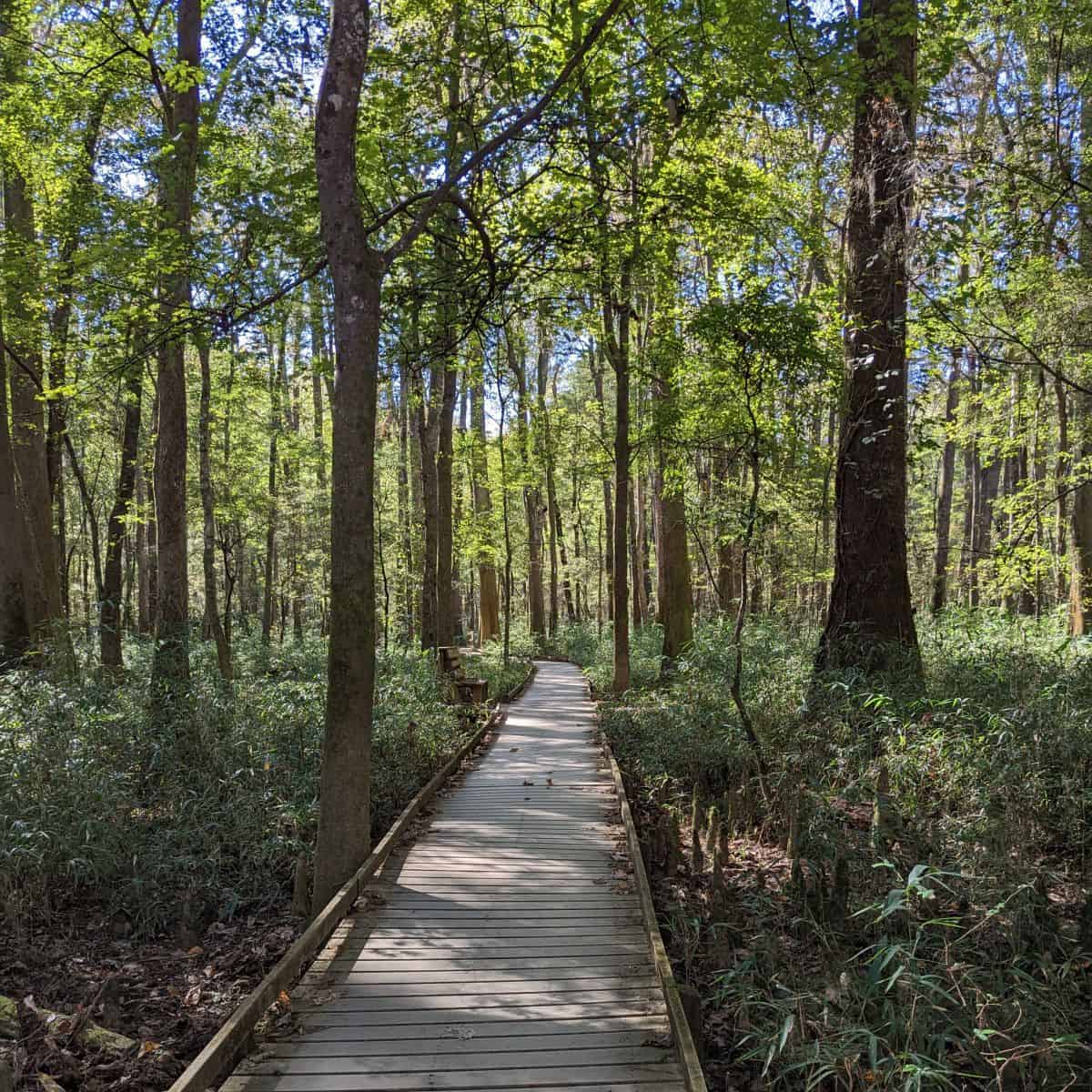 This post includes affiliate links. If you make a purchase through one of these links, I may earn a small commission at no additional cost to you. As an Amazon Associate I earn from qualifying purchases. See disclaimer.
About Congaree National Park
Congaree National Park is located in South Carolina and is made up of forested floodplain. The park is home to a variety of wildlife, including river otters, several species of frogs, their famous synchronous fireflies, and more.
The park preserves more than 26,000 acres and is named for the Congaree people who once lived in this area.
According to the National Park Service, the Park preserves "the largest intact expanse of old-growth bottomland hardwood forest remaining in the southeastern United States. Waters from the Congaree and Wateree Rivers sweep through the floodplain, carrying nutrients and sediments that nourish and rejuvenate this ecosystem and support the growth of national and state champion trees."
In the early 1900s, the land that would eventually become Congaree National Park was owned by a lumber company.
The company cut much of the millions of acres of forest that once covered this part of the country, leaving only a few large trees standing. In 1976, the land was sold to the federal government, and Congaree Swamp National Monument was born.
Congaree became a full National Park in 2003.
There is no entrance fee at Congaree National Park and it is open 24 hours a day, 7 days a week all year round.
Where is Congaree National Park?
Congaree National Park is located in central South Carolina on the Congaree River. It's about 25 miles southeast of the state capital of Columbia.
The Park is also about a 30-minute drive from the Columbia Metropolitan Airport.
Below are listed several major airports in the region along with their distance from Congaree National Park:
Hartsfield-Jackson Atlanta International Airport: 235 miles
Greenville-Spartanburg International Airport: 125 miles
Charlotte Douglas International Airport: 115 miles
Charleston International Airport: 100 miles
Best time to visit Congaree National Park
Congaree National Park is a beautiful place to visit year-round, but there are some times of the year that are better than others.
I would suggest that the best times to visit Congaree National Park are during the spring or fall. These times of year offer mild temperatures and fewer mosquitoes.
The fall colors in Congaree National Park tend to peek in late October or early November.
The bulk of Congaree National Park lies in a flood plain, and the park can flood with little to no warning.
Make sure you check the Park's official website for the park's current conditions and water levels before you make your trip so you're not disappointed.
How long do you need to visit Congaree National Park?
I recommend spending at least half a day at the park. This will give you enough time to hike one or two trails, depending on their length.
If you want to explore the park more thoroughly, I would suggest spending a full day hiking and picnicking (there are picnic tables near the Visitor Center). A full day would also give you the option to explore some of the Park by canoe or kayak.
If you're a camper (I'm not), you could stay for a night or two in one of the campgrounds in the park. Both require reservations ahead of time.
In addition, backcountry camping is allowed in the park with a permit. Those of us who stick to the easy trails really only get to see a small piece of the entire Park.
And never forget the gift shop. Always make time for the gift shop.
What to wear hiking Congaree National Park
When hiking it's important to wear the appropriate shoes and clothing. The right clothing can make a big difference in your comfort level and how much you enjoy the experience.
In general, you'll want to dress in layers so that you can adjust to the temperature changes as you hike.
You'll also want to have the appropriate outerwear for the weather conditions and bring plenty of water and snacks.
My hiking favorites
Hiking shoes—I prefer to wear waterproof hiking shoes over hiking boots. Trail running shoes would also probably be a good option here if that's your preference.
I love my waterproof Keen hiking shoes. You can check the price on Amazon here.
Waterproof shell—The weather can change rapidly, so it's important to make sure you carry with you some protection from the elements…even if the forecast is for a lovely and dry day.
I love my Columbia Arcadia II jacket. You can check out the price on Amazon here.
Trail pants—I love my Columbia Saturday Trail Pants. They're really lightweight and comfortable. You can check them out Amazon here.
What to bring on your Congaree National Park hike
No matter what time of year you hike Congaree National Park, it's important to come prepared.
The National Park Service recommends 10 basic essentials for hiking. These items are:
A map (and other navigation aid like a compass)—you can get a map of the Congaree trails at the Visitor Center.
Food
At least 1 liter of water (2 is recommended)
First-aid kit
Multi-tool
Headlamp or flashlight
Sun protection
Rain gear/other weather insulation
Matches or lighter
Emergency shelter
These are the minimum basics, the NPS recommends. Depending on how long you'll be out and where you might consider taking other items as well.
A good insect repellant is also recommended for Congaree in particular, as the mosquitoes from mid-Spring to mid-Fall can be an issue. This is basically a swamp after all.
It is also recommended that you inform someone else of your hiking plans…just in case. Tell them where you're planning to hike and for approximately how long.
Hotels near Congaree National Park
Camping is the only way to sleep in Congaree National Park. There are two campgrounds: the Longleaf campground near the park entrance and the Bluff campground. Backcountry camping is permitted.
All camping in Congaree National Park requires a permit or reservation.
There are no hotel or inn accommodations available at Congaree National Park, nor are there really any good hotel options all that nearby.
If you plan to make an overnight or weekend trip out of your visit to Congaree National Park, I recommend that you plan to stay in the Columbia area.
We stayed at the Residence Inn Columbia Northeast/Fort Jackson Area. The rooms are quite nice and the staff was helpful. We love how much room you get for the money at Residence Inn hotels along with the free breakfast.
If you are looking for a place to stay on your trip to Congaree National Park, you might also want to check out these other recommended hotels.
Courtyard by Marriott Columbia Cayce—We love Marriott hotels, and I've never had a bad stay at a Courtyard. This Courtyard is only a few miles from the airport and about a 20-minute drive from Congaree.
TownePlace Suites Columbia Southeast/Fort Jackson—This hotel is a little farther from the local airport, but it's also only about a 20-minute drive from the Park and includes a free breakfast.
Easy hikes in Congaree National Park
There are several easy hikes in Congaree National Park that are perfect for visitors of all ages and abilities. They are:
Boardwalk Loop Trail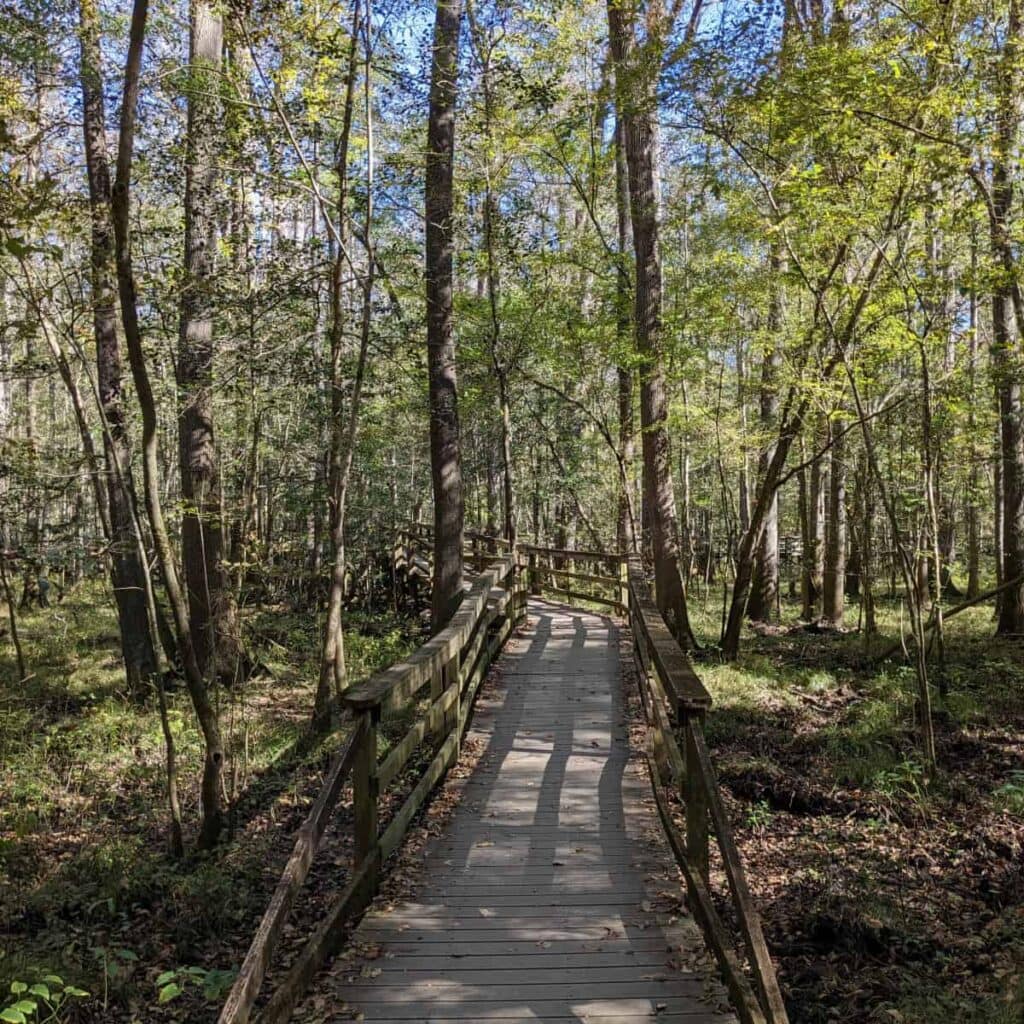 By far the one of the most popular trails in Congaree National Park, this elevated boardwalk trail is a 2.6-mile loop through the Park's old-growth forest.
The trail starts right outside the Harry Hampton Visitor Center. You can't miss it.
This is an accessible trail and it includes benches along the way that are perfect for taking a break to enjoy the scenery.
At about the halfway point you can enjoy a nice rest at the view overlooking Weston Lake, one of the oxbow lakes in Congaree.
You can pick up a guide for the Boardwalk Trail at the Visitor Center that will guide you through the marked points of interest along the trail.
You'll be able to identify bald cypress, tupelo, and loblolly pines trees by the time you're done.
And you'll be grateful for the people who worked so hard to make sure this forest was protected.
Bluff Trail
This easy hike is a 1.8-mile loop north of the Harry Hampton Visitor Center. You'll enjoy a stroll through loblolly pines and longleaf pines.
Sims Trail
The Sims Trail is a 3.2-mile trail that crosses the boardwalk loop trail in two places and goes from the Bluff Trail to Cedar Creek.
We followed a 1.1-mile section of Sims away from the Boardwalk Loop toward Wise Lake, another oxbow lake, and then back to the Boardwalk.
This trail follows an old dirt road that conservationist Harry Hampton used to take through this area. It made for a lovely and quiet jaunt away from the more popular boardwalk loop.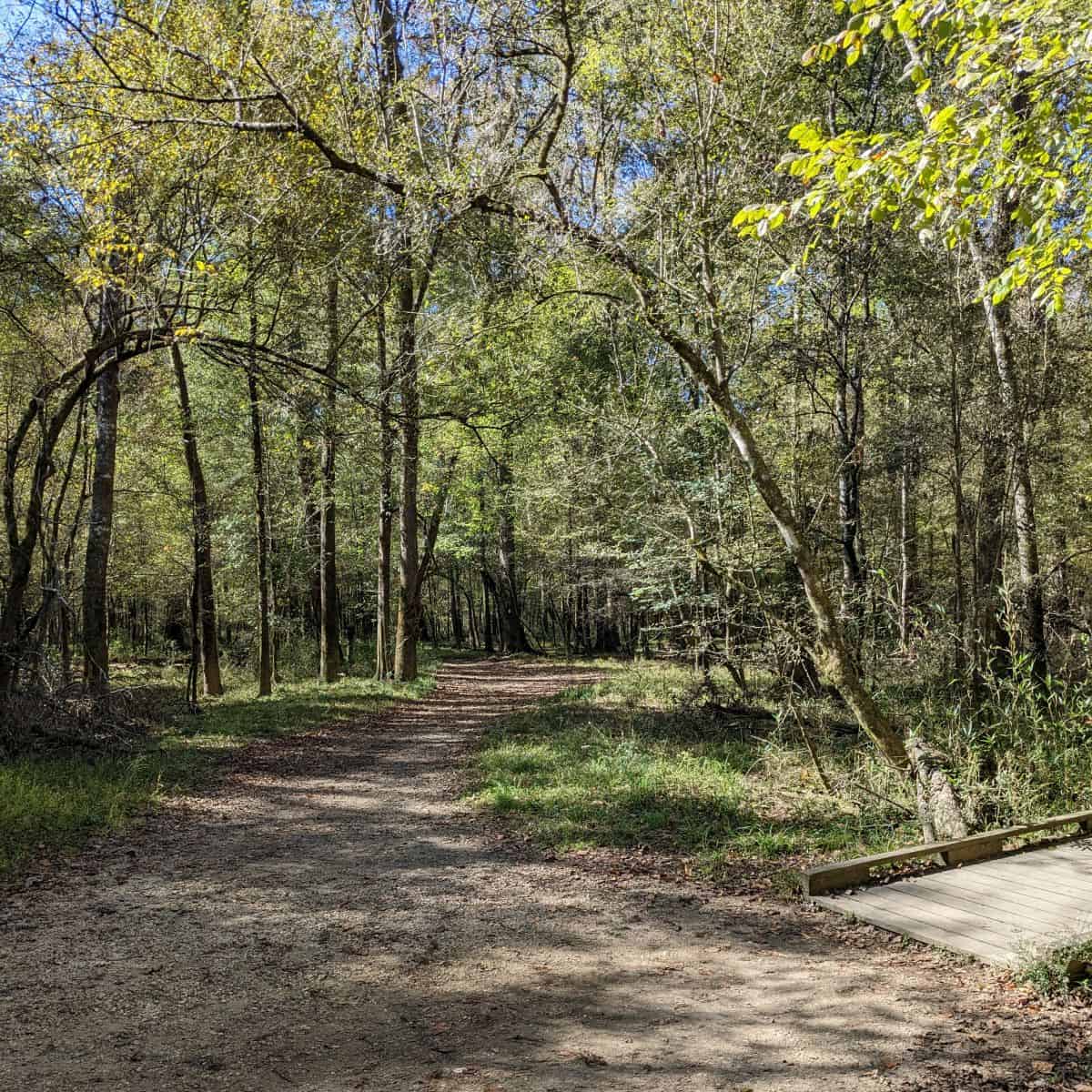 Bates Ferry Trail
This 2.2-mile out-and-back trail in the far Eastern area of the Park will take you to the Congaree River. This trail is a great option for hikers who want a shorter hike to the river than the River Trail offers.
Longleaf Trail
This 1.3-mile trail connects the Visitor Center, boardwalk loop, and other trails to the Longleaf campground.
Firefly Trail
This hike is 1.8 miles and is especially scenic in the late spring when the synchronous fireflies are out.
Other hikes in Congaree National Park
There are also several moderate to difficult hikes in Congaree. They are:
Moderate hikes
Weston Lake Trail, 4.5 miles
Fork Swamp Trail, o.6 miles
Difficult hikes
Oakridge Trail, 7.1 miles
River Trail, 11.1 miles
Kingsnake Trail, 12 miles
Moderate and difficult hikes in Congaree may be challenging to follow in places, especially on the difficult trails. Storms can bring trees down, flooding can damage bridges, etc.
Inexperienced hikers should use discernment before attempting these trails. Hikers here are expected to rely on their skills to navigate the trails successfully.
Be aware that emergency services could take several hours to reach you in the event of a mishap.
Final thoughts on visiting Congaree National Park
If you're looking for a lesser-visited national park with some unique features and scenery, Congaree National Park is the place for you.
With its rich history and landscape, there's something for everyone to enjoy at this unique park. And with its easy hiking trails, it's a great place to take the family for a nature outing.
So what are you waiting for? Get out there and explore all that Congaree National Park has to offer.
Have you been to Congaree National Park before? What was your favorite part? Let us know in the comments below.
More articles related to your Congaree National park trip
Pin this post!
Hiking Congaree National Park Made Easy