Best Day Trips in Virginia: Ultimate Guide
These Virginia day trips are the best in the state
Is there anything better than getting out of town for a day (or two)? Virginia is a great place to explore, with plenty of amazing day trip destinations. This post will introduce you to the best day trips in Virginia.
Whether you're looking for stunning natural scenery, charming small towns, or wonderful historical sites, you'll find something to love in Virginia.
There are plenty of outdoor activities to enjoy, like scenic drives and hiking. Or if you're a history buff and looking for something more low-key, you can explore one of the many historic towns and villages.
Plan your perfect Virginia trip with this FREE printable travel planner.
This post includes affiliate links. If you make a purchase through one of these links, I may earn a small commission at no additional cost to you. As an Amazon Associate I earn from qualifying purchases. See disclaimer.
Historical day trips in Virginia
Colonial Williamsburg
If you're the least bit interested in early American history, then a trip to Colonial Williamsburg is an absolute must. It's also the world's biggest living history museum.
While I recommend spending at least a few days in the area, you can still do a lot even if you only have one day in Colonial Williamsburg.
Williamsburg was the capital of the Virginia Colony from 1699 to 1780 (when the state capital was moved to Richmond).
W.A.R Goodwin, the rector of Bruton Parish Church, approached John D. Rockefeller Jr. in the early 20th century with an idea to restore and preserve the historic center of Williamsburg, Virginia (even going as far as to propose reconstruction).
Today, Colonial Williamsburg includes 85% of the area of the capital as it was in the 18th Century, including Bruton Parish Church.
Jamestown
If you're planning a trip to Virginia's Historic Triangle area, make sure to include Jamestown Settlement and Historic Jamestowne on your itinerary.
Jamestown, founded in 1607, was the site of the first permanent English settlement in the New World.
Jamestown Settlement is a living history museum that uses video, excellent exhibits, and living history to educate guests about the founding of Jamestown and what life was like there.
Just a stone's throw from Jamestown Settlement is Historic Jamestowne, the actual home of the first permanent English colony in America on the James River.
Yorktown
When visiting Virginia, you really should consider adding a day trip visiting Yorktown to your itinerary.
Historic Yorktown was the site of the last major battle of the American Revolution.
It was also where General Lord Cornwallis' forces surrendered to George Washington (Cornwallis couldn't actually manage to drag himself to Surrender Field that day).
And as it goes in the musical Hamilton, the world turned upside down.
If you're planning a trip to Yorktown, I suggest starting your day at the American Revolution Museum. This will give you some valuable context before heading out to explore the battlefield.
You could easily spend nearly one full day at Yorktown Battlefield alone.
Mount Vernon
Mount Vernon is a great place to visit if you're looking for a fun day trip from Washington, DC..
Mount Vernon, in Northern Virginia, was the home and property of George Washington, the first president of the United States.
The Mount Vernon Estate includes Washington's Mansion, which is a National Historic Landmark, as well as several outbuildings, gardens, and walks.
The estate is located on the Potomac River (great view!), and you can tour George Washington's house and see many other parts of the property including his final resting place.
When we were there we even saw the bedroom where he died. It was kind of amazing and creepy all at the same time.
Don't miss the educational displays. They're a great way to learn more about Washington and get some historical context for the challenging time in which he lived.
We also had a lovely lunch at the Mount Vernon Inn Restaurant. I recommend that you make a reservation ahead of time if you can.
And they have a couple of great gift shops at Mount Vernon to help you find your perfect souvenir.
Check out my best tips for visiting Mount Vernon.
See the very best of Mount Vernon with this private guided tour of George Washington's estate. Choose from half day or full-day options, and see Old Alexandria as well.
Monticello
Monticello is one of the most iconic homes in America, and it makes a great Virginia day trip.
It was the home of Thomas Jefferson, who was the 3rd president of the United States. The home is located in Charlottesville, Virginia, and it's open for visitors to tour.
Choose your ticket option carefully. They don't all allow you to see the whole house.
Monticello was built between 1768 and 1782. Designed by Jefferson himself, it is a beautiful example of Neoclassical architecture. Monticello was designated a National Historic Landmark in 1960 and is a popular tourist destination.
When visiting Monticello start in the Visitor Center to see the amazing displays of the design phases Monticello went through. You'll also learn more about Jefferson's family and how life was ordered at his estate.
Grab a yummy lunch at Monticello Farm Table. Their soups and sandwiches are scrumptious.
Then you can make your way up the mountain (by shuttle or enjoy the walk) to explore the grounds and the mansion. I strongly recommend that you buy your tickets in advance so you can get the tour and reservation time you want for the house.
Montpelier
Montpelier was the estate of James Madison, the 4th president of the United States, and his wife Dolley. The 2,650-acre property is located in Orange County, Virginia.
Montpelier was originally part of a 5,000-acre tract of land patented to Madison's grandfather. James Madison inherited the property in 1783 and began building the main house four years later.
Montpelier remained in the Madison family until 1923 when it was purchased by Marion DuPont Scott. Mrs. Scott undertook a major restoration of the property, returning it to its appearance during the Madison presidency.
While visiting Montpelier, you'll learn more about the house and James Madison on the tour. Sadly, the financial circumstances of the Madison family meant that most of the items in the house today were purchased for the restoration as many of their personal belongings were sold off to pay debts.
This is in contrast to Monticello (above) which is still full of Thomas Jefferson's personal property.
In 1984, Montpelier was designated a National Historic Landmark. It is now owned and operated by the Montpelier Foundation, which offers tours of the house and grounds and hosts educational programs about early American history.
The tour we got of the house was simply outstanding. There were also two short films in the visitor center that were worth watching to get more information about James Madison and the important role he played in America's founding.
City and town Virginia day trips
Alexandria
If you're looking for a day trip that's close to Washington, D.C., Alexandria is the perfect place to go.
It was voted one of Travel + Leisure's 15 Best Cities in the United States (#8) and one of The South's Best Cities on the Rise 2022 (#6) by Southern Living.
For a bit of outdoor time, walk or bike along the scenic Mount Vernon Trail. If you're feeling energetic, you can even kayak or canoe down the Potomac River.
You can also take a stroll through the quaint streets of Old Town Alexandria or enjoy a scenic lunch cruise on the Potomac River. Old Alexandria is a charming area with plenty of historic buildings, shops and restaurants to explore.
There are also many historic and cultural sites to visit, including the Alexandria Black History Museum, Carlyle House, and Gadsby's Tavern Museum.
Arlington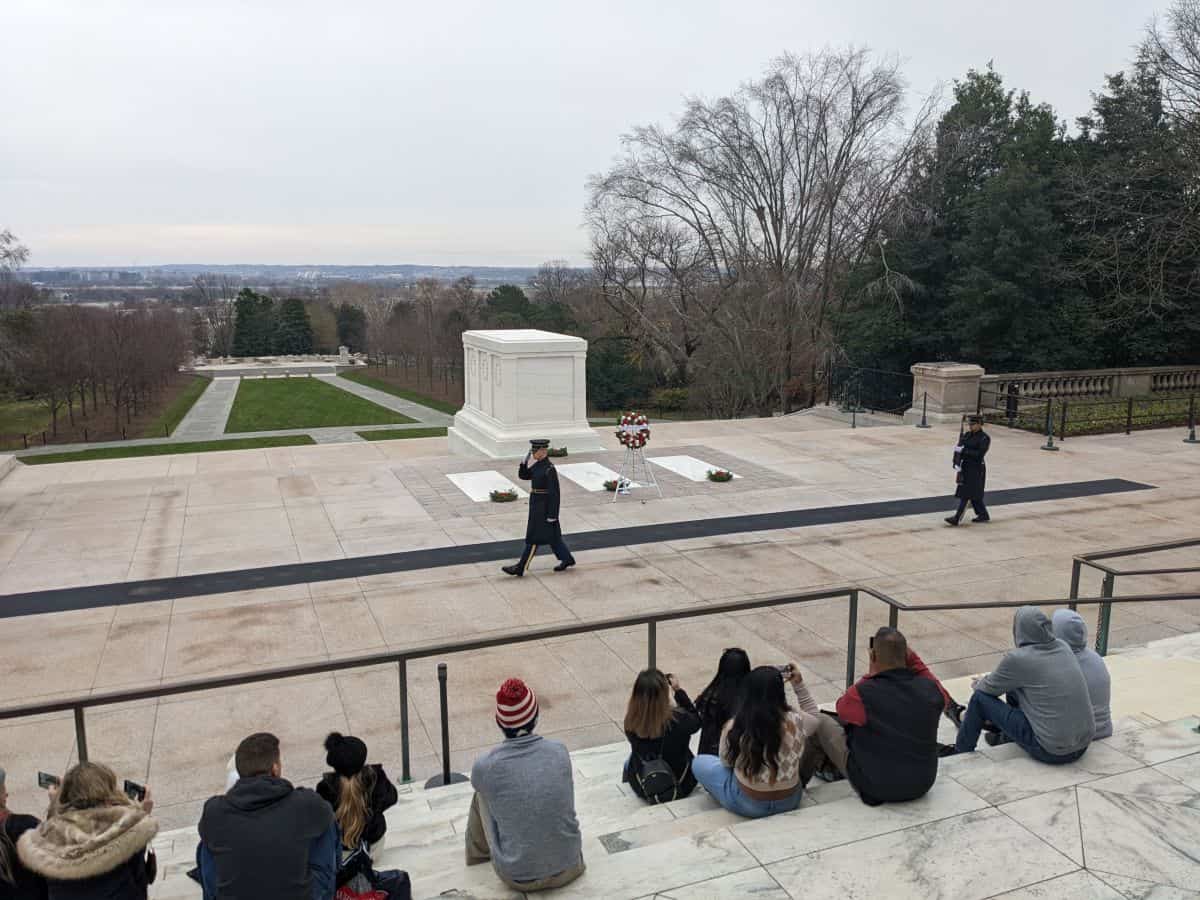 Just a short drive from Washington, D.C., Arlington, Virginia, is a good destination for a day trip. It is best known as the home of Arlington National Cemetery.
Arlington National Cemetery is the final resting place for many of America's fallen heroes, including those who have served in the armed forces.
There are more than 400,000 people buried at Arlington National Cemetery, and it is one of the most visited tourist attractions in the Washington, D.C. area.
Arlington National Cemetery is also the site of the Tomb of the Unknown Soldier, which is guarded 24 hours a day by members of the U.S. Army Honor Guard. Take the time from your day to watch the changing of the guard if you can. It's well worth it.
In addition to Arlington National Cemetery, there are several other sights to see in Arlington. The United States Air Force Memorial and the US Marine Corps War Memorial (commonly known as the Iwo Jima Memorial), and the 9/11 Pentagon Memorial are all located in Arlington.
Explore Arlington National Cemetery with a guided tour PLUS some of the top Washington, DC, sites with this five-hour tour.
You'll spend about an hour and a half at Arlington and the rest of the time stopping at important DC monuments and ending at the Lincoln Memorial.
Charlottesville
If you're looking for a day trip that's a little bit out of the ordinary, consider Charlottesville, Virginia.
This picturesque town is home to the University of Virginia, as well as a lively Downtown Mall. You can start your day by browsing the shops and grabbing a bite to eat at one of the many restaurants.
We loved our meal at Citizen Burger bar in the Downtown Mall. They have some great options, including options for those with dietary restrictions.
Then take a stroll around the campus of the University of Virginia and check out the historical marker outside the Edgar Allen Poe Room, restored to the period from when he was a student there.
Charlottesville is just a short drive from Thomas Jefferson's Monticello and James Monroe's Highlands estate.
Other things to do in Charlottesville include the Fralin Museum of Art and the Virginia Discovery Museum.
Virginia Beach
Virginia Beach is one of the most popular Virginia day trip destinations for locals and tourists alike.
Just a few hours from Washington, D.C., Virginia Beach offers everything from sandy beaches and boating to great restaurants and shopping.
If you're looking for a day of relaxation, head to the beach. You can soak up the sun, go for a swim or take a stroll down the boardwalk.
For those who want a little more excitement, there are plenty of options. You can go parasailing or take a surfing lesson. Other options include exploring the Virginia Aquarium and Marine Science Center, checking out the Cape Henry Lighthouse, and more.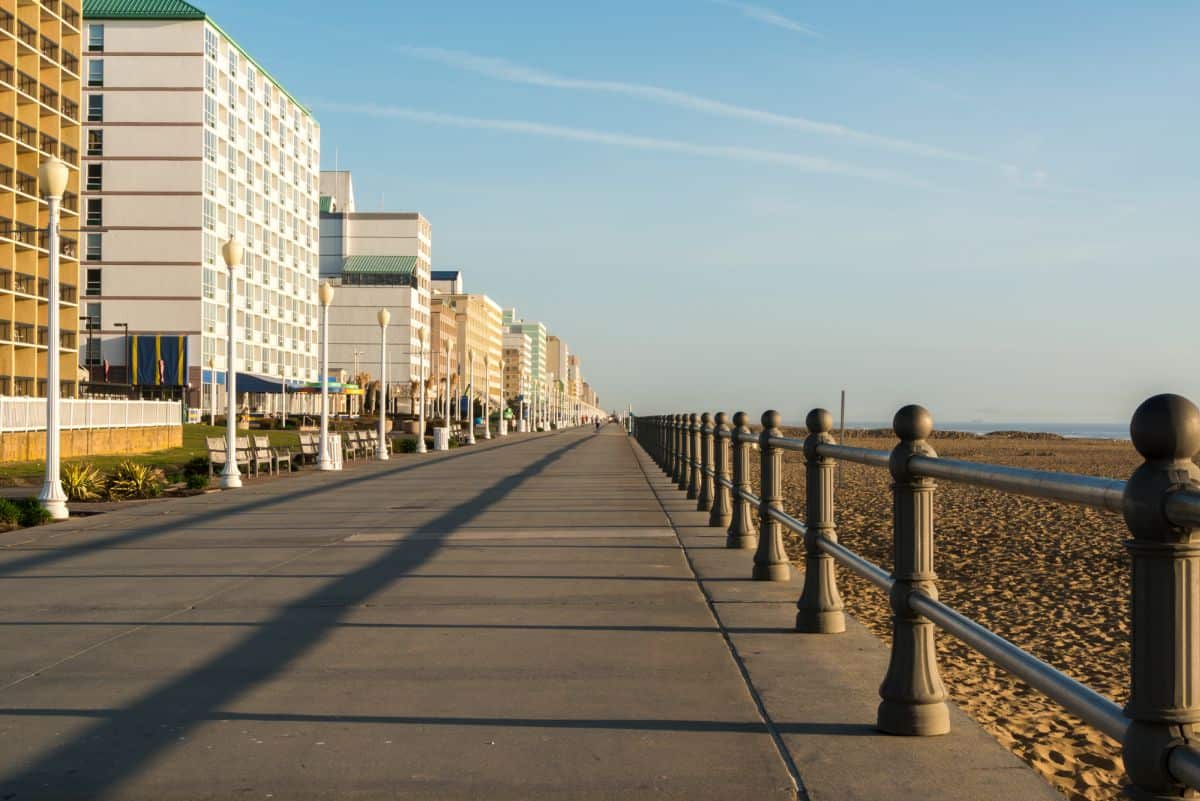 Middleburg
If you're looking for a charming Virginia day trip destination, look no further than Middleburg. This historic town is set in the heart of Virginia's horse country, and it's full of cute shops and restaurants.
Start your day by exploring Washington Street, which is lined with boutique shops selling everything from gifts and home decor to clothes.
Be sure to pop into one of the town's many shops and pick up a souvenir from a local artisan. You can also check out the National Sporting Library and Museum to learn more about the equestrian sports this area is famous for.
Or, if you're feeling active, rent a bike and explore the scenic countryside. No matter how you spend your day, you're sure to fall in love with Middleburg's old-fashioned charm.
Day trips in Virginia with beautiful scenery
Shenandoah National Park
One of the most scenic of the U.S. National Parks is located within the Blue Ridge Mountains of Virginia. Shenandoah National Park features beautiful tree-lined hills, enchanting wooded hollows, breathtaking waterfalls, and a variety of wildlife.
Shenandoah National Park was founded in 1935. The park was completed around WWII, and by 1976, half of the park was proclaimed protected wilderness.
The 105-mile Skyline Drive winds itself around the center of Shenandoah National Park and connects to the Blue Ridge Parkway (see below).
The road is often closed during the winter months due to heavy snowfall at higher elevations. The road is also one of the most frequently traveled in the National Park System, so be sure to plan accordingly.
Blueridge Parkway
The Blue Ridge Parkway is a scenic drive that stretches 469 miles from Virginia to North Carolina. This national park unit is perfect for visitors that love stunning mountain views, hiking, camping, picnicking, and more.
There are many overlooks along the parkway where you can stop and take in the incredible views. Some of these overlooks include The Great Valley Overlook, Grandfather Mountain Overlook, and Elk Mountain Overlook.
If you want to stop and hike, you will love its many beautiful trails. Some of the trails you will not want to miss include the Linville Falls West Rim Trail, the Trail of Trees Trail, and the Apple Orchard Falls Trail.
The Blue Ridge Parkway is also home to many beautiful waterfalls, including Overall Run Falls, Whiteoak Canyon Falls, Cedar Run Falls, and more.
There is so much to see and do on the Blue Ridge Parkway. You could easily spend several days exploring its full length, but choosing one scenic section makes for a great day trip.
The speed limit along the parkway is 45 miles per hour or less, so plan to take your time as you explore.
Virginia day trips for families
Luray Caverns
Luray Caverns is a great day trip destination for families in Virginia. The caverns are the largest in the eastern United States and feature cathedral-sized rooms with ceilings 10-stories high and towering stone formations.
In addition to the caverns, the Car & Carriage Caravan Museum, Shenandoah Heritage Village, and Toy Town Junction are all included in the admission price, making it a great value for families.
The caverns are open year-round, making them a great option for when the weather is bad or when you just want to get out of the city for a day.
Busch Gardens
Busch Gardens is a popular theme park located in Williamsburg, Virginia. It is a great place to take a day trip with your family, as it offers plenty of fun for everyone.
There are numerous roller coasters and other thrill rides, as well as a variety of family-friendly attractions.
Learn more about Busch Gardens here.
Final thoughts on Virginia day trips
If you're looking for a fun-filled day trip, Virginia has no shortage of activities to keep you busy.
From historical towns, historic sites and presidential homes to natural wonders and diverse landscapes, there's something for everyone in the Old Dominion State.
What are you waiting for? Get out there and explore!
Have you been on any great day trips in Virginia lately? Let us know in the comments below – I love hearing about new adventures.
More articles about Virginia
Pin this post!
The Very Best Day Trips in Virginia