What to do with One Day in Colonial Williamsburg
Colonial Williamsburg is a must-see for anyone who's interested at all in early American history (history buffs unite!). Colonial Williamsburg is the world's largest living history museum, and it makes a great place for getaways for both families and couples.
While I recommend spending at least a few days in the area, you can still do a lot even if you only have one day in Colonial Williamsburg.
This post includes affiliate links. If you make a purchase through one of these links, I may earn a small commission at no additional cost to you. As an Amazon Associate, I earn from qualifying purchases. See disclaimer.
Williamsburg was the capital of the Virginia Colony from 1699 to 1780 (when the capital was moved to Richmond).
In the early 20th Century, W.A.R. Goodwin, rector of Bruton Parish Church, pitched to John D. Rockefeller Jr. the idea of restoring and preserving (and even reconstructing) the historic center of Williamsburg, Virginia.
Today, Colonial Williamsburg includes 85% of the area of the capital as it was in the 18th Century, including Bruton Parish Church.
Can you really do Colonial Williamsburg in a day?
While I'd recommend at least two full days to get the most out of your visit to Colonial Williamsburg, you can certainly experience quite a bit in one full day.
If you do have more time to spend there, check out my article all about the perfect Colonial Williamsburg weekend.
A day in Williamsburg will give you enough time to hit the highlights and try a couple of the great places to eat in Williamsburg.
Itinerary for one day in Williamsburg
Start your day with a guided tour of the capitol building
Colonial Williamsburg's impressive capitol is a replica building. All of the previous capitols burned down for one reason or another, but they were able to save some of the furnishings and artwork.
Entry to the Capitol is by guided tour, but don't despair—it's only about 20 minutes long.
Not all of the buildings in Colonial Williamsburg are replicas. There are some original buildings as well.
We actually did the tour twice. The first time we ended up on the last tour of the day, which meant the light in the building was quite limited since the sun was going down.
When we returned the next morning, we were the only ones there and ended up with a nice private tour. Both tour guides were excellent.
R. Charlton's Coffeehouse 
After you exit the capitol, make your way to Charlton's Coffee house for a taste of Williamsburg social life…and a taste of coffee, tea, or sipping chocolate.
Our guided experience at Charlton's coffeehouse included a chat with Colonel George Washington in the main room. While it was interesting, I do have to admit that since hubby and I were the only ones there it was a little awkward.
We weren't sure if we were supposed to engage in conversation with him or just let him talk. And what do you say to George Washington anyway??
PRO TIP: If you have flexible travel dates you need to check out Going (formerly Scott's Cheap Flights). You get amazing flight deals sent straight to your inbox with instructions on how to book directly with the airlines. Check out Going here. Going is my favorite way to find great travel deals.
Explore trade shops
After you leave Charlton's Coffee House, continue down Duke of Gloucester Street, stopping by the open trade shops along the way. I recommend stopping in as many of these shops as you can fit into your day.
Not all of them are open every day, but shops that are open will have a flag out front and often a staff member to point you in the right direction.
You don't need to take long at each one, but you can learn a lot about 18th Century American daily life (colonial life?) just from asking a few questions.
We highly recommend the armory, the blacksmith, the wig maker, the silversmith, the cabinet shop, the cobbler, the printing press, and the apothecary. 
Also keep in mind that not all of the historic sites and shops are right on Duke of Gloucester Street that runs through the heart of the Historic Area.
Refer to your map to make sure you don't miss anything that's a little off the main path. 
Lunch at a Merchants Square restaurant
Continue down Duke of Gloucester Street past the end of the historic area to Merchants Square. Just beyond the Colonial Williamsburg Historic Area, the shopping and dining area called Merchants Square features more than 40 dining options and retail shops.
We highly recommend dining at the Blue Talon Bistro, if you're looking for a great dinner of "serious comfort food" with a cozy atmosphere.
It has that French restaurant feel, even down to the large glass bottles of water they bring to your table.
We experienced great service here from our server, who did whatever she could to get hubby a gluten-free meal. Though his first choice for dinner could not be made gluten-free, he ordered their braised lamb shank and then dubbed it one of the best meals he'd ever had.
I enjoyed their vegetarian option of baked gratin of penne pasta and veggies. Honestly, it was delicious. 
Blue Talon Bistro is clearly a popular place, so I'd definitely get a reservation the next time we want to eat there. 
Tour the Governor's Palace
After lunch head back to the Historic Area for a look at the Governor's Palace. You absolutely cannot miss this stop on your day in Colonial Williamsburg.
This impressive home was the official residence for the royal governors of the Colony of Virginia as well as the first two elected governors of Virginia, Thomas Jefferson, and Patrick Henry.
The Governor's Palace is a guided site at Colonial Williamsburg, but it may also be open for an hour or so for a self-guided visit.
Visit Peyton Randolph House or George Wythe House
Entry to Peyton Randolph House (which is very near the palace) is also by a short, guided tour.
Our guide did an excellent job of outlining how the lovely Randolph house was different from the average Virginian's home and also what life there may have been like for an enslaved person.
If you've had enough of guided tours, head over to George Wythe House for a self-guided walk through the house.
George Wythe was a law professor, a signer of the Declaration of Independence, and tutored Thomas Jefferson. The historical interpreters on duty are available for any questions you might have.
Grab a snack at Raleigh Tavern Bakery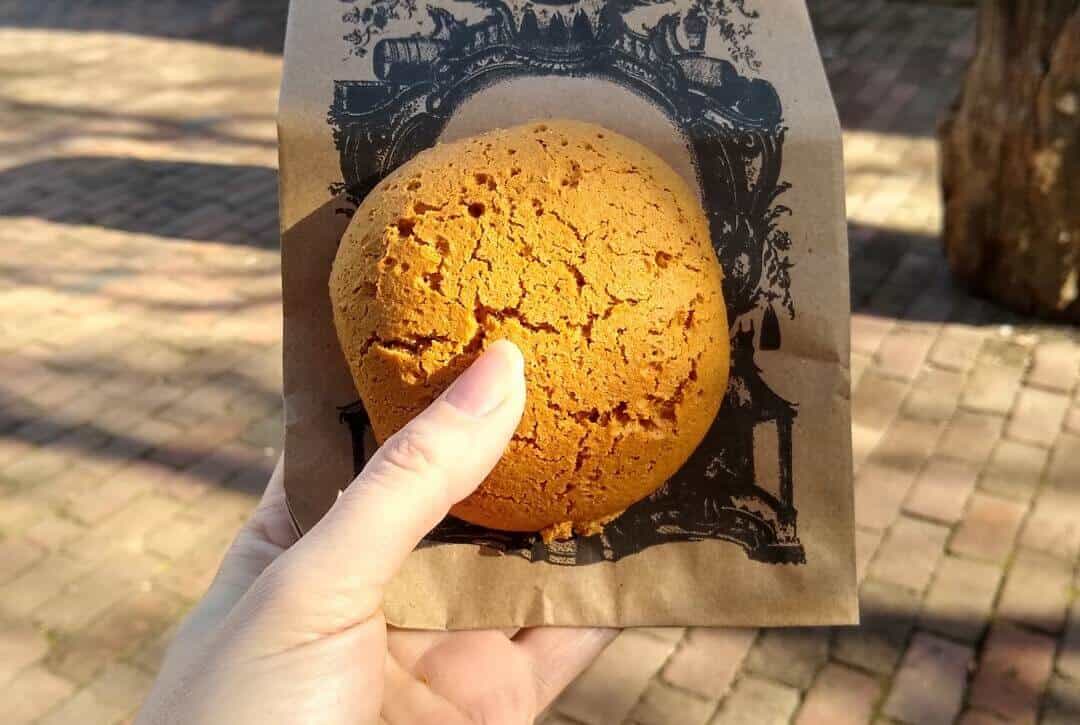 Tucked away off Duke of Gloucester Street (the main street that runs through the heart of the Colonial Williamsburg Historic Area) is the Raleigh Tavern Bakery. It's a great spot to stop in when you need just a little something to get you through to your next meal.
While you can get a variety of the usual kinds of baked goods, snacks, candy, and bottled drinks there, what you really want is one of their freshly baked brick oven ginger cakes. 
Seriously. Don't miss this on your trip to Colonial Williamsburg. I'd probably go so far as to call it a "signature snack."
And if you're there at the right time, you can watch the staff bake the cakes in the brick over right in the back of the bakery and then snag a warm one for yourself.
It's a great snack for walking about while you nibble. 
Watch the Fifes and Drums
Check your schedule for the Fifes and Drums. The Colonial Williamsburg Historic Area comes alive with the sounds of the military field music of the marching Fifes and Drums.
I would not miss this experience for anything.
Enjoy an historical dinner at Christiana Campbell's
While in Colonial Williamsburg, you really should make a point to eat in at least one of the historic taverns, and the crowning glory of the Colonial Williamsburg taverns has to be Christiana Campbell's.
It's billed as being one of George Washington's favorite places to eat, but it's more than just a meal. You get a complete dinner experience.
While we were there, we enjoyed live music, plus "Christiana Campbell's daughter" made the rounds in character to tell the guests all about what tavern keeping was like in the 18th century.
Though they specialize in seafood, they also had a solid vegetarian option on the menu and (when we were there) most of the other options could be made gluten-free for hubby. 
For the experience and the quantity of food you get, Christiana Campbell's was our favorite dinner in Williamsburg.
Evening program
You may be waddling as you leave Christiana Campbell's, but if you have the energy and inclination consider participating in one of the evening programs or special events.
Program options usually include something like a chamber music concert, ghost tour, or an historical interpreter presentation.
Some of these performances sell out so it is best to purchase your tickets in advance.
At the end of a long day, you'll probably want to catch the closest shuttle back to your resort or the Visitor's Center parking. You can refer to your map to find the closest stop.
More things to do on your Colonial Williamsburg day trip
Carriage ride
Dewitt Wallace Decorative Arts Museum
Explore more historic buildings
Featured tours in Williamsburg, Virginia
There are other tours you can do in Colonial Williamsburg.
If you're looking for a ghost tour, you might enjoy this highly rated one.
If you're interested in hearing stories about pirates as well as ghosts, you might like this guided tour.
Interested in doing a day trip to Washington DC? Try this full-day tour of the United States capital including bus transportation from Williamsburg. It comes with free cancellation up to 24 hours before tour departure.
Colonial Williamsburg ticket options
Colonial Williamsburg offers several ticketing options, which you can review on their website. All of the typical Williamsburg sites and shops as well as some events and programs are included in your admission ticket.
There are some programs and events that require the purchase of a separate ticket, but those are clearly indicated on posted and printed schedules.
Where to stay in Colonial Williamsburg 
There are many accommodation options all within an easy distance of the Visitor's Center or historic area, from the official Colonial Williamsburg hotels and resorts (Williamsburg Inn, Williamsburg Lodge, Griffin Hotel, Woodlands) to colonial houses and budget motel chains. 
We enjoy Marriott hotels and got a great rate at the Residence Inn Williamsburg for our trip. It's just a short drive from the Colonial Williamsburg Visitor's Center. The rate comes with free breakfast and suites come with large kitchens.
Other popular and highly rated hotels include:
Williamsburg Inn: This is the premier hotel for stays in Colonial Williamsburg, just steps away from the historic center. It's the only Forbes Travel Guide Five-Star and AAA Five Diamond-rated resort in the Historic Triangle. Book your room today.
Williamsburg Lodge: beautiful hotel in a great location in the historic center of Williamsburg. It's just a short walk to the trade shops. And they offer select dog-friendly rooms. Reserve your room today.
Williamsburg Woodlands Hotel: Comfortable rooms and conveniently located next to the Colonial Williamsburg Visitor's Center. Book today.
Important tips for your day trip to Williamsburg, Virginia
Make sure you visit the official Colonial Williamsburg website to check out the schedule of open sites, trade shops, programs, and activities.
Your first stop at Colonial Williamsburg will be at the large Visitors Center. This is where you will park (for free), buy your tickets (if you haven't already bought them online), and catch the free shuttle to the Historic Area. You can also walk to the Historic Area. It's a pleasant walk of about a third of a mile. The Visitor's Center includes two gift shops (yay!) and restrooms.
Unless you are staying at one of the official Colonial Williamsburg accommodations, plan to allow at least 30 minutes to get from your hotel to the Visitors Center parking and then on to the Historic area on foot or by shuttle. 
The Historic Area of Colonial Williamsburg is approximately one mile long and about half to three-quarters of a mile wide. Make sure you pick up a map from the Visitor's Center; it will help you tremendously in planning out your visit and also show all of the shuttle stops.
Final thoughts on seeing Colonial Williamsburg in a day
Although you could easily fill multiple days with all the fun things to do in Colonial Williamsburg, you can still squeeze quite a bit into just one day. A Williamsburg day trip is well worth it if you don't have more time to devote to this amazing living history museum.
More articles about your day at Colonial Williamsburg
Pin this post!