Colonial Williamsburg Weekend: A Perfect Getaway
Looking for a fun and affordable weekend getaway? Look no further than Colonial Williamsburg. In this article, I'll give you all the tips you need for where to stay, what to eat, and what to do during your Colonial Williamsburg weekend.
Historic Williamsburg is located in Virginia and is full of activities and attractions that will keep you busy all weekend long.
If you're looking for a perfect weekend getaway that will provide you with a unique historical experience, Colonial Williamsburg is an ideal destination.
Whether it's your first time or you're returning for another adventure, we've gathered all the essential information to help make your trip run as smoothly as possible.
This post includes affiliate links. If you make a purchase through one of these links, I may earn a small commission at no additional cost to you. As an Amazon Associate, I earn from qualifying purchases. See disclaimer.
What exactly is Colonial Williamsburg?
Colonial Williamsburg is the world's largest living history museum. The city of Williamsburg was the capital of the Virginia Colony from 1699 to 1780 (when the capital was moved to Richmond).
In the early 20th Century, W.A.R. Goodwin had a revolutionary idea: to restore and preserve (and even reconstruct) Williamsburg's historical center in Virginia–a plan he proposed to John D. Rockefeller Jr. His innovative vision resulted in one of America's most iconic historical attractions today.
Today, Colonial Williamsburg includes 85% of the area of the capital as it was in the 18th Century, including Bruton Parish Church.
In my opinion, Colonial Williamsburg offers the perfect blend of interactive American history, architectural beauty, and vibrant culture. It's an experience you won't forget.
Where is Colonial Williamsburg?
Historic Colonial Williamsburg is located in the Hampton Roads area of Southeastern Virginia near the James River.
Williamsburg is part of the larger Historic Triangle of Virginia with Jamestown and Yorktown.
Distance from Richmond: 50 miles
Distance from Virginia Beach: 77 miles
Distance from Washington, DC: 165 miles
Below are listed several airports in the region along with their distance from Colonial Williamsburg:
Newport News/Williamsburg International Airport (PHF): 17 miles
Richmond International Airport (RIC): 45 miles
Norfolk International Airport (ORF): 47 miles
Washington Dulles International Airport (IAD): 170 miles
Colonial Williamsburg tickets
Colonial Williamsburg offers several ticketing options, which you can review on their website along with ticket prices. All of the typical Williamsburg sites and shops as well as some events and programs are included in your admission ticket.
While certain programs may require the purchase of a separate ticket, these are clearly noted on posted and printed schedules.
Where to stay for your Colonial Williamsburg weekend getaway
There are numerous hotel and inn options close to the Visitor's Center and historical area that you can choose from.
Options range from Colonial Williamsburg's official hotels such as official Colonial Williamsburg hotels like The Williamsburg Inn and The Williamsburg Lodge to familiar and affordable motel chains.
We enjoy staying at Marriott hotels when we travel. We are often able to get great rates on Residence Inn stays, and our trip to Colonial Williamsburg was no exception. The hotel is conveniently located near the Colonial Williamsburg Visitor's Center and its breakfast buffet is on-the-house; moreover, its rooms are equipped with roomy kitchens too.
Popular and highly rated Colonial Williamsburg hotels include:
Williamsburg Inn: Be enthralled and live lavishly when you stay at the premier hotel near Colonial Williamsburg—the only Forbes Travel Guide Five-Star resort in the Historic Triangle. You will never be far from experiencing some of America's most significant colonial history, as it is only a few steps away. Check rates today.
Williamsburg Lodge: Nestled in the heart of Williamsburg's historic city center, this stunning hotel is a mere stroll away from the Historic Center of Colonial Williamsburg. They have even gone above and beyond by offering select dog-friendly rooms for those traveling with furry family members. Find the perfect room today.
Williamsburg Woodlands Hotel: Enjoy comfortable lodgings in the heart of Colonial Williamsburg, conveniently located adjacent to the Visitor's Center. Check it out here.
Tips for visiting Colonial Williamsburg
Wear comfortable shoes. Even though there are free shuttles that operate between the Visitor Center (you'll get free parking there) and several stops around the perimeter of the historic area, you will still do a lot of walking and standing.
Do at least one special event or evening program.
Enjoy at least one meal at a Colonial Williamsburg historic tavern (see below).
The Colonial Williamsburg Historic Area is open to the public for free, but you do need a ticket to get into any of the historical sites or trade shops. Open sites have a flag posted out in front.
Make sure to refer to your map and schedule to help you plan your day. Not all sites are open all day every day.
Colonial Williamsburg weekend itinerary day 1
On the first day of your Colonial Williamsburg weekend itinerary, I recommend that you do a little of everything. You'll see more below what I mean.
I'm a big believer in not leaving the things you really want to do for later in your itinerary. Plan your "must-do's" up front. That way if something like inclement weather interrupts your plans you'll likely still have time to reschedule before you have to return home.
So, this first day of your weekend in Colonial Williamsburg will be a little on the full side but stick with me here. I think you'll like it.
Tour trade shops
I recommend stopping in as many of these shops demonstrating historic trades as you can fit into your day. And you can sprinkle them about your weekend as you have time.
Not all of them are open every day, but open shops will have a flag out front and often a staff member to point you in the right direction.
You don't need to take long at each one, but you can learn a lot about 18th Century American daily life just from listening to the staff answer questions and asking a few questions of your own.
I highly recommend the public armoury, the wig maker, the silversmith, the cabinetmaker, the printing office, the brickyard, and the apothecary. 
Also, keep in mind that not all of the historic sites and shops are right on Duke of Gloucester Street which runs through the heart of the Historic Area. Refer to your map to make sure you don't miss anything that's a little off the main path.
Lunch at Chowning's Tavern
Chowning's Tavern is one of the top historic Williamsburg restaurants, in my humble opinion.
They offer yummy Colonial era-inspired pub food in an old pub-style setting.
When we were there, the Tavern didn't take reservations for lunch so we did have to wait a little while (about 45 minutes) for a table. But it was totally worth it in my opinion.
Our food was quite tasty, and our server was very helpful in getting something delicious and gluten-free for Hubby.
If you do find that you need to wait a while for your table you can always check out of a few of the nearby shops for a few minutes and then check back in with the hostess.
Or take advantage of the outdoor seating nearby and give yourself a break from all the walking you've been doing.
See this post for great ideas for where to eat in Colonial Williamsburg.
Carriage ride or guided tour
After lunch, try something a little different and think about doing a carriage ride or a guided tour.
Carriage rides are a very popular activity in Colonial Williamsburg. Some might even say that your Williamsburg weekend would be incomplete without one. I won't go that far but definitely think about it.
Because the carriage rides are so popular, you'll want to book your ride at a ticketing location as early in the day as you can. It's a unique way to see the Historic Area.
There are other tours you can do in Colonial Williamsburg, some during the day and some in the evening.
If you're looking for a ghost tour, you might enjoy this highly rated one.
If you're interested in hearing stories about pirates as well as ghosts, you might like this guided tour.
Or enjoy a private tour of Colonial Williamsburg and the College of William & Mary.
Dinner at Merchants Square
After you've spent a full day exploring the Historic Area of Colonial Williamsburg, try dinner and a little shopping at Merchants Square.
Merchants Square is located just beyond the Colonial Williamsburg Historic Area. You can easily get there on foot from the Historic Area.
Merchants Square features more than 40 dining options and retail shops. It's a fun and relaxing way to spend your evening.
We highly recommend dining at the Blue Talon Bistro, if you're looking for a great dinner of "serious comfort food" with a cozy atmosphere.
We thought it had quite a French restaurant feel, even down to the large glass bottles of water they brought to our table.
We experienced great service here from our server, who did whatever she could to get hubby a gluten-free meal. Though his first choice for dinner could not be made gluten-free, he ordered a braised lamb shank and then dubbed it one of the best meals he'd ever had.
Blue Talon Bistro is clearly a popular place, so I'd definitely get a reservation the next time we want to eat there.
Fat Canary is also quite a popular dining option at Merchants Square. Reservations are highly recommended.
Evening program
If after dinner you still have some energy, consider participating in one of the evening programs or Colonial Williamsburg special events.
Program options usually include something like a chamber music concert, ghost tour, or a historical interpreter presentation. For example, a dramatization of the trial of a pirate has been an option.
Be advised that the content of some of the evening programs might be a little much for young children.
Some of these performances sell out so it is best to purchase your tickets in advance.
Colonial Williamsburg weekend itinerary day 2
Okay, so I know we covered a lot of ground (almost literally) on the first day of your weekend in Colonial Williamsburg…but there is just so much to see and do.
Feel free to scale back your day on day two, maybe getting a little later start than the day before.
We are going to cap our Colonial Williamsburg weekend off with dinner at one of the historic taverns. In my opinion, it's the perfect way to end your experience in Williamsburg.
Historic houses and other historic buildings
On day one, you will have pretty thoroughly covered the trade shops in the Historic Area. So, on day two I'm going to suggest you focus on the other historic houses and buildings.
My top choices are:
Governor's Palace
Capitol Building
George Wythe House
Peyton Randolph House
If you only do one, I'd have to choose the Palace, but please don't choose just one.
The Governor's Palace
The Governor's Palace home was the official residence for the royal governors of the Colony of Virginia as well as the first two elected governors of Virginia, Thomas Jefferson and Patrick Henry.
The Governor's Palace is a guided tour site at Colonial Williamsburg, but it may also be open for an hour or so in the late afternoon for a self-guided visit.
Capitol
Williamsburg's spectacular statehouse is an imitation structure, constructed after all of the preceding capitol buildings were destroyed by fire. Fortunately, some pieces of furniture and artwork we salvaged.
Entry to the Capitol is by guided tour, but don't despair—you won't have to wait long and the tour is only about 20 minutes long.
We actually did the Capitol tour twice. The first time we ended up on the last tour of the day, which meant the light in the building was quite limited since the sun was going down.
When we returned the next morning, we were the only ones there and ended up with a nice private tour. Both tour guides were excellent.
Peyton Randolph House and George Wythe House
Entry to Peyton Randolph House (which is very near the Palace) is also by a short, guided tour.
Our guide did an excellent job of outlining how the lovely Randolph house was different from the average Virginian's home and also what life there may have been like for an enslaved person.
Peyton Randolph was the president of the Continental Congress and an important figure in the lead up to the American Revolution.
If you've had enough of guided tours, head over to George Wythe House for a self-guided walk through the house.
George Wythe was a law professor and signer of the Declaration of Independence. He was also tutor to Thomas Jefferson.
Snack at Raleigh Tavern
Tucked away off Duke of Gloucester Street (the main thoroughfare in heart of the Colonial Williamsburg Historic Area) is the Raleigh Tavern Bakery. This spot is the perfect place to visit when you need a little something to hold you over until your next meal.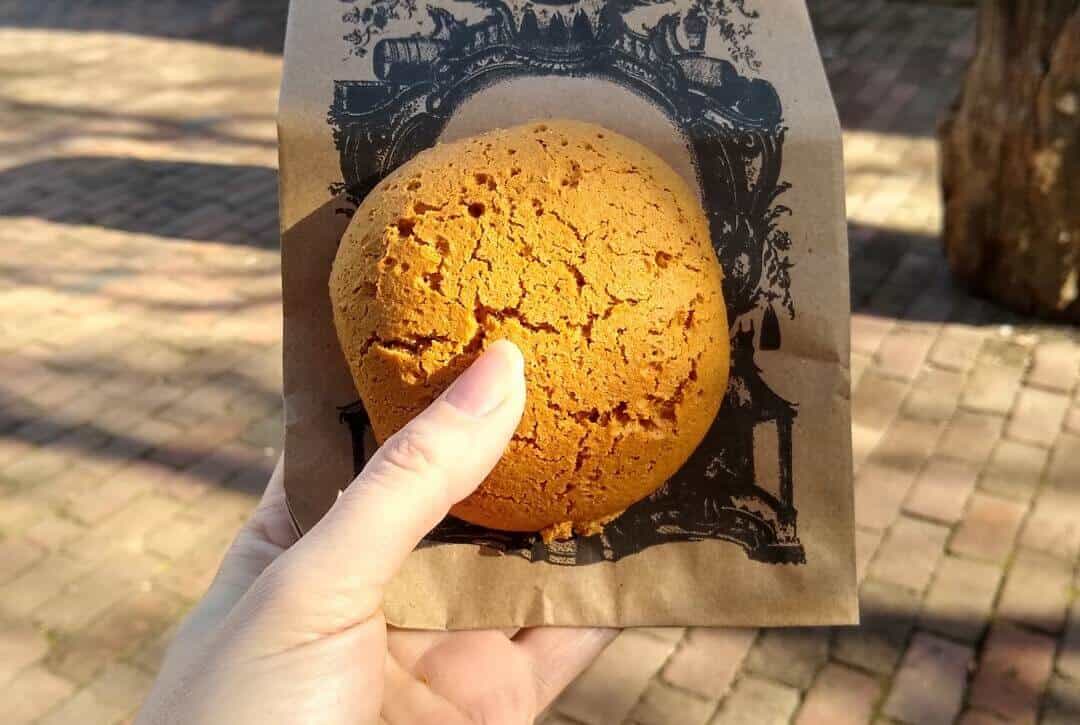 While you can get a variety of the usual kinds of baked goods, snacks, candy, and bottled drinks there, what you really want is one of their freshly baked brick oven ginger cakes.
And if you're there at the right time, you can watch the staff bake the cakes in the brick oven right in the back of the bakery and then snag a warm one for yourself.
It's a great snack for walking about while you nibble.
Seriously, don't miss out on this signature snack when you visit Colonial Williamsburg. It would be a tragedy to pass it up. All right, that might be overstating things a bit, but you get what I'm saying, right?
More trade shops
The afternoon of your second day in Colonial Williamsburg is the perfect time to pop into any of the trade shops you missed the day before.
Check your schedule to see what's open or just look for the Grand Union Flag indicating that the location is open.
Dinner at a Historic Tavern
While in Colonial Williamsburg, I think you really should make a point to eat dinner in at least one of the historic colonial taverns, and the crowning glory of the Colonial Williamsburg taverns has to be Christiana Campbell's.
It's billed as being one of George Washington's favorite places to eat, but it's more than just a meal. It's an experience.
While we were there, we enjoyed live music, plus "Christiana Campbell's daughter" made the rounds in character to tell the guests all about what tavern keeping was like in the 18th century.
Though they specialize in seafood, they also have a solid vegetarian option on the menu, and (when we were there) most of the other options could be made gluten-free for hubby.
For the experience and the quantity of food you get, Christiana Campbell's was our favorite dinner in Williamsburg.
I highly recommend making a reservation, especially if you're going to be in Colonial Williamsburg during a peak time such as Christmas week or Fourth of July week.
Final thoughts on your weekend in Colonial Williamsburg
A weekend in Colonial Williamsburg is the perfect opportunity to step back in time and experience life in 18th-century America.
With a little planning, you can pack a lot of history into your weekend getaway.
Be sure to include visits to the trade shops, lunch at Chowning's Tavern, and a carriage ride or guided tour. Don't forget to catch an evening program for some entertainment.
On day two, hit up more historic houses as well as Raleigh Tavern before grabbing dinner at a historic tavern.
By the end of your trip, you'll have experienced what it was like to live centuries ago and have gained a greater appreciation for early United States history.
More articles to help you plan your Colonial Williamsburg weekend getaway
Pin this post!