Great Places to Eat in Colonial Williamsburg
You travel to Colonial Williamsburg to take a step back in time and learn from those who have gone before you. But interspersed among all that historical experience and learning you'll also need food.
Yes, it can be difficult to carry on a conversation with George Washington while your tummy is rumbling.
Fortunately, there are a lot of wonderful dining options in and beyond the Historic Area. Here are our top recommended places to eat in Colonial Williamsburg.
Read More → What to do With One Day in Colonial Williamsburg
Places to eat in Colonial Williamsburg
When it comes to food in Williamsburg, VA, don't be afraid to spend a little extra money for the experience and atmosphere.
That's part of what touring living history museums is about, right? The experience?
And like just about any place you travel inside the U.S., you can find tourist traps, the usual chain restaurants and fast food joints, but Colonial Williamsburg food is also pretty great when you know where to eat.
This post includes affiliate links. If you make a purchase through one of these links, I may earn a small commission at no additional cost to you. As an Amazon Associate I earn from qualifying purchases. See disclaimer.
Pin this post for later!
Christiana Campbell's Tavern: for a large meal with a great experience
While in Colonial Williamsburg, you really should make a point to eat in at least one of the historic taverns, and the crowning glory of the Colonial Williamsburg taverns has to be Christiana Campbell's.
It's billed as being one of George Washington's favorite places to eat, but it's more than just a meal.
You get a complete dinner experience. While we were there, we enjoyed live music, plus "Christiana Campbell's daughter" made the rounds in character to tell the guests all about what tavern keeping was like in the 18th century.
Though they specialize in seafood, they also have a solid vegetarian option on the menu and (when we were there) most of the other options could be made gluten free for hubby.
It was quite a lot of food so I had to take my dessert to go along with most of my sweet potato loaf. (I really wish I had some of that sweet potato loaf right now.)
For the experience and the quantity of food you get, Christiana Campbell's was our favorite dinner in Williamsburg, VA. Reservations are required.
Chowning's Tavern: for the historical tavern experience without a reservation or the high price tag
Chowning's Tavern is another one of the top historic Williamsburg restaurants, in my humble opinion.
We enjoined a nice lunch there on Christmas Eve, and even though we tried to get a table during peak lunch time our wait was not outrageously long.
The menu has a few really good-looking vegetarian options, and our server was very helpful to gluten-free hubby.
He enjoyed a good-sized bowl of shepherd's pie with a salad. I also had a salad with a cup of soup, and it was just what I needed.
Chowning's doesn't take reservations, so plan to get there as they open or maybe try for a later lunch.
If you do find that you need to wait awhile for your table you can always check out of few of the nearby shops for a few minutes and then check back in with the hostess.
Or take advantage of the outdoor seating nearby and give yourself a break for all the walking you've been doing.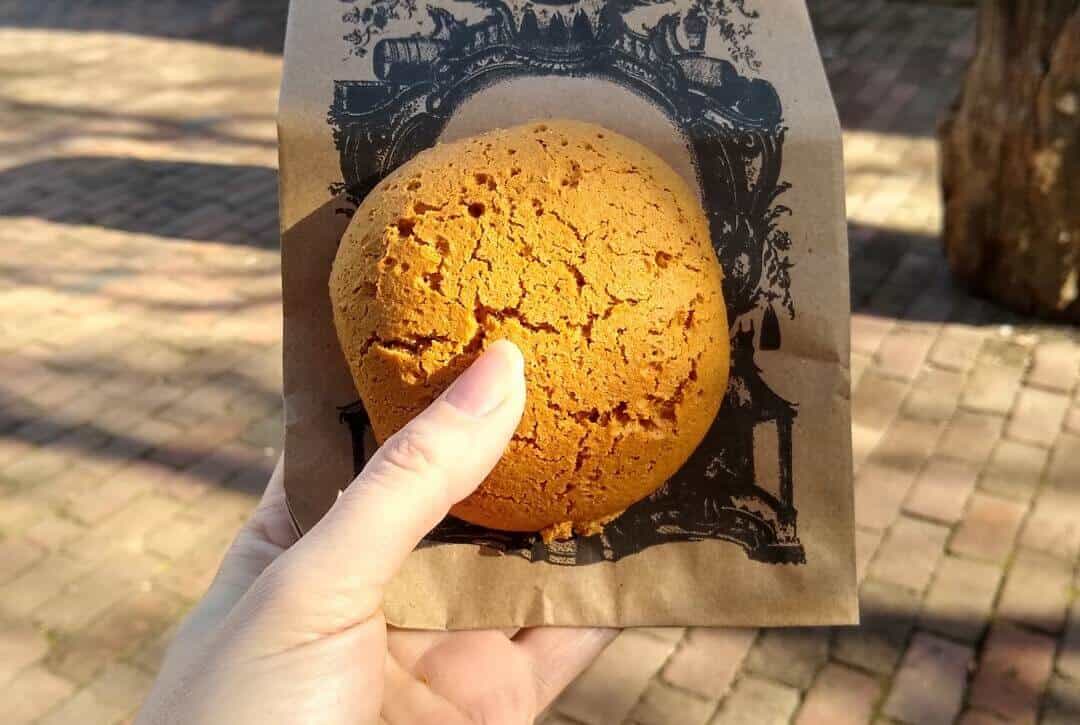 Raleigh Tavern Bakery: for when you need an historical snack
Tucked away off Duke of Gloucester Street (the main street that runs through the heart of the Colonial Williamsburg Historic Area) is the Raleigh Tavern Bakery.
It's a great spot to stop in when you need just a little something to get you through to your next meal.
While you can get a variety of the usual kinds of baked goods, snacks, candy, and bottled drinks there, what you really want is one of their freshly baked brick oven ginger cakes.
Seriously. Don't miss this on your trip to Colonial Williamsburg.
I'd probably go so far as to call it a "signature snack."
And if you're there at the right time, you can watch the staff bake the cakes in the brick oven right in the back of the bakery and then snag a warm one for yourself.
It's a great snack for walking about while you nibble.
Other options for snacks and quick bites include Wythe Candy & Gourmet Shop, The Cheese Shop and Illy Caffe at Merchants Square.
In the Historic Area you can try Dubois Grocer and McKenzie Apothecary.
Williamsburg Lodge: for the Christmas Day buffet
If you're going to be in Colonial Williamsburg over Christmas, I recommend the Christmas Brunch at Williamsburg Lodge.
As we were planning our Christmas trip to Williamsburg, we found there were several "official" Christmas meals to choose from, all of them expensive, but some with fairly limited menus especially for the price.
You may be able to find some area restaurants open on Christmas day, but definitely plan ahead for this to find out what's open and make reservations as early as you can.
Since hubby has to eat gluten-free and I am a vegetarian, we tend to gravitate toward buffets for the widest variety of food choices we'll both enjoy.
Plus, you have the option to eat yourself into a food coma if you so desire. So, win win.
At $75 per person, the Williamsburg Lodge brunch price is steep, but there was A LOT of food and the price included tax and gratuity.
Some of the historic taverns also offered meals, but most were more expensive than the brunch we chose.
I'd say the only negative was that the brunch was served in an enormous ballroom, which meant a lot of people, so it got pretty noisy.
Having said that though, the service was good, the food was good, and I think we'd do it again.
PRO TIP: If you have flexible travel dates you need to check out Going (formerly Scott's Cheap Flights). You get amazing flight deals sent straight to your inbox with instructions on how to book directly with the airlines. Check out Going here. Going is my favorite way to find great travel deals. 
Blue Talon Bistro: for a quiet and cozy dinner
If you're looking for a great dinner of "serious comfort food" with a cozy atmosphere, I highly recommend Blue Talon Bistro at Merchants Square.
It has that French restaurant feel, even down to the large glass bottles of water they bring to your table. Merchants Square a nice little shopping and dining area just beyond the Historic Area of Colonial Williamsburg.
Again, we experienced great service here from our server, who did whatever she could to get hubby a gluten-free meal.
Though his first choice for dinner could not be made gluten free, he ordered their braised lamb shank and then dubbed it one of the best meals he'd ever had.
I enjoyed their vegetarian option of baked gratin of penne pasta and veggies. Honestly, it was delicious.
Blue Talon Bistro is clearly a popular place, so I'll definitely get a reservation the next time we want to eat there.
Food for Thought: for a good meal away from the Historic Area
If you're staying outside the Colonial Williamsburg Historic Area and are looking for something perhaps closer to your hotel, we recommend Food for Thought.
It was our favorite of the restaurants near Williamsburg.
They have an extensive gluten-free menu and the best variety of vegetarian and vegan options I've ever seen outside a vegetarian restaurant.
My favorite meal there was the Beyond Meatloaf with mashed potatoes and asparagus. Hubby enjoyed their salmon and mashed potatoes.
We liked Food for Thought so much we ate dinner there twice out of our six nights in Williamsburg.
They do get quite busy, so plan to get there early or be prepared to wait (and many did).
We had good success with being seated immediately though, perhaps because we're just a family of two.
Where to stay in Colonial Williamsburg
There are many accommodation options all within easy distances of the Visitor's Center or historic area, from the official Colonial Williamsburg hotels and resorts (Williamsburg Inn, Williamsburg Lodge, Griffin Hotel, Woodlands) to colonial houses and budget motel chains. We got a great rate at the Residence Inn Williamsburg.
Dining in Williamsburg, VA: the bottom line
You certainly won't go hungry on your trip to Williamsburg, Virginia.
Overall, the Colonial Williamsburg food we ate was quite good, and we always received outstanding service.
Though hubby and I travel with a challenging combination of dietary restrictions (one vegetarian, one gluten-free) we had no lack of great dining options.
You're sure to find food that you'll love while you're in Colonial Williamsburg.
More articles about Virginia's Historic Triangle
Pin it for later!