13 Awesome Day Trips from Savannah (2.5-hour Drive or Less)
Savannah, Georgia, is one of the top tourist destinations in the Southeastern United States. But as you plan your Savannah itinerary, don't overlook all of the great things that there are to do outside of Savannah as well. All of these day trips from Savannah are within about a 2.5-hour drive of central Savannah, Georgia (give or take, depending on traffic).
Savannah is jam-packed with history, great places to eat and wonderful things to do. But the area of the Southeast around Savannah is full of amazing historic sites, islands, beaches, and some great cities too.
Seriously. There are so many great options.
Keep reading to find out more!
Have more time to explore? Check out these ideas for weekend trips from Savannah.
Plan out your Savannah trip with your FREE printable travel planner.
This post includes affiliate links. If you make a purchase through one of these links, I may earn a small commission at no additional cost to you. As an Amazon Associate, I earn from qualifying purchases. See disclaimer.
Skidaway Island State Park
Distance from Savannah: 15 miles
Drive time: Approximately 25 minutes
Skidaway Island State Park is a great option for a day trip from Savannah. Just a short drive from downtown Savannah, the park offers a chance to get away from the hustle and bustle of the city.
The park is home to a variety of ecosystems, including salt marshes and maritime forests. You may spot a variety of wildlife in their natural habitat including deer, fiddler crabs and egrets.
There are also several miles of trails perfect for hiking, biking, or birdwatching. The park is also a great place for picnicking. So whether you're looking to explore nature or just relax in a beautiful setting, Skidaway Island State Park is worth a visit.
If you want to make an overnight or weekend getaway out of your trip, you can enjoy camping among the beautiful live oaks and Spanish moss.
Tybee Island
Distance from Savannah: 18 miles
Drive time: Approximately 20-30 minutes
Easily the most popular day trip from Savannah, Tybee Island's most famous site is probably its light station, the oldest and tallest in Georgia. The 2.5-mile-long barrier island's location at the mouth of the Savannah River also made it especially important as a military position.
Although it's essentially "next door" to Savannah, you could easily spend an entire day exploring Tybee Island.
Taking in the natural beauty of Tybee Island is a great way to spend the day. It's a popular spot for bird watching, sea kayaking, dolphin spotting, biking, fishing and more. The Light Station Museum admission is reasonably priced. (They are closed on Tuesdays.)
To explore the island, you can of course drive yourself there, or you could book a sightseeing tour like this one that includes a dolphin watching cruise.
Or perhaps just enjoy a day relaxing on a Tybee Island beach complete with beach chairs, umbrellas and coolers stocked with ice.
Pin this post!
Fort Pulaski National Monument
Distance from Savannah: 14 miles
Drive time: Approximately 25 minutes
Also quite close to the historic center of Savannah, Fort Pulaski National Monument is located on Cockspur Island. Fort Pulaski is operated by the National Park Service and is open seven days a week year-round, except for Thanksgiving, Christmas and New Year's days.
The fort was built to protect the Port of Savannah not long before the American Civil War broke out in 1861.
The fort was made mostly of brick (millions and millions of bricks), and was soon rendered obsolete when the Union Army used Fort Pulaski as the site for their testing of their new rifled cannons.
Fort Pulaski fell to the Union Army in less than two days. The fort was then used by the Union Army as a prisoner of war camp.
The Fort Pulaski National Monument includes the fort, most of Cockspur Island as well as McQueens Island. The site includes walking trails, and fishing is allowed on the Savannah River. The Visitor Center includes exhibits about the fort's construction and the Civil War battle.
Fort McAllister State Park
Distance from Savannah: 30 miles
Drive time: 40 minutes
Continuing on the Civil War historical site theme, south of Savannah you'll find Fort McAllister State Park on the banks of the Ogeechee River. Now don't dismiss this park out of hand even if you've been to both Fort Sumter in South Carolina and Fort Pulaski (see above), because these Confederate fortifications are actually earthworks, and some of the best-preserved.
The fort withstood multiple naval attacks, but eventually fell to General Sherman on his March to the Sea. Fort McAllister was placed on the National Register of Historic Places in 1970.
The 1700-acre park includes picnic shelters, a museum, gift shop, boat ramps, dock, fishing pier, and a playground. Those who want to do more than a day trip here can choose from cottage or campsite accommodations.
There are about 4 miles of trails for hiking, there are seasonally available kayak, paddleboard, and canoe rentals, bike rentals, and educational programs.
There is a small fee for parking in addition to the historical site entrance fee.
PRO TIP: If you have flexible travel dates you need to check out Going (formerly Scott's Cheap Flights). You get amazing flight deals sent straight to your inbox with instructions on how to book directly with the airlines. Check out Going here. Going is my favorite way to find great travel deals. 
More fun things to do in and around Savannah, Georgia
Not far outside the historic center of Savannah, you'll find two key historical sites. With this half-day tour, you'll get to see Bonaventure Cemetery and Wormsloe Plantation.
Consider putting yourself in the hands of an expert tour guide. Enjoy a private tour of the Savannah historic district, Tybee Island and Fort Pulaski National Monument all in one epic tour. Comes with free 24-hour cancellation and includes transportation.
Hilton Head Island, South Carolina
Distance from Savannah: 34 miles
Drive time: 45 minutes
Hilton Head Island is one of my favorite places, and honestly it deserves more time than just a day trip from Savannah; however, if all you have is a day then we can make it work.
Just so you understand how awesome Hilton Head is, you don't have to take my word for it. Travel + Leisure named Hilton Head Island the BEST island in the continental United States for three consecutive years.
I quite agree.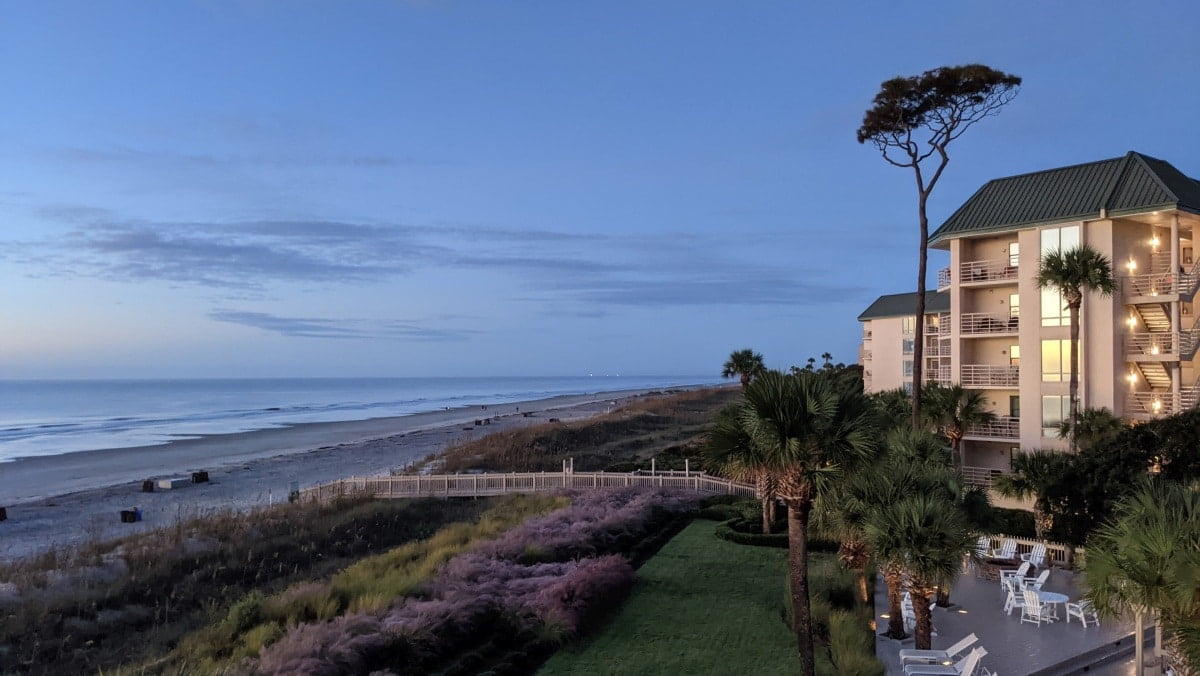 Try Coligny Beach Park for public beach access. Coligny beach is also a designated swim area. There's free parking nearby and some fun shopping as well. The iconic Harbour Town Lighthouse is also a popular stop.
You'll also find plenty of other things to do like biking on the beach or along the miles of recreational paths and of course eating some great Southern food. If you get to Hilton Head for breakfast, make a stop at Palmetto Bay Sunrise Café. It's popular with locals, and they have good gluten-free options.
We recommend that you enjoy lunch or dinner at A Lowcountry Backyard to try their wonderful food. They're famous for their shrimp and grits and of course the lowcountry boil. When we were there, they gladly helped hubby find something delicious and gluten-free to eat, and they have good vegetarian options too. They don't take reservations, so make sure you get there early.
Jekyll Island
Distance from Savannah: 95 miles
Drive time: 1 hour, 40 minutes
Jekyll Island is one of the "Golden Isles" barrier islands off the coast of Georgia that include St. Simons Island, Sea Island, Little St. Simons Island, Sapelo Island, Blackbeard Island, plus Historic Darien and Historic Brunswick.
Jekyll Island is a popular spot for beach lovers and nature enthusiasts, with plenty of opportunities for biking, golf, long walks on the beach, touring historic homes, and more. Don't miss Driftwood Beach on the north end of the island.
The island is also home to the Georgia Sea Turtle Center, which offers educational programs about these creatures and works to rescue and rehabilitate sick and injured turtles.
The center is open to the public. Visitors can take a "behind the scenes" tour of the center, watch the turtles being cared for, and learn about the efforts to protect these animals.
Charleston, South Carolina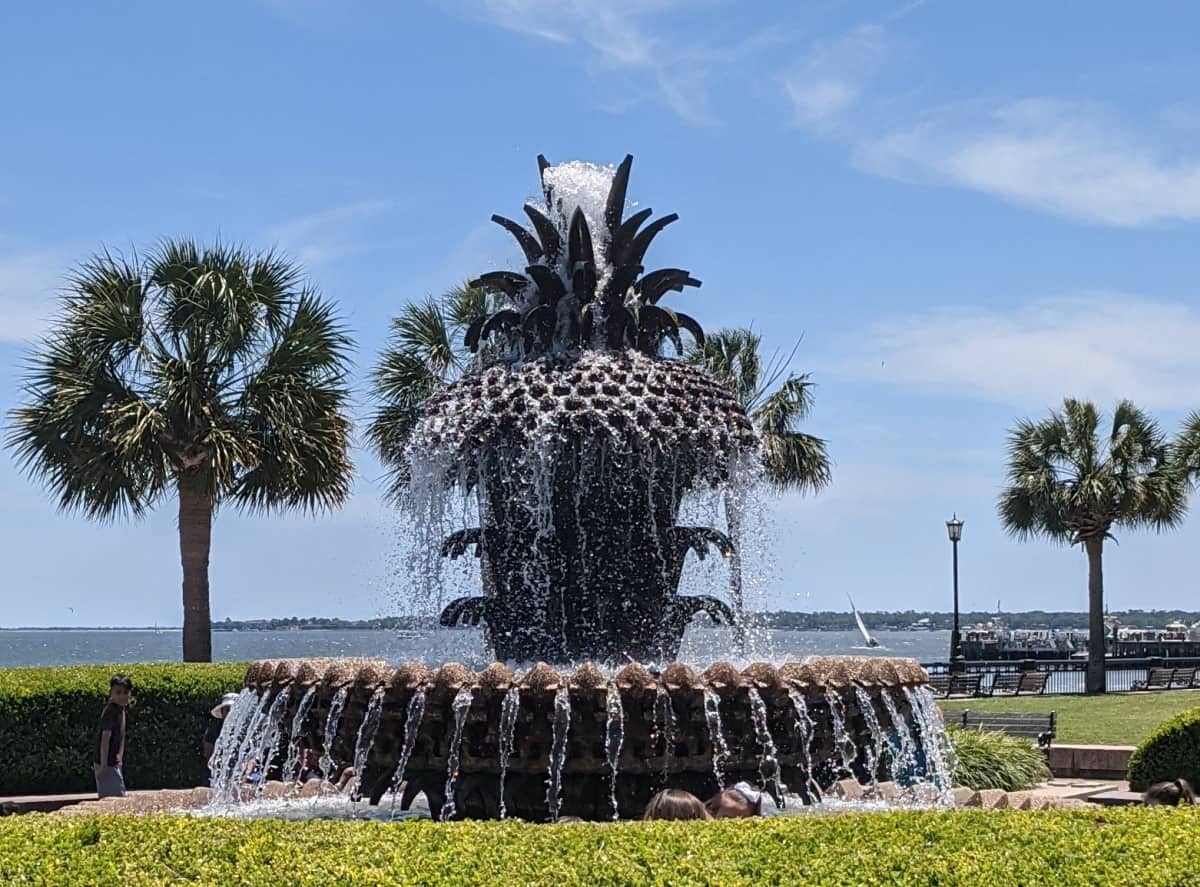 Distance from Savannah: 108 miles
Drive time: 2 hours
Folks, if you like Savannah, you'll love Charleston. In my opinion, it has all the same kinds of things to do that Savannah offers plus more. Although I would recommend you spend at least a weekend in Charleston, it is also very doable to make a Charleston day trip from Savannah.
Charleston is full of wonderful historical sites, like historic Aiken-Rhett House, beautiful architecture, lovely Waterfront Park (and its famous Pineapple Fountain), the Battery, the Historic Market and of course amazing food.
We love getting lunch at Fleet Landing right on the water. And make a point to stop in at Carmella's Dessert Bar for coffee or a treat. You'll love it.
For more details, check out our post about how to spend one day in Charleston. For more about why we love Charleston, read our Charleston vs Savannah post.
Build the ideal lowcountry road trip with this Charleston and Savannah itinerary.
Cumberland Island National Seashore
Distance from Savannah: 115 miles to Visitor Center
Drive time: Approximately 2 hours, plus the ferry ride
Cumberland Island National Seashore is the perfect place to visit if you're looking for some amazing sandy beaches. The island has a rich history and is perfect for a day trip or even an overnight camping excursion.
Access to the Seashore is by ferry or private boat. Plan to make your ferry reservations in advance.
If you're looking for a place to hike, bike, camp, birdwatch, or beachcomb, look no further. With over 50 miles of nature trails and roads as well as 18 miles of beaches available to explore, there's something here for everyone.
There are no food vendors at the Seashore, so plan to bring with you (and pack back out) whatever you will need for the day.
Folly Beach
Distance from Savannah: 115 miles
Drive time: 2 hours
Folly Beach is quite close to Charleston, so if you're feeling up to it, you could visit Folly and pop over to Charleston in one super-epic day trip.
Folly Beach is a 12-square-mile barrier island known as a popular destination for kayak rentals, fishing, and such. You can learn how to surf or try a stand-up paddleboard eco tour like this one.
In Folly Beach you'll also find "The Porgy House" home to the writers of the novel and play Porgy. The Gershwin Brothers also wrote their opera Porgy and Bess in Folly Beach. The story is set in Charleston.
Amelia Island, Florida
Distance from Savannah: 128 miles
Drive time: 2 hours
A popular beach vacation destination in Florida, Amelia Island boasts 13 miles of beaches. It's located in Northeast Florida and surrounded by the Atlantic Ocean, Intracoastal Waterway, Nassau Sound and Cumberland Sound.
In 2020, Travel + Leisure put Amelia Island at number 6 on its list of the top 15 islands in the United States. Conde Naste also named Amelia Island one of the best islands in the U.S. in its Reader's Choice awards. Southern Living also named it one of the 10 most romantic destinations in Florida.
Jacksonville, Florida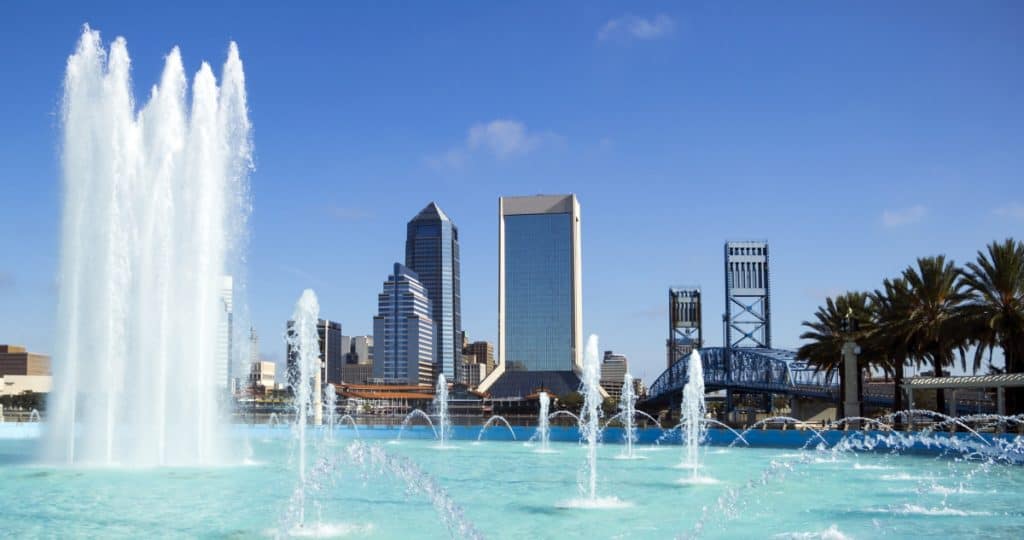 Distance from Savannah: 141 miles
Drive time: 2 hours, 10 minutes
It's the largest city by landmass in the United States. Jacksonville also claims to have the largest urban park system and the most shoreline of any city in Florida.
It's also the most populous city in the Southeast and only about a 2-hour drive from Savannah, which makes it a great option for a city day trip.
Popular sites and attractions in "Jax" include the Cummer Museum Art & Gardens, Friendship Fountain, the Museum of Science and History, and the Jacksonville Zoo and Gardens.
Enjoy a picturesque River Walk stroll along the St. Johns River, try the St. Johns River Taxi, or check out some of their 22-miles of beaches.
My fellow National Park Service site enthusiasts will likely want to spend some time at Fort Caroline National Memorial, which memorializes the failed French colonial presence in Florida in the 16th century. Like Kingsley Plantation, it's part of the Timucuan Ecological & Historical Preserve.
Augusta, Georgia
Distance from Savannah: 130 miles
Drive time: 2.5 hours
Although it's best known for hosting The Masters golf tournament, Augusta, Georgia, is also a lovely town that is just begging to be explored. Fortunately, its walkable historic downtown and Riverwalk area make that easy to do.
The Augusta Riverwalk features a children's playground, gardens, the Jessye Norman Amphitheater, the Augusta Saturday Market at the River (closed in winter).
Top things to do in Augusta include the Augusta Canal National Heritage Area, the Augusta Museum of History, the Morris Museum of Art, Woodrow Wilson's boyhood home, popular restaurants, shopping and more.
Fun facts: Augusta was founded by James Oglethorpe (who was also the founder of Savannah) and it was named for Princess Augusta of Wales.
And in case you were wondering, no you cannot tour Augusta National. It is totally closed and super duper private. Strictly members only. Seriously. The only time it's open to the public is during The Masters and even then only those with tickets are allowed in.
Congaree National Park
Distance from Savannah: 150 miles
Drive time: 2.5 hours
You'll find Congaree National Park in Hopkins, South Carolina (near Columbia). It's the only National Park in South Carolina, and sadly also one of the least visited.
Congaree is also a UNESCO biosphere reserve and offers hiking, canoeing, kayaking, and bird watching.
The Park preserves the largest intact expanse of old growth bottomland hardwood forest remaining in the southeastern United States, according to the National Park Service.
Be warned. Congaree is swampy and famous (infamous?) for its mosquitoes. Protect yourself accordingly. You can check with the Park before your trip to find out what the mosquito levels are before you make the drive from Savannah.
You may have seen photos of the Congaree "Mosquito Meter." This is not actually a thing. Well, I mean it exists, but the Park doesn't actually use it as a daily indicator of mosquito levels. It's completely unscientific, and they've even described it as a prop for photos.
The important takeaway here is that you should be aware of the mosquitoes before you visit.
Hiking Congaree National Park is easy and enjoyable.
The most popular walk or hike in Congaree is probably the Boardwalk Trail. The boardwalk path makes the 2.6-mile loop trail accessible for wheelchairs and strollers. Other easy hikes include Bluff Trail, Sims Trail, Bates Ferry Trail, Longleaf Trail and Spur Trail.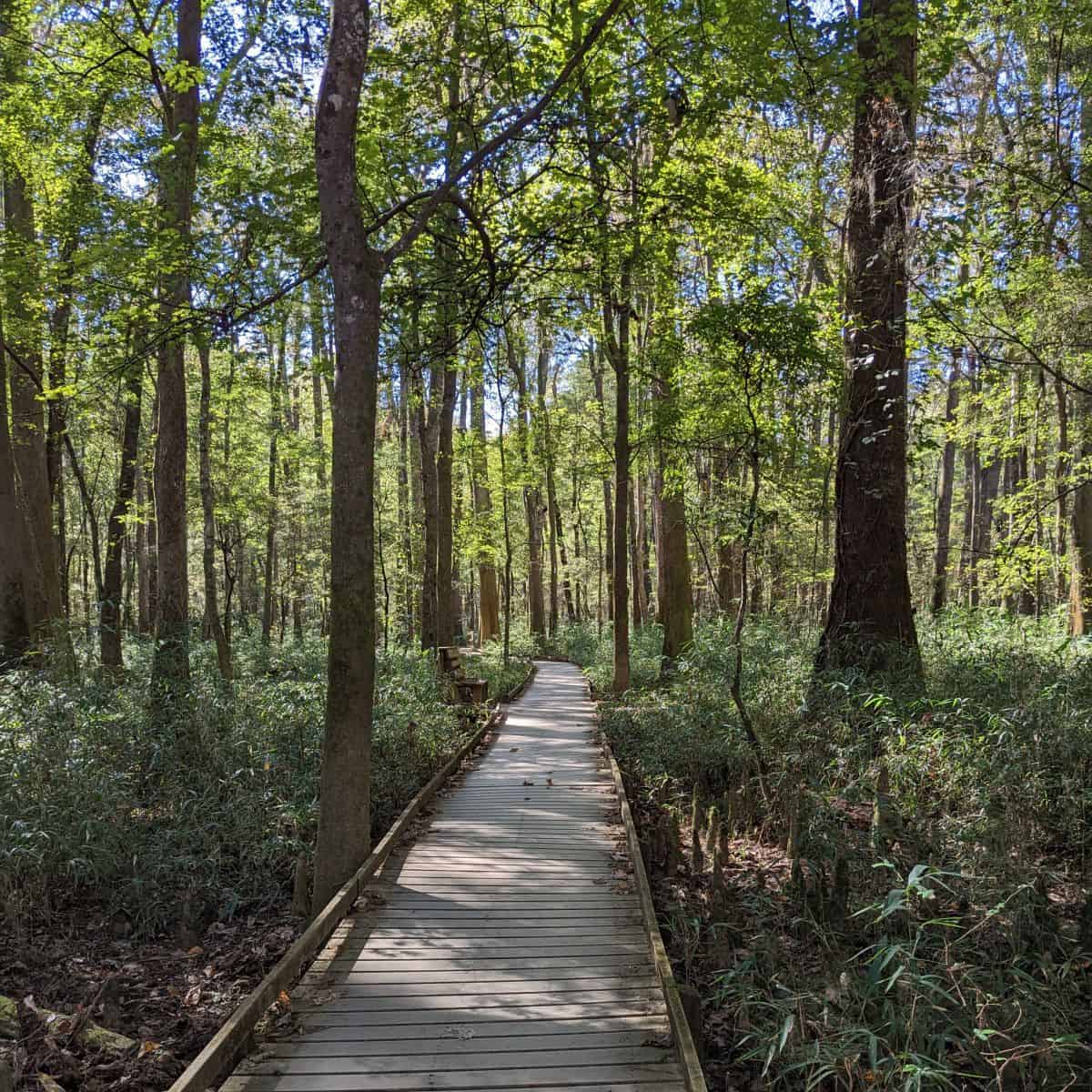 Where to stay in Savannah
There are an overwhelming number of great places to stay in Savannah, Georgia. Here are a few popular and top-rated options to help you narrow down your search:
Eliza Thompson House: Historic inn just a few blocks from Forsyth Park and its famous fountain. Book today.
Marriott Savannah Riverfront: We love this location at the end of historic River Street. It's just steps from the famous Waving Girl statue, and you can get a room with a view of the Savannah River. Book your stay today.
Holiday Inn Express Savannah – Historic District: Affordable and comfortable rooms in the heart of the historic district and just steps from Vic's on the River, one of our top Savannah restaurant recommendations. Book your room today.
Need more help planning your Savannah trip? Check out our list of the essential travel planning resources.
Final thoughts on the best day trips from Savannah
Although there is so much to see and do in Savannah, there are also a ton of great things to do around Savannah. From historical sites to great beaches and even some great cities, you certainly will find a great day trip on this list that will make a perfect addition to your Savannah itinerary.
More articles to help you plan your trip to Savannah
Pin this post!
View the web story