Southeast Road Trip Itinerary: Explore the Old South
Follow this Southeast USA road trip to explore the heart of the Old South
There is FAR more to see in the Southeast United States than you could possibly cover in one road trip. But you can explore the heart of the Old South for two weeks with this Southeast road trip itinerary.
We'll take you through Southeast Virginia, South Carolina, Georgia and Northeast Florida exploring the history of this part of the United States.
For each stop we'll cover the best things to do, top recommendations for where to stay and our best picks for where to eat.
Plan your perfect road trip with this FREE printable travel planner.
This post includes affiliate links. If you make a purchase through one of these links, I may earn a small commission at no additional cost to you. As an Amazon Associate, I earn from qualifying purchases. See disclaimer.
Southeast road trip itinerary overview
Here's a quick overview of the road trip itinerary. For all the details for each road trip stop, just keep reading.
This itinerary would also work pretty well in reverse.
Virginia's Historic Triangle: 4 nights
We're going to start the road trip in Virginia's Historic Triangle. Here's where you'll find three important towns (Williamsburg, Jamestown and Yorktown) all within 20 – 25 miles of each other.
With four nights here you can spend one full day each in Jamestown and Yorktown and then have two full days to explore Colonial Williamsburg.
Charleston, South Carolina: 3 nights
From Southeast Virginia, you'll drive through Norh Carolina to the coast of South Carolina to spend a few days in that state's top travel destination: Charleston. You'll love exploring Charleston's history and food.
Savannah, Georgia: 3 nights
Savannah, Georgia, is an absolute gem that must be seen by anyone who wants to travel the Southeast United States. With three nights here you'll be able to cover a lot of ground. And eat a lot of amazing food.
St. Augustine, Florida: 3 nights
From Savannah, you'll head into Northeast Florida to explore the oldest city in the United States: St. Augustine, Florida.
With its Spanish heritage, it will be a change from the English colonial influences in the other destinations on this itinerary.
PRO TIP: If you have flexible travel dates you need to check out Going (formerly Scott's Cheap Flights). You get amazing flight deals sent straight to your inbox with instructions on how to book directly with the airlines. Check out Going here. Going is my favorite way to find great travel deals. 
Start your Southeast road trip in Virginia's Historic Triangle
Unlike the other stops on this road trip, the Historic Triangle is three destinations in one. You'll have time to explore three important cities in early American history: Williamsburg, Jamestown and Yorktown.
Jamestown, founded in 1607, was the site of the first permanent English settlement in the New World.
Williamsburg, Virginia, home of the Colonial Williamsburg living history museum (the largest in the world) was the original capital of the Virginia colony.
And Yorktown was the site of the last major battle of the American Revolution.
Where to stay in the Historic Triangle
For the most immersive Colonial Williamsburg experience, stay at the Williamsburg Inn or Williamsburg Lodge just steps away from Duke of Gloucester Street (Colonial Williamsburg's "main street" through the Historic Center).
The more moderately priced Williamsburg Woodlands Hotel is located very near the Visitor's Center.
Williamsburg Lodge: This is a beautiful hotel in a great location in the historic center of Williamsburg. And they offer select dog-friendly rooms. Reserve your room today.
Residence Inn Williamsburg: Just a short drive from the Colonial Williamsburg Visitor's Center. Comes with free breakfast and rooms have kitchens in case you want to eat in your room and save some money on your trip. Book your stay today.
What to do at the Historic Triangle
I recommend you cover the major sites of the Historic Triangle in chronological order.
Spend one full day exploring Jamestown, including visits to Jamestown Settlement and Historic Jamestowne. See our post about visiting Jamestown for all of the details and our best tips.
Spend two full days at Colonial Williamsburg to get the most of everything they have to offer. You won't be able to see everything of course, but you can do quite a lot in two days. Read our post about everything your Colonial Williamsburg itinerary needs to include so you don't miss the top sites.
Spend one full day in Yorktown. This will give you enough time to see the Museum of the American Revolution in the morning and then do the self-driving tour of the battlefield in the afternoon. And don't miss our key tips for visiting Yorktown.
Where to eat in the Historic Triangle
There are a lot of great places to eat in the Colonial Williamsburg area. Too many to cover well here. So, make sure to read our post about the best places to eat in Williamsburg.
Our top picks include:
Food for Thought
Blue Talon Bistro
Christiana Campbell's
Move on to Charleston, South Carolina
From Southeast Virginia you'll drive about 7 hours to Charleston, South Carolina, and stay for three nights (two full days). Charleston is the largest city in South Carolina and one of the top travel destinations in the Southeastern United States.
Charleston was established in 1670 as Charles Town and named for King Charles II. It didn't become Charleston until 1783.
Where to stay in Charleston
Andrew Pinckney Inn—boutique hotel with 41 rooms located just a couple of blocks from the historic Charleston City Market in the heart of the action. Book your room today.
The Dewberry—luxurious accommodations bordering Marion Square in historic Charleston, near fine dining and shopping on King Street. Book your stay now.
Budget-friendly Option: Doubletree Mount Pleasant—We enjoyed our stay at this lovely and budget-friendly hotel just a few minutes outside Charleston. It included free breakfast, but Mount Pleasant has some great breakfast places (see below) you might want to try. Book your reservations today.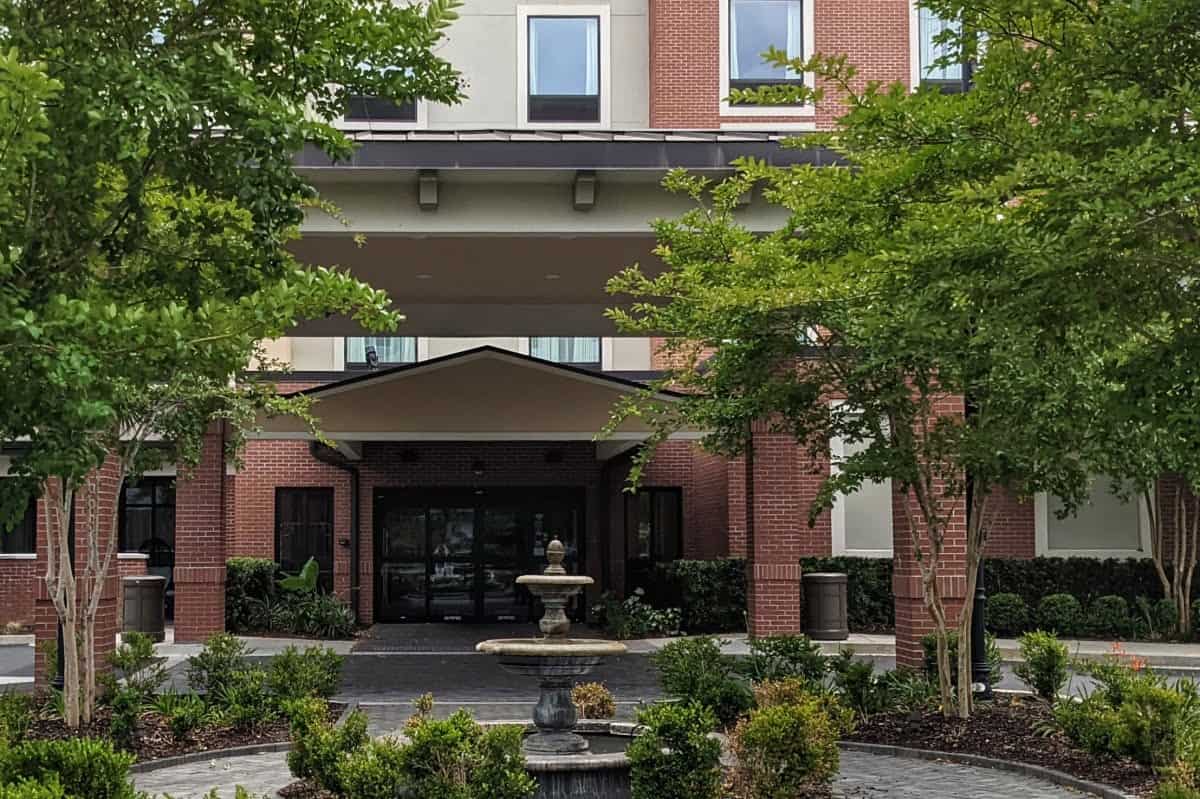 Things to do in Charleston, South Carolina
Charleston is full of amazing things to do. Far more than you can do in just a short visit. Our top recommendations are below. For more details about these sites, make sure to read our Charleston itinerary post.
Aiken-Rhett House—painstakingly preserved antebellum Charleston townhouse with an outstanding audio tour.
Historic Charleston City Market—this four-block market featuring local artisans is considered by many to be a "must do" in Charleston.
Waterfront Park—wonderful park on the water that's home to the famous Charleston Pineapple Fountain.
Fort Sumter National Monument—take a boat out to Fort Sumter and learn about the history of the military fort that was the site of the launching of the Civil War.
Angel Oak Tree—take a short detour outside Charleston to see the immense tree believed to be the oldest living thing east of the Mississippi River.
Other popular activities in Charleston
If you're looking for other things to do while you're in Charleston, you might like this popular expert-guided historical walking tour.
One of the most popular things to do in Charleston is to take a horse-drawn carriage ride. Book your ride through the historic district here.
Or take this food tour to explore Charleston's culinary scene with an expert guide.
Where to eat in Charleston
The food scene in Charleston is not to be missed. We highly recommend:
If you decide to stay in Mount Pleasant outside Charleston to save some money on your hotel stay, then you'll be close to some great breakfast places that we loved:
Vicious Biscuit—amazing biscuits (including gluten-free options!).
Page's Okra Grill—delicious breakfast standards like steak and eggs, French toast, pancakes, etc.
The best things to do between Charleston and Savannah.
Explore stunning Savannah, Georgia
From Charleston, South Carolina, it's just a little over two hours by car to the next stop on the Southeast road trip itinerary: Savannah, on the east coast of Georgia.
Savannah is known for its 22 squares that make little neighborhoods throughout the historic district as well as its odd and often creepy history. Locals will be anxious to tell you that Savannah is the most haunted city in America.
It's a perfect place to try a ghost tour.
You don't need much time in Savannah, but if you only have time on your itinerary to do Charleston or Savannah but not both, check out our Savannah vs Charleston post to help you decide which is best for you.
Explore more of the area with these ideas for weekend trips from Savannah.
Where to stay in Savannah
Eliza Thompson House: Historic inn just a few blocks from Forsyth Park and its famous fountain. Book today.
Marriott Savannah Riverfront: Great location at the end of historic River Street, just steps from the famous Waving Girl statue. Book your stay today.
Holiday Inn Express Savannah – Historic District: Affordable and comfortable rooms in the heart of the historic district and just steps from Vic's on the River, one of our top restaurant recommendations. Book your room today.
What to do in Savannah
Savannah is a great place to spend a couple of days. I recommend you definitely get an early start on your first day and then do a history walking tour. We loved our tour with Genteel & Bard. For more details, see our Savannah itinerary post.
Other popular things to do in Savannah include:
Stroll historic River Street—This historic street runs along the Savannah River and is home to hotels, shops and restaurants in the downtown area.
Check out the Waving Girl Statue—At the end of River Street is the famous Waving Girl Statue. Make sure to pay a visit.
Visit Forsyth Park—The famous fountain is a well-known photo spot in beautiful Forsyth Park.
Explore some of the 22 squares—Savannah's founder laid out the old city in a grid with many small green spaces called squares. This created smaller neighborhood areas that has helped Savannah maintain the feel of a much smaller city than it actually is.
Eat lots of food—Savannah is a foodie traveler's paradise. Check out our recommendations below.
Tour historic homes — there are some famous homes, historic buildings, and historic sites in Savannah that you might want to check out such as Mercer-Williams House.
Visit Tybee Island — it's one of Georgia's barrier islands and of the most popular day trips from Savannah.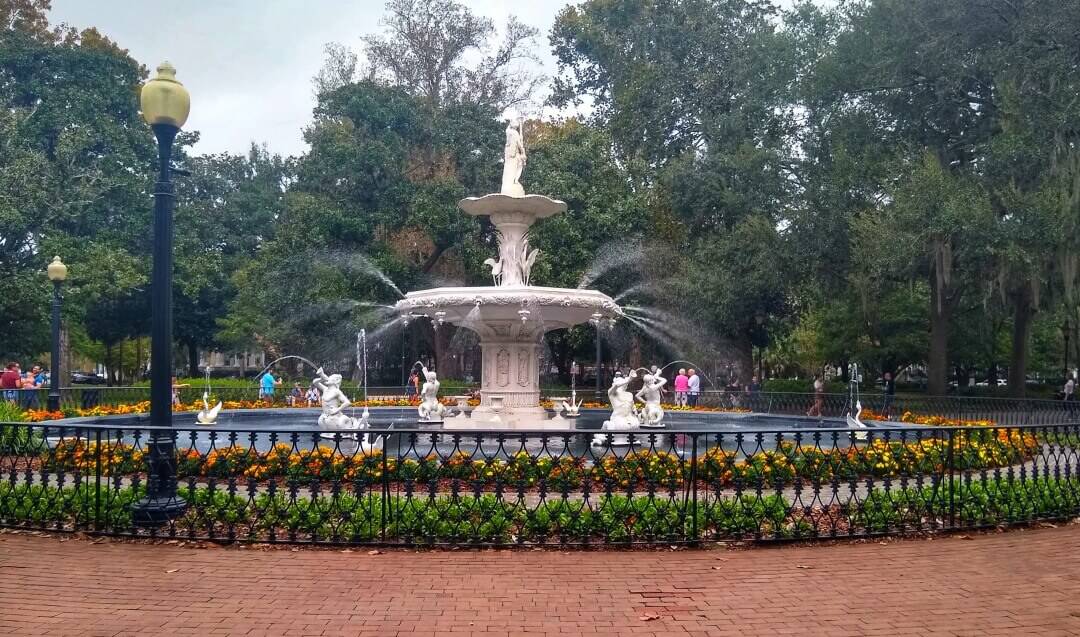 More featured tours in Savannah, Georgia
Savannah is full of great tours to try. One of the most popular is this highly-rated guided Segway tour.
Where to eat in Savannah
The food in Savannah, Georgia, is simply amazing. You could go there only for the food and leave happy. We've listed a few of our favorites here, or put yourself in the hands of an expert and take a guided food tour of Savannah's amazing cuisine.
Vic's on the River—delicious food and outstanding service with great views of the Savannah River. Perfect for a special occasion dinner.
The Collins Quarter—awesome breakfast in a wonderful atmosphere. Large portions. Don't miss their lavender mocha.
Fox & Fig—delicious plant-based cuisine with a focus on local food.
Back in the Day Bakery—amazing biscuits that you can customize however you like. Try the pepper jam!
Leopold's—iconic ice cream spot. Expect lines out the door during peak travel season.
Really interested in just seeing Charleston and Savannah? Check out my Charleston and Savannah itinerary.
End your journey in St. Augustine, Florida
From Savannah, Georgia, continue the Southeast road trip to Florida. You'll head south and drive a little over three hours to St. Augustine.
St. Augustine is the oldest city in America, and was founded in 1565 by the Spanish. It's a fun city full of rich history and culture. And some great places to eat.
It's a great place to wrap up a road trip. You could also start this road trip itinerary in St. Augustine and work your way north to Virginia.
Where to stay in St. Augustine
A vacation rental just steps from the historic district like this one on Airbnb has plenty of room for a small family or it's perfect for a couple. And since it includes a full kitchen, it's easy to save money on food.
If you're interested in hotel accommodations here some top rated options:
Casa Monica: This iconic resort and spa in the historic district is a popular high-end place to stay. It's located very near Plaza de la Constitución. Book your stay right now.
Penny Farthing Inn: This Bed & Breakfast is located in historic St. Augustine near the popular Lightner Museum. Book your stay today.
Holiday Inn St. Augustine – Historic: This affordable hotel option is located about a 6-minute drive from Castillo de San Marcos National Monument. Book your reservations now.
What to do in St. Augustine
St. Augustine is full of fun things to do, and the historic center is so nicely compact that it's easy to get around easily from one site to another.
For more information about these sites, make sure to read our St. Augustine itinerary post.
Featured activities in St. Augustine, Florida
Where to eat in St. Augustine
St. Augustine has some great dining options. Here are our top picks for lunch or dinner (reservations recommended):
The Floridian: Popular local eatery with great food and service. Excellent vegetarian and gluten-free options.
Columbia: Large menu with some great gluten-free options and a few solid vegetarian options. Hubby claims Columbia has the best flan he's ever tasted.
For a sweet treat or afternoon snack, we recommend:
Customize or expand your road trip
Want to change up your road trip itinerary or make it longer? Here are a few stops we could recommend that would fit in quite well.
Hilton Head Island, South Carolina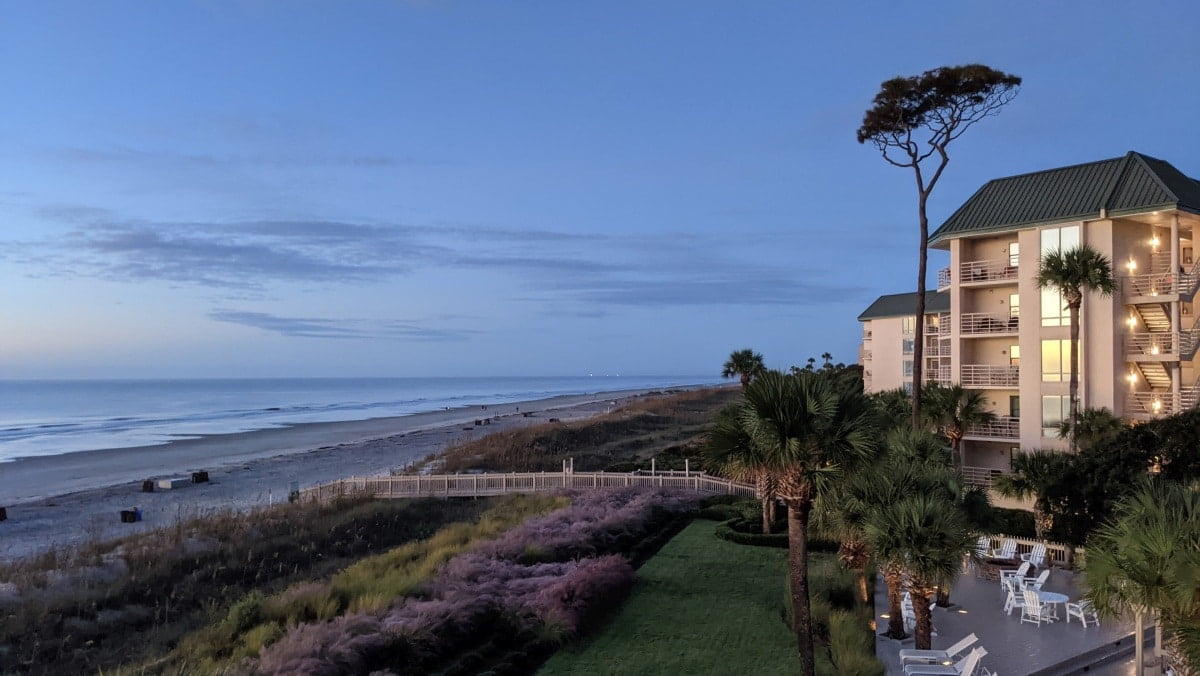 Hilton Head is conveniently located between Charleston, South Carolina, and Savannah, Georgia. It's one of my favorite travel destinations for a relaxing getaway.
So, if you want a day or two of beach-y vacation in the middle of your road trip, Hilton Head would make a great stop.
We recommend the Marriott Hilton Head Resort & Spa. It's right on the beach and also has a great outdoor pool area.
Orlando, Florida
Once you've had your fill of early American history, head down to Orlando for some theme park fun. Orlando is less than two hours by car from St. Augustine, Florida.
Scenic 30A (Florida)
Head over to the Emerald Coast after a long road trip of heavy sightseeing. The sugary white beaches along South Walton's scenic Highway 30A are perfect for a relaxing getaway. And there are so many great things to do in 30A, you won't want to leave.
30A is a little over 5 hours from St. Augustine, Florida, by car.
Need more help planning your road trip? Don't miss our essential travel planning resources page.
Important road safety tips
Final thoughts on your Southeast road trip itinerary
The Southeastern United States is so full of culture, history, and fun things to do that you'll be dying to go back once you get a taste of it.
We thoroughly enjoy seeing early American settlements and how they have been preserved today to make sure that their important history lives on.
So, hop in your car (or a rental) and journey through the Old South. You'll learn a lot about the history of area and experience some amazing food along the way.
More articles to help you with your Southeast USA road trip planning
Pin this post!
Southeast road trip itinerary