Road Trip Rookie? Must-know Tips for Your First Road Trip
Heading out on your first road trip is exciting for sure, but you'll need careful planning to make it the best trip possible. In this article, I'll provide essential tips for your first road trip, covering everything from choosing a destination and budgeting to vehicle preparation.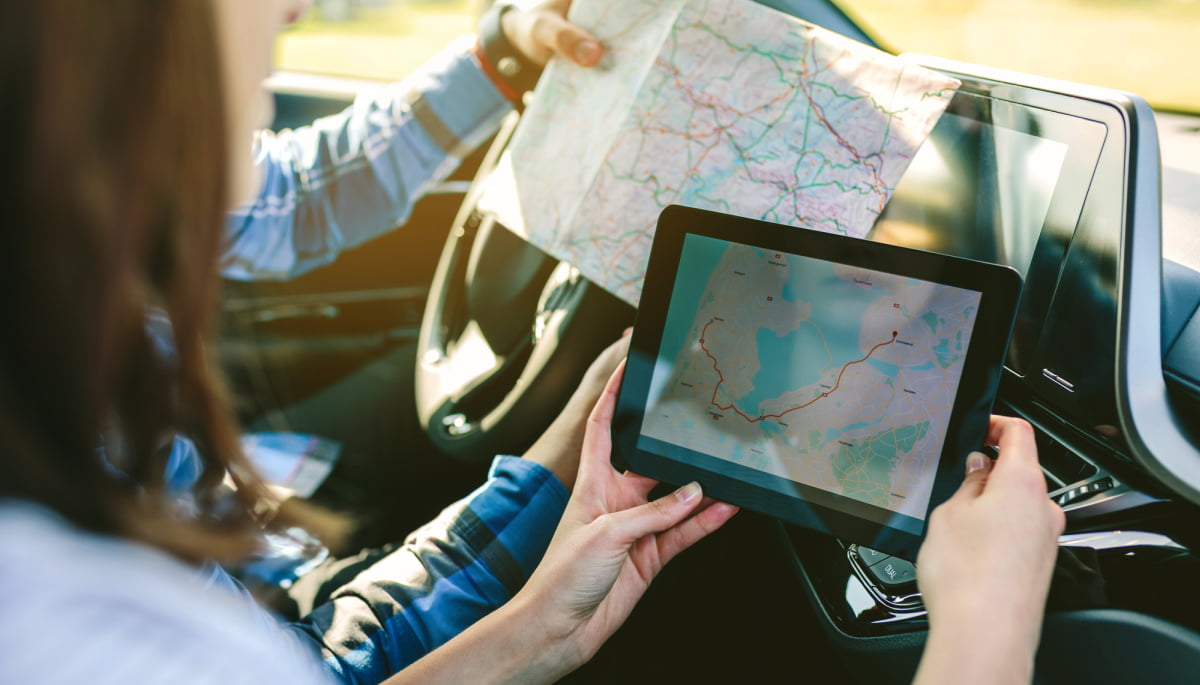 Choose your destination
Selecting a destination is an important part of planning your road trip. For first-timers, I would recommend a destination not TOO far away from home.
Before you start researching, take a moment to consider what type of traveler you are.
Do you enjoy exploring big cities?
Do you love staying in cozy towns?
Are you looking for natural sites?
Once you have a better understanding of your preferences, you can narrow down potential destinations. Here are a few ways to find inspiration for your road trip:
Browse through travel blogs (ahem).
Hop on Pinterest or Instagram to look for beautiful photos. Which ones speak to you most?
Ask friends and family for their recommendations.
Check in with your travel companions to ask about their preferences.
Look at travel groups on Facebook to get ideas for places to visit from others.
Plan your route
Take the time to plan your travel itinerary and driving route carefully. I like to use Google Maps for this. You can easily check mileage between stops and estimate drive times.
Remember to consider the attractions and sights that you'd like to see along the way. Road trips are about more than just the final destination, so take advantage of the opportunity to explore new places.
When planning your route, keep the following in mind:
A good rule of thumb is to limit daily driving to six or seven hours.
Check road conditions ahead of time as much as possible.
Find spots to rest, stretch, or eat along your route. Regular breaks are important to stay alert during the drive.
Plan enough time for travel between stops. Add extra time to your plan for unexpected delays like traffic.
Make sure you have a paper map with you. We like using the Rand McNally Road Atlas.
Download your Google Maps route to keep using navigation without data.
Share your route and itinerary with family or friends back home so they know where you'll be on any given day.
Plan your road trip budget
Before hitting the road, you need to create a trip budget.
Plan your budget by estimating the cost of fuel, food, activities, and accommodations, and remember to include any parking or resort fees.
Consider other expenses you might have: potential car repairs, souvenirs, etc.
Add 10% for incidentals and unexpected budget overruns.
Add everything up. This is your total trip budget.
You'll find it easier to estimate fuel costs after you've done a few road trips, but the simple formula is to calculate your trip mileage and divide it by your car's average gas mileage to get an estimate of how many gallons of gas you will need. Then multiply that number by the average per-gallon price of gas.
There are also a couple of online calculators you can use to budget for gas.
Book accommodations in advance
Some road trippers like to leave everything open and find places to stay as they go. I prefer to plan ahead, and I suggest first-time road trippers do the same.
Research options for each stop on your trip in advance and book early to find the best deals. We love to take advantage of lower-cost hotel chains that offer free breakfast to save a little money on our food budget.
Before booking, check the cancellation policy to avoid charges if you cancel your stay.
Research activities in advance
Just as you should book your accommodations in advance, make sure to reserve spots for any tours you plan to take. Also, check if any hikes you plan require permits.
Research all your stops and activities before your trip Add up all of the entrance fees and tour costs and add those to your trip budget.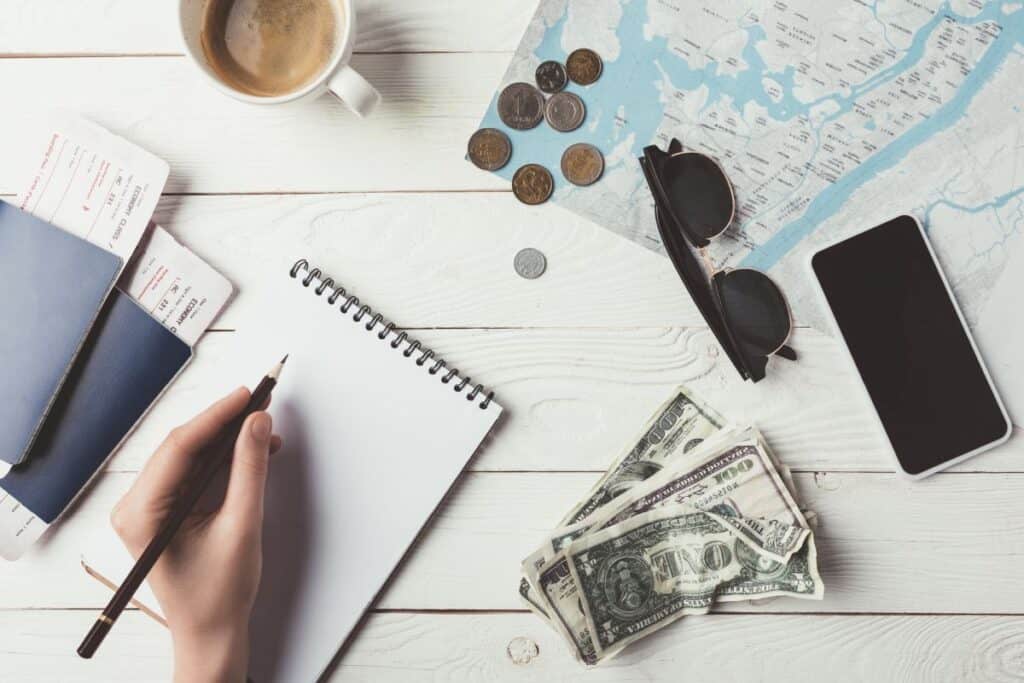 Do a vehicle check-up
It's essential to ensure that your car is in proper working condition. A thorough vehicle check-up can minimize the chances of unexpected issues and keep you safe on the road. You can make an appointment with your regular mechanic or do it yourself.
Start by inspecting your tires carefully. Check the tire pressure and adjust it according to the recommendations in your vehicle's owner's manual. Examine the tire tread for any signs of uneven wear or damage. Replace the tires before your trip if they seem worn out or damaged.
Make sure your spare tire is in good condition and filled with air.
Check and refill or change your car's fluids as needed, especially the oil and coolant.

Engine oil
Coolant
Brake fluid
Power steering fluid
Windshield washer fluid

Check your brakes and listen for strange noises. Have a mechanic inspect them if you have any doubts.
Make sure all your vehicle's lights are working properly: headlights, brake lights, turn signals, and interior lights.
Fill your tank with gas.
Road trip emergency kit
Make sure you have items in your car to help you in case of an emergency. These could include:
Roadside assistance: Join AAA and make sure you travel with your membership card.
Basic first-aid items: Bandages, antiseptic wipes or antibiotic ointment, and pain relievers.
Tools: Jumper cables, tire repair kit, tire pressure gauge, spare tire, portable air compressor/battery jump starter, and a multi-tool like a Leatherman.
Flashlights and batteries: Pack at least one flashlight and a set of spare batteries to help you during nighttime emergencies.
Blanket: Pack a blanket or two to keep you warm in case you're stranded in cold weather.
Pack extra food and water in case you are stranded for an extended time.
Entertainment on the road
Make sure you have things to do on your road trip. You may see beautiful scenery or just endless miles of highway.
Make a playlist of your favorite songs on Spotify and download your favorite albums so you have plenty to listen to as you drive or ride along.
Download and listen to an audiobook.
Catch up on your favorite podcasts or discover new ones by asking friends for suggestions.
Bring a fun and engaging book.
Catch up on your journaling
Play some car games like road trip trivia.
Use road trip questions to spark conversations with your travel companions.
Prepare your home for your absence
Leave a key with a trusted neighbor. Ask them to keep an eye on your home and be prepared to call emergency services if needed. Make sure they have your number so they can get a hold of you.
Ask someone to pick up your mail for you and pick up any packages left on your porch. You can also put in a request with the post office to hold your mail while you're away.
Make sure all doors and windows are locked.
Double-check to turn off all appliances that shouldn't be left on.
Remove food from the refrigerator that may spoil before you return.
Remove all trash from the house. This prevents coming home to bad odors and helps with pest control.
Make sure any pets are cared for.
Adjust the HVAC system to save money and energy. Check the weather forecast for your area and set the system before you leave.
Double check everything
Before leaving, take time to ensure you've done everything and packed all you need. You don't want that terrible "I feel like I'm forgetting something" feeling.
Food
Food is part of the fun of a road trip, whether it's finding cool places to stop and eat a meal along the way or packing your favorite foods to snack on as you drive.
Bring a cooler and ice packs with you to keep perishables and drinks cold while you're on the road.
And don't forget to have enough water to stay well hydrated. Carry enough water to stay hydrated, especially if you get stranded for several hours.
Make sure you get enough rest
Fatigue can be dangerous while driving, so make sure to schedule regular breaks to rest and stretch your legs. Taking regular breaks can help keep you more alert and prevent aches and pains.
Make sure you're getting enough sleep each night you're on the road. Adequate sleep reduces drowsiness and also improves your reaction time. Aim for around 7 to 8 hours of sleep each night.
If you feel tired while driving, don't hesitate to call it a day and find a place to stay for the night. Do not risk your safety for the sake of sticking to a travel schedule.
Your first road trip is an adventure that requires careful planning along with flexibility. Selecting a destination, planning your route, and setting a budget are all important steps. Most importantly, remember to have fun during the trip, not just at your final destination. With these tips in hand, you're ready to hit the road and make your first road trip an unforgettable one. Safe travels!
More articles about road trip planning