How to Plan a Trip for Beginners (5 Easy Steps)
Planning a trip can seem overwhelming to beginners, but I promise you that it's simple. You only need to do a few things to plan a trip…and a great trip at that!
Keeping things simple will help you keep the nerves at bay and make your overall experience more smooth.
There's no need to overthink your travel plans. You don't need to follow an 11- or 18-step plan to learn how to plan a trip.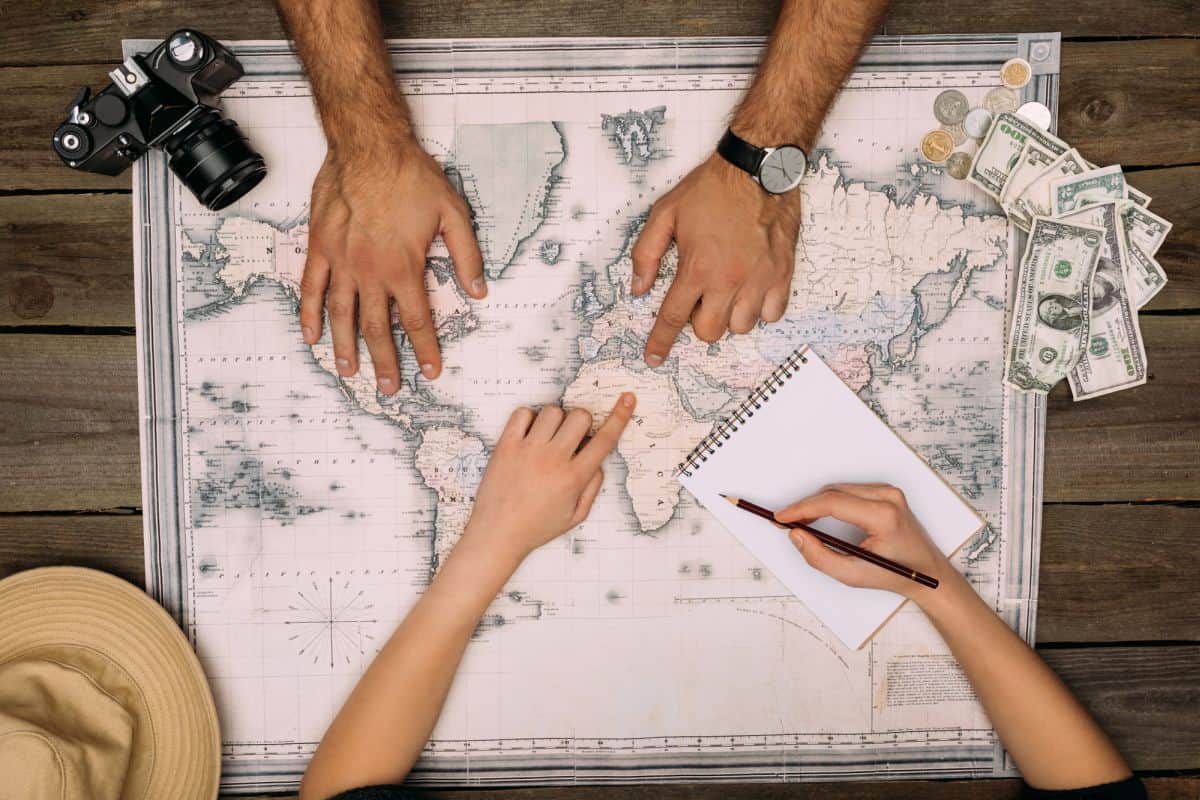 So if you want to easily plan a trip without any drama, just keep reading!
To get started planning your trip, grab your FREE printable travel planner here.
This post includes affiliate links. If you make a purchase through one of these links, I may earn a small commission at no additional cost to you. As an Amazon Associate, I earn from qualifying purchases. See disclaimer.
#1. Choose your trip destination
First, you need to decide on where you want to go…which can sometimes be a difficult task since there are thousands of travel destinations all over the world.
Keep in mind that certain destinations will require a little (or a lot!) more research or pre-travel prep than other destinations (such as visa or vaccination requirements). They make for more complicated travel planning.
If you're planning your first trip, I highly recommend that you keep your first destination simple. You can always make more complicated plans for your next trip.
Consider trying:
A domestic trip
A destination just a few hours' drive from your home
A simple weekend getaway
When choosing a destination, cost is often going to be a major factor. You can choose your destination and then set your travel budget or choose your destination based on a travel budget you've already set.
Either option is a viable choice.
We tend to start planning trips up to two years out and we'll set our budget based on where we want to go and how much time we have to save up the money we think we'll need.
This leads me to one of my favorite travel tips (which also doubles as a personal finance tip: do not go into debt to travel. Only spend the money that you have.
For more help with budget travel, see my article outlining all my best practical tips for affording more travel.
For more help with building your travel budget, check out this post on creating a travel budget that works for you. It includes basic guidance for how much of your travel budget to allot for certain expenses such as transportation, accommodations, food, activities, etc.
Or sometimes we find we have some extra time and money and we'll choose our trip destination and trip length based on the money we have available.
For help with choosing your travel destination, you can:
Brainstorm a list of places you've always wanted to visit. Inviting your travel companion(s) to give their input is a great way to get them involved in the planning process.
Check out Pinterest for inspiration
Read your favorite travel blogs (hint hint)
Ask friends and family about their favorite trips
Do Google searches for ideas such as "Affordable beach vacations in the U.S." or "best family vacation destinations in Europe."
Consult with travel guidebooks
Once you've chosen your destination for your perfect trip, you're ready to get on with planning your trip.
#2. Decide how you want to get there
Once you've chosen your travel destination, you'll need to make arrangements for getting there.
Now, sometimes there will be only one obvious transportation option for your destination. But sometimes there are non-obvious options such as taking a cruise to Hawaii instead of flying or traveling by bus or train.
If you live in the "lower 48" in the U.S., more often than not you'll be flying or driving to your destination. We generally prefer to stick closer to home and drive for short trips. For a long trip, we're always willing to fly.
Fly
Google Flights
My go-to site when I start my trip planning is Google Flights.
Use the "Explore" tool to browse for great deals from your chosen departure airport. You'll get the best results if your travel dates are flexible…though this can be said of any cheap flight tool. 
See my post on how to use Google Flights for more information.
Going
Formerly Scott's Cheap Flights, Going is a flight deals subscription service that sends travel deals straight to your email inbox. And Premium members get weekend getaway deals in addition to amazing deals on international and domestic flights.
In my opinion, a Going Premium subscription is well worth the money and is the best way to get the best deals on flights especially if you have flexible travel dates and want to see a new place. I especially highly recommend Going for international travel (from the U.S.).
You can even try it for free for two weeks to decide if you think it's worth the money.
For more about this service, see my full review of Going.
Secret Flying
Another great resource for finding amazing deals on flights (including error fares) is Secret Flying. Secret Flying is totally free.
You sign up for alerts on their website, but they don't offer alerts from any airport you want in the U.S. But they do offer alerts from airports outside the United States, unlike Going
Hopper
Another tool in my trip-planning arsenal is the Hopper app. Hopper predicts prices to help you decide whether you should book now or wait for a better deal to come along. I like to use Hopper when my travel dates aren't as flexible, but I have time to wait for prices to improve before I book.
For more details about all the options for pricing flights, see my full post on how to save money on flights.
Drive
Road trip!
I love driving to our travel destinations whenever we can. No airport security. No worrying about missing connections, etc.
I also love that I can be a lot less fussy about my packing. If it fits in the car, it can go.
Not to further complicate things, but you might also want to fly to your first destination and then road trip from there to see a few cities. This does make travel planning more complicated, but if you opt to do that you'll want to look into renting a car.
A less complicated option is to choose one destination to serve as your "home base" and then day trip from that one location to see more of the area.
AutoSlash
Find a great deal on rental cars with AutoSlash. You can also use AutoSlash to track your rental, and they'll notify you of price drops. 
Costco Travel
If you have a Costco membership, you can also find great deals on rental cars through Costco Travel. I always check both.
I used to always get the best deal through AutoSlash, but lately, Costco has been offering me the best price.
Employee or association discounts
Check with your employer or your alma mater's alumni association to see if they offer any rental car discounts you can take advantage of.
For more help with your road trip, check out:
#3. Figure out where to stay
Now that you know where you're going and how to get there, you can decide where you're going to stay once you're there.
Unless you want to travel on a shoestring, you can bypass the typical "gap year" options like hostels and couchsurfing.
Your main options then will be to stay in a hotel (or resort, inn, or bed & breakfast) or use a vacation rental through a platform like Vrbo or Airbnb.
Hotel
The choice of staying at a hotel, inn, or resort will depend a lot on how you like to vacation and what you're looking for as far as amenities.
Those who travel regularly might choose a major hotel brand to frequent so that they can earn points for their stays and loyalty status for access to more amenities and upgrades.
Vacation rental
Using a vacation rental can often (but not always) save you money.
Keep in mind when looking at options on Vrbo or Airbnb that the added fees can be significant, meaning that at some destinations or for shorter stays a hotel might cost you less money per night.
And there are plenty of affordable hotels that offer helpful amenities like free breakfast.
On the other hand, your vacation rental will typically come with a full kitchen, allowing you to bypass eating meals out at restaurants if you wish, which can also mean significant savings in your travel budget.
Vacation rentals are also a great option if you're traveling with a large group that would require multiple hotel rooms. Dividing the cost of a larger vacation rental home with several bedrooms will very often save money over booking multiple hotel rooms.
Other tips
There are websites (like booking.com) that allow you to look for a wide variety of accommodation options at the same time: hotels, inns, B&Bs, condo rentals, homestays, etc); however, a downside with using a site such as booking.com is that choices can be overwhelming, making it difficult to make a decision.
My recommendation for new or anxious travelers who are having difficulty choosing a place to stay is to:
Use a map to choose an area or two in your destination where you would like to stay
Set your budget
Do a little research to find 3 or 4 accommodation options in a location you like and that are within your budget then stop searching there
Compare the amenities of those options and book
#4. Choose what you want to do
Now that you've settled on where you're staying at your destination, you need to make some decisions about what you want to do on your trip.
What do you enjoy doing when you travel?
Popular tourist attractions
Theme parks
Guided behind-the-scenes tours
Walking tours
Museums
Arts performances
Outdoor activities
Historical sites
Natural sites
National parks
Scenic drives
There are so many options!
Depending on your destination this may require a fair amount of research and pre-booking tickets or tours. Or it could be as simple as just brainstorming a few ideas for things to do if you get bored.
Here are a few tips for building out your itinerary:
Be honest with yourself about what your "must-do" attractions and activities are. Prioritize the most important thing early in your itinerary then add in any lower priority items.
Don't overbook your itinerary. Make sure to give yourself some breathing room between activities to account for travel delays, rescheduling for bad weather, etc.
For longer trips, give yourself half a day or a full day with no pre-booked activities so you can get some extra rest, go back to a spot you enjoyed, or accommodate any extra sites/activities you discover at your destination.
See my post on planning a travel itinerary to learn about the exact process I follow when I plan my trips.
#5. Build your packing list
With your itinerary built, it's time to figure out what you want to take with you on your trip.
Your packing list will be a reflection of your destination, the season/weather during the time of year you're traveling, and your planned activities among other things.
And don't forget to pack your important documents such as your passport, etc.
Here's more help to get you packed and out the door: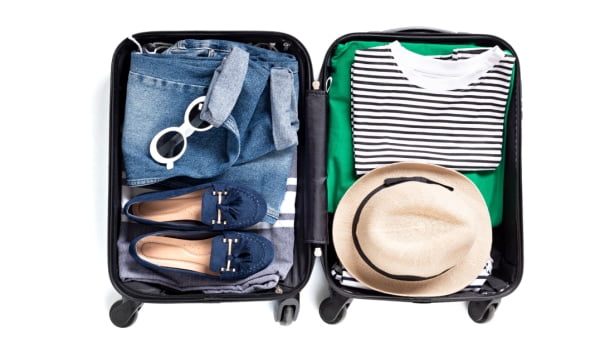 Other things to consider before you travel
While we just went through all the major steps you need to take to plan your trip, depending upon your destination and personal life situation there may be other things you may need to take care of before you leave town.
Visa, travel advisories
If you are traveling out of the country, you must understand what the entry or visa requirements (if any) are for your destination.
Don't be like the honeymooning bride who didn't know that her passport needed to be valid for three months beyond her planned date of departure from France at the end of her trip. It would have taken her literally two minutes to find that information and avoid the heartbreak of not being able to take her honeymoon.
You'll also want to be aware of any travel advisories or health requirements/recommendations. U.S. citizens traveling internationally should check the U.S. Department of State website for helpful information.
Travel insurance
When you travel, it's a good idea to purchase travel insurance in case something goes wrong.
We use World Nomads for peace of mind whenever we travel internationally.
Miscellaneous considerations
Other things you may need to think about as you plan your trip could include:
Arranging care for pets
Arranging for your mail to be picked up or held
Making sure that you don't miss any bill due dates while you travel
Final thoughts on planning a trip
Traveling for the first time or planning a trip yourself for the first time can seem scary, but it's actually a pretty simple process.
Certainly, some kinds of trips are more complicated than others or destinations that require more advanced prep before you visit, but beginners and anxious travelers can still plan wonderful trips on their own.
Just remember that you only need a few things to have a great trip: a destination, a way to get there, some place to stay, and things to do.
More articles to help you plan a trip
Pin this post!