How to Use Google Flights to Save Money
Google Flights is my first stop anytime that I plan a trip where I'm going to be paying cash for my airfare (instead of miles or travel rewards points).
If you're not yet an avid user of Google Flights or need help with how to use Google flights to find great fares, track prices or even book your tickets, then read on.
I'm going to walk you through everything step by step.
Plan your ideal trip with this FREE printable travel planner.
Why use Google Flights
Google Flights is an outstanding free tool to look for deals on airfares and track prices.
Okay so I'm a travel nerd and I have been known to occasionally poke around in Google Flights just for fun. Just to see what fares are available at the moment.
In fact, trolling Google Flights one day randomly is how hubby and I stumbled upon a sale on fares for our week in Paris.
Within just a few hours the price was gone, but fortunately I had placed a 24-hour hold on the fare with American Airlines and booked later that day.
Luckily you don't have to spend endless hours trolling for flight deals. Google Flights offers some great features to help you track down a cheap flight to your dream destination.
While Google Flights is a powerful tool with a lot of features, it should not be considered the "and all, be all" for you when planning your travel itinerary.
Google Flights will help you fly for less, but should really only be one tool in your arsenal of travel planning resources.
How to use Google Flights to find cheap flights
Google Flights can definitely help you find cheap flights, but there are a few important things you should know.
Google Flights doesn't show Southwest Airlines prices. In my opinion, this is a weakness. A good flight deals hunter should always consider Southwest flights before making a decision.
Prices can lag on Google Flights. You might find a great price and then head to the airline to book only to find that the price is no longer valid.
I have never seen an error fare on Google Flights. That doesn't mean they definitely don't happen, but you shouldn't rely on Google Flights to find them for you.
The best ways to use Google Flights to find cheap flights will be with the Explore tool and the track prices feature.
How to use Google Flights Explore
You can use the "Explore" option to browse for great deals from your chosen departure airport. This is ideal for when you're open to suggestions for travel destinations.
You'll get the best results if your travel dates are flexible.
To get started with Explore, navigate to the "explore" icon on the left of your screen and click to open up the tool.
Once inside the Explore tool, enter in the left pane:
Roundtrip or one way
Number of travelers
Preferred class (economy, premium economy, business, first)
Your preferred departure airport
Preferred travel dates
Use the slider to set your maximum price
Here's where I think Explore is so great. You can enter specific dates OR you can keep it loose flexible dates.
Click on the calendar icon and choose a one week, two week or weekend trip. Then choose a specific month or select "All" if you're open to traveling anytime in the next 6 months.
Move around the map, zooming in and out, to show more trip options and refine your results further. Moving the map will change the list of flights showing in the pane on the left side of your screen.
In the drop downs on the map, you can adjust…
The number of stops (any number of stops, nonstop only, 1 or few stops, 2 or fewer stops)
Airlines (toggle "Select all airlines" or choose your favorite alliance…Star Alliance, Oneworld, SkyTeam)
Adjust arrival and departure times for outbound and inbound flights
Bags
Flight duration
To avoid budget carriers like Frontier or Spirit from showing in the Explore results, toggle off "Select all airlines" under the Airlines dropdown on the map and check the box for all of the major airline alliances.
Click on the fare in either the list in the right pane or directly on the map to see the top available flight options. Click "View Flights" to see the full listing.
Google Flights will default to displaying the "best" flights at the top of the results. You can re-sort by price, departure time, arrival time, or duration.
Pay attention to the information bar that displays the state of current prices for your selected itinerary.
If your travel dates are flexible at all you may be able to find a better price by looking at the full calendar or on the Date Grid.
Click on the calendar icon to see prices for trips of the same number of days you set originally. You can change the length of the trip in the lower left.
To see pricing options for trips of various lengths all at once click on "Date Grid." You can switch to "Price Graph" from the same box if you wish. Click on any grid cell and then click okay to change the available flight information on the main screen.
How to set Google Flights alerts
If you're looking for fares to a particular destination and have time to wait to see if prices go down, you can track prices in Google Flights.
Before you enable price tracking take a minute to make sure you have all your flight options across the top of the page set just the way you want.
Roundtrip or one way
Number of travelers
Preferred class (economy, premium economy, business, first)
Departure airport
Arrival airport
Travel dates
Stops (any number of stops, nonstop only, 1 or few stops, 2 or fewer stops)
Airlines (toggle "Select all airlines" or choose your favorite alliance…Star Alliance, Oneworld, SkyTeam). In this dropdown you can also select or exclude individual airlines.
Bags
Adjust arrival and departure times for outbound and inbound flights
Connecting airports (set layover minimum or maximum, enable all connecting airports, or select/exclude specific airports)
Flight duration
Show or hide separate tickets
Once you have everything exactly how you want it, simply enable the "track prices" feature with the toggle switch.
Google flights will monitor prices for you and send you email notifications with updated price information.
You can track prices for as many itineraries as you want.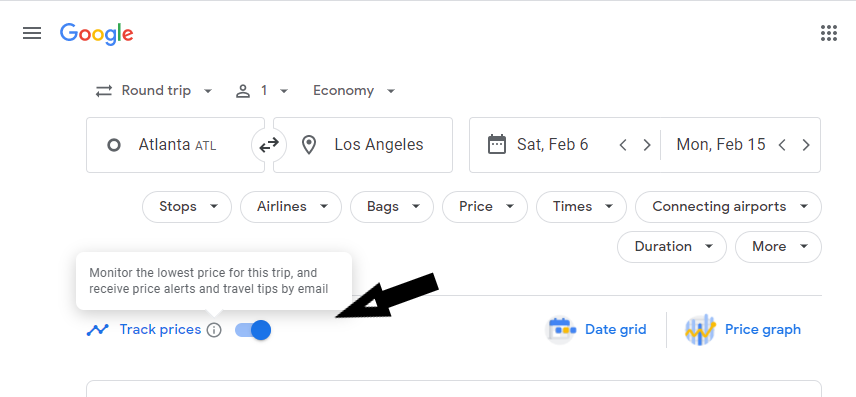 How to book on Google Flights
Once you find a flight you want to purchase, click on "Select Flight" for the departure and return flight you want.
Then you'll be directed to choose your fare options. For example, a Delta flight might show options for basic economy, main cabin or Delta Comfort+.
Read More: Tips for Long Flights
Click on the fare option you want (your price will update on the screen if you upgrade) and then choose "Select" to book with the airline.
This post includes affiliate links. If you make a purchase through one of these links, I may earn a small commission at no additional cost to you. As an Amazon Associate I earn from qualifying purchases. See disclaimer.
The easiest way to find cheap flights
But what if you don't want to do all this work to find a good deal on your flight? Why go looking for a good flight deal when you could just kick back and wait for it to come to you?
You certainly can't set up Google Flights price tracking alerts for every possible flight itinerary you could take.
If you're serious about scoring a good deal on airfare (the kind that will make all your friends jealous), I highly recommend you try a premium subscription to Going (formerly Scott's Cheap Flights.
Read my full Going (Scott's Cheap Flights) review.
You'll get amazing flight deals (including those error fares I mentioned earlier) emailed directly to you with more information about the date range the deal is good for, available airlines and their best guess for how long the deal might last.
Unlike Google Flights, they will include Southwest Airlines, but they won't clutter your inbox with prices for budget carriers like Spirit or Frontier.
Going is the ONLY premium travel subscription service that I recommend.
A Premium subscription to Going can pay for itself many times over even if you just book one of the deals each year. Even every other year if you get a really great deal. Like $197 nonstop from Charlotte to Honolulu.
Seriously. That's a thing that actually happened.
Going Limited is just what it sounds like. The Limited subscription is free but you will get significantly fewer deals.
The alert will include ads (not a deal breaker to me for sure) and you'll get some of the amazing flight deals they find but typically Premium subscribers will get first crack at everything.
A Premium subscription includes unlimited international deals, weekend getaways, domestic (U.S.) deals, mistake fares, business class deals (when they come up), and peak season deals (height of summer travel and Christmas/New Year's).
Going only sends deals for flights departing from airports in the United States at this time.
So…in short you can find a great deal on Google Flights for sure. And using Google Flights to its fullest potential should be a part of any travelers toolbox.
But if you want to save money AND save time, I'd get a Premium subscription to Going.
More articles related to saving money on travel
Pin this post!