How to Fly for Less: You Can Find Cheap Flights
Find the lowest price on your flight with ease
One of the most frequently asked questions from travelers has to be "How can I save money on flights?" Fortunately, there are a wealth of great tools that can help you find the cheapest flights. If you want to learn how to fly for less, check out these amazing tools.
*Pssst! Most of them are free.*
Just a point of clarification: this post does not cover what is known as "travel hacking."
All of the tools, services and apps described in this post are for those paying cash for their flights. It's not about using a rewards credit card or booking free flights using travel rewards credit card points or frequent flyer miles.
Plan your ideal trip with this FREE printable travel planner.
This post includes affiliate links. If you make a purchase through one of these links, I may earn a small commission at no additional cost to you. As an Amazon Associate I earn from qualifying purchases. See disclaimer.
Can I do anything to make it more likely I can fly cheaper?
Yes, definitely…though for many people the first two will be likely out of your control.
The biggest factors in determining how easy it will be for you to score cheap plan tickets are:
Your proximity to a major hub airport (think LAX, JFK, ATL, ORD, etc.)
How flexible your travel dates are
Whether you're using the best available tools and services to get your hands on those deals
Those living closest to major airports and who can be the most flexible with their travel dates are the most likely to find the most awesome deals to a popular destination. They will also find good deals coming their way pretty regularly.
But using one or (even better) more of the apps and services I've outlined below will increase your chances of getting the best deal on plane tickets even if you don't live near a major city like New York, Los Angeles or Chicago.
Living near "next tier" hubs for major airlines can also get you some discount tickets. I live not too far from Charlotte, North Carolina, which is an American Airlines hub.
I once received an alert from Scott's Cheap Flights (now Going) that American was offering nonstop flights from Charlotte to Honolulu for only $197. The dates were quite limited, but still. That's an amazing deal.
But don't despair, I've seen many amazing deals from smaller regional airports. They're just not as common as those for the larger airports.
What about Greenville, South Carolina, to Lima, Peru, for only $346? I'd say that's pretty good since that fare would normally be nearly three times that on average.
Ready to start planning your trip? Check out my full list of the best travel planning resources.
Want to know how to fly for less? Use these tools
If you want to learn how to fly cheap, start with these tools, apps and services. Savvy travelers will cast the widest net possible (e.g., looking at nearby airports) to give them the best chance to find the cheapest airfares.
Google Flights
My go-to site when I start my trip planning is Google Flights. In fact, trolling Google Flights one day randomly is how hubby and I stumbled upon cheap fares for our week in Paris.
Within just a few hours the cheapest price was gone, but fortunately I had placed a 24-hour hold on the fare.
I fully acknowledge that we got lucky that day. But you don't have to wait for lightening to strike.
Google Flights offers some great features to help you track down cheap flight tickets to your dream destination.
Read More → Create the Travel Budget that Works for You
Use the "Explore" option to browse for great deals from your chosen departure airport. This is perfect for when you don't have a particular destination in mind, but know you just want to go somewhere. You'll get the best results if your travel dates are flexible.
For more detailed instructions, read my full post on how to use Google Flights to save money on airfare.
If you're looking for fares to a particular destination, you can track flight prices. Simply enable the "track prices" feature. Google flights will monitor prices for you and send you email notifications.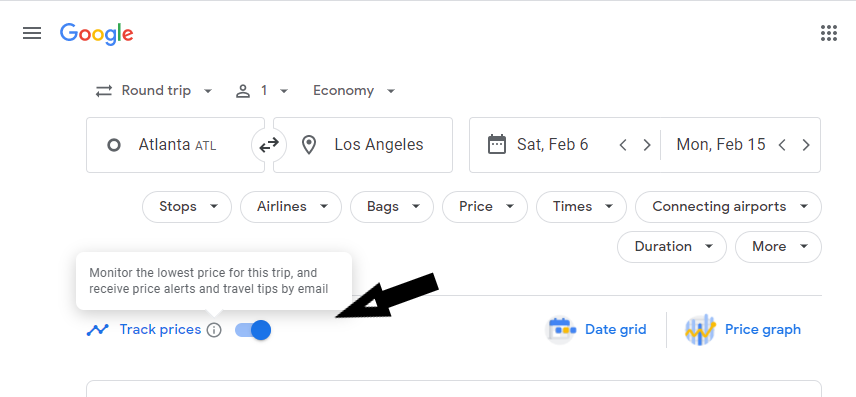 How to find cheap flights when you're travel dates are flexible
Save money on airfare with Going (formerly Scott's Cheap Flights)
Even if your travel dates are only moderately flexible, you need to check out Going (which used to be Scott's Cheap Flights). Setting up a bunch of Google Flights price tracking alerts will only get you so far.
If you're serious about scoring a great deal on airfare (the kind that will make all your friends jealous), I highly recommend you try a subscription to Going.
Read my full Going (Scott's Cheap Flights) review.
You'll get amazing flight deals (including error fares) sent straight to your inbox with instructions on how to book directly with the airlines (no budget airlines or ultra-low-cost airlines like Frontier).
Why go looking for a good deal when you could just kick back and wait for it to come to you?
A premium subscription to Going can pay for itself many times over with the great prices you'll have access to even if you just book one of the deals each year.
You can try Going Premium for free, and if your socks aren't blown off you can try the free Limited membership instead.
Going Limited (free plan) is just what it sounds like. With a Limited subscription you'll get some of the amazing flight deals they find and typically after the Premium subscribers have already had the email for a little while.
A Premium subscription includes unlimited deals on international flights, weekend getaways, domestic (U.S.) deals, mistake fares, and peak season deals (height of summer travel and Christmas/New Year's).
Secret Flying will help you save money on flights
If you are dead set on not spending money for premium flight deal alerts, then I recommend you sign up for free alerts from Secret Flying.
Please note you might get A LOT of notifications. You'll even see the occasional error fare.
Secret Flying is also my top recommendation for my readers who will be departing from airports outside the United States.
While I have found that I don't see quite as many deals for airports near my home in upstate South Carolina as with Scott's Cheap Flights, Secret Flying is totally free.
Also, there are ads in the app. Just giving you a heads up.
Secret Flying also offers a daily email digest that lists their deals for the day.
Be advised that a cheap airfare can disappear quickly. If you want real-time alerts, you will need to download and register on the free app.
The Flight Deal
Much like Secret Flying, The Flight Deal offers a totally free daily digest email with all their available deals. But unlike Secret Flying, The Flight Deal only notifies of fares from American airports.
The Flight Deal offers two paid subscription options:
The Flight Deal Realtime is a paid annual subscription that sends real-time alerts on flight deals. Currently the service is only available from 17 major airports in the U.S. The price (as of April 2023) is $20 per year, just pennies per day.
The Flight Deal Premium offers flight deal alerts for first, business and premium economy classes for $80 per year or about $0.25 per day. Subscribers will be directed to select a region in the U.S. (e.g., Midwest or Pacific) when signing up.
Travelers who live near New York City, San Francisco, Los Angeles, Boston, Chicago, Dallas, Miami, Philadelphia, Phoenix, Portland, Seattle or Washington D.C. will likely benefit most from using The Flight Deal.
Read More → Planning a Travel Itinerary: The Complete Guide
Read More → How to Survive Long Flights in Economy Class
How to fly cheaper when you have fixed travel dates
Hopper
Another tool in my trip planning arsenal is the Hopper app. Hopper predicts prices up to a year in advance to help you decide whether you should book now or wait for a better deal to come along.
Hopper claims their airfare forecasts are 95% accurate.
I like to use Hopper when my travel dates aren't flexible, but I have time or wiggle room to wait for the best prices (or at least for prices to improve) before I book.
Like with Google Flights track prices feature, you can use Hopper to keep an eye on fares. Set up "Flight Watches" easily from the homepage of the app. They've also added "Hotel Watches" pretty recently.
Though Hopper used to be only useful for predicting when airfare prices would drop, you can now use the app to book your flights.
Disclaimer: I have never booked a flight through Hopper. I only use it for its ticket lowest price predictions and price tracking features.
With all of these great tools and services at your disposal, you'll find it easier to fly cheap than you though possible.
So, get cracking and find yourself a great travel deal to your dream destination.
What's your favorite tool to save money on airfare? Let me know in the comments.
More articles about saving money on travel
PIn this post!
How to Fly for Less: You CAN Find Cheap Flights