Planning a Trip Budget that Works for You
You've chosen your dream destination. You're finally going take that trip to Paris, Rome or Hong Kong. Now you have to figure out how much all of this is going to cost. You need to think about planning a trip budget.
But, where do you start?
In this post we're going to discuss the ins and outs of planning a trip budget. And I'm going to lift the curtain on how much we spent on one of our trips.
I know. This is exciting stuff.
This post includes affiliate links. If you make a purchase through one of these links, I may earn a small commission at no additional cost to you. As an Amazon Associate I earn from qualifying purchases. See disclaimer.
You're ready to take that dream trip. You're looking for airfare and hotels deals online. Good for you. I absolutely do that too.
But before I book those big-ticket items, I like to have at least a decent estimate of what my total trip cost is going to be so I don't blow too much of my budget on any one part.
5 Easy Steps to Planning a Trip (Especially for Beginners)
First step: making decisions about your travel budget
How do you decide where your travel dollars should go? Well, a lot of this will be dictated by your personal preferences.
Do you value luxury accommodations or hotel stays and fine dining or are you more interested in investing in comprehensive tours and once-in-a-lifetime experiences at your destination?
Would you rather do one more expensive trip every now again or do you explore the world on a smaller budget so you can travel more frequently?
Do you prefer international travel over domestic trips?
Do you rely on car rentals when you travel or do you prefer to walk and/or use public transportation?
Do you prefer long-term travel on a shoestring, like backpacking through Southeast Asia?
Perhaps your ideal trip includes Michelin star restaurants or large rooms in high-end hotels.
Or maybe you'd rather stay in a hostel for a few nights and cook your own meals so you have the money to do that $350 heli-hike to a glacier on New Zealand's South Island.
MUST READ: My Favorite Travel Planning Resources
Asking yourself these kinds of questions will clarify the best way for you to allocate your travel dollars in the way that works best for how you like to travel.
And be honest with yourself about what you want.
There's nothing inherently virtuous about spending as little money as possible on travel. Nor will your trip automatically be better just because it's more expensive.
The best travel budget is the one that gets you where you want to go at a cost you're okay with spending.
Next: Estimate your travel expenses
To start, I estimate the costs for airfare and accommodations with some basic online research.
It's usually safe to say that those will represent the two biggest expenses in your trip budget.
And this can take a considerable amount of time.
I just don't like spending a lot of money on airfare, so I wait for the best deal …and if one comes up that works for when I can take time to travel I jump on it.
Scott's Cheap Flights is my top choice for finding amazing cheap flight deals.
I also love to use Google flights to track flight prices before I book.
Read more about How to Fly for Less
We typically book our airfare first, then our accommodations.
Occasionally we find the perfect place to stay (like when we spent a week in Florence) and we'll book that first, but that's fairly rare.
After those are done, we have a much clearer picture of what our potential trip cost is.
How much we spend on the rest of our trip is largely dictated by the plane ticket and apartment/hotel costs.
Vacation Budget Guidelines
To help you out, here's a basic framework of how we set our travel budgets:
Transportation (including airfare, train fare, gas, public transportation, rental cars)—30%
Accommodations (vacation rental, hotel room) —30%
Daily budget for expenses while traveling (meal costs and other food, souvenirs, incidentals)—20%
Activities/site entry fees/city or museum pass—10%
Miscellaneous (for unanticipated or extra costs, budget overages)—10%
These percentages will vary depending on your destination and how you like to travel, but it makes a good starting place.
For some travelers, airfare will make up closer to 50% of the budget and for others food will take a larger chunk.
Destination can especially change these percentages greatly.
If you're planning a trip to Disney World those park tickets can easily take up a significantly larger portion of your budget than 10%.
Likewise, if you're heading to Moorea for a stay in an over water bungalow, well first of all, I'm jealous, but secondly, that means you're probably spending more on your accommodations than you might otherwise.
For road trip travel, of course your transportation expenses will be largely gas for your personal car, and you can eliminate the airfare expense.
As you plan more travel, you'll get a better feel for how much you can expect to spend for the way you usually travel.
And you don't have to stick to this religiously.
If you go over budget in one area, you can easily trim back a bit in one or all of the other areas to compensate.
Set aside your travel funds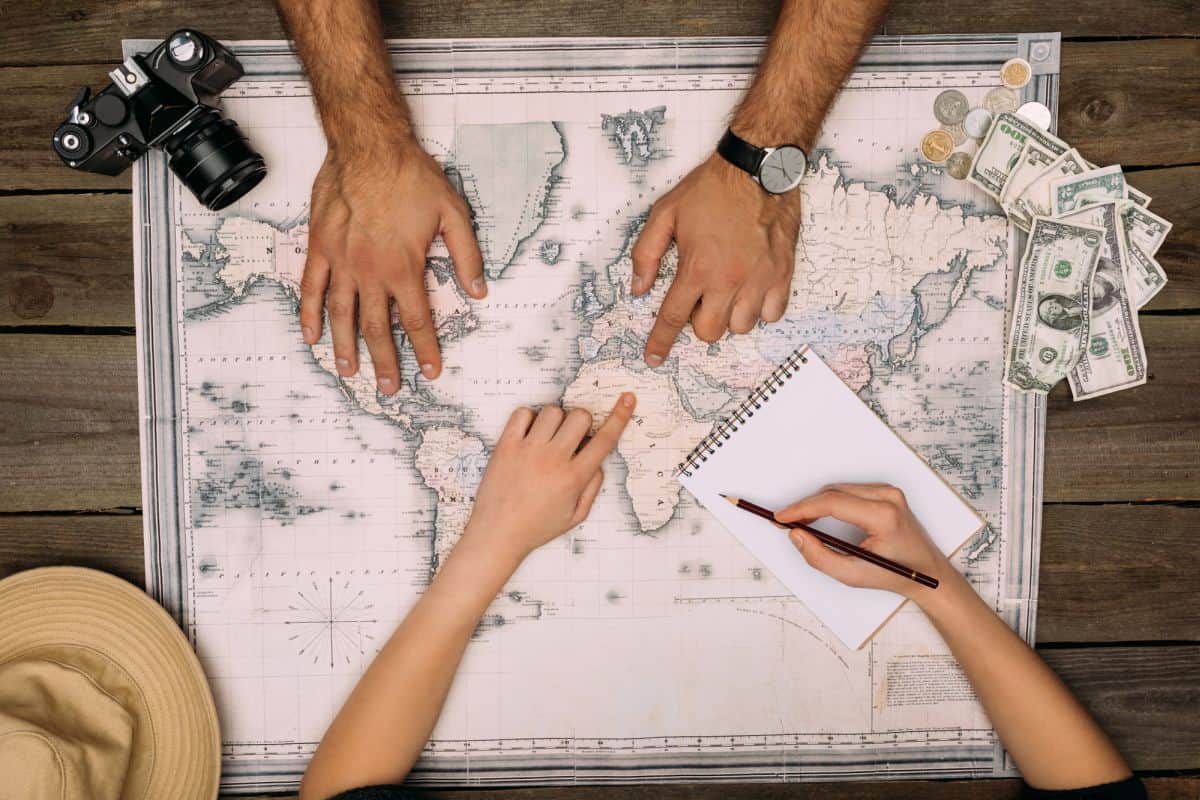 Personal finances can be a touchy subject. I understand that.
But I'm going to strongly recommend that you never go into debt to travel.
Once you've decided how much money you will need to cover your trip costs, it's time to start setting aside money for that trip.
Setting up a separate bank account for your travel fund is a great way to keep that money separate from the account you use for your regular everyday living expenses.
For more great ideas about saving for travel, see my article all about affording more travel.
Make sure you're tracking trip expenses while you're traveling
Keeping on top of every penny we spend as we travel helps with decision making as we go. Those unexpected expenses can creep up on you if you're not careful.
We tally everything up at the end of the day so that we know exactly how much we've spent.
And this works whether you prefer to travel with a debit card or use credit cards.
This way, as the trip progresses we know for sure whether we can go back to a favorite restaurant that was maybe a little pricier, or pay for the admission to that site that was on our "maybe" list because we weren't sure if we could afford it.
Or even buy that "splurge-y" souvenir.
AND…every penny we don't spend on one particular trip goes to the budget of the next trip that needs additional funding.
And that's how we do it!
Sample: realistic travel budget
Let's use the example of one of our recent trips (to Paris) to see how this works out in reality:
Transportation (air and ground)
Round trip airfare for two (American Airlines, basic economy from ATL to CDG): $1084.06
RER (Paris commuter train), from and to CDG, to and from Versailles, several metro tickets: $68.29
Total transportation: $1,152.35
Percentage of total budget: 31%
Accommodations
7 nights rental apartment through Vrbo, plus damage protection): $1206.29
Percentage of total budget: 33%
Daily expenses while traveling
Food, souvenirs, incidentals: $708.58
Percentage of total budget: 19%
Activities/site entry fees
Paris Museum Pass (two, 6-day passes purchased at the airport): $166.57
Eiffel Tower tickets (1 summit ticket and 1 ticket to the second level purchased online in advance): $47.14
Palais Garnier guided tour tickets (purchased online in advance): $38.34
Total activities/sites: $252.05
Percentage of total budget: 7%
Miscellaneous expenses
WiFi hotspot rental (from Vision Global): $53.80
Travel insurance (World Nomads explorer plan): $236.93
ATL airport parking for 9 days: $90
Total miscellaneous: $380.73
Percentage of total budget: 10%
So even though we went a little over budget on the accommodations, we were under budget for our sightseeing and daily expenses.
So, we more than made up for spending a little more on the apartment rental.
The daily expenses part of the budget usually is where you're going to have the most flexibility in your budget, since so many of the other costs will be set ahead of time.
I usually greatly overestimate how much we'll need for this part of our budget.
It's not intentional necessarily, but I do want to make sure we're comfortable, not scrimping.
Final thoughts on planning a trip budget
You've got the basics down. Now it's time to start putting your travel budget together.
It may seem daunting at first, but if you break it down into smaller steps it becomes a lot more manageable.
So don't forget—before you go booking all those flights and hotels, take some time to sit down and create a realistic budget for your trip.
And then make sure you set aside money for your trip and track your expenses while you're away.
It may seem like a pain, but trust me, it will be worth it in the end.
And who knows? Once you see how much money you can save by being smart about your spending, you may just decide to travel more often!
Now that you know how to create your travel budget, it's time to start planning your dream vacation!
Do you have any great tips for keeping costs down when traveling? Please share them in the comments below—we would love to hear from you!
More articles to help you plan your trip
Pin this post!