Paris One Week Itinerary: Explore the City of Lights
There is a reason that Paris is one of the most visited cities in the world. You could easily spend weeks or months, if not a lifetime, exploring everything she has to offer. But to see the best of the best in only seven days, here's your Paris one-week itinerary.
From art to history, from food to fashion, Paris is not to be missed.
And while you can see a lot of the city's most important sites in just a few days, to really experience it well I'd encourage you to spend a week in Paris.
With seven days in Paris, you can cover a lot of ground, take a day trip outside the city, and really get to know it better than if you just hit it for a couple of days.
Only have a short time to visit Paris? Check out my shorter itineraries for 1 day in Paris or see Paris in two days.
In this post, I'm going to break down for you how we saw Paris in seven days as well as give you some practical tips for getting around the city.
Plan the perfect week in Paris with this FREE printable travel planner.
This post includes affiliate links. If you make a purchase through one of these links, I may earn a small commission at no additional cost to you. As an Amazon Associate I earn from qualifying purchases. See disclaimer.
Getting around Paris
It's easy to get around Paris using public transportation. The affordable RER suburban/commuter trains will get you from Charles de Gaulle (CDG) or Orly (ORY) airport into Paris (and vice versa). When going back to the airport by RER keep in mind that there are two RER stations at CDG. Terminal 2 is the last stop on the line.
The RER is also convenient for seeing major sites outside Paris such as Versailles and Disneyland. Your ticket will also allow you to transfer from the RER to the metro. Make sure you keep your ticket (Be careful! They're small!) with you; some stations require you to validate your ticket again as you leave. I highly recommend spending some time on the Paris by Train site to help you with navigating train transportation.
Taxi fare from the airport into Paris is a flat rate, but not cheap—and it's a few euros more to the Left Bank from CDG or to the Right Bank from ORY. Avoid scams and ONLY take a taxi from the taxi stand outside the terminal.
Walking is a great way to see Paris. We rented an apartment in the 7th arrondissement. Though the apartment was in more of a business neighborhood, it was lovely and quiet. It was located centrally enough that we were able to do quite a bit of our sightseeing on foot. While the metro is fast and convenient, underground Paris is not nearly as pretty as aboveground Paris.
I have no experience with Paris buses. I generally avoid buses as much as possible.
PRO TIP: If you have flexible travel dates you need to check out Going (formerly Scott's Cheap Flights). You get amazing flight deals sent straight to your inbox with instructions on how to book directly with the airlines. Check out Going here. Going is my favorite way to find great travel deals. 
Other Paris travel tips
Stop at a bank ATM before you leave the airport to withdraw a supply of euros. We withdrew 140 for this trip and ended up paying for one of our lunches with cash to use some of it up. We could have probably gotten by with about 100 for the week since we like to use our travel rewards credit cards for as many purchases as possible.
Learning a little French will help a lot while you're in Paris. You don't need to study for weeks; even just basic greetings, good-byes, "where are the toilets?", etc. will be a big help. And be prepared to get a response in French.
Watch out for pickpockets, especially on the metro and when taking the train from the airport. Starry-eyed tourists who are not paying attention to their surroundings are easy targets.
Be aware of scammers who prey on tourists. We personally encountered the…

Petition scam (twice): A young person will approach you and ask you to sign a petition. While you're distracted, a confederate will pick your pocket. If you sign the petition, they may press you for a "donation" to their cause, but we didn't let them get that far.
Gold ring scam: Someone will appear to pick up a ring off the ground right next to you and hand it to you as though they think you dropped it, claiming it's gold. The scammers try to sell the "gold" rings to gullible tourists. Yes, people actually fall for this.
So, let's dive into the itinerary!
Abbreviated Paris Itinerary: 7 Days
Day 1: Check in at your accommodations, explore your neighborhood on foot (fresh air and exercise help with jet lag!), get settled and then get a good night's sleep.
Day 2: Explore the famous Louvre museum, grab an easy lunch at the food court.
Then walk to the Palais Garnier for a guided tour of the Paris opera house best known as the setting of Phantom of Opera.
If you have time, explore the belle epoque Galeries Lafayette department store just behind the opera house.
Day 3: First thing in the morning head to Musée d'Orsay to pick up artistically where the Louvre left off (Impressionists!).
Lunch in Saint-Germain-des-Prés.
When you're ready for more art and beautiful gardens, pay a visit to Musée Rodin.
Visit Napoleon's tomb at Les Invalides, just across the street from Rodin's mansion-turned-museum.
While you're there, if you're so inclined, you can tour the Army Museum.
Day 4: Enjoy a morning stroll through the Tuileries Garden before paying a visit to Monet's stunning Water Lilies painted specially for exhibition at Musée de l'Orangerie.
Then stop at the historic Place de la Concorde before walking down the Champs-Élysées to the Arc de Triomphe.
After dinner at a créperie enjoy sunset at the Eiffel Tower.
Day 5: Slow down a bit and wander through historic Paris with stops at the Deportation Martyrs Memorial, the Conciergerie, Île Saint-Louis and Saint-Chapelle.
Enjoy a delicious lunch in the Latin Quarter.
Day 6: Spend the day at the palace and gardens of Versailles.
Day 7: Walk through hilly and artsy Montmartre before stopping to visit Sacré Coeur.
Fill in the rest of your day by revisiting a favorite spot or add something from your itinerary you weren't sure you'd have time for like the (Cluny) National Museum of the Middle Ages.
And don't forget to make one more stop for crépes.
Day 1: Explore, get settled and get ready!
Your Paris trip itinerary starts as soon as you get through passport control.
There are a couple of things you'll want to get out of the way at the airport before you head out into the city.
Get some cash from an ATM (see "other tips" above).
If you're planning to buy a paper Paris Museum Pass, I suggest you go ahead buy it from a tourist information desk at the airport. There's no convenience surcharge, and the helpful staff can answer any questions you have.
You can also buy the Paris Museum Pass e-ticket or buy the pass ahead of time online and pick it up at a ticket office near the Louvre.
With your cash safely tucked away (where no pickpockets can easily get to it), you're ready to start your trip into Paris.
I recommend taking the affordable RER train, but taxi service from the airport is also convenient, just significantly more expensive. If you're traveling with one or two other people, splitting the taxi fare will bring down your per person cost quite a bit.
We spent our first morning in France with some friends of my husband who are missionaries in Goussainville.
After enjoying a typical French breakfast with them we took the RER (line D) to Saint-Michel Notre-Dame (we transferred a Gare du Nord) and then walked along the Seine to the apartment we rented.
Explore your Paris neighborhood
After checking in at the apartment, we were ready to get some more fresh air and do some exploring—my favorite thing to do on my first day in a new city.
I never make any definite plans for arrival day. For us, the first day is all about getting settled at our accommodations, getting the lay of the land and prepping for the first real day of sightseeing after a good night's sleep.
I've also found that fresh air and exercise help with combating jet lag. So, get outside and do some exploring!
From our apartment on the Left Bank, we headed upriver and just started walking.
We strolled past the bouquinistes selling souvenirs and postcards on the Left Bank, walked through Île de la Cité (to get as close to Notre-Dame as we could), and then found Shakespeare and Company (37 Rue de la Bûcherie).
(insert audio cue of celestial choirs singing)
If you're a book lover, Shakespeare and Company is probably already on your must-do list for Paris.
Yes, it's full of tourists, but it is also a great book store. No photography is allowed inside, but outside is okay.
(You may have to wait in line behind a couple of Instagrammers.)
Lunch recommendation: Shakespeare and Company Café
Though the menu isn't extensive they have delicious gluten-free and vegetarian options…and a view of Notre-Dame.
After enjoying lunch outdoors at Shakespeare and Company Café, we wandered through the Latin Quarter.
Home to the famous Sorbonne, the Latin Quarter was named for the language that was widely used among the university students who lived here long ago.
After walking all afternoon, except for our lunch break, it was time to find our neighborhood grocery store.
My husband has to eat gluten free because of celiac disease, which can make eating out a challenge, especially when we travel.
It's one of the reasons we like to rent apartments rather than use hotels when we can. With a full kitchen, hubby can eat meals that he cooks himself and not have to worry about getting sick.
We do still eat out of course—it's one of the great joys of travel—but usually only once per day…occasionally twice. It also saves money in our travel budget, which helps us travel even more!
Fortunately, there was a large Monoprix store just about four blocks from our apartment, which had absolutely everything we could need while we were in Paris.
We left with enough food for several breakfasts, a couple of light dinners and healthy snacks to keep our energy up while sightseeing.
After getting settled (which for me means unpacking completely) and eating a light dinner it was time to go to bed.
Day 2: The Must-Do's —Louvre and Palais Garnier Guided Tour
When planning a travel itinerary, we make it a point to book our must-do sites for the first day as much as possible.
I've learned that when I say things to myself like "oh, we have plenty of time to get to that" we frequently don't.
You never know when illness or a European strike will prevent you from scratching something off your bucket list.
And on this particular trip, I also learned that I need better rainy weather clothing. Our first full day in Paris was one of the rainiest I've ever encountered in our travels.
We were soaked through multiple times. But I'd rather be rained on in Paris, than not rained on at home…or something…
The Louvre
Hubby had the great idea to leave our apartment just in time to get to the Louvre as it was opening.
Because we had purchased our Paris Museum Passes at the airport the day before, it meant we only spent a minute or two in the nearly empty museum pass line in the rain before we got inside the famous pyramid main entrance.
Another option is to skip the line with a guided tour of the Louvre.
After getting through security, you can follow the signs for the Mona Lisa if you want to see it while the crowds are still quite low.
But even with only a few other people in the room, we weren't allowed to linger at the famous painting for long. Boo.
After the Mona Lisa, hit the Venus de Milo and Winged Victory. Those are the big three.
I typically get my fill of museum within about two hours…even a museum as amazing as the Louvre.
Lunch Recommendation: Carrousel du Louvre Food Court
There are several dining options at the Louvre. We decided to hit the food court area at the Carrousel du Louvre, the underground shopping mall there. You can dine a la carte or buy a prix fixe menu (entrée and a side or dessert with a drink).
Tip: There's an entrance to the Louvre from inside the mall. Sometimes the line there can be shorter, but not always.
Palais Garnier
My hubby's must-do for this trip was a guided tour of Palais Garnier, which was excellent.
In fact, he enjoyed this tour so much that he went back to the opera house later in the week for a self-guided visit just to see the interior of the building again.
The lovely library inside the Opera House is one of the best hidden gems in Paris.
Read more about the Palais Garnier in my review of the Paris Opera House guided tour.
The Galeries Lafayette department store, famous for its stained-glass domed ceiling, is just a block away from the rear of the Palais Garnier.
If you're ready for dinner, there's a nice cafeteria-style food court upstairs.
There's also a small Starbucks on the third floor with a nice view of the beautiful ceiling if you're just looking for a pick-me-up.
Bakery Recommendation: Eric Kayser—Louvre Palais Royale (4 Rue de l'Échelle)
This Eric Kayser location includes a Gluten-Free Corner. Hubby really enjoyed their gluten-free cookies. Over the week, I tried two varieties of their gluten-full baguette and several pain au chocolat and croissants. All were amazing. I started popping in at Eric Kayser (there was also a location closer to our apartment) every day. I admit it.
Day 3: Musée D'Orsay, Musée Rodin, Les Invalides
Musée D'Orsay
First thing the next morning we were up and at 'em again, and heading off to another great art museum.
Musée d'Orsay was just a 10-minute walk from our apartment, and we arrived just after it opened for the day. While we did have to wait a little while to get through security, the line wasn't bad, nor were the crowds.
I loved exploring the beautiful paintings and sculptures in this museum.
Out of curiosity, how many of you would just love to rub your hands all over a bumpy Van Gogh? Anyone? No? Just me? Okay, moving on.
The museum building was once Gare d'Orsay, a train station that closed decades ago, but then converted into the museum which opened in 1986.
The original (and still functioning) station clock still hangs on the wall overlooking the central hall of the museum.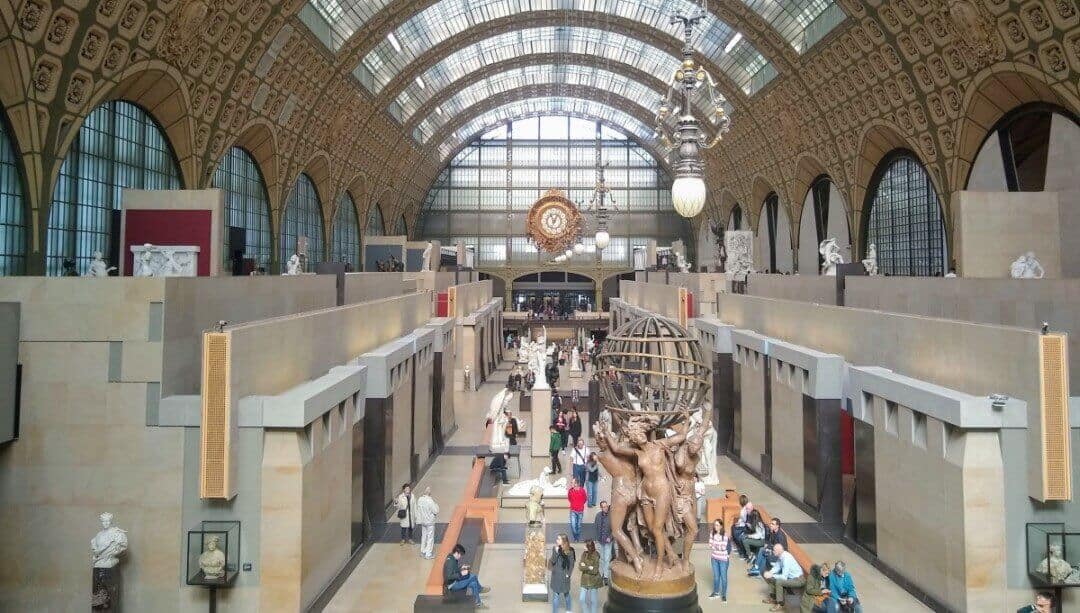 Once we had our fill of art, it was time for lunch.
Lunch Recommendation: Noglu (69 Rue de Grenelle)
Noglu is a completely gluten-free restaurant with a lovely menu and great service. Be advised that there are only a few tables, so get there early or make a reservation if you can. I had a lovely goat cheese and pear toast with zucchini soup and a salad.
Musée Rodin
After a wonderful meal it's time to head over to Musée Rodin.
The Rodin Museum occupies the Paris mansion in which the artist lived. It's a love home in the heart of the city, surrounded by beautiful and well-manicured gardens.
Many of Rodin's stunning sculptures, including his famous Thinker, have been placed around the garden.
Les Invalides
If you're at all interested in French military history, Les Invalides—home to Napoleon's final resting place and the Army Museum—is right across the street from the Rodin Museum.
This was one of the times on our trip when we were definitely glad we had Paris Museum Passes.
Les Invalides was not a site high on our wish list, but it came at the recommendation of hubby's friend…and since the passes meant our entrance fee was already paid for…why not?
We popped in to see Napoleon's tomb, which rests under the Dome des Invalides (and the tallest church in Paris).
By this time, I was ready to conclude my walking for the day, so I took a seat while hubby quickly hoofed it through the Army Museum.
Day 4: Tuileries, Musée de l'Orangerie, Place de la Concorde, Champs-Élysées, Arc de Triomphe, Eiffel Tower
Musée de l'Orangerie
If you haven't yet had your fill of the Impressionists, plan to pay a visit to Musée de l'Orangerie during your trip to Paris.
It's the home of eight of Monet's large, beautiful Water Lilies paintings.
The paintings were created by Monet for this museum, and they're housed in two rooms on the ground floor that let in filtered natural light.
It's definitely worth planning to visit l'Orangerie at opening time, so you can enjoy the rooms while they're relatively empty.
Later in the day, they can get quite crowded. This museum is one of the few in Paris open on Mondays, so it's safe to bet you won't the be the only person stopping by.
The rest of the museum's lovely collection is underground, and worth a visit as well, but if you're pressed for time, the Water Lilies alone are worth the price of admission.
And, I know I've said this before, but if you have the Paris Museum Pass you've already paid for admission, so do yourself a favor and visit this museum.
For the ultimate experience, consider booking a guided tour with a professional art historian.
Musée de l'Orangerie is situated at the southwest corner the famous Tuileries garden, so it's easy to add this beautiful park to your itinerary.
It's quite a large park that stretches all the way from the Louvre to Place de la Concorde.
You can find green chairs sprinkled throughout, so it's also a wonderful place to take a breather and relax in Paris.
Place de la Concorde, Champs-Élysées, Arc de Triomphe
After we toured the museum, we decided to just keep walking…out of the Tuileries to Place de la Concorde.
It's the large public square probably most famous as the site of the executions of King Louis XVI and Marie Antoinette during the French Revolution.
From here you get a nice view down the Champs-Élysées to the Arc de Triomphe…so why not just keep walking? That's what we did.
So, in case you were wondering, the Champs-Élysées is a long walk…quite long.
BUT as tired as my little feet were at the end of the day, walking the Champs-Élysées is just something you have to do while you're in Paris.
And at the end of your stroll you're rewarded with the Arc de Triomphe.
In my opinion, the Arc de Triomphe is one of those historical monuments that is even more impressive up close than from a distance.
And though you need to buy a ticket or use your Paris Museum Pass to go up into the Arc, you can still get up close and personal for free.
We had tickets for the Eiffel Tower for 7:30 p.m. that night, so after our epic trek back down the Champs-Élysées, we decided to have a quiet lunch at the apartment and nap since we knew we'd be out late…and our feet really needed a break.
Dinner (or lunch) Recommendation: Framboise (4 Rue de l'Echelle)
For dinner, we stopped at Framboise to enjoy the first crépes of our trip. The buckwheat crepes (often called galettes or Breton pancakes and served with savory fillings) were perfect for my gluten-free hubby.
The Eiffel Tower
The Eiffel Tower is not covered by the Paris Museum Pass, so make sure to book your tickets ahead of time if you can.
You can purchase tickets to take either the stairs or elevator to the first level or the second level, and you can also book tickets for the elevator to the summit. Summit tickets tend to sell out first.
Plan to spend 2–3 hours at the Eiffel Tower including getting through security, and plan to get in line at security 30 minutes prior to the reservation time on your ticket.
I'm not crazy about heights, so my ticket was for the second level, but hubby went up to the summit for a while then met be back on the second level for sunset.
We were treated to lovely views of Paris as the sun went down.
After sunset the Eiffel Tower is lit up (loud cheers!), and then every hour on the hour there's a sparkling light show that last about 5 minutes. It's Paris perfection.
Day 5: A Walk Through Historic Paris
After an epic day of Paris awesomeness topped off with a late night at the iconic Eiffel Tower, we were ready for a more relaxed and less structured day.
So, after sleeping in a bit and enjoying a relaxing breakfast at the apartment we devoted this day to doing Rick Steves' Historic Paris Walking Tour.
The tour starts at Notre-Dame, winds through Île de la Cité and the Left Bank and ends at Pont Neuf.
This is not a short walking tour, so it's great for a day when you don't have much else planned so that you can take your time to do justice to the sites you'll be visiting.
Please note, there is an entrance fee for a couple of the sites on the tour (Saint-Chapelle and the Conciergerie) or you can use the Paris Museum Pass.
Dessert Recommendation: Berthillon (29-31 Rue Saint-Louis en l'Île)
Yes, it's expensive, but the glace (ice cream) at Berthillon on Île Saint-Louis is wonderful. Grab a cone or a cup and eat as you wander through the small island and continue your tour of historic Paris.
Lunch Recommendation: Culture Crépes (26 Rue de Saint-Andre-des-Arts)
Wonderfully delicious crepes and galettes with warm and friendly service. We loved Culture Crepes so much that we went back a couple of days later. Seriously. It's just the best. You can dine in, but they also have a take-out window if you want to save a couple of euros and eat on the go.
Day 6: Day Trip to Versailles
If you're spending a week in Paris, consider spending one of those days outside the city.
For our first trip to Paris together, we chose to make a trip to the Palace of Versailles.
Plan on spending your entire day at Versailles, though it is possible to quickly tour the palace and the gardens and be back to Paris by early afternoon if you wish (spoiler alert: this is what we did).
Don't miss my post on the best tips for visiting Versailles as a day trip from Paris.
You might enjoy this guided tour of the palace with priority access.
Rather not deal with transportation? Try this option that includes transportation with your pre-booked admission.
The Palace
The Palace of Versailles was established by King Louis XIV, when he expanded Louis XIII's hunting lodge and made the expanded palace the seat of French government in 1682.
It remained the seat of French royal power until 1789, when King Louis XVI and Marie Antoinette were forcibly removed from the palace during the French Revolution.
It's an easy ride from Paris on RER train line C to Versailles (get off at Versailles Chateau–Rive Gauche) and then it's just a short walk from the station to the palace. All trains from the Versailles Chateau station go back to Paris.
When visiting Versailles, you must pass through a security check to get into the palace courtyard and then again to get into the palace itself.
You can use your Paris Museum Pass for entrance to the palace, but it does not allow you to skip to the front of that security line, which builds quickly even first thing in the morning.
Plan to either arrive at the palace before it opens or tour the gardens first, then enter the palace later in the morning or after lunch.
We entered the courtyard approximately 10 minutes after the palace opened for the day at 9 a.m. and within minutes the security line had stretched to nearly halfway across the very large courtyard.
This happened basically right before our eyes as we stood dumbfounded, not 100% sure that was the line we were supposed to be in. It was.
The palace will be full of people. Bank on that, and set your expectations accordingly.
The Gardens
I had my fill of the palace pretty quickly, so we made our way out to the gardens…which are beautiful. And the crowds have more room to spread out.
Golf carts are available for rent in the gardens if you would prefer to get around more quickly.
Lunch Recommendation: Brasserie de la Girandole
We enjoyed eating our lunch in the heart of the gardens at Versailles. The food was good, the prices were quite reasonable, especially for dining at a major tourist site, and the portions were generous. It was also nice to sit in the shade for a little while after being on our feet all morning walking through the palace and gardens.
As this was getting to be later in our trip, travel fatigue was starting to set in a little for me, so we were ready to leave Versailles after our lunch. But you could easily spend an entire sightseeing day there.
I can always tell travel fatigue is taking over when I make a beeline for every bench or chair every place I go.
After catching the train back to Paris, we spent the rest of the afternoon doing a couple of things we wanted to see again.
While hubby returned to Palais Garnier for a self-guided visit, I returned to Galeries Lafayette to explore the department store a little more and then paid a visit to the Fragonard perfume shop.
Day 7: Extras and Favorites
When hubby and I spend more than three or four days in any one location, we always leave the last day of our itinerary completely open.
This way we know that we have room in our itinerary to get to any site we may have missed earlier or go back to any site we want to see again.
So, on this, our last day in Paris, we started out by finally getting to Montmartre to see Sacré Coeur, which was recommended by at least a few of our friends and family.
The Basilica of the Sacred Heart sits atop the highest point in Paris, so it's a great place for a view of basically the entire city.
You can visit the inside of Sacré Coeur for free, but you will be asked to refrain from speaking (at least loudly) or taking photos.
It's quite a hike up to Sacré Coeur if you take the 200+ stairs, or you can buy a metro ticket and take the funicular to the top of the hill.
Hubby had gone back to his favorite place the day before (Palais Garnier), so today we went back to my favorite place, Musée de l'Orangerie.
Those Monet Water Lilies just amaze me, and the Paris Museum Pass includes unlimited visits as long as your pass hasn't expired.
By now it was getting to be lunch time, so those Water Lilies rooms were fairly full. I definitely recommend going first thing in the morning if you can.
After another stroll through the Tuileries (another one of my favorites from the trip) we opted to get another quick lunch at the Carrousel du Louvre food court to fuel the rest of our afternoon.
When we find a place that hubby can safely eat, we usually go more than once.
The Cluny
With the rest of the day ahead of us still, we realized we had time to add something from our itinerary wish list we didn't think we'd be able to get to: the Cluny Museum (also called the National Museum of the Middle Ages).
The Cluny is the home of the famous "Lady and the Unicorn" tapestries.
The tapestries have their own darkened room with special lighting. (Side note: I do not recommend museums with dark, quiet rooms when you're battling travel fatigue.)
The Cluny is also home to the heads of the sculptures of the biblical kings of Judah that had once adorned Notre-Dame Cathedral.
Some overzealous revolutionaries removed the heads in the 18th century believing they were sculptures of French kings, and they were discovered buried in Paris in 1977.
Apparently, a French loyalist had "rescued" the heads and buried them for safekeeping, but the secret of their burial place was lost at some point in the intervening 200 years.
You can now see them on display at the Cluny. And yes, they are a little creepy.
Where to stay in Paris
Paris has no shortage of wonderful places to stay. If only staying for a couple of nights, a hotel might be the best option.
For a of about a week, we enjoy finding an apartment rental, so that we have a kitchen and can do laundry and things.
Here are few recommended hotel options:
Timhotel Montmartre—Stay at affordable accommodations in the heart of Montmartre just a short walk from Sacré-Cœur and less than 5 minutes from the Abbesses metro stop. Book your stay today.
Hotel Muguet (7th Arrondissement)—Stay in the heart of Paris just a short walk from Hotel des Invalides and 1.5 kilometers from the Eiffel Tower. La Tour Maubourg Metro Station as just a few minutes' walk away and some of the rooms offer views of the Eiffel Tower. Check out their rates today.
Hotel Parc Saint Severin – Esprit de France (Latin Quarter)—4-star accommodations in the Latin Quarter. Saint Michel Metro Station is just 3 minutes away. Shakespeare and Company and bookstore is just steps away. Look at room options here.
Four Seasons Hotel George V Paris (8th Arrondissement) — For the ultimate in a Paris luxury hotel stay, treat yourself to a stay at the George V. The hotel has three restaurants that have earned a total of five Michelin stars. Enjoy stunning views of Paris from your private terrace. Book a stay this iconic hotel here.
Final thoughts on your week in Paris itinerary
With a week in Paris you can really take the time to get the know the city pretty well, and I think she deserves it.
We barely scratched the surface of all the amazing things there are to see and do in Paris. Probably, you'll be like me and be itching to go back and explore even more.
I can't wait!
Need help planning your trip to Paris? Check out the complete list of all the travel planning resources you need to build an amazing trip.
More articles about to help you plan your one-week Paris trip
Pin this post!
Paris One Week Itinerary and Travel Tips