Tips for Visiting Versailles as a Day Trip from Paris
Visit Versailles like a pro with these tips
If you're planning a Paris itinerary, no doubt you're also considering doing a day trip to Versailles. And why not? It's absolutely one of the most popular sites outside Paris for day trippers.
Follow these tips for visiting Versailles so that you have the best day trip possible. 
Plan the perfect trip to Paris with this FREE printable travel planner.
This post includes affiliate links. If you make a purchase through one of these links, I may earn a small commission at no additional cost to you. As an Amazon Associate, I earn from qualifying purchases. See disclaimer.
Why you should take a day trip to Versailles
A trip to Versailles is an easy train ride from the heart of Paris and a lovely way to spend a day.
More than just the opulent Palace, you'll also have the opportunity to walk through the stunning Gardens (my personal favorite), the Estate of Trianon (smaller royal living spaces away from the main palace), and The Park. 
In addition to experiencing the beauty of Versailles, you'll also be surrounded by important history.
Versailles was one of the first designated UNESCO World Heritage sites, recognized in 1979 for its artistic, cultural and historic significance. 
PRO TIP: If you have flexible travel dates you need to check out Going (formerly Scott's Cheap Flights). You get amazing flight deals sent straight to your inbox with instructions on how to book directly with the airlines. Sign up for Going here. Going is the ONLY paid subscription service I use to find great travel deals.
Where is the Palace of Versailles?
Château de Versailles is located in Versailles, France, just a few kilometers outside Paris.
Versailles became the unofficial capital of France when Louis XIV, also known as The Sun King, moved his court and the government to his palace at Versailles and out of Paris. 
The Palace was built by Louis XIII originally as a country hunting lodge but expanded by Louis XIV. The court of Louis XVI was forced to leave Versailles for Paris in 1789 and never returned.
Today, the city of Versailles is home to a thriving community among the western suburbs of Paris.
Its economy is largely service industry based, and of course its primary attraction is Château de Versailles. 
Need help planning your trip to Paris? Check out our list of the essential travel planning resources.  
How to get to Versailles from Paris
It's an easy ride on RER line C from Paris to Versailles. Make sure you get a train that will stop at the Chateau Rive Gauche train station at Versailles.
Do not get on the train for Versailles Chantiers, which doesn't stop at the station you want. 
The Chateau Rive Gauche station is the end of the line, so any train you get on at the station at the end of your visit to Versailles will take you back to Paris.
Depending on which station in Paris you catch the train, plan for it to take you at least one hour to get to the Palace.
If you have to take the metro from your hotel to an RER C station it could take you up to an hour and a half to get to Versailles. 
We actually had some trouble with the automatic ticket machines at the Gare du Musée D'Orsay station, which meant that we arrived at the Palace later than we wanted to.
The machine wouldn't read our credit card and we ended up scrambling to use cash instead. 
To avoid this, we could have purchased our roundtrip tickets from the machine or ticket agent in the station ahead of time.
This is always a great option, and we especially recommend it if you plan to take the train from Paris back to the airport so that you don't have worry about getting your tickets on the day of your flight. 
Once you exit the train station upon arrival in Versailles, turn right and then make a left. The Palace gates will be straight ahead from there. You can't miss it. Plan on the walk from the station to the Palace to take you a little under 15 minutes or so.
If you'd rather avoid fussing with buying tickets and taking the train from Paris to Versailles, first of all, I don't blame you, secondly you can book a tour of Versailles that offers transportation from Paris. 
Tips for visiting Versailles
These visiting Versailles tips will help you plan ahead and have the best time at Versailles.
I've also included some suggestions for different guided tours and recommended hotels in case you want to turn your day trip into an overnight or even a weekend getaway. 
Plan your Versailles day trip ahead of time
The Palace of Versailles is open for visitors and they are currently requiring all guests to make a timed entry reservation ahead of time.
If given the option, I recommend getting the first entry time of the day and arriving early. 
If I could not get the first time of the day, I would choose a time after noon. In my experience, by then many of the first visitors of the day will be out of the Palace and on their way to lunch and touring the Gardens and such.
And as I said earlier (in the How to get to Versailles from Paris section above), I recommend you even get your train tickets ahead of time if you can.
You can purchase them in advance from the ticket machines or the ticket agent at the window in the station. You should be able to use a credit card, but it's not a guarantee.
If you're pressed for time, it's best to make sure you have enough cash with you so that you can buy your roundtrip fare.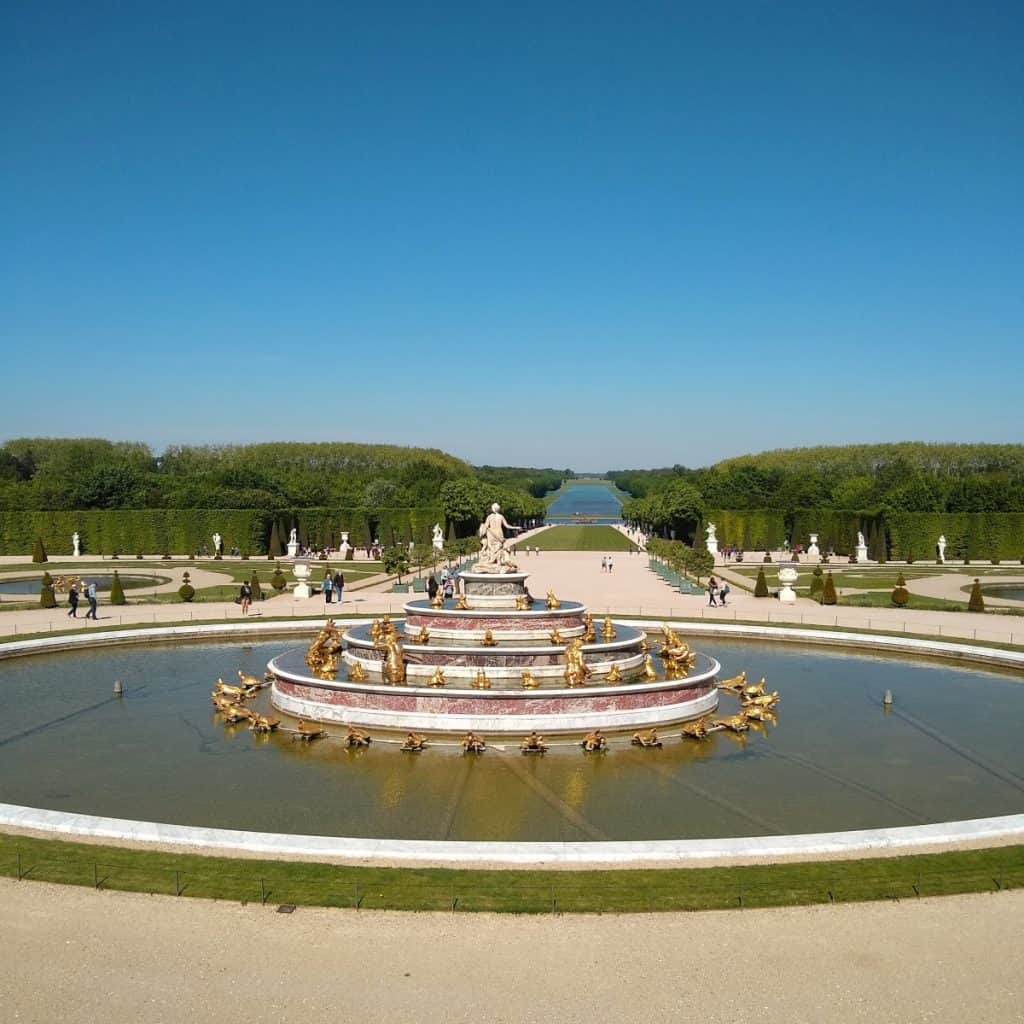 Consider booking a Versailles guided tour with transportation
While I generally recommend that travelers learn how to use the public transportation at their destination, there are times when you just want your day trip to be as convenient as possible.
To avoid having to mess with buying train tickets and making sure you get the correct train from Paris, you could book a guided tour to Versailles that comes with guided transportation. Then you won't have to worry about it at all.
You could enjoy a bus ride from Paris and then skip the line to enjoy a self-guided audio tour of the palace. 
Or if you prefer a guided tour of Versailles, you could book this tour that includes escorted train travel from Paris.
You might also enjoy seeing the Versailles gardens by bicycle with this tour that also includes transfer from Paris by train. 
Dress comfortably for your visit to Versailles
Even in the summer, consider dressing warmly, or at least warm-ish, in layers. You may catch drafts in the Palace and having a jacket or something with you will come in handy.
You'll also want to wear comfortable shoes as you will be doing A LOT of walking.
From your hotel in Paris to the train station, from the Versailles train station to the palace, through the palace, through the gardens, back to the station, back to your hotel, etc.
It's A LOT. of. walking. 
And that doesn't even include if you add in exploring Petite Trianon, which is about a 30-minute walk from the Palace.
See my article on day trip essentials for more tips on what to pack for your excursion. 
Rent a golf cart or bicycle to help you explore
To cut down on the amount of walking during your Versailles day trip consider getting around in a golf cart or on a bike!
Versailles offers rentals of small electric vehicles (golf carts) to make your exploration of the extensive grounds easier.
You can pick one up at the South Terrace outside the Palace. The carts come equipped with geolocation and audio guides in several languages. 
There are also places where you can rent bicycles.
Bicycle rentals are available for a minimum of half an hour for a much lower price than the golf cart rentals, but the carts will hold up to four people…so that's something to think about. 
Bicycle rentals are generally not available during the colder months.
Plan to visit Versailles in the middle of the week
I recommend that you plan to visit Versailles on a Wednesday or Thursday to have the best chance to avoid the biggest crowds.
The palace and estate can be quite busy on Tuesdays because it's closed on Mondays.
Also, the Louvre is closed on Tuesdays, making that day a popular option for visiting Versailles. You should also expect Versailles to be busy on the weekends. 
Pack your patience
You might as well face it before you get on the train or bus and head off to Versailles…it's a really popular place the visit.
It's one of the most visited sites in the world. In fact, in 2018 it was the third most visited monument in the world, behind only the Forbidden City in Beijing and St. Peter's Basilica in Vatican City. 
More people visit Versailles every year than the Eiffel Tower.
So, all that to say. While you can take steps to try to avoid the biggest crowds at Versailles, you can't avoid crowds entirely. It's likely there will be a lot of people there no matter when you go.
And inside the Palace where guests can't spread out like in the Gardens and Park, it will feel even more crowded.
So, pack your patience. Understand that you'll be dealing with crowds, lines at security, and in the women's restrooms (heh). 
Featured tours of Versailles
I enjoy booking guided tours of important historical sites so that I can learn the most I can about what I'm seeing and its significance.
There are many different guided tours of Versailles that you can book. Here are some popular and recommended options:
This 90-minute palace tour comes with a money back guarantee. If you're not completely satisfied with your tour, you'll get a full refund. 
If you're also interested in seeing Monet's Giverny, why not combine both sites into a single guided day trip full of awesome? This guided day trip comes with motorcoach transportation and free 24-hour cancellation.
Visit the parts of the Palace you want to see first
It's always best to assume the Palace will be crowded and likely no place in the Palace more so than the Hall of Mirrors (except maybe for the women's restrooms, lol).
Check it out.
If you arrive at the Palace before the doors open (or book the first reservation time slot of the day) and then make a beeline for the Hall of Mirrors, you may be able to get that prized shot of the hall not completely full of tourists.
Then you could see the rest of the Palace that you want to explore later. In addition to the Hall of Mirrors, you can glimpse the Royal Chapel and walk through the royal apartments.
Consider exploring the gardens before you tour the palace
As an alternative to arriving at the Palace early so you can get in line for first-of-the-day entrance time, you could visit the Gardens first and then see the Palace at the end of your day.
Our personal experience was that the Palace was packed in the morning, but by the time we left the Gardens immediately after lunch there was virtually no one in line to enter the Palace.
And something also to keep in mind is that entrance to the Gardens at Versailles is free with the exception of the days of Musical Fountains Shows or Musical Gardens.
So if you're looking for some good free things to do on your trip to Paris, think about adding the Gardens to your itinerary even if you don't want to see the Palace. 
Eat a relaxing lunch in the gardens or picnic in the park
Once you've explored the palace and at least some of the gardens, you'll probably have worked up an appetite. (I know I do.)
There are some great dining options at Versailles where you can take a break from all that walking and enjoy a nice meal. Some are inside the Palace and there are more food options in the Gardens. There's even an Angelina food stand at the Petit Trianon. 
We enjoyed a lovely lunch at Brasserie De La Girandole tucked away in the heart of the Gardens.
You can also picnic at Versailles at designated areas: Lake of the Swiss Guards and Plaine Saint Antoine. A picnic is a great option for anyone who wants to save a few dollars on their visit to Versailles.
Plan to spend the whole day at Versailles
Château de Versailles is so much more than just the Palace. When you add in the time you need to explore the Gardens and then make a visit to the Trianon Estate, you definitely need to plan to spend the entire day at Versailles.
That way you can see everything you want but not feel rushed.  
Having said that, you certainly don't need to spend a whole day at Versailles.
You can easily do a self-guided tour of the Palace, walk through some of the Gardens and be on your way back to the train station after a quick lunch, leaving you plenty of time to see more of Paris in the afternoon and evening. 
Turn your Versailles day trip into a fun overnight
Yes, Versailles is an immensely popular day trip from Paris, but there are several nice places to stay very near the palace that will make it tempting to turn your day trip into a fun (or romantic!) overnight.
With the extra time you'll have because you won't need to get back to Paris the same day, you can spend more time touring Versailles and even take some time to explore the city itself.
Try one of these recommended hotels:
Le Louis Versailles Château—located just a hundred meters from the Palace, Le Louis offers free WiFi, a fitness center and is just steps away from the Versailles Rive Gauche RER C station. Book your overnight today.
Hôtel Le Versailles—offers 4-star accommodations just steps from the Palace of Versailles main gate. Check availability here.
Waldorf Astoria Versailles – Trianon Palace—enjoy 5-stary luxury adjacent to the Park and between the Palace and the Trianon Palaces. Enjoy dining at the two restaurants including the Michelin-starred Gordon Ramsay au Trianon Restaurant. Check rates today.
Hôtel la Residence Du Berry—3-star hotel located within walking distance of the Palace. Book your stay here. 
Visit the Trianon Estate if you have enough time
Your Versailles tickets also give you admission to the Trianon Estate portion of the grounds.
Occupying what was once the village of Trianon, the estate includes:
The Grand Trianon
The Petit Trianon
The Queen's Hamlet
King Louis XIV purchased the Trianon estate in the mid-17th century. The area started with just the Grand Trianon palace. The estate expanded to include the Petit Trianon and then the Queen's Hamlet.
The Trianon Estate was a place of escape for the royal family and a place to host smaller gatherings and special events.
The estate is far removed from the Versailles Palace. Plan on about a 30 minute walk or take the Little Train that departs from the Palace and then goes to the Grand Trianon, the Petit Trianon and the Grand Canal before returning to the Palace.
To get the most out of your visit to the Trianon Estate, consider using the audio guide available through the free Château de Versailles app.
Tours mentioned in this article
Final thoughts on visiting Versailles
For an easy (and potentially short) day trip from Paris, you really can't beat a visit to Versailles.
You won't soon forget the opulent Palace or the stunningly crafted and immense Gardens and Park. 
So, pack your day bag and have fun!
More articles to help you plan your trip to Paris
Pin this post!
Tips for visiting Versailles as a day trip from Paris