1 Day in Paris: Complete Itinerary
So, you're heading off to Paris, but you only have one day. Perhaps you have a 24-hour layover before you travel to see other cities in Europe or farther east. Whatever the reason, I'm glad you're taking the time to enjoy a visit to the City of Lights. There are so many things to do that a week in Paris is ideal, but a day in Paris is still a treat. You're in PARIS after all. Enjoy just being there. Keep reading to see my top recommendations for spending 1 day in Paris.
If you're considering visiting Paris for one day, you may have a lot of questions such as…
What can you do in Paris in one day?
There are a lot of things to do in Paris in one day. We're going to hit the top highlights of Paris' culture and history, but I'm not going to run you ragged. I don't enjoy dashing from site to site just to check things off my list.
Is it worth going to Paris for a day?
Definitely. Paris is an amazing city, and I think you should spend whatever time you can there, however short it is. You may not come out of your one-day trip to Paris having seen everything you want, but you will have gotten a healthy taste of a wonderful city. Think of it as recon for a longer trip you may want to take in the future.
How can I spend 1 day in Paris?
There are literally so many things to do in Paris it would take you weeks or months to see everything without killing yourself. But sometimes when you're traveling you only have one day in a city and that's okay. With a day in Paris you can cover several top sites from your Paris bucket list.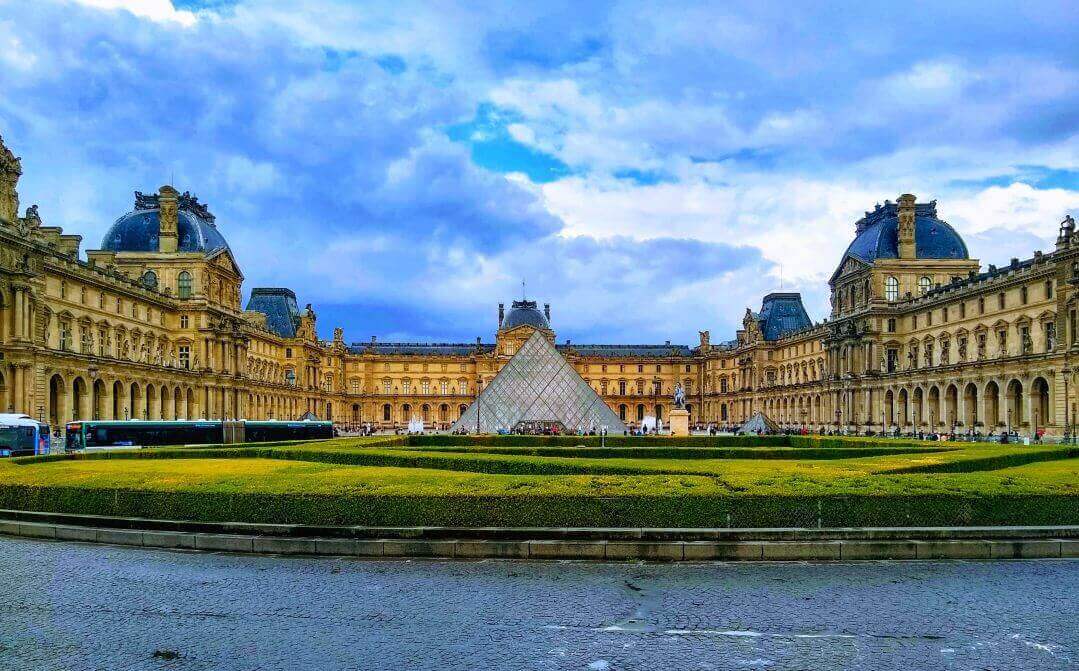 This post includes affiliate links. If you make a purchase through one of these links, I may earn a small commission at no additional cost to you. As an Amazon Associate I earn from qualifying purchases. See disclaimer.
Paris One-day Itinerary Summary
Morning: The Louvre Museum, Musée d'Orsay
Afternoon: Tuileries, Musée de l'Orangerie, Champs Élysées, Arc de Triomphe
Evening: Sunset at the Eiffel Tower
This itinerary is a little heavy on art. If that's not your thing, there are other historical sites you could use to fill your day in Paris 1-day itinerary such as:
The Conciergerie: King Louis the XVI and Marie Antoinette were held prisoner here before their execution at what is now Place de la Concorde. It's one of the great hidden gems in Paris.
Saint-Chapelle: This cathedral was built to hold the crown of thorns relic and is famous for its stunning stained-glass windows.
Sacre-Coeur: The large Basilica of the Sacred Heart in Montmartre sits on the highest point in Paris. In addition to offering sweeping views of the city, it's also free to enter—great for those who want to tour Paris on a budget.
Most of the sites in this itinerary do have entrance fees. My guest post on World by Isa—24 Hours in Paris: Free Things to Do in Paris in One Day—details how you can spend a full day in Paris for free.
Related Post → The Essential Overnight Packing List
[]
If you're more interested in a guided one-day tour of Paris than taking on the planning yourself, here are a few top options:
Full One-Day Paris Itinerary
The Louvre Museum
Rue de Rivoli, 75001 | Metro stops: Palais-Royal Musée du Louvre (lines 1, 7) and Pyramides (line 14) | Allow 1–2 hours (potentially longer if you're a serious art lover | closed on Tuesdays
Start your day at the ultra-famous Louvre Museum for a glimpse of the most famous painting in the world. If they are not already, the Mona Lisa and the Venus de Milo sculpture should be on your art bucket list.
To have the only realistic chance of seeing the Mona Lisa with less than a huge crowd around you, plan to get to the museum well before they open at 9 a.m. If the weather is especially bad you can likely afford to arrive closer to opening time. Alternatively, you can go later in the day, after most of the early crowds have dispersed.
Don't bother with the Paris Museum Pass for only one day, unless purchasing the 2-day pass would save you money. Without the pass, you'll need to purchase your Louvre museum tickets ahead of time online or book a skip-the-line tour.
Book your Louvre Museum guided tour here!
A guided tour is a great option to see a thorough overview of the museum's collection. If you really want to get in and out quickly, I'm going to recommend you just hit the top three pieces at the Louvre: the Mona Lisa, the Venus de Milo, and Winged Victory. If you have time, take a spin through the Michelangelo Gallery in the Denon Wing. Yay, Renaissance sculpture!
Optional: drop Musée d'Orsay from your itinerary if you'd rather spend more time at The Louvre.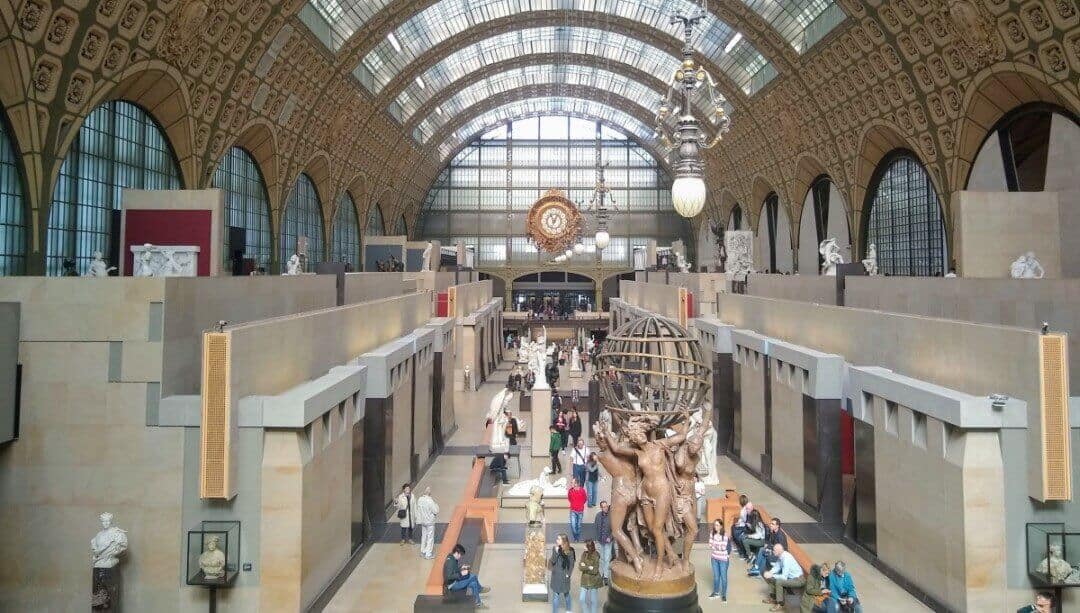 Musée d'Orsay
1 Rue de la Légion d'Honneur, 75007 | Metro stop: Musée d'Orsay (RER line C) | Allow 1–2 hours | closed on Mondays
Musée d'Orsay is home to undoubtedly the greatest collection of Impressionist masterworks in the world. While perhaps not as famous a museum as the Louvre, I find it far more enjoyable a museum to tour. If you plan to visit both Musée d'Orsay and Musée de l'Orangerie then I recommend purchasing the combo ticket.
The museum building was once Gare d'Orsay, a train station that closed decades ago, but then converted into the museum which opened in 1986. The original (and still functioning) station clock still hangs on the wall overlooking the central hall of the museum.
Lunch Recommendations
NoGlu
69 Rue de Grenelle, 75007 | Metro stop: Rue du Bac (line 12)
By now you're undoubtedly quite hungry. Take a 10-minute walk from Musée d'Orsay to NoGlu—my top recommendation for lunch—for a wonderful and completely gluten-free lunch. They also offer a nice variety of gluten-free desserts and pastries (some also vegan).
Carrousel du Louvre Food Court
99 Rue de Rivoli, 75001 | Metro stop: Palais Royal Musee du Louvre (lines 1, 7), Pyramides (line 14)
If you choose to extend your visit to The Louvre and not visit Musée d'Orsay on your day in Paris, consider grabbing a bite at the food court in the Carrousel du Louvre underground shopping mall. You can exit into the Carrousel du Louvre directly from the main museum entrance hall. They have decent gluten-free and vegetarian options, and it will save you from having to travel too far afield for a bite to eat.
Pin this post for later!
Creperie Framboise
4 Rue de l'Échelle, 75001 | Metro stop: Palais Royal Musée du Louvre (lines 1, 7), Pyramides (line 14)
If you're looking for crepes near the Louvre, Framboise is a good option. The spinach, goat cheese and honey galette is delicious. Framboise offers several prix fixe menu specials so that you can try both sweet and savory if you wish.
Jardin des Tuileries
Place de la Concorde, 75001 | Metro Stops: Concorde (lines 1, 8, 12) and Tuileries (line 1) | Allow 30 minutes
After your lunch, head to the beautiful Tuileries Garden (Jardin des Tuileries) adjacent to the Louvre. It's virtually next door to the Louvre or a 15-minute walk from NoGlu, just on the other side of the Seine from Musée d'Orsay.
Originally created by Catherine de' Medici for the Tuileries Palace (no longer there) in the 16th century, it's now a public park that stretches from the Louvre Museum to Place de la Concorde. From the east end of the park you can also walk down stairs to the Louvre du Carrousel shopping area with its own entrance to the museum. This entrance sometimes has a shorter line than the Pyramid main entrance.
Take a stroll through the large park and pull up one of the green chairs around the Grand Bassin Rond or the Bassin Octagonal. The Tuileries is a beautiful park that's perfect for people watching and soaking up the Paris atmosphere. It's a great way to relax in Paris.
Musée de l'Orangerie
Jardin Tuileries, 75001 | Metro Stop: Concorde (lines 1, 8, 12) | Allow 30–60 minutes | Closed Tuesdays
If you love Monet, I highly recommend you take a few minutes to pop into Musée de l'Orangerie to see Monet's famous Water Lilies. The museum is within the grounds of the Tuileries, and it doesn't take long to view the two rooms of Monet murals.
The rest of the museum's lovely collection is underground, and worth a visit as well, but if you're pressed for time, the Water Lilies alone are worth the price of admission. Unfortunately, the Walter-Guillaume collection is closed until mid-May 2020 while those rooms are renovated. The good news is that you may be able to get into the museum at a reduced rate.
You can purchase your tickets ahead of time online to use the priority entrance. Buy the Musée d'Orsay- Musée de l'Orangerie combined ticket if you plan to visit both museums.
Champs-Élysées
Okay, I'm not going to pull punches here. You don't need to see the Champs-Élysées. In my opinion, it's just a long, wide street full of stores and shops for tourists. But if you have always longed to walk down the Champs, then by all means do this, but consider walking it in only one direction to save time.
You can walk straight to the Arc de Triomphe from Place de la Concorde just beyond the Tuileries and Musée de l'Orangerie. To save time take metro line 1, 2 or 6 or RER line A to Charles-de-Gaulle-Etoile. Metro line 1 has a stop at Concorde very near Musée de l'Orangerie/Tuileries.
Arc de Triomphe
Place Charles de Gaulle, 75008 | Metro stops: Charles-de-Gaulle-Etoile (lines 1, 2, 6), RER: Charles-de-Gaulle-Etoile (line A) | Allow 30 minutes (longer if you want to go up to the terrace for the view)
Next to the Eiffel Tower, the Arc de Triomphe is undoubtedly the most recognized Paris landmark and a hugely important historical monument. It was Napoleon who wanted the triumphal arch built, but it was not dedicated until 1836 by King Louis Philippe…15 years after Napoleon's death. When his remains were returned to France in 1840, they passed under the Arc de Triomphe before he was laid to rest under the dome at Invalides.
It's totally free to explore the area around and under the Arc de Triomphe, but there is a fee to go up inside. If you want to go up to the Arc de Triomphe for a view of Paris, book your ticket ahead of time online to reserve your time slot.
When approaching the Arc, do not under any circumstances attempted to cross the insane traffic on Place Charles de Gaulle (the traffic circle around the arch). Instead, use the underground pedestrian walkway (near the metro station) to get safely from the top of the Champs-Élysées to the Arc de Triomphe.
Eiffel Tower
Champ de Mars, 5 Avenue Anatole France, 75007 | Closest metro stops: Champs de Mars Eiffel Tower (RER C), Bir-Hakeim (line 6) | Most picturesque Metro stop: Tracadero (lines 6, 9) | Allow up to 3 hours
For a great end to your day, pay a visit to the Eiffel Tower in the evening. If you time it right, you can see the sunset from the tower then head down to Parc du Champs de Mars to enjoy the tower's twinkling lights.
If you don't fancy heights or don't want to pay the money to up into the tower itself, you can still get a great Eiffel Tower experience from the ground. Grab a section of lawn at the Parc du Champ de Mar and wait for sunset. Then the tower will be completely lit up and you can enjoy the sparking lights that start every hour on the hour after that.
Can I buy Eiffel Tower tickets on the day of my visit? Should I buy Eiffel Tower tickets in advance?
Book your ticket ahead of time online. You will likely find lines are much shorter later in the day for walk-up ticket purchases; however, if you have your heart set on taking the elevator up to the summit it's likely they'll be sold out.
How do I get tickets to the Eiffel tower?
Book your ticket online through the Eiffel Tower official website.
As an alternative, especially if the official website shows the ticket that you want is sold out, you can book a guided tour with skip-the-line tickets.
Book your Eiffel Tower guided tour with summit access now!
Is it safe to go to the Eiffel Tower at night?
Yes, it is. In fact, I recommend it since it's open quite late (12:45 a.m. in the summer!). That way you can fill your day with sites that have shorter hours and then still do the Eiffel Tower after dinner.
Getting around Paris: Is Paris a walkable city?
Absolutely! My two recommended ways to get around Paris are by using your feet and the Metro/RER.
Aside from being great exercise, walking is free. A downside though is that it can take you longer to get through your itinerary.
The Paris Metro (and RER) is an efficient and affordable way to get around the city. Having said that, the more time you spend underground the less of Paris you get to see. You'll just want to balance your desire to experience Paris with your desire to pack in sites.
Download the free Vianavigo app (Android | Apple) to find the best metro and/or RER route to your destination.
What to eat in Paris
I'm going to shock all the foodie travel bloggers out there and say that if you only have the one day in Paris, don't spend too much time traveling to get to the top restaurants…unless that's one of your top priorities for the day. I will say though that you definitely should make a stop for crepes.
I listed some food options above, but here are the some of the other places to eat in Paris that we enjoyed and can recommend. All have good vegetarian and gluten-free options.
Culture Crepes
26 Rue Saint-André des Arts, 75006 | Metro stop: Saint-Michel Notre-Dame (metro line 4, RER C, B)
Our favorite crepe shop is Culture Crepes. They offer both delicious savory galettes and wonderful sweet crepes. They also have excellent gluten free options, and they'll gladly make any sweet crepe option as a gluten-free sweet galette. My hubby (who has to eat gluten-free) loved both the banana and Nutella galette and the caramel apple galette he had.
You'll save a little if you get your crepe to go rather than dine in. If you need a break from walking, the few euros more that you'll spend on your meal are absolutely worth it.
Shakespeare and Company Café
37 Rue de la Bûcherie, 75005 | Metro stop: Saint-Michel Notre-Dame (line 4, RER C, B)
If you opt to visit the Conciergerie and Saint Chapelle rather than more art musuems beyond the Louvre, I highly recommend you step over to the Shakespeare and Company Café for your lunch or dinner. Although the menu is somewhat limited, everything we had was delicious. If the weather is cooperative, take a seat outside with a view of Notre Dame.
And as long as you're there, make sure you pay a visit to the famous Shakespeare and Company bookshop next door. Please note that they do not allow photography inside the shop
Picnic
If you want to pull together a picnic, there are quite of few reasonably priced grocery stores around the city. Combine that with a visit to a traditional boulangerie for baguette and pain au chocolat and you have quite a nice meal.
I've used the Monoprix Rue du Bac and Rue de Montalembert many times, and there's an Eric Kayser bakery near there as well (18 Rue du Bac). You owe yourself a pain au chocolat from Eric Kayser. There's also an Eric Kayser near the Framboise on Rue de l'Echelle that has some good gluten-free bread and treats.
One day Paris itinerary: the bottom line
From art to important historical monuments, you can cover a lot of ground with one day in Paris. No matter what you choose to do, even if it's just grabbing a coffee and pulling up a chair at the Tuileries or talking a walk along the Seine, you're in for a great day.
And while we're on the subject, don't let anyone put you off from spending only one day in Paris. It's an amazing city that's totally worth it. Maybe today you can only go for one day, but maybe someday you can go back and stay longer. (P.S. I recommend a week if you can do it.)
Pin this post for later!