Travel Light Packing List for a Week (in a Carry-on)
Traveling with carry-on luggage only. Some love it. Some claim it can't be done. Use this travel light packing list for a week in a carry-on and you'll have everything you need to pack light every time.
It's an ideal list for a week in Europe.
I'm convinced that traveling carry-on only is the best way to travel. But packing is not an exact science and a lot will come down to personal preference and travel style.
I personally think it's also a good option for a business trip or any other shorter trips.
GET A FREE PRINTABLE VERSION OF THIS PACKING LIST (PLUS 4 MORE!) HERE
Though it's a challenge, I personally love traveling with just carry-on luggage. I love traveling with a smaller bag (knowing I didn't bring too much stuff).
I love not worrying about my bags making it with me to my destination. This is one of my favorite reasons to travel carry-on only.
And other than the occasional leg of your trip on a regional jet with limited-size or no overhead bin space (requiring you to valet check your bag until you deplane), all of your luggage will be in your control at all times.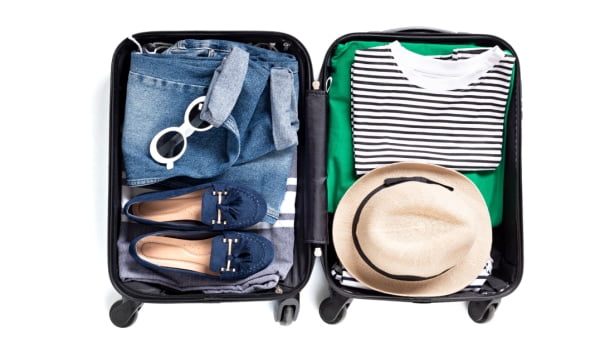 This post includes affiliate links. If you make a purchase through one of these links, I may earn a small commission at no additional cost to you. As an Amazon Associate I earn from qualifying purchases. See disclaimer.
General tips for packing light
Before we get to the packing list (keep reading!), here are a few tips to help you with packing light and traveling with just a carry-on bag.
When considering what to pack for a week-long trip, generally plan to keep your carry-ons to 8 kilograms (17.6 pounds) or less…fully packed. As a general rule, packing your carry-on bag to 16 pounds will be safe while traveling in Europe. A good quality luggage scale (like this one) will help you stay under your weight limit.
Use the lightest bag you can find for your carry-on. Some are surprisingly heavy unpacked, leaving you without much room for your clothing and other items if you have a weight limit for hand luggage.
Always make sure you thoroughly read the carry-on/hand luggage policies of each and every airline on your itinerary, not just the airline you purchased the ticket from.
Most major U.S. airlines do not have a weight limit for carry-on luggage.
Booking accommodations with access to laundry facilities makes packing light a bit easier since you can do laundry partway through your trip.
If you won't have the opportunity to do laundry, take the extra step of making sure that the clothing you pack all works well together to create a number of outfits.
Read More → 10 Awesome Tips for Packing Light and Traveling with a Carry-on Only
Read More → What to Take on a Flight (in Your Carry-on Bag)
Organize your travel light packing list
Packing light requires discipline and organization, but it's worth it.
To keep yourself as organized as possible, break down your week-long trip packing list into four sections:
What you're going to wear on the plane
Your personal item (small travel backpack, etc.) that goes under your seat
What's going in your carry-on bag
Liquids bag (which must follow the TSA 3-1-1 guidelines)
Packing toiletries and liquids for carry-on only travel is not a small topic.
Make sure you read my complete guide to packing toiletries for a carry-on bag for more information and a detailed packing list.
Don't for get to pack your travel insurance. You'll want the peace of mind that comes with knowing your travel investment is covered.
What to pack for a week-long trip: travel packing checklist
What to wear on the plane
To save yourself as much space and weight in your carry-on as possible, plan to wear your heaviest and bulkiest clothing on your flight.
For example, I like to dress in layers since sometimes on planes I get quite cold and sometimes I get too hot. The same goes for me at airports.
So, for me it works out great to wear as much of my packing weight as I can in layers I can easily remove or put back on as needed to keep myself comfortable when I fly..
I usually wear the only pair of jeans that I take on my trip (jeans are heavy!), my heaviest shoes, a short sleeve T-shirt, a cardigan (again, heavy!) and the warmest (and heaviest) jacket I will need on my trip.
Traveling to a cold-weather destination can complicate packing a bit. But even then, I would absolutely wear my heaviest shoes and coat on the plane.
This is my flight "uniform"
Dark, comfortable jeans
Black short sleeve T-shirt
Grey cardigan
Jacket
Comfortable shoes
These are my favorite slip-ons for travel.

If I'm planning hiking or other outdoor activities, I'll wear my heavy shoes so they're not taking up weight in my carry-on bag. I love these waterproof hiking shoes.
What to pack in your personal item
This can vary by trip, but I frequently travel with my anti-theft crossbody purse inside a larger bag (like this basic backpack) that still complies with the airline's personal item regulations and fits easily under the seat in front of me.
✅ This is my favorite anti-theft crossbody travel purse. I never travel without it!
Some airlines' carry-on weight limits include the personal item. When that happens, I take my crossbody only as my personal item and bring the backpack empty in my carry-on suitcase (to use as a day pack) or leave it at home.
Electronics
Portable charger—pack a small portable charger like this one to make sure your phone never dies.
Tablet with charger—a tablet is great to bring along for reading e-books, watching movies, etc.
Headphones or earbuds—good quality earbuds take up little space. They're great to have on the plane, and then you can use them for audio tours on your trip as well.
Phone—Don't forget your phone! If you have a phone with a good quality camera, like this one, you won't need to pack a separate (potentially heavy and bulky) camera.
Outlet adapter—make sure you know what kinds of plugs they have at your destination. Outlet adapters like this one make it easy to plug your electronics into whatever kind of plug you'll likely encounter.
BUT even if you have one of these, you'll still want to check to make sure you can use it at your destination. Don't assume.
Comfort
Sleep mask—essential for me for red eye or overnight flights. I carry an old one from a business class amenities kit. Or you can buy one like this.
Snacks for the plane—pack yourself some healthy snacks in case you don't have time to stop at the airport or service on your flight is delayed/disrupted.
Water bottle—keeping hydrated when you fly is essential. You'll feel so much better when you arrive at your destination if you make a point of keeping hydrated while you travel.
These and these always find their way into our carry-ons when we travel.
Miscellaneous essential personal items
Don't forget to triple check that you have your wallet, credit cards, passport (if applicable), and photocopies of your driver's license, medical cards, passport…any important IDs or documents.
You'll also want directions to your accommodations with check-in instructions (if needed).
And I like to always travel with a pen and pencil.
Travel light packing list for your carry-on suitcase
Make sure your carry-on bag is not larger than the maximum dimensions your airline allows. They do vary, so please check ahead of time.
And don't forget to weigh your bag if your airline has a weight limit for carry-on luggage.
Below is what I recommend packing for a one-week trip. Use this as a starting point and adjust for longer trips, season or the activities you'll be doing.
This list also presupposes that you'll be at least handwashing a few personal items if not doing a load in a washing machine. If you're going to hand wash look for fabrics that dry quickly and don't need ironing.
Clothing
2 pairs of comfortable pants. Black is easy to dress up for a night out.
Spare pair of shoes or sandals. (I try to avoid packing multiple pairs of shoes when I can.)
Lightweight outer layer like a packable rain jacket
Long sleeve button up shirt or blouse
Long sleeve T-shirt or summer weight sweater (merino wool is great)
Short sleeve T-shirt
Short sleeve wool or cashmere sweater
3 camisoles/tank tops
2 sets of lightweight pajamas/sleep shirts
5 pairs of underpants
5 pairs of footie socks
2 bras
Optional: 1 dress that works for both sightseeing and a dinner out.
Everything else
Guidebook(s)—if you prefer paper books; otherwise you can save space and weight by using e-books on your phone or tablet. These are my favorite guidebooks for Europe. These are my favorite for everywhere else.
Non-liquid toiletries/makeup bag (see separate list below)
Liquids bag (see separate list below)
Extra outlet adapters
Spare tablet and/or phone charging cables
Luggage scale—if traveling on an airline with a weight limit for carry-on baggage. This one weighs only 2 ounces, so it won't add much to your overall weight.
Bag(s)—to keep dirty shoes or clothes separate from any clean clothing on the trip home. This could be simple lightweight laundry bags or even just plastic shopping bags.
A few plastic storage bags of various sizes (just in case)
Printed copies of any needed documents such as tickets for sites or attractions, extra copies of passport and ID etc.
1 "luxury" item you want to take with you just because. For me, that's my pillow from home (seriously). For you it might be noise cancelling headphones or an extra pair of shoes you know you're only going to wear once. Something like that.
Read More → Travel Essentials for Women
Carry-on toiletries and liquids
Concealer or liquid foundation (to save space in your liquids bag you might consider using a powdered mineral foundation like this one)
Travel size hair care products
Travel size skin care products. Include a day moisturizer with sunscreen.
Toothpaste (I save the sample sizes from my dentist for travel)
Lip gloss
Mascara
Brow gel
Lip balm
Don't forget that when traveling carry-on only, you'll need to keep your liquids in a separate, clear, 1-quart bag.
Keep your liquids bag someplace where it's easy to get to quickly when going through airport security if you don't have TSA Precheck.
I go low tech here and just use a one-quart plastic bag. They're cheap and light. End of story.
Make sure you thoroughly read the liquids and prohibited items policies for each and every airline/airport you'll be flying with for your trip.
Read my full post on how to pack toiletries for carry-on for all my best tips and tricks and a complete packing list.
Other toiletries and makeup
Facial cleansing cloths (I use these that you add water to activate the cleanser so that I can take exactly what I need instead of an entire package)
Brow pencil
Eyeshadow stick (Sometimes. It depends on my mood.)
Blush
Blush application brush
Eyeliner pencil
Disposable razor
Toothbrush
Dental floss (I save the sample sizes I get from my dentist for travel)
Tweezers
Dietary supplements in zip-close sandwich baggies (count out exactly what you need; don't take full bottles)
Emery board
Makeup application sponge
Sunscreen stick
Deodorant/antiperspirant
Small bottle of pain relievers
Prescription medications
A small first aid kit with a few basic first-aid items such as band-aids of various sizes and antiseptic wipes.
Final thoughts on packing for a week in a carry-on
Traveling with a carry-on only can be a challenge, but also provides a lot a benefits. You can save money by not checking luggage and you don't have to worry about your suitcase getting lost or misdirected.
If you follow the basic guidelines in this travel packing list post, you'll have everything you need to get started with packing light.
What goes on your travel light packing list for a week? Tell me in the comments below.
Related articles on packing light
Pin this post!