Travelon Anti-theft Crossbody Bucket Bag Review: Best Travel Purse
Overwhelmed by all of the anti-theft travel purse options? I hear you! There are so many styles, brands, features and even colors to choose from. This Travelon anti-theft crossbody bucket bag review will tell you everything you need to know to decide if this is the best anti-theft crossbody bag for you.
This post includes affiliate links. If you make a purchase through one of these links, I may earn a small commission at no additional cost to you. As an Amazon Associate I earn from qualifying purchases. See disclaimer.
What should I look for in an anti-theft crossbody bag?
When I was first searching for an anti-theft travel purse, there were several key features that I knew I needed.
Theft prevention
Lightweight
Roomy enough to hold all my stuff
Durability
Good looking
It has anti-theft features including RFID blocking technology
Travelon anti-theft bags are known for their "5-Point Anti-Theft Security System." It includes the following features:
The strap has a clip at one end so you can wrap your strap around something (like a restaurant chair) to secure it and prevent a thief from grabbing it and running.
Zipper pulls with clips so that you can lock the zipper compartments closed, preventing pickpockets from slipping their hands into your bag.
All four sides and the bottom of the purse have a slash-resistant mesh barrier. This protects the contents of your bag.
Stainless steel wire inside the straps to prevent thieves from cutting through the strap to easily steal your purse.
RFID blocking passport pockets and card slots prevent electronic identity theft.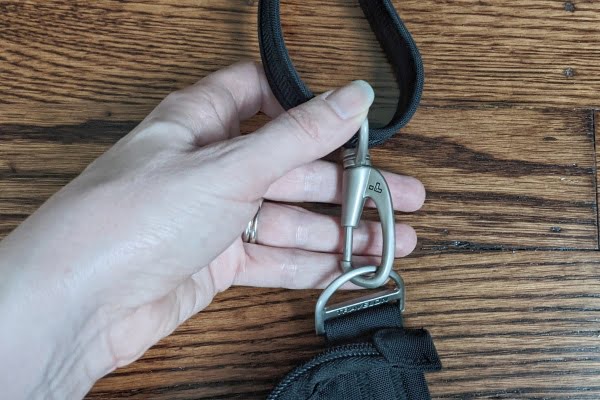 I've made good use of the "lock-down strap" at outdoor restaurants.
I set the purse on the ground at my feet, wrapping the strap around an ankle and/or the chair, and then secure it with the clip.
I only drape the strap over the back of a chair if I can also easily secure the strap around the chair by hanging it that way.
It's lightweight when empty
I prefer to travel carry-on only, and so keeping my bags lightweight is super important to me.
All of my stuff adds a lot of weight (obviously), so I didn't want my travel purse itself to also be heavy on its own.
Wandering all day through Paris or Rome or wherever you are will be tiring enough without having to worry about the weight of your travel purse dragging you down.
I love that this bag is so lightweight when it's empty
Buy the Travelon anti-theft classic bucket bag on Amazon.
It's roomy enough to hold everything you need
This bag is 14″ x 10″ x 4″, which means there's plenty of room to hold all the items you might want to carry around with you during your travels.
In fact, it's roomy enough that I can use this purse on flights as my personal item bag for short trips.
Outside of the spacious main compartment, there's also a front zippered compartment and a zippered compartment in the back. Interior pockets make it easy to keep your stuff organized and safe.
I routinely carry a wallet, cell phone, travel guide book, snacks, and a water bottle with me while I sightsee and on day trips.
Check out my day trip packing list for more details about the kinds things you should take in your day bag.
Durability
The Travelon anti-theft crossbody bucket bag is made of durable water-resistant materials that make it easy to keep clean.
I have traveled with this purse for five years and over thousands of miles (some of them fairly dusty), and this purse still looks as great as the day I bought it.
Surface dust and debris easily brushes off or just use a damp towel.
Additional helpful features of this Travelon crossbody bag
Outside of all of the great features we've already gone over, this bag also includes two exterior expandable water bottle holders.
They're the perfect size for a standard disposable water bottle. It's also a great fit for smaller re-usable water bottles.
Some travelers like to carry one water bottle and then use the other water bottle holder for a small umbrella.
So if you're looking for a Travelon crossbody bag with a water bottle holder, the classic bucket bag is a great option for you.
This bag also comes in several attractive colors (like black, midnight blue, deep purple) that would work well with whatever you're wearing.
Do you like the look of it?
An anti-theft travel purse isn't going to do you a lot of good if you don't like the look of it enough to wear it throughout your trip.
While I have many more "everyday" purses that I prefer to use when not traveling, I never have for one moment wish I had purchased a more "stylish" travel bag.
In my opinion, its anti-theft features far outweigh any concerns about the fashion police.
But you have to do what works best for you. Find the style and color that you know you'd enjoy carrying.
Travelon Anti-theft crossbody bucket bag pros
Features the Travelon 5-point anti-theft security system to protect your property AND identity from being stolen while you travel (see above for more details).
It's lightweight.
It's durable enough to look great even after much use.
Spacious enough to carry everything you need for a day trip (including a tablet and/or a travel guidebook) without being too large to carry comfortably.
Has two expandable water bottle holders.
Comes in colors that would work well for most people's taste and wardrobe.
Affordable when purchased on Amazon.
Cons of the Travelon anti-theft bucket bag
The water-resistant polyester fabric is not especially stylish looking. It looks like a travel purse.
The RFID blocking feature is only included in certain pockets of the purse not the entire bag, so you have to use those pockets to get the anti-electronic-theft benefits.
Doesn't come in as many colors as it used to, and some of them are a little drab (in my humble opinion)
The verdict: this is the best anti-theft crossbody travel purse
The Travelon classic bucket bag is my top recommendation for an anti-theft travel purse.
It has all the important anti-theft features you expect from a Travelon bag, plus it's roomy without being too large.
And I think it's the best travel purse with a water bottle holder.
There is no wasted space when I use this travel purse. It holds everything I want to carry with me.
And all of the compartments and pockets allow me to keep my stuff organized.
FAQs
Are Travelon bags water resistant?
Yes, Travelon anti-theft bags are made from dirt and water-resistant polyester. Liquids bead up on the surface and brush away.
Can Travelon bags be washed?
Your polyester Travelon bag (like this one) can only be spot cleaned with a damp cloth (exterior and interior). Do not put it in a washing machine.
What other styles of anti-theft crossbody bag does Travelon make?
Travelon makes MANY styles of anti-theft travel purses, totes, wallets, etc. So many that I couldn't possibly list them all here.
Final thoughts: Travelon anti-theft crossbody bucket bag review
I personally think this Travelon anti-theft crossbody bag is the best travel purse because of the great anti-theft features and because of how roomy it is for the size.
I almost never travel without this bag.
The only time I can recall traveling without it was the last time I went to New York City…and that was because I'm a little vain and wanted to take a designer bag and look more fashionable.
I'm sure you would love this travel purse also.
But even if this specific Travelon bag isn't right for you, you're sure to find one that will suit you because they have so many great options.
More posts related to travel purses
Pin this post!