The Best Carry-on Packing Tips for Traveling Light
Follow these travel light tips when packing carry-on only
Packing light and traveling with carry-on luggage only is a great way to go. When you pack light, you never have to worry about your checked bags making it to your destination. Or waiting at the baggage claim carousel. Try it for yourself with these best carry-on packing tips.
As an anxious traveler, I love that other than the occasional leg of my trip on a plane with limited or small overhead bin space (requiring me to valet check my bag until I deplane), all of my luggage is in my control at all times.
I also love that at the end of my trip I get to just grab my things and go. No waiting at the luggage carousels for me! I'm already on my way to enjoying my trip or heading home by the time you see your checked luggage.
So, consider forgoing the ritual checking of your bags and start packing carry-on only. Keep reading for the best packing tips for carry-on luggage.
Get 5 FREE printable packing lists to help you pack for every occasion.
This post includes affiliate links. If you make a purchase through one of these links, I may earn a small commission at no additional cost to you. As an Amazon Associate I earn from qualifying purchases. See disclaimer.
#1. Get your carry-on packing list organized
Packing carry-on only requires discipline and organization, but it's so worth it.
Picture yourself flying through the airport on the way to starting your amazing vacation while all of the others on your flight are standing around waiting for their checked bags to come out on the carousel.
Sounds nice, right?
I keep myself as organized as possible when I plan my carry-on packing list so I maximize my available space and don't forget anything I need.
I get organized by breaking down my packing list into four categories:
What I'm wearing on the plane
What I'm packing in my rolling carry-on bag
What goes in my personal item (I love my backpack)
TSA liquids bag
This is just a suggestion. It's what I do. Use whatever categories or lists work best for you.
#2. Watch your size and weight!
Well, not your size and weight, the size and weight of your packed carry-on luggage.
I cannot overemphasize how important it is to check the carry-on (or hand luggage) policies of each airline you're flying with on your trip, not just the airline through which you bought your tickets.
European-based airlines can have especially strict weight and/or size limits for carry-on bags.
Just because your Delta flight to Europe from the U.S. doesn't have a weight restriction for a carry-on bag doesn't mean that your connecting flight to your final destination, on a different airline within Europe, won't.
And don't neglect checking on any restrictions to the size of your personal item bag as well. Some airlines, limit the personal item to something small like a handbag or a thin laptop. Large, overstuffed backpacks are a no-go as a personal item sometimes.
Some airlines also include both your larger carry-on bag and your personal item in their weight limits.
Don't get caught off guard.
#3. Use a luggage scale and take it with you
Using a luggage scale can be a lifesaver while you're packing to make sure you're staying within the airline carry-on weight limits.
And when possible, give yourself a buffer of about a pound just in case. You never know when your scale and the airline's scale might be calibrated differently.
One time I was checking in for a Swiss Airlines flight on my way home and my bag was a little over the weight limit. They let it slide, but I was already trying to decide what items to pull out of that bag and stuff in my travel purse or jacket pockets.
The weight buffer on the outbound trip also helps with planning for bringing souvenirs back with you.
Which reminds me, you need to take your luggage scale with you if you plan to go carry-on only on your return trip.
#4. Don't forget to consider the weight of your carry-on bag itself
When thinking about what you're going to pack it's also crucial to remember that the weight of your luggage itself counts.
I know, it seems self-evident, but larger rolling carry-on bags can weigh more than you think. I have an old one that weighs 9 pounds!
If you're flying on an airline that limits you to 8 kilograms (17.64 pounds), using that bag would leave you with only 8 pounds for your actual stuff.
More than half your total allowed weight would be taken up just with the weight of your suitcase. No thanks.
A great way to cut down on your overall luggage weight is to buy the lightest bag you can afford.
Hubby loves his Rick Steves rolling backpack that weighs just over 5 ½ pounds.
#5. First-timer? Do a carry-on packing dry run
This carry-on packing tip is especially for those first-timers out there: do a carry-on packing dry run.
Once you've made your packing list, it's time to actually pack everything to make sure it all fits and is under the weight limit (if applicable).
And when I say everything, I mean everything. All of the actual things you're taking with you. An approximation won't cut it.
Then weigh it. (You'll be shocked to discover how much a simple thing like a hairbrush weighs.)
Then figure out what needs to go and weigh your bag again.
Do this until you're one pound under your weight limit.
Grab your travel partner and set aside an evening or a Saturday afternoon if you need to. It's totally worth it.
#6. Maximize your outfits when packing carry-on only
You've probably read about or at least heard of a capsule wardrobe, right?
Well, they work for packing light also! The idea is that you downsize the quantity of garments you have with you while maximizing the possible number of outfits you get from those garments by making sure that they all coordinate.
My favorite way to do this is to pack separates and make sure I use a lot of neutrals. I introduce pops of color in cute tops that coordinate with all of (or at least the majority of) the bottoms I'm bringing with me.
And it's okay to repeat outfits. Seriously, I won't tell if you don't.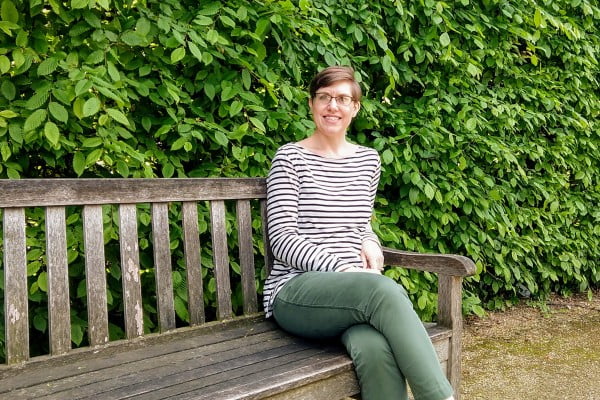 #7. Minimize your toiletries
When packing carry-on only, figuring out how to get my liquids into a one-quart plastic bag is the thing I struggle with the most.
I'd love to take three lip gloss options with me in addition to every single skin care product I use on a regular basis, but I simply don't have room in my little plastic bag.
At the same time that you check the carry-on luggage policies of your airlines also make sure to note airport security carry-on liquids and prohibited items policies.
While your experience may be that the domestic carrier you use to make trips to visit family don't consider lip gloss or mascara to be a liquid, the international airline or airport you're going to be using just might.
When I pack my liquids, I go low tech and just use a quart Ziploc bag. I've read too many stories of travelers buying "TSA Approved" liquids bags only to go through security in European airports and be told their bag was too large.
To me, it's not worth the risk…And what's cheaper or lighter than a Ziploc bag?
Read my full post about packing toiletries for carry-on for all my best toiletry packing tips and tricks…plus a packing list
#8. Look for accommodations with easy access to laundry facilities
Booking accommodations with access to laundry facilities makes packing light a bit easier since you can do laundry partway through your trip.
It also makes it easier to repeat outfits if perhaps you're a little bit of a messy eater. Or maybe you're prone to dribbling your coffee if you try to drink it while you're walking.
I'm not saying I do that…but I have friends who do.
We frequently use Vrbo to book accommodations when we travel and make it a point to only book homes or apartments with laundry facilities to make packing light easier on ourselves.
You might have to make a small investment in laundry detergent while you're there, but in my experience, people frequently leave behind the leftover detergent they purchased for the next renter to use. Nice!
If you won't have the opportunity to do laundry wherever you're staying, take the extra step of making sure that the clothing you pack all works well together to create a number of outfits. (See #6 above.)
#9. Wear your weight on the plane with you
Sometimes on planes I get quite cold and then sometimes I get too hot. The same goes for me at airports.
So, for me it works out great to wear as much of my packing weight as I can (without looking like an idiot) in layers I can easily remove or put back on as needed to keep myself comfortable.
I usually wear the only pair of jeans that I take on my trip (jeans are heavy!), my heaviest shoes, a short sleeve T-shirt, a cardigan (again, heavy!) and the warmest (and heaviest) jacket I will need.
Traveling to a cold weather destination or planning to do some hiking? Wear that heavy coat and the hiking boots on the plane.
#10. Don't forget to think about your return trip
Planning to bring back souvenirs with you? Then make sure to account for that when you pack your carry-on.
Some avid souvenir buyers opt to bring an empty tote bag with them to fill with souvenirs to carry on the plane with them and then check their other bag for the return home. This is a totally valid option.
If you're like me and you limit your souvenir purchases so you don't need to check a bag on the way back, then make sure you give yourself a buffer under the carry-on weight limit for your airline or airlines. Or make sure that they'll fit in your personal item.
One of my favorite souvenirs I ever bought was perfume from Florence, Italy, so I had to make sure I could consume or dump items from my liquids bag to accommodate my fragrance purchase for the trip home.
Totally worth it.
#11. Don't be ashamed to use your traveling companion to carry some of your stuff
Traveling with a companion who doesn't use as much of their allotted space or weight as you do? They may be willing to help you out by carrying some of your items in their luggage.
My husband travels with me, and his liquids bag will hold his shampoo, a small tube of toothpaste and some antibiotic ointment. That's it.
He's happy to take on my shampoo and toothpaste also to give me a little more room for the makeup and skincare products that I really want to take with me.
He also often packs our guidebooks when we travel with paper copies since they can be heavy.
Should you use packing cubes or compression bags?
While I personally don't use either packing cubes or compressions bags when I travel light, there are many who do and swear by them.
Packing cubes have some benefits:
Keeping small items together and not just floating around your luggage
Keep your pairs of shoes separate from your clothing
Keeping outfits organized for longer trips
Compression bags:
Help bulky items take up less space in your baggage
Help you get items that would normally take up a lot of space into a smaller bag
Help you pack for a long trip in a bag you would normally use for a short trip
One thing you absolutely need to keep in mind if you decide to try packing cubes or compression bags is that they do add weight. Maybe not a lot, but some.
If you are traveling carry-on only with severe weight limits, fitting more into your carry-on isn't going to help you. In fact, you will be making it easier for yourself to go over your weight limit.
If you are traveling without a carry-on suitcase weight limit and want to try packing cubes to help you stay organized, I definitely think you ought to try them out to see if you like them.
Why pack light and travel carry-on only
I started traveling with carry-on luggage several years ago, and I can't imagine going back. The first time I tried it, I wasn't sure I'd be able to make it work.
I was amazed at how much easier plane travel became when I could eliminate checking my luggage at the start of my trip and picking up my suitcase (hopefully!) from baggage claim at the end.
Don't get me wrong, it was a challenge, but it was also totally worth it. And I like a challenge.
Let me challenge you to give it a try on your next trip. Perhaps do what I did, try it out on a no-pressure domestic trip…maybe just a visit to family…to see if it works for you.
I think you'll be surprised at how doable it really is.
Here are my top five reasons to pack light and travel with carry-on luggage only.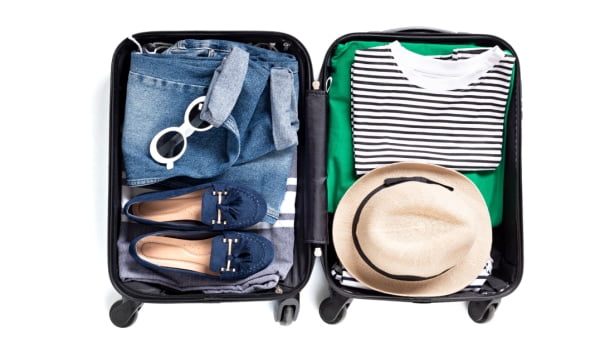 Carry-on only travel means that all your luggage stays with you while you travel
I never have to worry about my bags making it with me to my destination.
And other than the occasional leg of your trip on a plane with limited or small overhead bin space requiring you to valet check your bag until you deplane, all of your luggage will be in your control at all times.
Save money on baggage fees
If your preferred airline charges for each suitcase that you check, you can save a good amount of money with each trip if you fly with carry-on luggage only.
Of course, not all airlines charge baggage fees. And if you prefer to fly basic economy, overhead bin space may not be included in your fair, so make sure to check carefully before your purchase your ticket.
No waiting in baggage claim
This is a big plus for me. I love that at the end of my trip I get to just grab my things and go, no waiting at the luggage carousels for me! I'm already on my way to enjoying my trip or heading home by the time you see your checked luggage…I mean, assuming it's there.
It's easier to be mobile
Imagine rolling into Florence on the train and walking through the pedestrian-only historic city center with heavy suitcases the size of a trunk. I wouldn't recommend it.
If you travel with a carry-on only, you can toss your bag in the overhead rack on your train and be on your way.
Packing carry-on only forces you to think about your packing list…in a good way
How many times have you packed one…or several…garments that you didn't actually wear once on your trip? But you told yourself you might wear it, so you needed to take it.
Don't! You don't need it. You only need to pack what you definitely will wear…and, unless it's for a special event, wear more than once.
What are the chances that the million people who see you at the Louvre will also be at the summit of the Eiffel Tower with you…and remember you….and remember what you were wearing? If they do, report them to the police, because you have a stalker.
All joking aside, there's nothing wrong with repeating an outfit or two on your trip.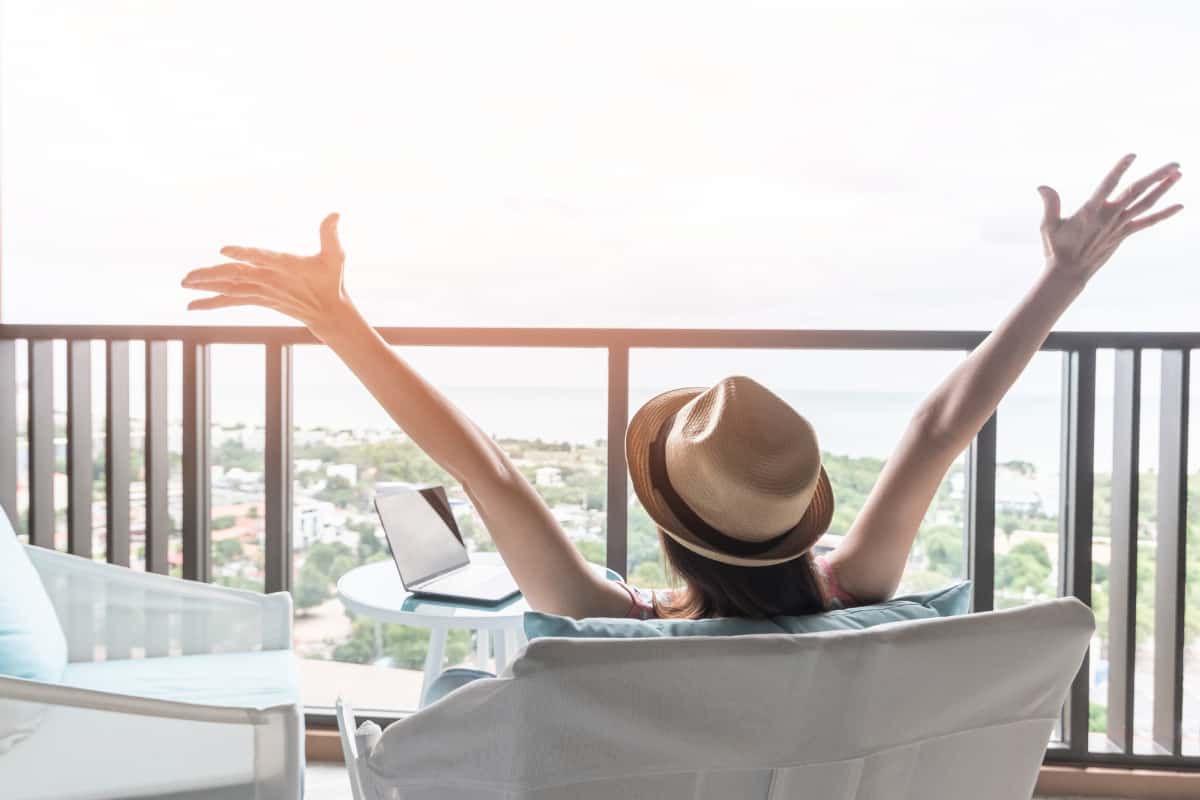 Packing light gives you the chance to focus on your experience rather than your things
After all, that's why we travel, right? To experience new places and people and cultures, to perhaps step out of a materialistic mindset wrapped up in the accumulation of things?
There's nothing wrong with caring about your appearance. I certainly do, but I care in the sense that I pack one favorite lipstick and 8 outfit options for a one-week trip rather than 20.
I have found that traveling with fewer clothes and fewer things actually takes a load of my mind as well. When my suitcase is decluttered so is everything else. Truly.
There really is no downside to packing light and traveling with carry-on luggage only. Give it a try. I think you'll find it's a good idea and a great way to travel.
Final thoughts on tips for carry-on packing
Though traveling with a carry-on only can be challenging, it's well worth it to travel light.
If you follow the tips laid out here, you'll be well on your way to being a carry-on only travel pro.
Do you like to travel with carry-on luggage only? What are your top packing lights tips for carry-ons? Leave a comment below with your best tip!
Related articles with more carry-on packing tips
Pin this post!
The Best Carry-on Packing Tips for Traveling Light