What to Bring on a Plane (in Your Carry-on)
It's important to put together a packing list for travel so you have everything you need for your trip. But what about the things you need for the flights to and from your destination? Follow this guide for what to bring on a plane so you don't forget anything you need. 
GET A FREE PRINTABLE VERSION OF THIS PACKING LIST (PLUS 4 MORE!) HERE
Particularly when facing a long haul or overnight flight, it's a good idea to give some thought to what you want to bring. It can mean all the difference between arriving at your destination calm and at least a little rested or being a frazzled mess.
You'll be making yourself as comfortable as possible and perhaps enjoy air travel a little more.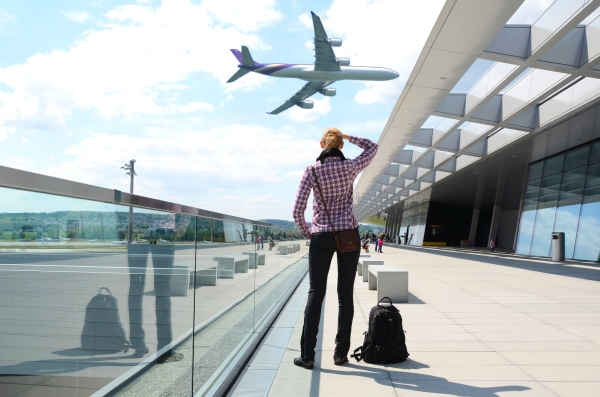 Need help planning your trip? These travel planning resources will get you started on the right path.
This post includes affiliate links. If you make a purchase through one of these links, I may earn a small commission at no additional cost to you. As an Amazon Associate, I earn from qualifying purchases. See disclaimer.
These are the items that I never get on long-haul flights without (my long-flight essentials). Use it as your starting point for developing your own ideal carry-on packing list.
Pack your liquids for carry-on
Don't forget that you will need to have all liquids and gels packed separately in a clear, 1-quart bag (a basic plastic bag is fine) when you go through security.
No container in your 1-quart bag can be any larger than 3.4 ounces regardless of how little is inside that container.
Though there are some exceptions for "infant and child nourishments" and essential medications, the liquids rule does include things like beverages.
If you're not checking a suitcase, and traveling only with carry-ons, any liquid, pasty or gel toiletries for your trip will need to fit within your 1-quart bag.
Don't miss my post on how to pack toiletries in a carry-on for a more thorough discussion of this topic.
You can take an empty reusable water bottle through security and then fill it up at a bottle filling station on the other side. Or purchase any other food or beverages you'd like after you get through the security checkpoint.
Personal care products to bring on a flight
Wet wipes—these are good to have on hand for multiple uses (and you never know when you may find yourself in a bathroom with no toilet paper—it happens). I don't travel without them.
Travel packs of tissues—These are essentials for me. Don't leave home without 'em.
Hand sanitizer—keeping your hands clean will help keep you healthy as you travel.
Antibacterial wipes—Giving your seat and tray table a wipe down before you use them is a great idea.
Lip balm—plane cabin air is drying. I never travel without this healing lip balm.
Hydrating face mask—if you are so inclined…you can pack an overnight hydrating mask to wear on a long flight. It dries down nicely so that you don't look like you're wearing a mask. This one comes in a travel size.
Help to make your flight more enjoyable
Airplane in-flight entertainment has improved a lot over the years, but isn't it the worst to get on a plane and find out that your options are really limited? Or you might be booked on a small regional jet for a leg of your trip without any in-flight entertainment at all.
Prepare yourself for that nightmare scenario by bringing your own in-flight entertainment with you.
Reading material
I always bring at least one book (often two) when I travel. I'm less likely to get bored if I have options and my reading moods can be fickle.
Pack what you know you like. No shame here. No one's expecting you to read Proust on your flight. If you love cozy mysteries, pack a cozy mystery. I'm just saying.
Read my post on good books for airplane reading if you're looking for some awesome suggestions.
E-reader or tablet
You can save a little room in your carry-on if you pack an e-reader or tablet instead of physical books. Download the free Kindle app onto your phone or tablet, and take your full e-book library with you.
If you prefer an e-reader, the newest Kindle Paperwhite is only a third of an inch thick and it's waterproof, which makes it great for traveling.
Want to use it by the pool or even while you're soaking in a bubble bath? No problem! It can handle being under two meters of water for up to an hour.
Downloaded media
Don't feel like reading? Download and travel with some episodes of your favorite podcasts or favorite TV shows…maybe even a movie or two.
Audio books are a great option too. You can try Audible Plus for free just to see if you like it.
Earbuds/headphones
Don't be one of those people who watches or listens to their media at the gate waiting area or on the plane without using headphones.
Just…don't.
I prefer to use earbuds because they're really lightweight and pack small. Like this affordable pair.
Some people prefer to use over ear noise cancelling headphones like these.
Portable charger
Pack a portable charger and make sure your devices never run out of juice. This one is ultra-compact. It's perfect for packing into your carry-on.
PRO TIP: If you have flexible travel dates you need to check out Going (formerly Scott's Cheap Flights). You get amazing flight deals sent straight to your inbox with instructions on how to book directly with the airlines. Check out Going here. Going is my favorite way to find great travel deals. 
Carry-on packing list
Help with sleeping on your flight
The name of the game here is finding anything or all the things that will help you get some sleep on your flight so you arrive at your destination not walking around like a zombie.
Ear plugs
Hubby loves to travel with these silicone ear plugs. He says they help him to actually sleep on overnight flights, which he would otherwise really struggle with.
Sleep mask
If you struggle to sleep for any significant length of time on flights, try a sleep mask (eye mask). Even when they turn the lights way down in the cabin there is still plenty of light…and you might be sharing a row with someone who keeps their overhead light on all night and doesn't care if you're trying to sleep.
Neck pillow
Not everyone likes them, but again, if a travel pillow helps you sleep, go for it. This one is inflatable and packs small once deflated. It's perfect for packing in your carry-on bag.
Sleep aid
Along with avoiding excess caffeine on days that I fly, I find that a natural sleep aid like melatonin can really help me sleep on overnight flights. I never fly without these.
For more help with sleeping on your flight, check out my full post on the best products for sleeping on a plane.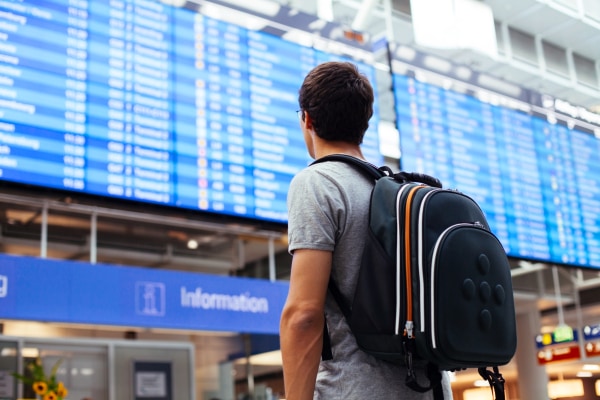 Food and beverages
Water bottle
Staying hydrated when you travel is important. It will help you combat jet lag and get better rest on your flight.
To reiterate what I said above, it's perfectly fine to bring an empty water bottle with you through security and fill it up at a bottle-filling station for your flight.
An insulated, spill-proof bottle is perfect like this one you can buy on Amazon.
And if a flight attendant offers you water during your flight, take it.
Snacks
Pack some snacks for your flights. They'll keep you going between your last meal and the food and beverage service on your flight.
These and these always find their way into our carry-ons when we travel.
Clothing
Spares
If you checked your luggage, pack at least a spare pair of underwear. Better yet, packed a full change of clothes and some basic toiletries for a few days.
That way if your luggage doesn't make it with you to your destination, you have at least some essentials.
Jacket and/or sweater/wrap
Airports and airplanes can be cold. A sweater, wrap, or cardigan and a jacket will keep you warm and more comfortable on your flight.
They'll also double as a blanket if you can't get one on your flight.
Miscellaneous carry-on essentials
Don't forget to triple check that you have your wallet, credit cards, passport (if applicable), and photocopies of your driver's license, medical cards, passport…any important IDs or documents.
Make sure you at least have the address of wherever you're staying plus check-in instructions (if needed). Better yet, have directions.
And I like to always travel with a pen and pencil. You know, just in case.
Anything fragile or breakable
On your return trip in particular, make sure you leave some spare room in your carry-on to keep safe any breakable or fragile items.
You know, that special souvenir you just couldn't live without. Anything like that.
What can I use for a carry-on bag?
You have a lot of options for carry-ons.
If you prefer to keep your carry-on bag with you rather than overhead, I recommend a small backpack like this one.
This way you can put your travel purse inside if you wish, along with your jacket and anything else you need for your flight and it will still fit under the seat in front of you.
And then you can use the backpack when you pack for a day trip while you're at your destination.
If you don't want to use a backpack, large purses, totes (that zip closed), and laptop/commuter bags also make good personal item bags.
When traveling carry-on only (and not checking a suitcase), my small roller carry-on luggage goes in the overhead bin while I keep my personal item under the seat in front of me.
In fact, as a courtesy to your fellow passengers, please reserve overhead bin space for those with bags that are too large to fit under a seat until your flight's gate doors have been closed you know no more passengers are boarding.
Make sure you follow the carry-on size and weight guidelines for every airline on your itinerary (both domestic flights and international flights) or you'll find yourself having to check your bag to your final destination.
I see this happen WAY more than you'd think. Don't let it happen to you.
New to traveling only with a carry-on? Follow these pro tips for packing light and it'll be a breeze.
What is allowed in a carry-on bag?
It's important to make sure you're following all airport security guidelines for what you can and cannot take in your carry-on bag.
This helpful page on the TSA website shows what kinds of items are allowed in carry-ons versus checked luggage. It's an extensive and searchable list organized into many categories.
Reach out to TSA before your flight if you have questions about what you can and cannot take on board. Otherwise, you could find yourself getting delayed at security.
Final thoughts on what to bring on a long flight
Now that you know what to pack in your carry-on bag for flight, you'll be all set to survive and maybe even enjoy your long-haul or overnight flight.
If you focus on keeping yourself hydrated, fed, entertained, and getting rest…you'll have a great flight. No problem.
What about you? What do you always put on your carry-on packing list? What are your long-haul flight essentials?
Related posts about what to pack in your carry-on bag
Pin this post!