Hotel Staycation Ideas You Need to Try
I love staying in hotels…nice hotels. When you find a really great hotel or inn near your home, all the better. Because sometimes you just need a staycation at a hotel in your own city. If you're considering a staycation, you need to check out these great hotel staycation ideas.
Hotel staycations are a great way to unplug from the everyday stresses of regular life. You know what I'm talking about: job, devices, household chores and maintenance, errands, etc., etc., etc.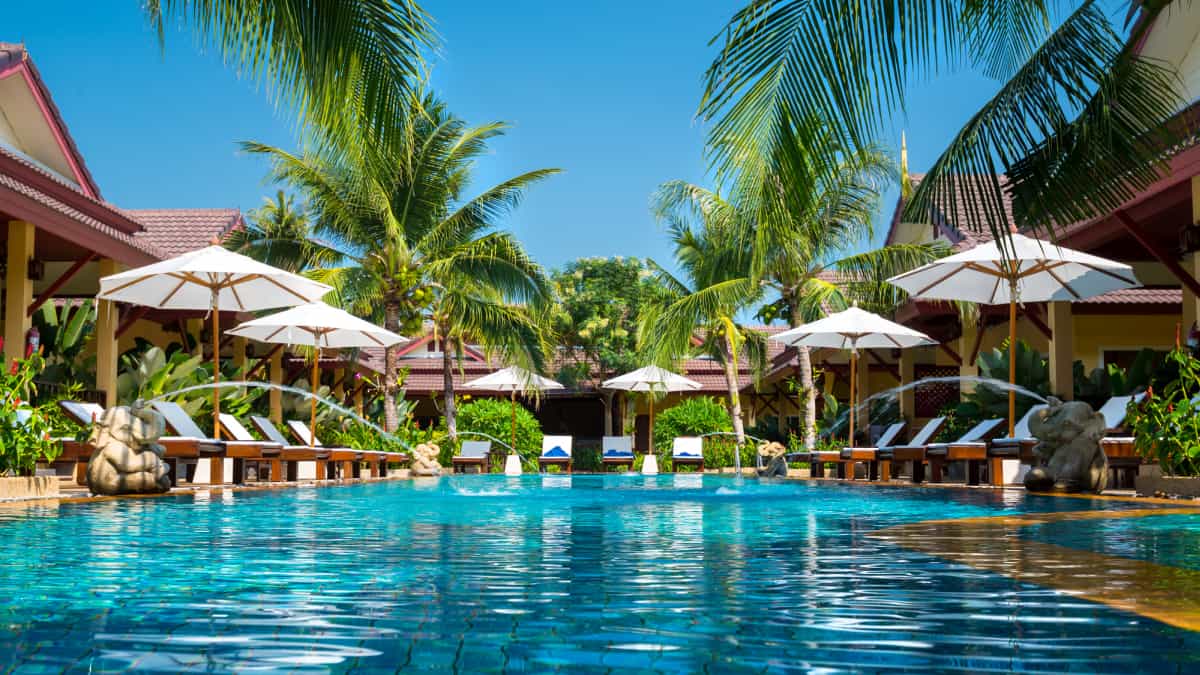 A short hotel stay, even one in your own town, can be just as restful and restorative as a regular vacation or weekend getaway if you truly allow yourself to unwind. And perhaps treat yourself to a bit of luxury.
Read More → Create a Resort at Home for Your Staycation
What is a hotel staycation?
Unlike a staycation at home (which is exactly what it sounds like), with a hotel staycation you stay over at a hotel, inn, or B&B.  in your local area.
A staycation at a hotel is a perfect way to treat yourself, get out of the house, and perhaps try something new.
And you can help your local economy if you stay at a locally owned inn or bed and breakfast.
This post includes affiliate links. If you make a purchase through one of these links, I may earn a small commission at no additional cost to you. As an Amazon Associate, I earn from qualifying purchases. See disclaimer.
How can I find a good hotel for my staycation?
I recommend Booking.com. They offer 28 million accommodations around the world.
In fact, Booking.com specializes in unique accommodations like B&Bs, small locally owned inns, and such. You can even find cottages, farm stays, vacation rentals, and more. 
Read my full review of Booking.com to find out if it's worth using for your staycation. This post also includes tips for how to find the right place for your trip. 
Read More → Booking.com or Direct with Hotel: Which is Better?
If you're looking for more hotel inspiration, my post about romantic getaways in the South is full of accommodation recommendations that are perfect for hotel staycations (with luxury/high-end, moderately priced, and affordable options for each town). 
Why you should take a staycation at a hotel
You know you won't really get a "break from it all" unless you leave your house.
You need more hotel loyalty points to reach or re-qualify for elite status—also known as a "mattress run."
You want to celebrate a special occasion but don't have time to go away for more than a night or two. 
You want to experience some of the great hotels and inns available in your hometown or very nearby.
You and your hubby need a break from the kids, but you don't want to travel far away. Just leave the kids with Grandma and Grandpa and off to the hotel you go! 
What should I bring to a staycation?
You can pack for a staycation just like you would any other hotel stay. Actually, I'd recommend it.
Treating your staycation like a "real" vacation will make it feel more like a break from everyday life…and that's what you're looking for, right?
Here are some things I would definitely bring with me:
Swimsuit for pool or beach days
Comfortable pajamas and loungewear
A dressy outfit for a special occasion dinner out
A good book
Check out my fully customizable weekend packing list for all the details about what you should pack for your getaway.
What do you do at a hotel staycation?
There are so many great things you can do on your staycation at a hotel.
Food, reading, and sleep are my top choices, but you might have other interests. Here are a few ideas to inspire you.
Book a massage or treatment at the spa
Some hotels have amazing spas on the premises. So, take advantage. I personally love facials. They're like mini-vacations all by themselves.
Your hotel or resort may even offer special spa weekend packages that offer treatments at a discount or a credit to use toward a treatment of your choice. Check it out.
Treat yourself to a dinner in the expensive hotel restaurant
If you're staying at a hotel that has good dining options, then treat yourself and your spouse to a nice dinner. Oh, and get dessert. And appetizers. Live it up. 
A nice dinner is perfect for a romantic hotel staycation when you're celebrating a special occasion like an anniversary. Or when you just need a couple of days alone with your boo.
If none of your hotel's restaurants appeal to you, ask the concierge for recommendations for a nearby restaurant. Your concierge can also make reservations for you if needed.
Try your hotel's room service
To me, room service is the ultimate in hotel staycation pampering. You don't even have to put on real clothes…and people just bring food to you.
Well, you have to pay for it, but you know what I mean.
So, if you're not really in the mood for getting a bit dressed up and eating in a restaurant, put on your favorite stretchy waist pants and pick up the phone. 
It's time for room service.
And don't forget to tip your server.
Have a day out by the pool
Put on your suit and your coverup, grab a good book, and head out to the pool. Even if you're not inclined to get wet, an afternoon out by the pool just feels more vacation-y, you know?
It's the ultimate in relaxation.
But don't be a deck chair hog. Seriously, don't stake out your territory at the hotel pool and then disappear. It's not neighborly.
And order a fruity drink perhaps with an umbrella in it
Add a layer of luxury to your pool day and order a special beverage from the pool bar.
When I traveled to Beverly Hills with my sister, her one demand was that we sit out by the pool and order fruity drinks. She got her wish, and we had a great time.
I think her exact order was "I don't care what it is as long as it's fruity and has no alcohol."
I highly recommend it.
Enjoy the view from your balcony
Of course, you need to have a hotel room with a balcony to do this.
Like seat warmers in cars, I think that hotel rooms with beautiful views and balconies are one of those splurges that are totally worth the money.
On some trips, the hotel room is just a place to shower and sleep. This isn't really the case when doing a hotel staycation.
When doing a hotel staycation, the hotel is the main attraction (so to speak), so why not make sure your stay will be as enjoyable as possible and get the nicer room with the balcony?
Curl up with a good book
When I'm staying in a hotel, I'm more apt to be motivated to read rather than watch TV, so I take advantage.
I like to bring a fun book like a cozy mystery, something light. I don't enjoy serious reading while on vacation.
And if your hotel room has a balcony, well then, why not enjoy the view and get some fresh air while you're enjoying your book?
Take a nap
I think that one of the great free luxuries in life is the nap. And there's nothing wrong with napping on a staycation. In fact, I encourage it.
So often when we travel, we're so focused on getting the most out of the time we have at our destination that we can run ourselves ragged. When you're hotel staycationing there's not the same fear of missing out, so have that nap!
Luxuriate in a bubble bath
If your hotel staycation is at a time of year when a pool day is out of the question, perhaps try a luxurious bubble bath. I find them so soothing, and a hot bath at the end of the day sends me right off to sleep.
You'll need to plan ahead for this one so that you can pack your favorite bath products. If you don't bring any with you, check out your hotel's gift shop.
I've heard, though, that you probably don't want to use Lush bubble bars and turn on the jets in the bathtub. Hilarity may ensue.
Go for a walk
Even if your hotel or resort doesn't have extensive grounds with designated trails or walking paths, there might be nice places to walk nearby like a beach or park.
You don't have to go anywhere in particular. Just enjoy the fresh air and being together with your "travel" partner.
Ask the concierge if there are any activities you can sign up for
If you need more help with ideas for hotel staycation things to do, your concierge will be more than happy to help. That's why they're there.
Many hotels and resorts offer special activities for guests like cooking classes, special local tours, or guided outdoor activities such as horseback riding. Or they can connect you with a local company that offers these activities.
More articles about staycations
Pin this post!
Hotel staycation ideas you need to try