Things to Do on a Long Road Trip to Pass the Time
Make your next long car ride more enjoyable with these fun things to do
Many people dread the thought of a long drive. The monotonous scenery, hours on end in the car and cramped spaces can make for an unpleasant trip.
But there are many fun things to do on a long road trip while driving and in between destinations.
Want to learn how to survive a long road trip? Just keep reading!
Need help planning your road trip? Check out our list of the essential travel planning resources.  
Plan your ideal road trip with this FREE printable travel planner.
This post includes affiliate links. If you make a purchase through one of these links, I may earn a small commission at no additional cost to you. As an Amazon Associate, I earn from qualifying purchases. See disclaimer.
Bring plenty of entertainment with you
Like I was saying, you'll want things with you in the car to keep you occupied while driving…or riding along.
If you bring plenty of road trip entertainment with you, you'll never be without something to do to make your trip go by faster.
And make sure all your devices are fully charged so they don't die on you in the middle of reading or watching something you're really enjoying.
That would be the worst!
Here are some things that work for me:
Books are a road trip "must have"
I always make sure to have a couple of great reading options with me when I road trip.
Obviously regular books are for when I'm a passenger.
This should probably go without saying, but just in case it doesn't…DO NOT read while driving.
Okay. Now let's continue.
I never know what kind of reading mood I'm going to be in, so I like to bring a couple of options if I have the space for them on my long car ride.
For some great road trip book recommendations check out my post about the best books to read on a plane. I think the same principles apply to road trips.
You'll find some great picks for both fiction and nonfiction books.
If you enjoy reading e-books you can download the free Kindle app onto your phone or tablet.
With the Kindle app, you can take your full e-book library with you without packing any additional devices.
Or try out Amazon's Kindle Unlimited for free to find your next great road trip read.
Pin this post!
Audio books
Audio books are perfect for road trips. With an audio book you can "read" even while you're driving.
If you're unsure how you feel about audio books, you can try Amazon's Audible for free just to see if you like it.
Media downloads
But what if you don't feel like reading or listening to an audio book?
There are plenty of other great media options to keep yourself occupied over the long miles of your next road trip.
Download some options to your mobile device before you leave for your trip so that they're ready and waiting for you no matter where you are.
Here are a few of my favorite ideas:
Take a look at what movies and shows are available for download on Netflix.
Download a few episodes of your favorite podcasts and any new ones you've been wanting to try.
If you have Amazon Music Unlimited, download some of your favorite albums or maybe some new music you've been meaning to listen to.
Don't have Amazon Music Unlimited? You can try it out for free on Amazon!
But be careful. It's addicting!
Enjoy some good conversation
Sometimes things can get pretty boring on a long car ride. Especially if you are with people who don't like to talk much or you don't actually know very well.
It's nice to have things to break up the silence.
Try having everyone in your car turn off all electronic devices and put them away (phones, iPads, etc .) for a short time.
You could ask everyone to contribute something to talk about.
If you're stumped for things to talk about, try these road trip questions that will spark some great conversations.
Everyone could take turns asking and answering questions.
You could even make kind of a game out of it, where the person who answers the question gets to choose the next question to ask and who has to answer it.
Create your ultimate road trip playlist
We touched on music earlier, but playing music while on the road is a great option.
Music brings a lot of things to the table. It can help you stay awake while driving, give you something to sing along with and give you energy.
I love to use Amazon Music Unlimited to create playlists of my favorite songs.
Review the next phase of your itinerary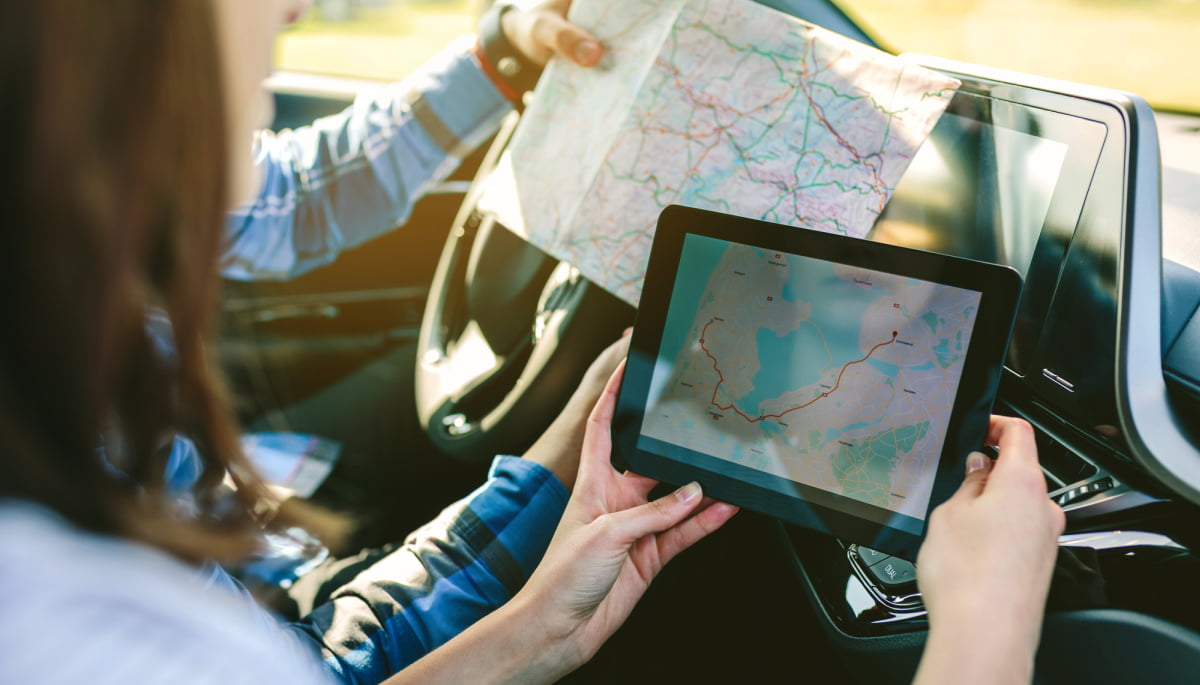 Take some time during your long car ride to go over the plans for the next stop on your road trip.
You could:
Make plans for where to eat at your destination (to avoid the dreaded "Where do you want to eat?" "I don't know. Where do you want to eat?" scenario).
Discuss sightseeing options at your next stop if you're having trouble narrowing it down. And getting everyone's input will help them feel involved in the trip planning.
Play some classic car ride games
Games are a great way to pass the time. Try some classic car ride games like…
The License Plate Game: Look for license plates from all 50 states. Give bonus points for international license plates.
The Alphabet Game: Look for all 26 letters of the alphabet in order using road signs, business signs, etc. BUT NOT license plates.
Who Am I?: Think of a famous person and everyone else has to try to guess who you are by asking you questions about who you're thinking of.
The Movie Game: The game starts with a person naming an actor or actress. The next person has to name a movie that actor or actress is in. Then the next person has to name another actor or actress in that movie and so on. Play continues until someone is stumped or gives an incorrect response.
Grab a nap
When it's not your turn to drive (obviously), take advantage of the time to rest up before your next turn at the wheel.
If you need help sleeping in the car, you might try a sleep mask to block out light.
Take in the scenery and enjoy some quiet
Sometimes one of the most enjoyable things to do in the car on a road trip is to do nothing at all.
Just relax, take in the view and enjoy the quiet!
Take a break from the road at meal times
When we road trip we often pack a lunch for the first day (so that we can save some money), but then after that we plan to stop at meal times.
It gives everyone a chance to get out of the car, especially the driver, a break from the cramped space.
Of course, you can still stop at meal times even if you pack your own food. You could even look for a scenic spot for a nice picnic and enjoy some fresh air.
Find some points of interest along your route
When road trip stops aren't too far apart, it can be fun to find interesting things along the way where you could stop
Take the opportunity to get out of the car for a bit to stretch your legs, change drivers and see something cool or amusing.
You could…
check out historical landmarks
Stop at roadside food stands
or simply just take a walk
Fun and interesting stops will make your trip more memorable.
One of my favorite road trip stops ever was Angel Oak outside Charleston in South Carolina.
Tips for how to survive a long road trip
Although it's fun to try to come up with ways to keep entertained and pass the time, there are also other things you can do to make your long road trip as comfortable as possible.
Stay hydrated. Dehydration will make you feel more tired, which you definitely don't want if you're the driver. Drinking more water may have to stop more often, but walking about a bit regularly will help as well.
Pack plenty of snacks. What's a road trip without road trip snacks?
Wear comfortable clothing.
Run Google Maps for directions even if you know your route. Google Maps will alert you to slowdowns, accidents and provide detour routes for you on the fly to help get you to your destination with less hassle.
Road trip essentials
Don't forget to these essentials when you're packing for your next road trip.
Cooler—Keep your lunch, snacks and drinks cool with a cooler like this one you can buy on Amazon.
Device charger car adapter—part of keeping safe on the road is making sure that your phone is fully charged in case of emergencies. A car charger adapter can keep two devices going (buy on Amazon).
Water bottle—I love my Super Sparrow lightweight sports bottle (buy on Amazon). It holds enough water to keep you hydrated on your trip.
Phone holder device—a hands-free device is great to have especially if you're road tripping alone. You can buy it on Amazon.
Jumper Cable—Don't let a dead battery keep you from your road trip. Keep jumper cables (find them on Amazon) with you at all times. Or purchase a jump starter box (buy on Amazon) and restart your battery safely by yourself.
AAA membership—unfortunately cars break down sometimes, and it's great to have something like AAA so you know you can get roadside assistance when you need it.
Polarized sunglasses—squinting into the sun contributes to fatigue, so a pair of polarized sunglasses can help. Check them out on Amazon.
First aid kit—for minor scrapes and such. You can make one yourself with basic things from home like band-aids and antiseptic. Or purchase a small kit designed for travel like this one on Amazon.
Spare plastic bags for trash—you don't need to purchase anything. Leftover grocery shopping bags work great.
Road safety tips
Final thoughts on things to do on a long road trip
No matter what your destination, your road trip is sure to be more enjoyable if you plan ahead.
Bring plenty of entertainment with you and enough food so that you can eat on the go if you wish.
Create an ultimate road trip playlist beforehand as well; nothing breaks up boredom faster than good music!
Finally, don't forget about conversation topics.
Sometimes silence isn't golden when driving long distances.
With these simple tips, hopefully you'll feel refreshed and energized by your journey's end instead of exhausted from all the time spent in the car.
What are some other tricks for making a long car ride more enjoyable? Share in the comments below! 
More road trip articles
Pin this post! 
Fun Things to Do on a Long Road Trip to Pass the Time