Jackson Hole to Yellowstone: A Day Trip Guide
Take an unforgettable Yellowstone day trip from Jackson Hole, the perfect solution for those short on time but eager to experience this iconic national park. This article provides essential tips and insights to maximize your day, including a complete itinerary.
This post includes affiliate links. If you make a purchase through one of these links, I may earn a small commission at no additional cost to you. As an Amazon Associate, I earn from qualifying purchases. See disclaimer.
Use the GuideAlong app to help you plan your Yellowstone day trip from Jackson
Yellowstone National Park is enormous, which can make planning a day trip there seem impossibly overwhelming.
I recommend getting a park map at the entrance or Visitor Center. These maps highlight key spots and help me visually orient myself within the park, although they are limited in detail.
I recommend that people traveling to Yellowstone download the GuideAlong app and purchase the Yellowstone audio tour.
If you're already planning to visit Grand Teton National Park, you can bundle the Yellowstone tour with the Grand Teton tour and get a discount.
I love using GuideAlong. It's like having a professional tour guide riding beside me in my car as I tour the park. Learn about the park's history, great ideas for where to stop, important natural and historical features of the park, and more.
PRO TIP: If you have flexible travel dates you need to check out Going (formerly Scott's Cheap Flights). You get amazing flight deals sent straight to your inbox with instructions on how to book directly with the airlines. Check out Going here. Going is my favorite way to find great travel deals. 
Yellowstone day trip itinerary
Follow this itinerary for a Yellowstone day trip from Jackson Hole if you're planning to road trip this one yourself rather than book a guided tour that includes transportation (I provide some options below).
Due to the park's vast size, our focus will be on the lower loop of Yellowstone National Park. That's the most realistic way to see a good selection of the most famous attractions at Yellowstone without staying for more than one full day.
You'll miss sites like Mammoth Hot Springs, but still see Old Faithful and the Grand Canyon of Yellowstone among other attractions.
North Grand Teton National Park stops
To get started on your day trip to Yellowstone, you'll want to get an early start and you'll drive through Grand Teton National Park. You can explore a few spots north of Teton Park Road in the park's northern area before you leave. There are some lovely scenic overlooks like Willow Flats and Jackson Lake Overlook.
Arriving at Yellowstone National Park
After you leave Grand Teton National Park, you'll drive along the John D. Rockefeller Jr. Memorial Parkway, which connects Grand Teton to Yellowstone. The parkway is not long, and it leads to the Yellowstone National Park south entrance.
You'll need to pay to enter Yellowstone or provide your America the Beautiful pass. It's about 20 miles from the South Entrance to the Grand Loop Road. You'll first encounter the West Thumb area, which I would normally say is worth a stop.
But since your time is limited on this day trip, I suggest you pass West Thumb and save it for your journey back to Jackson Hole if you have the time and energy for more geothermal sites.
First stop: Old Faithful and Upper Geyser Basin
From the point where you join the Grand Loop Road, it will be about 17 miles to the Old Faithful area. The geyser's next eruption time will be prominently posted at the Old Faithful Visitor Education Center.
Just miss the eruption? Explore the Visitor Center and Upper Geyser Basin before returning to Old Faithful. Pick up a map of the Upper Geyser Basin at the Visitor Center. And if you wish, you could make a quick stop inside the Old Faithful Inn to see its impressive Old House lobby.
Grand Prismatic Spring and Midway Geyser Basin
Next, you won't want to miss Grand Prismatic Spring at Midway Geyser Basin. It's a favorite spot in Yellowstone.
Take the boardwalk path out to the spring to see it up close. For the best view of the entire spring, you can take the Grand Prismatic Overlook Trail.
If you're there on a cooler day in the morning, don't be surprised to see the spring's beautiful colors shrouded in a heavy haze because of the difference in temperature between the spring and the cool air.
If getting a great view of Grand Prismatic Spring is a top priority for you, consider doing this Yellowstone day trip itinerary in the opposite direction. You'll get to Midway Geyser Basin later in the afternoon when the surface is much more likely to be free of haze.
OPTIONAL: Add in the Firehole Lake Drive in the Lower Geyser Basin area and stop to see the Great Fountain Geyser and/or do the Firehole Canyon Drive near Madison.
Artists' Paintpots
Follow the Artists' Painpots Trail short hike (about a 1-mile loop) to see the area's mudpots, hot springs, and small geysers. If you're short on time or have limited physical abilities, it's okay to skip this one in favor of Norris Geyser Basin which is coming up next. But I did really enjoy this. After all the geysers I'd already seen, the mudpots were an interesting change.
Norris Geyser Basin
For me, Norris Geyser Basin was one of the highlights of all of Yellowstone National Park's geothermal features.
I recommend that you focus your attention on the Porcelain Basin since you'll have less time to explore the area with just one day on the Lower Loop. You'll get a great view of the area from the Porcelain Basin Overlook.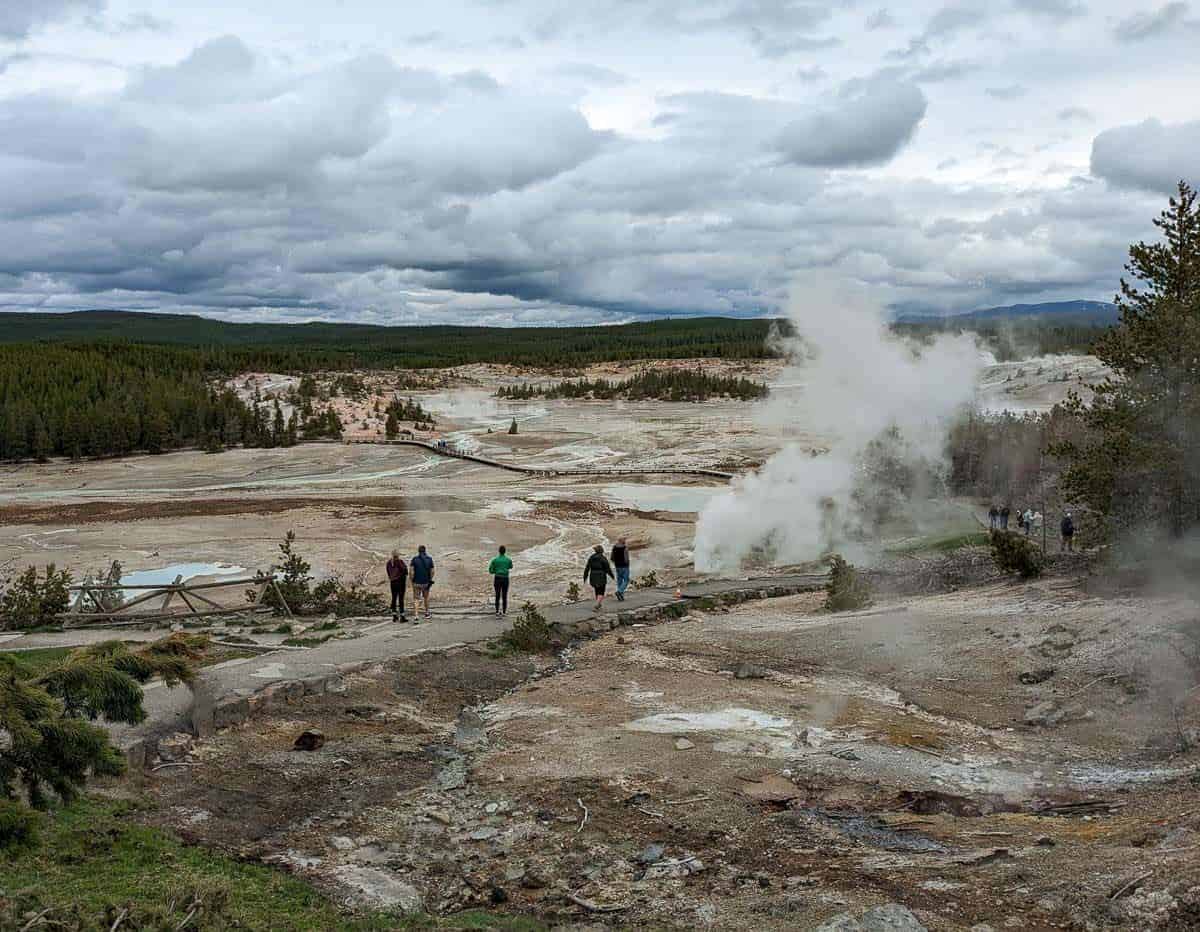 Grand Canyon of the Yellowstone
From Norris Geyser Basin, continue on the Grand Loop Road to the Grand Canyon of the Yellowstone. Here the Yellowstone River has carved a deep gorge that runs for about 20 miles.
During a Yellowstone day trip, I recommend that you focus your time on the two drives: the North Rim Drive and the South Rim Drive.
You can do both drives and all the stops along them to view the Grand Canyon waterfalls (the Upper Falls and Lower Falls) in about two hours. If you're short on time, focus your time on the South Rim Drive ending at Artist Point. That's the "money shot" of the Lower Falls.
On the North Rim Drive, stop at the Brink of the Lower Falls, plus check out Lookout Point for another great view of the Lower Falls. The North Rim Drive is one way and will take you back to the Canyon Village area.
Hayden Valley
After the Grand Canyon, your drive on the Lower Loop of the Grand Loop Road will take you through the lovely Hayden Valley. Hayden Valley can be a great place to do some wildlife viewing especially early in the morning or in the evening around sunset.
We had the good fortune to see a pack of hunting wolves and a grizzly bear with cubs plus several elk and bison (of course). If you can time your Yellowstone day trip from Jackson Hole so that you get to Hayden Valley in the evening to see wildlife that would be great, BUT that would also mean a long drive back to Jackson rather late.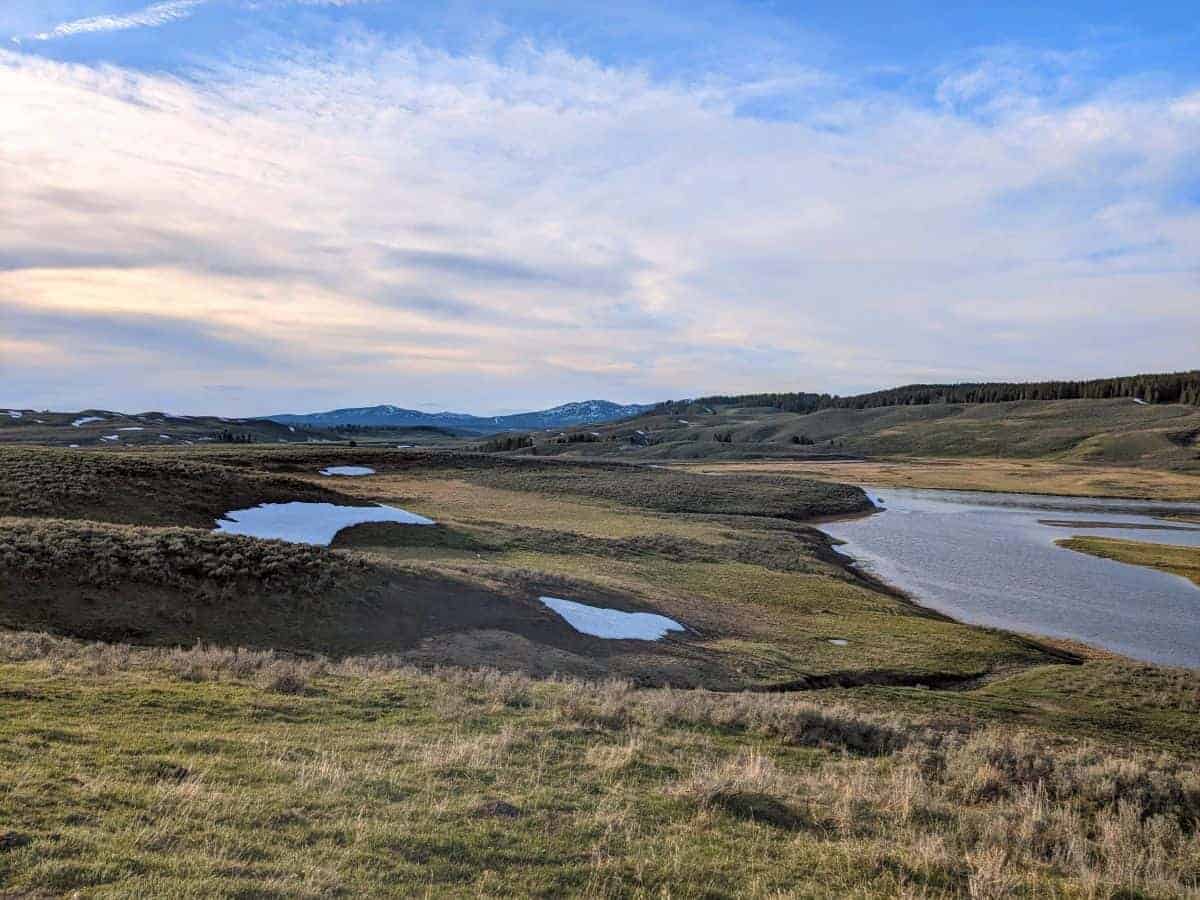 Another option would be to leave Jackson VERY early in the morning, do this itinerary in reverse, and get to the valley by sunrise. Most likely, you will just want to save the early morning or evening wildlife viewing for a time when you can stay in Yellowstone for a few days and explore Lamar Valley (near the park's Northeast Entrance) as well.
Regardless of whether you do any wildlife viewing there, Hayden Valley is a lovely area to drive through and there are a few more minor geothermal features there as well.
Optional: West Thumb at Yellowstone Lake
If you have enough time and you haven't experienced geothermal overload yet, think about stopping at West Thumb at Yellowstone Lake. This unique geyser basin, right on the lake's edge, even has geysers in the water.
We really enjoyed strolling the boardwalks here and looking at the stunning features like Abyss Pool.
Variation: do this itinerary in the opposite direction
As I've already mentioned above a couple of times, you can also do this Yellowstone day trip from Jackson Hole itinerary in the opposite direction from the way I've written it. So, instead of heading toward Old Faithful and the Upper Geyser Basin once you hit the Grand Loop Road, you could pass by Yellowstone Lake and head up through Hayden Valley to the Grand Canyon of the Yellowstone, then do Norris Geyser Basin and so on.
One of the benefits of that would be getting to Grand Prismatic Spring later in the day when you'll be much more likely to see it clearly in all its glory.
Driving distances and times
Below is a table to help you plan your day trip. Mileage was taken from Google Maps directions. Drive times are approximations and will vary based on the time of year and time of day. Keep in mind that animal activity and road improvement work can cause significant driving delays.
| From | To | Distance (miles) | Estimated Travel Time |
| --- | --- | --- | --- |
| Jackson Hole | Old Faithful | 100 | 2 hours 15 min |
| Old Faithful | Grand Prismatic Spring | 7 | 15 min |
| Grand Prismatic Spring | Norris Geyser Basin | 27 | 45 min |
| Norris Geyser Basin | Grand Canyon of the Yellowstone | 12 | 25 min |
| Grand Canyon of the Yellowstone | Hayden Valley | 10 | 20 min |
Guided day trips to Yellowstone National from Jackson Hole
Put the planning and driving in the hands of knowledgeable guides to make things as easy for yourself as possible. All of these tours give you expert guides and the option to book now and pay later. They also offer pick-up in Jackson Hole.
1. Guided Yellowstone Tour from Jackson, Wyoming: Enjoy exploring top attractions at Yellowstone National Park (including Old Faithful and the lower falls of the Grand Canyon of the Yellowstone) with this guided day tour from Jackson Hole, Wyoming. Includes hotel pick up and drop off.
2. Full-day Yellowstone Lower Loop Tour from Jackson, Wyoming: Enjoy top sites on the Lower Loop like Old Faithful, Grand Prismatic Spring, and more. Includes hotel pick-up in Jackson Hole, entrance fees, breakfast, and a picnic lunch.
3. VIP Yellowstone Private Tour from Jackson WY: Enjoy a VIP small group experience touring top sites in Yellowstone along with popular stops at Grand Teton National Park like Oxbow Bend. Snacks and water are included.
4. Best of Yellowstone Private National Park Safari Tour: Get a private VIP tour of Yellowstone National Park for two and explore top sites like Old Faithful, the Grand Canyon of the Yellowstone, and more. Customize your private guided experience for your full-day trip that includes breakfast and lunch.
Where to stay in Jackson, Wyoming
At hotels in Jackson, Wyoming, you'll find a lot of options for room types, amenities, and such. There is also a range of rates that will work within a lot of travelers' budgets.
Jackson is also a great place to explore on foot and get a good meal or cup of coffee. And don't miss the town square with its famous antler arches.
More articles to help you plan your trip to Grand Teton and Yellowstone