Scenic Driving Through Grand Teton National Park
Enjoy the 42-mile scenic loop drive in Grand Teton…and more
Grand Teton National Park in western Wyoming is full of amazing mountain scenery, good hiking, and beautiful lakes. You can see a lot of what this park has to offer along the Grand Teton National Park Loop and other park roadways. Here's everything you need to know about driving through Grand Teton National Park.
Grand Teton is one of the most beautiful national parks in the United States. It's just a few miles north of Jackson, Wyoming, and directly south of Yellowstone National Park.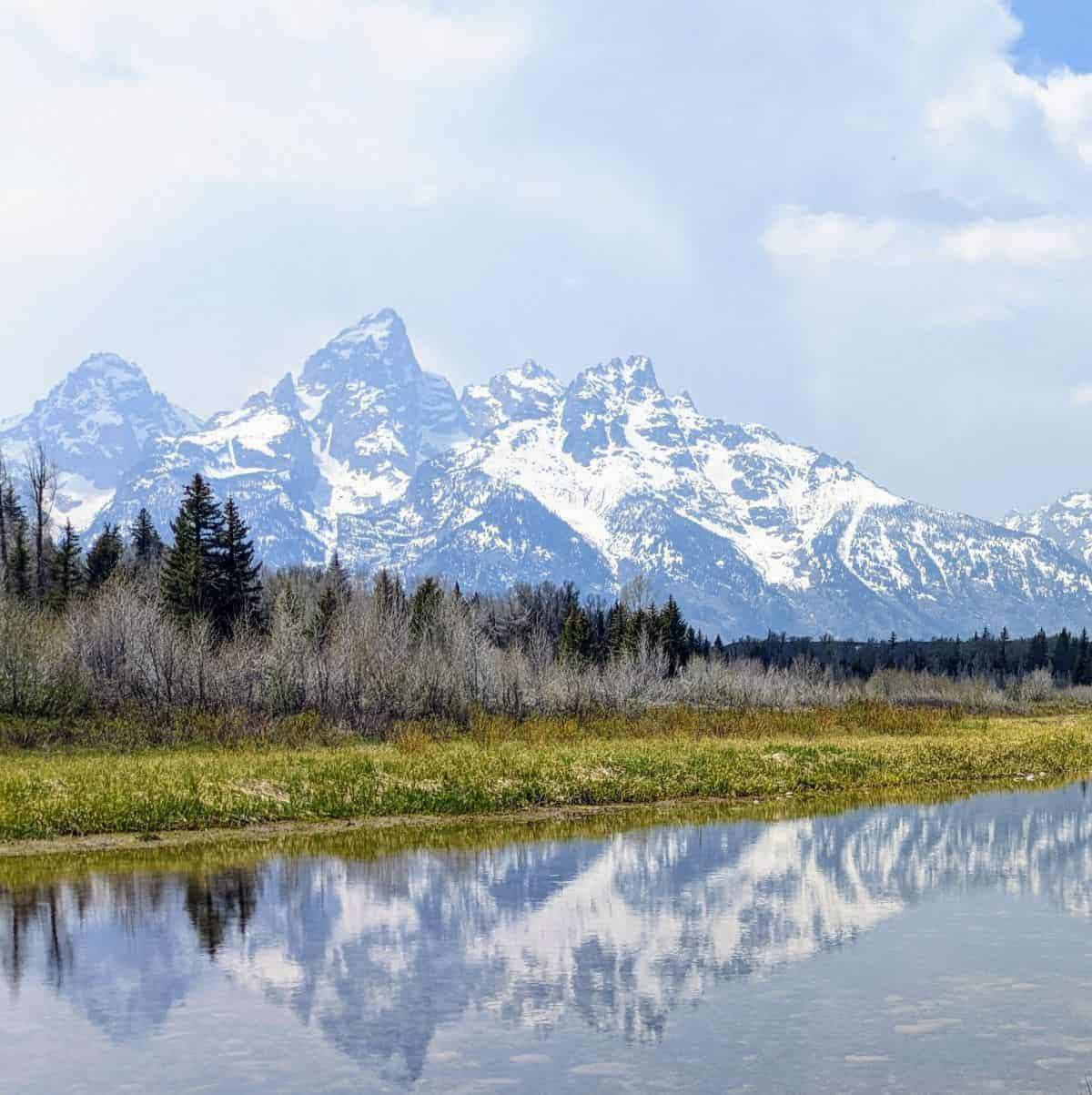 The two parks are separated only by the John D. Rockefeller Jr. Memorial Parkway. A trip to Grand Teton is often paired with a visit to Yellowstone since they are so close.
In this article I will cover the epic Grand Teton National Park Loop as well as the shorter drives in the park.
Moose-Wilson Road
The one-way Jenny Lake Loop
Signal Mountain Summit Road
(Please note that Moose-Wilson Road is undergoing construction with delays and closures into 2025.)
In addition, you'll find important information here about the best stops on the Grand Teton National Park Loop, how long you should plan your scenic drive to take, what you should have with you in your car, where to stay, and more.
Plan the perfect trip to Grand Teton National Park with this free printable travel planner.
This post includes affiliate links. If you make a purchase through one of these links, I may earn a small commission at no additional cost to you. As an Amazon Associate, I earn from qualifying purchases. See disclaimer.
How to get to the scenic loop drive
There are three main junctions on the Grand Teton National Park Loop, and the loop is made up of two main roads.
The "inner road" is Teton Park Road and runs closest to the base of the Teton Range. This road is closed from fall through well into the spring, and it's the main road through the heart of the park.
The "outer road" is U.S. Highway 26/89/191. This is also the main highway you would take to drive from Jackson to the park.
If you are coming to Grand Teton from Yellowstone National Park, you'll join the loop at its north end after driving down John D. Rockefeller Memorial Parkway, passing by Colter Bay Village and Jackson Lake Lodge.
The scenic loop is pretty easy to do, especially if you pick up a map at a Visitor Center or purchase a self-driving Grand Teton audio tour from GuideAlong.
Honestly, I like to do both. A physical map helps keep me oriented to where we are and what we have coming up.
With GuideAlong, it's like having an expert tour guide right in our car with us, helping us make our turns, telling us interesting stories along the way and providing great information.
And with GuideAlong, you can still go at your own pace or even break up the loop drive over a couple of days if you want. The tour is triggered by your geographic location and only runs while you're driving.
PRO TIP: If you have flexible travel dates you need to check out Going (formerly Scott's Cheap Flights). You get amazing flight deals sent straight to your inbox with instructions on how to book directly with the airlines. Check out Going here. Going is my favorite way to find great travel deals. 
Which direction should you do the Grand Teton National Park Loop?
This is a matter of opinion.
IF you are an avid photographer looking to get the best shots, I'd recommend you start as early in the morning as you can and take the loop in a counterclockwise direction starting from Jackson.
This way you will get to Mormon Row first, then do Schwabacher Landing shortly after that, followed by Snake River, Elk Ranch Flats then Oxbow Bend and so on. These are some of the best views in the park.
The morning sun shines on the front of the barns at Mormon Row, giving you the best chance to get beautiful photos of the barns with the rising sun illuminating them and the Tetons behind.
IF you are more interested in simply taking in the views for yourself or want to get started on a hike early in the day, take the loop in the clockwise direction, entering the park at Moose and following the inner road (Teton Park Road).
We chose to do the loop clockwise, stopping first at the Craig Thomas Discovery and Visitor Center when it opened and ending our day at Mormon Row before heading back to Jackson for dinner.
How long does it take to drive the Grand Teton National Park Loop?
The 42-mile Grand Teton National Park Loop is about a 1 to 2 hour drive without stops or with just minimal stops.
If you want to do what we did, which is get out at all of the stops and do a little exploring at the Visitor Center, Jenny Lake, enjoy a leisurely picnic lunch, etc. plan on this drive taking you all day. Planning for 8 hours would be safe.
And this would be 8 hours without any other lengthier activities such as Snake River float, taking the boat on Jenny Lake or doing any hiking.
You could also break up the drive across two days, doing the Teton Park Road one day of your Grand Teton itinerary and the "outer" road the next.
Stops on the 42-mile Scenic Loop Drive in Grand Teton National Park
These stops are listed in the order you will encounter them if you drive to the park from the direction of Jackson and do the loop in a clockwise direction.
Park Entrance Turnout
Get your own version of the classic National Park sign photo with the beautiful Teton Range in the background.
Craig Thomas Discovery and Visitor Center
This is the "main" park visitor center.
We're big advocates of National Park Visitor Centers, and I always recommend talking to a park ranger especially if you're planning to do any hiking. Ask about trail conditions so you're not taken by surprise and you'll have time to make other plans.
National Park Service ranger staff can also advise of any park roads that are closed that you might not already be aware of.
Chapel of the Transfiguration
Chapel of the Transfiguration is a log Episcopal chapel that was built in 1925 so that those who lived in the area wouldn't have to go all the way into Jackson for church services.
Just turn right on Menors Ferry Road off Teton Park Road.
The small church still holds services during the summer months. All are welcome to worship there.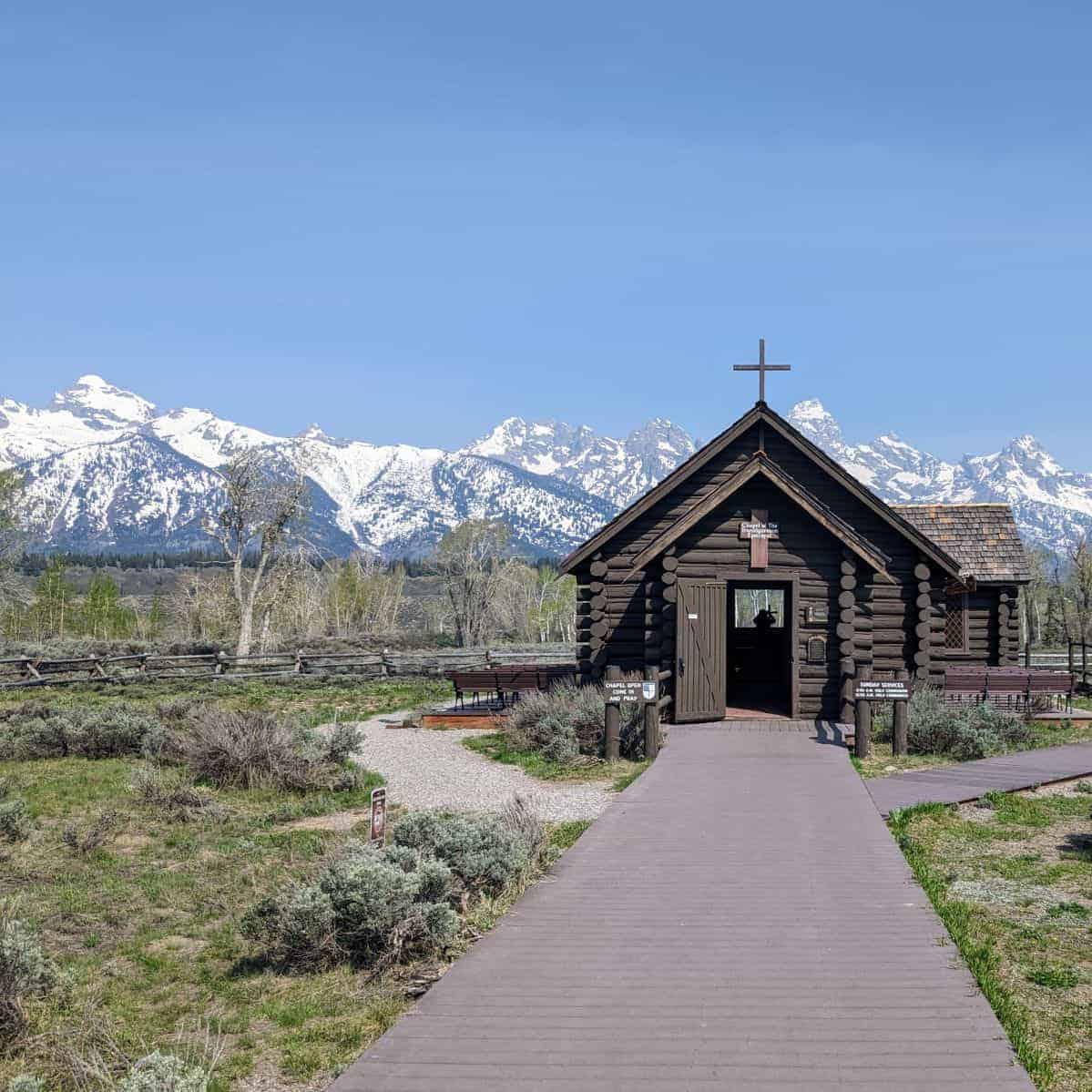 Teton Glacier Turnout
This turnout gives visitors to the Park a great view of Teton Glacier, which is the largest glacier in the Teton Range.
Less than a dozen glaciers remain in the Teton Range today.
Jenny Lake
You. Have. To. Stop. At. Jenny. Lake.
It is absolutely one of the most stunningly beautiful places I have ever seen in my entire life.
You'll have a little bit of a walk from the parking (which is ample) to the lake itself.
We took the time to stop in at the Jenny Lake Visitor Center to speak with a park ranger about the boat operations and then visited the small (but excellent) store.
We spent a little time marveling at how beautiful the lake is and then decided to return the next day to get out on the lake and walk a little bit of the Jenny Lake Trail.
Cascade Canyon Turnout
Enjoy a view of Cascade Canyon, which separates the Cathedral Group from the rest of the Teton Range.
The Cathedral Group is the group of the three tallest peaks in the Teton Range: Grand Teton, Teewinot and Mount Owen.
There is a Cathedral Group Turnout on the Jenny Lake Scenic loop drive that branches off from Teton Park Road. See below for more information about that drive.
Mountain View Turnout
More beautiful mountain views beyond the flat sagebrush-covered ground.
Mount Moran Turnout
One of the best views of Mount Moran in the park.
Moran is the dominant peak of the northern Teton Range. Moran is easy to spot because of its flat-ish top.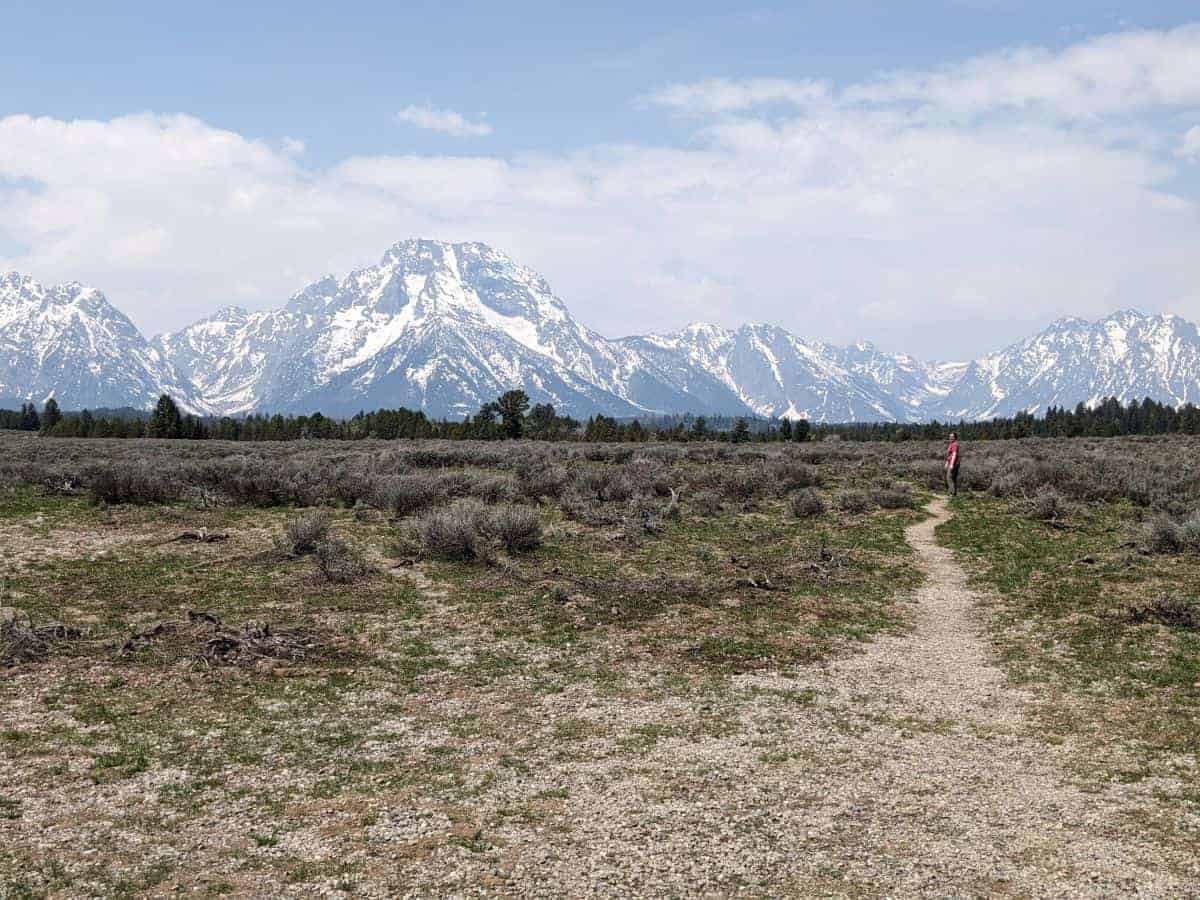 Chapel of the Sacred Heart
One of the hidden gems at this stop is the picnic area with a lovely view of Jackson Lake.
Jackson Lake Dam
This is a great places to get a broad view of the north end of the Teton Range and Jackson Lake.
This is also a popular Snake River access point.
Oxbow Bend
This spot on the Snake River is popular with wildlife like moose, river otters, pelicans, and trumpeter swans.
On a calm morning you might be able to get a photo with Mount Moran's reflection mirrored in the Snake River.
Elk Ranch Flats Turnout
The Elk Ranch Flats Turnout is absolutely one of my favorite spots in all of Grand Teton National Park.
You get a great, expansive view of the range from here.
Just soak it all in.
Cunningham Cabin Historic Site
While not talked about nearly as much as other stops on this drive, I personally think the Cunningham Cabin is a great stop on this route.
This historic homestead, built in 1890, is just a short drive off the main loop and it's interesting to see.
But it's BEHIND the cabin that I really liked and thought made a wonderful photo spot.
Snake River Overlook
This is one of the most iconic scenic views at Grand Teton National Park, and one of the best Grand Teton photography spots.
It's an absolute "must stop" in my book, made famous by photographer Ansel Adams.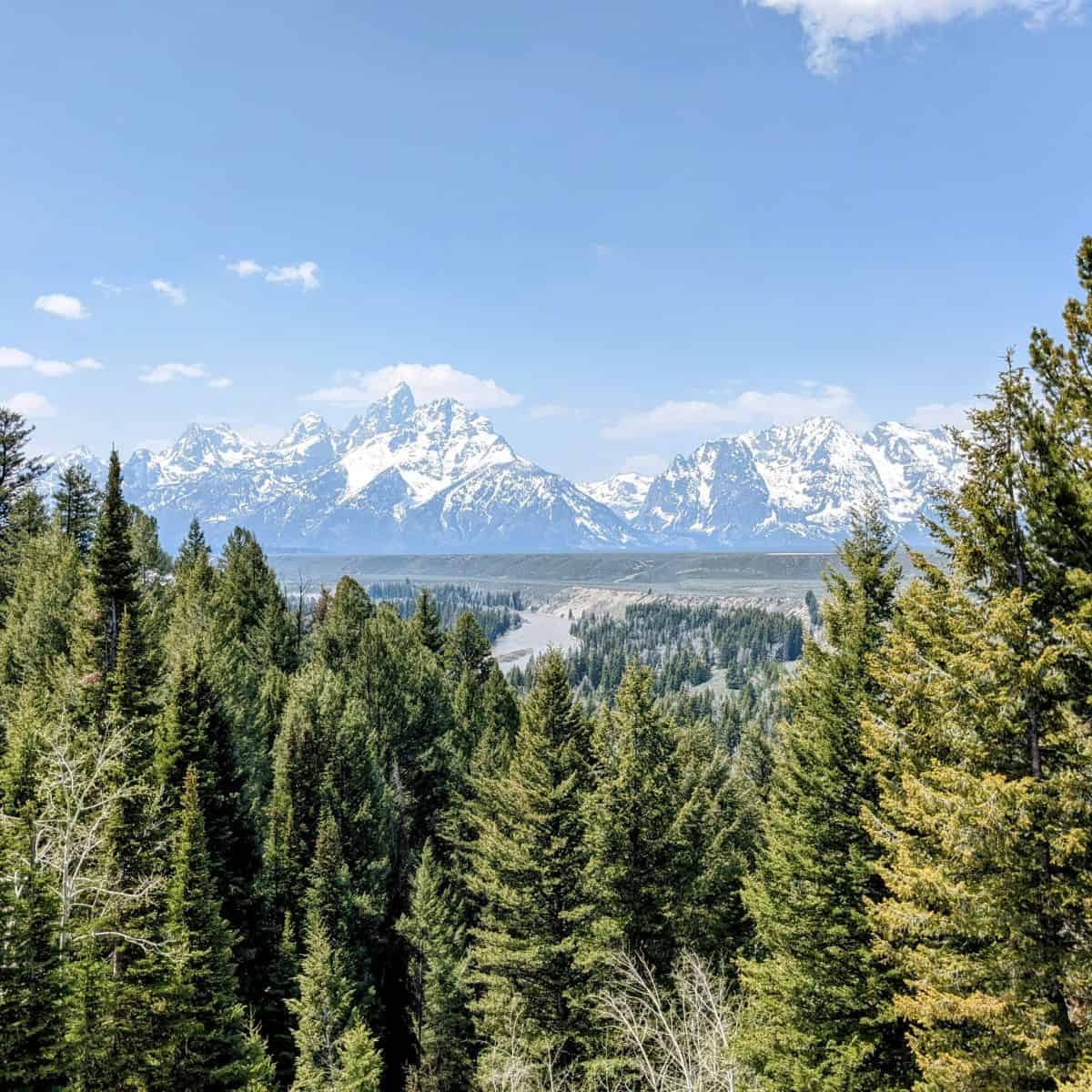 Teton Point Turnout
Beautiful view nearly straight into Grand Teton, the highest peak in the Teton Range.
Schwabacher Landing
Schwabacher Landing is another fabled photo spot in Grand Teton National Park. It's also a good place to try your luck with wildlife viewing.
You'll find this area down a short road off 26/89/191 (the outer loop road) and it's well worth the stop.
And don't limit your exploration to the area closest to the parking area. Wander a bit to find the best photo spots.
Glacier View Turnout
Great view of the middle range of the Tetons, including the largest peaks.
Black Tail Ponds
Black Tail Ponds is another stop on the 42-mile scenic loop drive that's not as well known, but I really enjoyed.
It's a great spot to see beaver dams and the lovely surrounding trees and vegetation that make up the wetlands on the Snake River.
Mormon Row
You'll find the Mormon Row Historic District down Antelope Flats Road off the outer Grand Teton Loop road.
This is the location of the two famous Moulton barns. Each of the Moulton barns is a popular photo spot.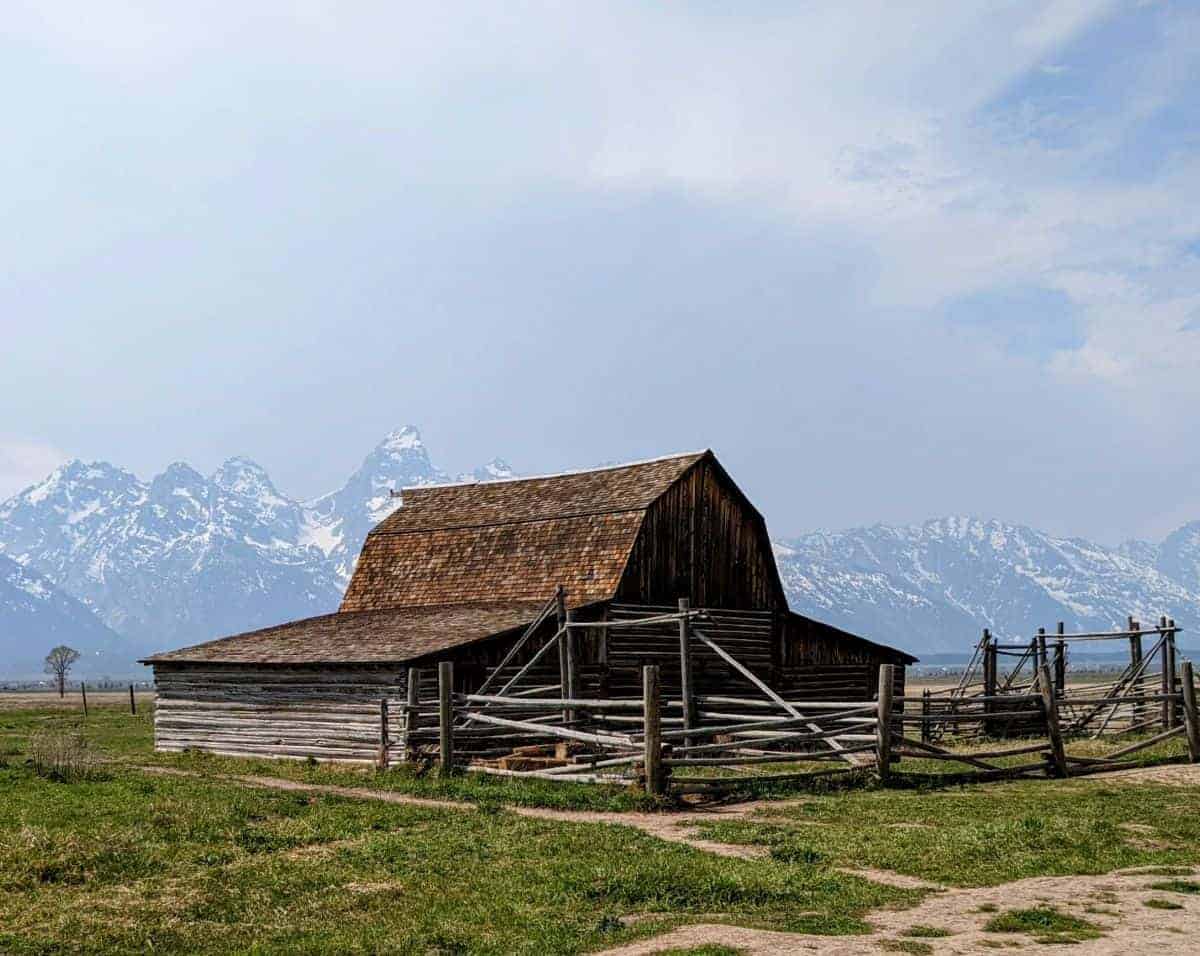 To get the best light on the barns and the Teton Range behind, plan to be at Mormon Row for sunrise.
Best stops on the Grand Teton National Park Loop
If you don't have a full day to do all of the stops on the Grand Teton Loop, here are the few that I think are the absolute "must do" sites in Grand Teton National Park.
Craig Thomas Discovery and Visitor Center
Chapel of the Transfiguration
Jenny Lake
Elk Ranch Flats
Snake River Overlook
Schwabacher Landing
Mormon Row
Honorable mentions would go to Jackson Lake, Black Tail Ponds, and Oxbow Bend.
Other drives in Grand Teton National Park
Moose-Wilson Road
This stretch of road in the southern end of Grand Teton National Park connects the towns of Wilson and Moose.
You'll wind through forested and swampy areas.
Moose-Wilson Road provides access to the Laurence S. Rockefeller Preserve as well as the trailheads for Death Canyon and Granite Canyon.
This road is currently undergoing a lengthy construction/improvement project, including paving at least some of the dirt road. You may experience closures or delays.
Jenny Lake Scenic Drive
The 4-mile Jenny Lake Road makes a nice detour off of the Teton Park Road portion of the main Grand Teton Park Loop.
Please note that part of this road is one way only (from north to south). This means that if you are driving the Grand Teton loop drive clockwise (like we did), you will retrace your path a bit.
If you are doing the Grand Teton Loop drive in a counterclockwise direction, you could do a little awkward backtracking. Or just opt to skip the Cascade Canyon Turnout, which is on Teton Park Road between the entrance and exit of the Jenny Lake Road.
Plan on this drive taking you between 20 – 30 minutes unless you want to spend more time at Jenny Lake just soaking up the beautiful view.
Scenic stops on the Jenny Lake Scenic Drive are:
Jenny Lake Overlook: This view of Jenny Lake alone is worth the short detour off of Teton Park Road.
String Lake: The String Lake Trail is a popular hike.
Cathedral Group Turnout
Signal Mountain Summit Road
Closed in winter and into spring, the Signal Mountain Road makes an excellent extension to your scenic drive around Grand Teton National Park, especially if the weather is clear.
This windy road is about 5 miles long and takes you up 800 feet to the summit of Signal Mountain. RVs and trailers are not allowed.
Enjoy panoramic views of the Teton Range, Jackson Lake and Jackson Hole from the Jackson Point Overlook and the East View Lookout.
Plan on this side trip taking you 30 minutes to and hour.
What you should bring with you on your scenic Grand Teton National Park drive
GuideAlong: Seriously. If you don't use this audio tour app in Grand Teton National Park, you will miss so much. We named the narrator Phil, and he was our constant companion in the park.
Park map: Pick up a copy at a Visitor Center (Colter Bay, Jenny Lake or Craig Thomas) or when you pass through an entrance station. A paper map will help visually orient you to your location relative to the entire park.
Layers: At high elevations weather can be quite a lot cooler and less predictable than you're used too. There can also be large temperature fluctuations from morning to afternoon and then after sundown.
Water: At high elevations it's important to stay hydrated. And of course if you're planning to do any hiking, make sure you have at least 1 liter per 2 hours of moderate hiking.
Picnic lunch: My recommendation is that you plan to pack in a lunch for this drive. This way you can eat whenever you're ready and not have to worry about going off track or all the way back to Jackson looking for food.
Snacks: Cuz you just never know when the munchies are going to strike!
Camera: You will have soooooo many opportunities on this scenic drive to take beautiful photos. Don't forget to bring your camera or at least have your phone ready so you can capture every beautiful moment.
Best time to visit Grand Teton National Park
The best time of year to visit Grand Teton National Park is between June and late September.
In early June, services will be open, but the crowds are not yet too much to deal with. The weather can still be unpredictable though, so be prepared for anything.
Check with park ranger staff on trail conditions before starting hikes in the late spring (including into June) and follow posted signs for closures due to bear activity.
The peak summer season in Grand Teton National Park is July and August. Expect good weather, but also big crowds.
In September, most schools are back in session (meaning, fewer crowds) but the colder weather with potential for snow hasn't fully arrived yet.
It's important to remember that Grand Teton National Park may be at a much higher elevation than what you're used to, so seasonal weather patterns can be surprising.
Where to stay at Grand Teton National Park
Visitors to Grand Teton have many options for where to stay, the most popular being staying inside the park itself or in nearby Jackson, Wyoming.
Staying in Grand Teton National Park
If you wish to stay within Grand Teton there are a number of options including
Camping at one of the nine campgrounds in the park.
Staying in Jackson, Wyoming
There are many hotels to choose from in Jackson.
The Lexington at Jackson Hole is conveniently located just blocks from the famous Jackson town square with the elk antler arches. It's less than 5 miles from the Grand Teton National Park entrance and offers suites with kitchens or fireplaces.
Cowboy Village Resort is a popular option for families traveling with children. They offer western-themed cabins with kitchenettes on the edge of the heart of Jackson.
Wyoming Inn of Jackson Hole is located a little outside of the center of Jackson, but it is closer to the Albertson's, Target, and Whole Foods stores, which are great places to pick up road trip and picnic supplies. Guests love the spacious rooms and comfortable beds.
Motels between Jackson and Grand Teton National Park
We stayed at the Flat Creek Inn between Jackson and the Park, directly across from the National Elk Refuge.
The Flat Creek Inn offers a variety of room configurations. We chose a king with a full kitchen so we could eat a full breakfast in our room, easily keep supplies for picnic lunches (in the full-size refrigerator with freezer) and even cook an easy dinner for ourselves after the long full day doing the park loop drive.
They also have a gas station and convenience store with free coffee for guests.
It's also next door to the Elk Refuge Inn, which gets good reviews from guests.
More articles to help you plan your trip to Grand Teton National Park
Pin this post for later!
Driving through Grand Teton National Park