Grand Teton National Park Itinerary (The Perfect Trip)
The ideal Grand Teton itinerary, especially for a first-time visit
Noted for their stunning beauty, the Teton Range of the Rockies draws millions of visitors each year to gaze in wonder and explore the national park that takes its name from the range's tallest peak: Grand Teton. This Grand Teton National Park itinerary will guide you through the best way to see the park in just a couple of days.
If you have less time, see my Grand Teton one-day itinerary for how to cover the top highlights of the park in only one (awesome) day.
In this article, I will cover all of the basics for how to plan the perfect visit to Grand Teton National Park. I'll cover what I think is the ideal itinerary for two days in the park plus where to stay, important things to pack, and I'll provide some suggestions for how you can modify the itinerary based on your particular interests.
Plan the perfect trip to Grand Teton National Park with this free printable travel planner.
This post may include affiliate links. If you make a purchase through one of these links, I may earn a small commission at no additional cost to you. As an Amazon Associate, I earn from qualifying purchases. See disclaimer.
How many days do you need in Grand Teton National Park?
I'd say two full days is the perfect amount of time to enjoy the best of what Grand Teton has to offer.
With two full days, you can do the full scenic loop drive, spend some quality time at Jenny Lake, add in another short hike or two, explore the nearby town of Jackson, etc.
You could certainly spend more than two days in Grand Teton (a LOT more than two days) especially if you enjoy hiking.
Best time to visit Grand Teton
Between June and late September is the best time of year to visit Grand Teton National Park.
Services are generally fully open in early June, but the crowds haven't reach their peak of crowdy-ness yet. Be aware that even in June, the Teton weather can be unpredictable. Prepare for the unexpected and dress in layers.
I always recommend speaking with a park ranger about conditions on the hiking trails before setting off, particularly in late spring. There may still be snow on trails and the trails can be muddy.
Don't neglect to follow any posted signs notifying of area or trail closures due to bear activity.
The peak summer season in Grand Teton is July and August. The weather should be agreeable, but the crowds will also be at their largest (most annoying?) during this time.
Grand Teton has significantly grown in popularity in the last few years. In 2021 nearly 4 million people came through the park.
Crowds will start dwindling after the American Labor Day holiday in early September, when most U.S. schools will be in session, but the weather is still agreeable. About 70 degrees Fahrenheit is the average daily high temperature in Jackson Hole in September.
Getting to Grand Teton National Park
Jackson Hole Airport (JAC) is the nearest airport to Grand Teton. In fact, it's actually within Grand Teton National Park and just about 9 miles from Jackson (the town). Year-round flights are available to JAC from American, Delta, United, and Alaska.
If you're looking for a larger airport to fly into and out of, the closest are Salt Lake City International Airport (SLC) and Denver (DEN) International Airport. SLC is about 280 miles from Jackson.
DEN is the nearest major hub airport to both Grand Teton and Yellowstone national parks, but it's over 500 miles from Jackson.
PRO TIP: If you have flexible travel dates you need to check out Going (formerly Scott's Cheap Flights). You get amazing flight deals sent straight to your inbox with instructions on how to book directly with the airlines. Check out Going here. Going is my favorite way to find great travel deals. 
There are four road entrances to Grand Teton, but they are not all open all year round. It's important to check on road status before you set off on your trip.
Where to stay when visiting Grand Teton National Park
When visiting Grand Teton there are a lot of options for where to stay. Staying inside the park is a popular option. You can also stay in the nearby Jackson, Wyoming.
Staying in Jackson, Wyoming
Hotels in Jackson, Wyoming, provide a lot of options as far as amenities. You can also find accommodations that will fit a range of different travel budgets.
Even if you choose not to stay in Jackson, you'll find some great dining options there as well as good stores to pick up supplies like a Target, Albertson's and Whole Foods.
Wyoming Inn of Jackson Hole is located a little outside of the center of Jackson, but still in town. The spacious rooms and comfy beds are popular with guests.
The Lexington at Jackson Hole is located near the center of town, close to the famous elk antler arches on the town square. It's less than five miles from the park, and you can get suite rooms with a kitchen or a fireplace.
Cowboy Village Resort offers western-themed cabins with kitchenettes. The resort is near the center of Jackson, and it's popular with traveling families.
Motels between Jackson and Grand Teton National Park
We enjoyed our stay at the The Flat Creek Inn just across the road from the National Elk Refuge. The Inn is located between the center of Jackson and the entrance to Grand Teton National Park.
We enjoyed a spacious king room with a living area and a full kitchen with a small dining area. The convenient location and amount of room we got for the money makes The Flat Creek Inn a great option.
We loved having the full kitchen so we could pick up some groceries for breakfasts, packed lunches, snacks and even an easy dinner in our room when we didn't feel like going out after a long day in the park. They also have a gas station and convenience store with free coffee for guests. And all of the staff we interacted with were really great and helpful.
Right next door is the Elk Refuge Inn, which is another popular option in this area.
Staying inside Grand Teton National Park
And don't forget that you can stay inside Grand Teton if that's what you'd like to do. There are some great lodging options there including:
Camping (there are nine campgrounds inside the park)
Best way to get around Grand Teton
Grand Teton National Park is fairly compact making it pretty easy to get around.
Make sure to pick up a map at the Visitor Center or when you go through the entrance. The map notes the most popular places to stop, and I find it helps me keep visually oriented to wherever I am in the park at any given time.
Another great option is to download the GuideAlong app and purchase the self-driving Grand Teton audio tour.
Using GuideAlong is like having an expert tour guide riding along in your car with you, telling you interesting things about what stops are coming ahead, the history of the park, natural features and more. It's really fun!
All you have to do is download the tour and when you're ready, it will play automatically based on your vehicle's GPS location.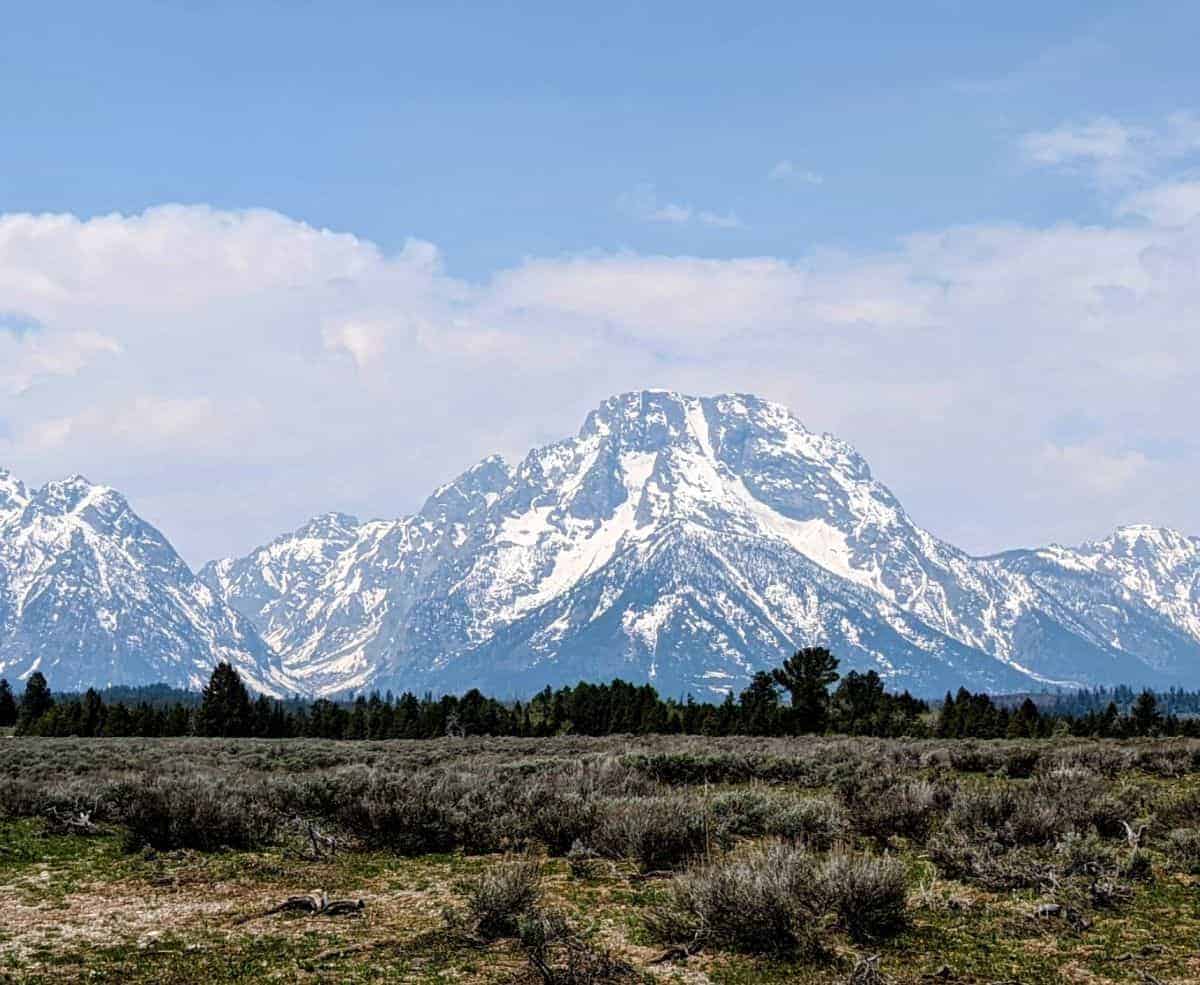 Grand Teton National Park entrance fee
Grand Teton charges an entrance fee, but you do not need to make any kind of entrance reservation. Visit the National Park Service website for the most up-to-date information on entrance passes.
Consider getting an America the Beautiful Pass if you will be visiting at least a few National Parks within a year that charge entrance fees.
The standard America the Beautiful Pass is $80 per year. You can use it for Federal recreation sites for the passholder and everyone in your car with you or bring up to three guests when a per person fee is charged.
REI or the USGS online store offer passes so you can buy yours online ahead of time if you want.
You can also buy it in person at a lot of NPS sites. We got ours at the Pinnacles entrance station for Badlands National Park.
Check online or call ahead to the park to see if they sell passes and have them in stock. Not all NPS units sell passes or have them in stock all the time.
Grand Teton National Park itinerary: day 1
You can use this itinerary as the basis for planning your perfect trip to Grand Teton National Park.
I don't intend my itineraries to be used prescriptively. You can take what suggestions you like and toss the ones you don't. Travelers explore differently and have unique interests.
One benefit of visiting Grand Teton National Park is that it is fairly compact rather than sprawling. I find it easy to visit and hard to make "mistakes."
Visitor Center
My first suggestion is always going to be to stop at a Visitor Center as soon in your itinerary as is practical.
Pick up a paper map and ask any questions you have. Park ranger staff are ready to advise on road conditions, trail conditions, make suggestions, and provide any tips on park hidden gems.
And of course, you'll want to make time to shop for National Park souvenirs and stamp your parks passport.
There are three Visitor Centers in Grand Teton National Park.
Craig Thomas Discovery & Visitor Center near the Moose Entrance. This is the "main" park visitor center. It's also closest to Jackson.
Jenny Lake Visitor Center
Colter Bay Visitor Center
Do the Grand Teton National Park loop drive
Grand Teton is an incredibly scenic park and one of the best things to do is the 42-mile scenic loop drive. You can do the whole thing in one to two hours if you don't stop or do just minimal stops.
If you're crazy pressed for time, that's better than nothing, but if you're reading this itinerary, then I'm going to move forward assuming you're committed to spending as much time in Grand Teton as you need to see the best of the park.
My honest recommendation would be to spend the bulk of your first day doing this drive, getting out at all (or nearly all) of the stops.
There are a LOT of great stops on this scenic drive. I hope you take the time to stop at as many of them as you can. I'll call out the ones I think are the best throughout day one of this itinerary.
The direction in which you do the loop drive is largely a matter of opinion.
We did the drive clockwise, entering the park from the direction of Jackson and joining the Teton Park Road at Moose.
Avid photographers will likely want to do the drive counterclockwise starting with the Mormon Row Historic District at sunrise.
For full details about the Grand Teton loop scenic drive (as well as other scenic roads in the park), see my article devoted to scenic drives in Grand Teton National Park.
Chapel of the Transfiguration and Menors Ferry Historic District
Just down Teton Park Road from the Craig Thomas Discovery & Visitor Center turn onto Menors Ferry Road to see the lovely and picturesque Chapel of the Transfiguration.
This Episcopal chapel was built around a hundred years ago so that those who lived in the area wouldn't have to travel all the way to Jackson to worship.
The chapel is open for you to go in, but it is still a functioning church. All are welcome, but please be respectful of the building and grounds.
After you've visited the chapel, you can head on to Menors Ferry Historic District. They have a ferry replica (people used to cross the Snake River here) and there are historic cabins and an old country store.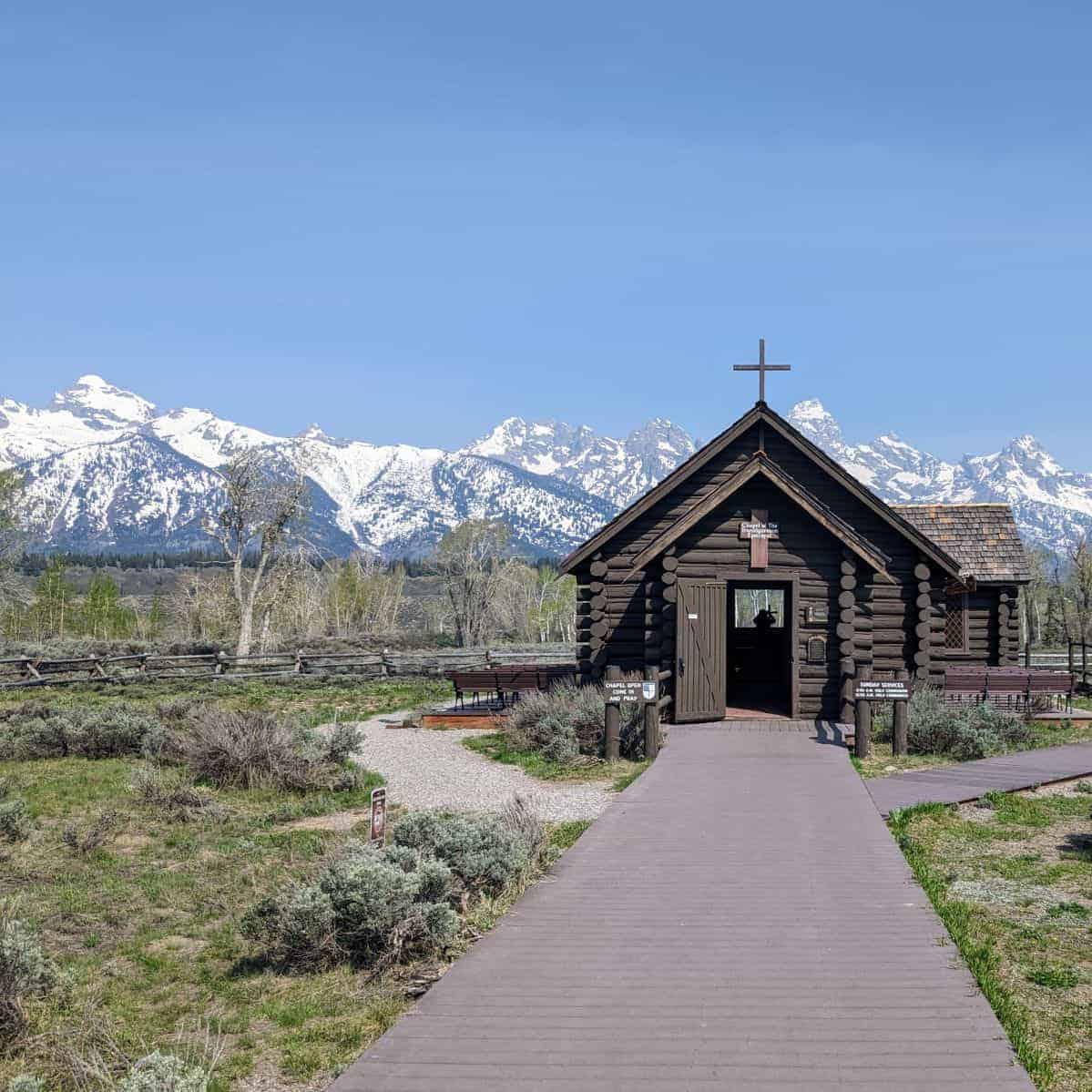 Take the Jenny Lake Road
Enjoy a scenic detour off the scenic loop drive on the Jenny Lake Road. it's only a few miles and offers some lovely scenery.
If you're doing the Grand Teton scenic loop in a clockwise direction (again. like we did), you'll end up retracing your path a bit, but I think it's worth it.
I'd plan on allowing 30 minutes doing this drive depending on how much time you spend at Jenny Lake overlook. We saw a couple enjoying a picnic lunch there and thought that was such a great idea. The view is just beautiful.
Scenic stops on the Jenny Lake Scenic Drive are:
Jenny Lake Overlook: This view of Jenny Lake alone is worth the short detour off of Teton Park Road.
String Lake: We found String Lake much less crowded than Jenny Lake. String Lake Trail is popular with hikers.
Cathedral Group Turnout: Great view of the three tallest peaks in the Teton Range…Grand Teton, Teewinot and Mount Owen.
More scenic stops on the Teton Park Road
Cascade Canyon Turnout
If you skip the Jenny Lake Road drive described above, you'll get to the Cascade Canyon turnout before you pass Jenny Lake itself.
This scenic turnout gives you a great view of the canyon, which separates the Cathedral Group from the rest of the Teton Range.
The three tallest peaks in the Teton Range make up the Cathedral Group.
Mount Moran Turnout
Moran is the dominant peak of the northern Teton Range. It's easy to pick out because of its flat-ish top.
This turnout will give you one of the top dead-on views of Mount Moran in the park.
Jackson Lake Dam
This area is a popular access point for the Snake River.
It's also a great place to get a wonderful view of Jackson Lake and the northern Teton Range beyond.
Picnic lunch
At some point during this full day you're going to start feeling lunch-ish.
For most National Park itineraries, I will recommend that you plan to pack in your lunch along with snacks even if there are places to eat in the park. I do this for a few reasons:
Bringing your lunch will help you save a little money on your trip so that you can travel more later.
Also, if you pack your lunch you can stop to eat as soon as you're ready. You won't have to take precious time from your day search for a place to eat in the park or drive all the way back to Jackson.
You'll almost always get better "atmosphere" with a picnic than in a park restaurant.
A picnic at Grand Teton National Park can be as simple as backing into a scenic turnout parking space, opening your car's back hatch, and enjoying a makeshift tailgate (without the grilling).
There are also several designated picnic areas within the park that you can use. We found a lovely little area along Jackson Lake near the Chapel of the Sacred Heart.
Continue the loop drive
Again, I've written this as though you will be doing the scenic loop in a clockwise direction.
If you chose to start the driving from Jackson and go counterclockwise, the stops I describe below will be what you do first thing in the morning rather than in the afternoon.
There are more stops than what are listed below of course, but these are the ones I really think you need to make sure not to miss. Some of them will also take more time to explore than your average scenic turnout or overlook.
You can also take a 30 – 60 minute detour up the Signal Mountain Summit Road for some sweeping views of Jackson Hole.
Oxbow Bend
This area is a coveted photo spot especially on a calm morning when you might be able to capture a shot of Mount Moran mirrored in the Snake River.
Wildlife such as trumpeter swans, river otters, pelicans, and moose may also be visiting this area.
Elk Ranch Flats Turnout
For pure, sweeping Teton views I personally think it's hard to beat the Elk Ranch Flats Turnout. It's one of my very favorite spots in the whole park.
If you're into taking panoramic photos, this is a good place to do that.
Or just sit here for a little while and soak in the stunning view.
Cunningham Cabin Historic Site
It's not one of the most iconic stops in Grand Teton National Park, but I do think this place is worth taking a few minutes out of your Grand Teton itinerary.
The Cunninghams of the Bar Flying U Ranch built this cabin in 1890 and lived in it for about five years before they built a permanent home.
It's just a short way off the scenic loop drive and there's a short walk to the cabin.
And don't miss wandering behind the cabin for some great views.
Snake River Overlook
This is one of the best Grand Teton photography spots as well as one of the most iconic scenic views in the entire park.
The Snake River Overlook was immortalized by photographer Ansel Adams.
Make sure to take your own Snake River photo here.
Schwabacher Landing
Don't miss Schwabacher Landing. It's another popular site and photo spot in Grand Teton National Park, particularly at sunrise.
This area is famous for how you can see the mountains and surrounding landscape mirrored in the water when it's still.
You might also find it is a good place to do some wildlife viewing.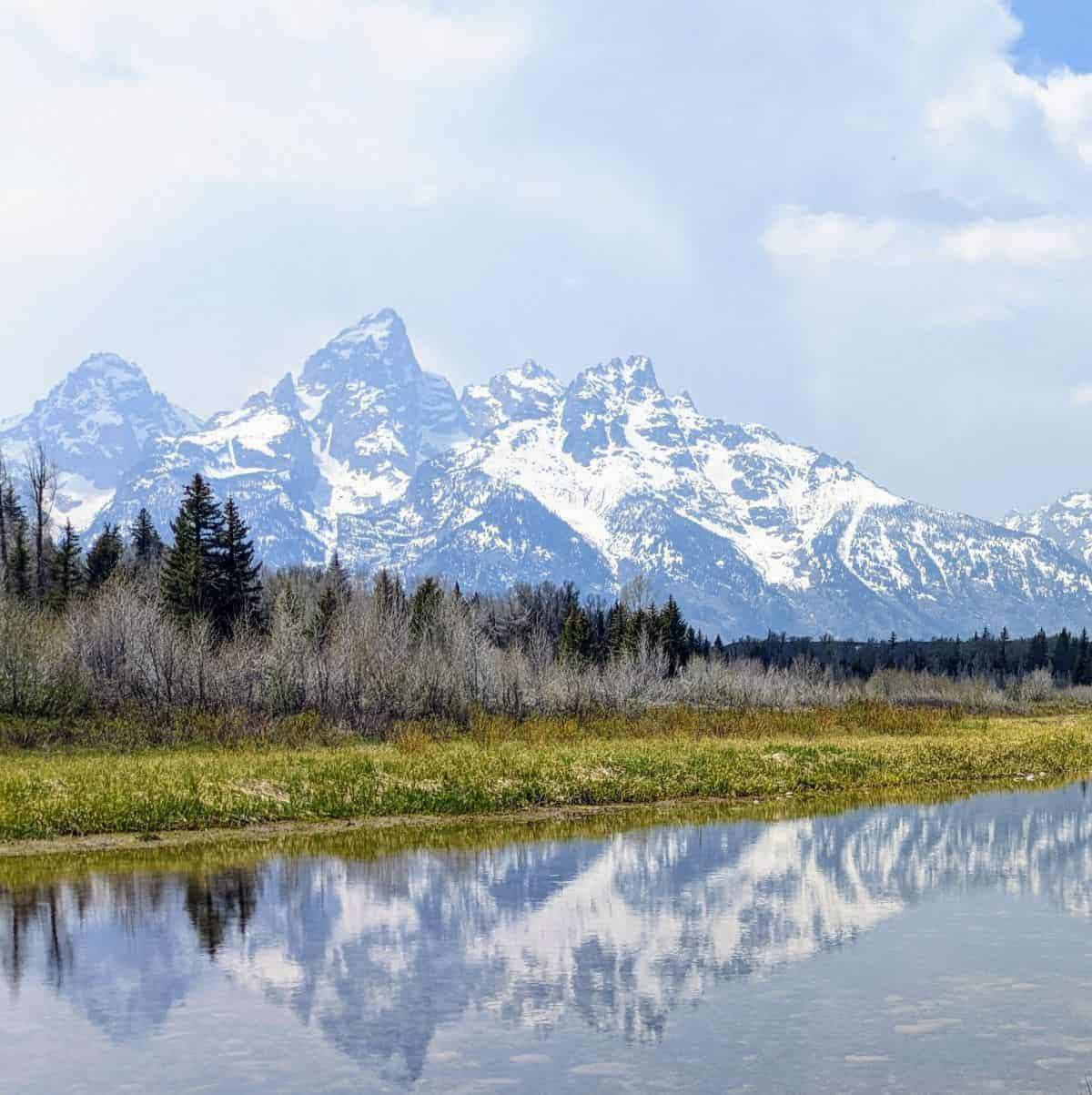 Blacktail Ponds
If you're running short on time, I'd say it's okay to skip this stop if you want, but if you do have time I think you'll enjoy it.
This overlook isn't talked about as much as some others, but the view is a bit different. The area is home to Snake River wetland communities of ponds and wet meadows.
Mormon Row
And finally, if you've done the Teton loop clockwise you'll be able to visit the Mormon Row Historic District (just down Antelope Flats Road) before you head into the town of Jackson.
Mormon Row is also a great sunrise spot in Grand Teton National Park, and it's especially popular with photographers who come from all over the world to get shots of the two famous Moulton barns.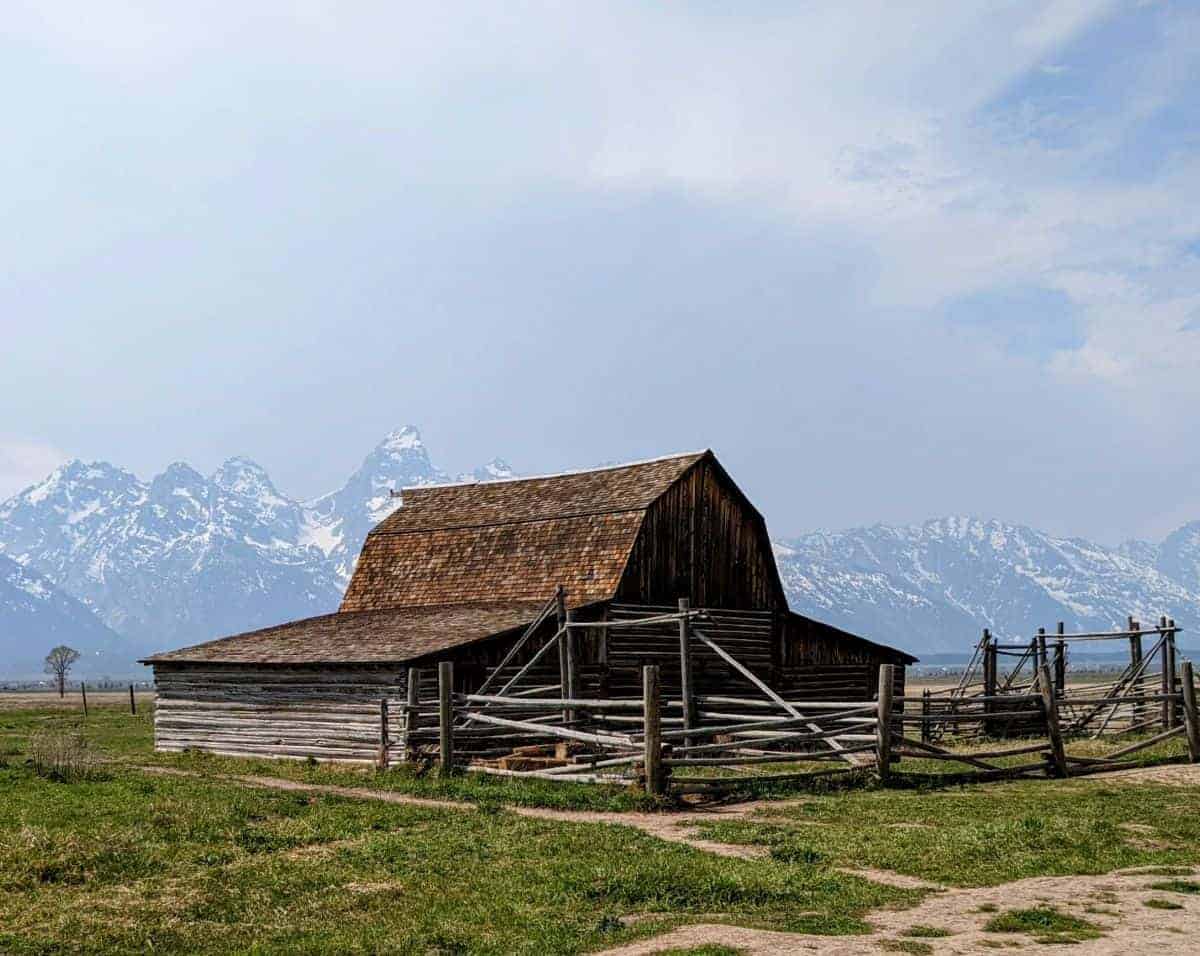 Dinner in Jackson
After a full day scouring the park for beautiful scenery, it's time to head into the town of Jackson. Enjoy strolling around a bit and grab a great dinner.
We really loved our dinner at Snake River Brewing. Hubby had the trout and said it was one of the best meals he's ever eaten.
Tables are first-come, first-served (no reservations) so if you can get there on the early side, go for it.
We appreciated that they have solid options for vegetarians and those who need to eat gluten free.
Grand Teton National Park itinerary: day 2
On your second day in Grand Teton, I recommend you prioritize spending some time at Jenny Lake.
Then in the afternoon, you'll have several options for how to use your time.
Itinerary day 2 morning: Jenny Lake
Jenny Lake is one of the most beautiful and picturesque places in all of Grand Teton National park…and consequently it's also one of the most popular areas, if not THE most popular.
Plan to get there as early in the day as you can. Expect it to be crowded during midday and on weekends.
There are a lot of ways to spend your morning at Jenny Lake.
Stop in at the Visitor Center.
Shop at the Jenny Lake Store.
Take the short trail to the lake and enjoy beautiful views from the shore.
Hike the Jenny Lake Trail.
Hike to Hidden Falls and Inspiration Point (probably the most popular hikes in the park).
Take the shuttle boat across the lake to shorten the hiking distance to Hidden Falls and Inspiration Point.
Enjoy a scenic boat ride on the lake (plan to book ahead if you're traveling during a really busy time in the park).
Explore the lake by canoe or kayak (rent a boat or bring your own).
Itinerary day 2 afternoon
Here are some ideas for how to spend the afternoon of the second day of your Grand Teton National park itinerary.
If you are an avid hiker, consider one or more of these trails:
Hike to Taggart Lake
Do the Taggart Lake – Bradley Lake Loop
Hike the String Lake Loop
Hike to Leigh Lake
Hermitage Point
Other ideas include:
Drive up into the northern section of the park to visit Colter Bay and enjoy scenic overlooks along Jackson Lake. If you came from Yellowstone to Grand Teton, you've already driven this road.
Drive up the Signal Mountain Summit Road if you didn't do that on the first day.
Explore the Laurance S. Rockefeller Preserve Center
You might also have fun doing a little exploring in the town of Jackson. The town square with its famous elk antler arches is a popular photo spot. There are also a lot of shops and great places to eat.
Grab a cup of coffee at Cowboy Coffee and enjoy a stroll around the town.
Things to pack for a Grand Teton National Park trip
GuideAlong: Using GuideAlong in Grand Teton will really enhance your itinerary. You'll learn more about what you're seeing as you drive through and explore the Park.
Water bottle or hydration bladder: I cannot overemphasize how important it is to carry water with you on your travels, particularly at elevation. Plan to carry at least 2 quarts of water per 2 hours of hiking.
Comfortable hiking shoes: I prefer hiking shoes to high top hiking boots, and I love my Keen Terradora II waterproof hiking shoes. I never explore a National Park without them. They basically go with me on every trail and every trip. Check them out on Amazon here.
Waterproof rain shell: I love traveling with Columbia jackets.
The Columbia Arcadia II jacket is a great option you can easily roll up into your backpack. It's lightweight, breathable, and waterproof. I love this for when I need rain protection but not necessarily extra warmth. Check out the Arcadia II on Amazon.
If you need something warmer, check out Columbia's Bugaboo II Fleece Interchange jacket. I don't know what I'd do without mine. It comes in both men's and women's versions. Check the Bugaboo II price on Amazon here.

The outer layer is waterproof, breathable, and has a really good hood. It's warmer than the Arcadia II.
The inner layer is thermal-reflective fleece.
You can zip the fleece layer into the shell to make a cozy, waterproof coat or wear each layer separately.
Backpack: I highly recommend the Osprey Daylite Plus. I love how it holds everything you need for a short hike but it's also versatile enough to use for general travel. There's a separate, padded internal sleeve that can hold a small laptop or tablet or hydration bladder. There's also two external mesh water bottle holder pockets. Check the price on Amazon here.
Hiking pants: I'm basically in love with my Kuhl Freeflex Roll-up pants. They're made of quick-drying, water resistant fabric that also provides sun protection. They are SUPER comfortable to me. I love that they have a regular waste band but also an internal drawstring so you can adjust the fit.
Grand Teton: fun facts
Grand Teton National Park covers almost 310,000 acres.
The park was founded in 1929, but it wasn't until 1950 that it protected all of the land covered by the park today.
More than 3 million people visit Grand Teton each year, with the number of guests in 2021 getting close to 4 million.
The Teton Range is unique in that there are no significant foothills or smaller peaks (that could inhibit views), but rather it appears as though it is rising straight up from the Jackson Hole valley floor.
At 13,775 feet, Grand Teton is the tallest mountain in the Teton Range.
Grand Teton is separated from Yellowstone National Park by less than 10 miles. The two parks are connected by the John D. Rockefeller Jr. Memorial Parkway.
More articles to help you plan you Grand Teton National Park trip
Pin this post for later!
Grand Teton National Park Itinerary