27 Yellowstone Travel Tips to Have the Best Trip
Yellowstone is one of the most visited national parks in the United States. It's also one of the largest, featuring many popular attractions and places to stay.
Here are the top Yellowstone travel tips to help you have the best time possible at one of the best national parks on the planet.
Plan the perfect trip to Yellowstone National Park with this free printable travel planner.
This post includes affiliate links. If you make a purchase through one of these links, I may earn a small commission at no additional cost to you. As an Amazon Associate, I earn from qualifying purchases. See disclaimer.
Top Yellowstone tip: Use the GuideAlong app
Yellowstone National Park is enormous, which can make planning a trip there overwhelming for those going for the first time.
I always make it a point to get a map at the Visitor Center or when I go through an official park entrance. The map notes the most popular places to stop. Main attractions include Old Faithful, Mammoth Hot Springs, the Grand Canyon of the Yellowstone, Grand Prismatic Spring, Lamar Valley, Norris Geyser Basin, and much more.
You may find that using a paper map helps to keep you visually oriented to wherever you are in the park at any given time. BUT a map can only tell you so much about the places you plan to stop.
I recommend that people traveling to Yellowstone download the GuideAlong app and purchase the Yellowstone audio tour.
If you're also planning to visit Grand Teton National Park, you can bundle the Yellowstone tour with the Grand Teton tour and save a little money.
We love using GuideAlong. It's like having a professional tour guide riding right beside you in your car as you tour the park. You'll learn about the park's history, great ideas for where to stop, important natural and historical features of the park, and more.
Book your accommodations well in advance
Once you start planning your Yellowstone trip, you'll discover that it's quite a popular place, and many of the lodging options inside the park book up well in advance, even up to a year.
If where you stay is very important to you, you'll want to select your preferred accommodations a year out if you can, particularly if you're planning to visit the park during the peak summer travel months.
Keep in mind that only a portion of the park is open year-round. Make sure to check out the website for each place you're interested in staying to learn more about when they're available, room/cabin options, amenities, and dining options.
PRO TIP: If you have flexible travel dates you need to check out Going (formerly Scott's Cheap Flights). You get amazing flight deals sent straight to your inbox with instructions on how to book directly with the airlines. Check out Going here. Going is my favorite way to find great travel deals. 
Stay inside Yellowstone to cut down on driving
As long as we're talking about where to stay, I really encourage you to stay inside Yellowstone National Park if you can. It will enhance your experience in the park and cut down considerably on the amount of driving you will need to do each day.
We have stayed at the Old Faithful Inn and Canyon Lodge. It was so wonderful to be able to wander out of the Old Faithful Inn to see the Old Faithful geyser and the rest of the upper geyser basin in the evening after most of the other park guests had left for the day.
Staying at Canyon Lodge lessened our driving time to the Lamar Valley/Tower Roosevelt area as well as Hayden Valley and Lake Yellowstone/West Thumb.
Consider doing a guided tour at Yellowstone National Park
Not sure you want to plan your own itinerary or perhaps you're looking for something really specific you want to do? Consider booking a guided tour at Yellowstone.
All the tours below offer travelers the option to reserve now and pay later.
1. Guided Yellowstone Tour from Jackson, Wyoming: Enjoy exploring top attractions at Yellowstone National Park (including Old Faithful and the lower falls of the Grand Canyon of the Yellowstone) with this guided trip from Jackson Hole, Wyoming. Includes hotel pick up and drop off.
2. VIP Private Boutique Tour of Yellowstone's Lower Loop from West Yellowstone/Island Park: This popular guided experience includes hotel or AirBnB pick-up in either West Yellowstone, Montana, or Island Park, Idaho. Customize your tour that includes the use of binoculars and spotting scopes for wildlife viewing. Pick-up at lodging inside the park is also included.
3. Full-day Yellowstone Lower Loop Tour from Jackson, Wyoming: Enjoy top sites on the Lower Loop like Old Faithful, Grand Prismatic Spring, and more. Includes hotel pick-up in Jackson Hole, entrance fees, breakfast, and a picnic lunch.
4. Grand Canyon of the Yellowstone Rim and Loop Hike with Lunch: Marvel at spectacular views of the Grand Canyon of the Yellowstone on this guided hike. Lunch, snacks, and hiking gear are all provided.
5. Kayak Day Paddle on Yellowstone Lake: Get out on beautiful Yellowstone Lake with an expert guide as you explore Yellowstone's unique lakeshore geothermal areas from a unique perspective. Includes picnic lunch and gear.
Plan to stay at Yellowstone for at least a few days
One of the questions people ask first is how long they should plan to stay at Yellowstone.
I highly recommend a visit of at least three days. And if you can do more, that's great.
With three days, you can see as many geothermal features as you can handle plus see the other amazing parts of Yellowstone such as the Grand Canyon of the Yellowstone, the lake, and do some wildlife viewing at Lamar Valley or Hayden Valley.
Avoid visiting Yellowstone National Park during peak season
As Yellowstone National Park increases in popularity for family vacations, the crowds have increased during the peak summer travel months when U.S. schools are generally out of session.
Even in May, I found the Old Faithful area crowded in mid-afternoon. I can't imagine what it's like there in July. But having said that, other parts of the park were decidedly not crowded during this time.
Keep in mind that one of the downsides of visiting outside of the peak season is dealing with closed guest services and road closures.
It's a trade-off, and you will have to decide which you would rather. To take advantage of the "sweet spot" of good weather plus lower crowds plus more services being open, consider visiting in very early June or very early September (excluding Labor Day weekend).
Plan your Yellowstone itinerary ahead of time
Having a general understanding of the lay of the land at Yellowstone National Park and what are the most popular things to do there will serve you well as you plan your visit.
You don't have to plan each day down to the minute, but spending each day in one section of the park will help you cut down on random driving throughout your trip and save you time.
It could be as simple as doing each loop (upper and lower) in one day for a shorter trip. Or taking smaller sections each day for a longer trip.
If you've purchased the Yellowstone driving tour from GuideAlong, you made an excellent choice, and you can use that tour even before your trip to help you decide how you want to tackle your trip.
But stay open to being spontaneous
One of the things that we love about visiting National Parks is discovering little hidden gems we didn't even realize were there. Yellowstone is full of hidden gems away from the huge crowds of families in rented RVs trying to park in the tiny hot pool pullout parking lots.
Allow some flexibility in your itinerary to pull over and take a look when you see an unexpected roadside sign or your GuideAlong tour suggests something to do if you have the time and inclination.
I understand that if you only have a couple of days in Yellowstone, you won't be able to do this as much. But if you can, building some extra time into your itinerary just to discover new things can be a great way to travel.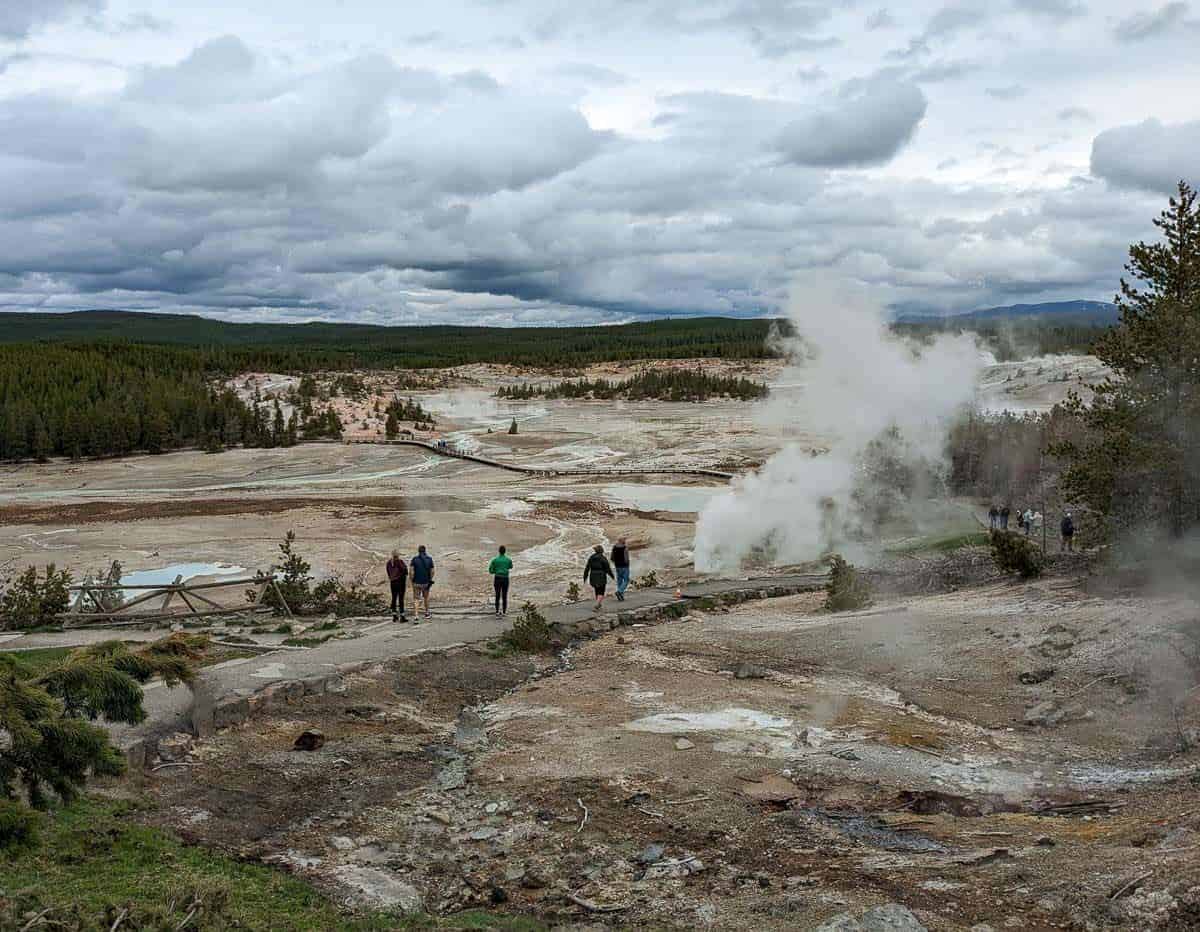 Pack food to have with you in your car
To make things easier on yourself as you explore the park throughout the day, plan to pack a cooler of food, drinks, and snacks in your car so that you don't have to try to hunt down food.
Although there are food options in Yellowstone, they are largely centered around the hotel and village areas which can be pretty busy during regular meal times. They also are not close together.
I don't want to be in the middle of exploring Artists Paintpots and then have to drive to the Old Faithful area or Mammoth for a meal.
If you have your own food with you, you can stop at any number of places to eat well and then be on your way.
Check out Yellowstone road closures
Make sure you're aware of any road closures in Yellowstone National Park as well as other park conditions. You can do this through the Yellowstone website's current conditions page.
The park roads live status map is also quite helpful.
You can also call (307) 344-2117 to get a recording of important road information. I prefer getting the text alerts. Text 82190 to 888-777 (you will need to confirm receipt).
Keeping an eye on these alerts will help you with your planning as you get closer to your arrival date.
You may also find it helpful to check out the Yellowstone webcams so you can see what's going on at park entrances.
Keep in mind that cell service inside the park is limited
You will likely find that you have very limited to no cell service inside Yellowstone National Park.
You may wish to alert friends and family that you may be "unreachable" for a while during your trip to the Park.
There are a few places where you can get some limited service, and a few hotels offer some limited free Wi-Fi for registered guests.
View the wildlife from a safe distance
Yellowstone National Park is known for its abundance of amazing wildlife. During your trip, you're likely to see bears, elk, bison plus more.
Please remember that these are wild animals and should not be disturbed. Yellowstone is not a petting zoo.
Keep at least 25 yards between you and the bison, elk, and bighorn sheep. To stay safe, there should be 100 yards between you and a bear or wolf.
Be alert for bears
Yellowstone National Park is bear country. You need to understand that you may encounter black bears or grizzly bears during your Yellowstone trip, and most importantly you need to know what to do to stay safe.
Do not disregard posted National Park Service signs closing trails or areas of the park because of bear activity. Those closures are for your safety and for the safety of the greater Yellowstone ecosystem bear population.
Carry bear spray, know how to use it, and stay 100+ yards away from bears.
Repeated contact between humans and bears can change bear behavior in such a way that it becomes very dangerous for humans and can make it much more likely that the bear will need to be destroyed by park ranger staff.
You can find more information about bear safety and hiking in bear country on the National Park Service website.
Seek out the Yellowstone hidden gems
While it's certainly understandable that you will want to spend a lot of your Yellowstone itinerary seeking out the most spectacular and popular sites, don't forget that Yellowstone is full of hidden gems just waiting to be discovered.
Get off the beaten path to see the "hidden" Yellowstone.
Pack to wear layers
Yellowstone is at a high elevation. You should always plan for the weather to be unpredictable there.
I don't know about you, but I hate to be caught unprepared for rain or unexpected cold.
Pack for your trip so that you can have layers with you as you're out all day exploring.
Here are a few of my favorite layers to pack when I travel.
The Columbia Arcadia II jacket is a great option you can easily roll up into your backpack. It's lightweight, breathable, and waterproof. I love this for when I need rain protection but not necessarily extra warmth. Check out the Arcadia II on Amazon.
If you need something warmer, check out Columbia's Bugaboo II Fleece Interchange jacket. I really love mine Check the Bugaboo II price on Amazon here.

The outer layer is waterproof, breathable, and has a really good, adjustable hood. It's noticeably warmer than a basic rainshell like the Arcadia II.
The inner layer is thermal-reflective fleece.
You can zip the fleece layer into the shell to make a cozy, waterproof coat or wear each layer separately.
Stay on the boardwalks and other marked paths
For your safety and the safety of others, stay on the marked hiking trails and park boardwalks. They are there to protect you
In addition, make sure that you observe any temporary road or trail closures. The Park doesn't inconvenience its guests just for fun. Trail and road closures keep everyone safe.
Depending on where you live, it may seem odd to close a road because of snow and ice in May or June, but Yellowstone is at a high elevation.
In addition, trails may be closed because of bear activity.
Enjoy a splurge-y dinner at the Lake Yellowstone Hotel
While overall I don't particularly recommend the available food in Yellowstone National Park (though I don't trash it as a lot of visitors do), we did think that the lovely dinner we had at the Lake Yellowstone Hotel Dining Room was worth the time and money.
The service was wonderful, the food was tasty, and it was nice to have a break from geysers, hiking, and wilderness to surround ourselves with a little refinement.
Definitely make a reservation.
Don't pass over the Visitor Centers
I love National Park Visitor Centers. They're the best places to learn more about the park.
Plus you can stamp your National Park passport book, talk with a ranger about your plans, get recommendations for what to do, and buy souvenirs.
In other news, I think I'm addicted to National Park gift shops.
Yellowstone National Park tip: Have fun exploring the General Stores
Is it wrong that one of my favorite things to do at Yellowstone was explore the General Stores? Well, if I'm wrong then I don't want to be right.
You can find a General Store at many of the village areas in the park such as Canyon Village, Grant Village, Fishing Bridge, Old Faithful, Mammoth, etc.
Here you can find souvenirs, food, some basic supplies, and more. We enjoyed the ice cream we got in Mammoth, and I found the perfect sweatshirt at Old Faithful.
Plan to get an early start each day
Unsurprisingly, if you get started exploring the park in the early morning you'll have some better success avoiding traffic jams from large crowds.
This is especially true if you're staying inside the park. While those staying in West Yellowstone or Gardiner are still making their way into Yellowstone, you'll be already exploring the amazing geyser basins or enjoying wildlife viewing in Lamar Valley.
Bring binoculars to help with wildlife viewing
Speaking of wildlife viewing, we discovered very quickly that binoculars and/or a spotting scope are essentials for good wildlife viewing from a safe distance at Yellowstone National Park.
Wolves especially are masters at slinking through the sagebrush in the Hayden Valley, making them very difficult to see with the naked eye as the sun goes down. I speak from experience.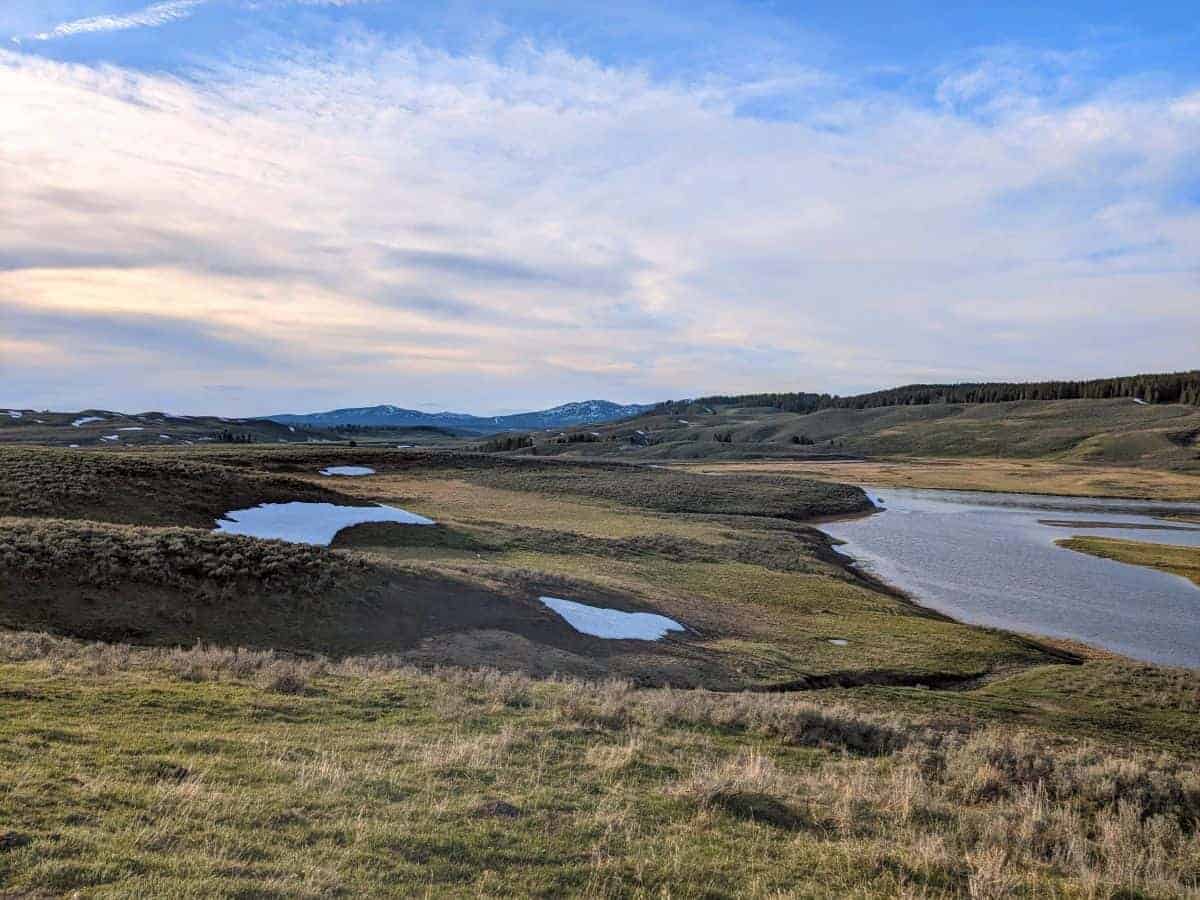 Leave no trace
National Parks have been seeing large increases in visitor numbers in the last few years.
While it's great that so many more people want to enjoy our national parks and the outdoors in general, all that human activity does take a toll on the parks.
Following the seven principles of Leave No Trace can help mitigate and even minimize the impact we have on the wilderness, plant life, wildlife, and the precious ecosystems we're visiting.
For more information about Leave No Trace, visit lnt.org.
Get advice from others who have already visited Yellowstone
Planning your first trip to Yellowstone National Park can be a little overwhelming. There are so many things to see and possibilities for where to stay, where do you start with it all?
One great resource is all your fellow travelers who have been to Yellowstone before you. Sure they'll likely be quite opinionated on the topic, so take their advice with a grain of salt, but they do have experience where you don't.
Talk to friends and family who have been there or join a Facebook group that specializes in travel to U.S. National Parks to crowdsource ideas.
Tour the park in the way that works best for you
Although it's great to take in suggestions from others or follow planned Yellowstone itineraries and use audio tours like GuideAlong, in the end only you know how you like to travel.
Only you know if you enjoy shorter days or longer days, getting an early start or going into the evening, saving as much money as possible or splurging like you've never splurged before.
Don't let anyone else bully you into following only their recommendations or convince you that they know best what you should do. Feeling your way through your trip and figuring things out on your own is one of the joys of exploring.
Do what works best for you. And if you make "mistakes" oh well. You'll just know better for next time.
Combine a Yellowstone National Park trip with a visit to Grand Teton
The southern boundary of Yellowstone National Park is just a few miles from the north boundary of Grand Teton National Park. The two parks are connected by the John D. Rockefeller Jr. Memorial Parkway.
As long as you're already making the journey to western Wyoming, consider combining your Yellowstone National Park trip with a visit to Grand Teton.
The two parks pair really well, and it just makes sense to see both since they're so close together.
Don't miss these helpful articles about planning an amazing trip to Grand Teton National Park.
Pack your patience
Yellowstone National Park is an enormously popular place and its popularity only seems to grow each year.
You may find that when you visit there are a lot of other people who have the same idea for a trip as you did.
There may be traffic jams from wildlife in the roadway, there might not be an available space in the parking lot you want to park in, and there may be a long line to get a sandwich at Old Faithful.
Understand that you may encounter times when you need to just wait. Anticipating that it may take you longer to get what you want will make it easier for you to endure.
Don't forget to relax and have fun
Planning a trip to Yellowstone National Park can take a lot more advanced planning than many people realize. It can be stressful to try to decide where to stay for how long, and where you are going to get food.
But don't lose sight of the reason you're traveling to Yellowstone, to see some of the most remarkable scenery, not just in the United States, but on the planet.
Relax, have fun, and enjoy yourself first and foremost.
It will be a trip you'll never forget.
Where to stay at Yellowstone National Park
Although it can be more expensive, I highly recommend that you stay inside Yellowstone National Park during your visit. In addition, you may find it helpful to stay in more than one location.
I recommend:
The Old Faithful Inn: offers historic accommodations right at the most famous geyser in the world
Canyon Lodge: modern and "green" rooms close to the Grand Canyon of the Yellowstone. Free Wi-Fi in the main lodge and other lodge rooms, but not in cabins.
Other popular options include:
Outside the park, the most popular options are:
West Yellowstone, Montana: by far the most popular place to stay outside Yellowstone, it's just a few miles from the west entrance
Gardiner, Montana: small town right outside the north entrance and just over 5 miles from Mammoth Hot Springs
Silvergate-Cooke City, Montana: this may be a great option for you if you want to prioritize wildlife viewing in Lamar Valley
More articles to help you plan your Yellowstone vacation
Yellowstone Travel Tips