Packing for Yellowstone in Spring (List + Mistakes to Avoid)
Discover what to pack for Yellowstone in spring to ensure you're comfortable during a season of unpredictable weather and enjoy your visit completely. I'll provide a comprehensive packing list, including clothing and gear, to make your Yellowstone adventure unforgettable.
This post includes affiliate links. If you make a purchase through one of these links, I may earn a small commission at no additional cost to you. As an Amazon Associate, I earn from qualifying purchases. See disclaimer.
How I've approached this topic for this article
This article is based on my experience packing for a spring trip to Yellowstone National Park.
We spent four days in Yellowstone during a two-week road trip. We began our road trip in Denver, passed through western South Dakota and Wyoming, and visited Grand Teton National Park, before finally arriving in Yellowstone.
We flew to Denver from Charlotte, North Carolina, with carry-on luggage only. I did not check a suitcase. Everything for our two-week road trip had to fit into a backpack (which I used as my personal item) and my small rolling carry-on suitcase.
My goal for packing for this trip was to keep it as light as possible while also making sure I had everything I needed for two weeks on the road as far as clothing and toiletries.
In this article, I'll list the essential items that I think every traveler should pack for Yellowstone. Then, I'll cover the most common Yellowstone packing mistakes to avoid. At the end of this article, I include my actual packing list from this trip.
Overview of packing essentials for Yellowstone in spring
Remember that Yellowstone National Park is at a high elevation. Spring comes late there, and the weather can be unpredictable.
Clothing: Layer up with a couple of long-sleeved shirts, short-sleeved shirts, hiking pants (with sun protection and a roll-up or zip-off option), baselayer bottoms, a waterproof/windproof jacket, warm gloves, and a knit beanie.
Footwear: Choose waterproof hiking shoes or boots, warm moisture-wicking socks, and one additional pair of shoes (optional) suitable for whatever other activities you have planned.
Gear: A daypack, reusable water bottle, camera/smartphone, portable charger, and binoculars
Suggestions for safety and first aid:

A few basic first-aid items
Bug spray
Sunscreen
Paper maps (cell service in Yellowstone is extremely limited to nonexistent)
Personal medication
Bear spray (you cannot fly with bear spray)
I recommend that people traveling to Yellowstone download the GuideAlong app and purchase the Yellowstone audio tour.
Mistake #1: Overpacking
One common mistake when packing for Yellowstone in the spring is overpacking since Yellowstone's weather is unpredictable. Pack layers and lightweight gear, and stick to the essentials to avoid problems.
Consider leaving these items at home
Extra clothing: Pack versatile clothes like a 3-in-1 coat and roll-up or zip-off pants that can be used as shorts or long pants. Versatile clothing saves space and provides more outfit options.
Bulky winter gear: While it's important to bring layers for warmth, you likely won't need really heavy gear like a heavy winter coat or snow boots. Opt for lightweight jackets that feature performance materials and fleece instead. I love the Columbia Bugaboo II fleece interchange coat because it functions as three coats in one.
Large umbrellas: A small collapsible travel umbrella should be sufficient in case of rain. Or do what I do and leave the umbrella at home and pack only a waterproof jacket with a good hood to keep you dry.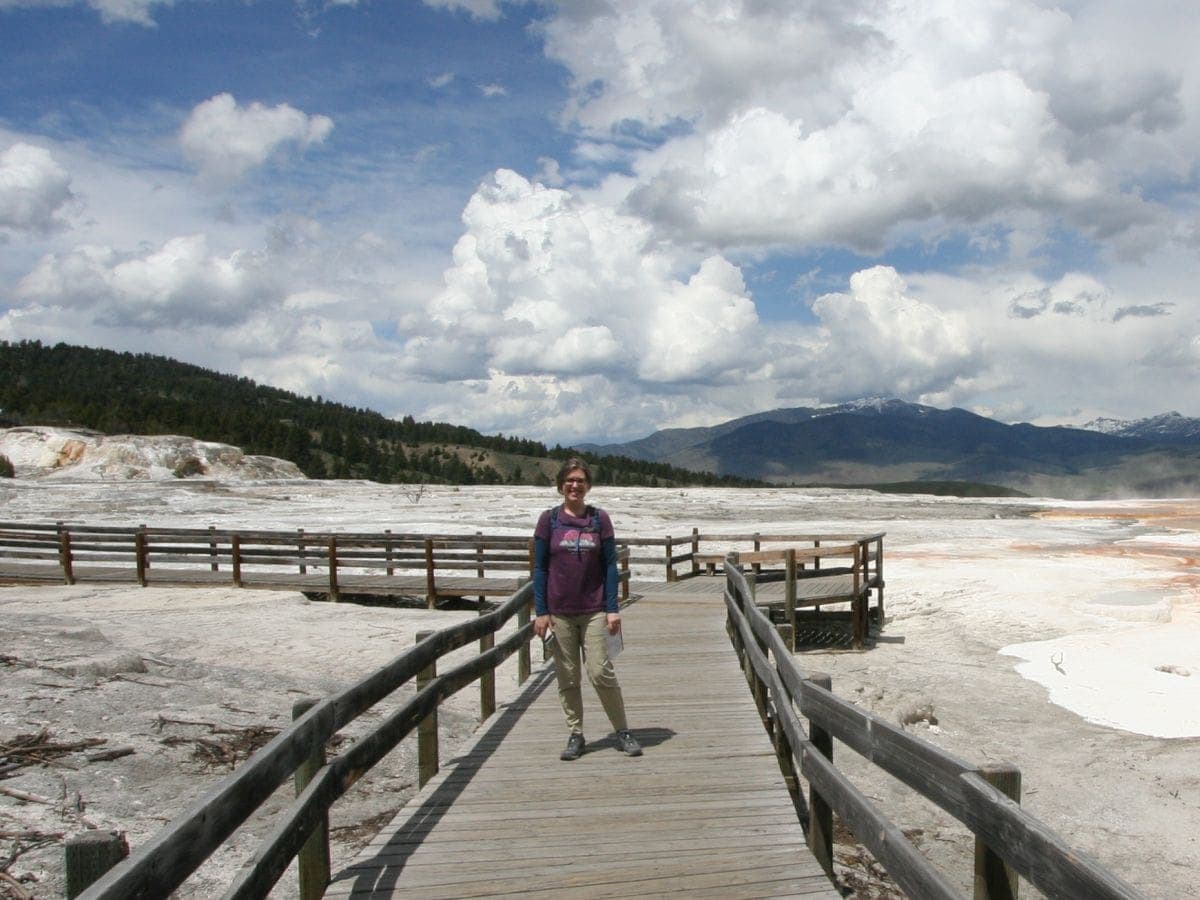 Mistake #2: Ignoring weather variability
Yellowstone's spring weather in spring can change quickly, from near-freezing and wet one day to sunny and up to 70 degrees the next. To be well-prepared, it's essential to account for these changing conditions in your packing list.
Packing some insulating base layers for both your top and bottom. These will help keep you warm even if the weather takes a surprising turn or if you're out after sunset. I stayed warm in the windy, post-sunset conditions by wearing baselayer bottoms under my hiking pants.
Layering is essential when packing for Yellowstone in the spring, as temperatures can vary greatly throughout the day. Stay warm and dry with clothes you can remove easily when necessary.
In addition to warm clothing, make sure to bring lightweight, breathable, waterproof rain gear. This should include a rain jacket with a hood.
To keep your feet dry and comfortable, I highly recommend waterproof hiking shoes or boots be the "main shoes" you pack for this trip.
Lastly, consider a waterproof backpack cover or a dry bag to protect your belongings from getting wet during rainstorms especially if a lot of rain is in the forecast during your trip.
Mistake #3: Not preparing for wildlife viewing
Yellowstone National Park is a paradise for wildlife enthusiasts and photographers. It is important to be prepared. Here are some suggestions to help you get the most out of your experience.
Bring or rent a good pair of binoculars or a spotting scope to help you spot distant animals. Wolves slinking through the sagebrush in Hayden Valley can be difficult to spot with the naked eye.
Photography enthusiasts, bring your favorite telephoto or zoom lens and consider packing extra batteries and memory cards.
Since Yellowstone is home to many bears, carry bear spray for safety and learn how to use it. Please note that you cannot fly with bear spray period. Plan to buy one can per adult when you arrive. It's readily available at shops in and around Yellowstone.
Things you may want to purchase after you arrive
If you are flying to Yellowstone, there are some things you will need to hold off on purchasing until after you arrive. And there are some things that you may just want to wait to buy for convenience.
Styrofoam cooler (we grabbed one for less than $5 at Walmart) to keep your food cool on the road.
Snacks, drinks, and picnic lunch items. Yellowstone travel tip: Don't interrupt your day of exploring to go off in search of food in Yellowstone. Bring your lunch and snacks with you.
Bear spray (since you can't fly with it). Learn how to use it.
Sunscreen
Insect repellant
My actual packing list for Yellowstone in spring
A few notes about this packing list:
This packing list was for a two-week road trip that included four days in Yellowstone National Park. You may need fewer items for a shorter trip, to just Yellowstone.
Even with being outdoors essentially all day every day, I managed to get through our trip only having to do one load of laundry plus two small sinks-full of handwashing (hence the Tide sink packs).
​For my personal item on the plane, I used my Osprey Daylite Plus backpack. This is a great backpack that works well for both hiking and general travel. There's a slim pocket inside that fits my laptop perfectly.
A few of these items were packed by my husband who accompanied me on this trip. Those are noted with an asterisk.
For more help with packing light, check these out:
What I wore on our flight
Jeans
Short-sleeve T-Shirt
Lightweight cardigan sweater
Columbia Bugaboo II fleece interchange jacket
Keen hiking shoes
Wool socks
Here's what was in my backpack/personal item
Wristlet wallet
Prescription medications
Laptop and charger
Spill-proof re-useable water bottle
Printed copies of all reservation confirmations
Bluetooth earbuds w/ charging cable
Phone and charger
Portable charger
Small paper notebook
Pen and pencil
TSA 3-1-1 liquids bag (see detail below)
Snacks
Wet wipes
Tissue travel packs
Here's what I packed in my rolling carry-on suitcase
3 tank tops
3 pairs hiking pants (2 roll up to capri length)
2 base layer bottoms
2 long sleeve base layer tops
Sweatshirt
2 sets pajamas
Joggers
4 pairs of Merino wool hiking socks
4 pairs of athletic footie socks
Dietary supplements
Hairbrush
1 pack of Olay 5-in-1 daily facial cloths
Facial cotton rounds
2 long sleeve T-shirts
3 short sleeve T-shirts
5 pairs underpants
2 bras
Knit beanie
Gloves (did not wear these even once, but I was glad I had them)
Other toiletries/personal care items (see detail below)
Flip-flops (used as shower shoes)
Rand McNally Road Atlas*
Re-sealable plastic storage bags in a variety of sizes
TSA liquids bag
Travel-size toothpaste
Concealer
Travel-size sunscreen (SPF 70)
Night cream
Daytime moisturizer (SPF 35)
Toner
Lip balm
Travel-size hair care products
Tide sink packs
Antibiotic ointment*
Other toiletries/personal care items
Compact makeup mirror
Dental floss
Toothbrush
Travel-size stick deodorant
Disposable razor
Emery board
Tweezers
Eyebrow pencil/gel
Eyeliner
Mascara
Loose setting powder
Powder brush
Elastic headband
Hair claw
A few adhesive bandages in various sizes*
More help with planning your trip to Yellowstone
Pin this post!