Yellowstone Hidden Gems: Exploring Away from the Spotlight
Yellowstone's hidden gems offer travelers a unique experience away from the crowds. Yellowstone National Park is well known for its iconic attractions like Old Faithful and the Grand Prismatic Spring. But there are also many lesser-visited spots in Yellowstone just waiting to be discovered.
My favorite Yellowstone travel tip is to add these secret places in Yellowstone to your itinerary. From peaceful valleys to otherwordly pools, thermal areas, and waterfalls, these secret spots represent the diversity of this incredible place.
Important takeaways about hidden spots in Yellowstone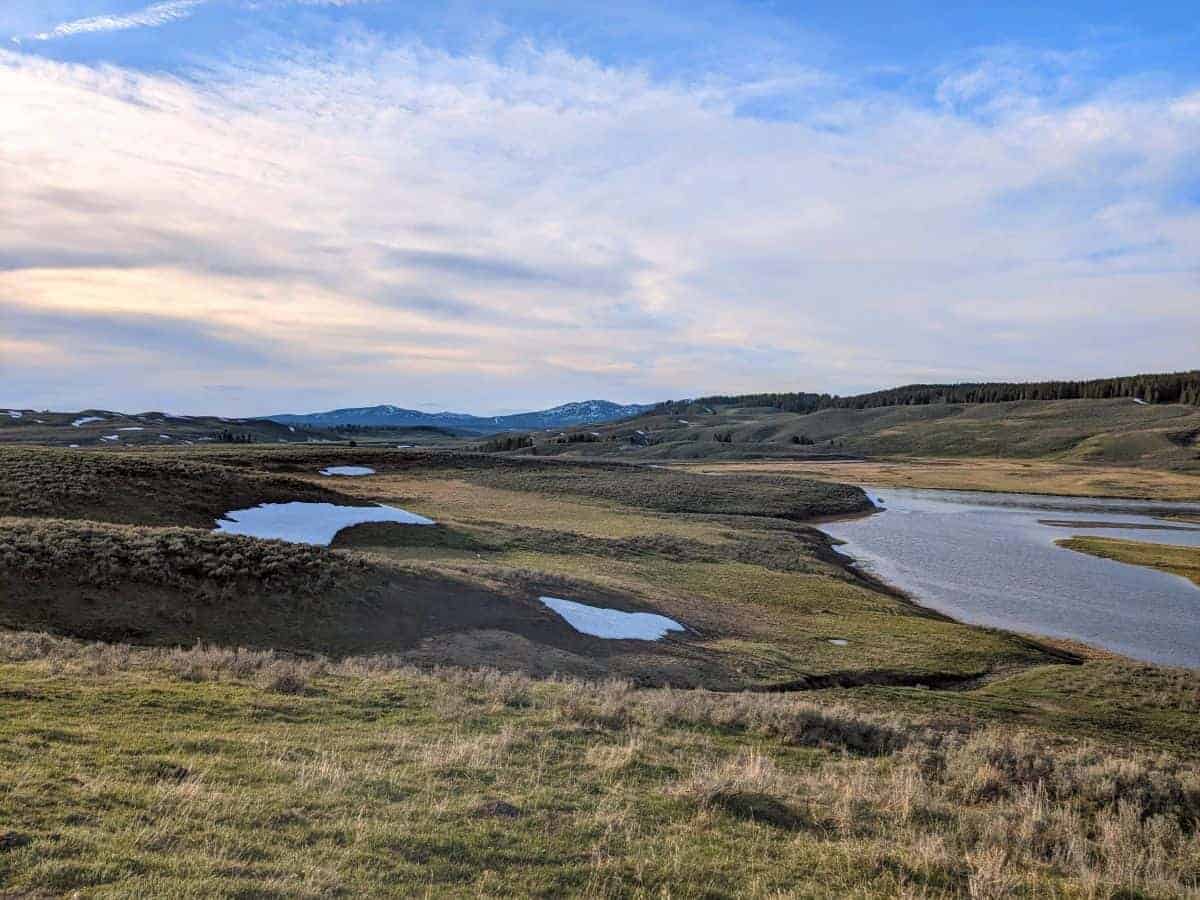 This post includes affiliate links. If you make a purchase through one of these links, I may earn a small commission at no additional cost to you. As an Amazon Associate, I earn from qualifying purchases. See disclaimer.
Yellowstone hidden gems in the Lower Loop
Hayden Valley
For gorgeous scenery and plentiful wildlife viewing opportunities, explore the Hayden Valley. Hayden Valley might not be as famous as Lamar Valley. However, you can still spot elk, bison, bears, and wolves in its beautiful meadows.
Until the end of May, accessing Hayden Valley from Canyon Village is easier than getting to Lamar Valley.
We had success with wildlife viewing in the evening shortly before sunset.
Bring your binoculars or spotting scope to safely watch the animals.
Watch for areas where many cars are parked and park guests have their binoculars out. That's your big clue that there's animal activity.
DO NOT block the street.
DO NOT approach the animals.
I recommend that people traveling to Yellowstone download the GuideAlong app and purchase the Yellowstone audio tour.
Sulphur Caldron
Near Hayden Valley, you'll find Sulphur Caldron. This hot spring is one of the park's most acidic, being somewhere near car battery acid. The hot spring has a strong rotten egg smell, and it's a prime example of Yellowstone's diverse geothermal features.
One unique feature of Sulphur Cauldron is how close it is to the side of the road. It can be easy to downplay the danger of these geothermal features because of how plentiful they are here and easy to access. Bottom line: don't mess with Yellowstone's hot springs.
LeHardys Rapids
On the way from Hayden Valley toward Fishing Bridge, make a pit stop at LeHardys Rapids. In spring and early summer, it's a prime trout spawning spot. This stretch of the Yellowstone River is a lovely spot to stop away from the big crowds elsewhere along the Lower Loop.
Fishing Bridge
East Yellowstone is a great area to explore. I found it much quieter than other major geyser basin areas. Start with the Fishing Bridge, a historic landmark that served as a popular fishing spot. And maybe stop in at the General Store.
West Thumb
After checking out the Fishing Bridge, make your way to the West Thumb, where you will find beautiful geothermal features in a scenic lakeshore setting. Although there may be a good number of people there at West Thumb, this area just doesn't get as much publicity as some other geyser basins.
Morning Glory Pool
One of the most captivating spots in Yellowstone is none other than the Morning Glory Pool at the Upper Geyser Basin. It may not be as frequented as its more famous cousin Grand Prismatic Spring but it truly deserves a visit. The stunning shades of green and yellow in the pool create an otherworldly atmosphere.
Truth be told, this place is fairly well known, but I'm including it on this list because it requires a lengthy walk to get there. It is not accessible by car. Pick up a map of the Upper Geyser Basin area in the Old Faithful Visitor Center.
Firehole Lake Drive
The one-way loop Firehole Lake Drive offers park guests even more geothermal features to explore. This drive will take you to a little more secluded area of Yellowstone, so your chances of avoiding crowds here are greater than in the most popular areas between Old Faithful and Madison.
Sites along the Firehole Lake Drive include: Surprise Pool, White Dome Geyser, and Great Fountain Geyser.
Gibbon Falls
Gibbon Falls is another picturesque waterfall you shouldn't miss. Located along the Gibbon River, it's an 84-foot-high waterfall surrounded by forest. A short walk takes you to the viewing platform, where you can admire the enormous amount of cascading water and listen to the wonderful sound of the falls.
Upper Loop hidden gems in Yellowstone
Golden Gate
Don't miss the scenic drive through the Golden Gate. Situated between Mammoth Hot Springs and the Norris Geyser Basin, this stretch of road is framed by rock formations that seem to glow, especially during sunrise and sunset. Take a few minutes to pull over and appreciate the view and the roadside Rustic Falls as well.
Roaring Mountain
Just a short drive north of Norris Geyser Basin, Roaring Mountain doesn't roar as much as it used to, but it's still worth a visit. The mountain got its name from the loud, steamy fumaroles (steam vents) that once sounded like a distant roar. Although now essentially silent, it's worth a stop to see this impressive feature.
Sheepeater Cliffs
Looking for a unique geological formation during your Yellowstone visit? Check out the Sheepeater Cliffs. They're a series of columnar basalt cliffs formed from cooling lava flows. You can park nearby and it's just a casual walk to be able to get closer.
The name Sheepeater comes from the Shoshone who referred to the area as Tukudika, or Sheep Eaters.
Obsidian Cliff National Historic Landmark
Obsidian Cliff National Historic Landmark is another secret place in Yellowstone you might want to check out. This natural site consists of a large deposit of obsidian. The obsidian found here was used by Native Americans to make tools and weapons, making it an important historical site.
Also of historic importance is the informational kiosk here, which (fun Yellowstone fact) was the first roadside exhibit in a United States National Park. In a way, it's a national landmark within another national landmark.
Lesser-know Yellowstone spots off the Grand Loop Road
Moose Falls
Before you exit or just as you enter Yellowstone by the South Entrance, there's another waterfall waiting for you: Moose Falls. Tucked away just a short walk from the road, this 30-foot cascade on Crawfish Creek rarely appears on lists of must-see sites in Yellowstone National Park. In my opinion, it's worth a stop if you're driving by anyway.
Lake Butte Overlook
Lake Butte Overlook is a lesser-known spot in Yellowstone that you shouldn't miss. Located above the east side of Yellowstone Lake, it gives a clear view of the lake and the Absaroka Mountain Range. The location is quieter than some other parts of the park, so it's a good spot if you want a break from the crowds. Plus, you might see wildlife like elk or bears from the overlook.
Sylvan Lake
Located between Yellowstone Lake and the park's East Entrance, Sylvan Lake is a quiet spot away from the busier park attractions. It's got clear waters, cool views of the nearby mountains, and a forested shoreline. If you're looking for a chill place to snap some photos, have a picnic, or just take a break, Sylvan Lake is a great spot.
Yellowstone National Park basics
Yellowstone National Park is full of natural wonders that always amaze visitors. Besides its famous attractions like Old Faithful and the Grand Prismatic Spring, there are many hidden gems waiting to be discovered by you.
As you prepare for your trip, it's essential to know some basic information about the park.
Covering over 3,500 square miles, Yellowstone is primarily in Wyoming but also stretches into Montana and Idaho.
Yellowstone features a diverse range of ecosystems, including forests, grasslands, and wetlands.
Accommodations in the park are booked well in advance. Plan a year ahead if you can.
Always keep a safe distance from wildlife and geological features. Also, make sure to stay hydrated.
I hope these Yellowstone tips inspire you to uncover this park's full diversity. By seeking out lesser-known places, you'll gain new perspectives on this treasured place. Just don't forget to watch for wildlife and exercise caution as you explore! Let me know if you discover any other favorite hidden gems in Yellowstone.
More articles to help you plan your trip to Yellowstone
Pin this post!