Grand Teton vs Yellowstone: The Ultimate Showdown
Choosing between Grand Teton National Park vs. Yellowstone? You're not alone in this puzzle! Here's a friendly guide to unravel the unique vibes and views of each spot. Yellowstone wows with its geysers and wildlife, while Grand Teton offers peaceful lakeside picnics and jaw-dropping mountains. Let's help you figure out which park should be on your must-visit list.
Key things to know about Grand Teton vs Yellowstone
Grand Teton National Park vs Yellowstone at a glance
Grand Teton National Park
Yellowstone National Park
Park Location and Size
– 10 miles south of Yellowstone
– 310,000 acres
– Near Jackson, WY
– Across Wyoming, Montana, Idaho
– 2.2 million acres
Landscape
– Teton Range mountains
– Lakes
– Snake River
– Over 10,000 hydrothermal features like geysers and hot springs
– Waterfalls
– Valley meadows
History and Significance
– Established in 1929
– Cultural history with historic structures
– Established in 1872 as the first national park
Wildlife Viewing
– 61 mammal species
– Notable: moose, black bears, mule deer
– 67 mammal species
– Notable: bison, grizzly bears, wolves
Visitor Experience
– Scenic drives, hiking, boat tours
– Many lodging and dining options in nearby Jackson
– Geothermal features, waterfalls
– More options for lodging and dining inside the park
Crowds
– Less crowded
– 2.8 million visitors in 2022
– More crowded
– 3.2 million visitors in 2022
Seasonality
– Peak season: June-Aug
– Shoulder season: May, Sept
– Similar to Grand Teton
How Long to Visit
– 2-3 days ideal
– Up to a week for hiking enthusiasts
– 3-4 days ideal
– A week to include backcountry trails
Why Visit
– Visit if interested in hiking and mountain views
– Ideal for mountain landscapes and hikers
– Visit for geothermal features and more attractions
– Variety in scenery, family-friendly, geothermal attractions
Park overviews
Location and size
Grand Teton National Park: When I think about Grand Teton National Park, I picture its awe-inspiring mountains and stunningly beautiful lakes. It's located about ten miles south of Yellowstone in Wyoming and covers an area of around 310,000 acres. It's quite a bit smaller than Yellowstone but still has plenty to offer. You'll find Grand Teton just north of Jackson, Wyoming.
Yellowstone National Park: Yellowstone is world-renowned for its geothermal features and wildlife viewing opportunities. It spans across a massive area of around 2.2 million acres, covering parts of Wyoming, Montana, and Idaho. It's the larger, older sibling of all the national parks in the United States and has earned its reputation as an American family vacation icon.
Distinct landscapes
Grand Teton mountains and lakes: I can't get over how beautiful the Teton Range is in the Grand Teton National Park. Peaks like the Grand Teton and Mount Moran create a jaw-dropping backdrop for the lakes below. And the Snake River winds through the park, providing even more picturesque Teton photo opportunities and float trip options.

Yellowstone geysers and hot springs: Travelers are continually amazed by Yellowstone's unique geothermal features, like the famous Old Faithful geyser and the colorful Grand Prismatic Spring. With over 10,000 hydrothermal features, including geysers, hot springs, and mud pots, it's no wonder Yellowstone is so popular. Fun fact about Yellowstone: it is home to more than half of all of the geysers in the world.
So, while both parks offer vastly different landscapes, I find them each stunning in their own ways.
History and natural significance
Yellowstone was established in 1872 as the world's first national park, paving the way to preserving America's natural wonders for generations. Grand Teton, on the other hand, was established in 1929, thanks to the conservation efforts of John D. Rockefeller Jr. and Horace Albright.
The development of these parks also highlights their unique features.
Yellowstone's geothermal features, including geysers and hot springs, led to the building of about 310 miles of paved roads for safe exploration.
Grand Teton features about 152 miles of paved roads, perfect for scenic drives, and provides access to those seeking adventure in hiking, camping, or climbing.
Grand Teton's cultural history is evident in the numerous historic structures preserved within, such as the Chapel of the Transfiguration and the Cunningham Cabin.
Wildlife viewing opportunities
Both Grand Teton and Yellowstone National Parks offer an abundance of wildlife to observe. Yellowstone is home to approximately 67 species of mammals, including the famous bison, elk, and even the gray wolf.
Grand Teton National Park, on the other hand, has around 61 mammal species. While there is some overlap in animal species, each park is "famous" for its own animal inhabitants.
Yellowstone National Park animal highlights:
Bison
Elk
Gray wolf
Grizzly bears
Pronghorn
Grand Teton National Park animal highlights:
Elk
Moose
Black bears
Pronghorn
Mule deer
Visitor experience
Recreational activities
In my experience, both Grand Teton and Yellowstone offer a wide range of recreational activities for outdoor enthusiasts. I loved the opportunities for scenic driving through Grand Teton, hiking, boat tours, and more. The park's scenery and wildlife also mean that it's full of wonderful photography spots.
At Yellowstone, I was fascinated by the natural features, such as geysers and hot springs, as well as the waterfalls. We also really enjoyed the wildlife viewing opportunities.
Accommodation and facilities
Both parks offer lodging and dining options that cater to various budgets and preferences. I found that Yellowstone has more options in terms of accommodations and dining facilities inside the park. The park is quite a bit larger than Grand Teton and gets more visitors, so you would expect that.
To save money, many Yellowstone guests choose to stay in towns outside the park such as West Yellowstone or Gardiner. Another advantage to doing this is easy access to grocery stores and dining options not managed by park vendors. Many Yellowstone guests complain about the poor food quality and high prices inside the park, in addition to the overcrowding at dining spots in the busy summer season.
For more detailed advice on planning your visit, check out these Yellowstone travel tips.
Grand Teton is a smaller park with fewer lodging and dining options. One advantage there however is the proximity of Jackson, Wyoming, to the park. This means there are more options for staying outside Grand Teton that don't require lengthy drives into the park. There are also a lot of good dining options in Jackson.
For more detailed advice, check out these Grand Teton travel tips.
Crowds
During my visits, I noticed that Yellowstone tends to be more crowded compared to Grand Teton. Yellowstone's popularity can sometimes make it challenging to find parking spots or space on popular trails. On the other hand, I found Grand Teton to be less crowded, allowing for a more relaxed experience.
In terms of visitor statistics, both parks are popular destinations. However, Yellowstone tends to draw more tourists than Grand Teton. For example, in 2022 Yellowstone welcomed more than 3.2 million visitors, while Grand Teton saw around 2.8 million.
Keep in mind that peak visitation times are during the summer months, so if you're planning a trip and prefer fewer crowds, consider visiting during the shoulder seasons in spring or fall.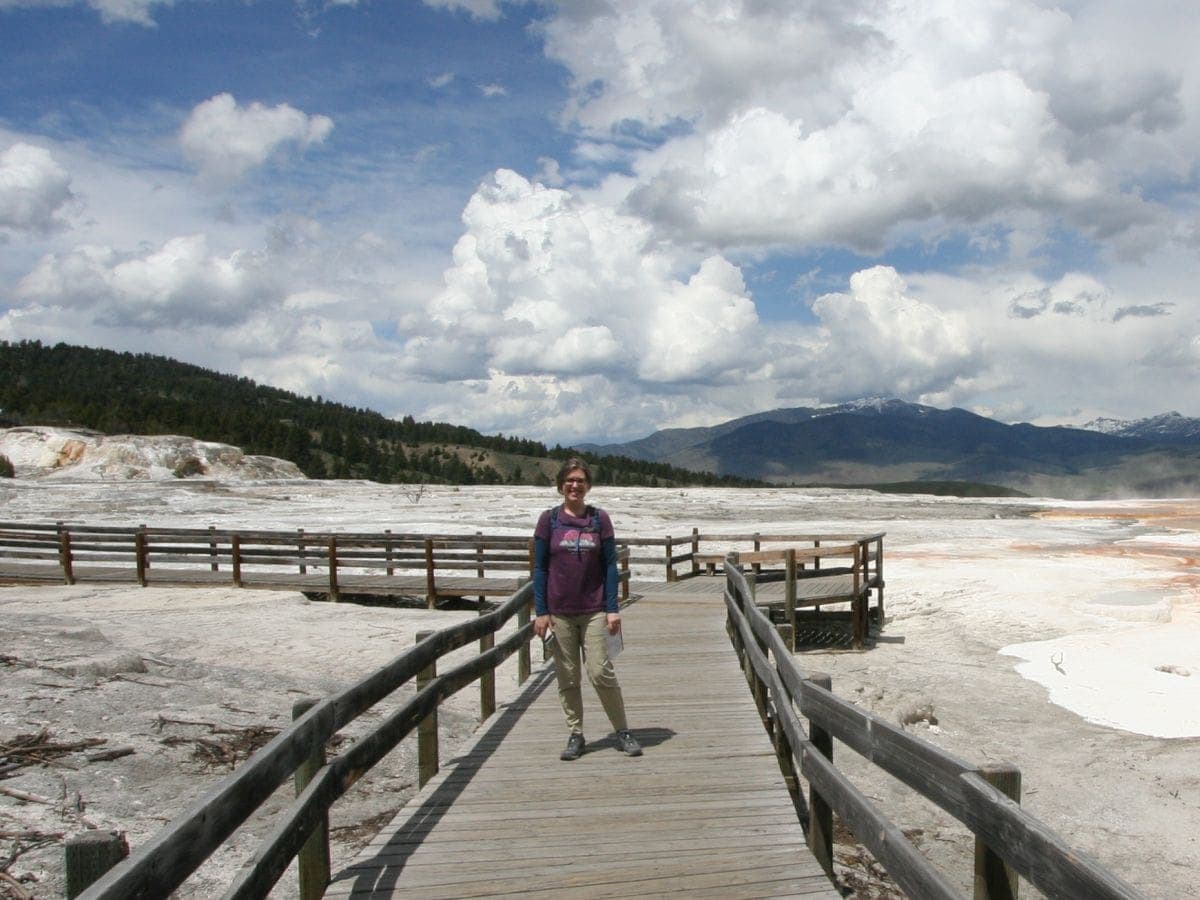 Seasonality
Your ideal visit time to both parks varies with your interests and planned activities. Summer months (June to August) are the peak season for both parks, offering warm temperatures and easy access to most facilities and attractions.
The shoulder seasons (May and September) can provide a quieter experience with fewer crowds. However, some facilities and roads might be closed due to snow or other weather conditions during these times.
How long does it take to visit each park?
The amount of time you'll need to visit Grand Teton or Yellowstone National Park depends on your goals and interests.
For a thorough visit to Grand Teton, you'll need at least two to three days to explore the park's scenic drives, hiking trails, and water activities. Two days is ample if you don't plan to do any long hikes. For hiking enthusiasts, spending three to four days or even a week in the park would allow full immersion in the mountain landscapes.
If you're short on time, however, a carefully planned one-day itinerary for Grand Teton National Park can help you experience the best of the park in a single day.
For Yellowstone, you'll need at least three to four days to visit the park's major attractions, including the geysers, hot springs, and waterfalls. You can easily spend a week in Yellowstone, especially if you want to explore the park's backcountry trails or do more than one or two evenings of wildlife viewing.
Which park should you choose to visit?
I must say, it's tough to decide between the stunning Grand Teton National Park and the iconic Yellowstone National Park. Both parks are located in the Greater Yellowstone Ecosystem, but despite their proximity, they offer quite different experiences.
Grand Teton National Park is renowned for its mountain landscape and beautiful lakes. If you're an avid hiker or a mountain lover, this park might just be what you're looking for.
Yellowstone National Park, on the other hand, is known for its geothermal features like Old Faithful Geyser and the colorful Grand Prismatic Spring. It also has a wide range of attractions, from Mammoth Hot Springs to the Grand Canyon of the Yellowstone. If you're looking for variety in scenery and you're traveling with family, Yellowstone might be a better fit. It offers a mix of things for all ages to enjoy.
If you have to choose between these parks, consider the following:
The main attractions you'd like to see
The types of activities you (and your travel companions) enjoy
The amount of time you have available for your visit
If you're more interested in pursuing activities like hiking and appreciating mountain views, Grand Teton is a great choice. On the other hand, if you're intrigued by the geothermal features and want to explore a wider range of attractions, Yellowstone is the way to go.
Because of the proximity of the parks, I recommend you visit both parks in a single trip. Many visitors choose to spend two to three days in Grand Teton and then drive up to Yellowstone for another three to four days. This would allow you to get the best of both parks without feeling rushed.
How to spend 7 days in Yellowstone and Grant Teton
Articles to help you plan your Grand Teton and Yellowstone trip
Pin this post!