17+ Best Things to Do in Greenville, SC (From a Local)
Get a local's take a what to do in Greenville, South Carolina
Greenville, South Carolina, (yeah, that Greenville) is the growing seat of Greenville County. It's home to a thriving economy and emerging arts scene.
Whether you enjoy outdoor activities and sports or food and the arts, you'll find something you love among all the best things to do in Greenville, SC.
Livability ranked Greenville, South Carolina, as one of the Top 100 Places to Live (it really is!), and it's also a great place to visit.
We do get a lot of people coming to the area who are traveling for work (Michelin and BMW have their North American headquarters in or near Greenville).
If you're planning to be in the general vicinity for pleasure, I think you should consider making Greenville a stop on your trip itinerary.
Greenville is the perfect place to get a taste of Upstate South Carolina.
Plan the perfect trip to Greenville with this free printable travel planner.
This post includes affiliate links. If you make a purchase through one of these links, I may earn a small commission at no additional cost to you. As an Amazon Associate, I earn from qualifying purchases. See disclaimer. 
Explore downtown Greenville
The city of Greenville has spent a number of years developing its downtown into an area that its residents and guests can enjoy exploring and generally just hanging out in.
Livability ranked Greenville as having one of the best downtowns in America for its pedestrian-friendly, tree-lined Main Street full of shops and sidewalk cafes.
Of all the Greenville things to do, this is one of my favorites.
Read More → The Best Books About the South
There's no better way to explore Greenville than to walk around the downtown area.
You'll find locally owned coffee shops, restaurants, and boutiques alongside well-known retailers.
Downtown Greenville is also turning into rather a foodie's paradise with help from local restaurateurs like Rick Erwin and Carl Sobocinski (Table 301 Restaurant Group).
Though you'll certainly find chain restaurants in the mix, local eateries get a lot of love in Greenville. They're some of the best places to eat in the city.
If you're looking for a fun way to check out downtown Greenville, you might enjoy this city Segway tour.
PRO TIP: If you have flexible travel dates you need to check out Going (formerly Scott's Cheap Flights). You get amazing flight deals sent straight to your inbox with instructions on how to book directly with the airlines. Check out Going here. Going is my favorite way to find great travel deals. 
Wander through Falls Park on the Reedy
While you're downtown, grab a coffee drink or an ice cream at Spill the Beans and enjoy Greenville's beautiful Falls Park, one of the most popular activities in Greenville, SC.
The park is named for the Reedy River falls at the west end of downtown Greenville.
The 354-foot-long Liberty Bridge (quite a popular spot!) over the river forms the centerpiece of the park. Its award-winning design is unique to the United States.
There are many top restaurants within an easy walk of the park or better yet pack a picnic and enjoy your meal at one of the many lovely picnic spots along the banks of the Reedy River.
I mean, if the weather is good. And it very often is.
The park is free for guests to explore and is open every day from 6 a.m. to 9 p.m.
Attend a concert or show at the Peace Center
Another fixture of downtown Greenville is the Peace Center, a premier performing arts venue.
In addition to being the home of the Greenville Symphony Orchestra and the Greenville Chorale, the Peace Center regularly brings in top artists.
Guest artists have included The Beach Boys, Chicago, Renee Fleming, Audra McDonald, and Joshua Bell.
A full theatre calendar draws visitors from all over the Upstate for Broadway shows like Hamilton, The Lion King, and Wicked.
Steve Martin and Martin Short recorded their Emmy-nominated Netflix special An Evening You Will Forget for the Rest of Your Life at the Peace Center.
And in addition to being a top-notch venue, the Peace Center is committed to reducing its impact on the environment and is even believed to be the first zero-waste-to-landfill arts facility.
Take in a Greenville Drive game
Now, I know the performing arts aren't for everyone, but everyone loves baseball, right?
Well, if you don't it's probably just that you haven't given it enough of a chance. Just commit yourself to watching a few hours of ball every week, and you'll be hooked like me. Try it.
I'm not joking.
Whether you love baseball or not, if you're in Greenville, South Carolina, during baseball season I highly recommend going to see the Greenville Drive play at Fluor Field.
The Greenville Drive is a High-A affiliate of the Boston Red Sox, and they have one of the best minor league ballparks in the U.S. Seriously, I love it.
They even have their own Green Monster like at Fenway in Boston.
Parking is free, and they offer a complimentary shuttle to the park. or walking the few blocks will be a bit quicker.
Who knows? You might even get to see the next Mookie Betts, Xander Bogaerts, or Jackie Bradley, Jr.
Hike Paris Mountain State Park
For the more active visitors to Greenville, Paris Mountain State Park is an excellent option.
Paris Mountain is one of 16 South Carolina State Parks built by the Civilian Conservation Corps, and it's on the National Register of Historic Places.
There are more than 15 miles of hiking (including the super-easy Lake Placid hike) and biking trails rated from easy to strenuous in the park. It has also become a top camping destination in the Greenville area.
Other park activities include swimming, kayaking, pedal boating, and picnicking. Yes, picnicking is an activity. It's a good activity.
You can also reserve their picnic areas (shelters) for a fee.
The $6 admission fee is waived for children ages 5 and under and includes access to the swimming area when it's open.
Pets are welcome at Paris Mountain State Park except in and around any of the lodging areas.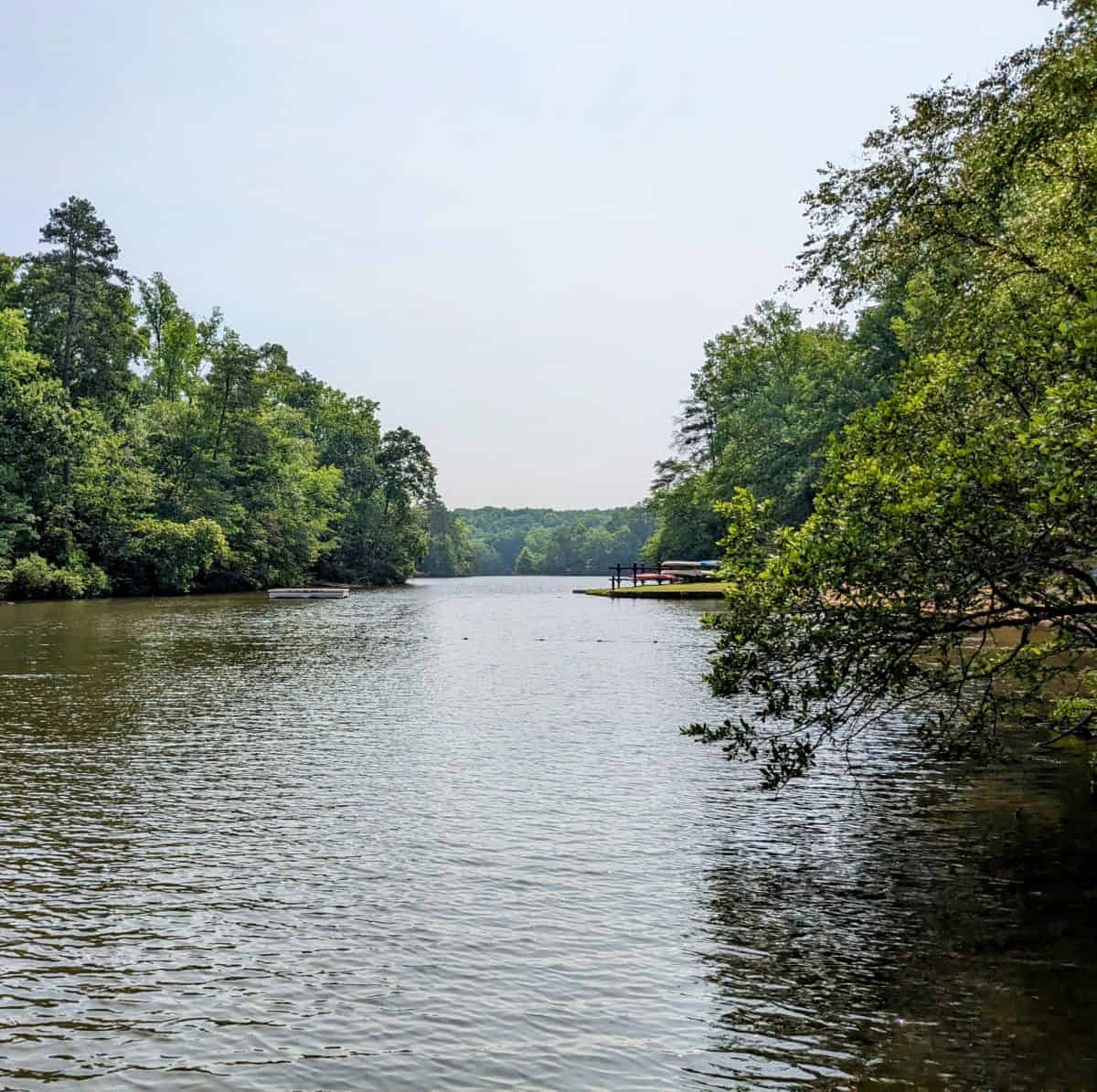 Visit the Greenville County Museum of Art
I love visiting art museums when I travel, and I've been to some of the best museums in the world.
The Greenville County Museum of Art has one of the best collections of American art I've had the joy of seeing in a regional museum. This includes the largest public collection of Andrew Wyeth watercolors (swoon!). It totally impresses this art lover every time I walk through the door.
I'm partial to their wonderful collection of Jasper Johns paintings and prints.
The art museum is located at Heritage Green, very near downtown Greenville.
Heritage Green is a cultural campus that includes the GCMA (of course), the main branch (Hughes) of the Greenville County Library System, the Greenville Little Theatre, the Children's Museum of the Upstate, and the Upcountry History Museum.
Admission to the Greenville County Museum of Art is free.
There is a small charge to park in the Heritage Green parking lot during normal business hours on weekdays.
Bike or jog the Swamp Rabbit Trail
The Prisma Health Swamp Rabbit Trail is a 22-mile-long historic rail trail that runs from Greenville to Travelers Rest, South Carolina.
Jogging or biking the Swamp Rabbit is a popular weekend activity in Greenville.
There are even places along the trail you can stop for a bite to eat, a cup of coffee, or an ice cream.
A lot of the trail runs along the Reedy River, the same river that flows through Falls Park in downtown Greenville.
The interactive map is useful for finding parking, restrooms, and water fountains along the main trail or secondary trails.
Yes, the name is odd. We also have an East Coast Hockey League team called the Greenville Swamp Rabbits. I swear I am not making that up.
Apparently, the swamp rabbit is indigenous to this area.
Why we think that means we have to name a bunch of stuff after it, I really couldn't tell you. Nevertheless, here we are.
Visit the Greenville Zoo
If you're an animal lover like me, I recommend a visit to the Greenville Zoo while you're in town. It's one of the finest small zoos I've ever been to.
I admire their commitment to conservation, including the establishment of a grant that funds programs for conservation efforts in South Carolina, North Carolina and Georgia.
Parking is free at two nearby lots, and the zoo is also conveniently close to Cleveland Park and the Swamp Rabbit Trail.
Take a walk around the lake at Furman University
If you're looking for a picturesque place for a weekend stroll, I highly recommend the Lake Loop Trail at Furman University.
The 1.5-mile paved trail takes you around a 40-acre spring-fed lake. Places of interest on the trail include a beautiful rose garden and the campus' iconic bell tower.
This isn't the only trail on the beautiful Furman campus, but it is believed to be the most popular.
In fact, on sunny Sunday afternoons, you'll likely encounter quite a few others walking, jogging, or biking the trail along with you.
Visit one of the many festivals or seasonal activities
Greenville, South Carolina, is home to a growing number of special festivals and seasonal activities.
Depending on what time of year you're visiting, you might be right on time for a signature city event such as Artisphere (May) or Fall for Greenville (October).
Other great seasonal events and activities include:
U.Day (October), Christmas Carol Sing and Lighting Ceremony (Friday after Thanksgiving), and Living Gallery (Easter Weekend) at Bob Jones University
Music by the Lake free summer live music concert series at Furman University
Indie Craft Parade (September)
Restaurant Week (summer and winter versions)
Plus lots and lots more!
Greenville Walking Tour
Since you're probably already going to be exploring the downtown Greenville area on foot anyway, you might want to consider doing a walking tour.
Walking tours are a great way to get to know a new city, learn about its history and get to see important spots at the same time.
If you're a fan of breakfast food (like me!) then you might enjoy this walking tour of Greenville that also includes a lot of breakfast.
Visit the Shoeless Joe Jackson Museum & Baseball Library
You might have been introduced to Shoeless Joe Jackson through the movie Field of Dreams, but did you know that Jackson was born in Upstate South Carolina and lived in Greenville?
The Shoeless Joe Jackson Museum has dedicated itself to educating the public about Jackson's life and legacy. The museum dispels myths about the man that many have called the best natural hitter in the history of baseball.
(His .408 rookie year batting average is a record that has stood since 1911.)
The Shoeless Joe Jackson Museum is in a small house near Fluor Field where the Greenville Drive plays.
The house was the last one that Joe and Katie Jackson lived in together.
Entrance to the museum is free. But it's run by a non-profit and they ask visitors to make donations.
Check out the Greenville Saturday Market
If you're visiting Greenville between May and October, check out the Saturday Market.
You'll find it set up on Main Street at McBee Avenue from 8 a.m. to noon with more than 75 vendors selling local produce, flowers, food, and other hand-crafted goods.
Free parking is available at the Richardson Street parking garage all weekend.
Take in an event at the Bon Secours Wellness Center
Bon Secours Wellness Arena is a major events venue in Greenville. It's also home to the Swamp Rabbits East Coast Hockey League team.
"The Well" attracts major acts like Paul McCartney, Eagles, Carrie Underwood, and more.
Be prepared for traffic delays getting into and out of the area especially if you choose to park in the garage adjacent to the arena.
Roper Mountain Science Center
If you're visiting Greenville with children, you might pay a visit to the Roper Mountain Science Center to check out their interactive exhibits.
They offer year-round public programs like the Friday Starry Nights (with reasonably priced tickets) or you can see the Butterfly Garden when it's open to the public.
Caesars Head State Park
Okay, I admit this one is not in Greenville, but if you enjoy the outdoors and have already seen Paris Mountain State Park, you might enjoy visiting Caesars Head State Park. It makes a great day trip from Greenville.
You'll find it about 30 miles north of Greenville.
Top things to do at Caesars Head include
Taking in the view from Caesars Head Overlook
Checking out the tallest waterfall in South Carolina
Hiking Rainbow Falls Trail
Table Rock State Park
Another favorite Upstate South Carolina park is Table Rock State Park. It is just a little bit closer to Greenville SC than Caesars Head.
It is quite a popular state park to visit.
Top things to do at Table Rock State Park include
Climbing Table Rock
Hike Lakeside Trail
Fishing
Enjoy live bluegrass music at "Music on the Mountain"
Jones Gap State Park
If you're interested in wandering a little further from Greenville, you might be interested in Jones Gap State Park.
It's a great destination for a day trip from Greenville that's full of natural beauty. The park is located in Marietta, South Carolina, about 26 miles north of Greenville.
The park is a great place to enjoy stunning views of the natural wonders of Upstate South Carolina.
You'll find over 60 miles of trails winding through pristine woodlands, it's a great spot for outdoor recreational activities like hiking, camping, and picnicking.
Where to stay in Greenville, South Carolina
Turn your visit into a two-day trip with this perfect Greenville, SC, weekend getaway itinerary.
Luxury: Try the lovely Westin Poinsett Greenville in the heart of downtown Greenville.
Moderate: Aloft Greenville Downtown offers great location along with gym facilities and an outdoor pool
Affordable: Hampton Inn Greenville includes free hot breakfast and is just 15 minutes from Greenville Spartanburg International Airport
The bottom line: what to do in Greenville, SC
Whether you're stopping over for business or pleasure, you're sure to find lots of stuff to do in Greenville, SC.
From food to the arts and outdoor sports, Greenville is a terrific place to live and visit at any time of year.
More articles about South Carolina
Pin this post!
The Best Things to Do in Greenville, SC