Greenville Weekend Getaway: Ideal Itinerary (By a Local)
Two days in Greenville is the perfect way to see this city
Greenville, South Carolina, is a charming small city full of history and culture, making it a great destination for those seeking an easy weekend trip. Read on to discover the ideal Greenville, SC, weekend getaway itinerary.
Although two days may seem like a short time, it's more than enough to get the full Greenville experience.
Greenville, South Carolina, is often (and consistently) ranked as a top city in which to live in the United States. We also have a great Main Street/downtown area.
I've lived in Greenville for more than 15 years, and I'm happy to share with you more about my adopted hometown.
With this Greenville, SC, itinerary you'll discover all the best this city has to offer. I think you'll come to see why I think that this is such a great place to live.
I also think that a two-day trip to Greenville, South Carolina, is one of the best weekend getaways in the state.
Plan the perfect 48 hours in Greenville, South Carolina, with this free printable travel planner.
This post includes affiliate links. If you make a purchase through one of these links, I may earn a small commission at no additional cost to you. As an Amazon Associate, I earn from qualifying purchases. See disclaimer.
Where to stay in Greenville, South Carolina
Greenville offers a wide variety of accommodation options to travelers seeking the perfect place to stay. From cozy inns to budget-friendly major chain hotels to luxurious downtown hotels, you can find lodging that fits your needs.
If you can, I recommend that you stay in the center of the city so that you can explore the downtown area on foot.
Try the classic Westin Poinsett in the heart of Greenville. You'll enjoy the luxuriousness of a AAA Four Diamond hotel with its pet-friendly amenities.
Grand Bohemian Lodge Greenville is one of the most recent additions to Greenville's hotel scene and perfect for a romantic getaway. It's located within walking distance from the hustle and bustle of Main Street, as well as the Peace Center.
Aloft Greenville Downtown is great for the location in the heart of downtown, as well as access to an indoor gym and an outdoor pool.
Hampton Inn Greenville Downtown includes free hot breakfast and is just 15 minutes from Greenville Spartanburg International Airport.
Only have one day to spend in Greenville? Check out my article about how to spend one day in Greenville.
What is the best time of year to visit Greenville, South Carolina?
Late spring and fall are the best times of year to visit Greenville, South Carolina.
If you suffer from allergies, early spring is not an ideal time to travel to Greenville. Additionally, late summer brings heavy rain and stormy weather due to hurricanes off the South Carolina coast. The heat and humidity in midsummer can be unbearable.
January and February are historically the coldest months in Greenville, bringing with them an increased chance for snowfall or icy conditions.
PRO TIP: If you have flexible travel dates you need to check out Going (formerly Scott's Cheap Flights). You get amazing flight deals sent straight to your inbox with instructions on how to book directly with the airlines. Check out Going here. Going is my favorite way to find great travel deals. 
Greenville, SC, itinerary: Day 1
On the first day of your two-day Greenville itinerary, I'm going to recommend that you spend the bulk of your time downtown.
Greenville's downtown area is easy to navigate on foot, and there is so much to see and do along Main Street.
Explore downtown Greenville
Greenville has invested years of effort into transforming its downtown, creating a vibrant and inviting destination that residents and visitors love to explore. It's the perfect place for hanging out or taking in all that the city has to offer.
Our stunning Main Street, lined with trees and brimming with eateries and stores, makes us one of the best small city downtowns in America.
Out of all the activities Greenville has to offer, walking around downtown is one of my personal favorites. Strolling through Downtown Greenville is one of the best ways for you to soak in its beauty and discover hidden gems while getting a feel for this city's unique atmosphere.
Downtown Greenville is quickly becoming a haven for foodies, thanks to its passionate local restaurateurs. Although you will find chain restaurants in the area, Greenville has an undeniable love for its homegrown establishments.
If you're in Greenville on a Saturday morning between May and October, make sure to check out the Saturday Market on Main Street. There will be more than 75 vendors selling locally grown produce and goods made from locally sourced ingredients.
Try a Greenville walking tour
As long as you're going to be exploring downtown Greenville anyway, you might prefer to do that with a guided tour.
If you're looking to get in touch with a city's history and culture, there are few better ways than taking a guided walking tour. You'll have the chance to visit iconic sights while also getting an authentic sense of the local atmosphere. Not only is this experience incredibly enjoyable, but it can also provide some life-long memories.
Are you someone who loves breakfast? If so, then this walking tour of Greenville is the perfect opportunity for you to enjoy an abundance of delicious morning-time treats.
If sweet treats are more your style, why not indulge in this small-group dessert tour of Greenville?
If you're looking for a unique way to explore downtown Greenville, why not try this city Segway tour? Forget walking tours, take your experience of the city up a level with motorized fun.
Grab a treat at Spill the Beans
For a quick treat in downtown Greenville, visitors should check out Spill the Beans, a charming coffee shop that offers yummy drinks and delicious ice cream. It's a local favorite and a great place to hang out.
Spill the Beans is right at the next stop on our itinerary, so why not stop in to get a treat to enjoy while you continue your afternoon in downtown Greenville?
Spill the Beans also makes a great way to end a day of exploring since it's open pretty late.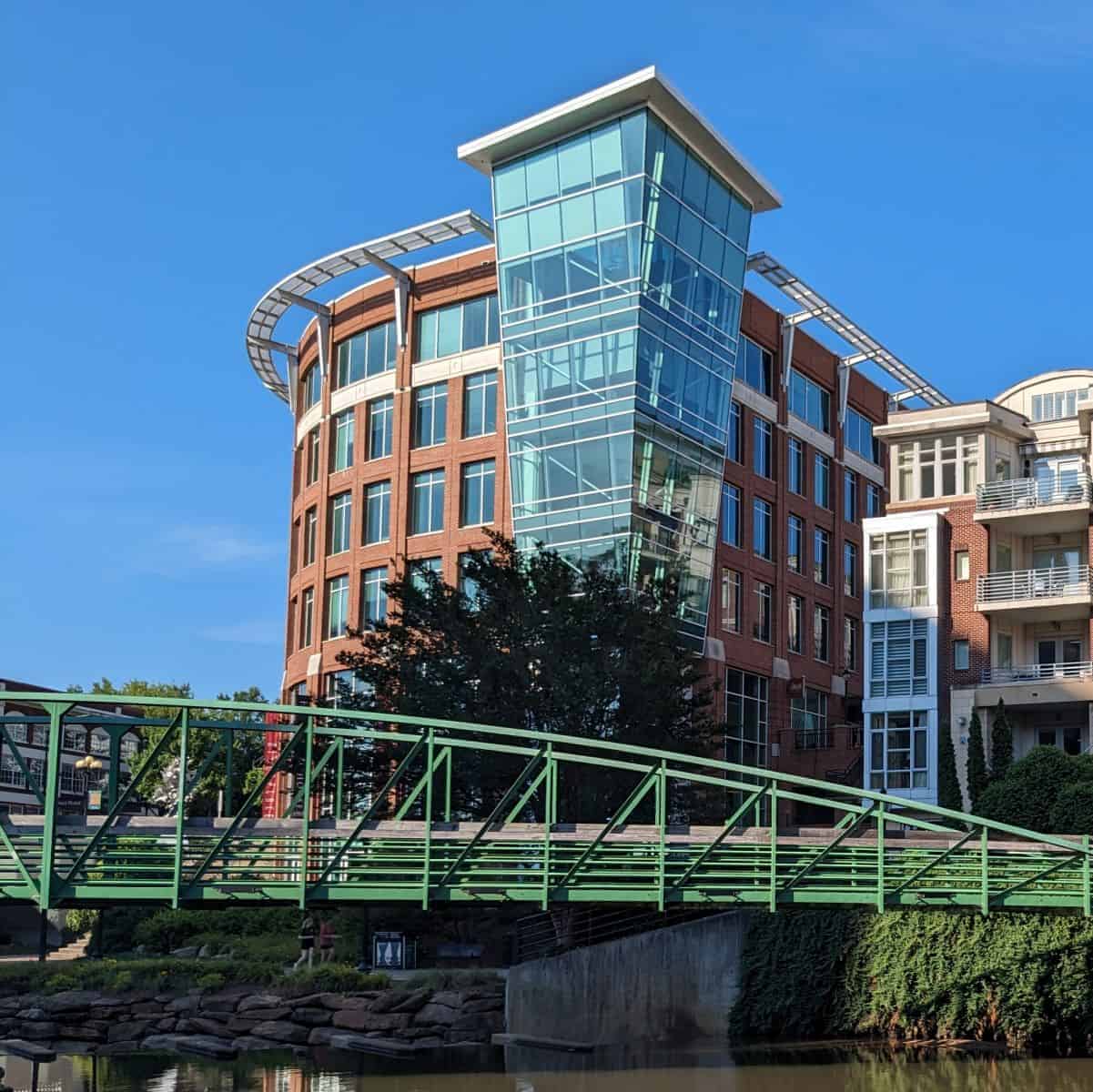 Explore Falls Park on the Reedy
After you've stopped in at Spill the Beans, explore one of the most popular spots in town, Falls Park on the Reedy. The park takes its name from the picturesque Reedy River Falls.
The centerpiece of the park is the 354-foot Liberty Bridge. This bridge offers stunning views of the river, falls, and surrounding park.
If you're up to exploring, take a stroll along one of the trails that meanders alongside the Reedy River. The walking paths are perfect for taking in some fresh air and peaceful views.
Falls Park on the Reedy is also home to several pieces of public art just begging to be investigated up close.
Greenville County Museum of Art
Roaming through a museum of art is one of my favorite pastimes when I travel. From the Metropolitan Museum in NYC to the Louvre in Paris, I am constantly delighted by these wonderful places and the masterpieces they display.
I am completely in love with the Greenville County Museum of Art's stunning collection of American art. It is definitely one of the most impressive regional museums I've ever seen, with an especially remarkable selection of Andrew Wyeth watercolors. It's one of my favorite places in Greenville.
They also have an impressive collection of Jasper Johns artwork.
You'll find the museum in Greenville's Heritage Green area. Heritage Green is a cultural campus that includes,
the GCMA (of course)
the main branch (Hughes) of the Greenville County Library System
the Greenville Theatre
Children's Museum of the Upstate,
Sigal Music Museum, and the
Upcountry History Museum.
Admission to the splendid Greenville County Museum of Art is free. However, please note that if you park in the Heritage Green parking lot during regular business hours Monday through Friday there will be a small fee.
Of course, there are a ton more things to do in Greenville, South Carolina.
For more ideas, see my article about the top things to do in Greenville.
Dinner at a popular local restaurant
End the first day of your 48 hours in Greenville with dinner at one of the city's popular local eateries. Here are a few highly-rated options:
Sassafras Southern Bistro
Rick Erwin's West End Grille
Soby's
Passerelle Bistro
Halls Chophouse
Larkin's
Greenville, SC, weekend getaway: Day 2
On day two of your Greenville, SC, weekend getaway, you're going to venture out of downtown or even outside of the city.
Here are a few top options, including ideas for day trips from Greenville, SC.
Swamp Rabbit Trail
If you're looking for an invigorating activity to add to your Greenville trip, consider taking a leisurely stroll or bike ride along the beloved and famous Swamp Rabbit Trail. Spanning 22 miles from Greenville all the way up to Travelers Rest, this historic trail provides a perfect path for cyclists and hikers alike.
It's one of Greenville's favorite outdoor recreational activities.
Whether you need a quick energy boost during your hike or ride, you can find something yummy to nibble on along the way. Popular stops include:
Pink Mama's Ice Cream
Swamp Rabbit Cafe & Grocery
Topsoil (James Beard nominated chef)
You can start your exploration of the Swamp Rabbit Trail with easy access right from downtown Greenville. Use this interactive trail map to find parking, restrooms, and water along the trail.
Paris Mountain State Park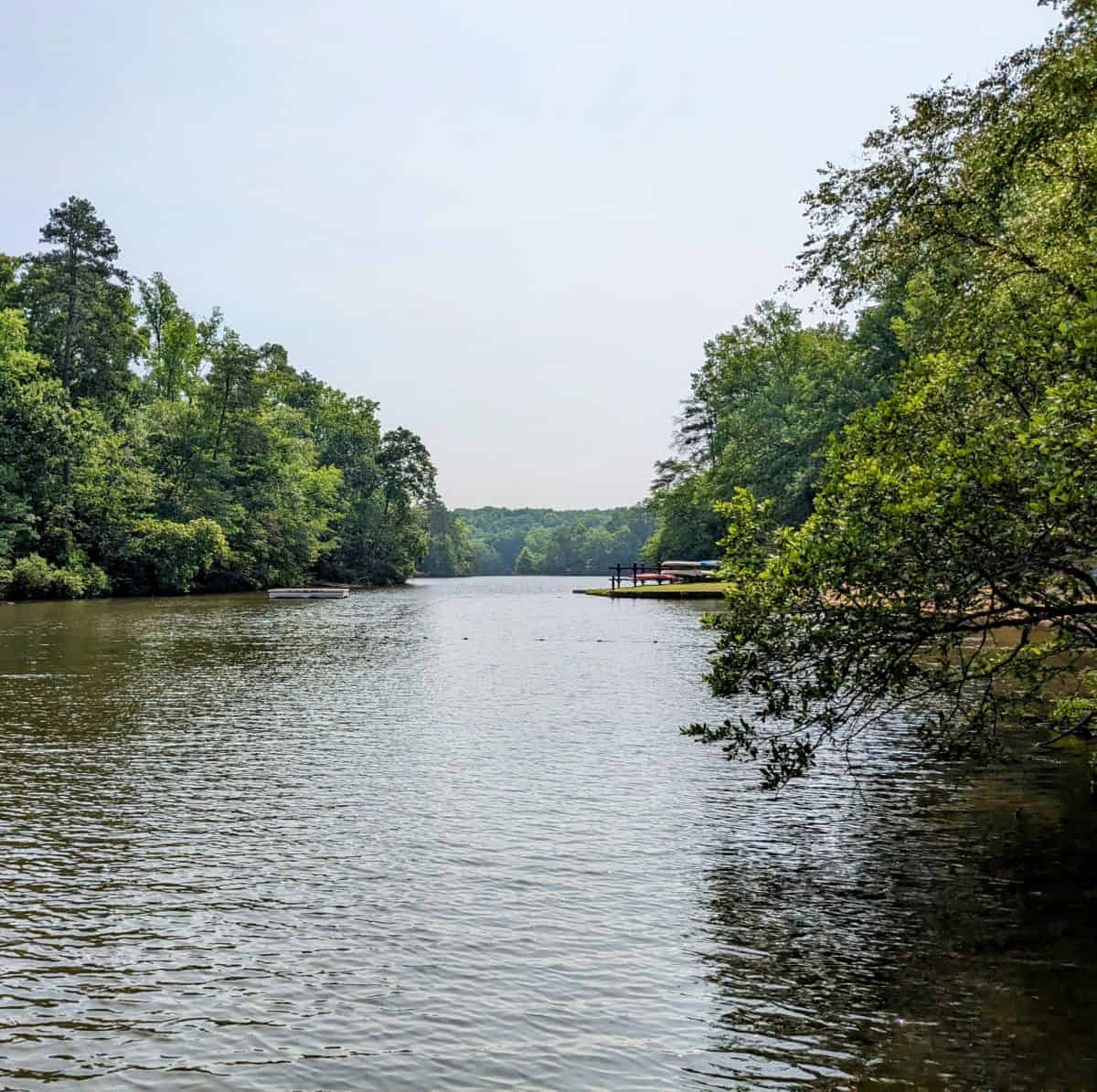 For those looking for an adventurous experience in Greenville, Paris Mountain State Park is the perfect destination to explore the city's natural beauty. It's only about 9 miles from downtown Greenville. This park is a great way to escape city life without driving a great distance.
This park is not only part of the 16 South Carolina State Parks constructed by the Civilian Conservation Corps, but it also has been honored to be listed on the National Register of Historic Places.
Spanning more than 15 miles, the trails at this park offer a range of difficulty levels for both hiking and biking enthusiasts. Paris Mountain State Park is also popular with campers.
Table Rock State Park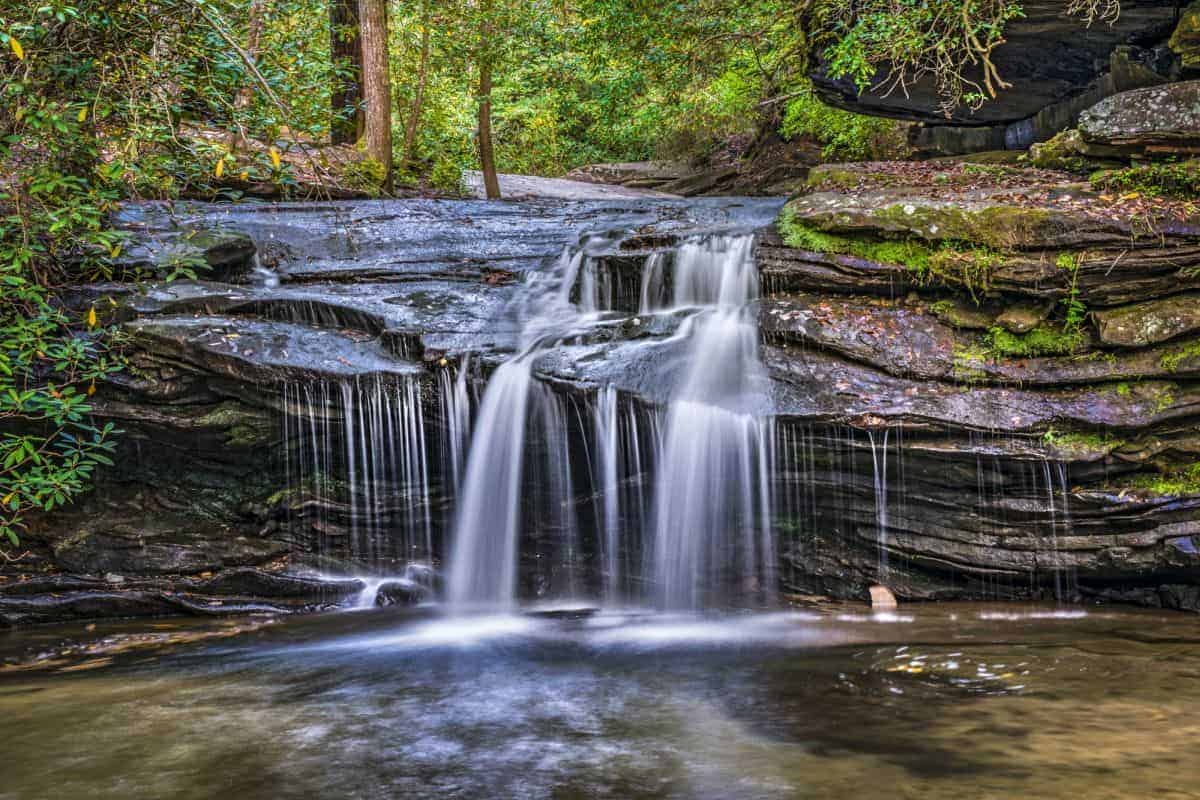 Another favorite (for good reason) Upstate South Carolina park is the very popular Table Rock State Park. Located around 30 miles from Greenville, Table Rock offers 3,000 acres of mountainous terrain and is easily one of the most popular outdoor recreation spots in the entire state.
Table Rock State Park is home to Pinnacle Mountain Falls and Yucca Falls. The park offers a range of trails for all levels.
The top things to do at Table Rock State Park include,
Climbing Table Rock (of course!)
Hike Lakeside Trail
Fishing
Enjoy live music at "Music on the Mountain"
Caesars Head State Park
If you enjoy the outdoors and have already seen Paris Mountain State Park or Table Rock, you might enjoy visiting Caesars Head State Park. You'll find it about 35 miles north of Greenville.
Adventurers of all levels should explore the renowned Raven Cliff Falls trail. This 4-mile, round-trip path will take you to an awe-inspiring overlook where you can witness the majestic 300+-foot waterfall.
There are five other waterfalls in the park just waiting for you.
The top things to do at Caesars Head include,
Taking in the view from Caesars Head Overlook
Checking out the tallest waterfall in South Carolina
Hiking Rainbow Falls Trail
Final thoughts on your weekend trip to Greenville, South Carolina
Spending a weekend in Greenville, South Carolina, is an absolute must for anyone who wants to explore more of the Upstate. It also is a great place for a romantic weekend getaway.
From Greenville's famous downtown to the Swamp Rabbit Trail to local state parks, there are plenty of activities to keep you busy during your two days here.
Greenville has endless possibilities that will make your two-day getaway both memorable and enjoyable.
What's your favorite way to spend a weekend in Greenville, South Carolina? Let me know in the comments below!
More articles to help you plan your two-day Greenville getaway
Pin this post!
Greenville Weekend Getaway: Perfect Itinerary