One Day in Greenville, SC: Perfect Itinerary (By a Local)
See the best of the city with this one-day Greenville itinerary
Are you thinking of spending one day in Greenville, SC? Whether you're looking for a fun day trip with the family or an abbreviated romantic getaway, this one-day Greenville itinerary will help you make the most of your time in this great city.
From arts events and outdoor activities to delicious restaurants and a remarkable downtown, there's something for everyone here.
Greenville, South Carolina, is the largest city in Upstate South Carolina. Livability ranked it as one of the Top 100 Places to Live (it really is!). I've lived here since 2006, and I'm telling you this is also a great place to visit.
Plan the perfect trip to South Carolina with this free printable travel planner.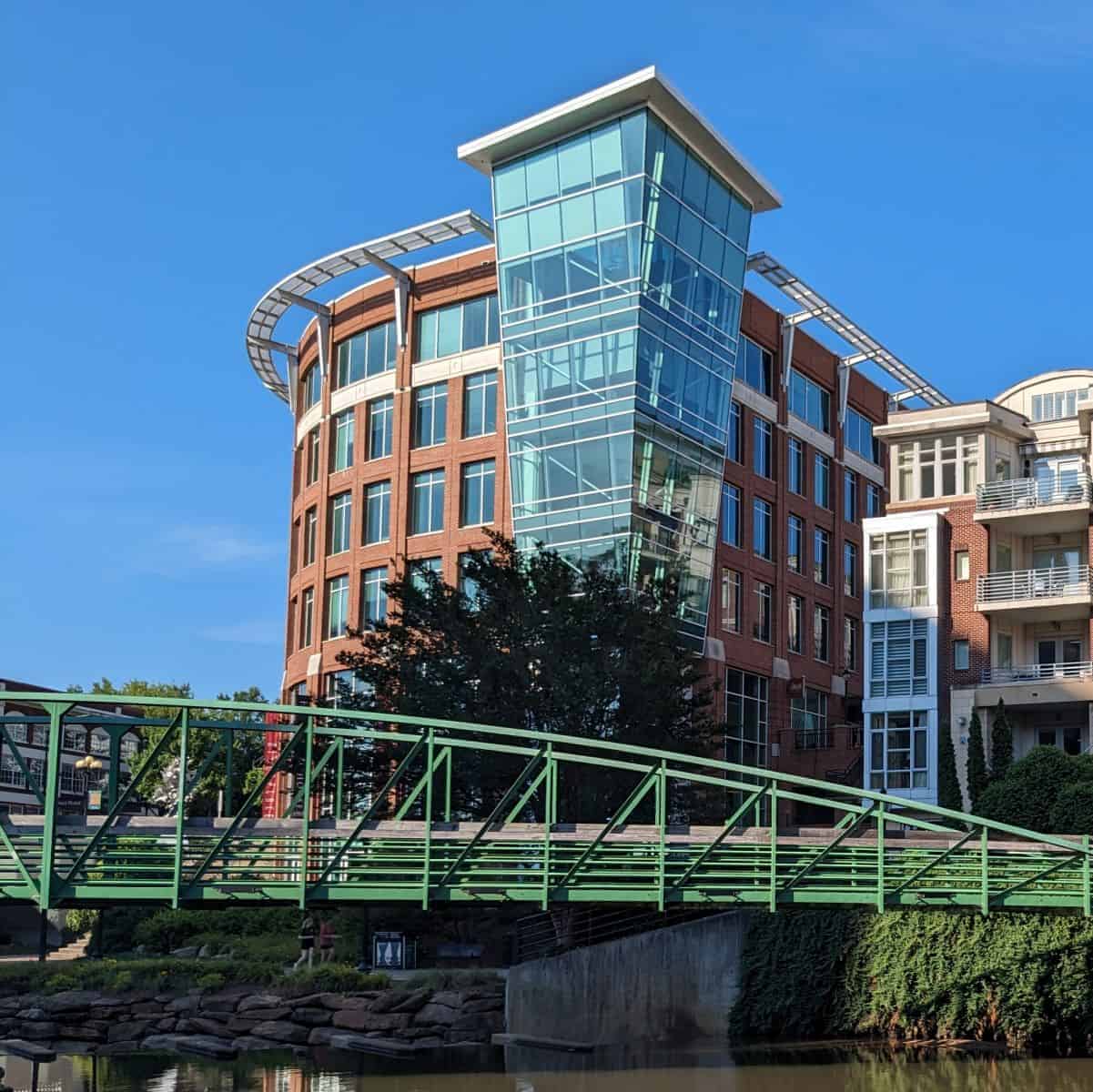 This post includes affiliate links. If you make a purchase through one of these links, I may earn a small commission at no additional cost to you. As an Amazon Associate, I earn from qualifying purchases. See disclaimer.
Where to stay in Greenville, South Carolina
Whether you're looking for an intimate stay or something more glamorous, there are plenty of options when it comes to finding the perfect place to stay in Greenville.
From charming boutique hotels and cozy inns to grand luxury properties with all the amenities, here are some of the best hotels Greenville has to offer.
Thinking about extending your one-day trip to Greenville into a weekend getaway? Check out my article about how to have the perfect Greenville weekend getaway.
Try the lovely Westin Poinsett Greenville in the heart of the city. It's a AAA Four Diamond hotel and offers pet-friendly accommodations.
Grand Bohemian Lodge Greenville is one of Greenville's newest hotels. It's just a few minutes' walk from the center of downtown and the Peace Center.
Aloft Greenville Downtown offers a great location along with gym facilities and an outdoor pool.
Hampton Inn Greenville includes free hot breakfast and is just 15 minutes from Greenville Spartanburg International Airport.
When to visit Greenville, South Carolina
One of the most important things to consider when planning a trip to Greenville is deciding on the best time of year to visit.
Greenville weather
For the weather, visiting in late spring might be a great time or into fall is also good.
If you struggle with allergies, early spring is probably not a good time to visit. And late summer can bring heavy storms that spin off from hurricane weather on the South Carolina coast. The middle of summer is just too hot and humid in my opinion.
The coldest and most disagreeable winter weather in Greenville typically comes in January and February. This is when the potential for snow and/or ice is highest.
Greenville festivals
Greenville, South Carolina is alive with an assortment of vibrant festivals and special events.
Choose to visit Greenville in May or October if you want to participate in one of the city's signature events Artisphere or Fall for Greenville.
Other great seasonal events and activities include:
U.Day (October), Christmas Carol Sing and Lighting Ceremony (Friday after Thanksgiving), and Living Gallery (Easter Weekend) at Bob Jones University
Music by the Lake free summer live music concert series at Furman University
Indie Craft Parade (September)
Plus lots and lots more!
How to spend one day in Greenville, SC
There are so many great ways to fill your day or overnight trip to Greenville, South Carolina, and so many fun things to do. Here are the top things to do in the city.
Explore downtown Greenville
The city of Greenville has spent many years developing its downtown into an area that its residents and guests can enjoy exploring and generally just hanging out in.
We truly have one of the best downtowns in America for our tree-lined Main Street full of shops and great dining options.
Of all the ways to spend part of a day in Greenville, this is one of my very favorites. I really don't think there's a better way to explore the heart of Greenville than to walk around the downtown area.
Stop by a locally owned coffee shop or restaurant, or shop in one of the unique boutiques.
Downtown Greenville is becoming quite the foodie destination, thanks to local restaurateurs. You'll come across some chain restaurants in the area too, but you'll discover that Greenville loves its homegrown restaurants.
Try a Greenville walking tour
Why not make exploring downtown Greenville more fun and rewarding by taking a leisurely walking tour? This way, you can maximize your experience of the area.
Exploring a new city through a walking tour is one of the best ways to discover its past, see famous landmarks and immerse yourself in the local vibe.
If you're a fan of breakfast food (like me!) then you might enjoy this walking tour of Greenville that also includes a lot of breakfast.
Or want to explore the sweet side of Greenville? Try this small-group dessert tour.
If you're looking for a fun way to check out downtown Greenville, you might enjoy this city Segway tour. So, that's not a walking tour, but you get the idea.
Saturday Market
If you're visiting Greenville between May and October, check out the Saturday Market.
Start your morning off bright and early at the market located on Main Street from 8 a.m. to noon, situated at the corner of McBee Ave and Main St. Shop away along Main Street between Court St and Washington St to find all kinds of goodies!
Explore the offerings of more than 75 vendors selling local produce, flowers, food, and other hand-crafted goods. The Greenville Market demands that all food be grown within 100 miles and also strongly encourages artisans to acquire locally-sourced materials.
Mice on Main
This is a fun one for those traveling with kids. Hunt through Main Street in downtown Greenville on the lookout for nine bronze mice.
Check out the clues on the official Greenville tourism website to help in your scavenger hunt.
Falls Park on the Reedy
While taking in the sights of downtown Greenville, why not stop by Spill the Beans for a tasty coffee beverage or ice cream? Then explore one of the most beloved attractions in town, Falls Park on the Reedy.
The picturesque Reedy River falls, in the heart of downtown Greenville, is proudly celebrated in the name of this park.
Boasting an award-winning design, the 354-foot Liberty Bridge is a unique architectural marvel that has made it one of the most popular spots in the city center.
Take a leisurely stroll to one of the nearby acclaimed restaurants, or better yet bring your picnic and savor it in one of the picturesque spots alongside Reedy River. I mean, if the weather is good. And it very often is.
The park is free for guests to explore and is open every day.
Greenville Zoo
For all the animal lovers out there, a visit to Greenville Zoo is an absolute must while you're in town. It's one of my favorite small zoos ever.
I am deeply inspired by their staunch commitment to conservation, which includes offering a grant that funds programs for the protection of wildlife in South Carolina, North Carolina, and Georgia.
Enjoy complimentary parking at two close-by lots, as well as the added convenience of proximity to Cleveland Park and the Swamp Rabbit Trail.
Swamp Rabbit Trail
Stretching 22 miles from Greenville to Travelers Rest, South Carolina, the historic Swamp Rabbit Trail is perfect for cycling and hiking. On the weekends, taking a jog or bike ride along The Swamp Rabbit Trail is a popular pastime in Greenville.
If you need a mid-hike or mid-ride pick-me-up, there are plenty of places to stop for refreshments, from snacks and coffee to ice cream treats.
A lot of the Swamp Rabbit Trail follows the Reedy River, the same river that flows through the center of Greenville and Falls Park.
Okay, let's address the elephant in the room. The name of Swamp Rabbit Trail. We also have an East Coast Hockey League team called the Greenville Swamp Rabbits.
I swear I am not making that up. Evidently, the swamp rabbit is native to this region.
Why we think that means we have to name a bunch of stuff after this creature, I really couldn't tell you. Nevertheless, here we are.
Greenville County Museum of Art
When I travel, one of my favorite activities is visiting art museums. From the Met in New York City to the Louvre in Paris, I am always captivated by these beautiful spaces and the artwork they display.
The Greenville County Museum of Art has one of the best collections of American art I've had the joy of seeing in a regional museum. This includes the largest public collection of Andrew Wyeth watercolors (swoon!).
Conveniently situated at Heritage Green in downtown Greenville. Heritage Green is a cultural campus that includes,
the GCMA (of course)
the main branch (Hughes) of the Greenville County Library System
the Greenville Theatre
Children's Museum of the Upstate,
Sigal Music Museum, and the
Upcountry History Museum.
Admission to the Greenville County Museum of Art is free. There is a small charge to park in the Heritage Green parking lot during normal business hours on weekdays.
Take in a show at the Peace Center
Another one of the crown jewels of downtown Greenville is the Peace Center, a renowned performing arts facility.
The Peace Center is an esteemed hub for Greenville's orchestra and chorale, but it also regularly hosts renowned artists from various genres and Broadway productions.
The roster of illustrious artists that have graced their stage includes The Beach Boys, Chicago, renowned soprano Renee Fleming, and multiple Tony-award-winning Audra McDonald along with virtuoso Joshua Bell.
From Hamilton to The Lion King and Wicked, the Peace Center's theatre calendar is packed with phenomenal Broadway shows that draw people from all over the area. And Steve Martin and Martin Short recorded their Emmy-nominated Netflix special An Evening You Will Forget for the Rest of Your Life at the Peace Center.
Not only is the Peace Center a premier venue, but they are also determined to reduce its environmental footprint. In fact, many believe that this is the first zero-waste-to-landfill arts facility.
Attend a Greenville Drive Game
Even if performing arts don't appeal to everyone, surely baseball is something everyone can get behind.
If you're visiting Greenville, South Carolina, during baseball season, I encourage you to check out the Greenville Drive playing at Fluor Field, even if you don't usually like going to sporting events.
The Greenville Drive is a High-A affiliate of the Boston Red Sox, and they have one of the best minor league ballparks in the U.S. Seriously, I love it.
They even have their own Green Monster like at Fenway in Boston.
Other things to do in Greenville if you have more time
If you're going to be in Greenville for longer than just a day, perhaps a weekend getaway, here are a couple of more things you might want to add to your itinerary.
There are a lot of great day trips from Greenville.
Paris Mountain State Park
For the more active visitors to Greenville, Paris Mountain State Park is an excellent option.
Paris Mountain is one of 16 South Carolina State Parks built by the Civilian Conservation Corps, and it's on the National Register of Historic Places.
There are more than 15 miles of hiking and biking trails rated from easy to strenuous in the park. It has also become a top camping destination in the Greenville area.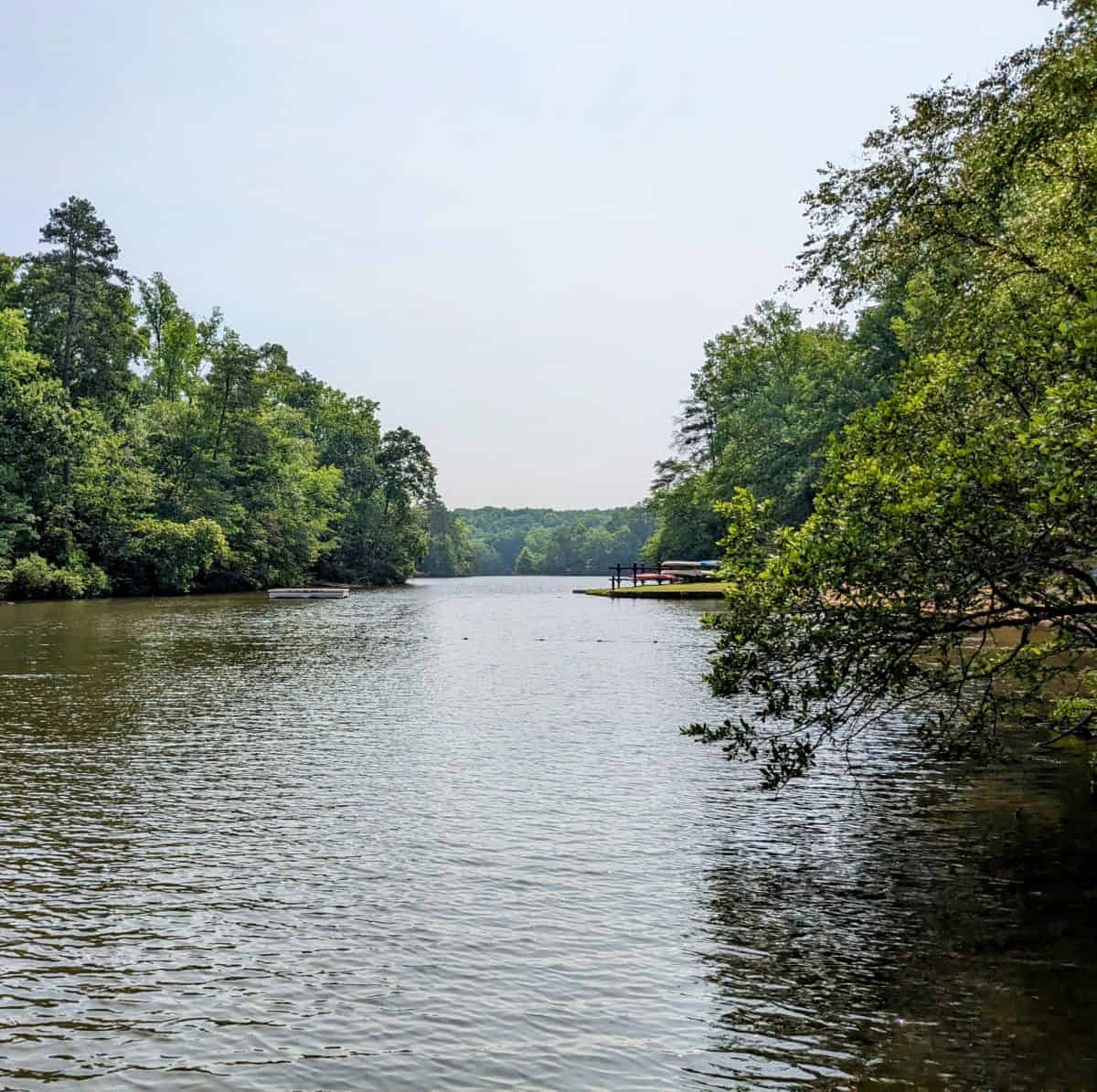 Table Rock
Another favorite Upstate South Carolina park is the very popular Table Rock State Park.
The top things to do at Table Rock State Park include,
Climbing Table Rock (of course!)
Hike Lakeside Trail
Fishing
Enjoy live bluegrass music at "Music on the Mountain"
Final thoughts on your Greenville day trip
Greenville, South Carolina, is one of the best places to visit for a one-day trip. There's something for everyone here.
Whether you stay for a night at one of the luxurious hotels or explore downtown Greenville for just an afternoon, your day will be filled with fun.
What's your favorite thing to do in Greenville, South Carolina? Let me know in the comments below.
More articles related to the Greenville one-day itinerary
Pin this post!
One Day in Greenville SC: Perfect Itinerary (By a Local)